Sometimes we need a little pick-me-up, a boost of inspiration, especially during these times where travel is a far flung memory for most of us. We can always use a little extra inspiration when it comes to exploring new places.
Below you can find my favourite travel quotes, some of which have had a lasting impact on my life and decisions I've made over the past decade. Some are thought provoking and emphasise why it is important to get out there and explore new places, meet new people and experience new adventures, near and far.
Many have sparked my wanderlust and have broadened my horizons and I hope these quotes will inspire you to do the same and explore this beautiful world.
Adventure Travel Quotes
"To awaken alone in a strange town is one of the pleasantest sensations in the world." – Freya Stark
"And then there is the most dangerous risk of all — the risk of spending your life not doing what you want on the bet you can buy yourself the freedom to do it later." – Randy Komisar
"If you think adventure is dangerous, try routine; it is lethal." ― Paulo Coelho
"At the end of the day, your feet should be dirty, your hair messy and your eyes sparkling."– Shanti
"Real adventure is defined best as a journey from which you may not come back alive, and certainly not as the same person." – Yvon Chouinard
"Jobs fill your pockets, but adventures fill your soul." – Jaime Lyn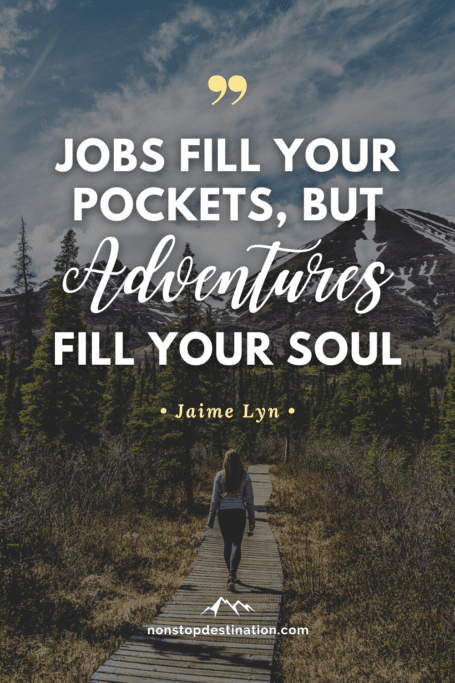 "What kind of man would live where there is no daring? I don't believe in taking foolish chances, but nothing can be accomplished without taking any chance at all" ― Charles Augustus Lindbergh
"Avoiding danger is no safer in the long run than outright exposure. Life is either a daring adventure or nothing." ― Helen Keller
"If we were meant to stay in one place, we'd have roots instead of feet." ― Rachel Wolchin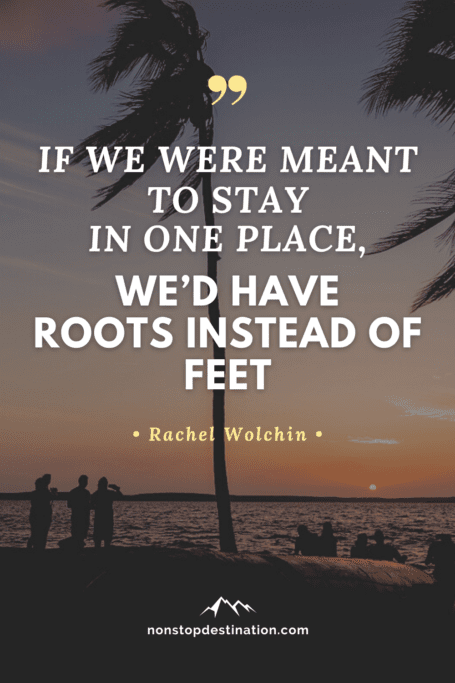 Inspirational Travel Quotes
"Travel broadens our perspectives. Suddenly, the palette with which we paint the story of our lives has more colors." – Rick Steves
"Travel is still the most intense mode of learning." – Kevin Kelly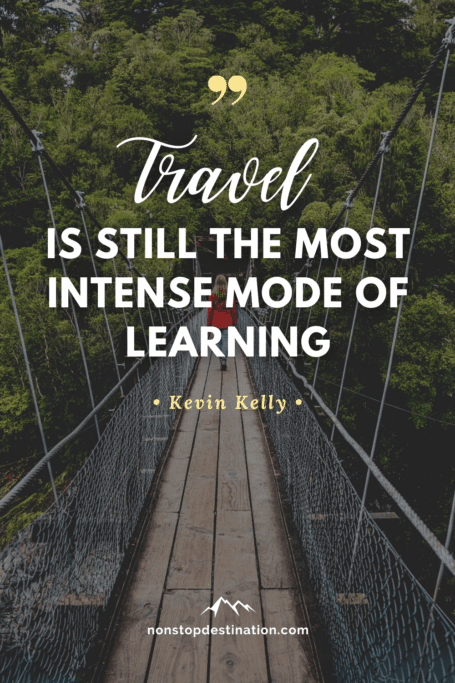 "To my mind, the greatest reward and luxury of travel is to be able to experience everyday things as if for the first time, to be in a position in which almost nothing is so familiar it is taken for granted." – Bill Bryson
"If you are thirty-two, physically fit, hungry to learn to be better, I urge you to travel – as far and as widely as possible. Sleep on floors, if you have to. Find out how other people live and cook. Learn from them – wherever you go." Anthony Bourdain
"Life is beautiful if you are on the road to somewhere." — Orhan Pamuk
"Fill your life with adventures, not things. Have stories to tell, not stuff to show."– Unknown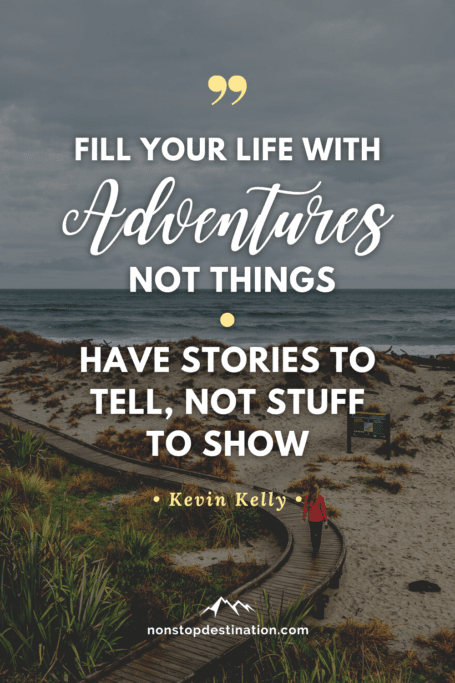 "Look for chances to take the less-travelled roads. There are no wrong turns." — Susan Magsamen
"What if I fall? Oh but my darling- what if you fly?" Erin Hanson
"If happiness is the goal – and it should be, then adventure should be top priority." – Richard Branson
"No matter how far you have gone on the wrong road, turn around." – Turkish Proverb
"It doesn't matter where you're going, it's who you have beside you." – Unknown
"I see my path, but I don't know where it leads. Not knowing where I'm going is what inspires me to travel it." – Rosalía de Castro
"Because the greatest part of a road trip isn't arriving at your destination. It's all the wild stuff that happens along the way." – Emma Chase
"Look at life through the windshield, not the rearview mirror." – Byrd Baggett
"The most beautiful thing in the world is, of course, the world itself." – Wallace Stevens
"Look for chances to take the less-traveled roads. There are no wrong turns." – Susan Magsamen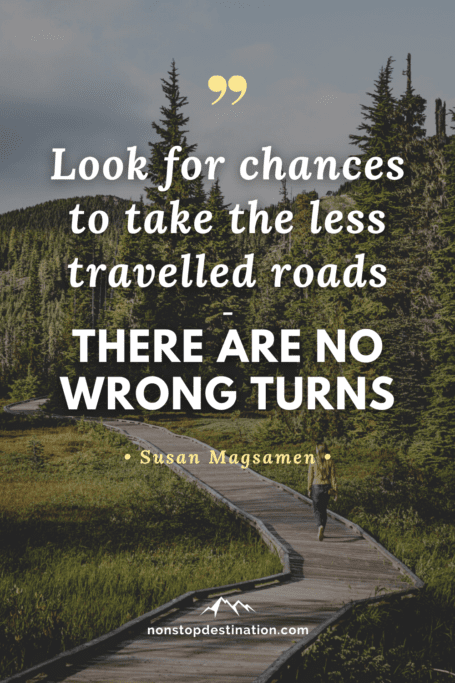 Thought provoking Travel Quotes
One's destination is never a place but a new way of seeing things" – Henry Miller
"Travel is fatal to prejudice, bigotry, and narrow-mindedness." ― Mark Twain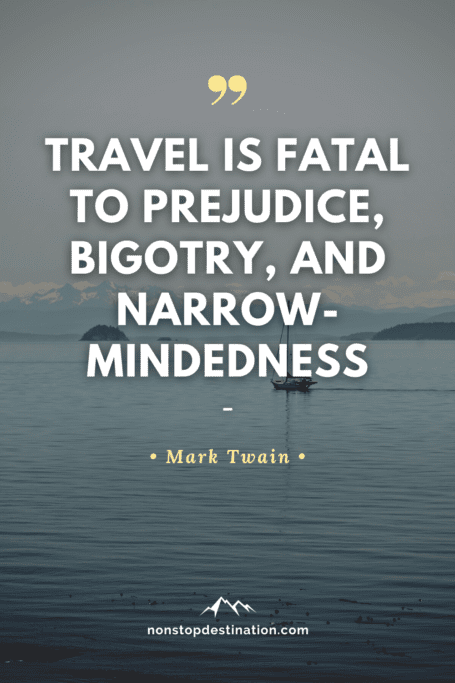 "Why do you go away? So that you can come back. So that you can see the place you came from with new eyes and extra colors. And the people there see you differently, too. Coming back to where you started is not the same as never leaving." ― Terry Pratchet
"Sometimes the most scenic roads in life are the detours you didn't mean to take." ― Angela N. Blount
"Don't live the same year 75 times and call it a life." – Robin Sharma
"Because in the end, you won't remember the time you spent working in an office or mowing your lawn. Climb that damn mountain." – Jack Kerouac
"Twenty years from now, you will be more disappointed by the things you didn't do than by the ones you did do." – Mark Twain
"If you reject the food, ignore the customs, fear the religion and avoid the people, you might better stay home." – James Michener
"When overseas you learn more about your own country, than you do the place you're visiting." – Clint Borgen
Funny Travel Quotes
"Sometimes the road less travelled is less travelled for a reason!" – Jerry Seinfeld
"Stop worrying about the potholes in the road and enjoy the journey" – Babs Hoffman
"If you're not lost, you're not much of an explorer." — John Perry Barlow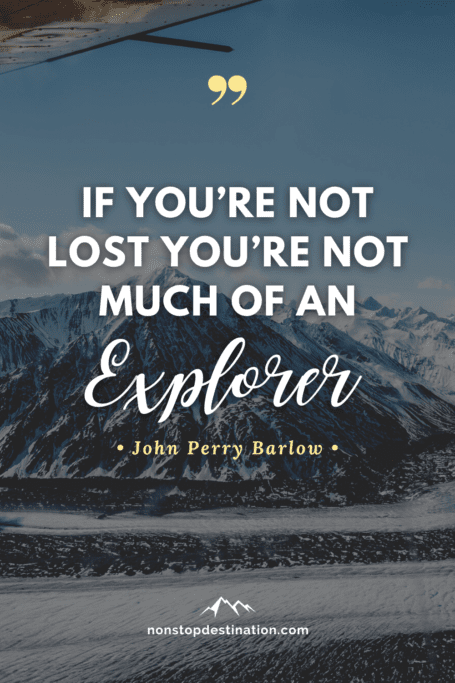 "We all have that one friend who is either on a road trip or planning a road-trip or thinking about a road-trip or talking to people who are on a road-trip or posting quotes about road trips." – Crestless Wave
"It feels good to be lost in the right direction." – Unknown
"It doesn't matter how old you get, buying snacks for a road trip should always look like an unsupervised 9 year old was given $100." – Unknown
"The worst thing about being a tourist is having other tourists recognize you as a tourist." – Russell Baker
"Two great talkers will not travel far together." – Spanish Proverb
"When preparing to travel, lay out all your clothes and all your money. Then take half the clothes and twice the money." – Unknown
"Airplane travel is nature's way of making you look like your passport photo." – Al Gore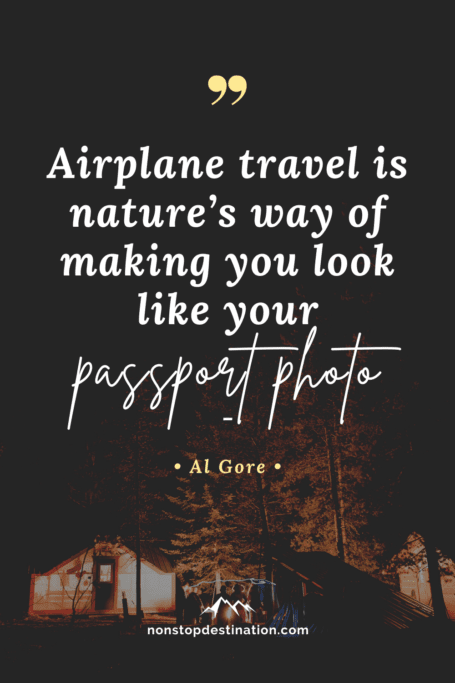 "People travel to faraway places to watch, in fascination, the kind of people they ignore at home." – Dagobert D. Runes
Language travel quotes
"The limits of my language are the limits of my universe." – Ludwig Wittgenstein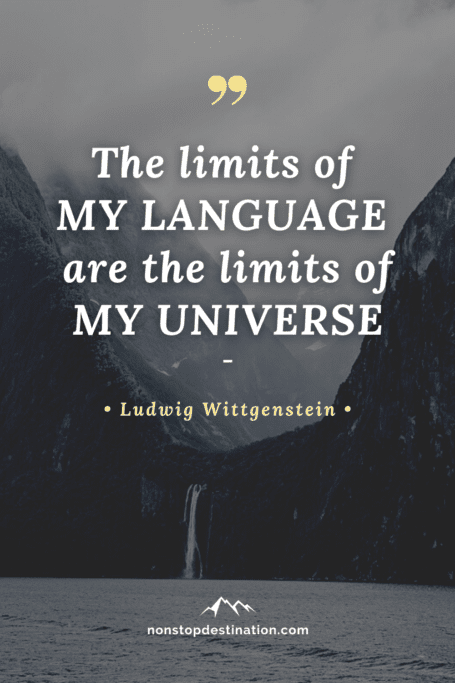 "You live a new life for every new language you speak. If you know only one language, you live only once." ‒ Czech Proverb
"Learn a new language and get a new soul." – Czech Proverb
"Do you know what a foreign accent is? It's a sign of bravery." – Amy Chua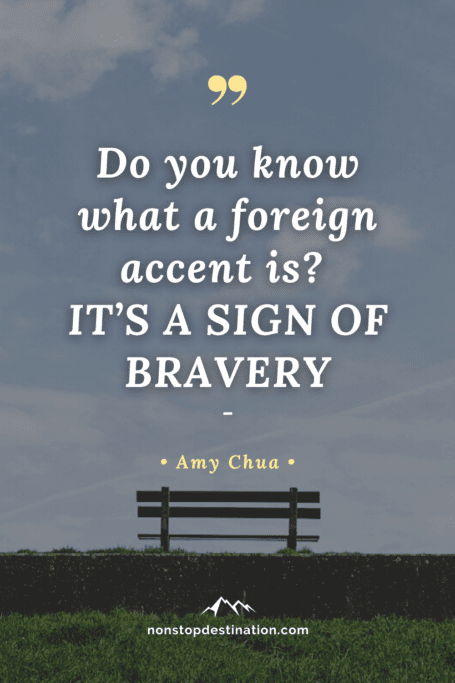 "With languages, you are at home anywhere." – Edward De Waal
"I love commuting between languages just like I love commuting between cultures and cities." – Elif Safak
"The more languages you know, the more you are human." – Tomáš Garrigue Masaryk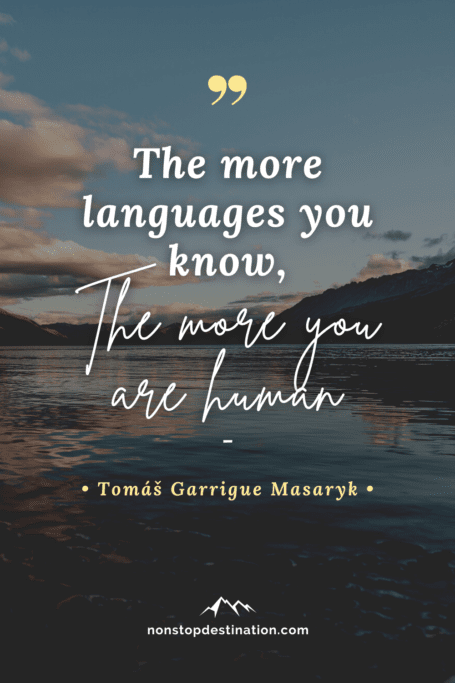 "If we spoke a different language, we would perceive a somewhat different world." ‒ Ludwig Wittgenstein
"Language is the road map of a culture. It tells you where its people come from and where they are going." ‒ Rita Mae Brown
"To learn a language is to have one more window from which to look at the world." – Chinese Proverb
I hope these travel quotes sparked some wanderlust. Aside from these fueling your insatiable desire to explore, why not share your favourites to inspire your friends & family? Save a few on Pinterest for perusing later when you feel you need another pick-me-up! Check back once in a while to find more quotes and images to share!