As we drove back to the ferry, after our three-day getaway to Pender Island, I couldn't help but notice how relaxed I felt. Pender Island has that effect on you. The quiet, winding roads; the sound of softly lapping waves as you watch the sunset; the occasional deer who make an appearance around unexpected corners — it's a far cry from the busy lifestyle that we've grown accustomed to in Vancouver.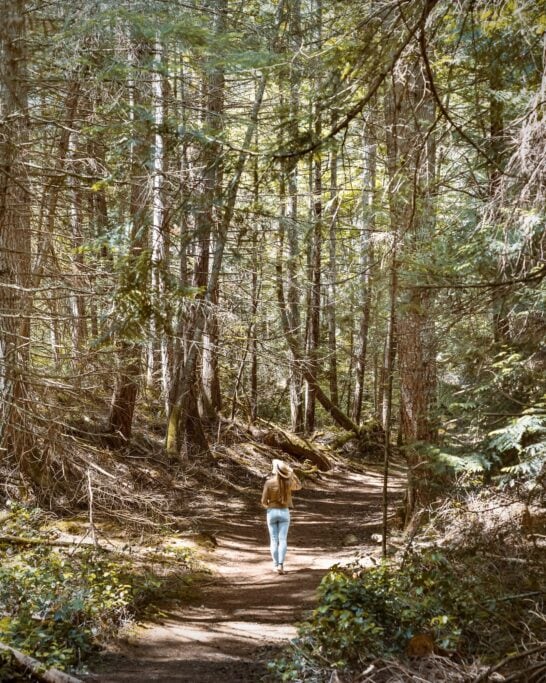 When planning our first summer trip, after travel restrictions had been lifted, Pender Island was top of our list. We craved a laid-back escape to nature and the small Gulf Island ticked all the boxes.
Located in the Southern Gulf Islands, Pender Island is an idyllic place. Considering its size, the 34-square kilometre island may not seem to have much to offer visitors but you will be pleasantly surprised to learn that it offers a variety of activities to enjoy.
Related: Are you planning your Canada trip? Check out our Canada Travel guides.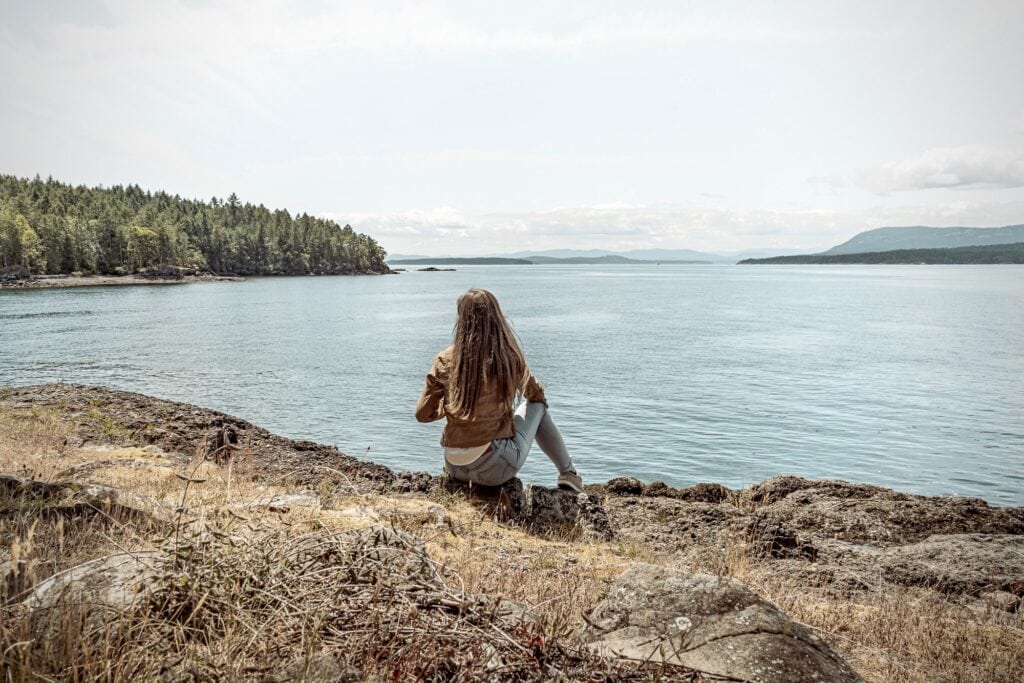 Hiking
Hike Mount Norman
If you can only tackle one hike on Pender, make it Mount Norman. It is a short, yet steep hike through the forest, which leads to the highest point on Pender Island.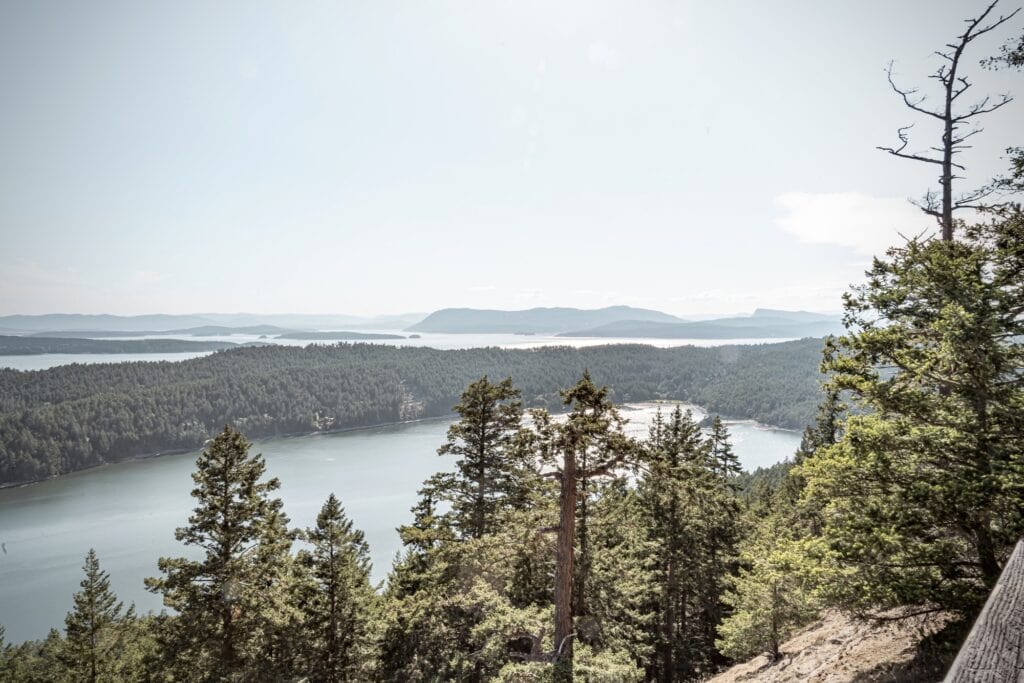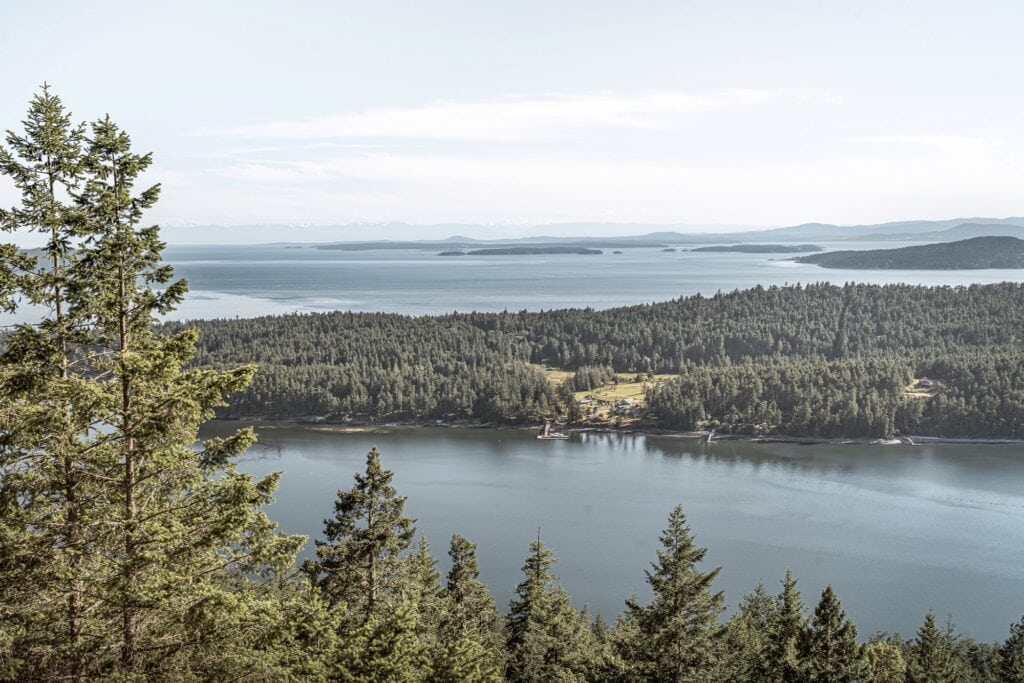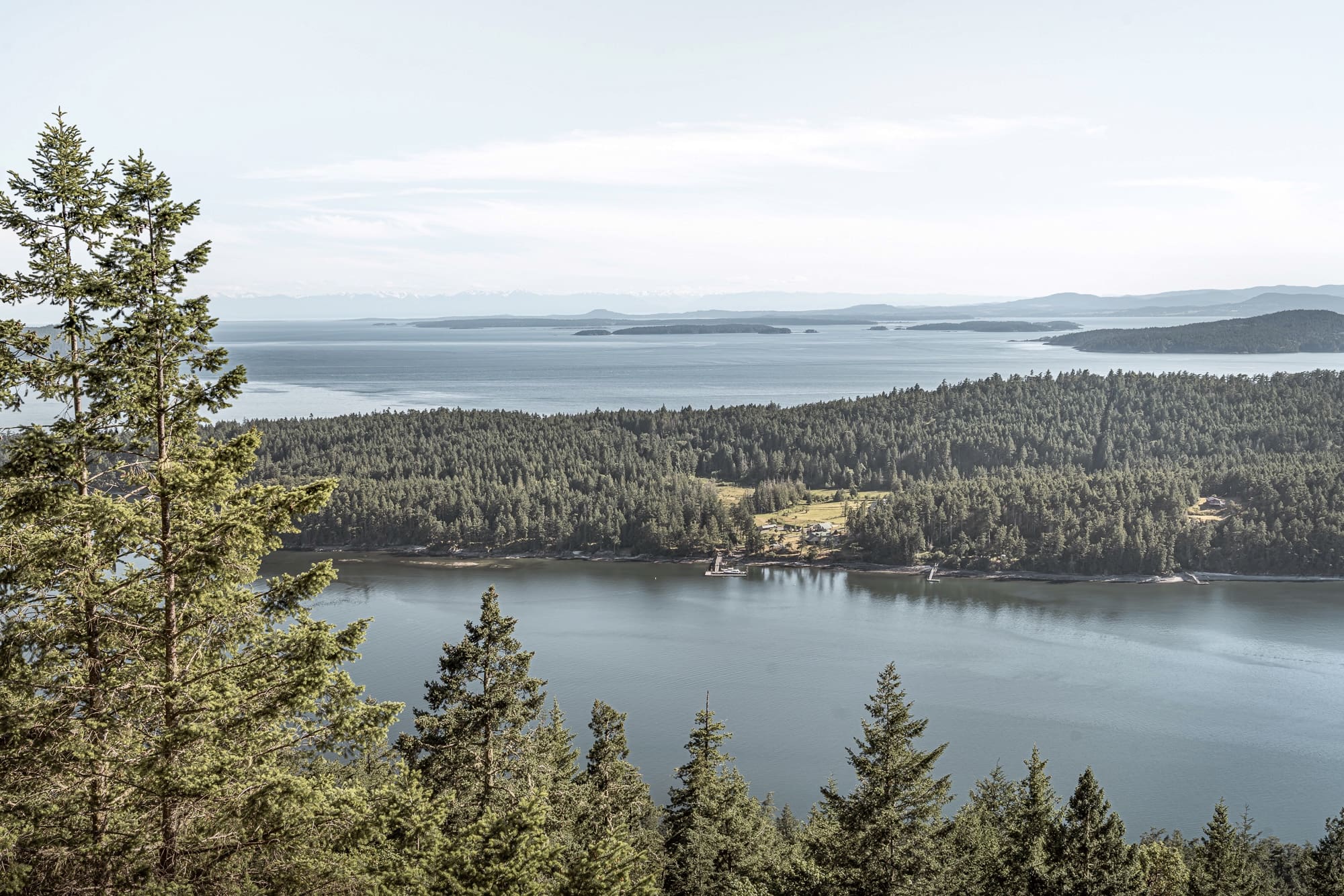 When we hiked this trail, we were welcomed by stunning views out across the Southern Gulf Islands, San Juan Islands and Vancouver Island.
Best of all, we were alone at the summit, so we took our time enjoying the afternoon sun.
Hike George Hill
There are trips where you plan everything meticulously and then there are getaways where you just wing it; Pender Island was a mixture of both for us. We had a few places mapped out but George Hill wasn't one of them.
On our last day on the Island, we came across the trailhead and decided to check it out. Two lovely ladies, who had just finished the trail, told us that the hike would take around forty minutes and to "just keep going past the second bench".
So off we went with these vague directions and no idea of what waited for us at the end of the trail!
We hiked (mostly uphill) through a dense forest, passing a few fake summits until we finally emerged on top of the hill. We were hot and tired from the steep climb but the view out over the Gulf Islands was worth the effort.
Explore the Many Bays and Beaches
Roesland
Roesland was the park where we got our first taste of Pender Island. Freshly arrived off the ferry, we made our way to the park and spent an hour or so exploring the area.
We walked along the bay and between the tall arbutus and douglas fir on Roe Islet, we found a perfect spot to watch the sunset from.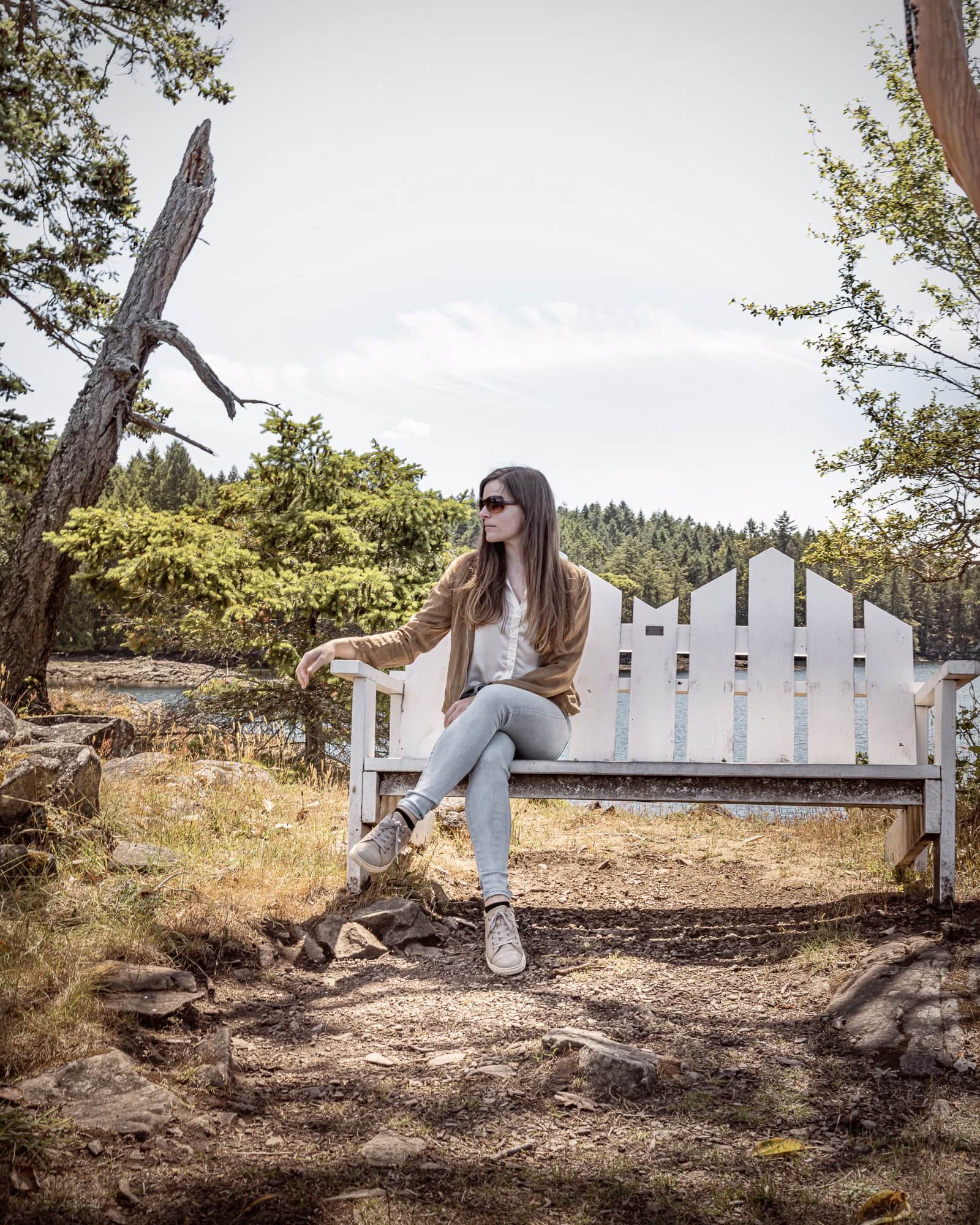 Apart from the tranquil bay and islet, you will also find a few abandoned cottages dotted around the park. This is because Roesland was a former resort, popular during the 1920s; however, in 1990, the resort closed down.
The original Roe house, built in 1909, has been converted into a museum, which is only open over weekends.
Brooks Point Regional Park
With waves lapping against the shoreline and long grass gently rustling in the wind, Brooks Point Regional Park is the perfect place to wind down and relax.
We started the day with a walk along the pebbled beach, enjoying the light breeze coming from the ocean.
We meandered our way up the rocky bluffs onto grassy meadows, where we sat for a while enjoying the views of Boundary Pass, the Strait of Georgia and the San Juan Islands.
Otter Bay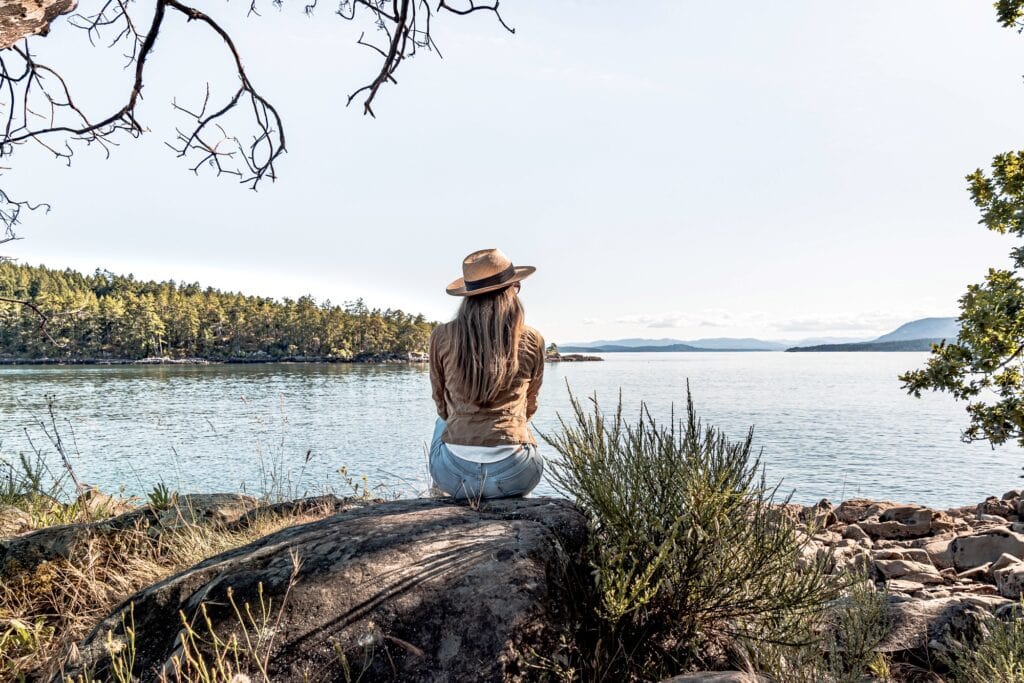 Tucked away near the ferry terminal, Otter Bay is easy to overlook but it's nonetheless a great spot to visit.
We arrived late in the afternoon so the shop had already closed but resort guests were still enjoying a splash in the on-site pool.
During our brief stopover, we saw cosy seating areas, complete with cushioned couches and gas-fire tables, spread out on the lawn.
We did not linger though and walked all the way up to the beach. We exited the kayak rental shop to our left and made our way up the hill at the end of the marina.
Once there, we found a quiet spot, far enough removed from the hustle and bustle that we could sit, peacefully watching the world go by.
Port Browning
Port Browning is one of those places on the island that you will visit a few times.
On our second day, eager to head out onto the water, we made our way to the marina to rent a kayak.
It was a beautiful sunny afternoon and even the wind that had picked up by the time we settled into our kayak, could not quell our excitement.
Our two-hour-long paddle along the shoreline was not intended to break any world records, so we took our time to enjoy fully seeing the bay.
Once back on land, we treated ourselves to homemade ice-cream from the bistro and strolled along the beach, watching families picnic or enjoy a round of disc golf.
Apart from water-based activities, there's so much more to enjoy on this part of the island.
The marina is in the middle of an extensive redevelopment plan. So far, they have already finished the renovations to their bistro and pub, along with the new docks.
Soon though, you'll be able to stay in their oceanfront glamping tents, where you'll get to experience the outdoors, while still being within easy reach of all on-site amenities.
Hope Bay
After parking our car, we walked up the wooden walkway and discovered a quaint, little corner of the island.
Hope Bay consists of a restaurant (with beautiful ocean views), a gallery, hair salon and a small chocolate shop.
If we hadn't just eaten, we would have plopped ourselves down at one of the outside bar stools, which overlook the ocean.
Instead, we passed Pender Chocolates and got a few treats to indulge in on the road.
Get Out on the Water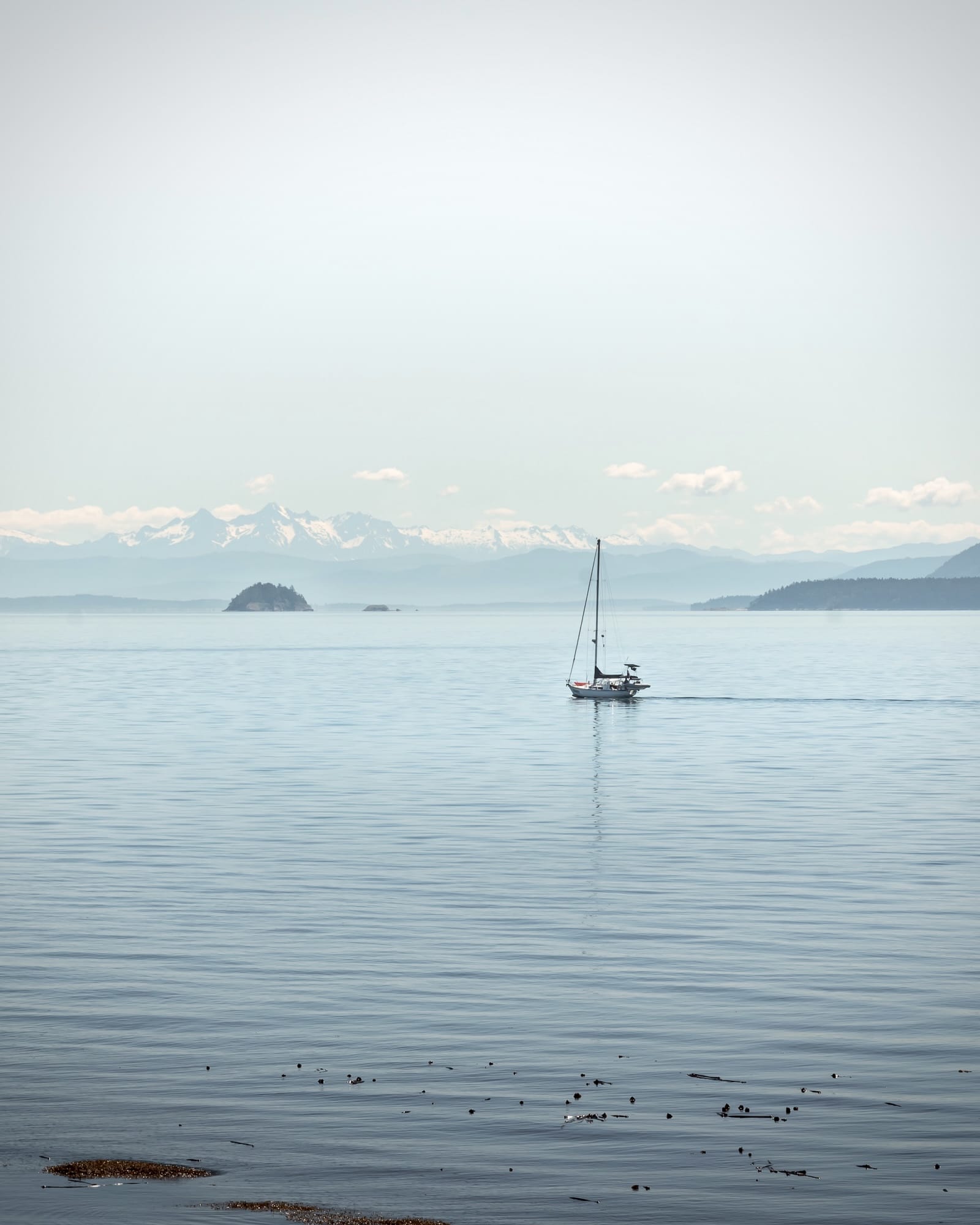 With many stunning bays surrounding Pender, it's a must to get on the water. You can bring your own kayak, canoe or SUP or hire equipment from one of the island's two rental companies: Pender Island Kayak Adventures or Dog Mermaid Eco Excursions, Kayak Rentals & Retreats.
The former is located at Port Browning while the latter is located at Otter Bay, near the ferry terminal.
We rented a kayak from Pender Island Kayak Adventures and paddled around for two hours. As we floated by their colony, curious seals swam up to our kayak.
Wine and Cider Tastings
Sea Star Vineyards
Sea Star Vineyards is the only winery on Pender Island. Unfortunately, while we were visiting Pender Island, the winery was closed. However, all the locals we spoke to raved about their wines.
Make sure to check their website to see when their tasting room is open, as their opening hours are seasonal.
Twin Island Cider
This cidery was another place that we were keen to visit but it was also unfortunately closed during our time on Pender.
Twin Island Cider uses traditional techniques to produce their low-intervention cider and perry fermented only with native yeasts. Their tasting room is open year-round from Friday to Sunday.
Where to Eat on Pender Island
Pender Island has many food options. However, I would also recommend grabbing groceries from the supermarket at the Driftwood Centre or buying a few local products from Truss Farm Food Truck.
Nothing beats watching the sunset from your cabin's patio, while sipping wine or cider (purchased from Sea Star Vineyards or Twin Islands respectively) and enjoying a delicious, home-cooked meal or BBQ, made using local produce.
Pender Chocolates
Pender Chocolates is a small artisan chocolate shop in Hope Bay.
You can enjoy your treat(s) right outside the shop or take them with you to indulge in while out on a hike or relaxing at one of Pender's many beaches.
Woods on Pender
Coffee + Kitchen restaurant is located at Woods on Pender but it is open to non-guests. We visited on a crisp morning for a quick, early breakfast.
Their cinnamon roll is a must-have and their mochas are delicious. Take a seat on their patio or sit at one of their picnic tables.
Their opening hours vary according to the season, so make sure to check the website.
Slow Coast Coffee
Slow Coast Coffee is the place to go for a light lunch, coffee and treats. (We came here to fuel up before our kayak trip.)
Truss Farm Food
We stumbled upon Truss Farm Food Truck while exploring the island and we're so glad we did! They offer a variety of lunch items, which are different from your usual food truck fare.
They also have a selection of delicious grocery items, such as pasta and pasta sauces. During our stay, we stocked up on a few items for a home-cooked meal, while also getting their popular strawberry shortcake.
Check their Facebook or Instagram page to see where they will be located during your stay/visit.
Vanilla Leaf Bakery Cafe
For all your bakery needs, Vanilla Leaf Bakery Cafe is the place to go. You can also pick up light lunches, coffee and pastries here.
Hub
Located in quaint Hope Bay, Hub offers Mediterranean fare. It also has a small, yet lovely patio that overlooks the ocean.
Bridgemans Bistro
Bridgemans Bistro is a laid-back pub found at Port Browning. Here, you can find usual pub fare. They also have an outdoor patio and occasional live music to enjoy.
Where to Stay on Pender Island
Wherever we go, we always try to find unique accommodation. On Pender Island, there are a few hidden accommodation gems that are worth investigating.
While browsing online, we found The Tides Cottages. Perched on a hill right by the water, the Tides looked like the perfect place for a tranquil getaway.
While we were busy planning our trip, the cottages, which had recently changed ownership, were undergoing extensive renovations. Luckily for us, though, they were set to be finished and ready to receive guests by the time we would be heading to Pender!
The Tides Cottages
The Tides Cottages is a little oasis located quite near to the ferry terminal. At The Tides Cottages, you can choose between four cottages or one heritage house. All have recently been renovated to a high standard while still maintaining the authentic features of the original homes.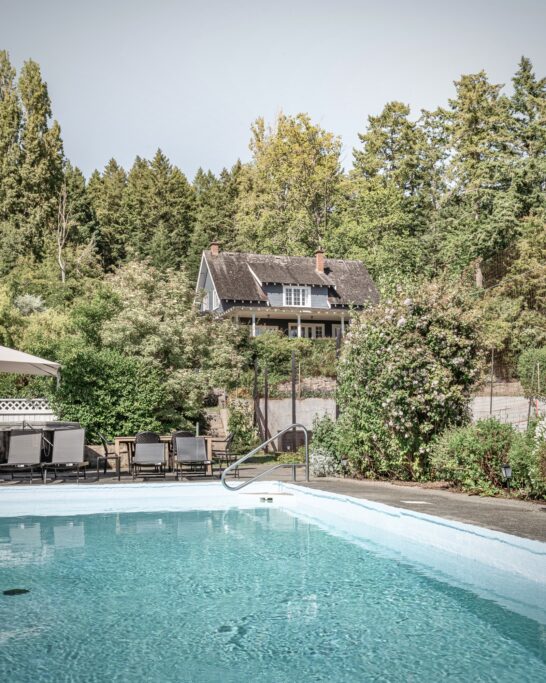 While enjoying the ocean views, sip a glass of wine on your private patio; take a splash in the on-site swimming pool; or head down to the rocky beach to watch the sunset.
Price per night: From $200/night // Pet friendly: Yes // Swimming pool/hot tub: Both! // BBQ: Select cottages
Woods on Pender
Woods on Pender is a glamping resort and motel that is situated in the middle of the forest. It's one of the most well-known accommodations in the Gulf Islands and BC so it gets booked up really quickly.
Accommodation options include renovated airstreams and cabins with private decks and hot tubs. On-site, you can also find a restaurant and massage facilities located inside a renovated 1977 Airstream!
Price per night: From $265 for an airstream, $210 for a cabin and $95 for a motel room // Pet friendly: Yes // Hot tub: Yes // BBQ: Yes
Glamping at Port Browning
A newer, more unique accommodation option, glamping, is also coming to Pender Island. Keep an eye out for these glamping tents at Port Browning, right by the ocean.
You'll be able to choose between a suite or a one-bedroom tent. Accommodation includes an electric fireplace, air conditioning, lounge and outdoor seating, making it perfect for enjoying the ocean views.
Resort amenities, such as the swimming pool, convenience store, bistro and washroom facilities, are located only a short walk away.
Price per night: From $119 in low season // Pet friendly: NA // Swimming pool/Hot tub: At the resort // BBQ: No
How to get to Pender Island
By Ferry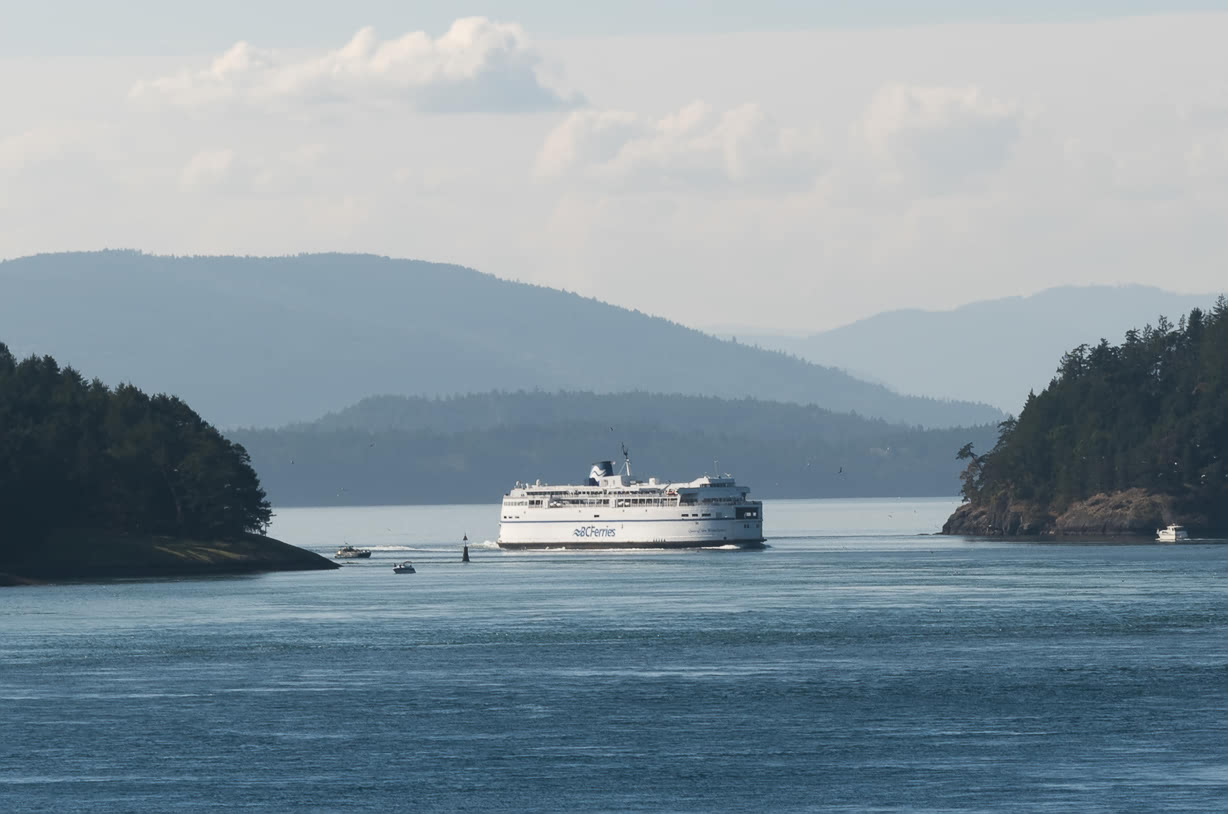 From Tsawassen:
Depending on the season, the ferry makes a stop at Galiano and/or Mayne Island. In the summertime, there is one direct non-stop ferry per day.
A one-way trip is about 2.15 hours. The direct ferry is just over an hour. Reservations are recommended.
From Swartz Bay:
Most sailings are direct, though some will stop at Galiano or Mayne Island.
A one-way direct trip is about forty minutes long. No reservations are allowed so it is first come, first on. Peak periods require earlier arrival times.
By Seaplane
There are several daily departures from YVR to Port Washington on South Pender. Check Seair for their schedule.
Things to Know Before You Go
Pender Island is located on SDȺY¸ES, Coast Salish territory, whose unceded ancestral home this is.
Everything runs on island time so take your time to explore and enjoy nature.
Make sure to check the opening hours of shops and restaurants. Places tend to close early or have different opening hours during the off-season.
There are no cougars or bears on Pender Island. However, be careful on the roads, as there are many deer on the island.
While driving around Pender, you'll find several farm stands along the roads. Some sell food, while others specialise in crafts. These farm stands are a great way to support the local community.

Our visit to Pender Island was just the escape that we had been craving for some time. We replaced our high paced life and stressful work days for a few days of unobtrusive access to nature and slow living.
Normally, I find it hard to relax and forget about my endless to-do list waiting for me at home. However, once I set foot on Pender, all else was quickly forgotten.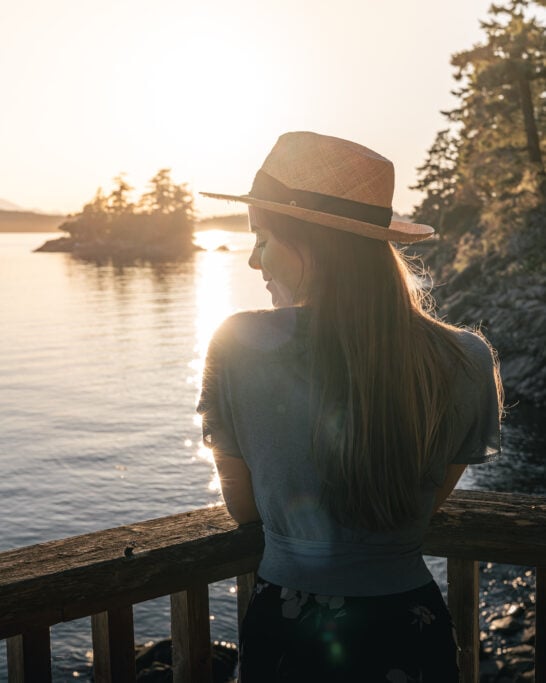 We spent hours on our private patio or on the rocky beach, watching the sun slowly drift closer to the horizon. In the mornings, cup of tea in hand, we enjoyed observing the deer, as they made their way across the lawn without a care in the world.
As we experienced these moments, we wondered why we even want to return to our hectic lives when there is something so peaceful right here? We are slowly beginning to realise just how much we love the Gulf Islands.