With its stunning coastlines, towering mountain peaks and glacier-carved fiords, New Zealand's South Island is where you'll find nature in its purest form. For my birthday in October, we embarked on a nine-day, self-drive around the country's South Island.
So sit back and let us take you through one of the most amazing road trips Ash and I have ever undertaken.
Day 1: Fly into Christchurch – Start of our New Zealand South Island road trip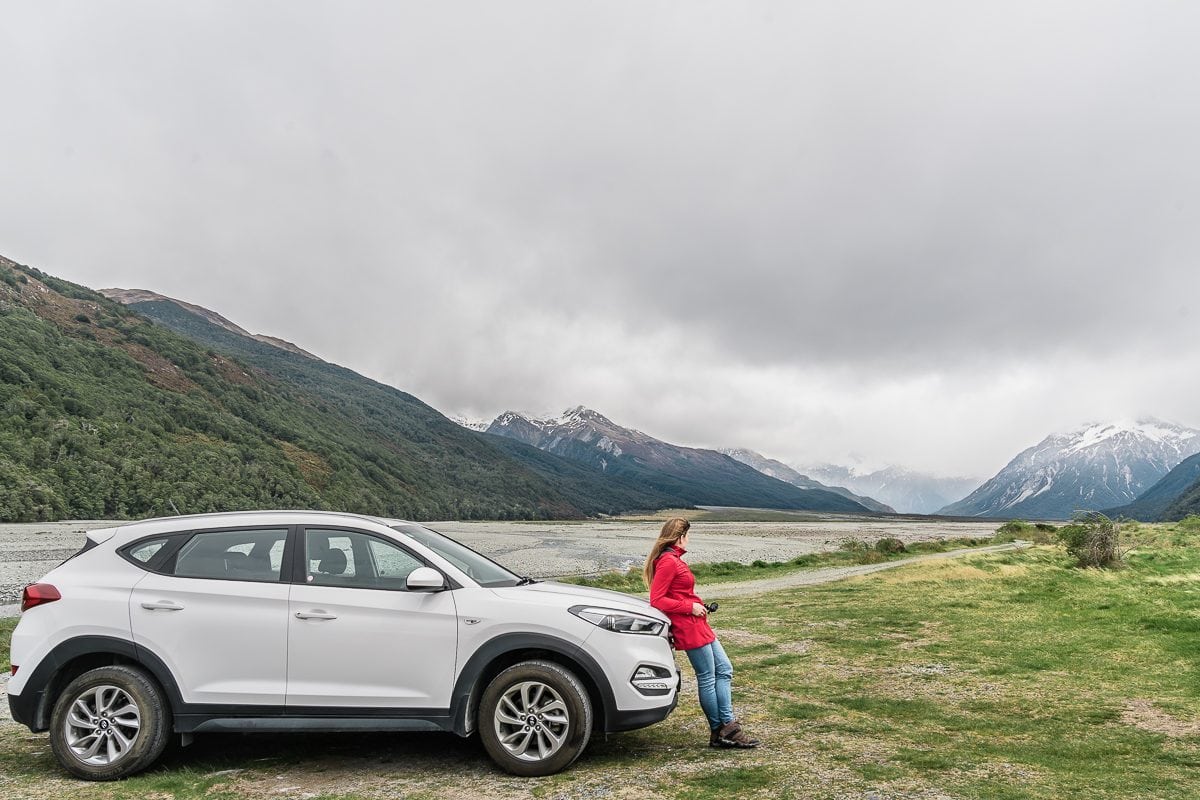 We arrived in Christchurch in the early morning but did not linger around in the city. We picked up our car rental from Aero Drive and then we were promptly upgraded to an SUV. Thank you Aero Drive for a great start to our trip! Once all the paperwork was dealt with, we loaded our luggage and set off via Arthur's Pass to Greymouth.

Our first stop was Castle Hill, a myriad of gigantic, limestone rock formations popping out of the hilly landscape. It's a stunning place to walk around or climb the rocks.
As we continued our journey, we passed desolate mountain ranges on our way to Arthur's Pass in the Southern Alps.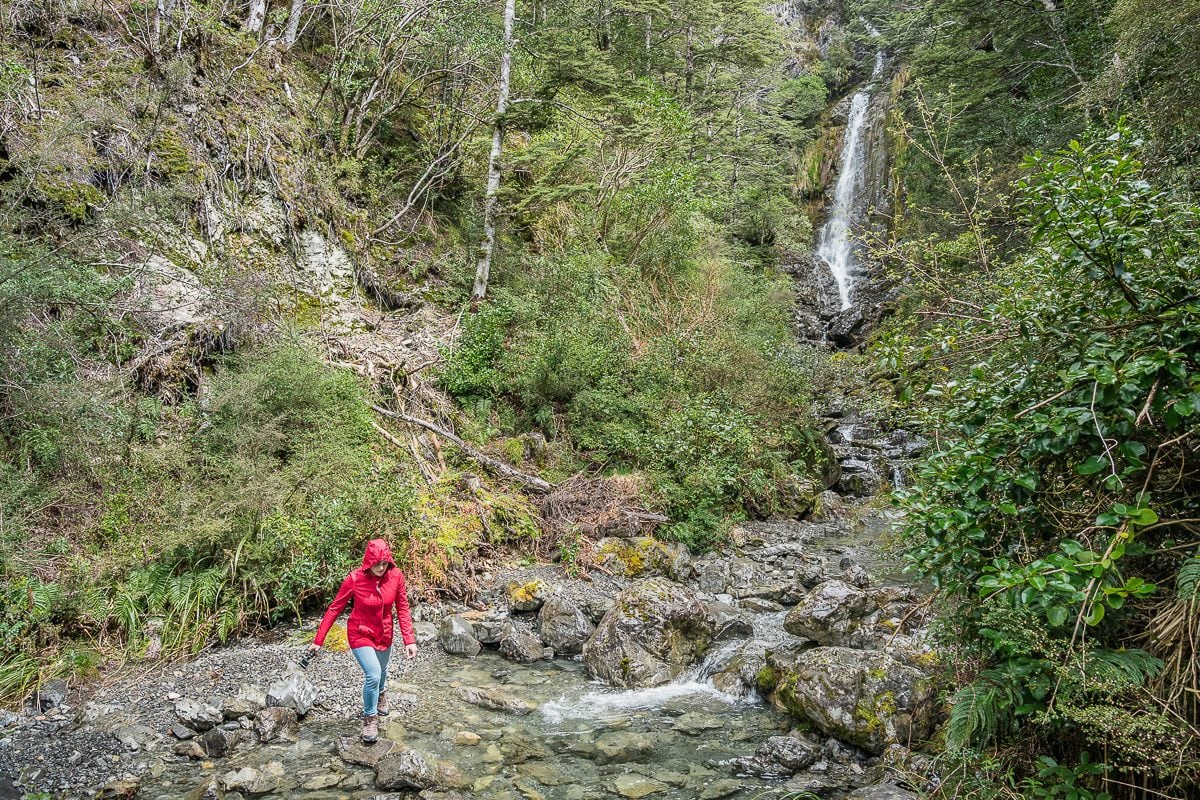 Once we arrived at the highest settlement in New Zealand, we visited two waterfalls around the area: Avalanche Creek Waterfall (located close to the road) and Devil's Punchbowl waterfall, a 131-metre-high waterfall, which thundered down from a spectacular cliff face. As we started our hike to the Devil's Punchbowl, a torrential downpour greeted us, but even the shower, which had been threatening to douse us since we had left Christchurch, could not quell our excitement. Fortunately, we had come prepared with waterproof jackets and shoes – a must in New Zealand throughout the year!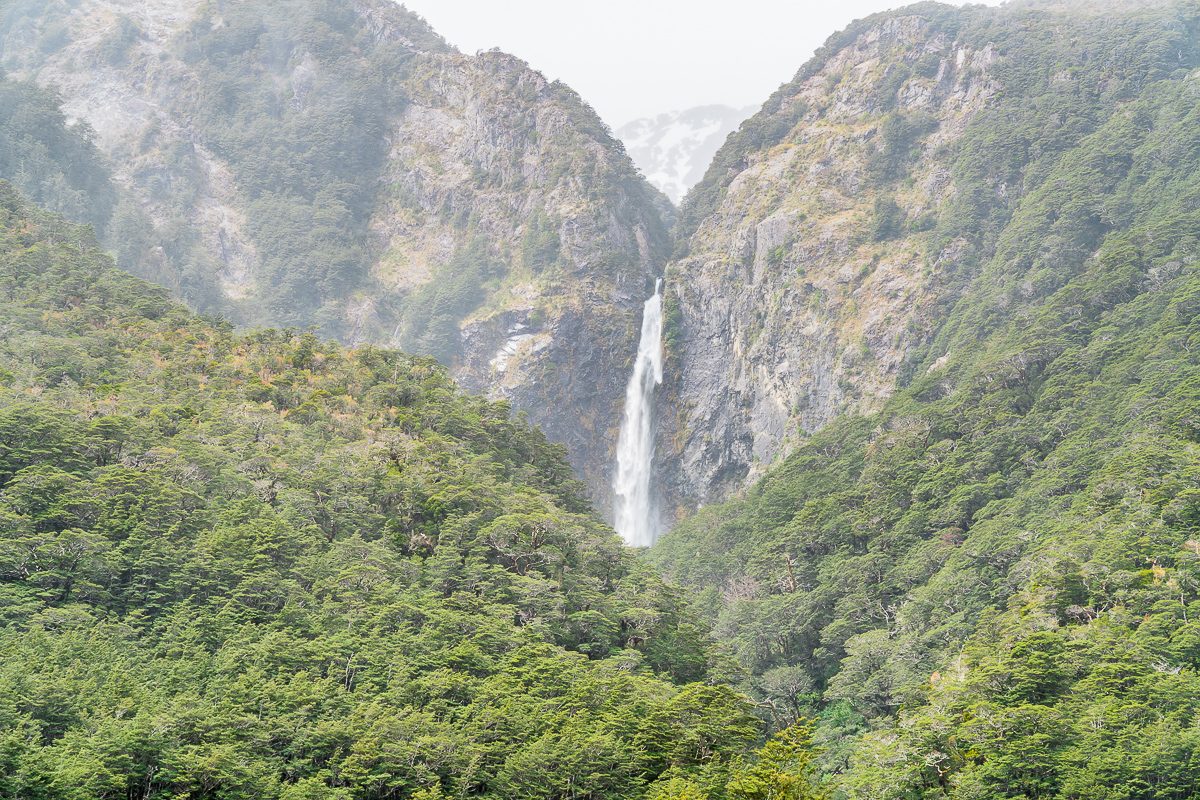 Back on the road, we left the alps behind and arrived at the West Coast, one of the country's most remote and sparsely populated regions. As we passed Greymouth, our first stop along the West Coast was Punakaiki, or Pancake Rocks, a series of limestone formations that resemble a stack of pancakes.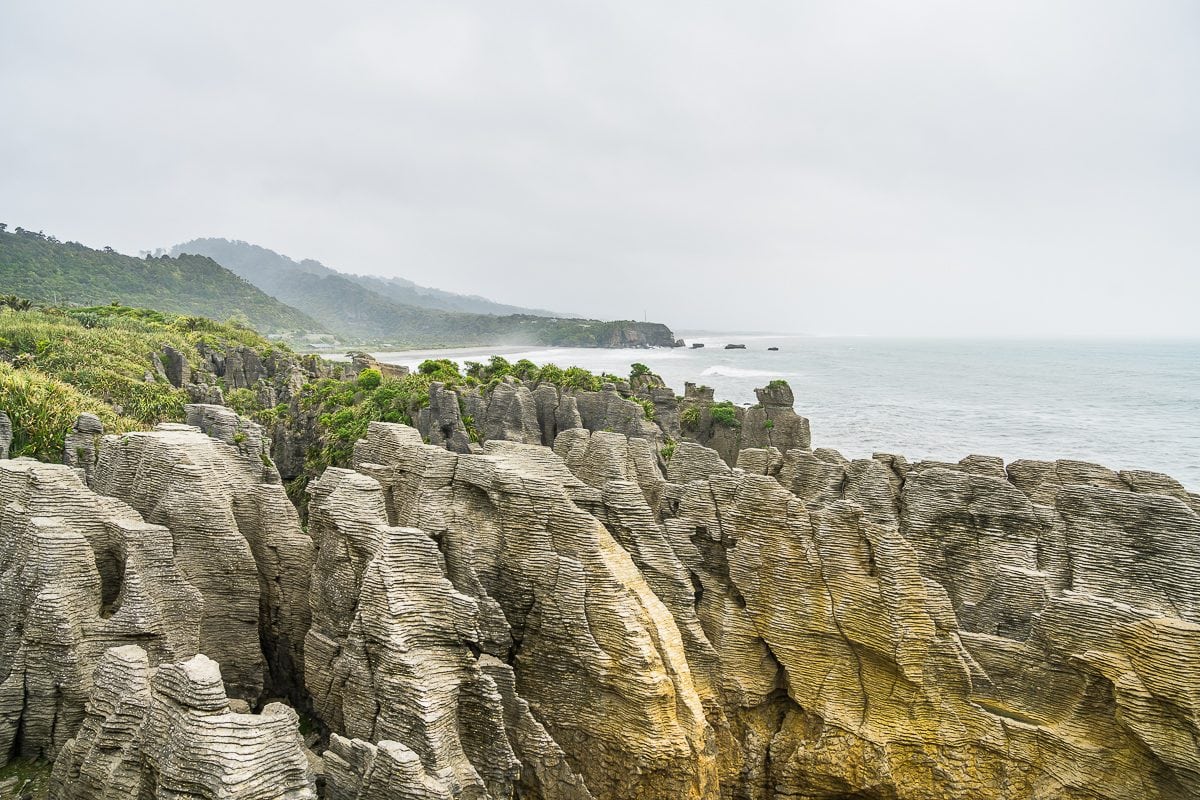 A 20-minute loop walk will take you around these ancient formations along the coast; it's truly one of the West Coast's most impressive natural wonders.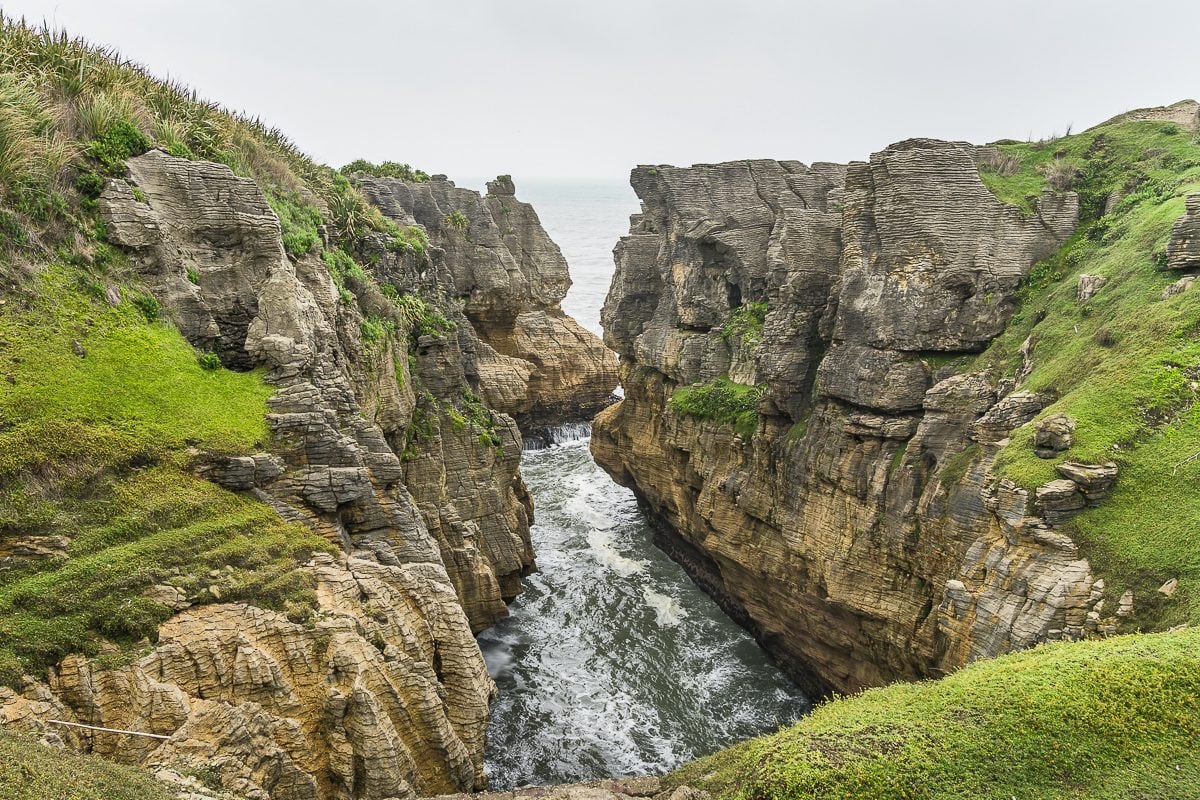 After a quick lunch at the cosy Pancake Rocks Café (where, of course, we ordered a stack of pancakes), we made our way to our Greymouth B&B. We received a warm welcome from our hosts, Helen and John, before we were shown to our room. Our room was beautifully appointed with fabulous views over the Tasman Sea.
Our hosts then recommended another sight worth visiting not too far from Greymouth. So we hopped back in the car and headed to Hokitika Gorge. A short forest walk lead us to a ravine with bright turquoise water. Looking at photos of the gorge, you might think they are heavily edited to make that blue colour pop… However, the water is naturally this blue, due to 'rock flour' (which is like ground down rock formed by glacial erosion).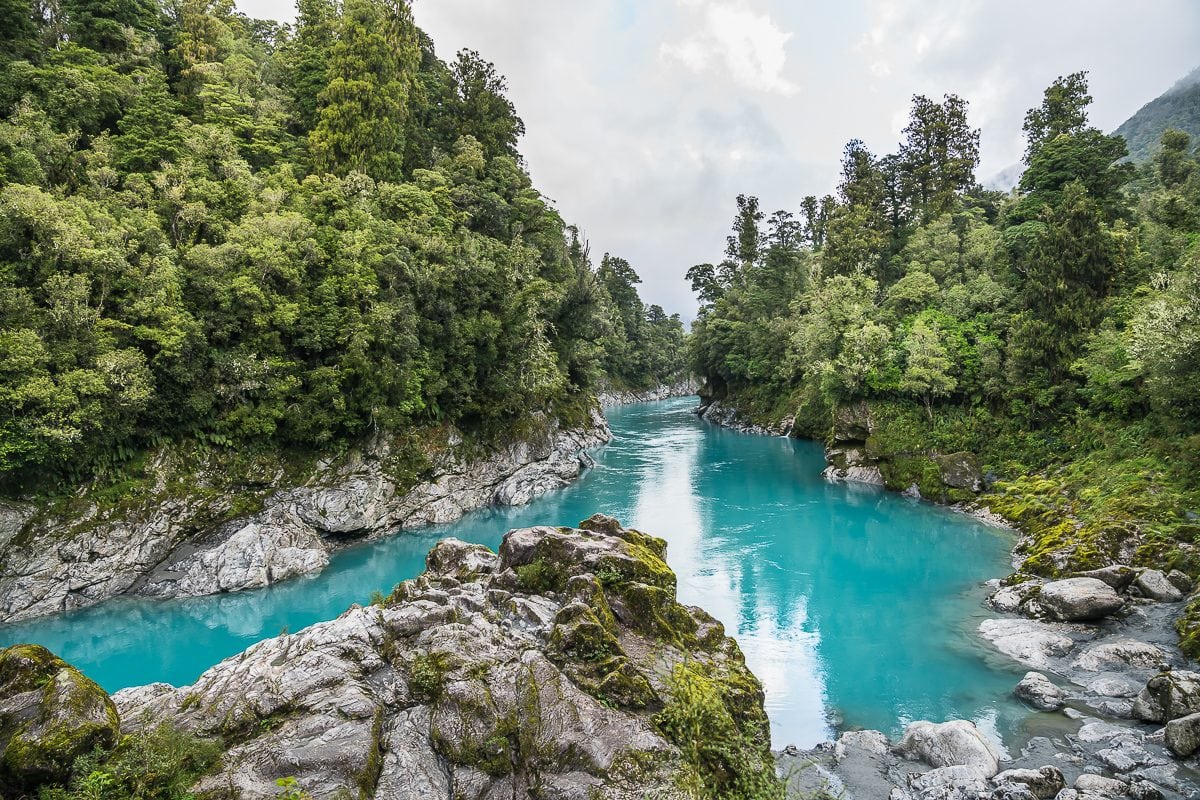 In Hokitika, we celebrated my birthday at the Aurora restaurant. The town itself was quiet and the restaurant near empty but the food was great. With our bellies full, we later joined our host, John, and two other guests on a glowworm night walk in the area.
Glowworms can be found all over New Zealand… In fact, there is a glowworm walkway near Greymouth but John knew another place, not known to anyone but him, where we could marvel at the ethereal-looking creatures with no disturbance.
We walked through an old mine with our torches, and as soon as we walked out the other side John asked us to turn the lights off. Thousands of blue dots appeared all around us, hanging down from the cliff. We stood there for a while in silence, admiring the 'stars' above us. I couldn't have wished for a better way to end my birthday.
Drive from Christchurch to Arthur's Pass: 3h30
Where we stayed: Blakes Terrace Bed & Breakfast – Currently unavailable
Where we ate:
Lunch: Pancake Rocks Cafe
Dinner: Aurora Restaurant (Hokitika)
Day 2 – Drive from Greymouth to Fox Glacier
We woke up early and, after a delicious breakfast spread, we headed out towards the Treetop Walk, only 15 minutes south of Hokitika. A 20-metre high steel platform took us around the ancient Rimu and Kamahi tree canopy. We were alone for the first 30 minutes, and a break in the clouds meant we saw some sunshine. It didn't last long as the rain poured down again 30 minutes later, on our way to Franz Josef Glacier.
On the way, we made a quick stop at the Bushman's Centre. During my research, it looked like a quirky little place (you can eat possums here!), but it had weirdness written all over it as soon as we set foot inside the building. We ordered some hot chocolate and left as soon as we could.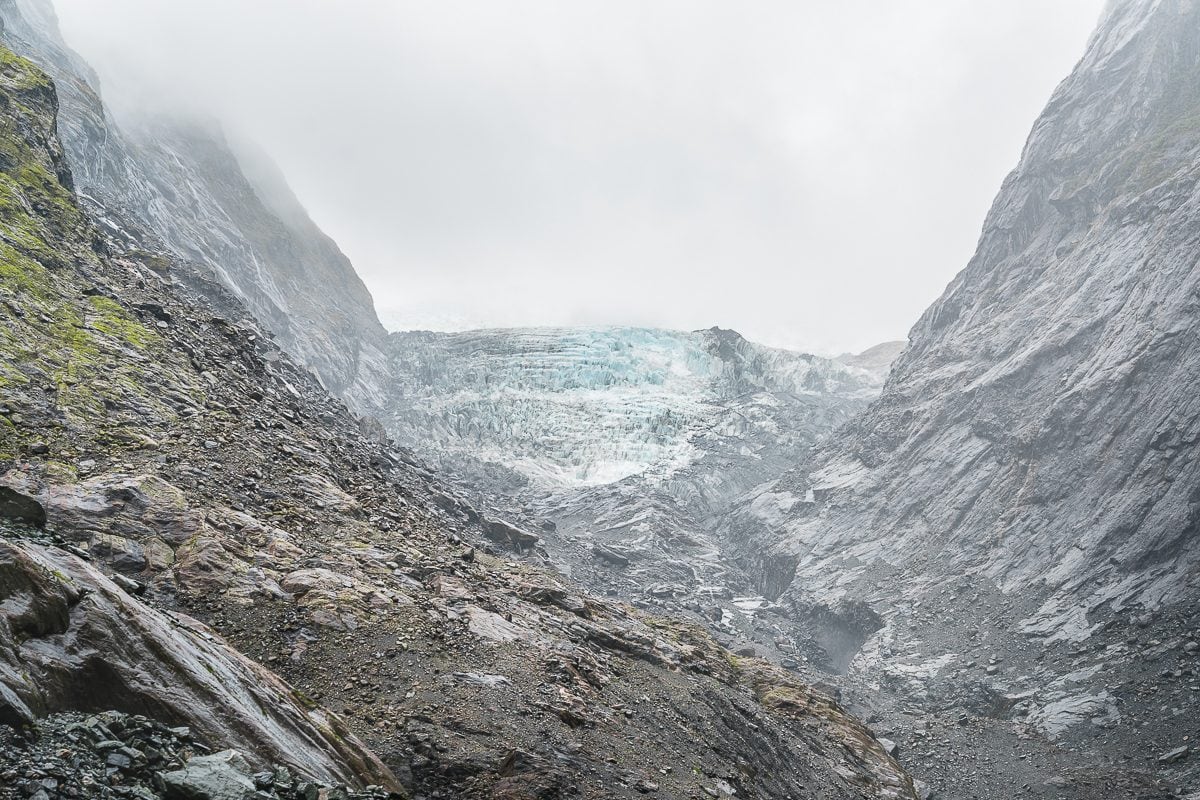 Franz Josef was our first glacier stop. Armed with our rain jackets, we hiked the rocky riverbed path, passing beautiful waterfalls until we reached the viewing platform. The glacier was still far away but we were allowed no further. Along the way, signage reminded us of the retreating glacier, which had occurred over the last few decades. It's a sad indication of the current state of our planet as the glaciers around the world keep retreating and how, in the future, they might only be a fraction of their size.
After our hike, we jumped back in the car and drove to Fox Glacier. I was excited to reach the glacier. The plan was to fly up onto the glacier and we could hike around the ice formations, ice caves and arches. Unfortunately, bad weather had been following us since the start of the trip, and Fox Glacier was shrouded in low cloud cover. We were told it was too dangerous to fly, so we booked our adventure again for the following morning, hoping the weather would be on our side.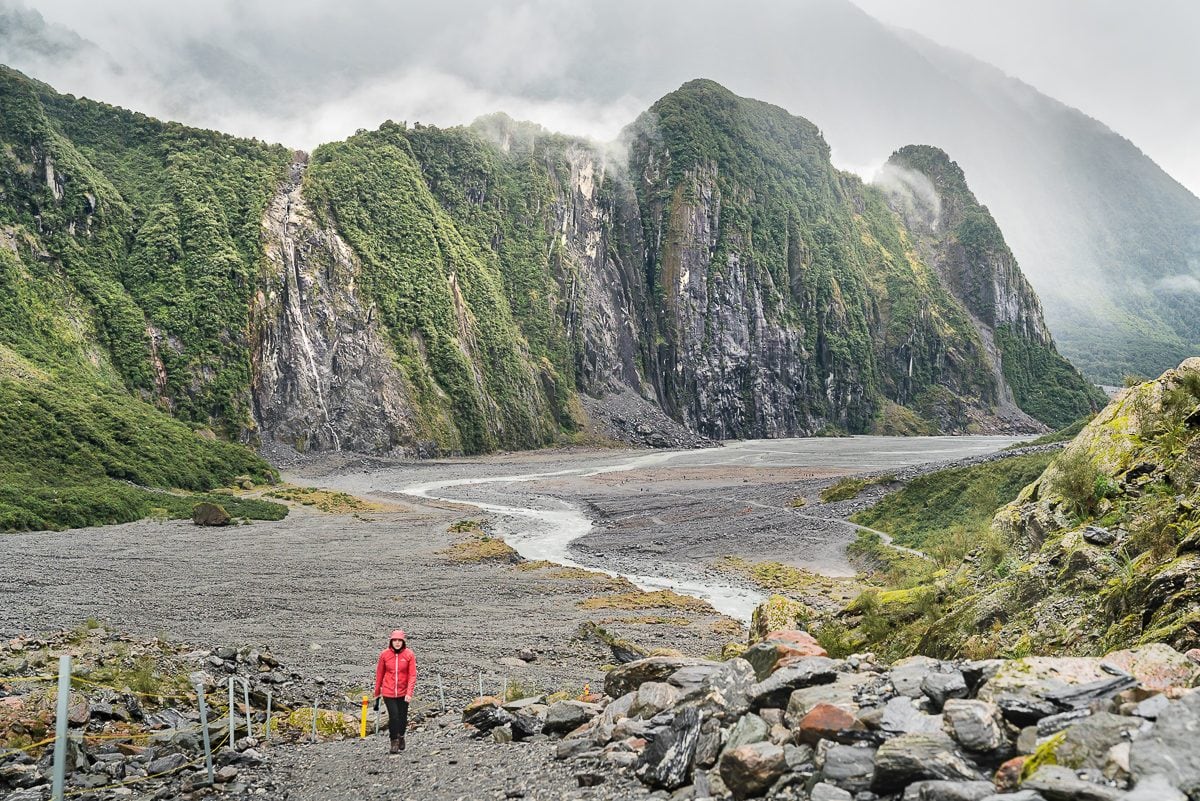 We had a quick bite to eat at Fox Glacier Guiding Centre before heading to the start of the glacier. We thought if we can't fly onto the glacier, we might as well try to hike towards it. The hike led us over moraine debris, through a valley carved out by the glacier. The rain did not slow us down, and we enjoyed the one-hour return hike through the riverbed, where small waterfalls cascaded down the steep rock faces around us.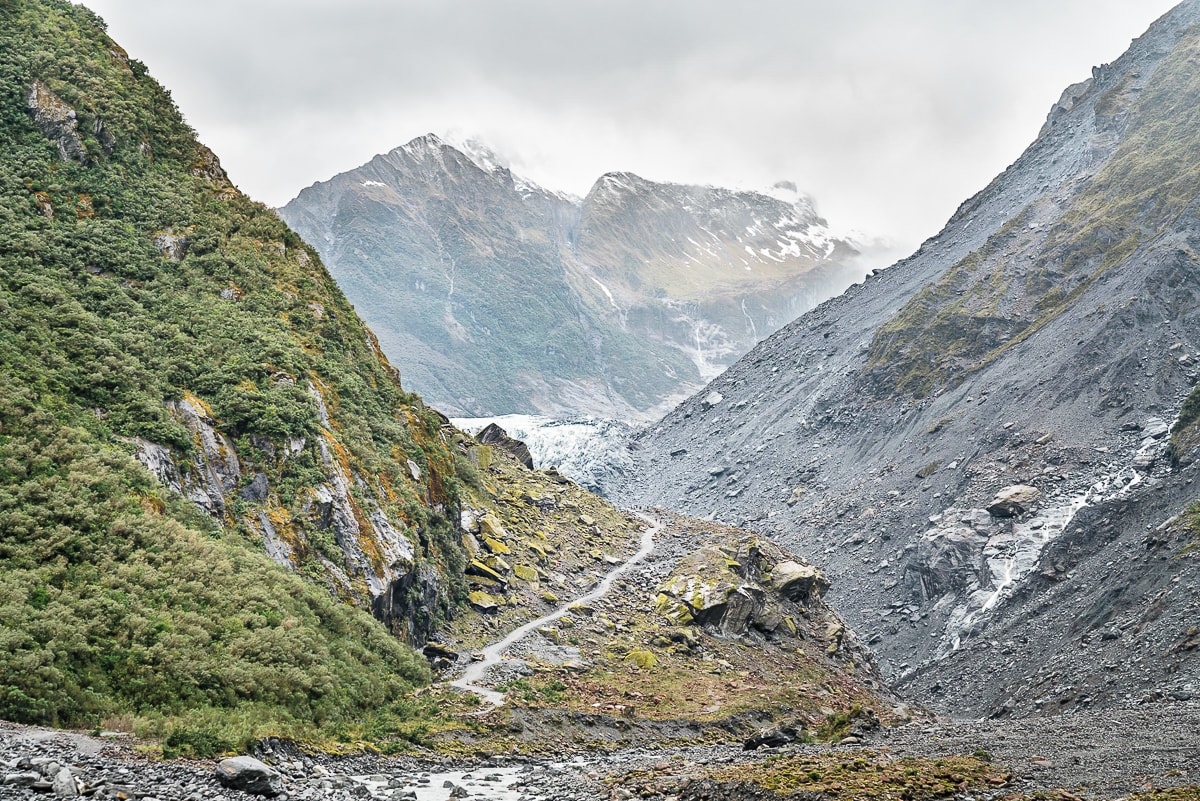 Just like with Franz Josef Glacier, we could not walk up close to Fox Glacier, and had to admire the force of nature from a viewpoint 450 metres away.
A little tired of the rain, we checked into our motel in Fox Glacier: Sunset Motel. For a motel, the room was quite large and even included a kitchenette and spacious seating area with floor-to-ceiling windows offering us mountain views.
Following a short nap, the rain had temporarily stopped, and a few sun rays were breaking through the clouds. We hopped in the car and drove to Lake Matheson to take advantage of the dry spell. The lake is famous for its crisp surface reflection of Mt Cook and Mt Tasman.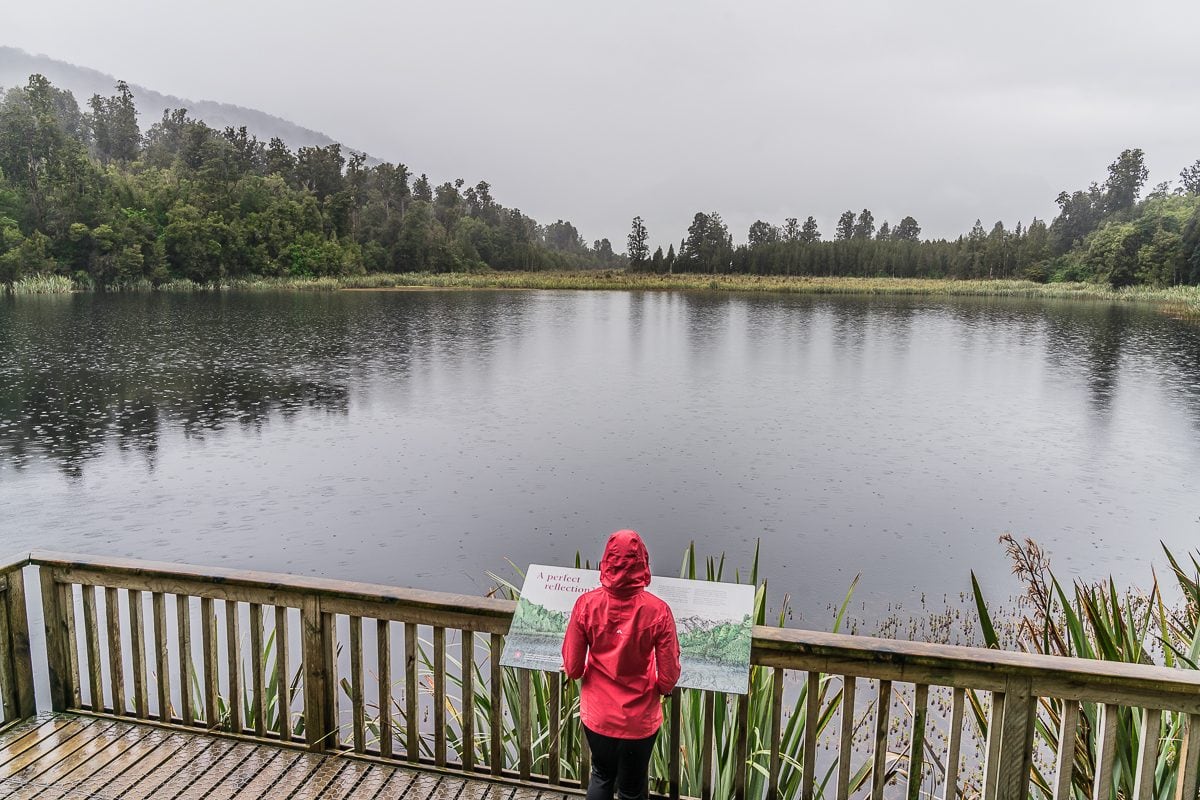 After a short walk to the lake from the carpark, we realised we weren't lucky, as the views of the mountains were obscured by the clouds, and there was little visible reflection. On the way back, the clouds receded, and we were treated to the view of the mountains and the glacier. We took a few sunset photos and headed to our dinner spot, The Last Kitchen.
Drive from Greymouth to Fox Glacier: 2h38
Where we stayed: Sunset Motel (Fox Glacier)
Where we ate:
Lunch: Fox Glacier Guiding Centre
Dinner: The Last Kitchen
Day 3 – Drive from Fox Glacier to Wanaka
On Day 3, we left Fox Glacier early and drove the last kilometres along the rugged West Coast. Along the way, we passed Knights Point Lookout, which offered scenic coastal views, and then we stopped to stretch our legs at an ancient kahikatea swamp forest, Ship Creek.
Turning away from the coast, we entered Mount Aspiring National Park. The park features stunning landscapes with alpine lakes, river valleys and the Southern Alps. We stopped for a few short hikes along the way. These led us to thundering waterfalls, such as Roaring Billy and the Fantail Falls, as well as the Blue Pools, where pure glacial water flows into the Makarora River.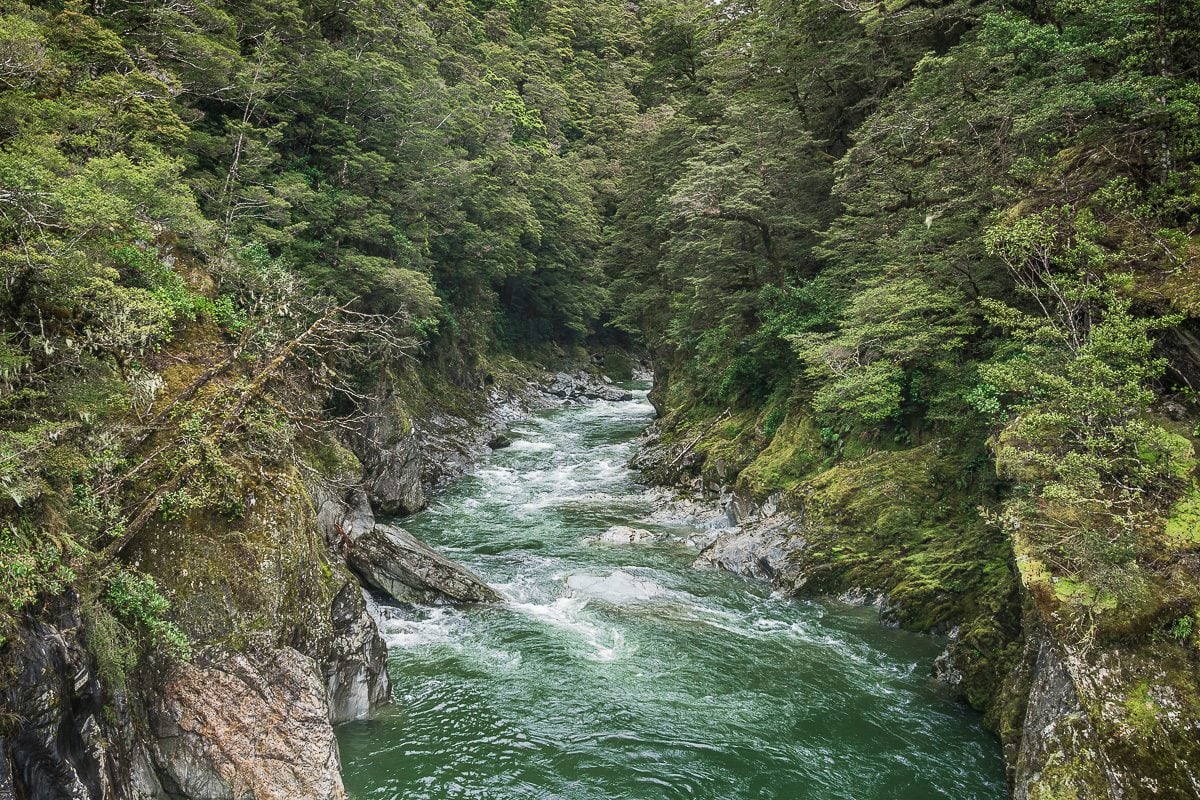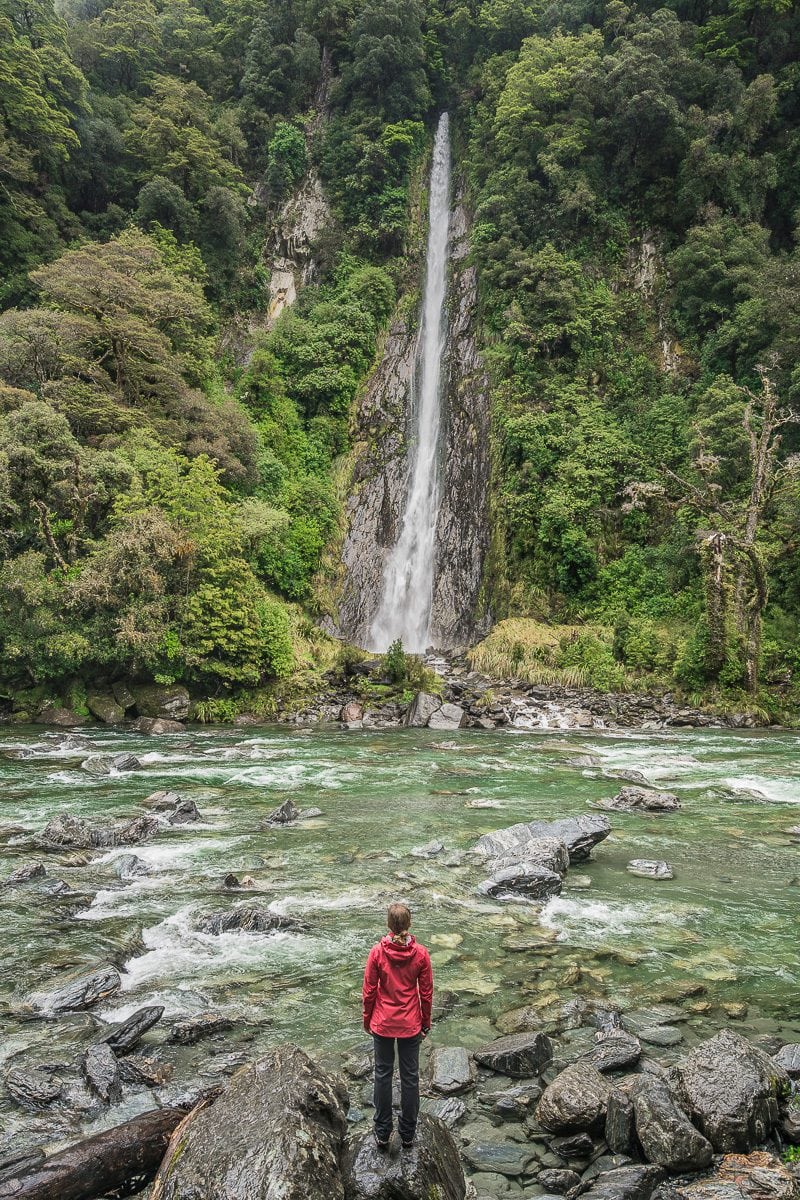 We stopped at Makarora Tourist Centre for a quick bite to eat before leaving Mount Aspiring National Park and arriving a little while later in Wanaka.
At Wanaka, we slowed down a little and took a leisurely stroll along the lake. This included a photo session at 'that Wanaka tree' before taking a drive around the lake to Glendhu Bay. We checked into our B&B, The Tempest, where we stayed in a cosy attic room, equipped with an amazing rain shower.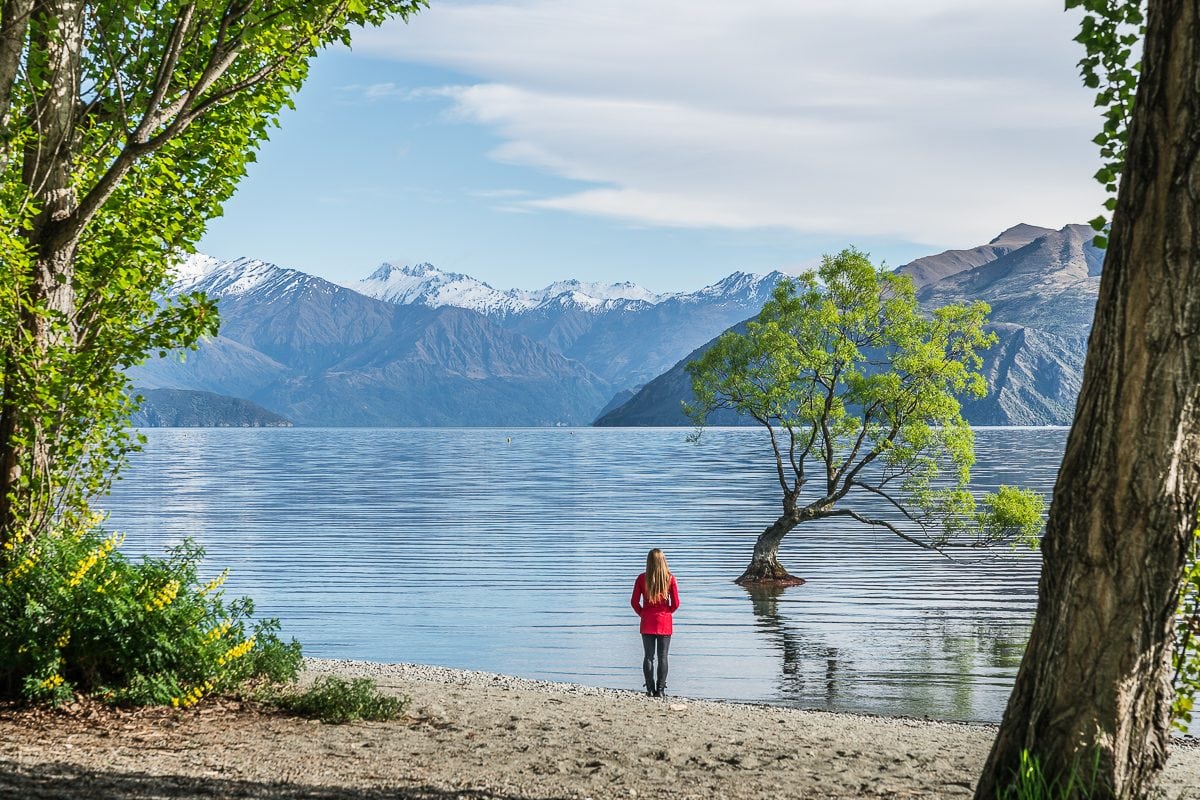 As we left the B&B for dinner, the sun came out. We dined at Kika – a place recommended by our hosts. It is known for its Italian-inspired dishes, designed for sharing.
Drive from Fox Glacier to Wanaka: 3h10
Where we stayed: The Tempest B&B
Where we ate:
Lunch: Makarora Tourist Centre
Dinner: Kika (Wanaka)
Day 4 – Wanaka to Queenstown
A fabulous breakfast spread prepared us for another busy day. From Wanaka, we crossed the Crown Range – New Zealand's highest sealed road – and passed the 'Bra Fence' along the way. The road is challenging during winter when it is often covered in snow and ice. However, we were blessed with a sunny spring day, so the drive was spectacular.
As we arrived on the other side of the range, Queenstown came into view. There are many viewpoints where you can take in the landscape. We took a quick detour to Arrowtown – a charming gold rush village – before heading to Queenstown harbour.
With Real Journeys, we boarded the TSS Earnslaw – an Edwardian vintage steamer – for a relaxing trip along the shores of Lake Wakatipu. We cruised across the picturesque lake towards Walter Peak Farm, where a sumptuous BBQ lunch awaited us.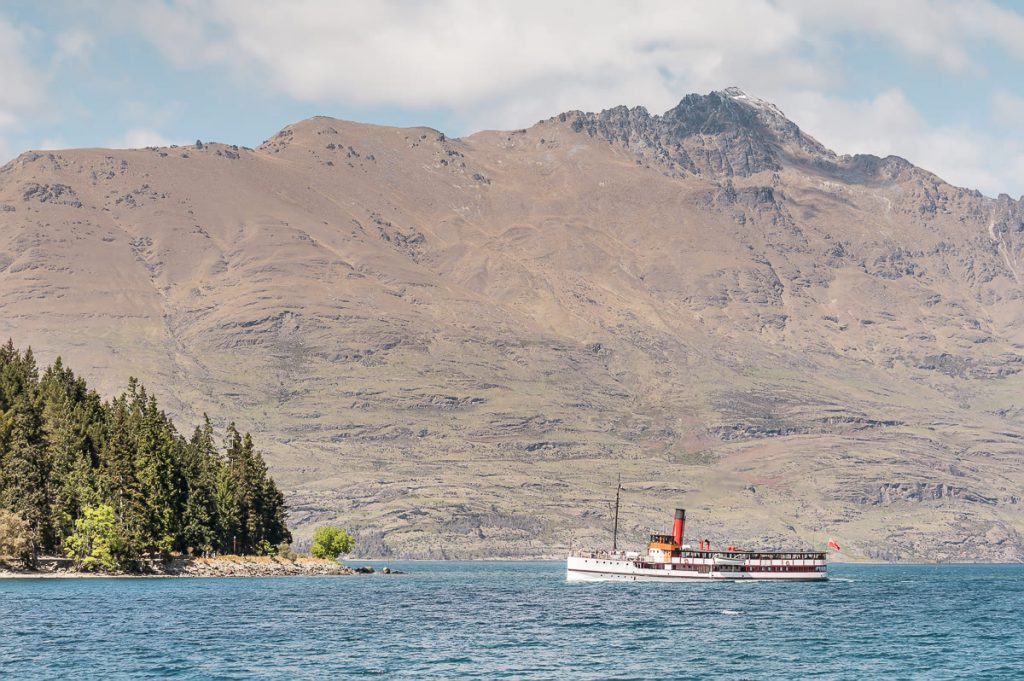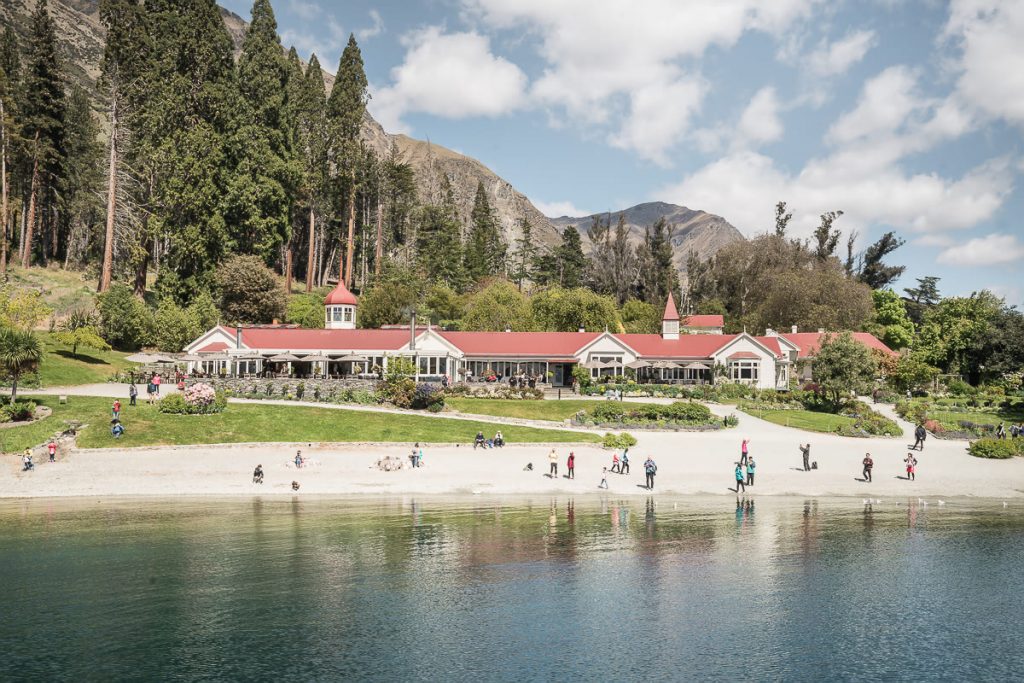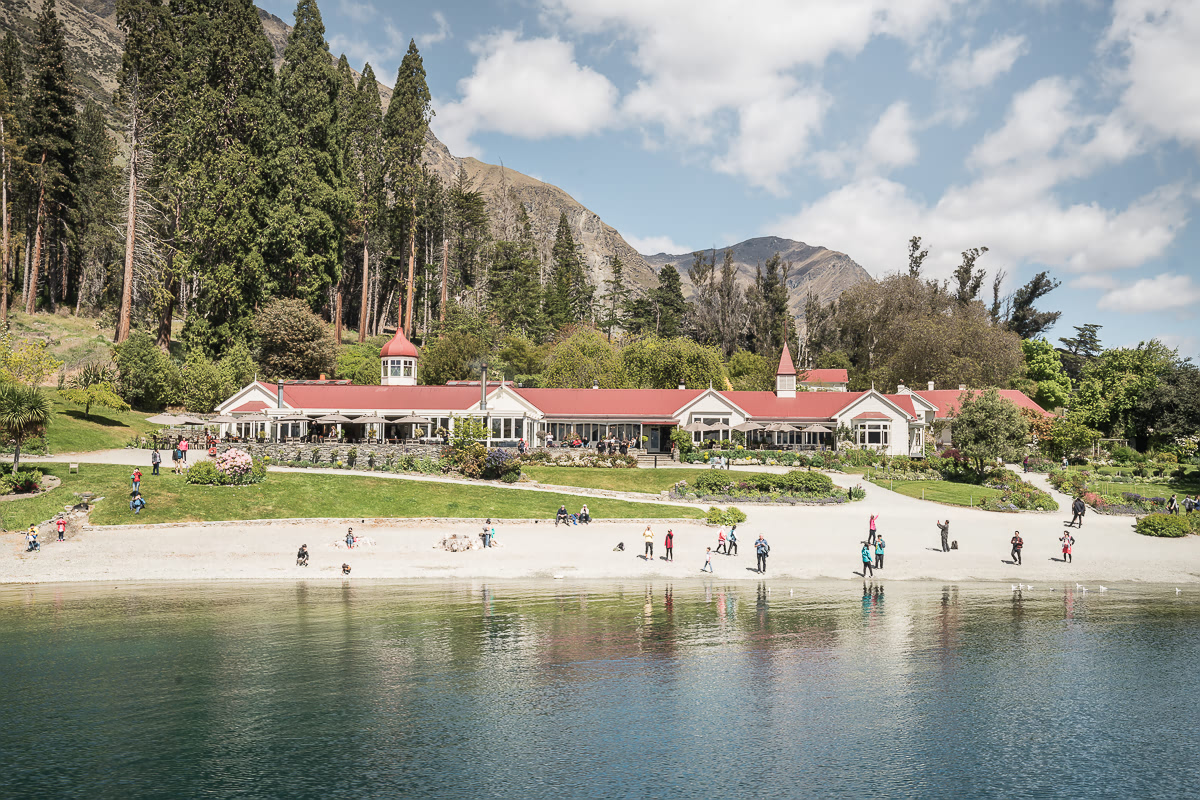 After a farm demonstration, which included sheep herding and shearing, we boarded the TSS Earnslaw back to Queenstown.
Following the cruise, we headed to the gondola and enjoyed a scenic, 450-metre ride up to Bob's Peak. With the spectacular mountains as our backdrop, we took two exciting luge rides on a 800-metre course. After the last few days, it was fun to let our hair down.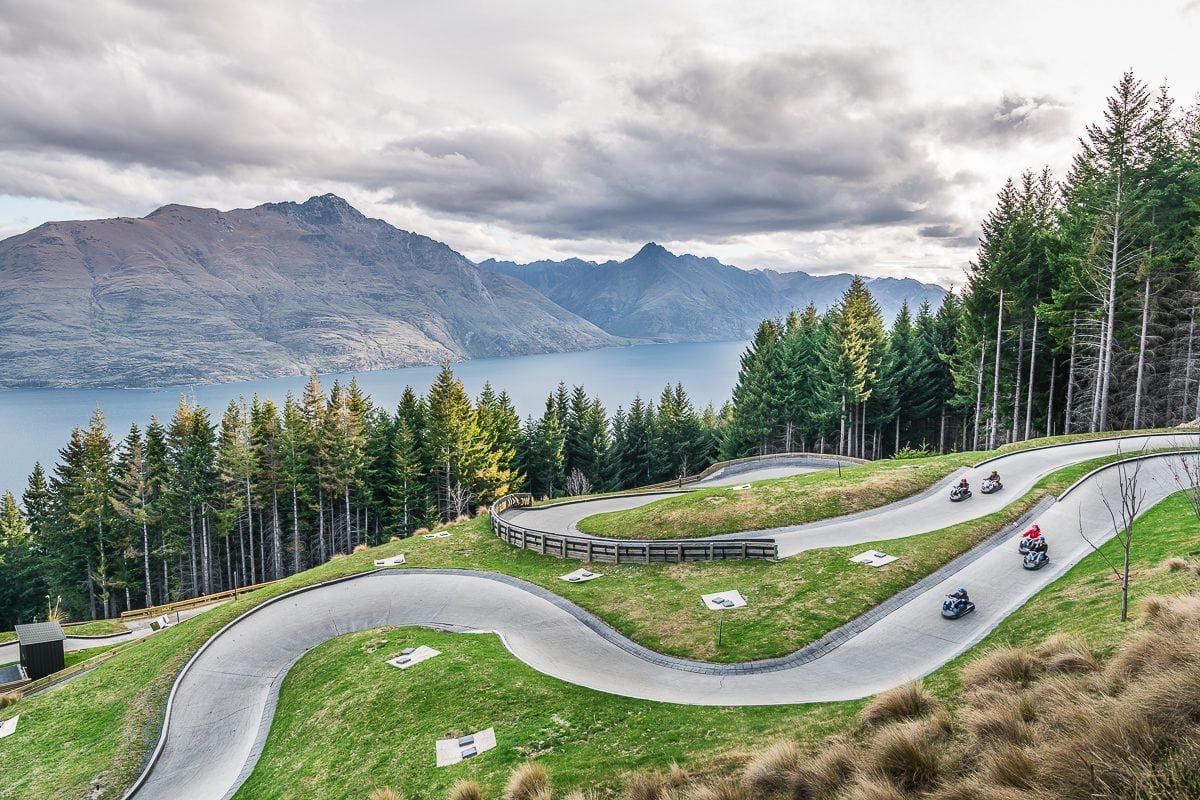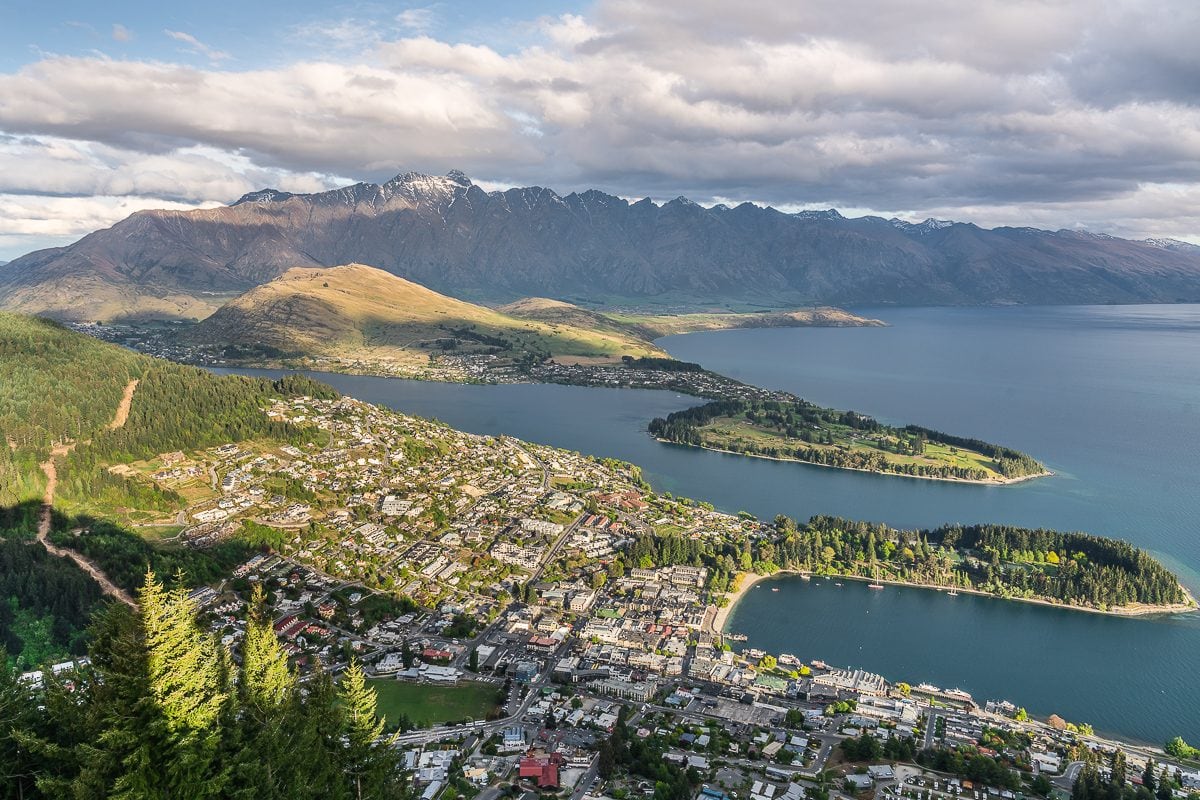 Back on the ground, we made our way to our hotel, Hilton Queenstown Resort & Spa. After quickly freshening up, we dined at the hotel's restaurant: Wakatipu Grill, while enjoying the sunset over the lake.
Drive from Wanaka to Queenstown: 1h
Where we stayed: Hilton Queenstown Resort & Spa
Where we ate:
Lunch: Walter Peak BBQ Lunch
Dinner: Wakatipu Grill
Day 5 – Queenstown
We started the day with a pamper session at the Onsen Spa. From our private hot tub, where we sipped on bubbles and indulged in chocolate, we enjoyed sweeping views of the Shotover Canyon.
Refreshed, we took a ten-minute drive to Shotover Jet, where we waited to board the jet boat. This would mean a thrilling ride through the narrow canyons!
Unfortunately, due to persistent rain, the rides were postponed until further notice. After patiently waiting for some three hours, we decided to book our trip for a few days later instead.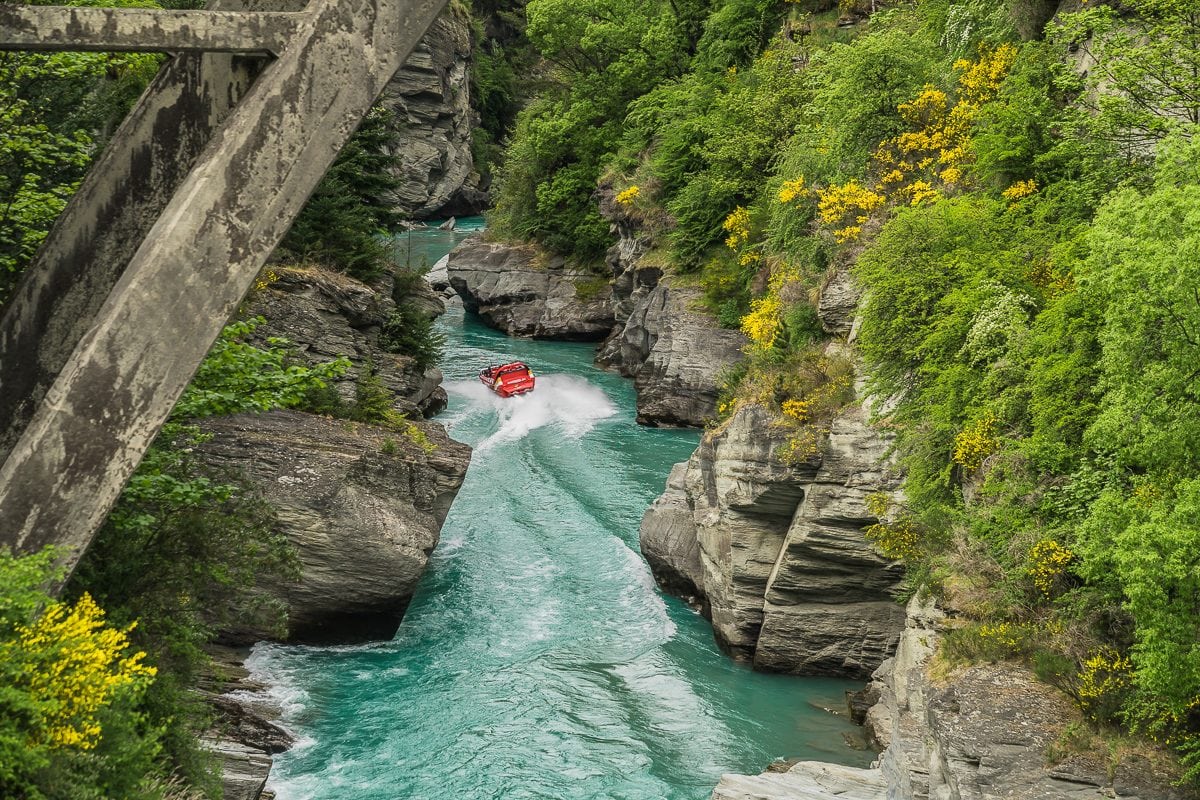 After our failed boat trip, it was time for lunch. While leaving Shotover Canyon, we phoned ahead to Fergburger, a highly rated hamburger restaurant in Queenstown, and placed a take-away order. I recommend phoning ahead as the queues can get long! We enjoyed our sumptuous burgers from our car, watching the rain over Lake Wakatipu.
Because outdoor activities were out of the question, we found ourselves at Thrillzone, where you can partake in a variety of fun indoor activities. We opted to try out 360° DRIFT, where we spent a fun 20 minutes driving and drifting around the small arena.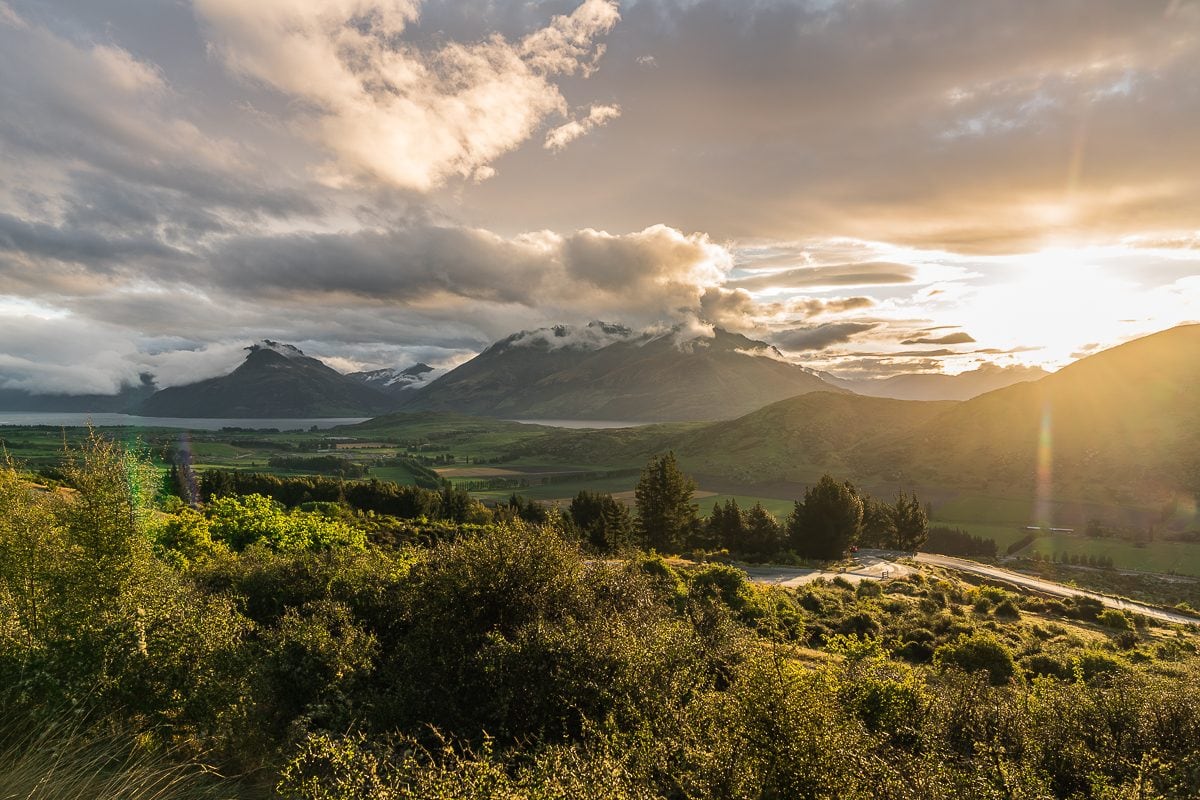 Back at the Hilton, we tried out some of the hotel's facilities, which included the indoor pool and spa, equipped with sauna and steam room. While relaxing at the spa, the rain clouds slowly disappeared, and the sun finally came out. Not wanting to miss out on the late afternoon sun, we hopped back into the car and drove the mountain road to the Remarkables, a ski resort near Queenstown. In the end, we didn't make it to the resort (it's a long, windy 13.2km road), but nevertheless we enjoyed stopping a couple of times at the breathtaking viewpoints.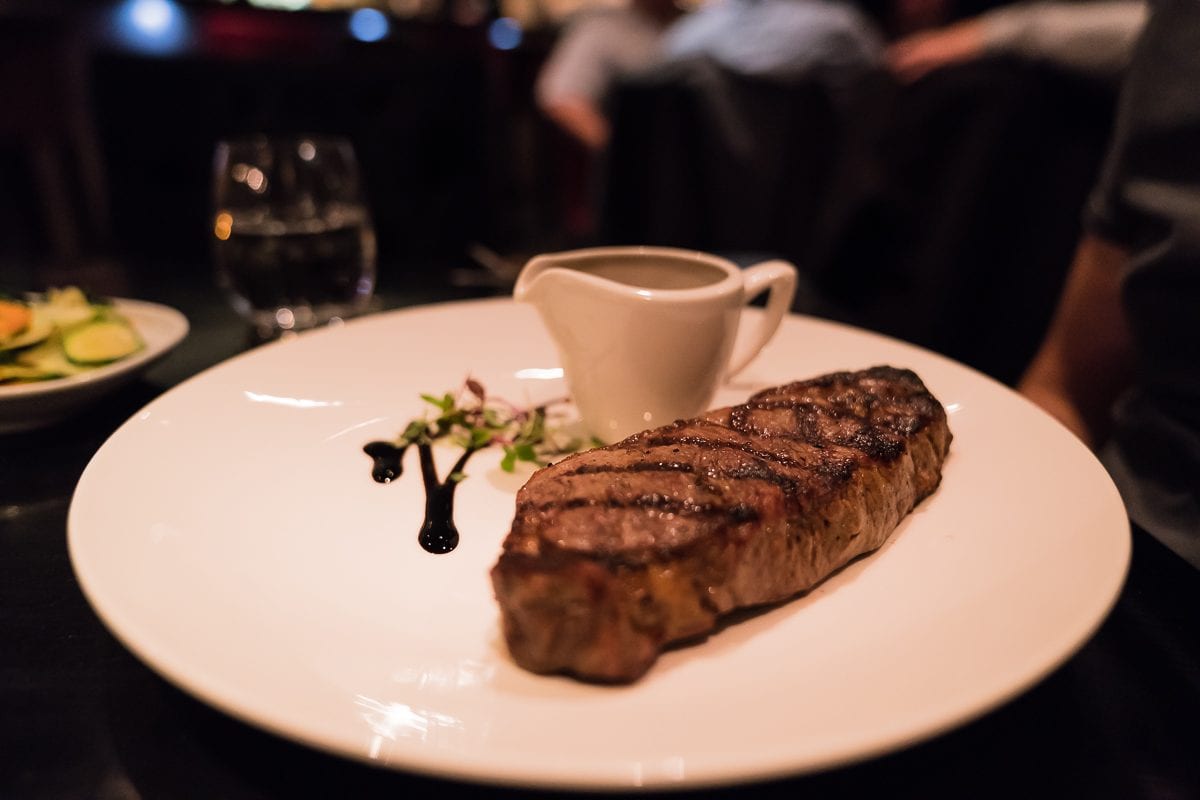 We ended the day in Queenstown with a delicious meal at the Botswana Butchery. This stylish restaurant is located on Lake Wakatipu and offers a fine dining experience, with highly rated service.
Where we stayed: Hilton Queenstown Resort & Spa
Where we ate:
Lunch: A Fergburger takeaway
Dinner: Botswana Butchery
Day 6 – Queenstown to Milford Sound to Glenorchy
On Day 6, we embarked on our longest, albeit most spectacular, drive of the trip. The drive from Queenstown to Milford Sound takes around 3h45. Most people break up the journey by staying over in Te Anau, or by joining a coach tour. However, we preferred our self-driving freedom, as this meant we could stop at certain viewpoints we would otherwise have had to miss.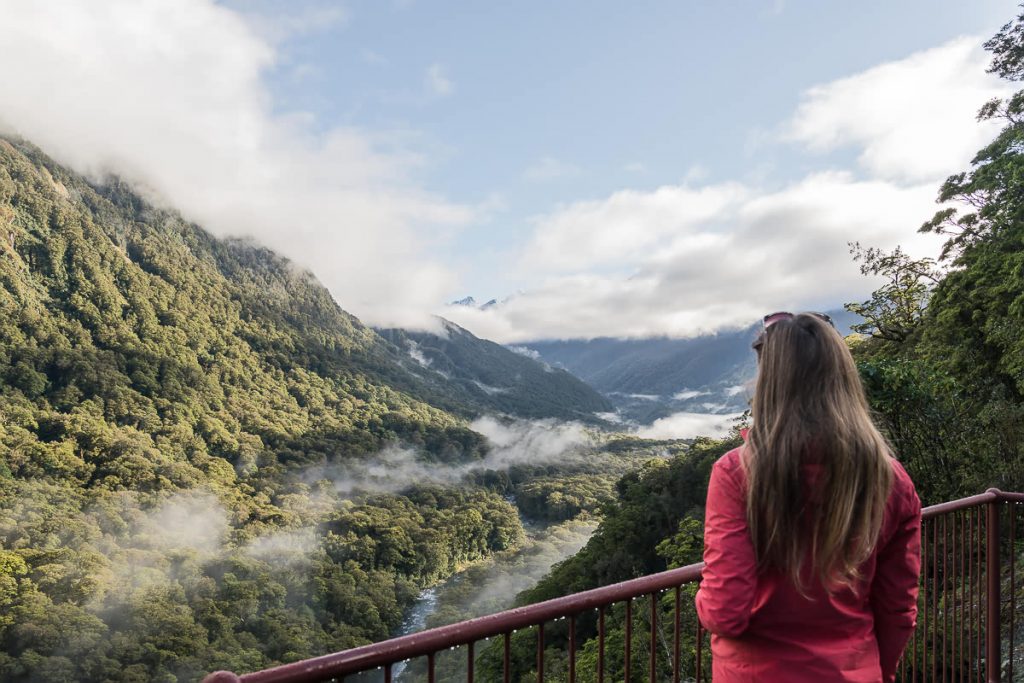 Once in Milford Sound, we joined Real Journeys' morning Nature Cruise. The cruise took us past the steep rock faces, passing many temporary waterfalls, as well as the spectacular permanent falls, along the way.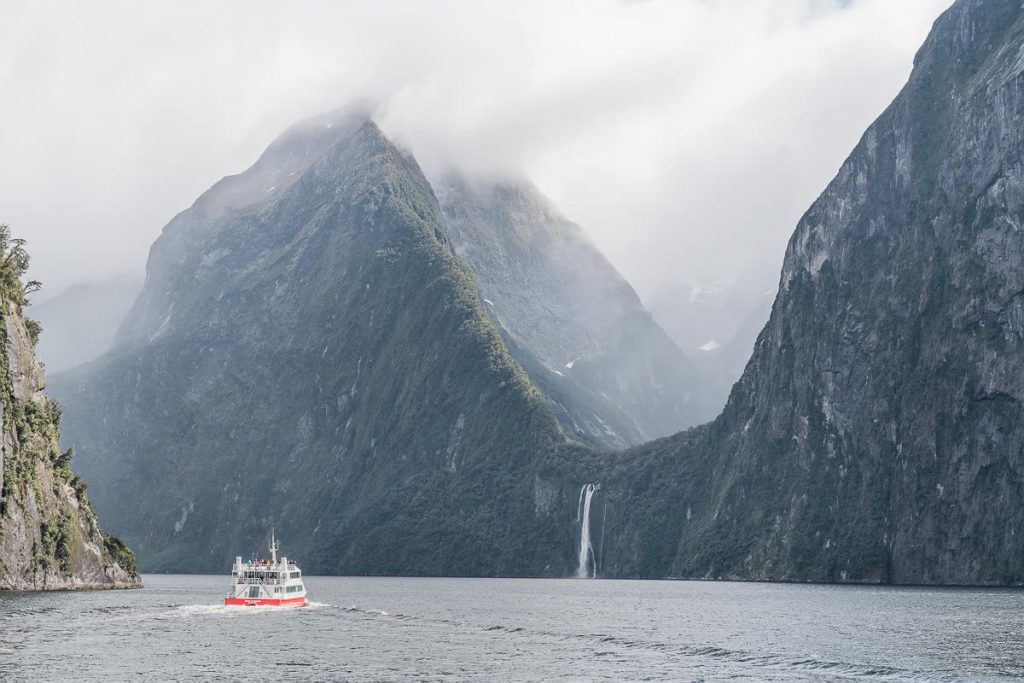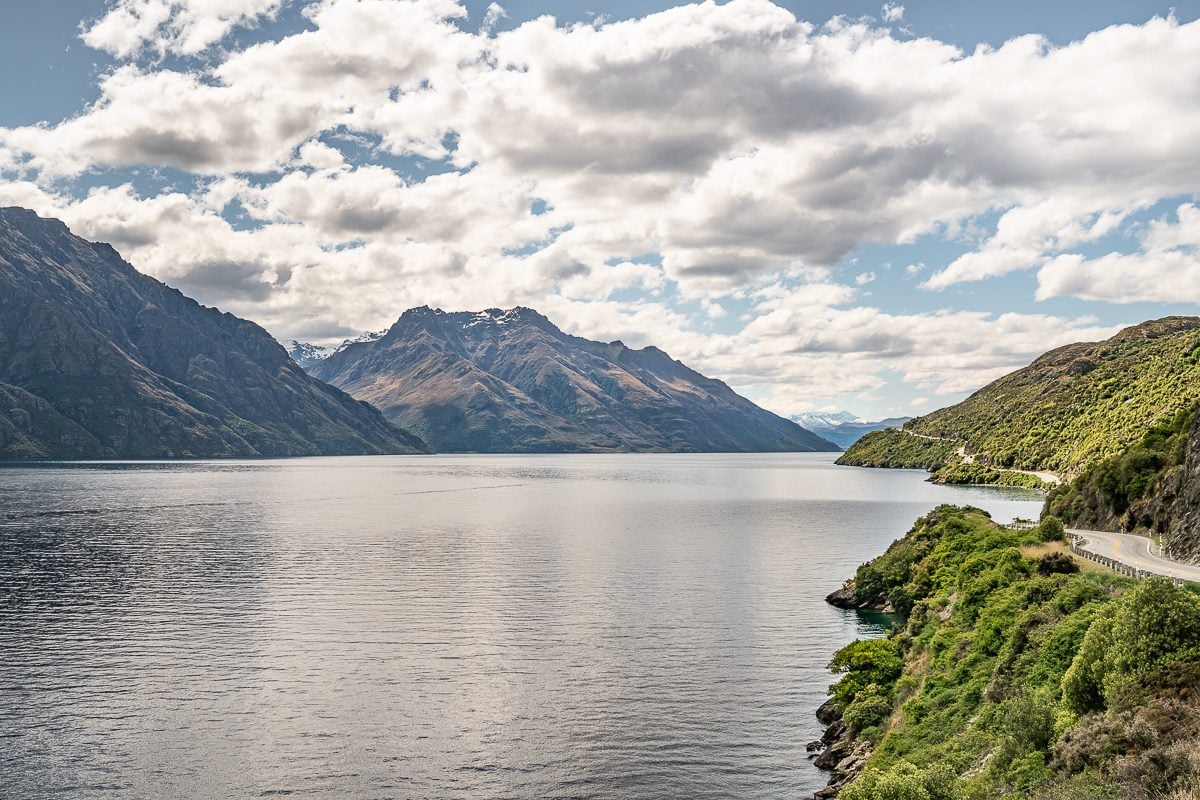 After our cruise, we started our long drive back to Glenorchy, which is a small town on the northern end of Lake Wakatipu. The scenic drive from Queenstown to Glenorchy was stunning. The late afternoon sun basked the valley in beautiful soft light; this is always our favourite time of day for our landscape photography. We stayed across the lake from Glenorchy, at EcoScapes, a beautiful wooden guest unit with spectacular views.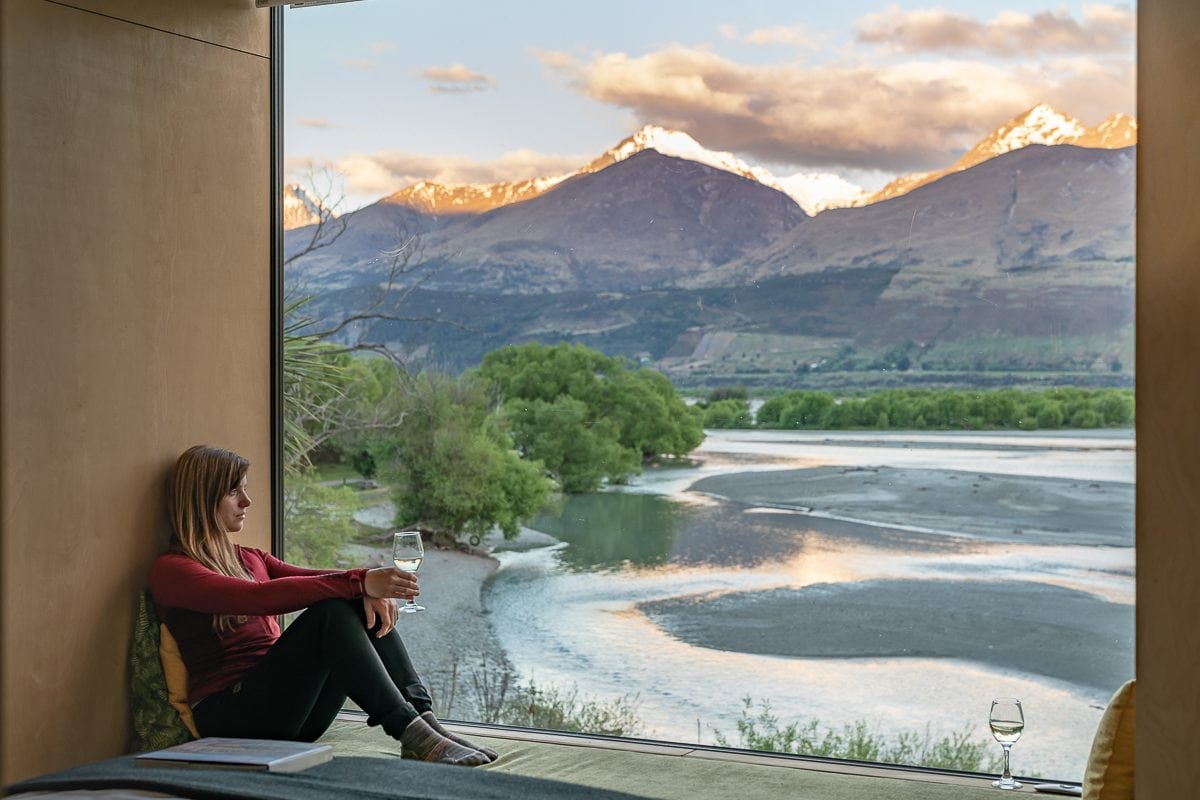 For dinner, we dined at Kinloch Lodge next door. The outdoor patio was the perfect setting to enjoy our dinner, as it overlooked over the lake at sunset… Just be careful of the sand flies!
Due to our packed schedule, for most people, this day might seem like too much driving… I would suggest either staying the night in Te Anau or Milford Sound. There are overnight Milford Sound cruises, which we were interested in booking, but unfortunately, these did not fit in with our schedule.
Drive from Queenstown to Milford Sound: 3h45
Drive from Queenstown to Glenorchy: 45 min
Where we stayed: EcoScapes at Kinloch Lodge (Glenorchy)
Where we ate:
Lunch: On the road
Dinner: Kinloch Lodge
Day 7 – Glenorchy to Gibbston Valley
What better way to start the day than with breakfast in bed, while overlooking the lake, with the Glenorchy Mountains as a backdrop. We were sad to leave our accommodation so early, but we had a fun activity planned (one which I had been looking forward to since booking the trip): horse riding around Glenorchy!
In Glenorchy, there are two main companies who you can book horse riding trips through. After some research, we chose to do the two-hour Rees River Trail with High Country Horses. The experience was excellent, particularly as Ash and I were the only ones riding that morning, and our guide was able to adjust the ride based on our experience and what we felt comfortable doing.
The picturesque setting is perfect for horse riding. We walked through the open valley, native bush and did several river crossings. It's a great experience for novice and experienced riders both.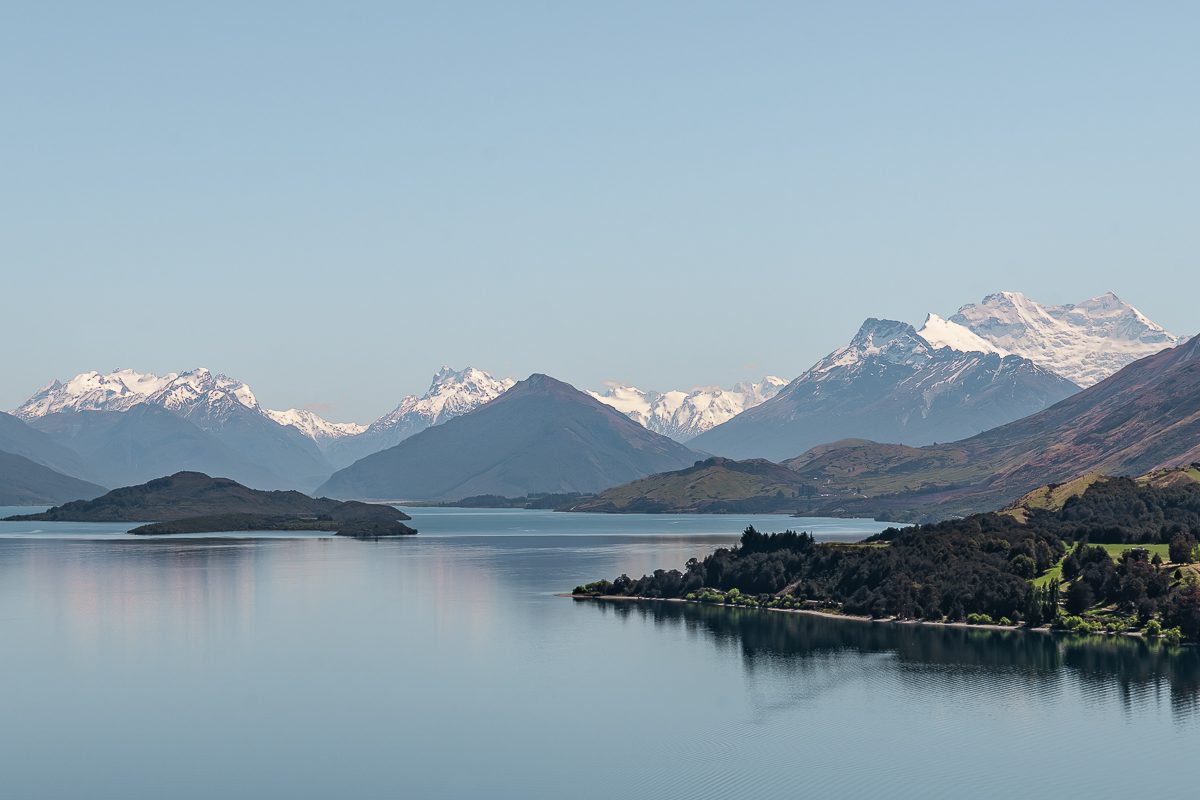 After our ride, we set off on the road again back to Queenstown for another try at the jet boat ride. The weather was warm and sunny, so this time, our jet boat ride did not get cancelled, and we were able to experience a thrilling ride on the Shotover River.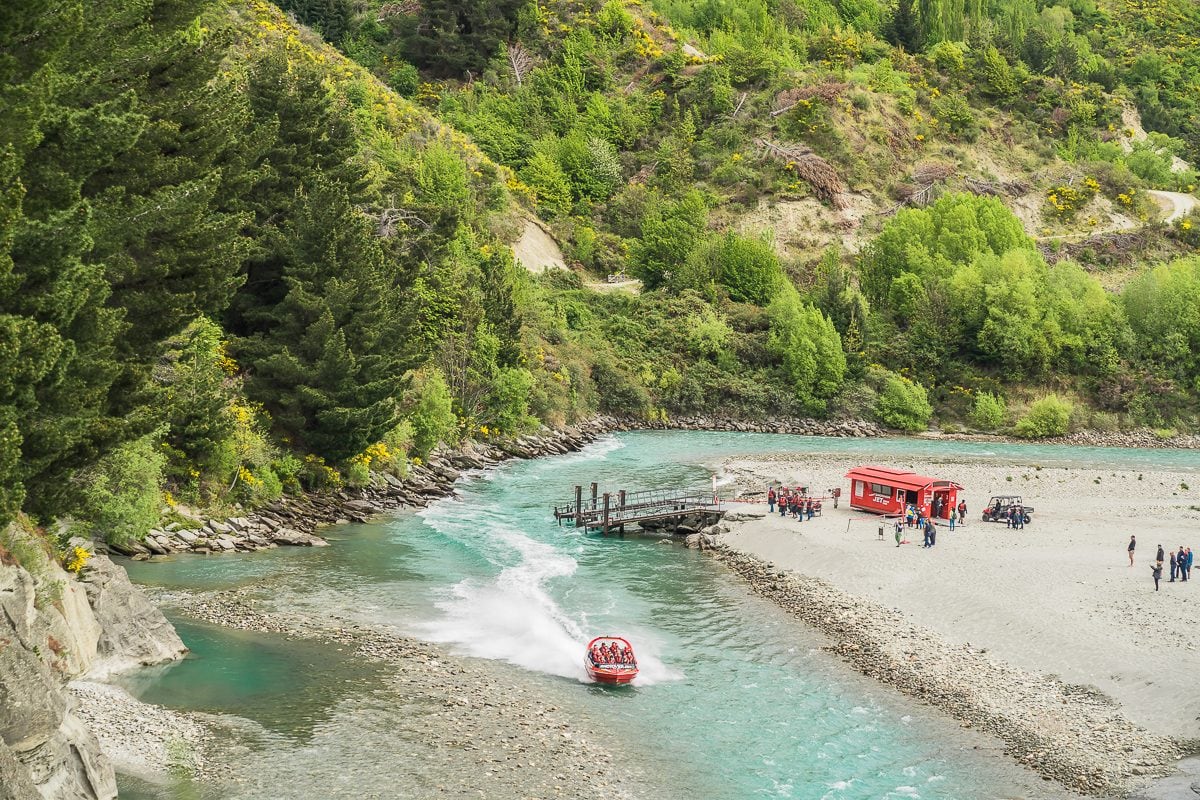 Next. we made our way to the Gibbston Valley, or 'Valley of the Vines', which is known for its excellent Pinot Noir. The vineyards are located between the rugged mountains, making for picturesque landscapes. Our first stop on the wine trail was Amisfield Vineyard & Bistro for lunch. We sat down on their outside terrace, where we enjoyed a chef's selection of cheeses, along with a glass of Pinot Noir.
On our way to the next winery, we passed the famous Kawarau Bridge Bungy. The area looked stunning, and I almost convinced myself I could maybe bungee jump off a bridge.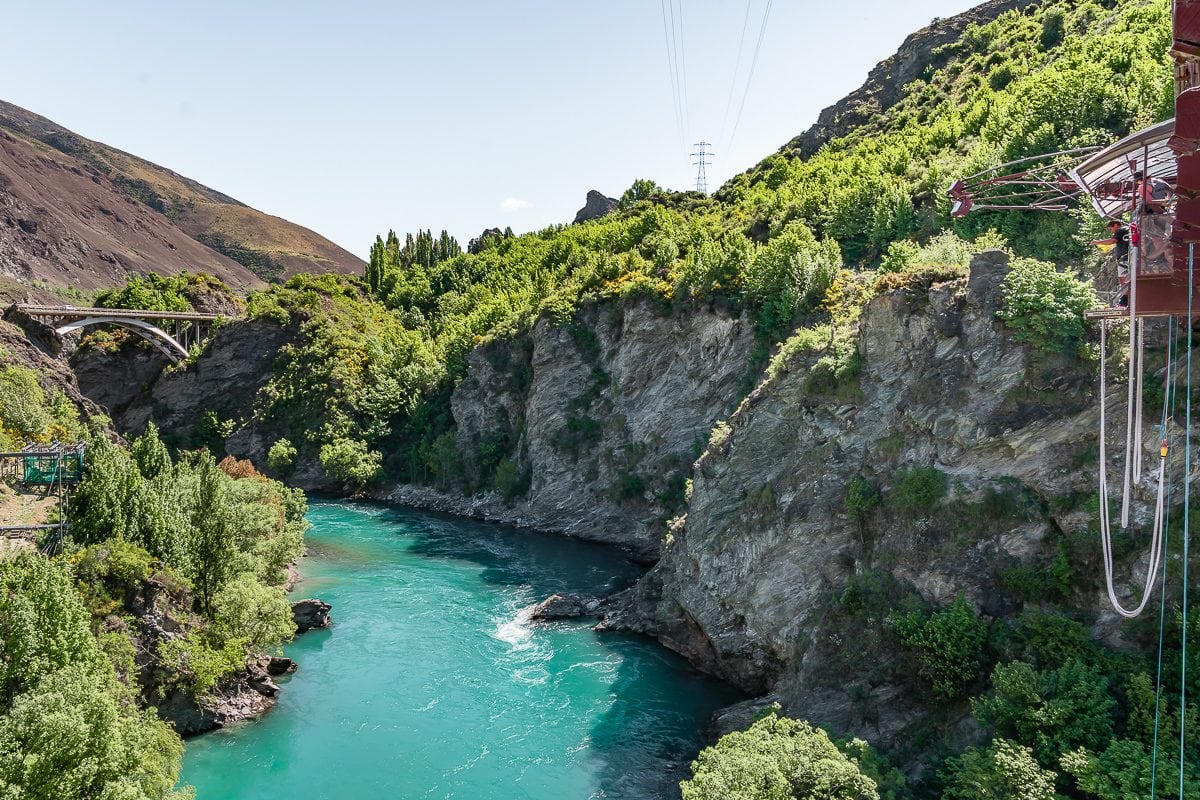 After walking around the bridge and witnessing a few people plunging towards the river below, we decided not to risk our lives that day. We had just eaten our lunch at the winery and told ourselves we might bungee next time we were in the area. (I'm not sure if that will ever happen though!)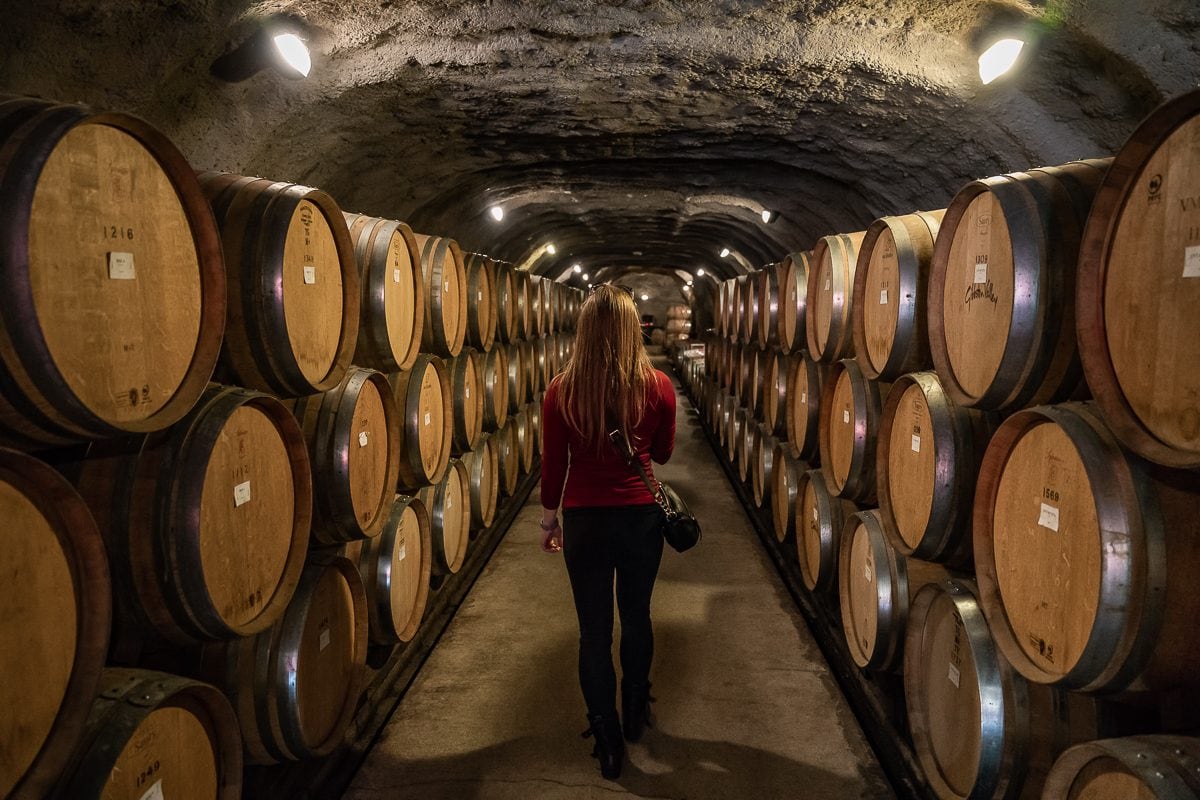 Our next stop was Gibbston Valley Winery, which is also home to New Zealand's largest wine cave. We joined a vineyard tour, which ended with an excellent wine tasting experience in the wine cave.
After our wine tasting, we checked into our boutique vineyard accommodation in Kinross Cottages. Apart from being a cellar door for several smaller wine producers, it also offers beautifully appointed cottages and a bistro popular with the locals.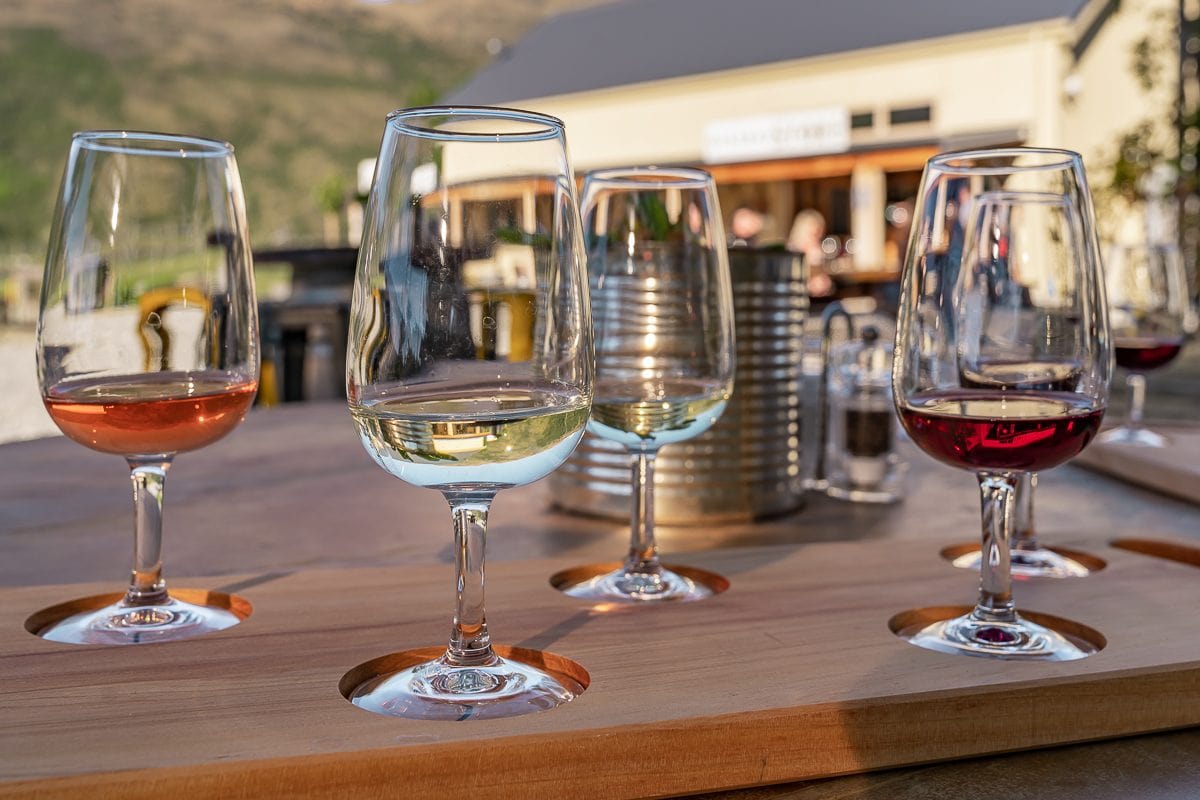 Drive from Glenorchy to Gibbston Valley: 1h
Where we stayed: Kinross Cottages
Where we ate:
Lunch: Amisfield Vineyard
Dinner: Kinross Cottages
Day 8 – Gibbston Valley to Mount Cook
Day 8 meant another early start to the day as we set off for Mount Cook. Kinross Cottages supplied us with breakfast for the road, enabling us to leave early.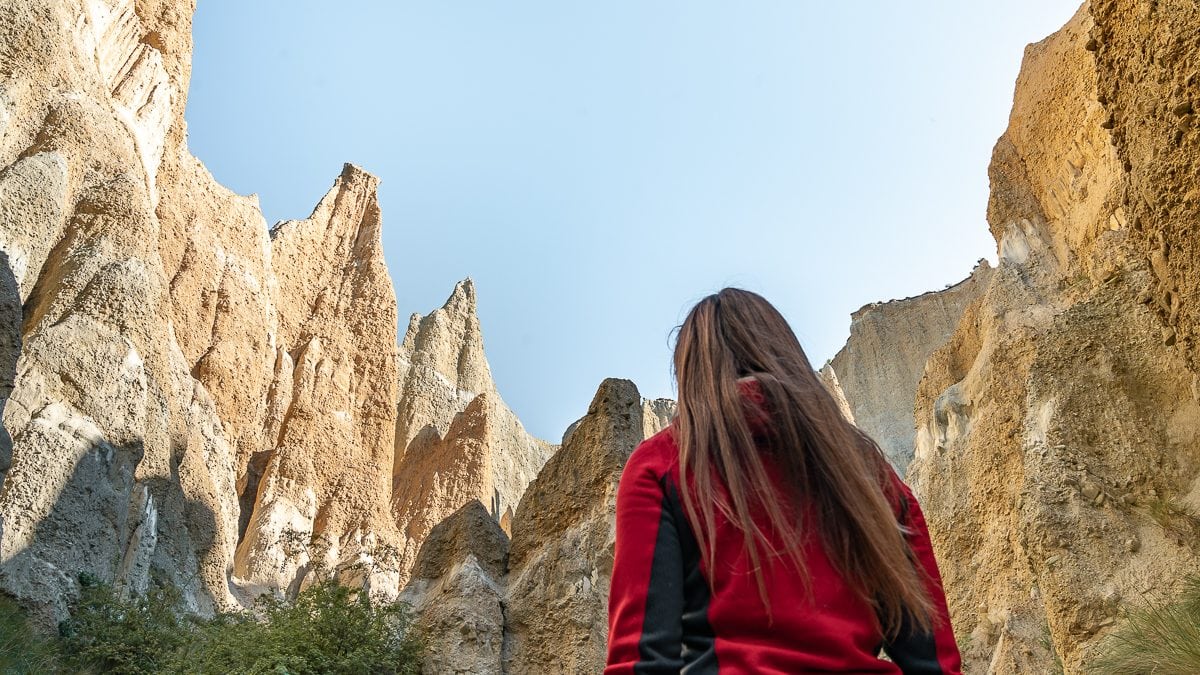 Our first stop were the Omarama Clay Cliffs, a spectacular sight carved by ancient glaciers. Tall pillars of gravel and silt dominate this otherworldly landscape. The cliffs are located on private land, so we put some cash in the donation box at the gate before proceeding to the sight. When we arrived, we were able to explore the area entirely on our own which made our visit even more unique. Only as we were leaving, a group of photographers entered the cliffs.
Back on the road, we passed High Country Salmon, a salmon farm where you can feed the fish, purchase salmon or simply have a great salmon lunch. We tried some salmon sashimi and bought smoked salmon bagels for lunch.
This is a great little stop on the way from Queenstown to Mount Cook, so be sure to keep an eye out for it if you're headed that way!
As we approached Mount Cook National Park, the scenery became more spectacular. We stopped at a few lakes, including Lake Pukaki and Lake Tekapo, and had our salmon lunch on the shore.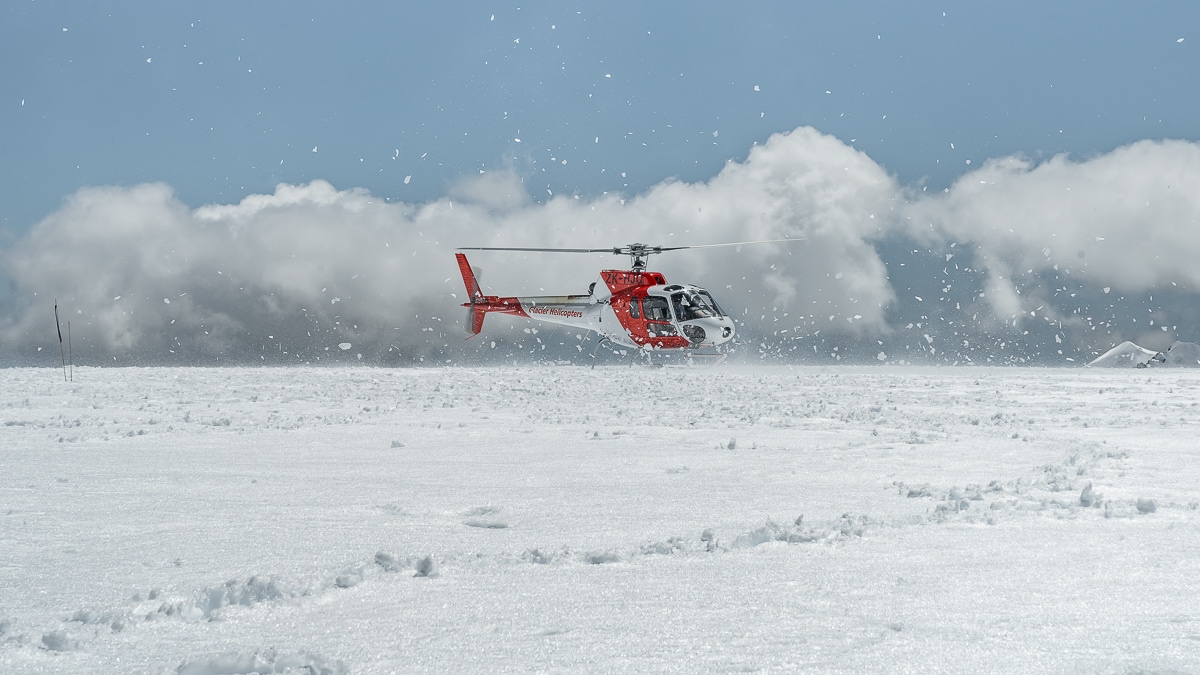 After our lunch, we made our way to Tekapo Helicopters, where we hopped aboard one of their helicopters for a 60-minute scenic ride around Mount Cook National Park, as well as Fox and Franz Josef Glacier. The conditions were perfect for a glacier landing, which we did on Fox Glacier. The ride was stunning, and passing that close to Mt Cook, made us both feel incredibly small.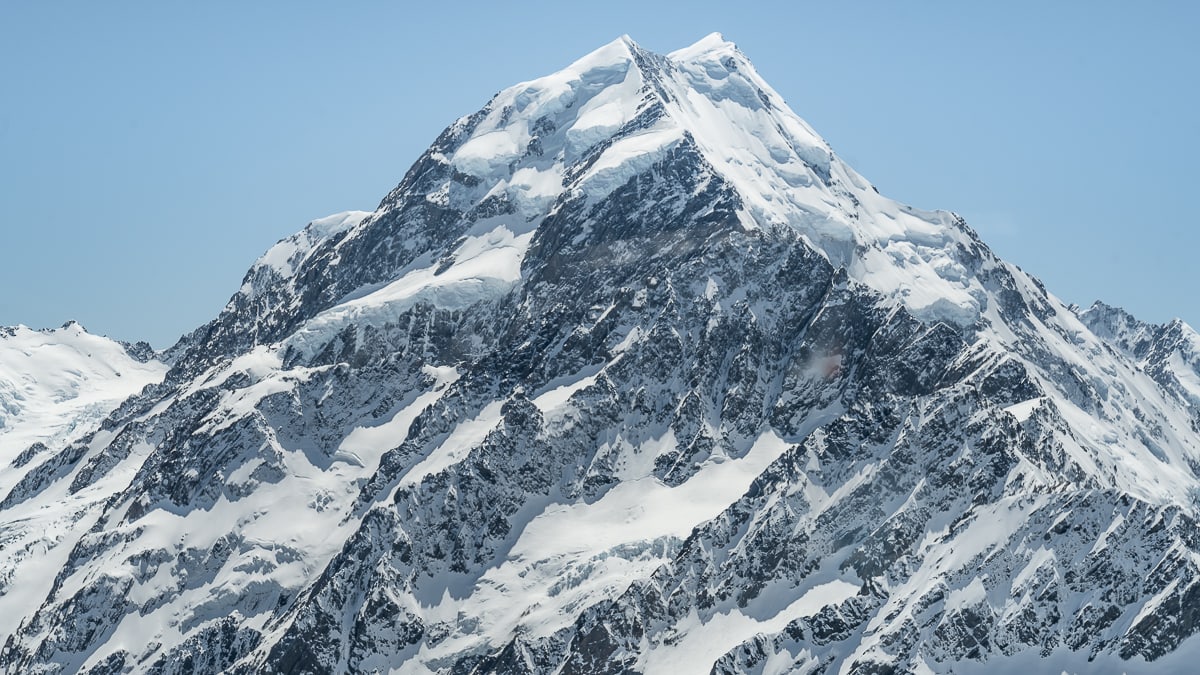 It was early afternoon when we checked into Hermitage Hotel, Mt Cook. There are several hikes around the area, so with our limited time left that day, we opted to walk the Hooker Valley Track. The track turned out to be my favourite in New Zealand. The walk takes you along the Hooker River, crossing several suspension bridges, and ends at a glacier lake. Just like our drive to Glenorchy, the late afternoon sun made for some stunning photography.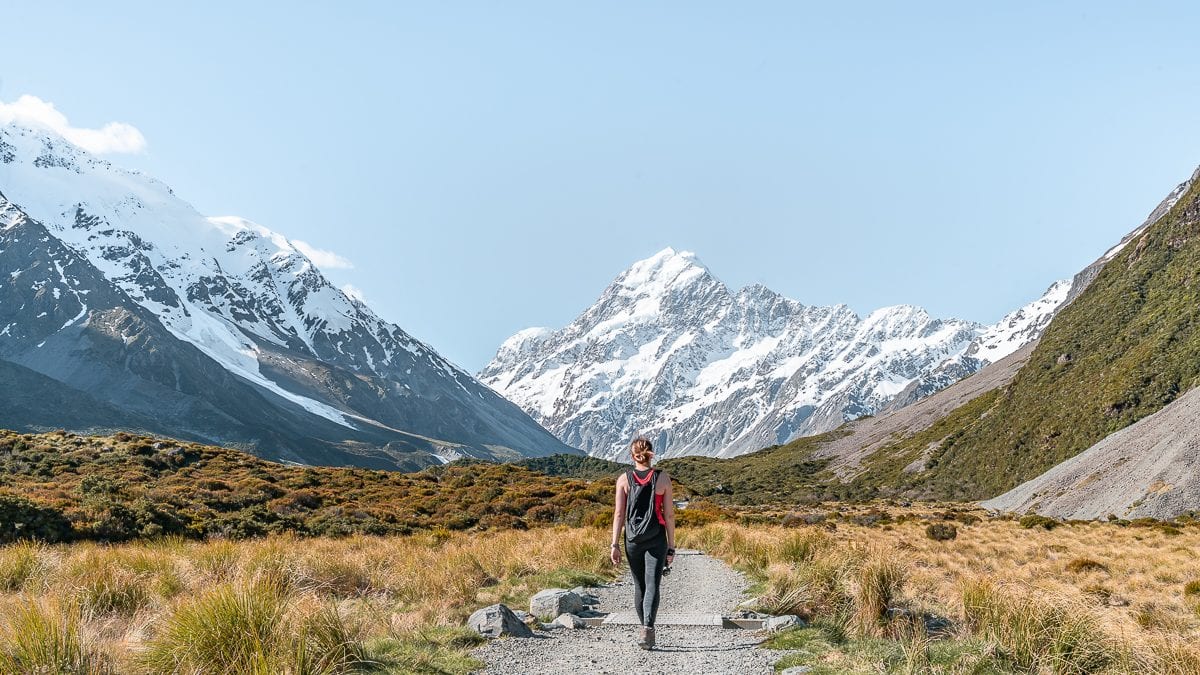 After our hike, we ate at our hotel, where an extensive buffet dinner awaited us. That was perfect for our rumbling, post-hike stomachs!
The area around Mt Cook is the largest Dark Sky Reserve in the world, so we couldn't pass up the chance to go stargazing at night. We drove a little outside Mount Cook Village and set up our camera. Our night photography is not yet perfect, but we managed to capture the sky and mountains in a few photos.
Drive from Gibbston Valley to Mt Cook Village: 2h45
Where we stayed: Hermitage Hotel (Mt Cook)
Where we ate:
Lunch: Takeaway from High Country Salmon
Dinner: Hermitage Hotel Mt Cook
Day 9 – Mount Cook to Christchurch
Our last day was a little less hectic. We started the day with a short hike to Tasman Lake.
If you're lucky, you can see icebergs floating around the lake. A few boat tours can take you up close to the icebergs, or you can rent a SUP or kayak and enjoy a relaxing paddle around the lake.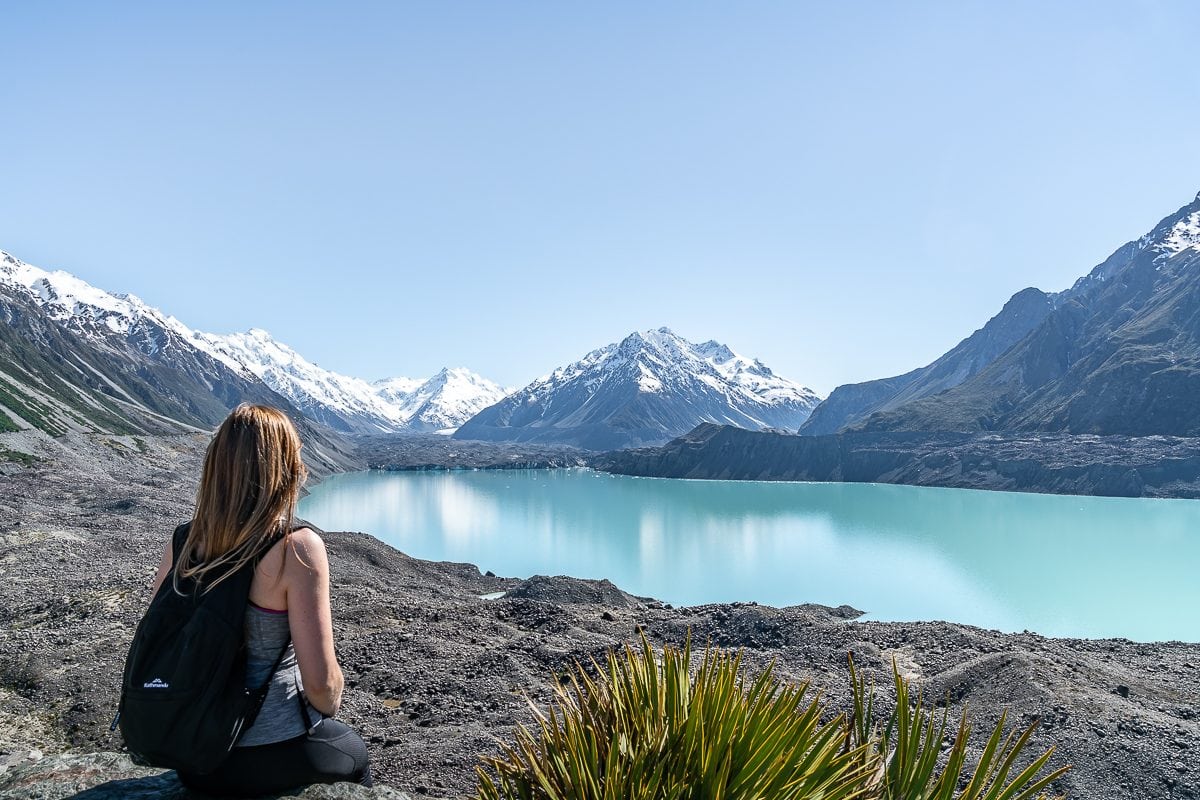 Our drive to Christchurch was leisurely. We stopped in Geraldine and lunched at Cafe Verde, a cosy café with a beautiful garden.
Next stop was Rakaia Gorge Walkway. We stopped by the bridge to walk a section of the track and also climb down to the beach via the bridge. It looks like a great spot to picnic.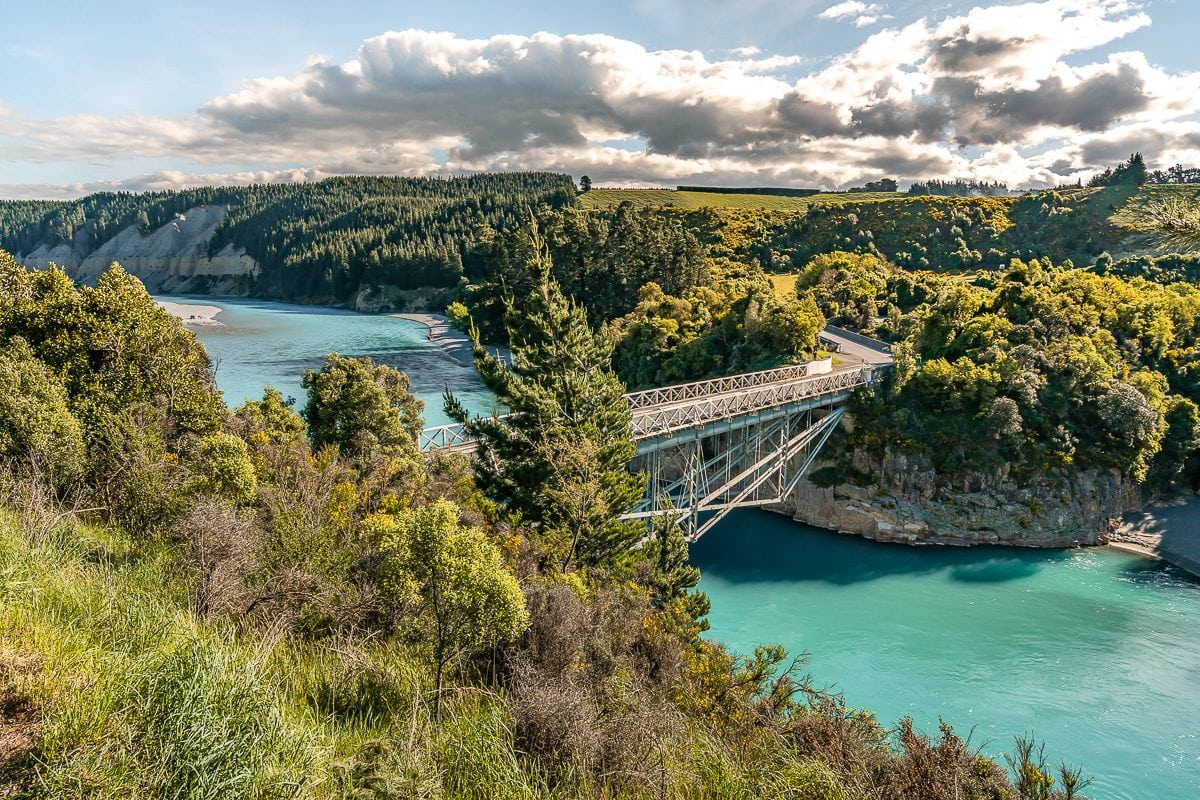 After our short hike, we drove all the way to our hotel in Christchurch. We selected a hotel close to the airport as we were leaving early the next day: this was Jucy Snooze Hostel. You might know Jucy from their camper vans you see driving around New Zealand, but they also have hostels dotted around the country. This is the first time I stayed in a hostel, but I loved the look of the place when researching places online. The pods look interesting, but we opted for a private room, which was perfectly adequate for our needs.
I am sad to say we didn't have much time to explore the city. We parked our car somewhere in the centre, and just started walking around in search for a place to eat. We ended up on New Regent Street. The street was opened back in 1932 and has a distinct heritage feel.
We managed to find a table at Twenty Seven Steps, and I'm glad we did. It was one of my favourite meals and restaurant experiences I've had in New Zealand.
Drive from Mt Cook Village to Christchurch: 4h
Where we stayed: Jucy Snooze Hostel
Where we ate:
Lunch: Cafe Verde
Dinner: Twenty Seven Steps
Love it? Pin it!