At the top of Lake Wakatipu, you'll find a truly exceptional retreat. Located in one of the most scenic places in New Zealand, EcoScapes offers an eco-friendly escape without any compromise on luxury or comfort.
We stayed at EcoScapes while on our South Island road trip — and we couldn't have asked for a better stay.
Why choose EcoScapes
Enjoy the Silence
EcoScapes is located at the top of Lake Wakatipu. It lies 25 km from Glenorchy and 70 km from Queenstown. However, its remote location gives you the chance to unplug and enjoy some much-needed quiet time.

Breathtaking Views
The area around Glenorchy is known for its stunning scenery. The road from Queenstown all the way to EcoScapes is a scenic paradise, with many viewpoints waiting around every bend.

Once at EcoScapes, you can take in the mountain views from your own private porch.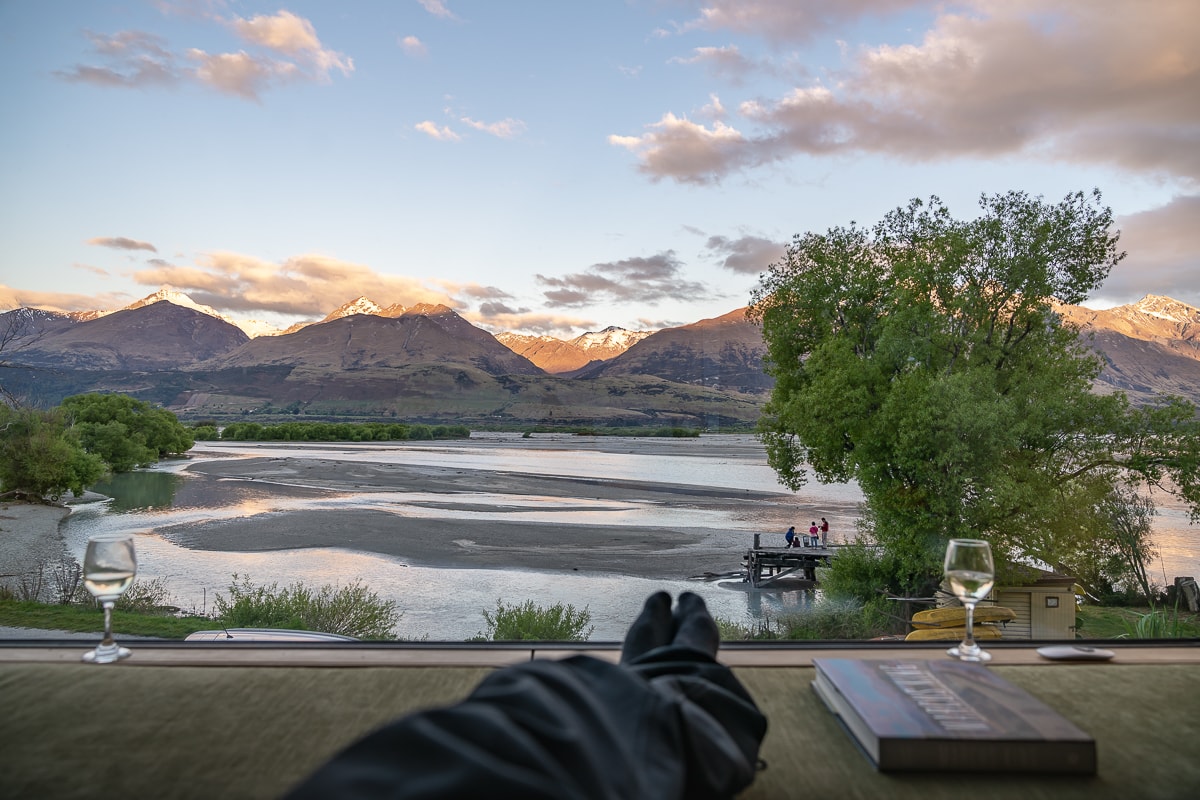 Eco-Friendly
The units at EcoScapes were built with the environment in mind. Everything is earth-conscious: from the contractors they hired to the materials used to build these beautiful units. The result? Passive, 'low energy' rooms designed and built with locally sourced, green building technology.

No compromise on luxury
Take in the views from your queen size bed or watch a movie on the giant projector screen. You control the temperature, as much as what you see and hear, via the provided iPad.

Go for a meal at the neighbouring Kinloch Lodge, a remote wilderness outpost that has been offering accommodation since 1868. Or, if you prefer, enjoy a gourmet breakfast in bed.

Plenty of things to see and do
EcoScapes might be remote — but that doesn't mean that you will be bored here! Because there are plenty of exhilarating activities in the area… Everything from kayak trips out on Lake Wakatipu to horse rides along the Rees River.

And if you love hiking, you are in luck because the start of the Routeburn Track — one of New Zealand's nine Great Walks — is located 17 km away from EcoScapes.
The Guest Units
EcoScapes offers two guest units, found next to Kinloch Lodge.
The main feature of each unit is the big window, which offers unparalleled views of the mountains and the lake.
There were a few occasions where we caught ourselves gazing out of it, quietly appreciating the scenery in front of us, for several minutes at a time.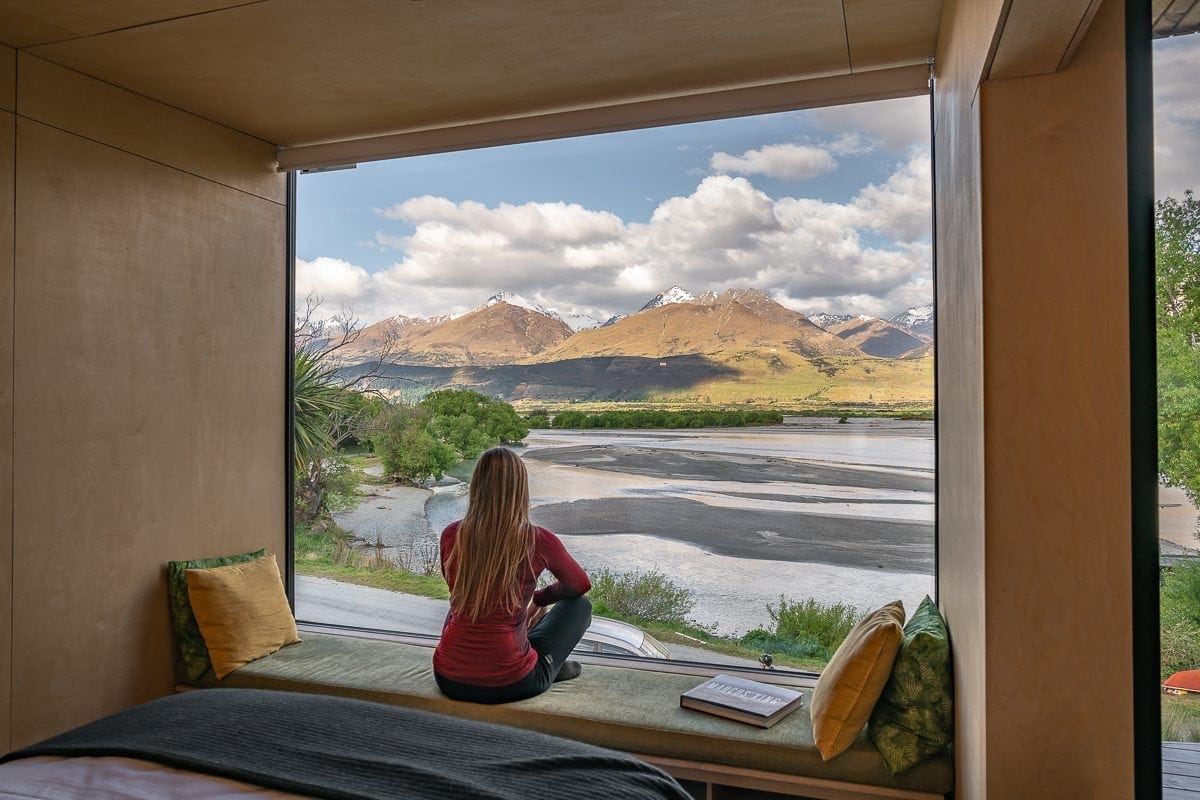 Room facilities
Sleeping
The queen bed is positioned right by the window so you can go to sleep and wake up to the sight of mountains.

The window seat, which includes pillows and several coffee table books, makes for a great spot to unwind. From time to time, I found myself sitting there, flipping through the books and sipping on my Chardonnay before occasionally lifting my gaze to check out the view… It was bliss.
Entertainment
A giant projector screen can be lowered down in front of the window. On it, we were able to watch Netflix and Apple TV. This provides enough entertainment for when the weather is not so stellar.

Bathroom
The bathroom is not spacious but offers everything you might need, including free toiletries by HealthPak, who support Forest & Bird, New Zealand's leading independent conservation organisation.

There are also branded bathrobes to use after a relaxing shower or a plunge in the outside Jacuzzi.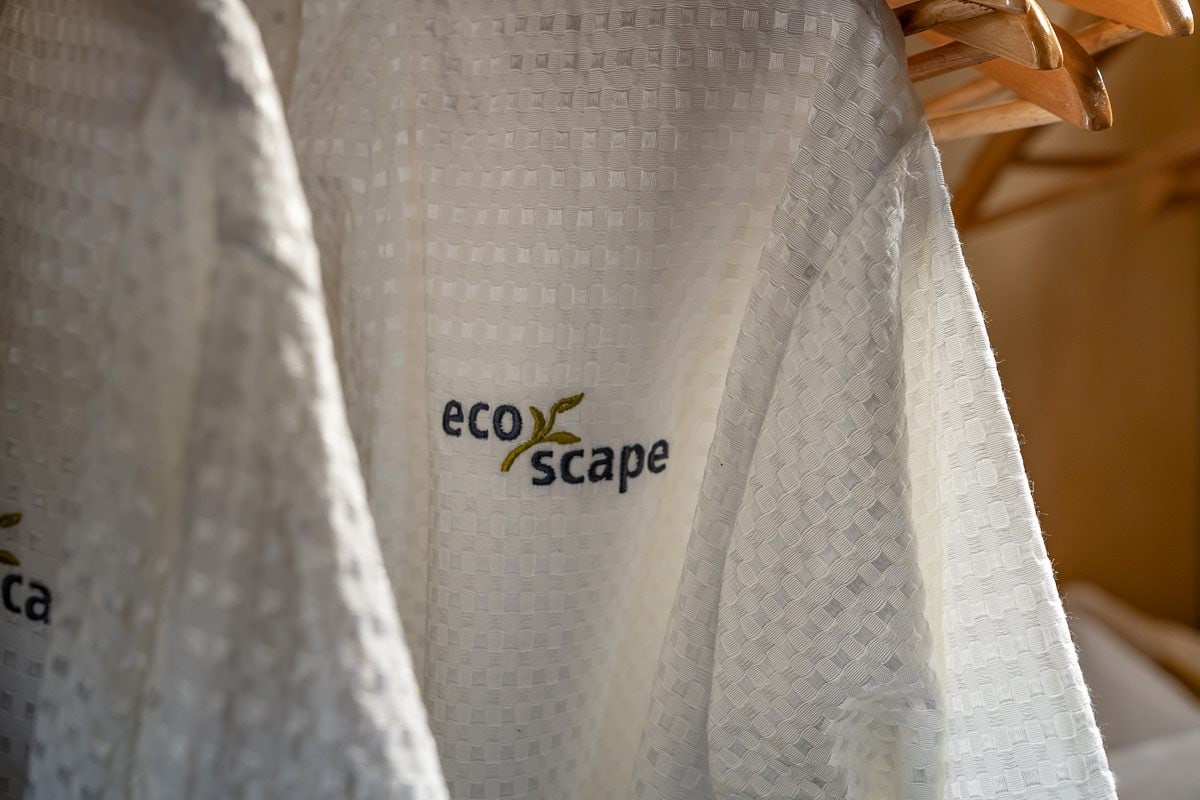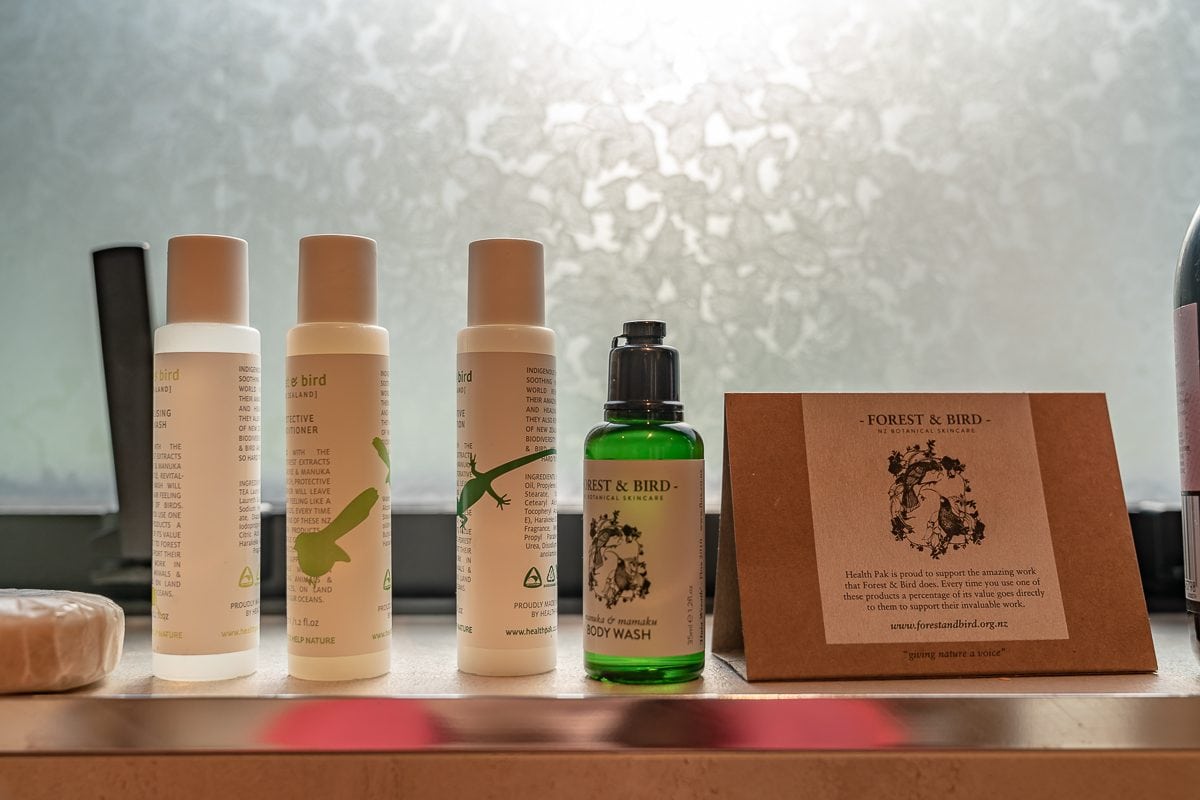 Living room
There is a large corner couch and living area next to the bed. However, we did not really use this area, as we were either outside or in bed enjoying the views.

Porch
Each unit has a small porch with a seating area. It's a great spot to enjoy a drink while taking in the scenery.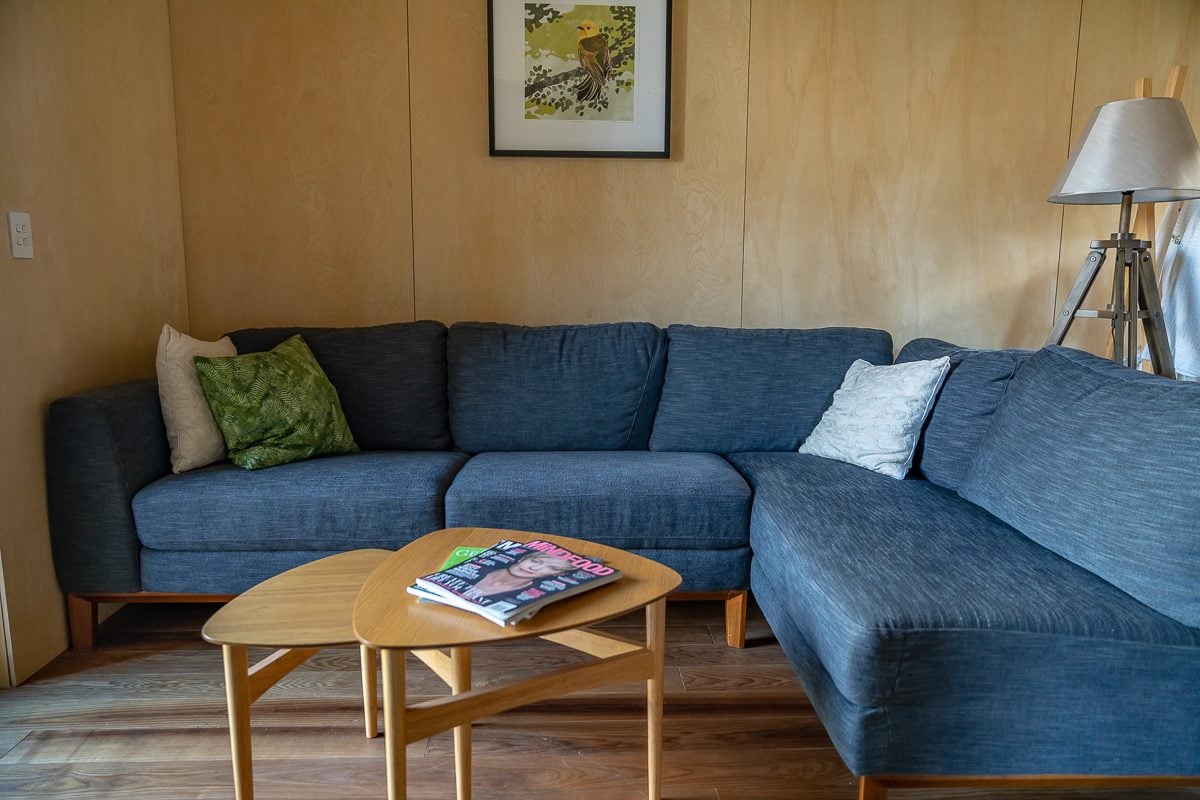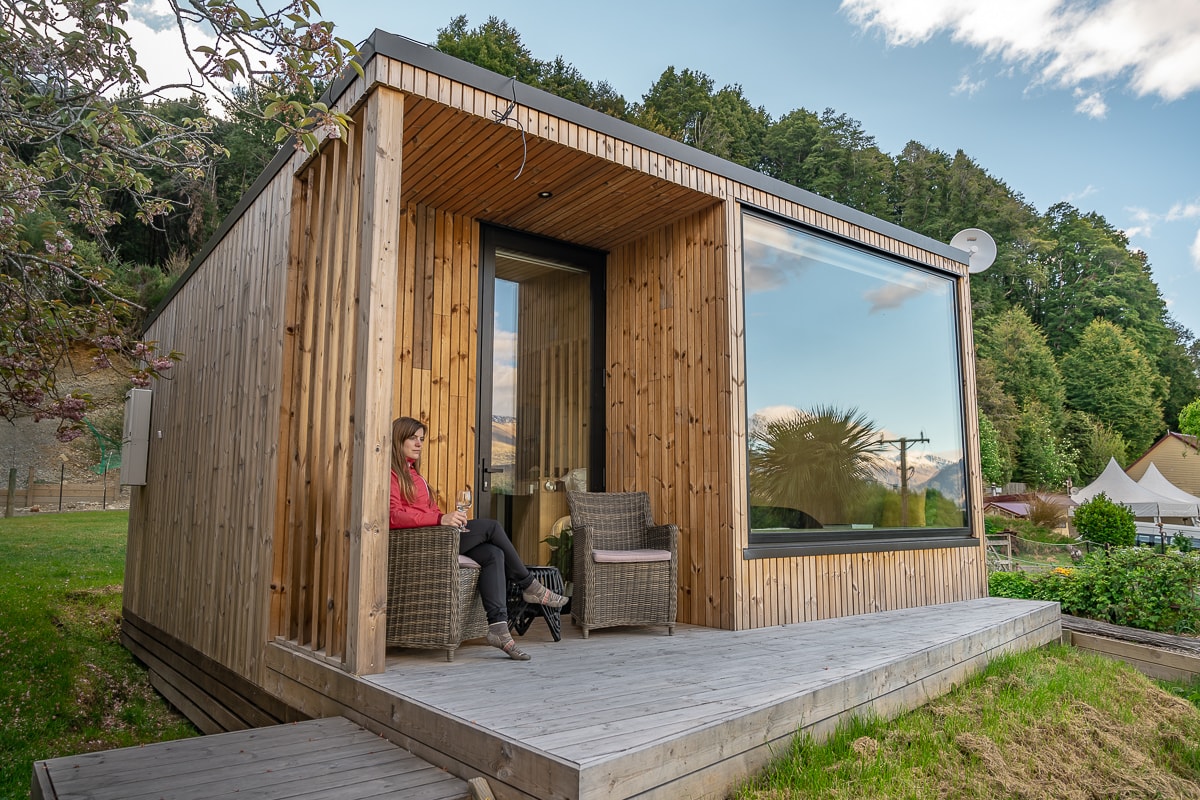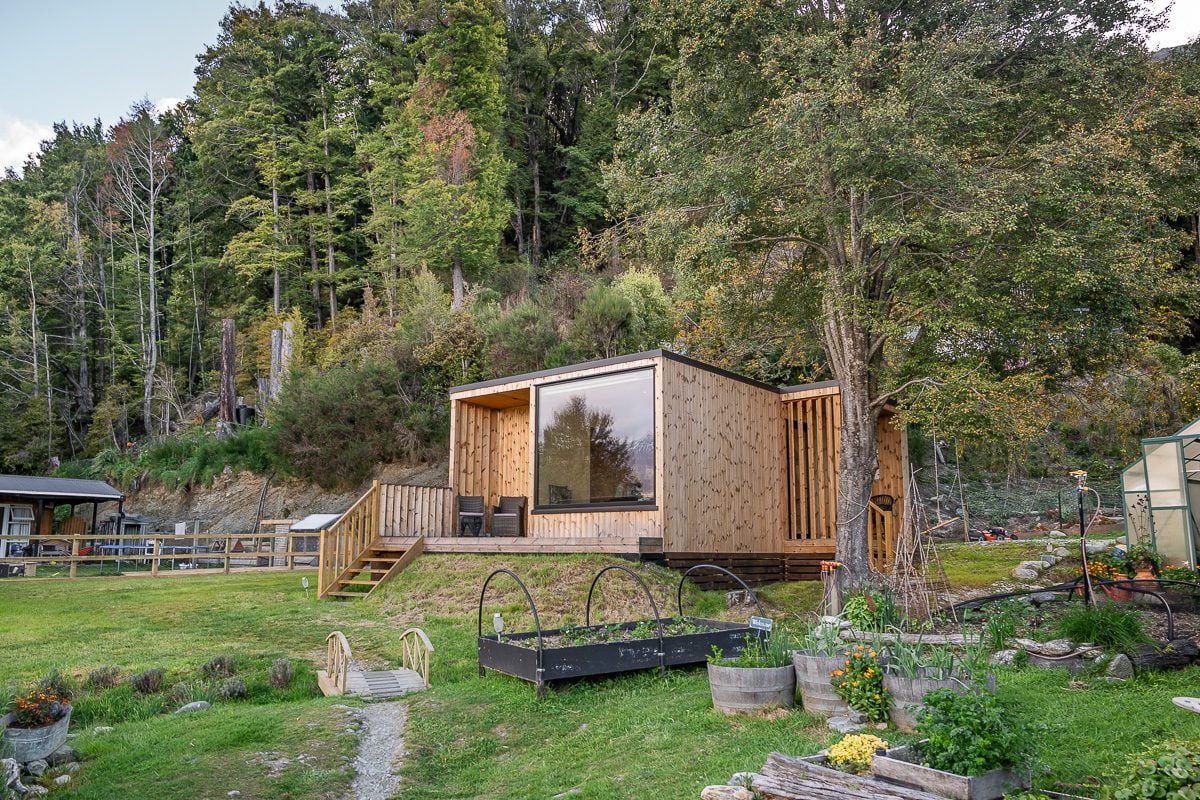 Ecoscapes Amenities
Kinloch Lodge Restaurant
The restaurant is located right next to the EcoScapes units. It offers breakfast, lunch and dinner options, with a choice between indoor or outdoor seating.
The food is prepared using local, seasonal ingredients and the restaurant caters to vegetarian-, vegan- and gluten-free patrons alike.
Spa pool
Visitors staying at EcoScapes can also enjoy the spa pool situated near the units. This pool is shared by the two units so it's unfortunately not private.
Things to do
Lake Wakatipu
Lake Wakatipu is 80 km long, which makes it New Zealand's longest lake. The lake is renowned for its incredible scenery and it is a frequent backdrop to Hollywood movies.
Kinloch Lodge offers several activities on and around the lake. One of the main activities is kayaking, which is a great way to see the lake and the surrounding area.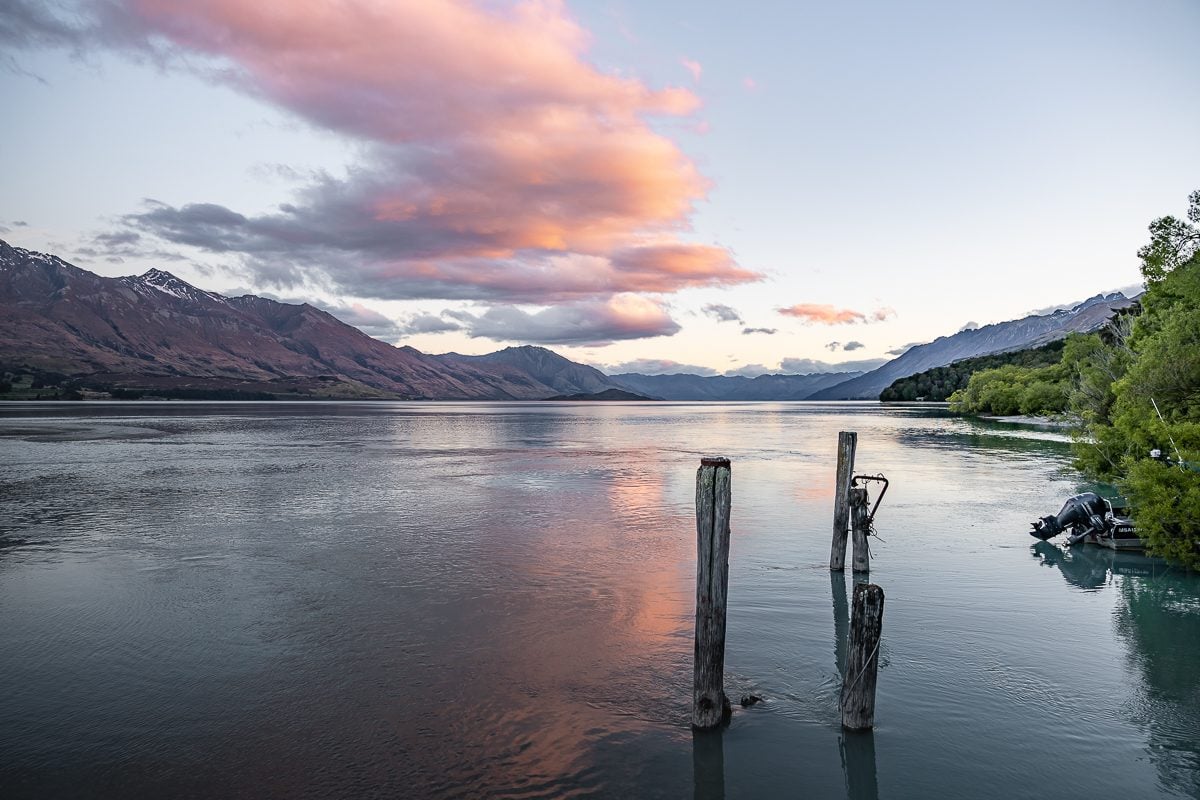 Routeburn Track
Routeburn Track is a stunning hike that starts in Mount Aspiring National Park and ends in Fiordland National Park. It takes you through some of the best scenery New Zealand has to offer.
The track takes two to four days to complete. However, if you don't have the time, you needn't hike the whole trail. The first section, up to Routeburn Flats, is already stunning — as is Routeburn Falls, if you want to push yourself a little further.
Kinloch Lodge offers transport to and from the start of the track.
Horse riding
There are a couple of companies that offer horse riding trips in the area. We booked a 2.5h ride with High Country Horses.
Our ride took us to the Rees Valley and saw us navigating forests and crossing rivers. I love horse riding and this turned out to be one of my favourite activities on this trip.
Dart River
The Dart River is a glacier-fed river that runs into Lake Wakatipu. The river offers a whole range of fun and thrilling activities, which are not too far from EcoScapes.
From jet boat adventures to inflatable kayak journeys, it's easy to fill your days with activities around Dart River.
Things to know before you go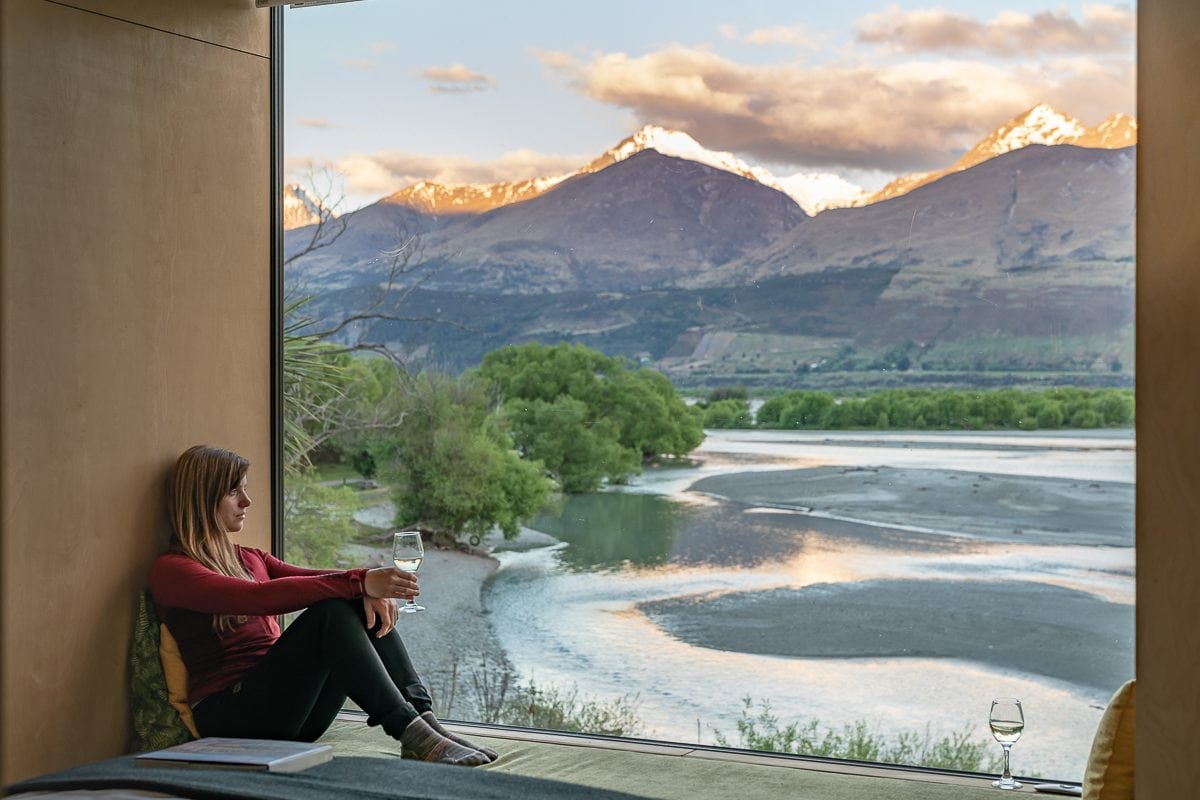 Time
Give yourself enough time to get to EcoScapes. The road from Queenstown to Kinloch is stunning, meaning you will want to stop frequently along the way.
Make sure to get to EcoScapes before sunset, as this is an excellent place to enjoy them.

Sandflies
Unfortunately, sandflies are unavoidable in this area. They do provide insect repellent at the lodge but, if you want protection throughout the day, make sure to bring your own too.

Reserve dinner at the restaurant
Due to the remoteness of the place, Kinloch Lodge prefers for guests to reserve dinner.
In winter, if there are no reservations, they close at six pm.

Roads
The last nine kilometres to Kinloch are on a gravel road. Depending on the weather and your willingness to drive on gravel roads, you might want to park your car in Glenorchy and take the boat to Kinloch. However, this needs to be arranged in advance with Kinloch Lodge.
Final Thoughts
We had an unforgettable stay at EcoScapes and would recommend this accommodation to anyone looking for somewhere to stay around Glenorchy.
Even though EcoScapes is remote, there is definitely not a lack of things to do in the area. If you love to unwind, relax and just enjoy magnificent views after a day of activities, this is the place to be.
Book your stay at EcoScapes now
LOVE IT? PIN IT!