Hecla Island in Hecla/Grindstone Provincial Park is an expansive and stunning natural area, characterised by frozen lakes and snow-covered forests with rugged limestone cliffs hugging the edge of Lake Winnipeg. It's a place where the frigid winds of winter give way to breathtaking landscapes and the promise of adventure lingers around every corner.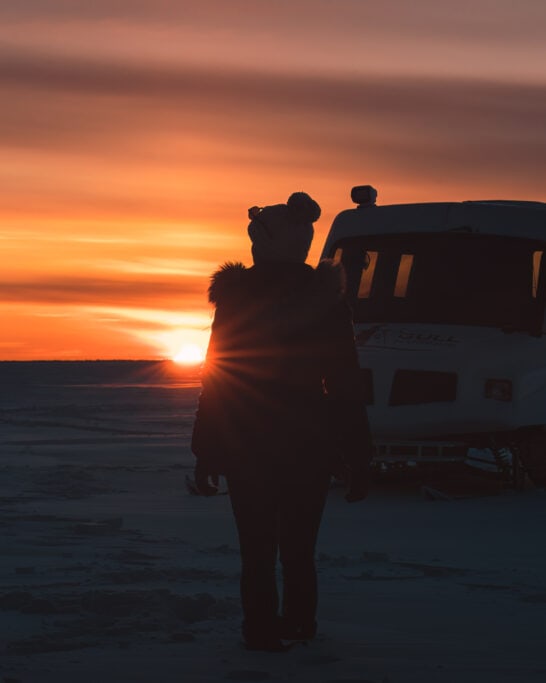 Located just under 2 hours from Winnipeg, Hecla Island has proven itself to be a destination in its own right. Whether you're road tripping across Manitoba or looking for a getaway, the park has plenty to offer – especially on a crisp winter's day. We were excited to head back to Hecla Island for a jam-packed two day winter trip, with the area always amazing us with its natural beauty.
In this guide, we'll cover the best winter activities to do on Hecla Island, including snowshoeing, cross-country skiing and ice-fishing. We'll also provide tips on where to stay and what to eat, so you can make the most of your winter adventure on Hecla Island in Hecla/Grindstone Provincial Park
About Hecla/Grindstone Provincial Park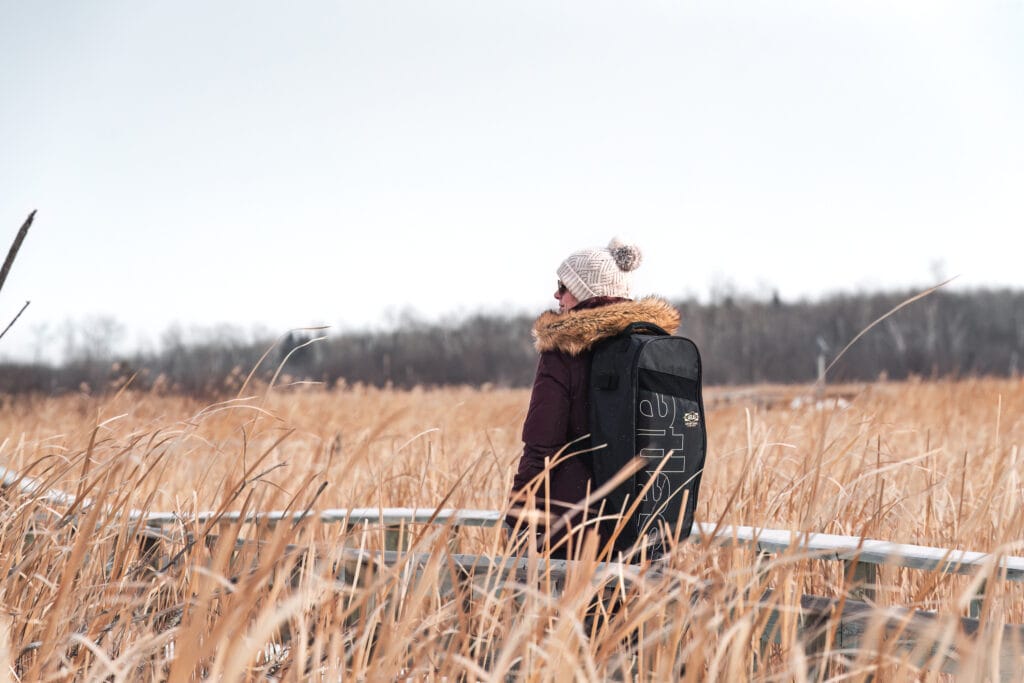 Classified as a natural park, Hecla/Grindstone Provincial Park encompasses a number of islands between the east and west shores of Lake Winnipeg, including Hecla Island, Grindstone Peninsula and Black Island. The park covers a vast area of 1,084 km2 and offers a diverse range of landscapes to explore all year round, including regions of coniferous and mixed forests, limestone cliffs, sandy beaches, marshes and meadows.
Hecla Island and Grindstone Peninsula are the two largest areas in the park and are connected by a causeway. Hecla is the more developed of the two, with a small town site, a golf course, a marina and various accommodation options. Grindstone, on the other hand, is more remote and less developed, with a few small communities and a rugged, wild landscape.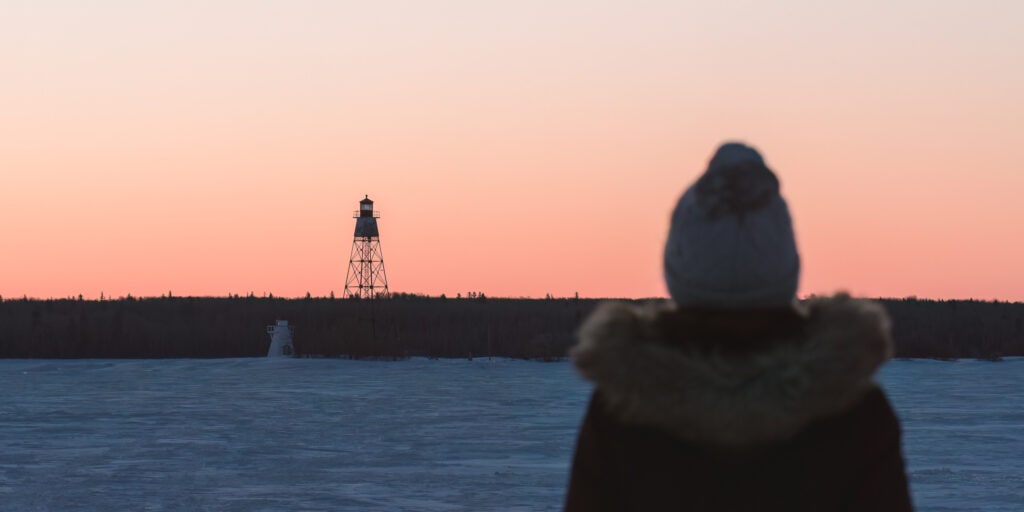 The Park has been influenced by Icelandic, Anishinabe and Ukrainian cultures. In fact, the park's name "Hecla" is derived from Mount Hekla in Iceland. Black Island was once inhabited by the Anishinabe (Ojibwe) and you can still see several ceremonial sites and other evidence of their early occupation.
In this guide, we'll focus on Hecla Island as this is where most recreational activities and accommodation options are located.
How to get to Hecla Island
There are no public bus routes directly to Hecla from Winnipeg so driving is your main option. The park is located about 175 km north of Winnipeg and can be accessed via Highway 8.
There are several airports in the region, including Winnipeg James Armstrong Richardson International Airport and the nearby Gimli Industrial Park Airport, which offers private and charter flights.
Things to do on Hecla Island in winter
Snowshoeing
To start our trip, we went snowshoeing on the park's extensive trail system, which provides over 20 km of paths to suit various skill levels. Although the trails are marked, they aren't always groomed, making the experience a little more challenging. Nonetheless, this made the adventure even more thrilling as we trudged through the thick, powdery snow and savoured the stunning views of the frozen lake and marsh. The peacefulness was revitalising and it felt as if we had the whole park to ourselves
As you snowshoe, keep an eye out for tracks left by animals and listen for their calls in the quiet winter air. It's a magical experience to be out in the wilderness surrounded by the sounds of nature.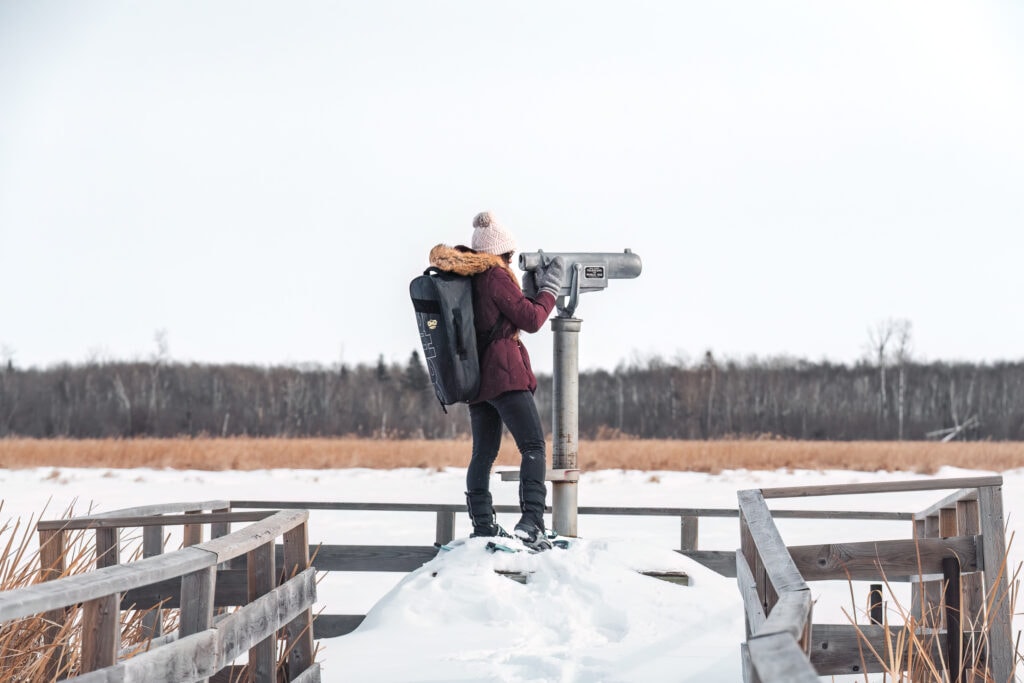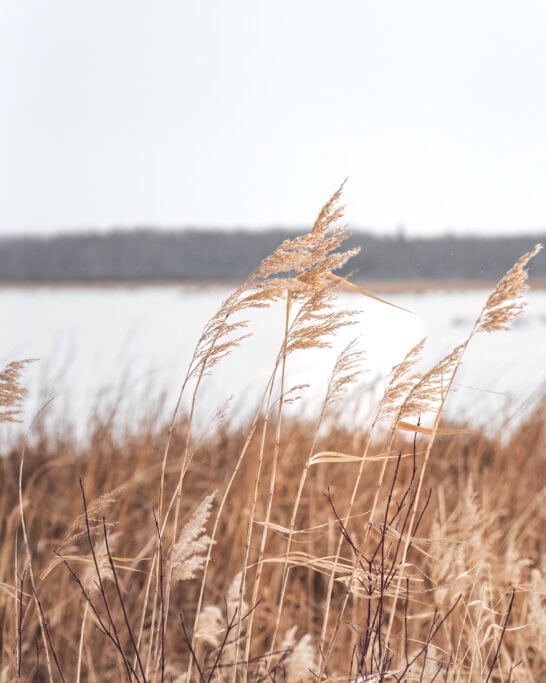 Snowshoeing trails
The following are some snowshoe options around Hecla Island:
Grassy Narrows Marsh Trail: This 2.2 km trail is ideal for beginners, with gentle slopes and minimal elevation gain. While on the trail, you might spot wildlife such as deer, moose and snowshoe hares.
The access road to the parking lot might not be plowed, so there is a chance you have to park near the highway and make your way to the entrance adding around 1 km each way to your hike.

Gull Harbour: Snowshoe from the northern tip of the peninsula and make your way around Gull Harbour towards the lighthouse. This 5.5 km trail is an easy hike through forest and along the shoreline towards the iconic heritage lighthouse and offers a delightful blend of natural scenery and historical significance.
If you don't have your own snowshoes, you can rent them from Lakeview Hecla Resort.
Cross-country skiing
With over 36 km of groomed trails, skiers of all levels can enjoy the striking beauty of the park while gliding across its snowy terrain.
One of the park's most popular trails is the Golf Course Trail, a 1.5 km route perfect for beginners. The trail is easy to navigate and provides a gentle introduction to the impressive winter scenery of Hecla Island. Another great beginner trail is the 4 km Cabin Loop.
For more experienced skiers seeking a challenge, the West Quarry Trail is a 12.4 km intermediate-level route that winds through forests and along frozen Lake Winnipeg. There are several points of interest along the way, including the West Quarry itself, a fascinating relic of the park's history when the limestone industry was thriving.
Another intermediate-level trail is the Hamars Lake Trail, a 15 km route that meanders through the forest and along the shores of Hamars Lake.
Check out this pdf to see the different skiing trails.
If you don't have your own skis, you can rent ski equipment at Lakeview Hecla Resort.
Snowmobiling
One of the most thrilling ways to explore the park's landscape is by snowmobiling. With its exhilarating trails, scenic routes and breathtaking views, Hecla promises an unforgettable adventure for snowmobilers of all levels.
Snowmobiling trails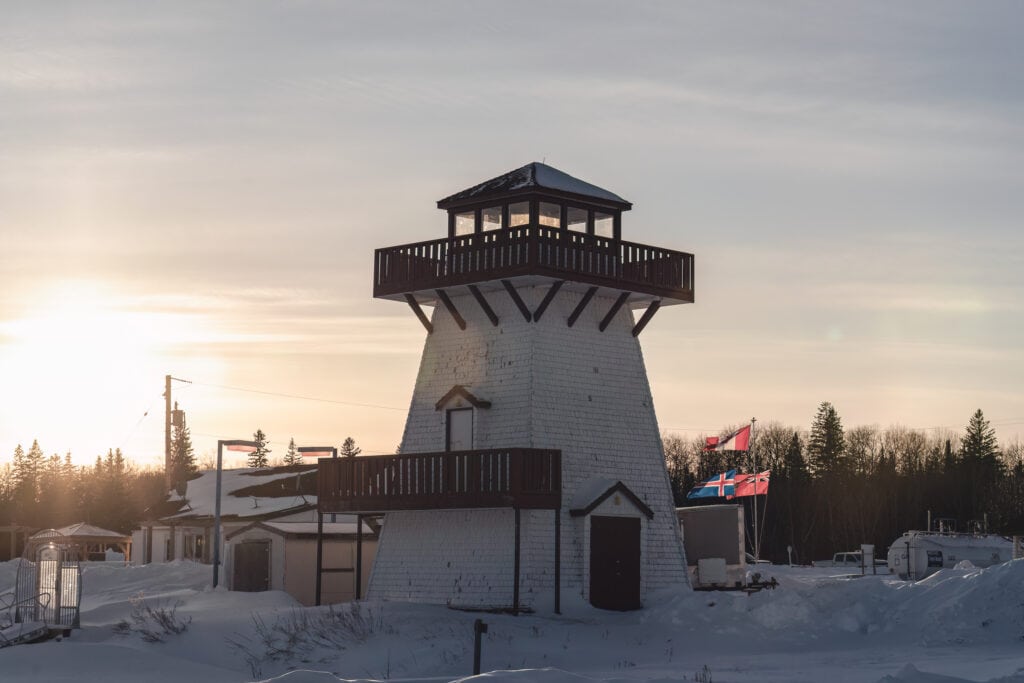 One of the most popular routes in the park is the Gull Harbour Trail. It takes you from Gull Harbour to Hokanson Point, through forests, over rolling hills and along the shores of Lake Winnipeg, with stunning views of the surrounding landscape. It's perfect for those looking for a challenging adventure.
Apart from designated trails on the island you can also venture on Lake Winnipeg. Before snowmobiling on a frozen lake in Manitoba, it's important to check the ice thickness. The recommended ice thickness for snowmobiling is at least 20 cm (8 inch) of solid ice and you should also check for any warning signs or barricades indicating unsafe areas. It's a good idea to carry ice picks, a rope and a flotation device in case you fall through the ice and to inform someone of your plans and expected return time.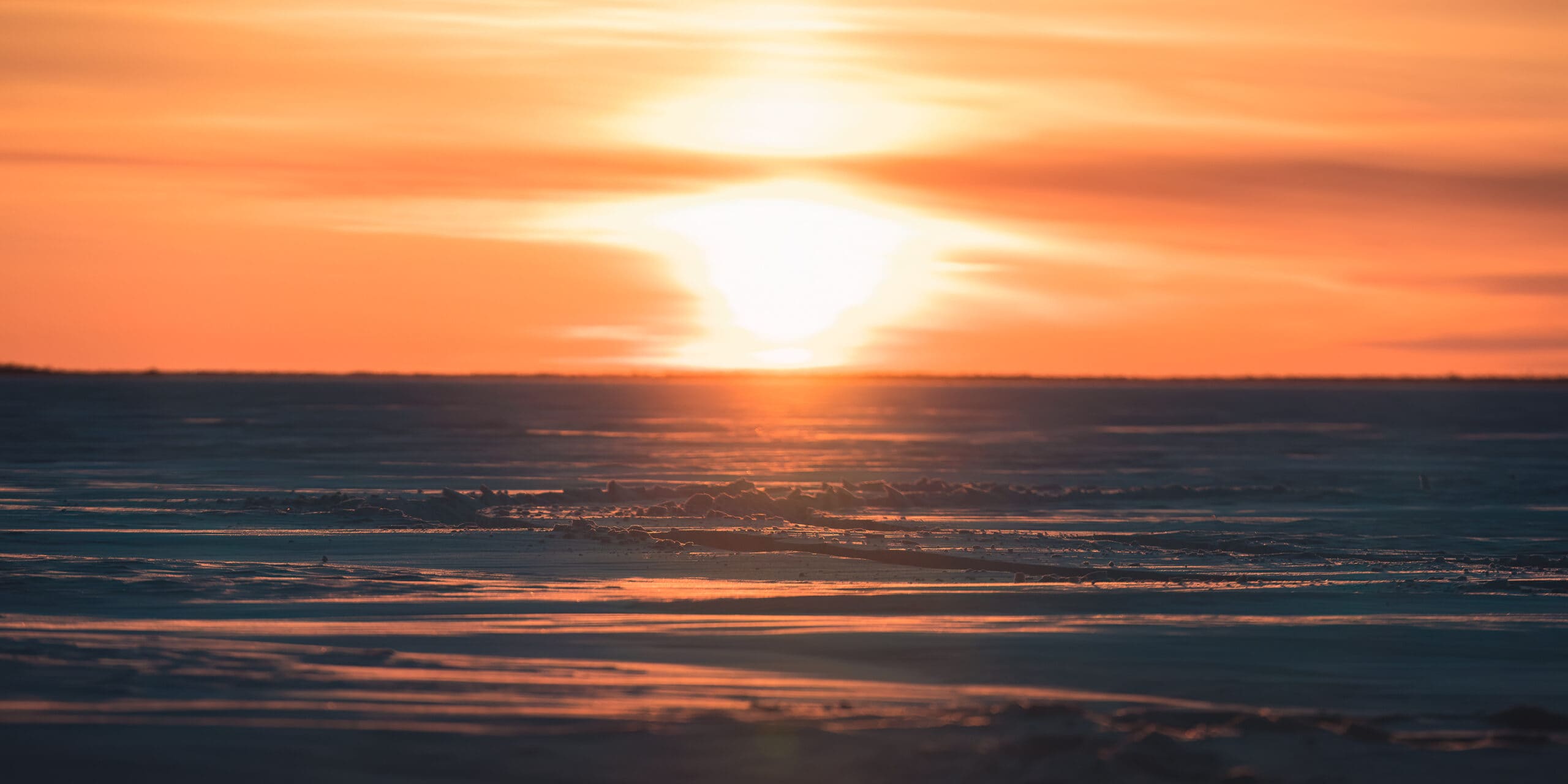 Snowmobile rentals
You can bring your own snowmobile or rent one at Gull Harbour. With a fleet of four new Ski-Doo snowmobiles available for daily or hourly rental, you can immerse yourself in the wild and challenge yourself to carve through deep snow and paths throughout the region.
Regulations and Snopass
When snowmobiling in Hecla, it's important to follow regulations and stay on designated trails to prevent damage to the park's natural habitat and ensure the safety of visitors and wildlife. Taking necessary safety precautions, such as wearing appropriate clothing and equipment and checking the weather forecast, will also enhance your snowmobiling experience in the breathtaking landscapes of the park.
If you are snowmobiling around Manitoba without a guided group, you need a Snopass to ride on designated Snoman trails. Snoman (Snowmobilers of Manitoba) Inc. is a non-profit group that represents 53 snowmobiling clubs in Manitoba. These clubs are responsible for maintaining and grooming over 13,000 km of the province's trails, including the ones in Hecla. More info can be found here.
Ice skating at Gull Harbour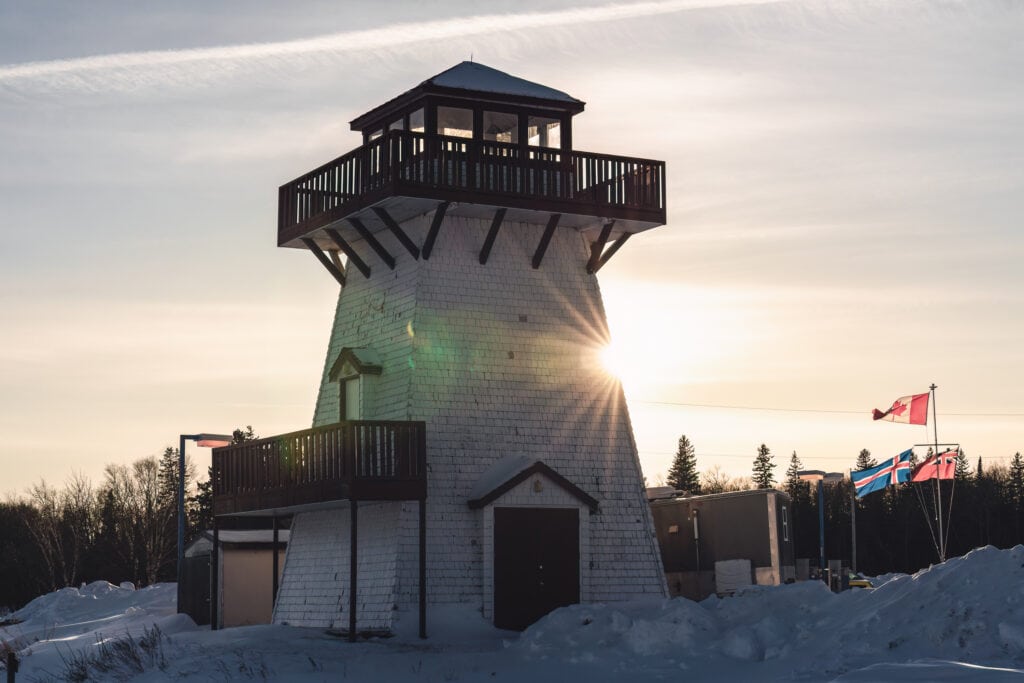 Lace up your skates and glide across the ice at Gull Harbour or on the pond at Lakeview Hecla resort. The frozen harbour offers a unique outdoor skating experience while enjoying the views over the lake, while the pond at the resort provides a more controlled environment. Unfortunately, rental skates are not available on site, so be sure to bring your own to fully enjoy this fun winter activity.
Ice fishing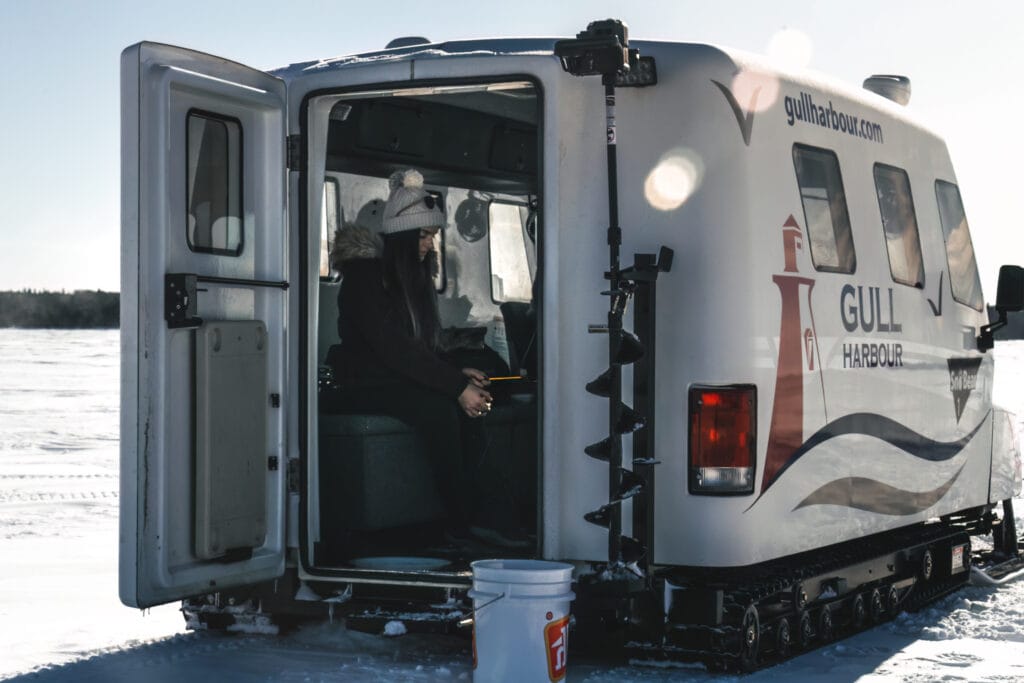 Under the frozen surface of Lake Winnipeg, a whole other world exists beneath the ice. Ice fishing is a popular activity in Hecla/Grindstone Provincial Park, where you can drop your line and try your luck catching fish like yellow perch, pickerel (also known as greenback walleye) and northern pike.
Fishing enthusiasts from all over come to experience the thrill of ice fishing in this picturesque setting. But with this popularity comes the responsibility to fish sustainably and protect the delicate ecosystem. The park provides resources on responsible fishing practices and Manitoba Parks even provides two ice fishing huts free of charge in Gull Harbour. As you wait for a nibble, take a moment to appreciate the beauty of the frozen lake. The silence is almost deafening, broken only by the occasional singing of the ice as it cracks and shifts.
Ice fishing with the SnoBear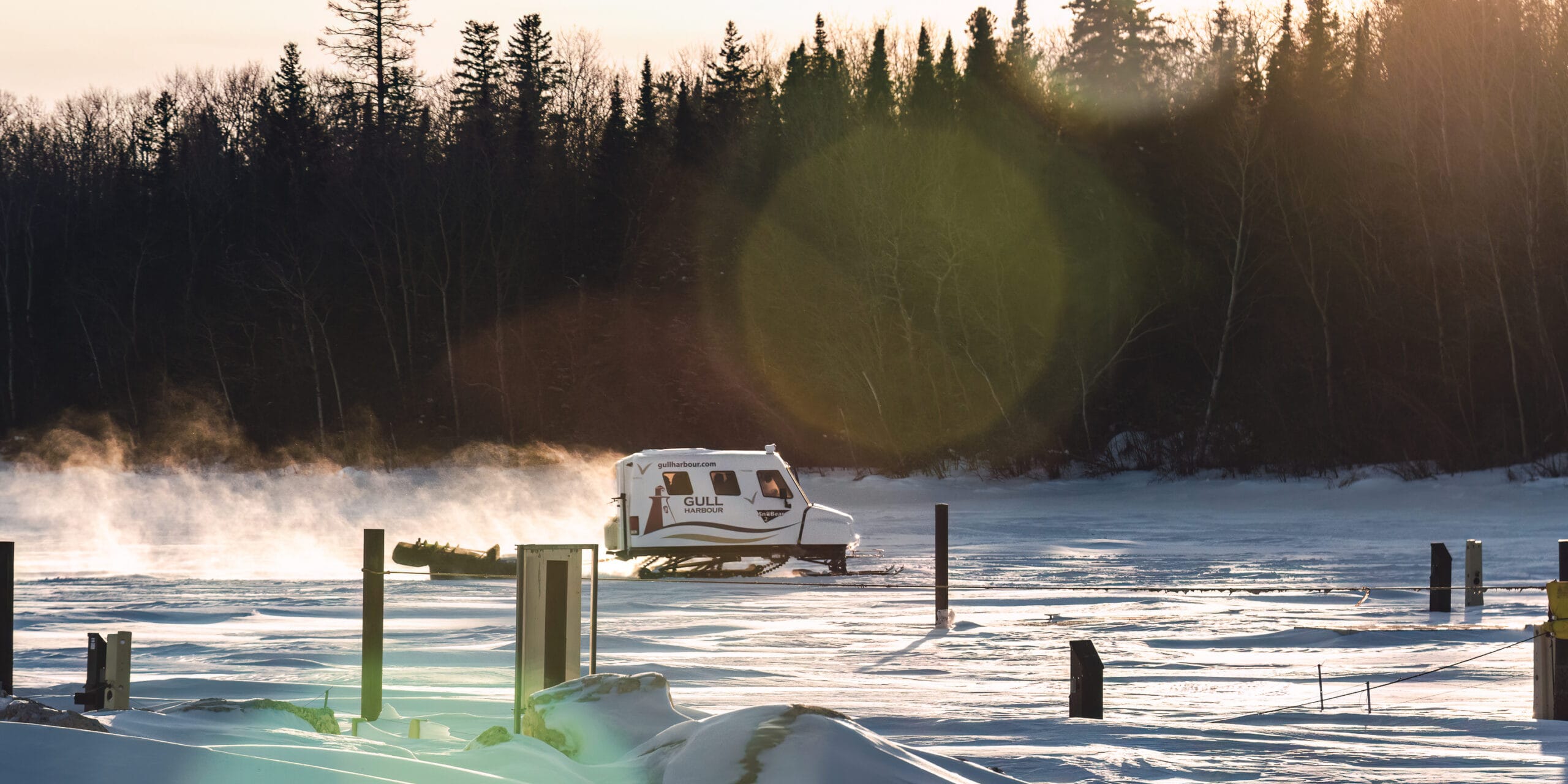 If you're new to ice fishing or seeking a more immersive experience, guided tours are readily available. We were fortunate enough to embark on a SnoBear adventure with Andrew, a seasoned guide and manager of Gull Harbour Marina and Lighthouse Inn. The SnoBear is a remarkable vehicle on sleds and tracks, gliding across the snow and ice with ease, providing an extraordinary way to explore and appreciate the frozen lake's solitude.
After Andrew located a perfect spot to fish, he drilled the holes and we settled into the cosy warmth of the vehicle, heated by propane furnaces, trying our luck to catch pickerel. As an exceptional fishing guide Andrew taught us all the tricks of the trade, regaling us with stories of past fishing experiences while describing the beauty of Hecla/Grindstone Provincial Park. As we sat inside, gazing out at the winter wilderness, a sense of peace and tranquility overtook us.
Wildlife watching
During your wanderings around the park, you may encounter some of the park's winter inhabitants, such as moose, red foxes, snowshoe hares, lynx and the great gray owl, Manitoba's provincial bird. The park's wildlife has adapted to the harsh winter conditions and observing them in their natural habitat is an unforgettable experience.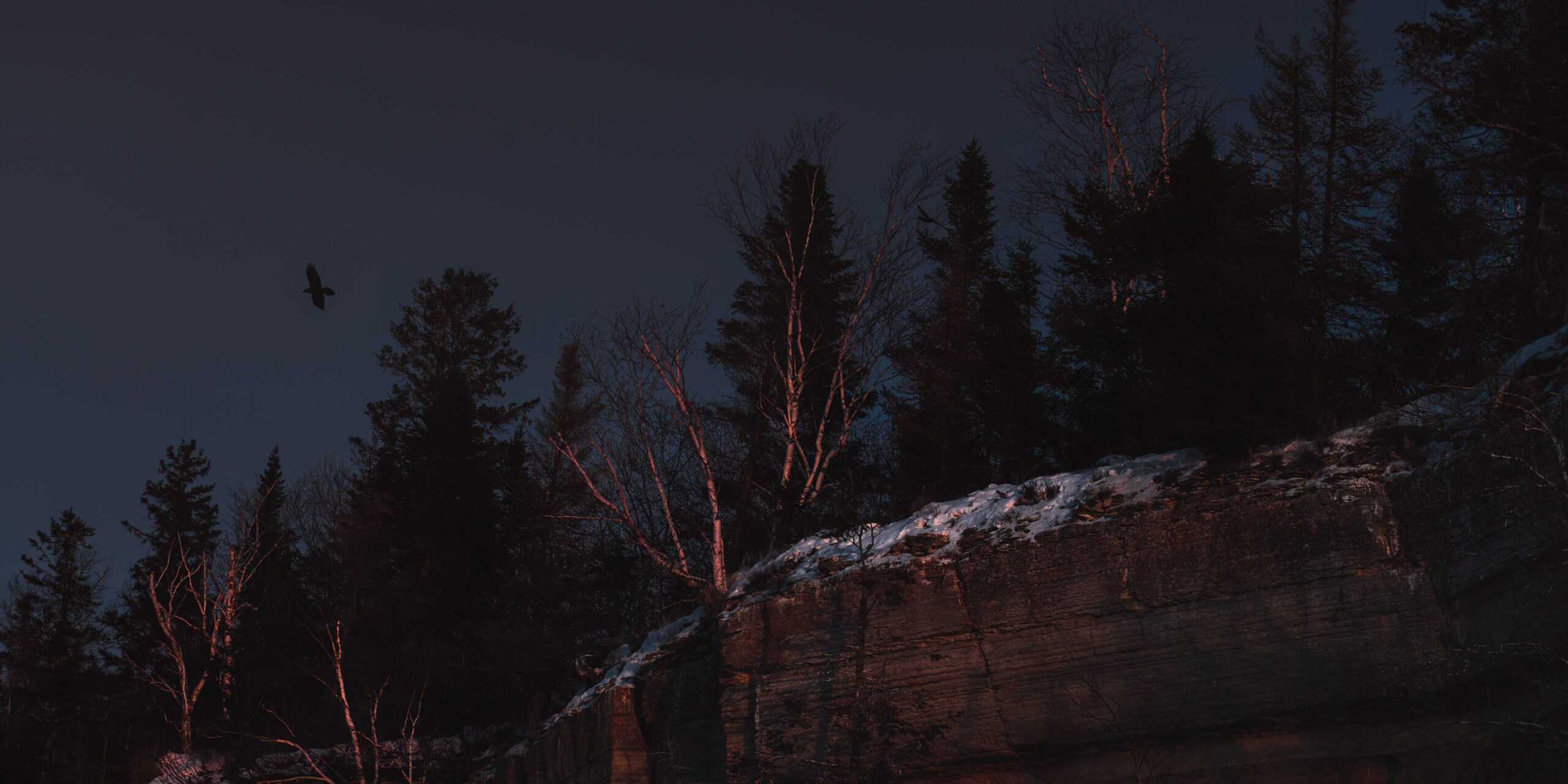 Historic tour around Hecla Village
The area around Hecla is steeped in history that offers you a glimpse into the lives and traditions of early Icelandic settlers who founded Hecla Village in the late 1800s. These pioneers faced harsh weather and scarce resources, yet managed to build a thriving community that left a lasting mark on the region. Take a self-guided trail around the village and explore historic buildings that tell the story of these settlers and their way of life. Check out this self-guiding walk around Hecla Village
For a deeper understanding of Icelandic culture, head to the Hecla Island Heritage Home Museum operated by the Descendants and Friends of Hecla Island Heritage Inc. Here, you can explore the daily life of an Icelandic family from the 1920s to 1940s and learn about the formation of the Hecla/Grindstone provincial park.
Stargazing and Northern Lights viewing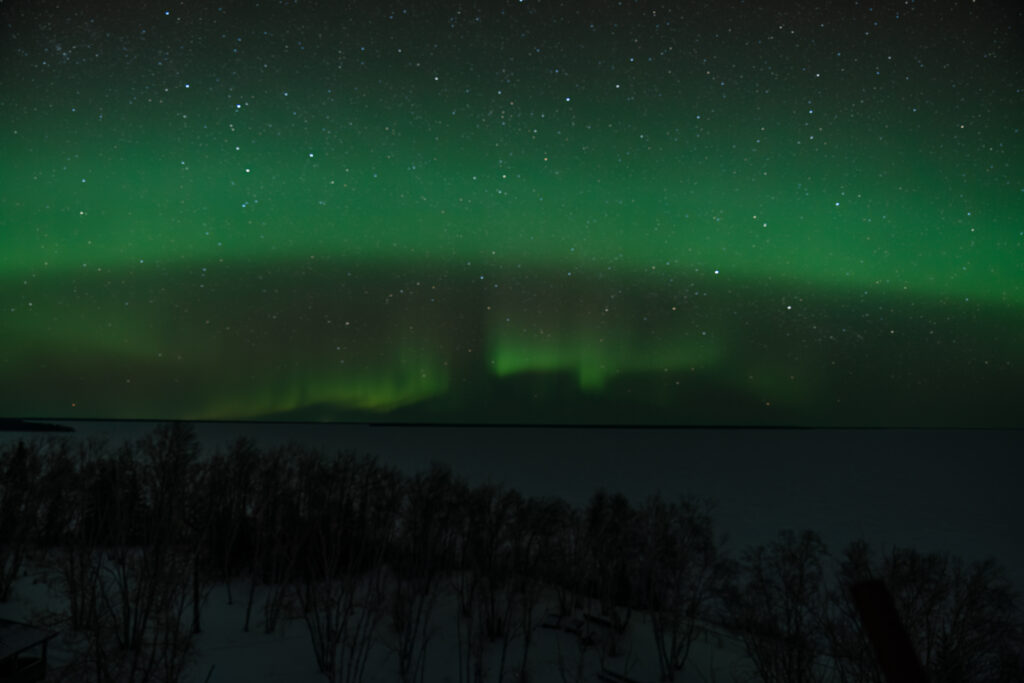 Hecla is an excellent location to witness the Northern Lights dancing across the night sky. As the sun sets and darkness takes over, the park transforms into a silent and mysterious place. Under the inky black sky, the stars shine like diamonds, creating a spectacular sight. If you're lucky, you may witness the Northern Lights emerge, painting the sky with a mesmerising canvas of colours that swirl and dance in a magnificent display of natural beauty.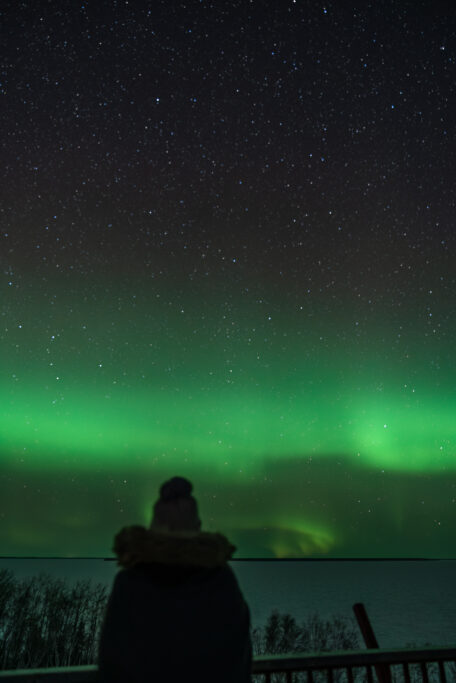 The island's pristine location makes it the ideal spot for viewing the night sky and the Northern Lights. The dark, clear skies are free from light pollution and the remote location of the park ensures that you can fully immerse yourself in the experience.
While there is no guarantee of a sighting, being in the right location at the right time can increase your chances. We tried multiple times, even travelling to the Yukon Territory, a prime Northern Lights hot spot, but were unsuccessful due to cloud cover and low solar activity. However, we finally witnessed the Northern Lights for the first time on Hecla Island and it was a truly unforgettable experience.
North Point Viewing Tower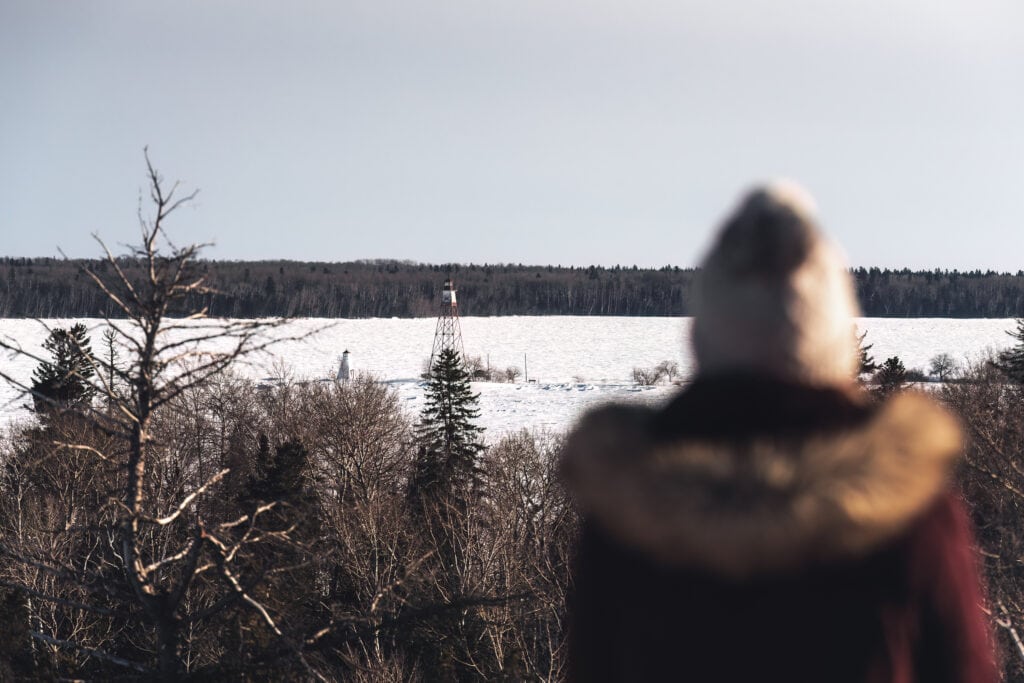 The north point viewing tower offers the perfect vantage point to marvel at the mesmerising beauty of the northern lights or gaze at the stars on a clear night. During the day, the tower provides panoramic views of Lake Winnipeg, the picturesque lighthouse, Black Island, and the Grindstone Peninsula, making it an excellent spot for photography enthusiasts.
Moments not to miss
Sunrise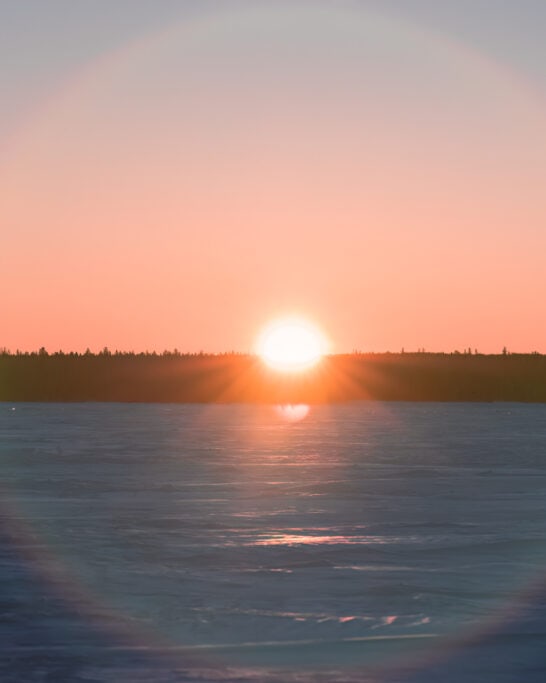 One of the most memorable experiences we've had was witnessing the sunrise on Hecla Island. We woke up early and headed out around 7 am to catch the first light of day. As the sun rose above the treetops, the frozen lake shimmered and sparkled in its light, casting a warm glow over the entire landscape. The stillness of the early morning was only broken by the sound of ice cracking and distant bird calls.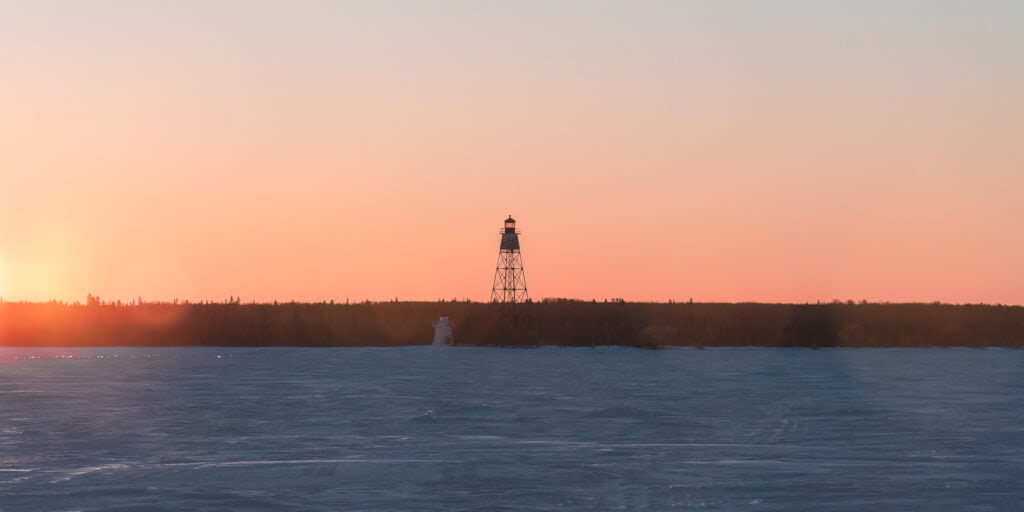 It was a breathtaking experience and even though the day soon brought its hustle and bustle, the memory of that sunrise on Hecla Island has stayed with us ever since, reminding us of the beauty that can be found in even the most remote corners of the world.
Sunset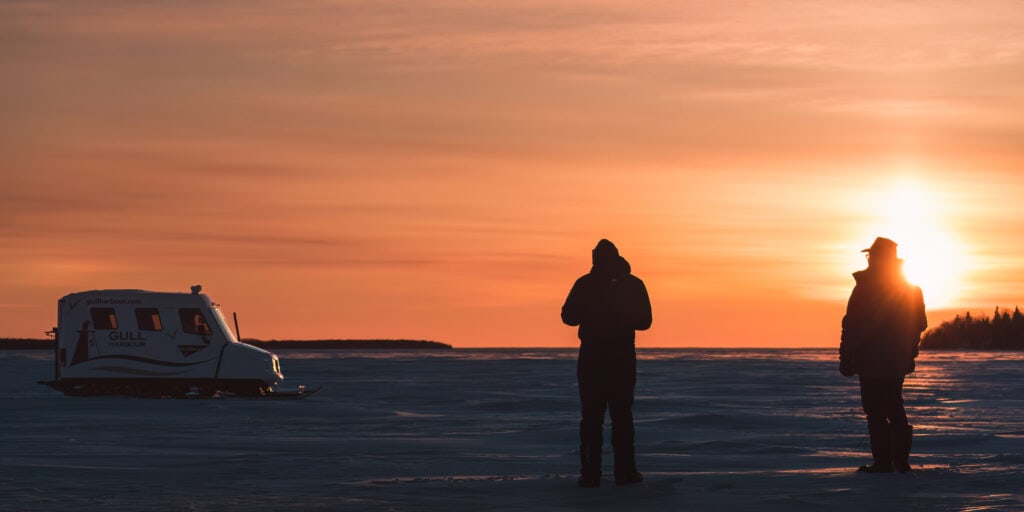 Around 5pm, we headed out on a SnoBear onto the frozen lake, reaching secluded corners away from the harbour and anglers ice fishing. As the sun dipped below the horizon, we watched in awe as a murder of crows swooped around the limestone cliffs, their black feathers standing out against the fiery sky. As darkness settled in, the sky transformed into a stunning display of blue and purple hues, and a serene hush enveloped our surroundings, reminding us of the untamed beauty of Hecla Island.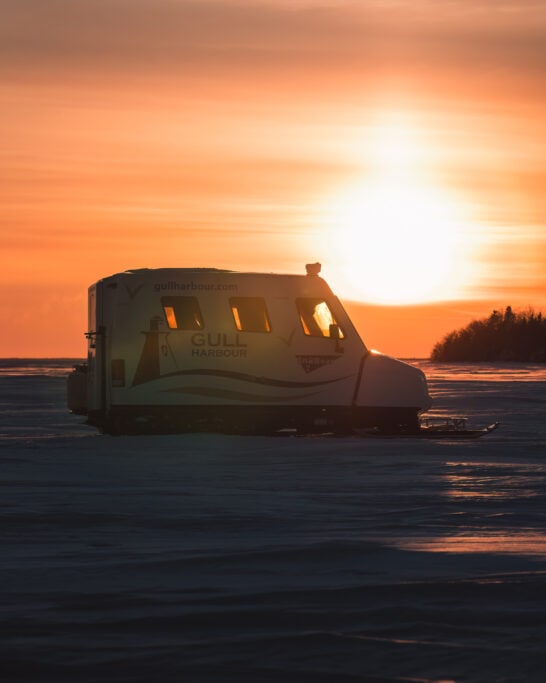 Where to stay
Hecla Island has a variety of accommodation options available. You can choose to stay in luxury or rough it in the great outdoors!
Camping
During the winter season, Gull Harbour Campground is closed, but nature enthusiasts can still experience the great outdoors by camping in the backcountry. Camping is allowed on islands, except for Hecla Island and some sections of Grindstone Point. It's important to pre-register with a Natural Resource Officer for safety. Winter camping requires the use of tents only and overnight accommodations on lakes and rivers using ice-fishing shelters are not allowed. Remember to practice Leave No Trace principles and pack out everything you bring in, including trash and gear.
Gull Harbour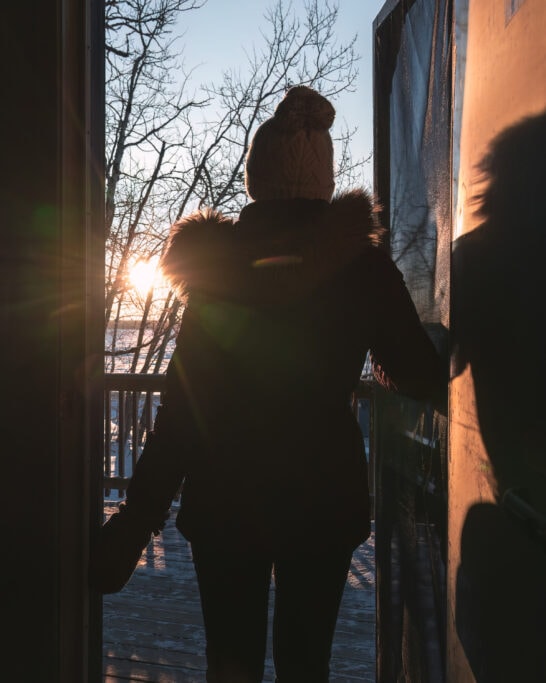 If you're seeking a more rustic experience, Gull Harbour Resort offers a unique blend of access to a marina, ski trails and beachfront views. All accommodations provide complete access to the park's outdoor activities, such as skiing, snowshoeing and ice fishing. We stayed at their private cabin, which boasts stunning lake views and all the comforts of home, perfect for people like us who are looking for solitude and a private experience.
Lakeview Hecla Resort
For a luxurious winter getaway, Lakeview Hecla Resort has a range of accommodation options, including guest rooms and suites that are tastefully decorated and equipped with modern amenities such as flat-screen TVs, free Wi-Fi and comfortable bedding. The hotel also features a spa, a fitness center, an indoor pool, adults-only pool section with hot-tub, nordic plunge and mineral pool.
Where to eat
There are two excellent dining choices available on Hecla Island:
Gull Harbour Marina & Lighthouse Restaurant
The Gull Harbour Marina & Lighthouse Restaurant is a popular choice among visitors, which serves a menu that includes local favourites such as pickerel as well as other classic dishes.
Our dinner experience here was outstanding. We ordered the pickerel tacos which were served in two ways – battered and pan-seared. The tacos were packed with flavour and the fish was cooked to perfection. We were pleasantly surprised to discover that everything, including the sauces and ingredients, was made in-house, reflecting the restaurant's commitment to quality. It was clear that the chef put a great deal of care and attention to detail into crafting each dish.
Seagulls Restaurant and Bar
Another great option is Seagulls Restaurant and Bar, located in Lakeview Hecla Resort. This spot offers a variety of dishes, from pub fare to more upscale options. For a truly authentic experience, try the freshly caught pickerel – a staple of the region and a must-try for any seafood lover.