It was a bright sunny, spring day when we arrived in Queenstown, adventure capital of the world. So far, our road trip about New Zealand's South Island had been packed with hikes and lots of driving, so we decided to slow down and relax with a cruise on Lake Wakatipu.
Our first stop was Queenstown harbour, where the historic TSS Earnslaw was waiting for us. We had booked a boat trip and BBQ lunch through Real Journeys. This would allow us to see Queenstown from Lake Wakatipu.
Our visit to Queenstown was part of our South Island road trip. Check out where else we've been in our South Island itinerary
A trip on a historic ship, combined with a delicious BBQ lunch buffet at Walter Peak Farm, sounded wonderful. And if you've ever tried a BBQ buffet in New Zealand, you'll know they do them pretty well!
Lake Wakatipu Cruise On The TSS Earnslaw
After boarding the steamship, we set off on an hour-long journey to the Walter Peak Farm. We settled outside, in front of the ship, taking in the scenic beauty around the lake. At times, the wind was brutal; it was spring after all, but we never left our post, the scenery was too beautiful to miss.
TSS EARNSLAW CRUISES
You can cruise Lake Wakatipu on the TSS Earnslaw throughout the year except during the months of June and July, due to annual maintenance. The cruise alone takes around 1h 30 minutes. Click here to check out the price and to book the cruise.

The cruise with BBQ lunch at Walter Peak takes around 3h 30 minutes and can be booked here.
Stepping inside the TSS Earnslaw will transport you back to its Edwardian past. Built in 1912, the 48-metre-long ship is the only remaining coal-fired steamship in the Southern Hemisphere. You can visit the engine room and see the impressive engines at work; it's mesmerising to watch.
A pianist on the main deck set the mood, playing classic tunes in the background. The promenade cafe and bar offered drinks and snacks, but we decided to wait because we didn't want to spoil our lunch by filling our stomachs beforehand!
Check out The Atlas Heart's post if you're looking for more things to do in Queenstown.
Walter Peak High Country Farm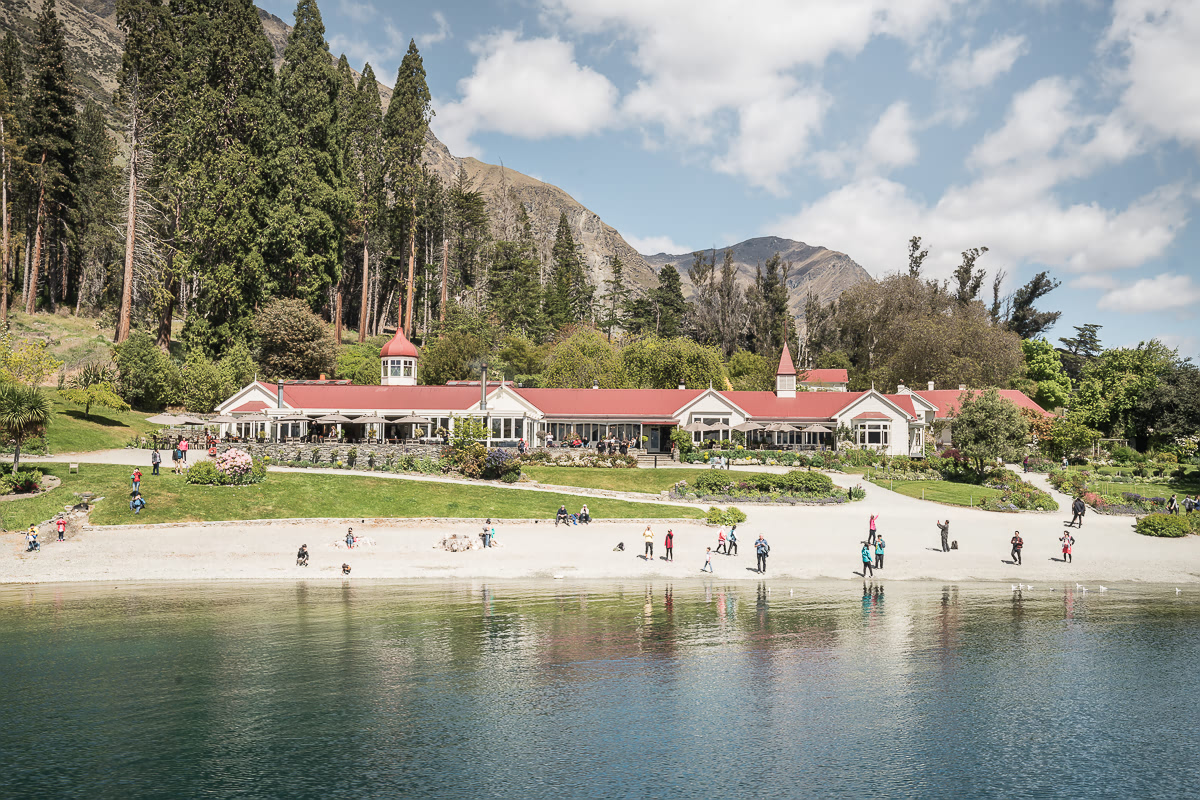 As we approached Walter Peak Farm, the impressive Colonel's Homestead Restaurant came into view. Originally built in 1902, the structure oozed grandeur and history. After disembarking, the local staff seated us on the outside terrace overlooking the lake. Soon after taking our drinks order, we were called to the buffet, where a stunning array of dishes was waiting for us
On offer were a variety of New Zealand's local produce: with a selection of succulent meats, such as chicken, lamb and beef, cooked on the grill, a vegetable and salad bar and, to finish, delicious desserts and New Zealand cheeses… I couldn't wait to tuck in!
We were not rushed and could enjoy lunch at our own pace, sipping wine with Lake Wakatipu as our backdrop.
Glimpse Into Life On A Sheep Farm
After our meal, we were invited to a farm demonstration. Walter Peak, founded in 1860, functions as a high country sheep station, with around 18,000 Merino and Perendale sheep. A highly entertaining and knowledgeable staff member showed us the most interesting aspects of life at a sheep farm: sheep herding and sheep shearing.
I loved this little glimpse into life on a sheep farm. Sheep farming is a significant industry in New Zealand and since arriving in New Zealand, we've noticed how many sheep are found across the country.
When the demonstration ended, we walked back to the shore and took our last few pictures of the gardens and farm before embarking back onto the TSS Earnslaw.
The ship took us on a peaceful trip back to Queenstown harbour, where we continued our whirlwind road trip around the South Island…
We were invited to the BBQ lunch by Real Journeys, however, all opinions are my own and you will always read my genuine thoughts and experiences.