On the south coast of Vancouver Island, where Port San Juan and the Salish Sea meet, you'll find the small coastal town of Port Renfrew.
Though it may not boast any major tourist attractions, Port Renfrew's small-town charm and stunning wild coast has a certain je ne sais quoi that makes you fall in love as soon as you arrive.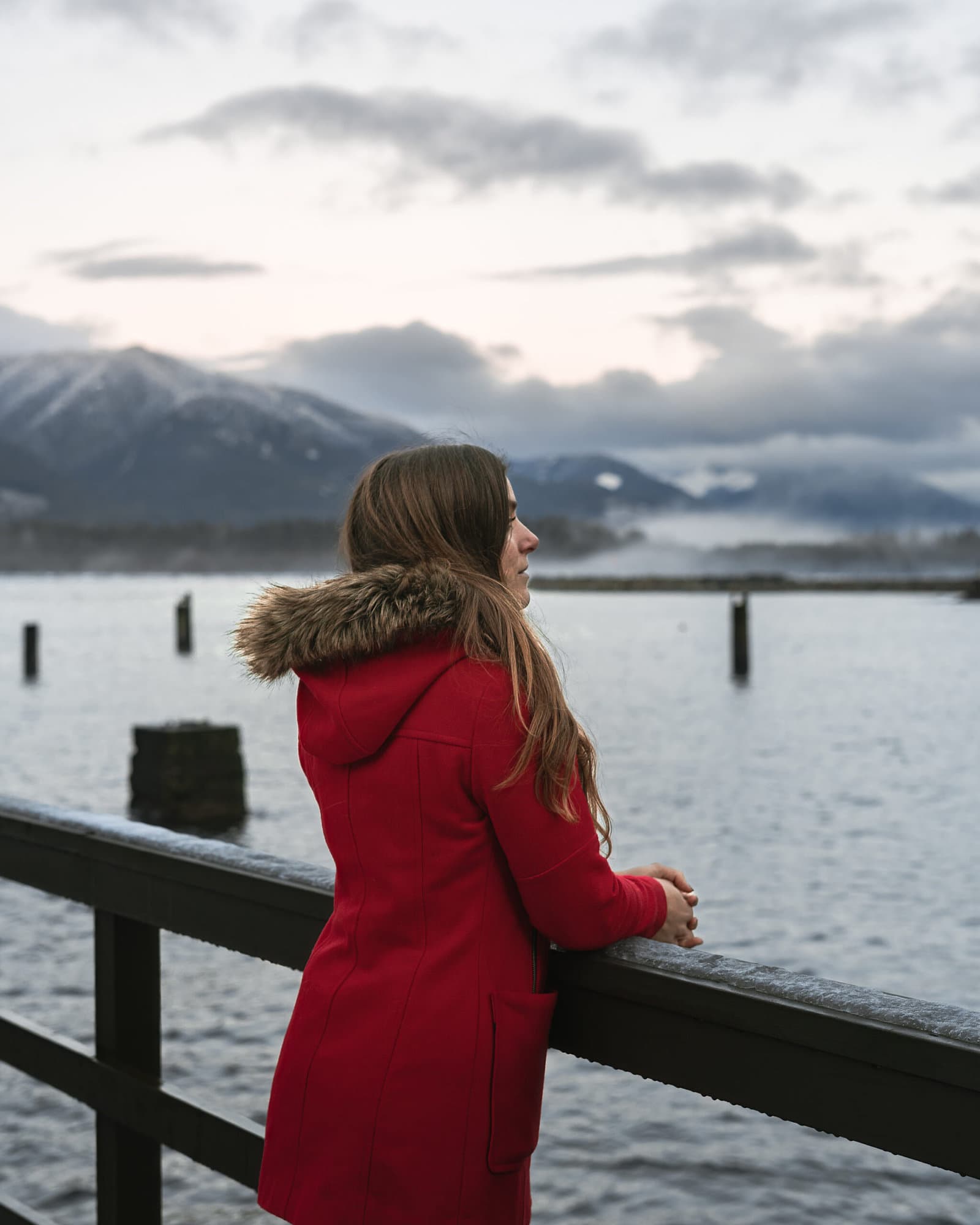 We travelled to Port Renfrew on a beautiful but cold winter day and were immediately taken by the quaint town. We were welcomed by the fir trees standing tall along the road, a fresh dusting of snow lying heavy on their branches. Known as the Tall Tree Capital of Canada, Port Renfrew is surrounded by old-growth forests. Giant red cedars, douglas-firs, sitka spruce and hemlocks pierce the forest canopy like giant skyscrapers. Trees here can spread over 3 m wide and grow to be 100 m tall.
These giants stand in stark contrast to the ever-moving ocean surrounding Port Renfrew. This wild coast was on full display with the waves crashing against the large rocks as we made our way to our cabin by the water.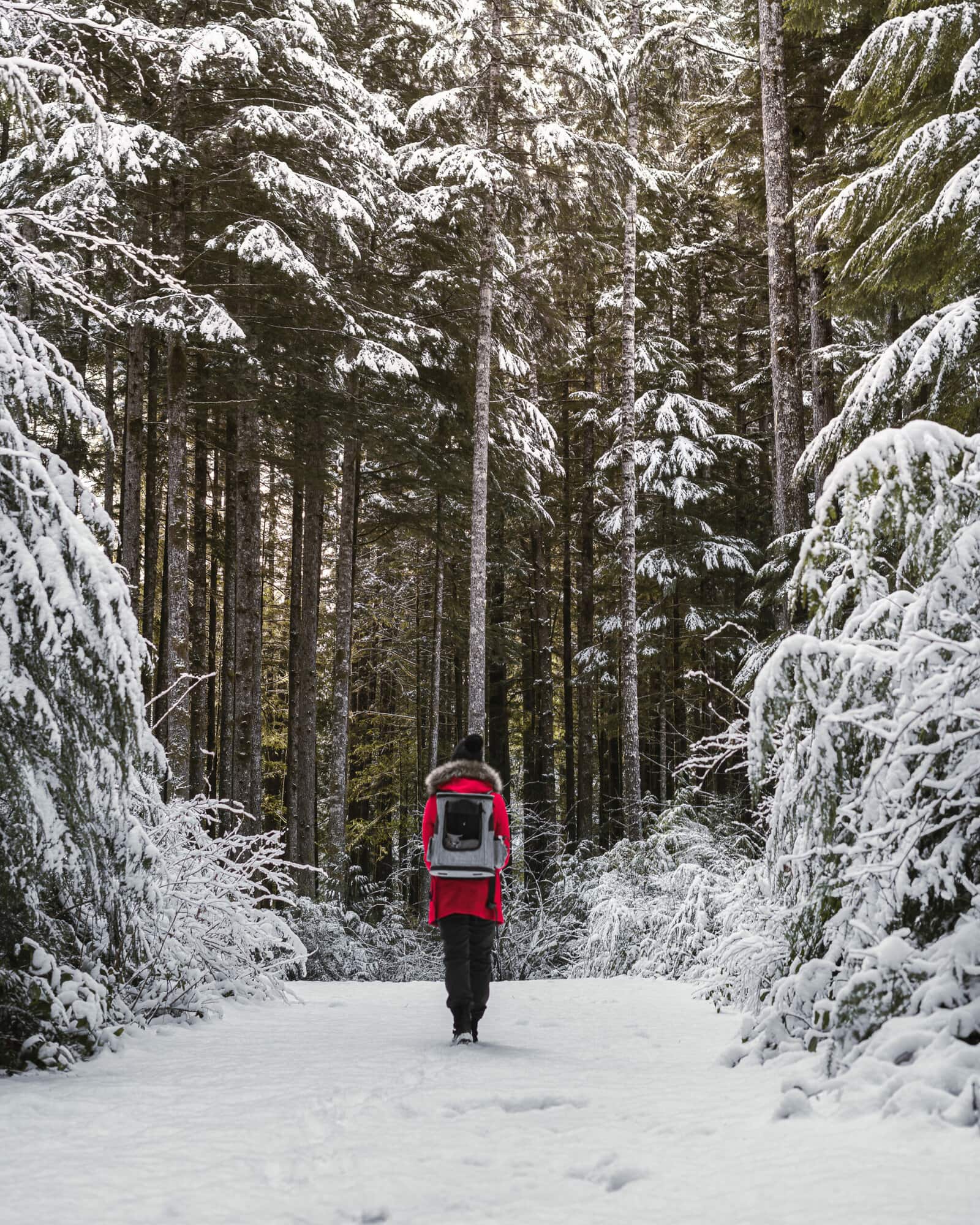 Day 1 – Christmas Eve
The sun was setting when we arrived at Wild Renfrew, our accommodation for the next few days. The mountains were framed against an overcast sky, the pale blue light of dusk creating an almost fairytale-like scene, with trees silhouetted against the thick blanket of snow. With the temperature dropping quite rapidly we were keen to unload the car and enter the warmth of our cosy cabin.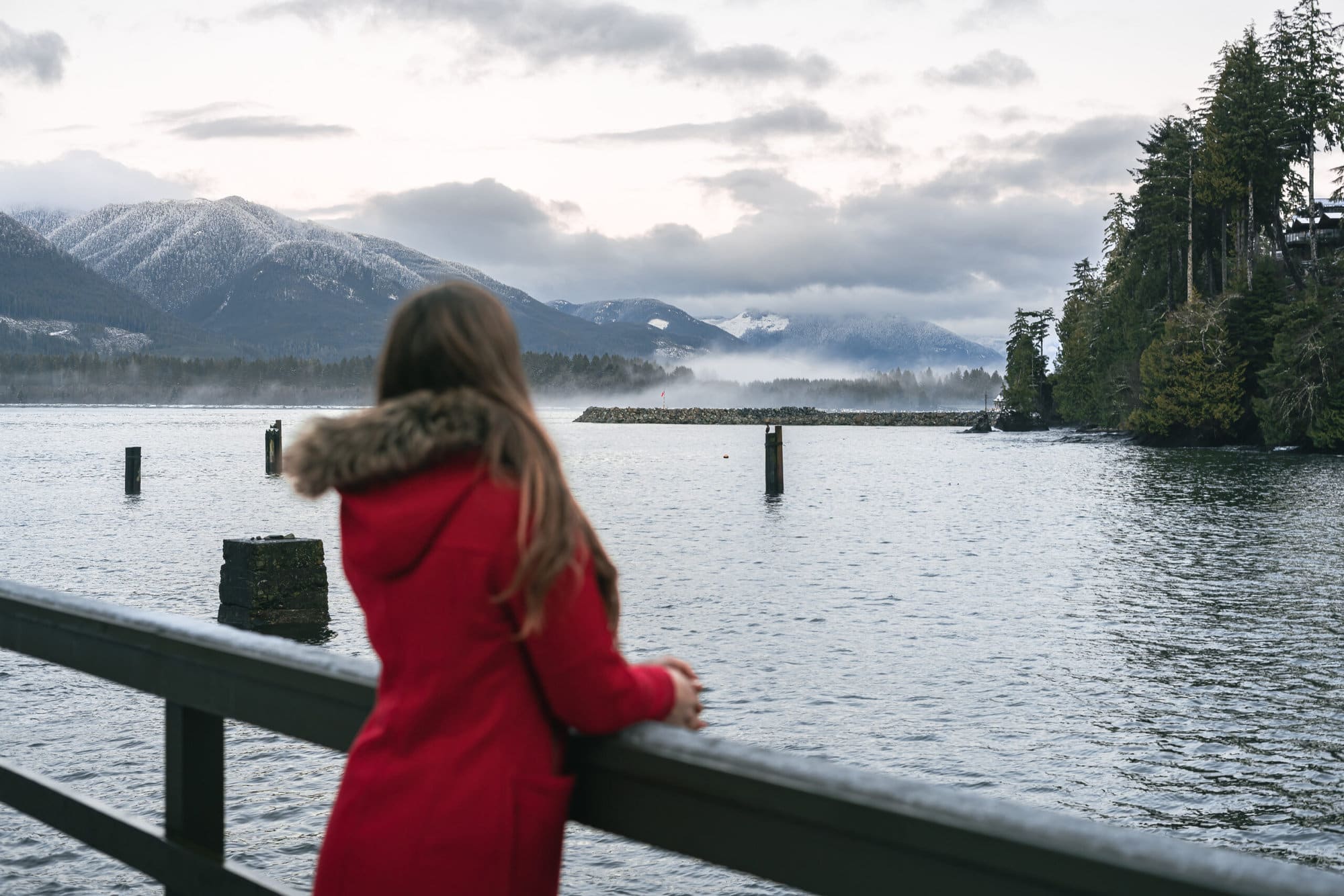 Wild Renfrew had been high on our list of places to stay; well-furnished cabins complete with a fireplace and a covered deck with incredible views over the inlet and surrounding mountains. What more could we ask for our winter getaway?
As soon as we had moved everything inside, Kumo and Kiri, our adorable fluffy cats, started exploring the cabin. They love our getaways where they can see new places, discover new scents and chase each other around new corners.
It was Christmas Eve, the stormy weather had died down and snowflakes were drifting outside as we prepared for an evening of celebration. We indulged in a traditional Christmas dinner, toasted to a fabulous year and opened up our presents. Afterwards, we settled on the deck for a nightcap, huddled around the gas fire bowl, listening to the gentle lapping waves outside our cabin.
How could we not fall in love with this place?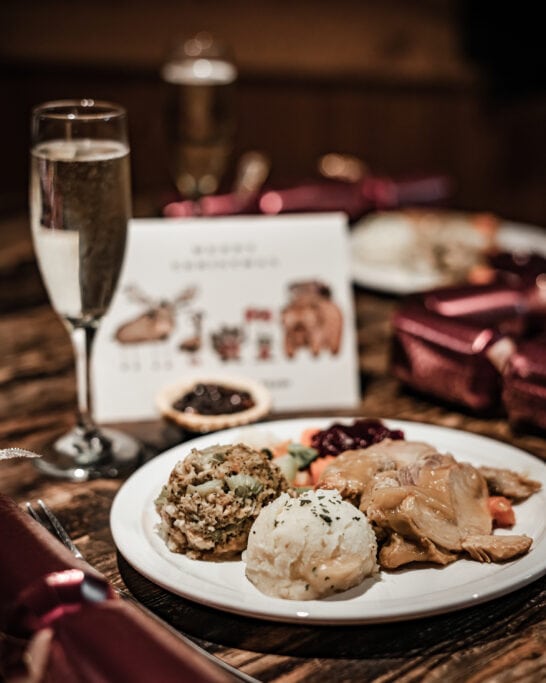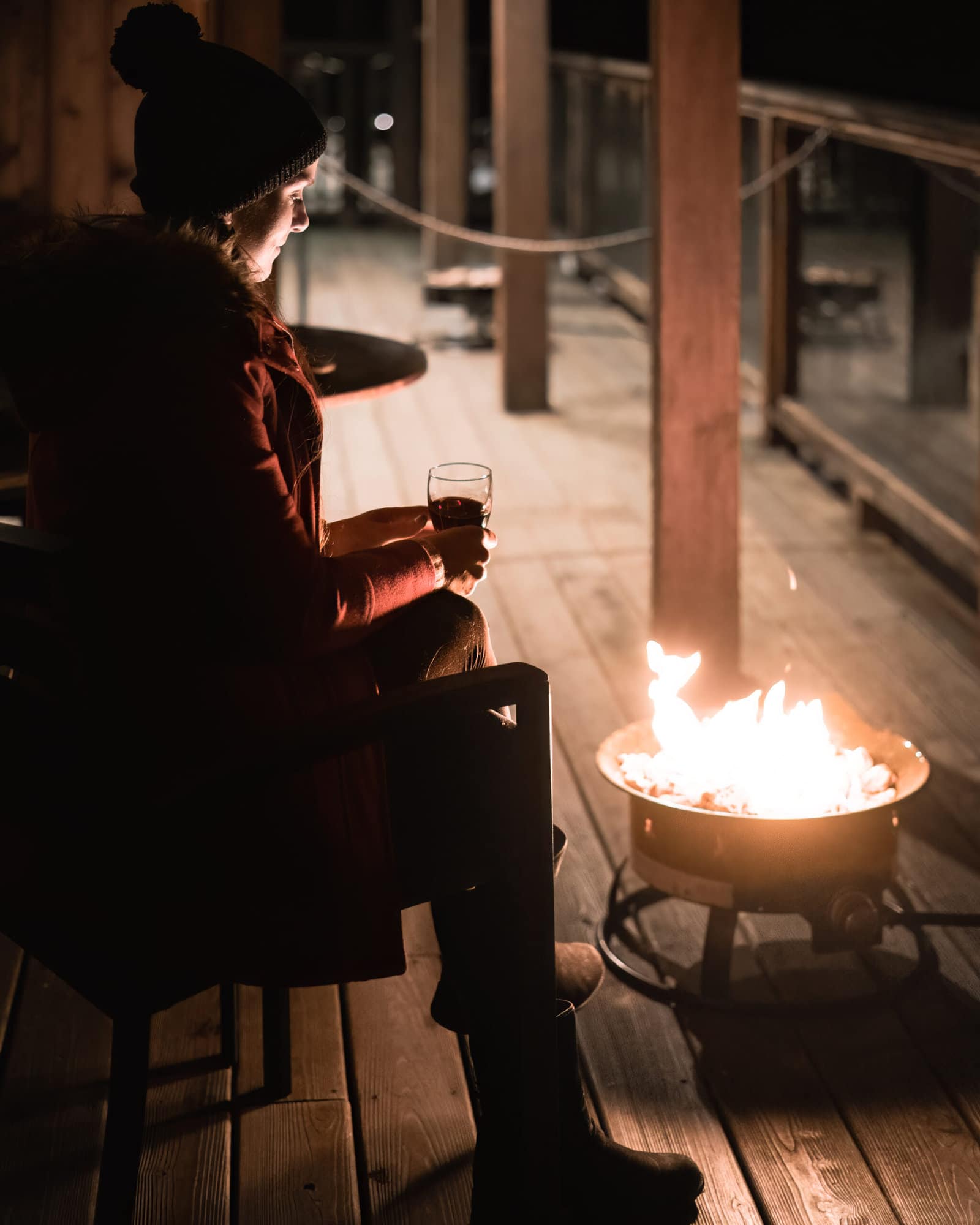 Day 2 – Exploring the coast and forests
As I sipped my hot chocolate, the icy morning air stinging my face, I looked out across the inlet, excited to venture out and explore. Traces of mist still lingered over the water and distant mountains, fairly typical for the winter PNW climate. The tide had retreated and the craggy intertidal shore was now visible. A hint of blue sky peeked through the clouds, a false promise of a sunny day.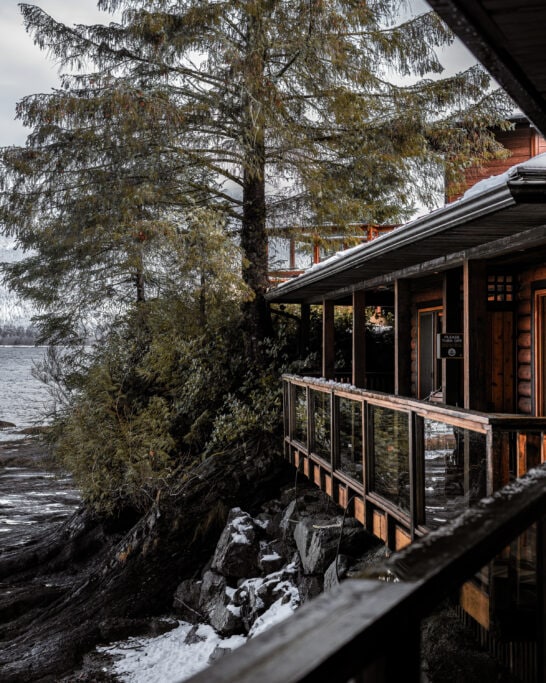 To brave the -10 degrees and gusting wind, we dressed warmly in base layers, parkas and snow boots then headed out to explore the area. Due to the heavy snowfall, many sites were inaccessible, so we first checked in with the visitor centre to find out which roads were clear. Even with a 4×4, we were told some routes were currently too dangerous due to the sharp inclines and ice, which limited our access to certain parks and beaches.
As we were heading out of town, we came across a reminder of how dangerous driving in winter can be: a crashed Tesla, in the ditch on the side of the road. Apart from all-wheel drive or 4×4 (recommended) winter tires are mandatory in this part of BC, to ensure safe driving in these conditions.
We were relieved to discover that the road to our first stop, the Botanical Beach trailhead in Juan de Fuca Provincial Park, was clear and accessible. We opted to hike the Botanical Beach loop, known for its stunning tide pools, fascinating marine life and sandstone-carved rocks.
We began our hike through a dense section of forest and continued until we reached Botany Bay. The wind was howling as we emerged from the safety of the trees, the waves reached high up on the shoreline, crashing into the many rocks around the bay. An islet peeked out of the wild ocean, usually accessible at low tide, but we arrived slightly too late and the treacherous waves prevented us from crossing.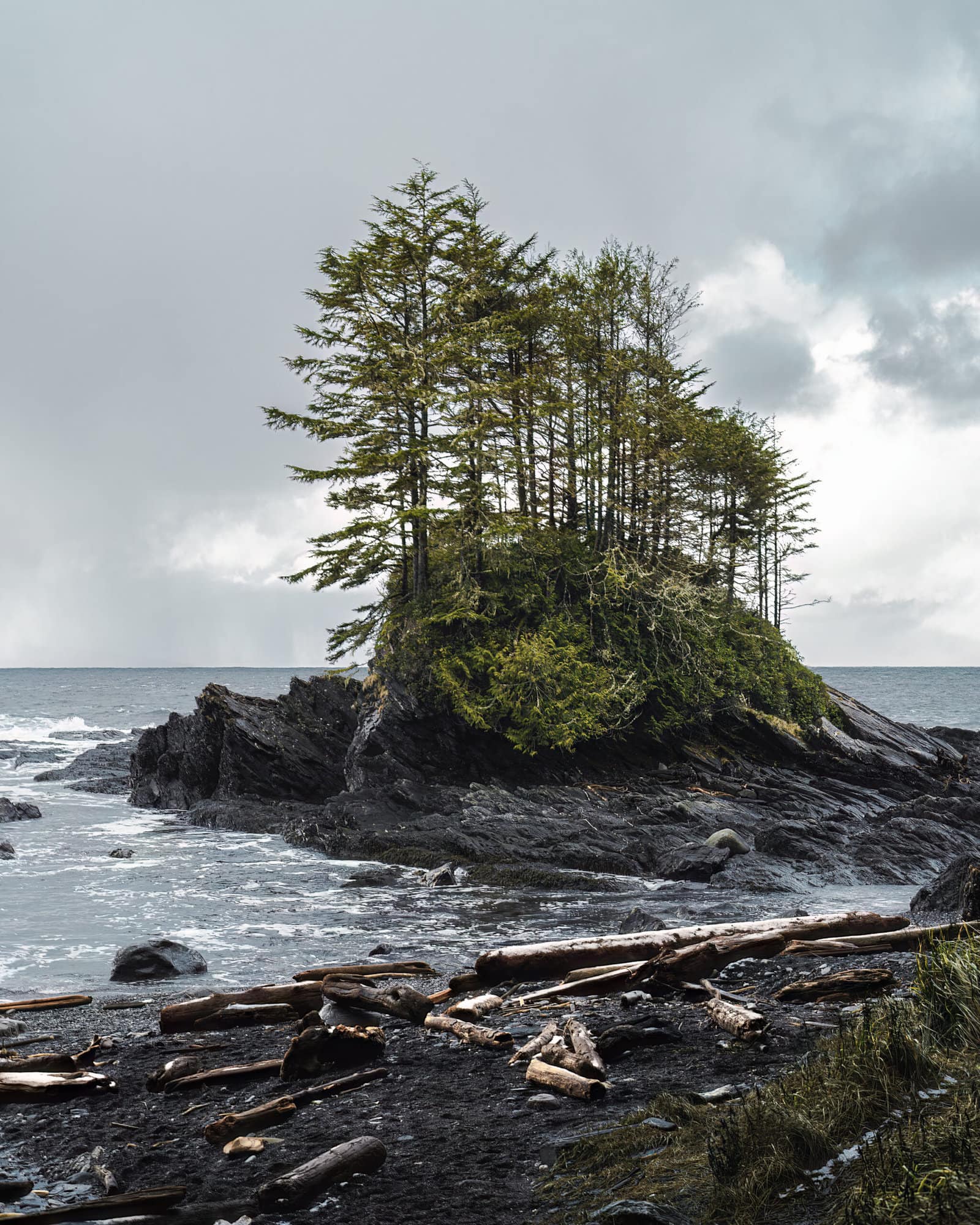 From Botany Bay we followed the rocky shoreline to Botanical Beach. At low tide, you can marvel at the beautiful sandstone tidal pools however the rising tide made catching a glimpse of these pools impossible.
I stood on an outcrop, careful not to slip on the icy surface, peering out across the bay. I loved the moody vibes of the scene in front of me, the ocean untamed, violently crashing into the rocks, seagulls struggling against the wind and snowflakes rushing past my face; not what I had been expecting, but beautiful all the same.
Unfortunately, a large part of the loop trail ahead was closed due to the recent severe conditions, so we retraced our steps back along the shoreline.
Botanical Beach is one of the four trailheads onto Juan de Fuca Marine Trail, a 47 km wilderness trail along the western shoreline of the southern island. We had hoped to visit Sombrio Beach, another trailhead which leads to a hidden waterfall, from one of the many creeks feeding into the ocean. Sadly, the access road was inaccessible, too steep and icy, so we headed back to the cabin to relax and warm up.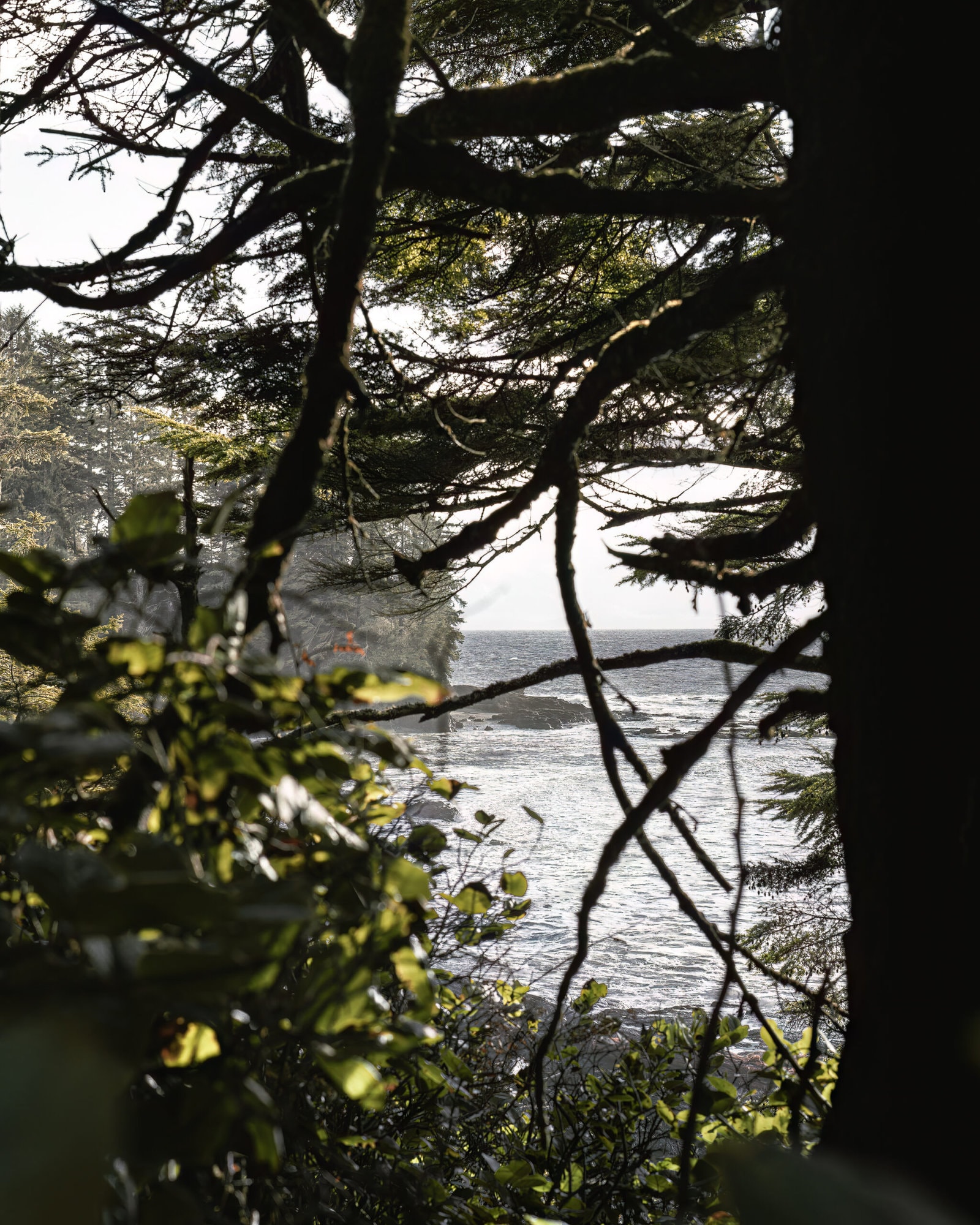 The setting sun cast beautiful pink and blue hues across the mountains on the far side of the inlet. I settled down on the couch, wrapped in a soft blanket and with a hot chocolate in hand, watching as the snow gradually blew in, swallowing up the soft pastel colours, and hazing up the distant shoreline until everything was pure white; the gloom transitioning into dusk.
We relaxed at our cabin for a while until dinner time, before heading out into the cold. Food options in town are limited, but Renfrew pub, located near the Wild Renfrew cottages, welcomes patrons of all ages. The pub was pleasant inside, with its large, open-plan wooden interior decorated for the holiday season; good food and friendly staff made the evening feel quite festive.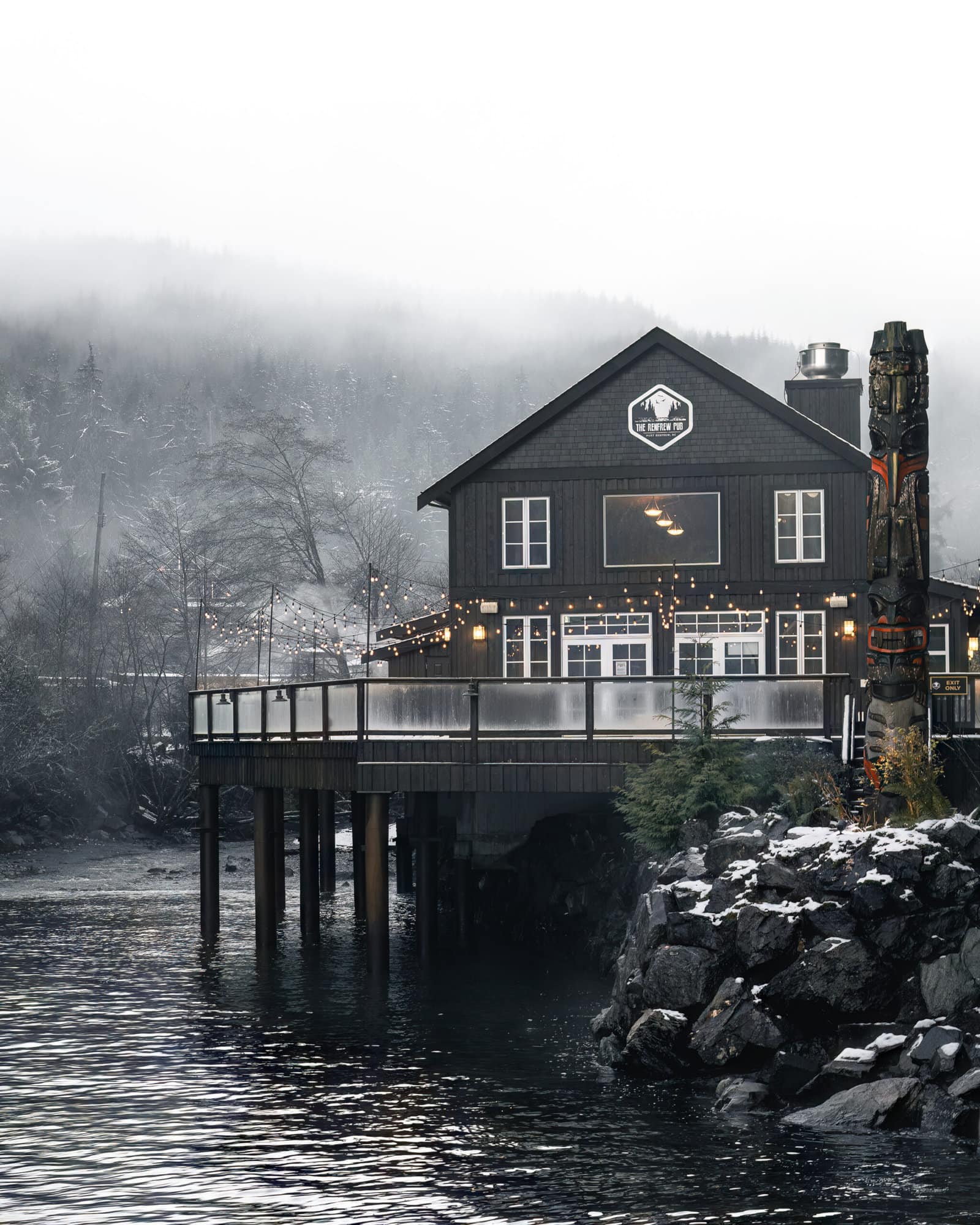 After dinner we made our way back to the cabin for another nightcap. The air was frigid and the snow had frozen, covering the road and pavement in ice. We slipped and slid towards our cabin, our laughter echoing through the frosty night.
Day three – The decline of old-growth forests
I was woken up early by Kumo and Kiri, who had a burst of energy after their morning nap and were zooming around the cabin in a game of chase. I was glad to see they were loving their time as much as we were.
After breakfast, we headed out for another day of exploring. Usually, we plan many activities for the day, not wanting to miss anything an area has to offer. This time of the year, however, poses a few more challenges, as we discovered on our way to Avatar Grove.
The drive to Avatar Grove takes you on a rough logging road which wasn't a problem for our Ford Bronco Sport, but we encountered a fallen tree, blocking the entire width of the road, which meant we had to unfortunately turn back. In winter, it can sometimes take several days before routes are cleared, especially the smaller unpaved backcountry roads.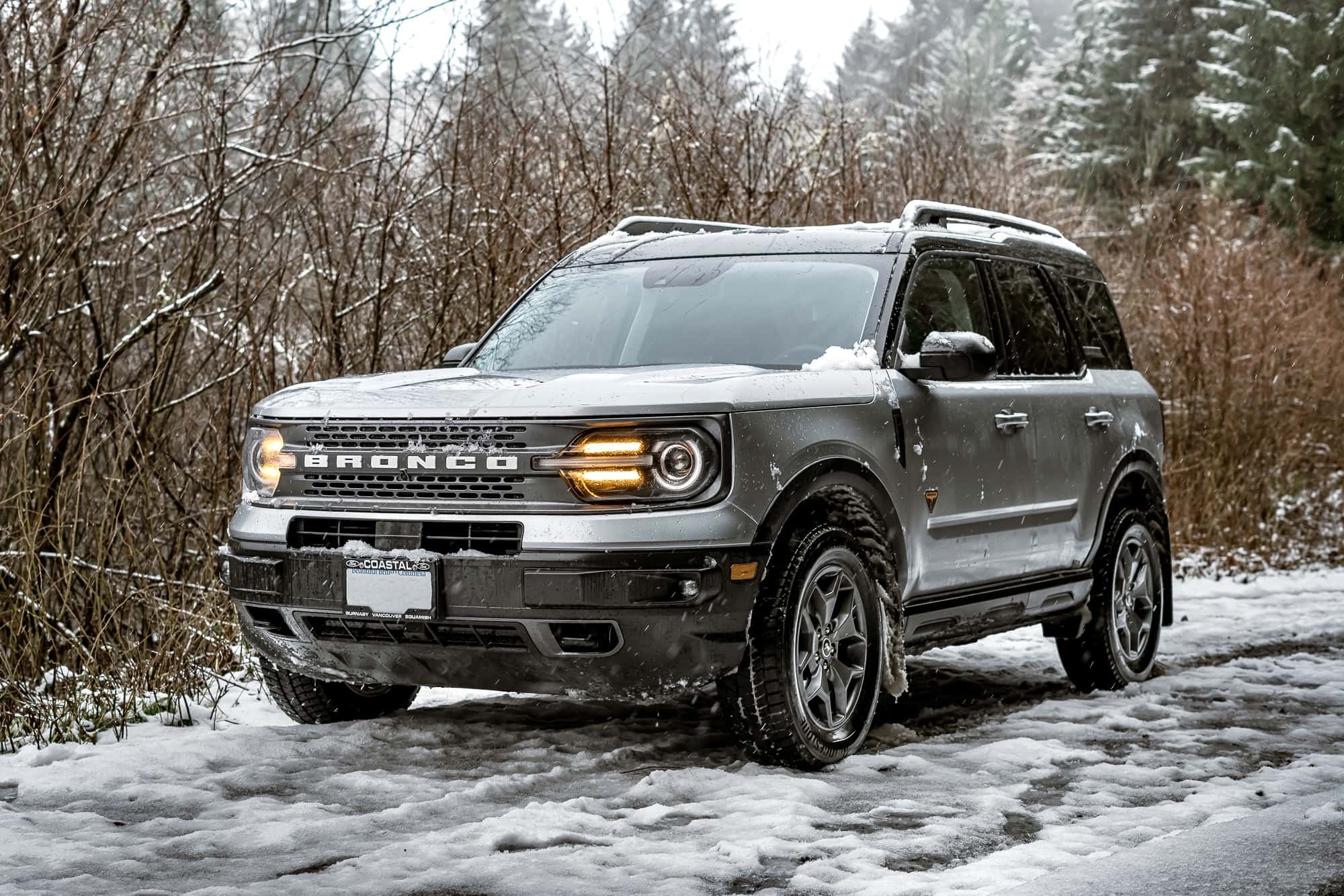 For those visiting Avatar Grove, it's located in a magnificent old-growth rainforest, with several boardwalks taking you from one magnificent tree to another. The sheer size of the trees you will encounter here is breathtaking, as some have trunks over 4 m in diameter and can be as old as 1,000 years. This spectacular section of old-growth rainforest is within the traditional territory of the Pacheedaht First Nation and has recently been declared off-limits to logging.
After failing to make it through to the Grove, we continued our journey to Lake Cowichan, located about an hour north of Port Renfrew and one of several communities that make up the pristine Cowichan Lake District. On the way, we passed by Fairy Lake, a small but picturesque spot not far from Port Renfrew.
Breaking the otherwise calm and flat surface of Fairy Lake is a sunken douglas fir tree and perched on the end is a twisted dwarfed fir tree, standing proud in the face of adversity. It's a beautiful sight, captured by many photographers around the world. We stood there for a while, admiring the quiet serenity of the lake while snowflakes drifted around us.
As we continued to our next stop, we passed by a group of activists dedicated to protecting old-growth forests. At the heart of the protests lies the Fairy Creek watershed, an unlogged forest that includes yellow cedars and hemlocks that have been standing for hundreds if not thousands of years. Old-growth forests are important to our ecosystem, providing a home for wildlife and playing an essential role in carbon storage, hydrological regimes and nutrient cycles.
The BC government has put some restrictions in place, but according to activists it's not sufficient and irreplaceable ancient forests will continue to fall.
In the area, there are many majestic trees standing tall, at risk of being felled, these include the Red Creek Fir, the world's tallest douglas fir tree, the San Juan Spruce, the largest spruce in Canada and the Carmanah Giant, the world's largest sitka spruce.
Most of these giants were not accessible while we were in Port Renfrew due to the snowfall and icy roads, apart from one; the Harris Creek Sitka Spruce. Measuring 4 m in diameter and approximately 80 m tall, while not necessarily the largest spruce tree in the area, it's still an extremely impressive tree and easily accessible from the highway.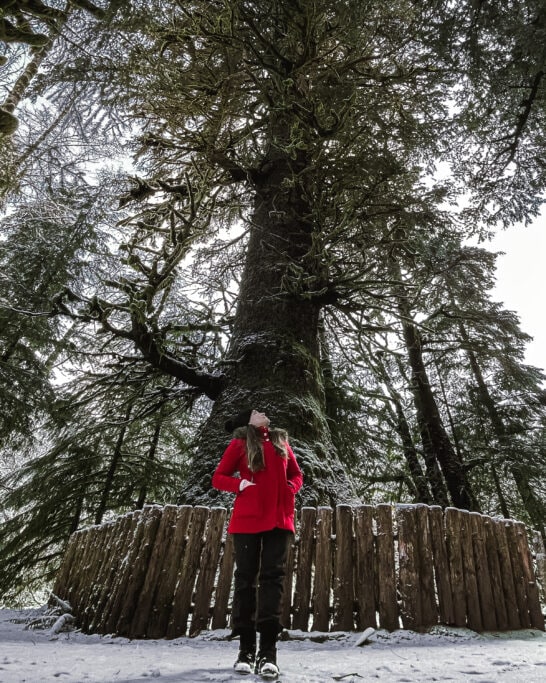 Standing beneath this giant spruce tree, I felt dwarfed, in awe of its sheer size and could understand why loggers in 1893, equally in awe, decided to save this tree while all others around it were felled.
We continued our drive to Lake Cowichan, on a scenic route through the Cowichan Valley mountains. This stretch is part of the Pacific Marine Loop, once a logging road, now paved for easier access between the two towns. We didn't pass many cars or any other signs of development along the way, it was just us and the towering mountains and fir trees, covered in a beautiful blanket of white snow.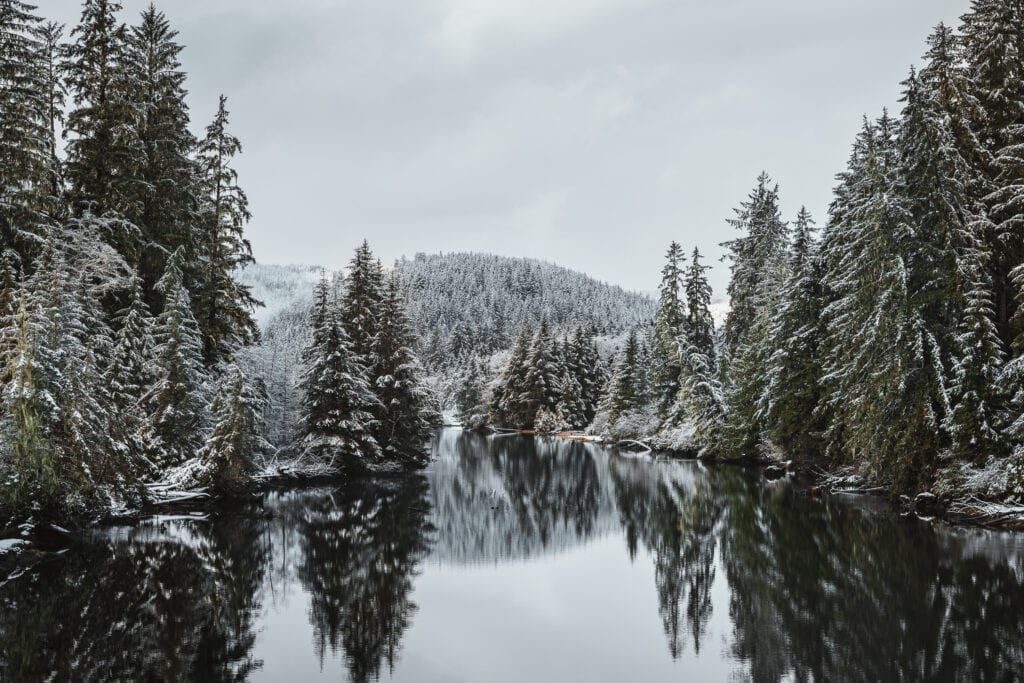 We arrived after lunchtime at Lake Cowichan. The area has a lot to offer, from wildlife viewing to outdoor adventures, such as kayaking and wild water rafting. Short daylight hours at this time of the year prevented us from spending too much time here, so we grabbed a quick coffee and a bite to eat at Ed's Coffeehouse, before heading back to Port Renfrew along the same scenic route.
The sun had already started to disappear behind the mountains when we arrived back at the cabin. That evening we decided to pay another visit to the Renfrew pub to enjoy some comfort food and a festive drink on our last evening in Port Renfrew.
Day four – Time to head back
It was hard to say goodbye to our cabin that last morning in Port Renfrew, but needing to catch a ferry around lunchtime, we didn't linger long around town and soon after finishing breakfast we packed up and headed back to Victoria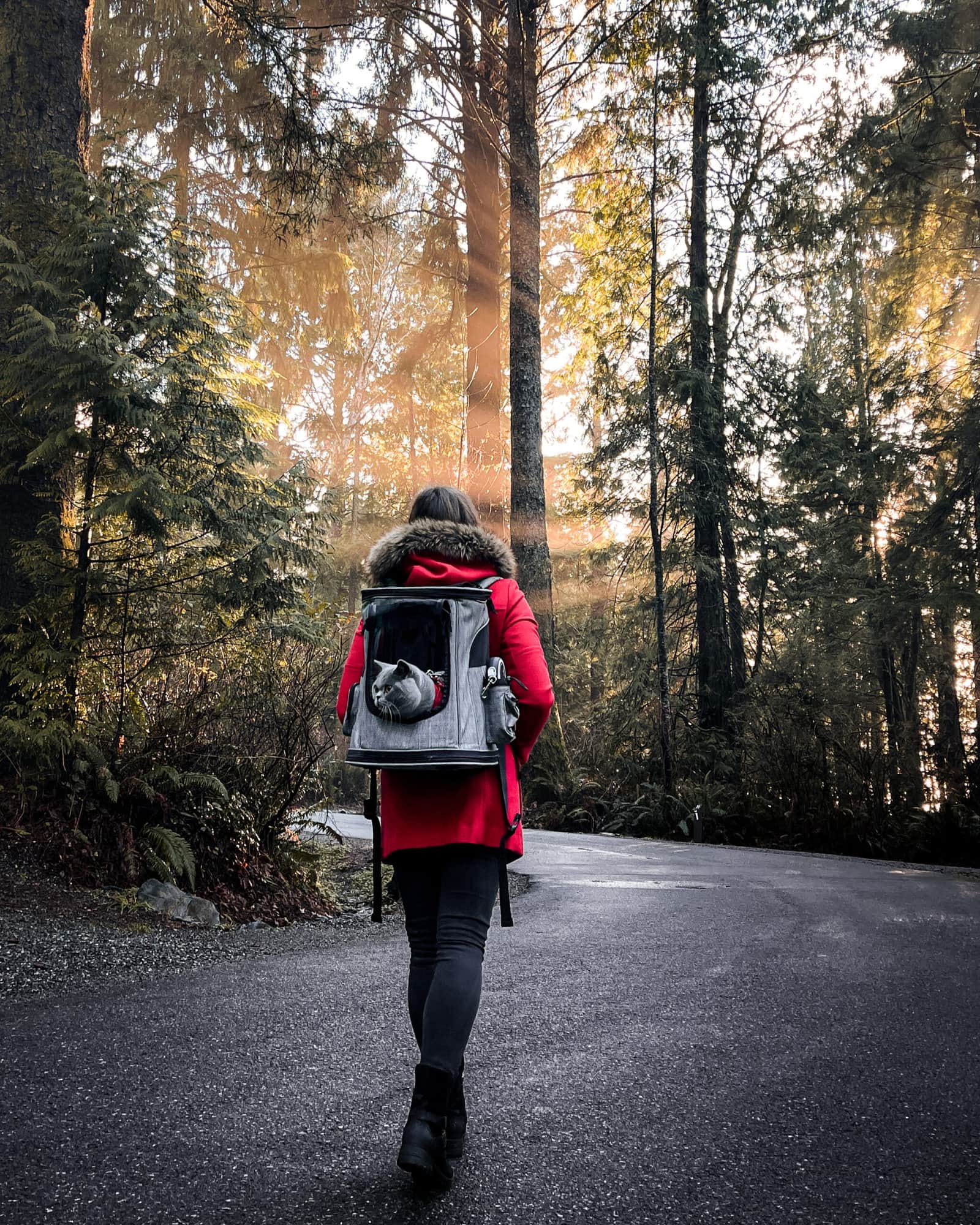 Those few days exploring that side of Vancouver Island had been eye-opening. We allowed ourselves to relax, with no pressure to tick off all the sights. We let the weather and circumstances guide our travels. Our pace was unhurried, leaving space for the unexpected and to truly experience being in the moment for a while, before returning to our hectic city life in Vancouver.