After a full day of sightseeing, our group stocked up on snacks before embarking on our next part of the trip.
From Bangkok station, we took the night train to Surat Thani, an 11-hour journey through the South of Thailand.
I've slept on quite a few sleeper trains in Europe, but as this was my first time in Asia, I had no idea what to expect from Thai sleeper trains. Even after researching trains and experiences online, I still couldn't picture what it would be like.
The Start Of Our Journey
Our group was booked in 2nd class. Our carriage had one long aisle with seats on both sides. The seats were grouped in pairs, facing each other with a table in between. There was room for luggage against the wall between seats. Our tour leader came prepared, and attached ropes to all our luggage to keep it in place.
1ST OR 2ND CLASS?
There is a choice between 1st and 2nd class.
1st class consists of a private 2-berth compartment. These compartments can be locked from the inside and have a washbasin.
2nd class is open plan with berths on either side of the aisle. There's a washbasin at the end of the carriage and a toilet.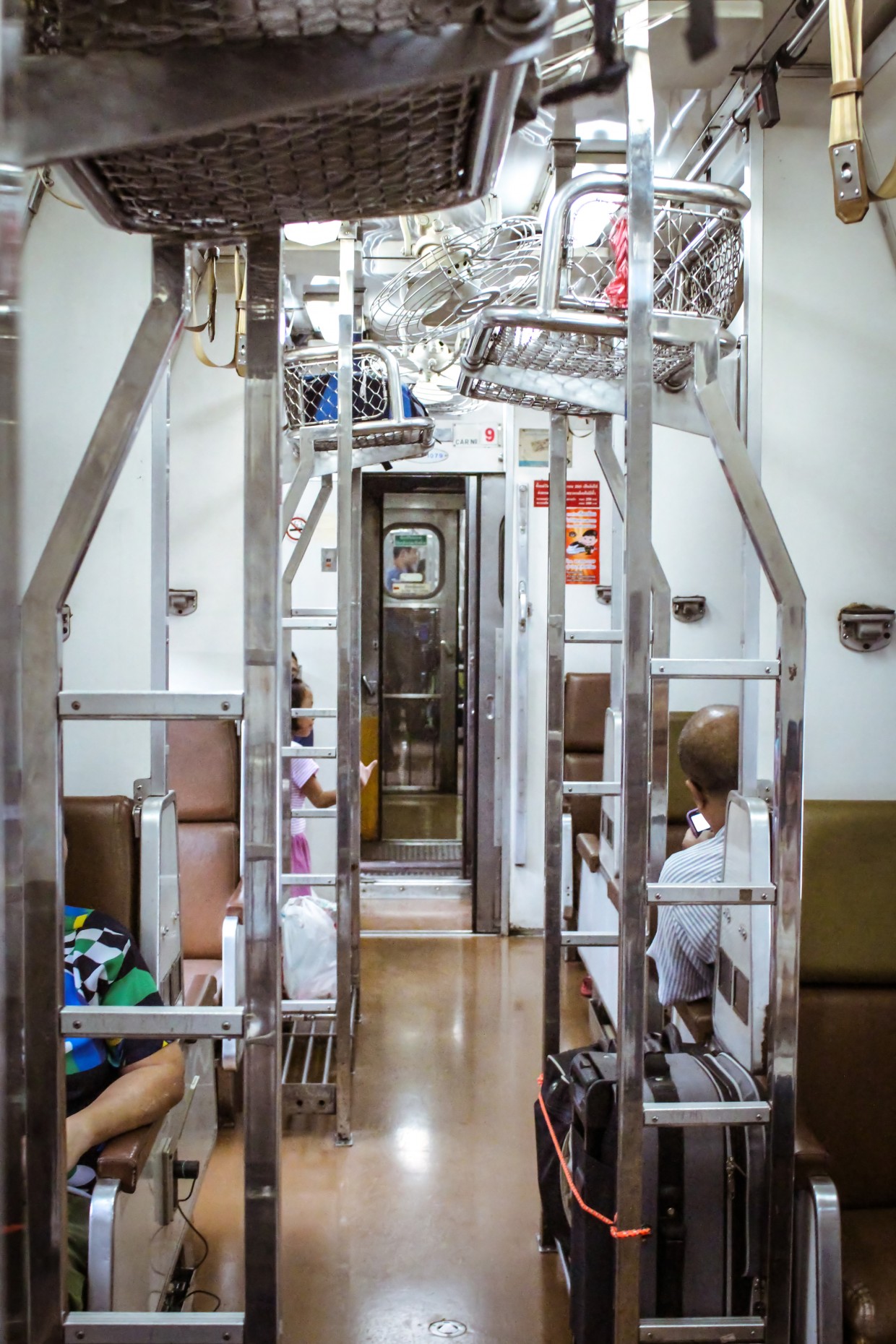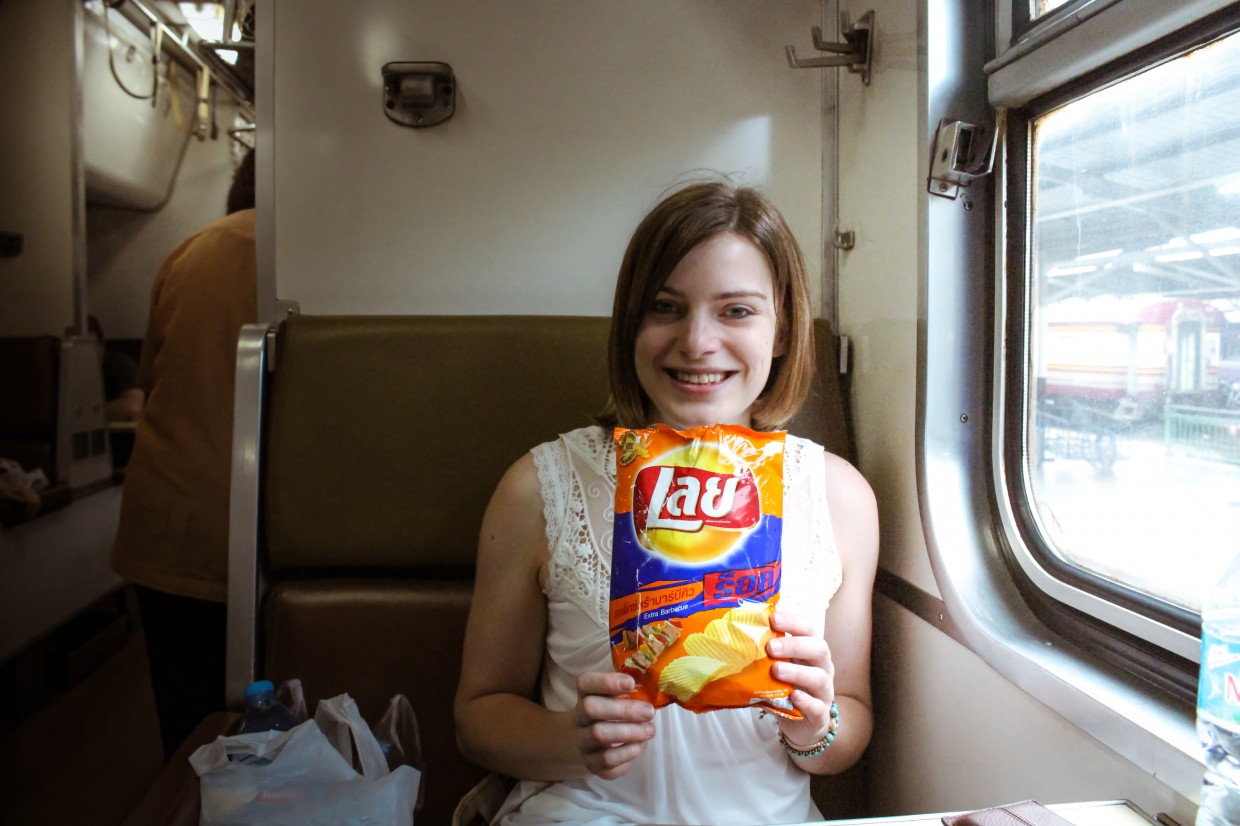 The train slowly filled up, and our carriage was full. Apart from us tourists, it looked like quite a few locals were also present. After pulling out from Bangkok station, we soon passed the outskirts of Bangkok. This is why I love trains, you are offered a glimpse of every day life and are rewarded with landscapes you otherwise would have missed.
Looking for things to do in Bangkok?
Food On The Bangkok To Surat Thani Train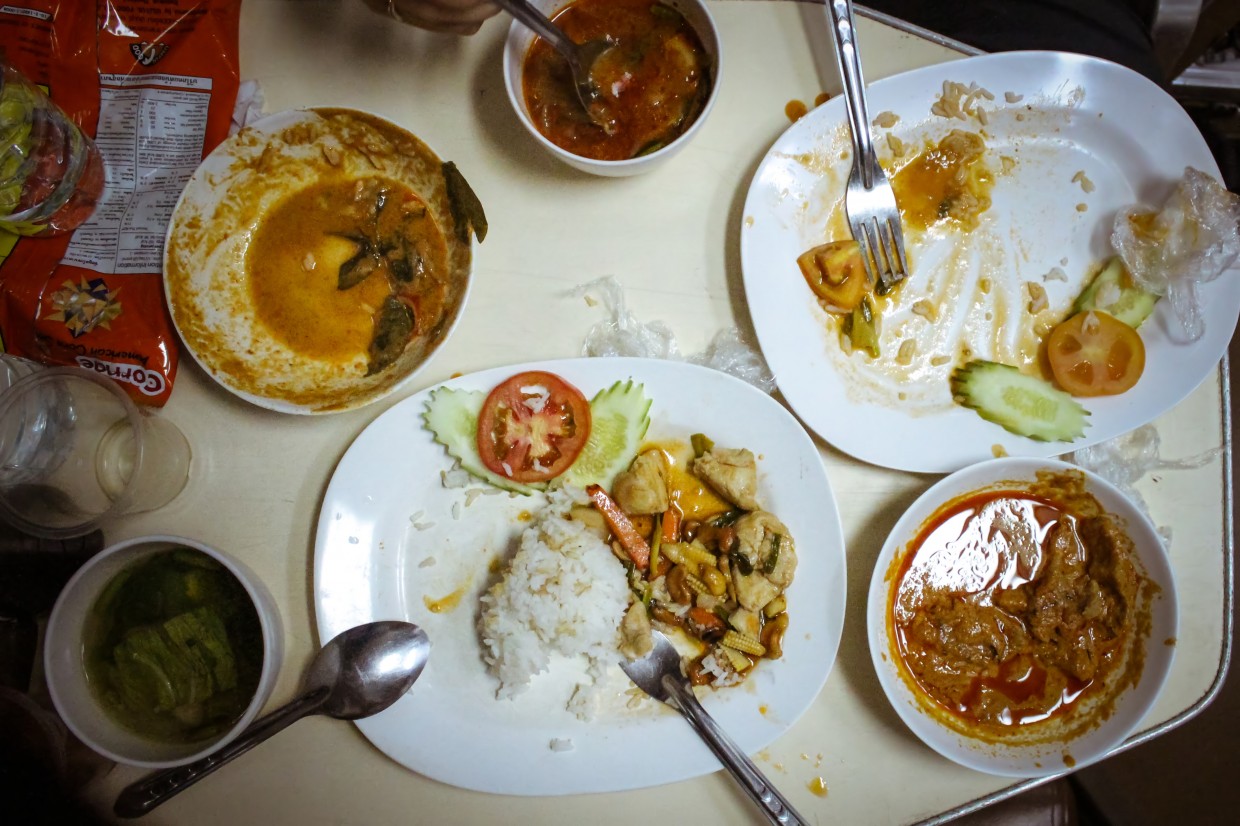 After some time, a stewardess from the restaurant car brought us a menu for dinner. I was very surprised about this, as the sleeper trains in Europe don't offer this service. The menu was very extensive, with typical Thai dishes available. We ordered a few to share, and not too long afterwards, the food arrived. Even though the dishes looked quite simple, it was very delicious. Needless to say, I was impressed by the train food.
FOOD ON THE TRAIN
The restaurant stewards will come around to take your order, or you can go to the restaurant car for a wider selection. Set menus are offered and cost between 160 to 190 Baht for the dinner sets and 400 Baht for a seafood set for 2. (prices are from September 2013)
Plan your activities on Ko Samui
Getting Ready For Bed
I had imagined everything to get quite rowdy in such an open carriage, to the point where you wouldn't be able to sleep. I was wrong however. After having a few drinks and a little socialising, the attendant came round to make our beds around 9pm. He flattened the seats to form the bottom bed, and lowered the top bed which was attached to the wall. Pillows and covers were provided, and soon after the beds were made, everyone started to get ready to go to sleep.
Now was the perfect time to check out the bathroom facilities. At the end of the carriage, there was a long sink which covered the entire wall, and a door to the toilet. The toilet, to my surprise, was a western toilet. The seat wasn't the cleanest, but I've seen worse toilets. This discovery made me very happy, as I wasn't entirely sure how I would be able to use a squatting toilet on a moving train.
The water in the sink isn't drinkable, so when brushing my teeth, I had a water bottle with me to rinse.
Top activities on Ko Tao
Sleeping On The Train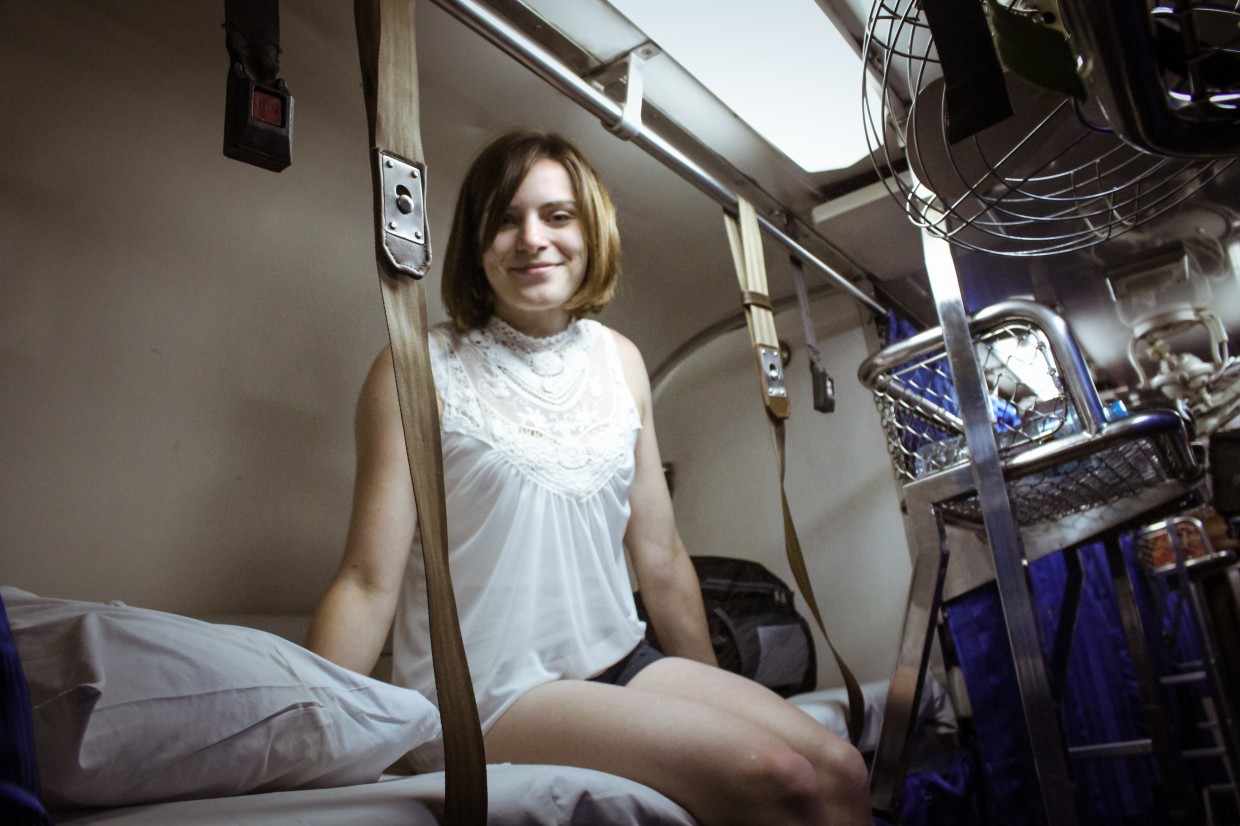 Upon returning to my bunk bed, most curtains were closed. Every bed has a curtain which you can close to give you some privacy. I loved this. On European trains, you are sleeping with 6 people in a compartment, with no curtains. Here, you sleep with over 30 people in a carriage, but with the curtains, you have more privacy than when you're on a European train. I was able to read/undress/rummage through my bag, without annoying my fellow train travellers.
The bed was pretty wide and long, so I had plenty of space. The only thing that I wasn't too pleased about was the light. The lights were never turned off, and because I was on the top bunk bed, the light was seeping in from the gap between the curtain and the ceiling. It kept me up all night, so next time I will be bringing an eye mask with me.
I was surprised to find the whole carriage in silence after everyone had gone to bed. I couldn't even hear anyone snoring.
The next morning, we woke up around 4. It was pretty hard to get up this early, but our stop was approaching, so I gave myself 30 min to get ready and dressed. Upon arrival, a small bus was waiting to take us to our next destination: the ferry to Koh Phangan.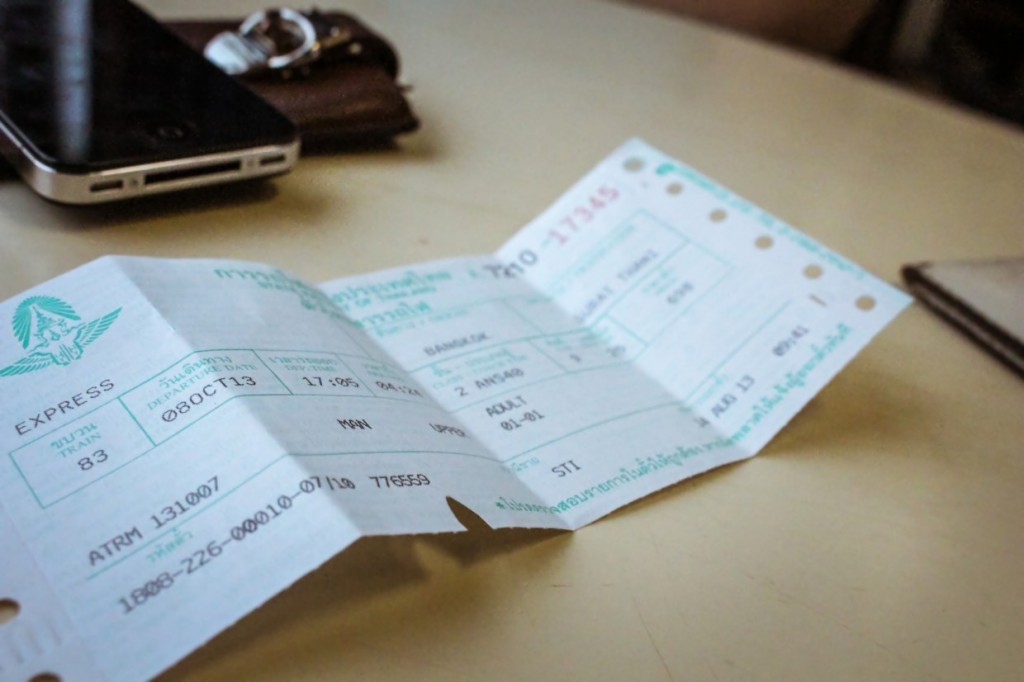 What To Bring On The Bangkok To Surat Thani Train
Buy some food and drinks beforehand. You can order food on the train, but it's always good to have a backup.
Bring sanitiser and wipes. Useful especially for when you visit the bathroom. You can also use the wipes to quickly freshen up in the morning.
Water bottle for brushing your teeth.
Bring an eye mask (and earplugs, although I didn't need them)
Find the perfect place to stay before & after your night on the train