A picturesque mountain city in the Kootenays, Nelson has quite a different vibe from many places you'll find in BC.
Known as the "Queen City" due to its number of heritage buildings (over 350!), Nelson is so much more than a gateway to the mountains. With its distinctly laid-back, small-town feel and vibrant art and culture scene, it particularly appeals to outdoor enthusiasts, as well as foodies, creatives, and visitors escaping the big cities.
We spent three days in Nelson and fell in love with this charming community. By day, the streets were filled with locals and visitors alike, grabbing a coffee from one of the quaint coffee shops, or perusing through the farmer's market. As nightfall fell, the streets were quiet, except for the echoes of laughter from restaurant patios and live music emanating from local breweries.
In this guide, we share the best things to do, where to eat and stay in Nelson, to help you get the most out of your visit to this wonderful corner of Canada.
Get to know Nelson
Where is Nelson located?
Nelson is located in the heart of British Columbia, nestled among the Selkirk and Purcell Mountains. The city is easily accessible by car, with Highway 3A and 6 running through the centre of town. The Kootenay regional airport also services Nelson (30 minutes from the city), making it a great destination for both domestic and international travellers.
What is the weather like in Nelson?
Nelson has a moderate climate, with average temperatures ranging from -7°C in winter to 17°C in summer. The city sits in the rain shadow of the coastal mountains, so it receives less precipitation than other parts of BC.
When to visit Nelson?
Nelson is an all-season destination, so you can enjoy outdoor activities year-round. In winter, hit the slopes at Whitewater ski resort or go for a snowshoe hike through the forests. Spring and summer are perfect for biking and hiking, and there are many trails to explore in the area. Fall is a beautiful time to visit Nelson, as the leaves change colour and create a lovely backdrop for photos. There are many things to do in Nelson, no matter when you visit.
Drop in at the Nelson Visitor Centre
Start your exploration of Nelson at the historic Visitor Centre. Over 120 years old, the visitor centre is located in the former historic Canadian Pacific Rail Building. While you're there, grab a coffee from the Railtown Coffee House next door while you plan your perfect Nelson trip.
Explore Baker Street
Nelson is home to many heritage buildings, and Baker Street is where you'll find the majority of historic buildings in the city. In Nelson's early days, Baker Street quickly became its commercial centre and remains so until this day.
The street has magnificent old buildings that have been converted into shops, restaurants and cafes. The atmosphere on Baker Street is relaxed and inviting, making it the perfect place to spend an afternoon exploring. Be sure to check the local shops, and if you're feeling hungry, there are many outstanding restaurants to grab a bite to eat on Baker Street.
Go mountain biking
Nelson is a Mecca for mountain biking enthusiasts. Riders come from all over the world to test their skills on Nelson's rugged terrain. The area has over 300 km of trails, including 26 green, 52 blue, 61 black and 14 double black trails. Be aware that the trail difficulty designation is sometimes underrated. Some blue trails in Nelson would be considered black elsewhere in BC.
Hit the slopes at Whitewater ski resort
Whitewater Ski Resort is one of the most popular ski resorts in North America. The resort receives an average of 12m (40 feet) of snow each year, making it a prime destination for skiers and snowboarders alike.
Besides its excellent skiing and snowboarding conditions, Whitewater Ski Resort also offers a variety of amenities, including a ski school, rental shop, and four dining options. Whether you're looking to hit the slopes or simply enjoy some winter activities, Whitewater Ski Resort is the perfect place to go.
Get out on the water at Kootenay Lake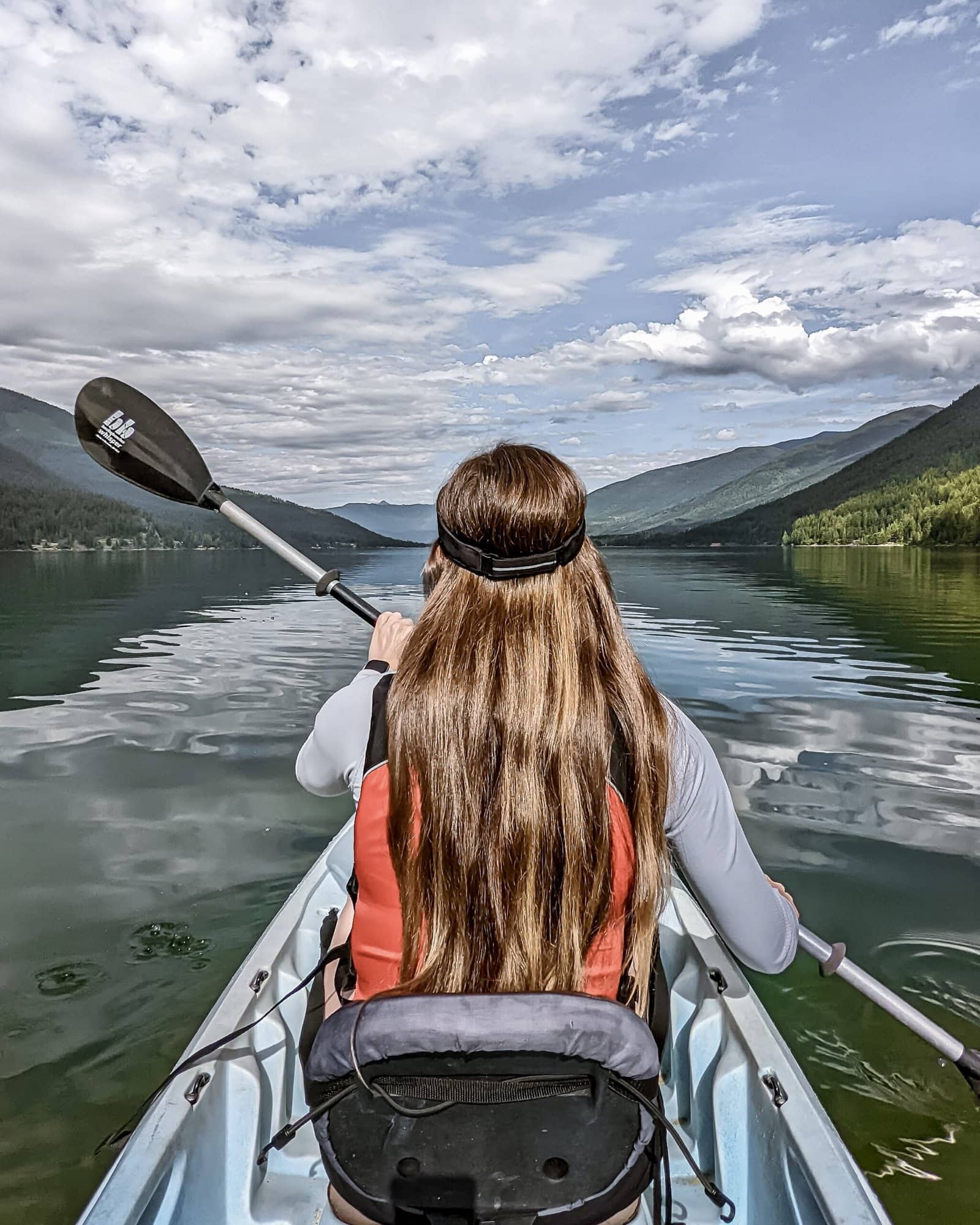 The crystal clear waters and scenic views of Kootenay Lake make it an ideal spot to swim, kayak, or simply relax and take in the scenery. Kootenay Lake is a glacial lake approximately 144 km long and up to 152 m deep. There are also several provincial parks along the shores of the lake, which offer camping, hiking, and swimming opportunities.
We were keen to get out on the water while in Nelson, so we headed to Kokanee Creek Provincial Park, where we rented a kayak from the Kokanee Park Marina. For the next two hours, we gently paddled along the shore. It's a great way to see wildlife: the clear water made it easy to see fish darting around our kayak, and we glimpsed ospreys sitting on the tops of the trees along the shoreline.
Hike Pulpit Rock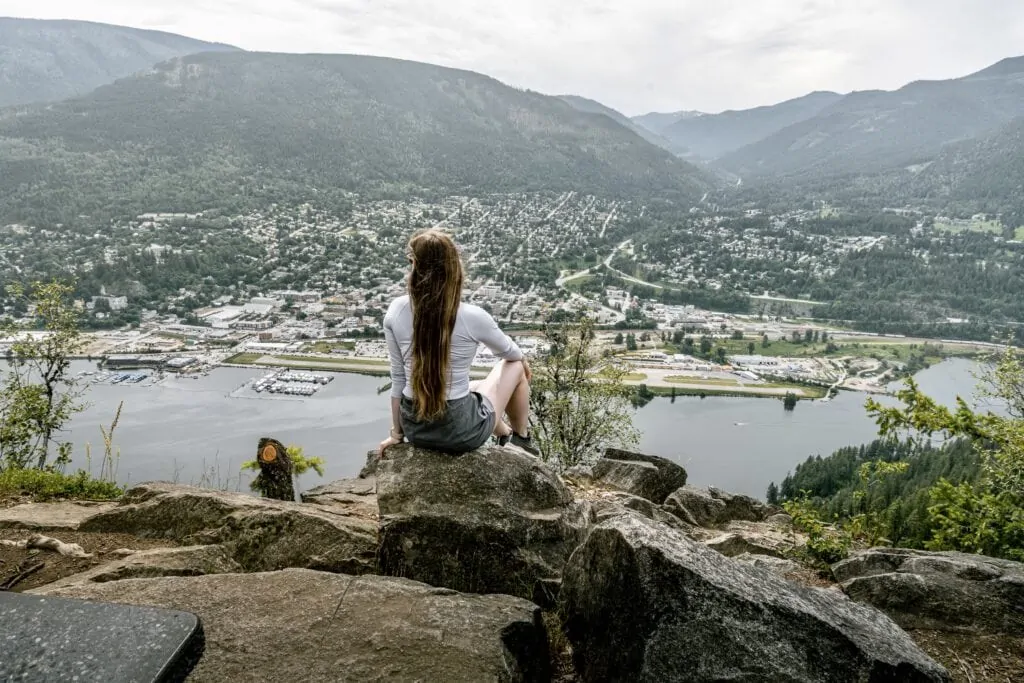 Pulpit Rock is a popular hiking destination that offers wonderful views of the city and surrounding area. The hike is moderate in difficulty and takes about 1.5 hours to complete the 3.6km round trip.
On our Nelson getaway, we headed to Pulpit Rock trailhead on a sunny morning and started the uphill climb with our morale high. It is a scramble in some sections, and the continuous elevation is straining. Thankfully, we had packed water to keep us hydrated throughout.
We forgot about the strenuous hike up once the scenery came into view. We settled in a shaded area and ate our prepacked breakfast overlooking the city. It's a perfect morning activity, well worth the effort to the top.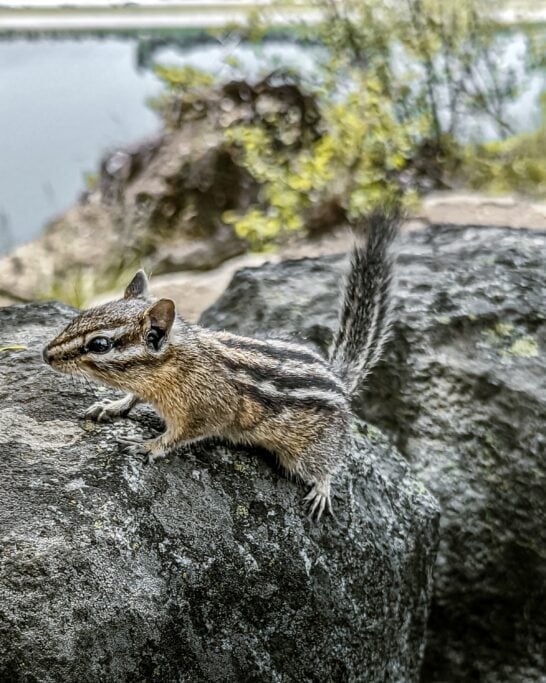 As Pulpit Rock is a popular hiking trail, we encountered many people. If you are looking for an alternative hike with fewer people, you can head to Lyon's Bluff Trail. The hike is a 3.8km round trip and gives you equally beautiful views of Nelson and its surroundings.
Visit Kokanee Glacier Provincial Park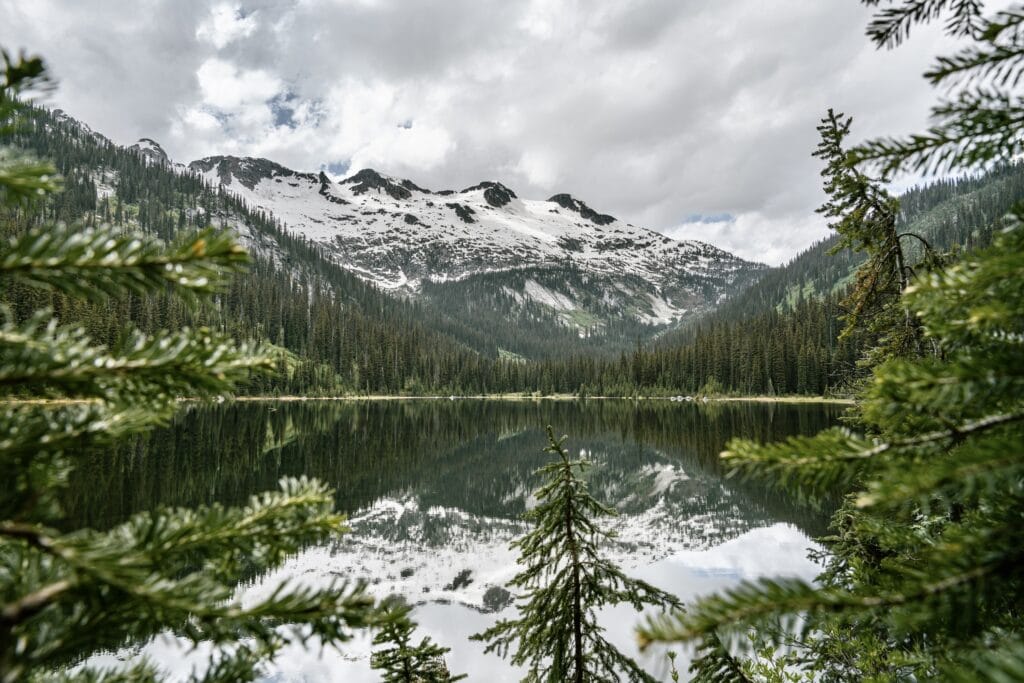 With its stunning alpine scenery and numerous hiking and camping opportunities, Kokanee Glacier Provincial Park is a must-see for anyone visiting Nelson. The park offers impressive views of the surrounding mountains, as well as several lakes and waterfalls to explore.
There are many hiking trails to choose from in the park, so there is something for all levels. Kokanee Glacier is also home to various wildlife, including bears, moose, eagles, mountain goats, bighorn sheep, and elk.
Here are a few hikes you can do in Kokanee Glacier Provincial Park.
Kokanee Lake Trail – 8.8km one way
The most popular hike is the trail to Kokanee Lake, a beautiful alpine lake surrounded by mountains. It also takes you to the starting point of many spectacular hikes in the park.
Most visitors will hike up to the lake and stay in the campground or in Kokanee Glacier Cabin, which gives you the opportunity to explore the park. Make sure to reserve your spot in the cabin in advance, as it fills up quickly.
Warning: When going on an overnight hike, make sure to porcupine-proof your vehicle. Porcupines love to eat the rubber on your tyres, brake lines, wiring and undercoat. At the parking lot, you can find rolled-up chicken wire you can wrap around your car.
Porcupines are nocturnal, so if you're only visiting for short day hikes, you don't need to worry about porcupine-proofing your vehicle.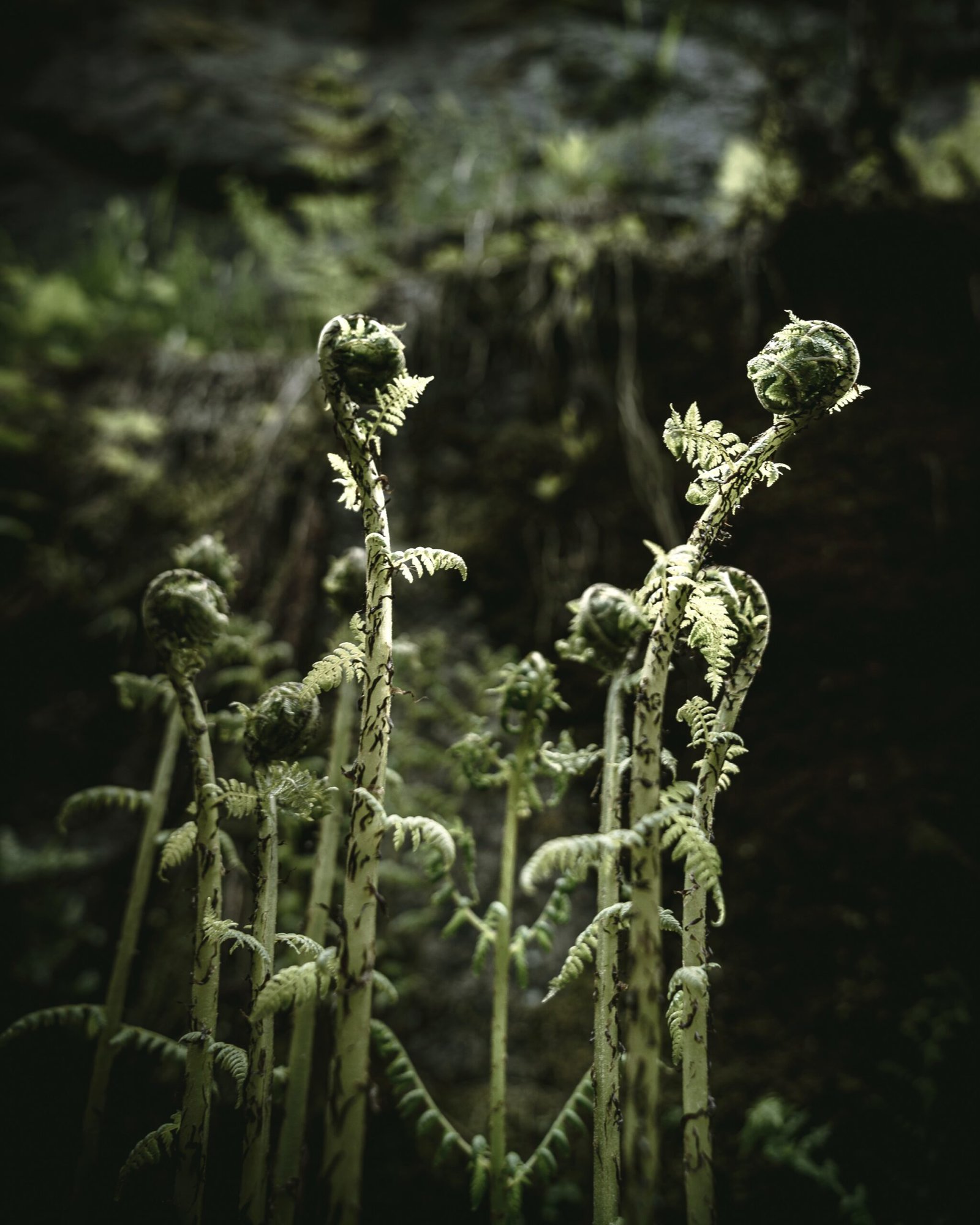 Old Growth Trail – 2.6km
This easy to moderate hike takes you through the old-growth forest in Kokanee Glacier Provincial Park. Interpretative signs give you important information about the forest as you pass giant cedars, with some estimated to be over 800 years old. The trail is easy to follow and perfect for families or new hikers.
Gibson Lake Loop – 1.9km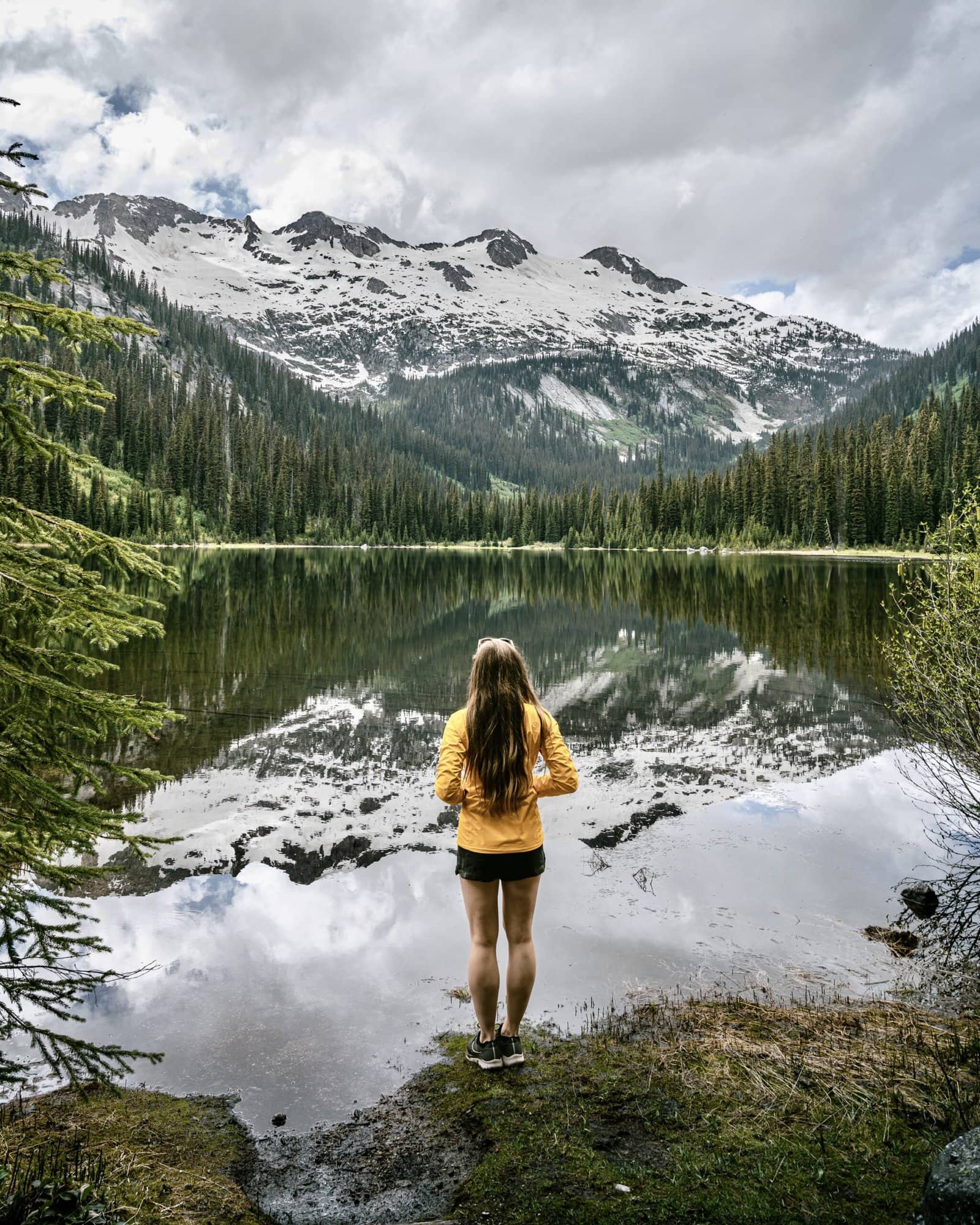 This moderate hike takes you along the banks of Gibson Lake through some of the most beautiful scenery in Kokanee Glacier Provincial Park. The trail starts at the parking lot, is well marked, and has several boardwalks over the boggiest areas. The views from the trail are stunning, and you will see a variety of wildlife along the way.
Tip: The trails are accessible in the summer months based on snow levels. This is usually from June until November, however, make sure to check road conditions ahead of your trip.
Soar through the forest with Kokanee Mountain Zipline
Kokanee Mountain Zipline is one of the most popular attractions in Nelson. The zipline course consists of six different zip lines which range in length, with the longest measuring 732m! You'll soar high above Kokanee Creek, with the mountains as a backdrop. Kokanee Mountain Zipline is the perfect activity for those looking for an adrenaline-pumping adventure.
Wander around Touchstones Museum: Museum of Art and History
If you're keen to learn more about Nelson's history and culture, visit the Touchstones Museum, located in a former post office built in 1902. The museum has various exhibits that showcase the natural resources, First Nations people and early settlers of the region. Besides its exhibits, the museum also sells locally made products in its gift shop.
Take the Kootenay Lake Ferry
Head 35 kilometres east of Nelson, where you can embark on the longest free ferry ride in the world. The Kootenay Lake ferry takes you on a 35-minute sailing from Balfour to Kootenay Bay, where you can explore Pilot Bay Provincial Park or continue your drive on the scenic 3A highway to Creston.
Relax at Ainsworth Hot Springs
While Nelson is known for its adventure activities, those wanting a more relaxed getaway can visit one of the many hot springs in the Kootenays. The closest one is Ainsworth Hot Springs, located a scenic 45 min drive north of Nelson. You can soak in the hot springs' natural 150-foot horseshoe cave or relax in the outdoor pool overlooking Kootenay Lake and the surrounding mountains.
Go underground at Cody Caves Provincial Park
A little further inland from Ainsworth Hot Springs, you'll find Cody Caves Provincial Park. The Cody Caves System – one of the best-known cave systems in British Columbia – is a limestone cavern system in the Selkirk Mountains, that offers a unique experience of walking through caves.
The caves are open during the summer months and can only be visited on a tour. Cody Cave Tours offers a variety of tours for all ages and levels of physical fitness, from easy hikes to strenuous treks.
Take a scenic drive
Nelson is surrounded by natural beauty, and what better way to admire it than on a scenic drive? There are a number of different routes you can take, each with its own unique scenery.
The Slocan Valley Scenic Drive
This drive takes you through the Slocan Valley, where you'll see impressive mountains, valleys, and rivers.
Kootenay Lake Scenic Shoreline Drive
Take the free ferry across Kootenay Lake and embark on a scenic drive on Highway 3A along Kootenay Lake.
Hot Springs Circle Loop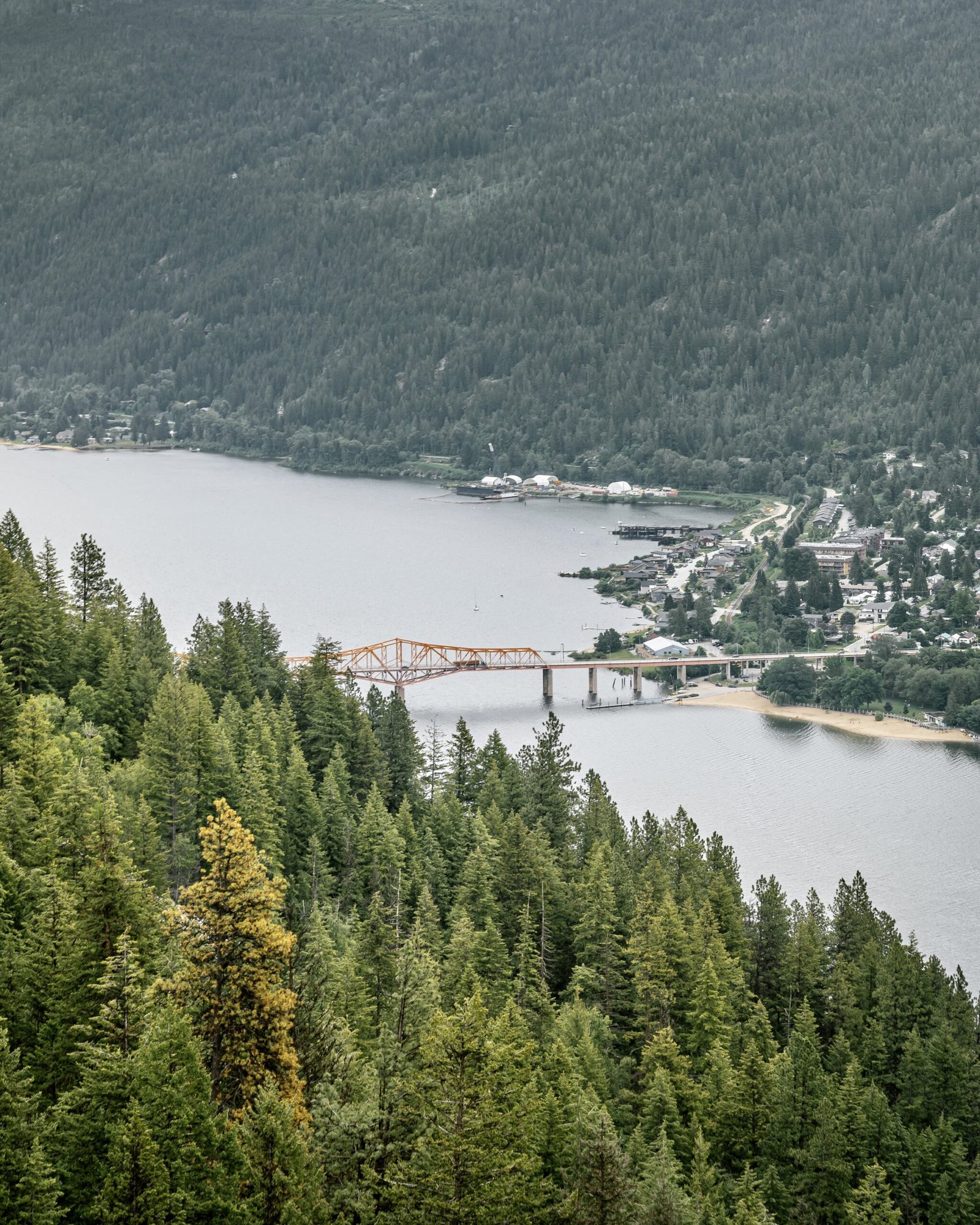 Visit all the major hot springs on this loop. Usually, Nelson is not included in this loop, however, we consider it a must-stop if you're embarking on your hot spring trip. Major stops on this loop include Revelstoke, Nakusp, Nelson, Cranbrook, Fairmont Hot Springs, Radium Hot Springs and Golden.
Okanagan Rockies Circle Route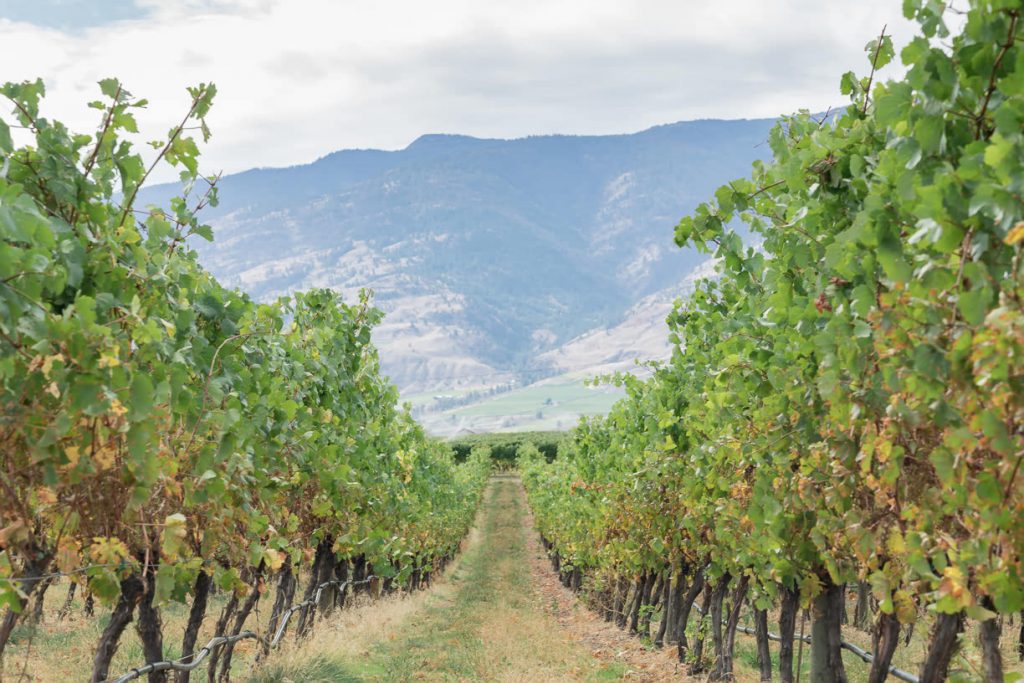 For those looking for a longer drive, the Okanagan Rockies Circle Tour is an excellent choice. This route takes you through some of the most beautiful scenery in British Columbia, from the vineyards in the Okanagan Valley to the towering Rocky Mountains.
Explore the breweries in Nelson
There are three breweries in Nelson, each with their own style and flavour:
Nelson Brewing Company
Nelson Brewing Company is a certified organic brewery that sources local ingredients to create award-winning beer. Make sure to visit the tasting room, as it offers limited edition beers only available on-site, as well as growler refills and flight options.
Torchlight Brewing Co.
Torchlight Brewery is one of Nelson's newest breweries, and it's quickly becoming a favourite among locals and visitors alike. The brewery offers a variety of unique beers as well as comfort food, including their own in-house smoked bacon.
Torchlight also hosts regular events, such as live music and games nights. If you're looking for a fun place to grab a drink, Torchlight Brewery is the perfect spot!
Backroads Brewing Company
Backroads Brewing is located on Baker Street and offers traditional-inspired craft ales and lagers. The small batch brewery serves up its own signature creations, while also providing live music and a cosy atmosphere. Grab a pint, a flight, or a growler at the pub!
Where to eat in Nelson
Nelson is home to various restaurants that cater to all tastes. Whether you're looking for a quick bite or a sit-down meal, you're in for a treat in Nelson. Some of our favourites include:
Pitchfork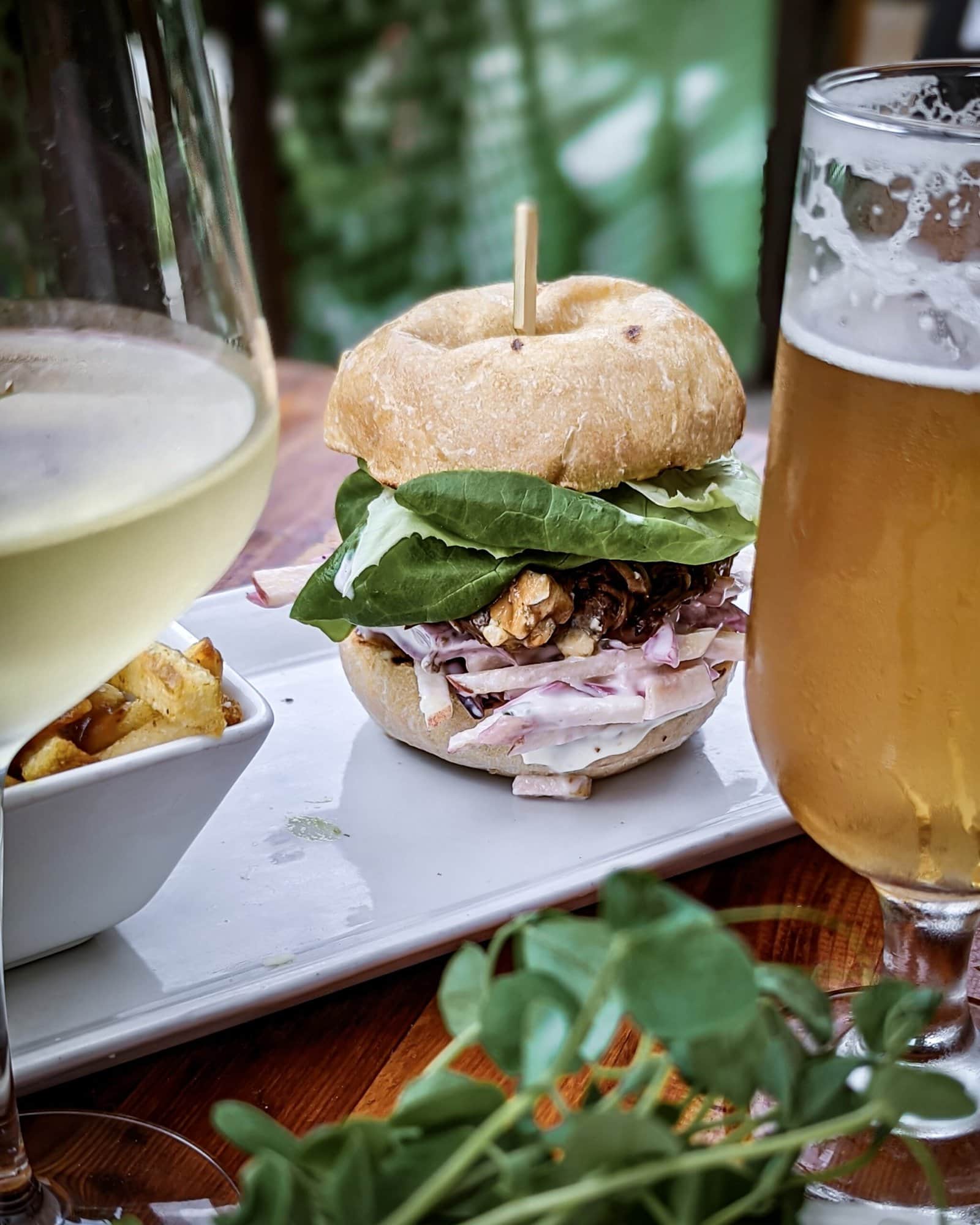 Pitchfork Eatery is a farm-to-table restaurant that serves fresh and local food in Nelson. The restaurant supports sustainable food practices and provides its customers with nourishing goodness. The chefs at Pitchfork Eatery focus on using only the highest quality ingredients, including organic meat and vegetarian options.
Broken Hill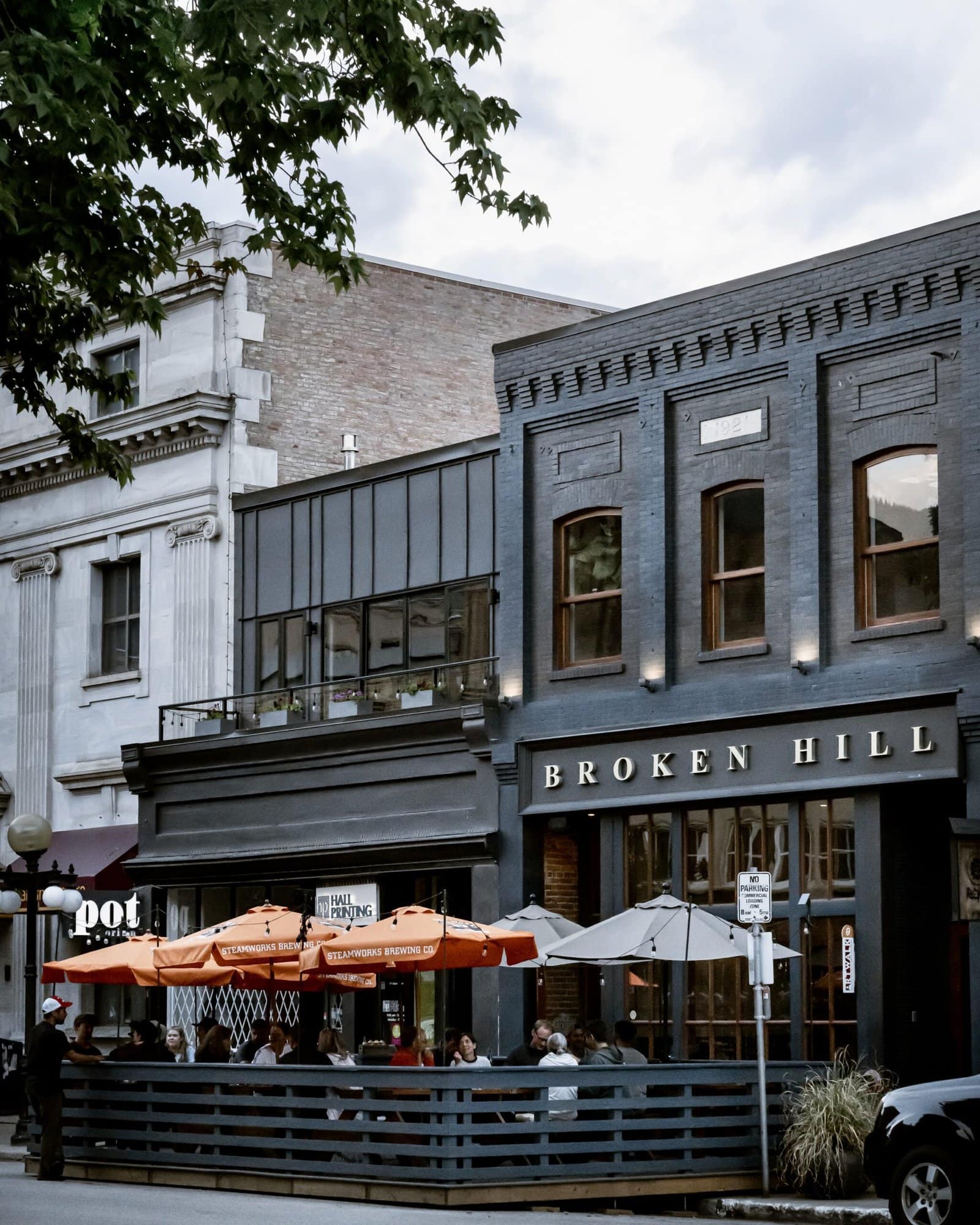 In 2019, Broken Hill was opened after extensive renovations on a burnt-out heritage building. Sample one of the local beers – with up to 24 rotating beers on tap – enjoy some whiskey – their whiskey library contains over 100 bottles – or feast on one of their smokehouse platters.
Marzano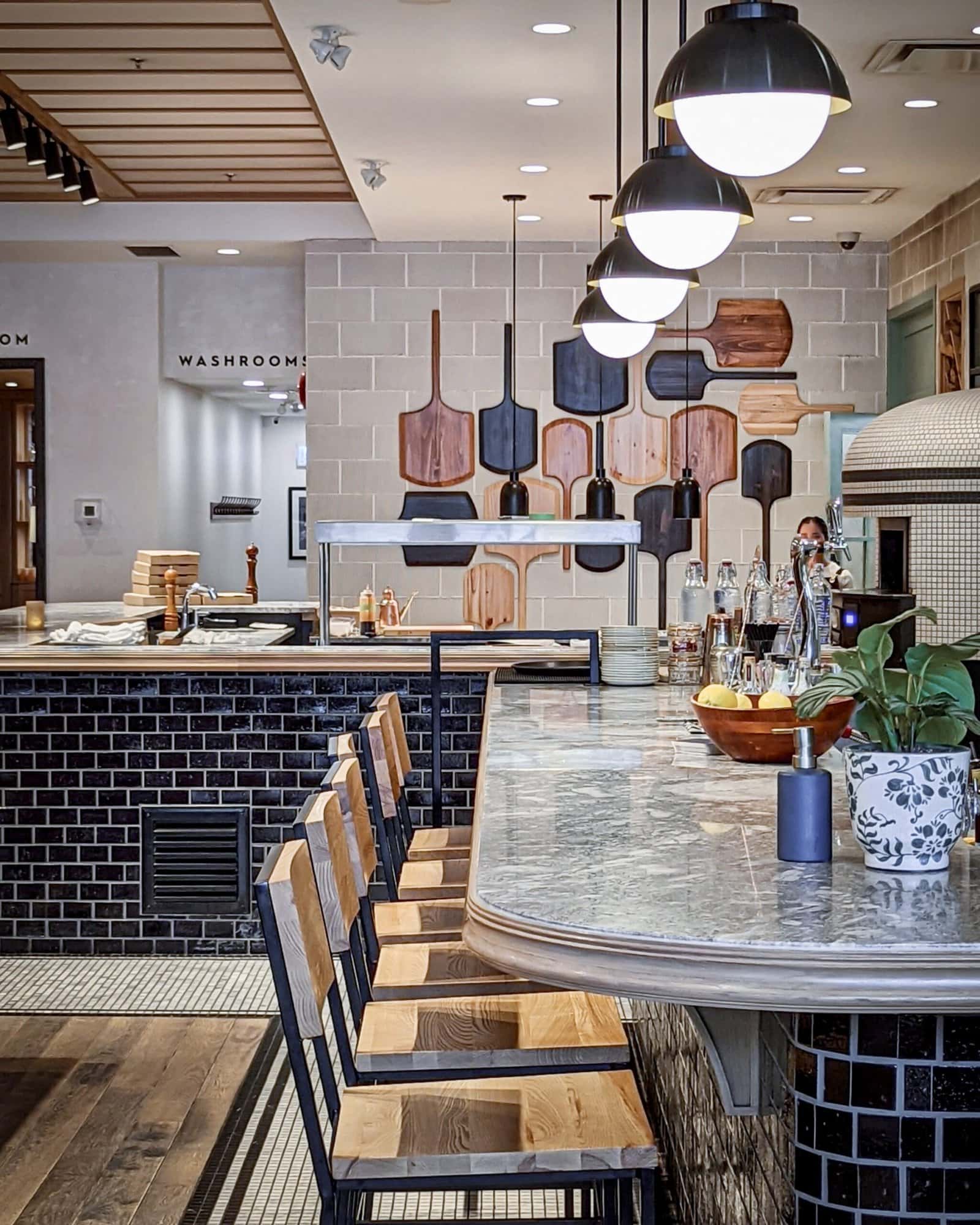 Marzano Restaurant opened in September 2018 after the staff went on a trip to Naples, Italy, where they trained under pizzaiolo Enzo Coccia to learn how to make the best pizza dough possible. Marzano's menu includes artisan pizza made with house-made doughs, including gluten-free options, homemade pastas and forno sandwiches.
The Black Cauldron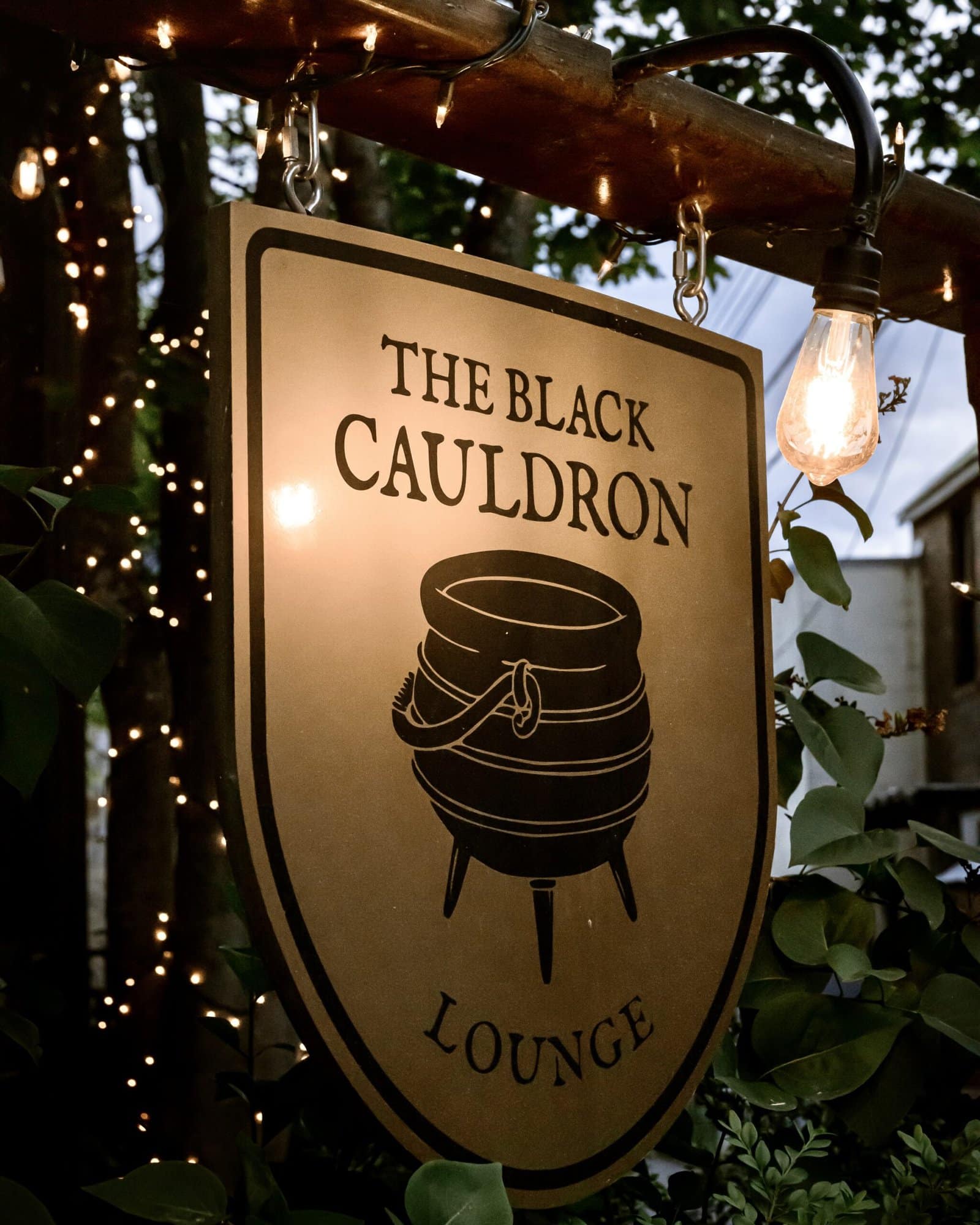 The Black Cauldron is a unique cocktail bar and restaurant that offers tantalising cocktails and Instagram-worthy charcuterie boards. The restaurant uses the finest ingredients, and their meats and cheeses are sourced from BC farms—all hormone-, antibiotic-, and chemical-free.
Best Coffee shops in Nelson
You'll find many excellent coffee shops in Nelson. Our go-to places are:
Oso Negro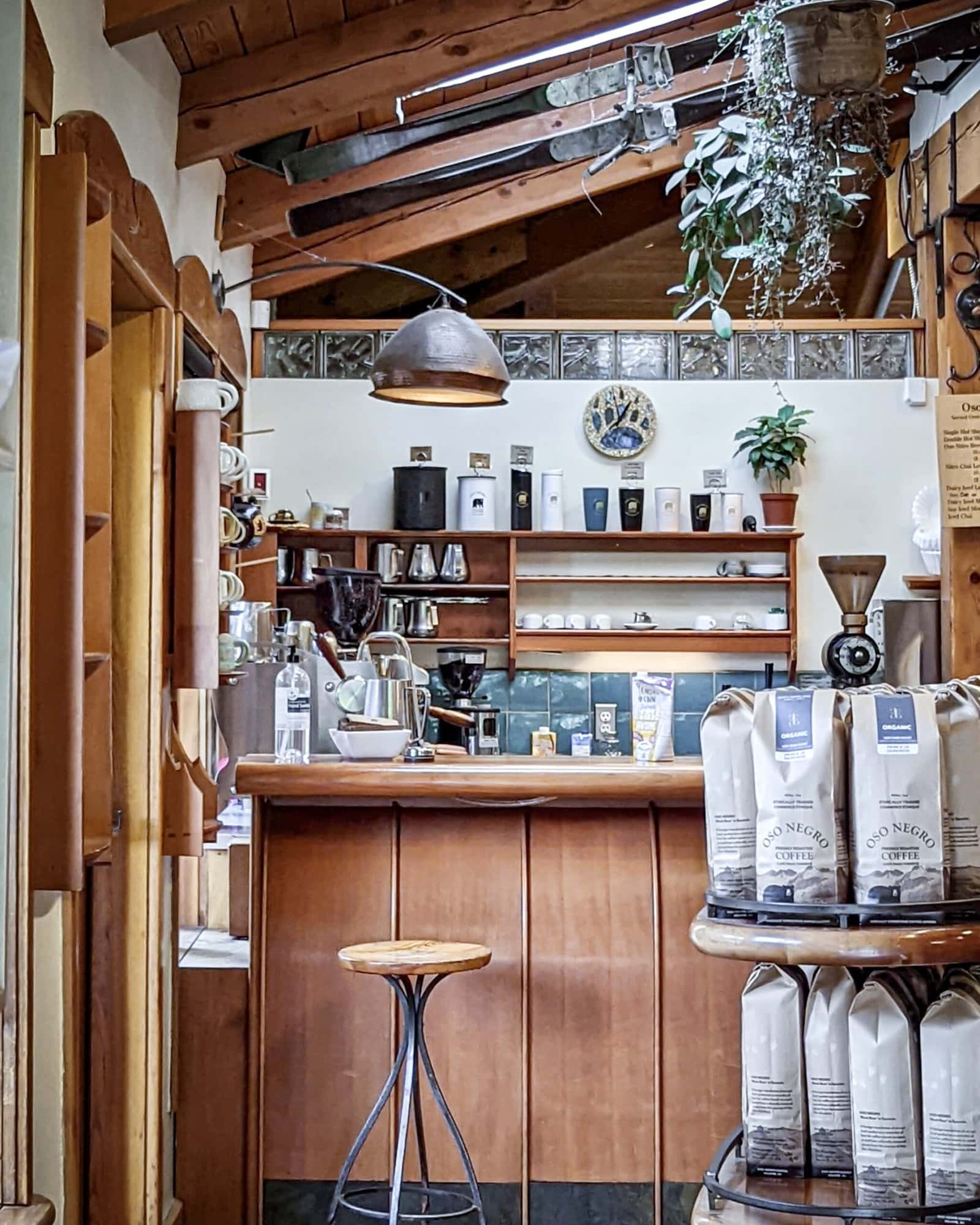 Located just one block from Baker Street, Oso Negro is the perfect spot for coffee lovers. All of their coffee is fair trade and organic, and they offer a wide range of food options. Enjoy a cup of coffee in their cosy cafe or outdoors in their perennial garden in the summer months.
Empire Coffee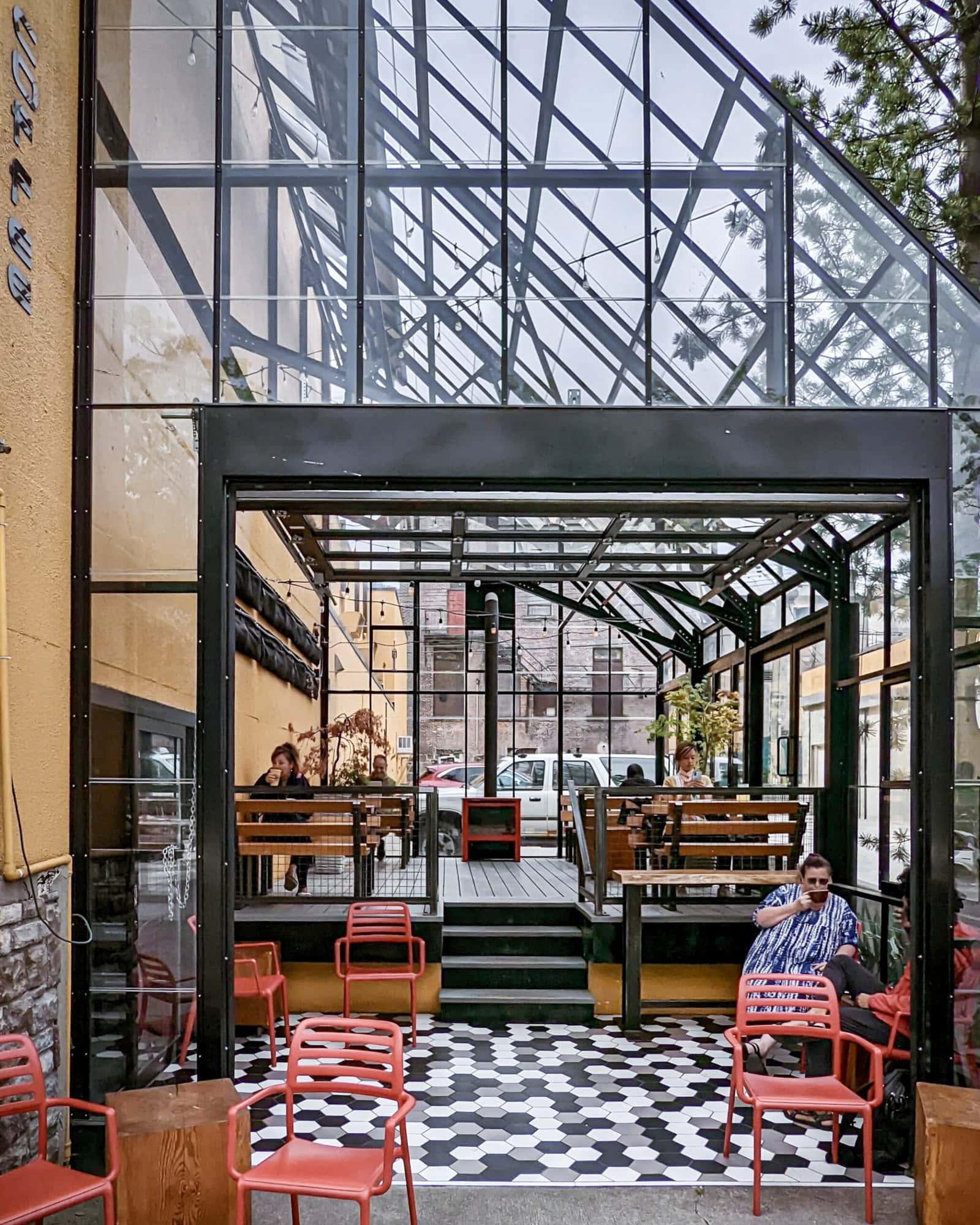 Based in the Adventure Hotel is Nelson's first 3rd wave coffee house. Empire Coffee serves Stumptown coffee, an assortment of baked goods and sandwiches, as well as pour-over organic teas from "The Tea Guy" in Vancouver.
No6 Coffee Co.
No6 Coffee Co. is a boutique coffee roasting company that offers an educational tasting bar, with an emphasis on sourcing exceptional specialty coffees directly from small farms, co-ops and respectable coffee traders. They created a space where customers can gain knowledge about the product, brewing techniques and their own preferences, all while enjoying a cup of coffee.
Attend an event in Nelson
Nelson BC hosts various festivals and events throughout the year. If you're looking for something fun, check out some of these amazing events!
Shambhala Music Festival
The Shambhala Music Festival is an annual event in Nelson. It is a four-day festival that features a variety of electronic music genres. There are also art installations, workshops, and yoga classes. The festival attracts people from all over the world and is a great way to experience the unique culture of Nelson.
Nelson Art Walk
Nelson Art Walk is a free, self-guided tour of local art galleries and studios that takes place from June until September. This is an excellent way to support local artists and see some amazing artwork. There are various mediums on display, including painting, photography, sculpture, and more.
MarketFest
The community celebrates local food and crafts in MarketFest, an annual festival that takes place several times during the summer.
Kaslo Jazz Festival
Kaslo Jazz Festival is a world-renowned music festival with a floating stage anchored in the bay and mountains as a background. Thousands of festival-goers listen from the beach as big names and new talent play an array of blues, jazz, Latin, folk and world music.
Winter Kickoff Carnival
Winter Kickoff Carnival is an annual event that takes place in November in Nelson and surrounding communities. Explore a winter wonderland filled with music, interactive art, performances, food, and kids' activities. The carnival is a wonderful way to experience the winter season in Nelson!
Nelson Farmers' Market
Nelson Farmer's Market is a great place to find local produce, fresh baked goods, and handmade arts and crafts. There are two farmer's markets in Nelson. One on Baker Street – open on Wednesdays – and one in Cottonwood Falls Park – open on Saturdays. Both markets run from June until October.
Vendors sell everything from fruits and vegetables to jewellery and pottery. You can also find food trucks selling lunch items like wood-fired pizza and pulled pork sandwiches.
We visited the farmer's market on Baker Street, and although the market was small, the quality of the products was excellent.
Stay at a boutique hotel in Nelson, BC
Savoy Hotel
Savoy Hotel is where we stayed on our trip to Nelson, and we highly recommend it. It's an intimate boutique hotel right on Baker Street. The location is perfect for starting your exploration of the city. Grab a pint at the on-site pub, or relax in the rooftop hot tub while enjoying the views over Kootenay Lake. The hotel is pet friendly, so your furry friends (dogs & cats) are welcome!
Hume Hotel & Spa
Spend the night in a bygone era at Hume Hotel & Spa. Built in 1898, this historic landmark has been lovingly restored to provide luxury accommodations amidst modern touches—including four dining options and a spa. Reserve a table at Mike's Place Pub or the Library lounge for a drink surrounded by history and quaint character.
Adventure Hotel
Situated in the heart of downtown Nelson, this modern, European-style hotel brings a touch of luxury to the city. Whether you're looking for budget accommodation or something more luxurious, The Adventure Hotel offers a variety of rooms to fit your budget. The hotel has several amenities, from a communal lounge and kitchen to an outdoor patio and infrared sauna. As a guest, you're also spoiled with not one but three dining options on-site.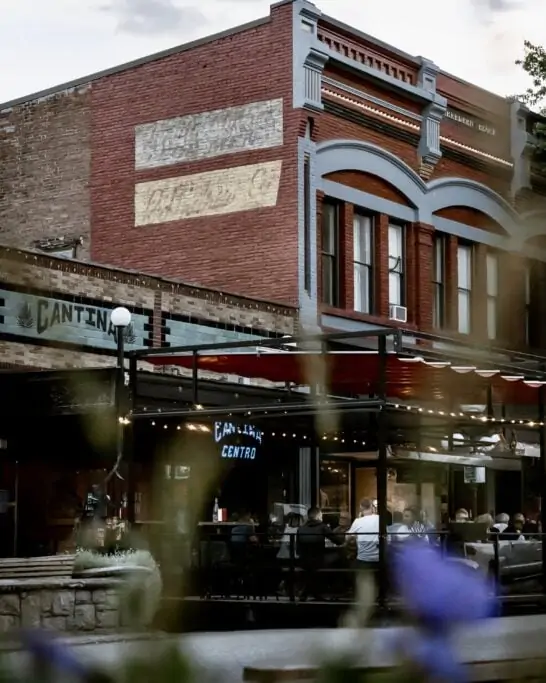 If you're looking for an amazing place to visit, look no further than Nelson. With plenty of activities and attractions to enjoy, you'll be able to create the perfect getaway. Whether you want to spend your time outdoors or take in some culture, Nelson has something for everyone. We hope our guide has helped give you ideas on how to plan your perfect trip. Have we missed anything? Let us know in the comments below!
LOVE IT? PIN IT!