I stepped into the hottest pool, furthest from the river, letting its scorching heat wash over me. As I moved closer to the river, toward cooler waters and lower temperatures, I felt my body both burning and cooling, until I settled into the final pool, surrounded by trees and with the Lussier River rushing past me. I found myself in the most serene place to escape, re-energise and recharge.
Tucked away in Whiteswan Provincial Park lies the undeveloped Lussier Hot Springs. Unlike the commercial hot springs in the area, Lussier still feels natural, almost untouched by humans, aside from a few strategically placed boulders to keep the hot water contained. Even though the hot springs are the main draw, the journey to the springs, once off the highway, turns into an off-road adventure with scenic vistas.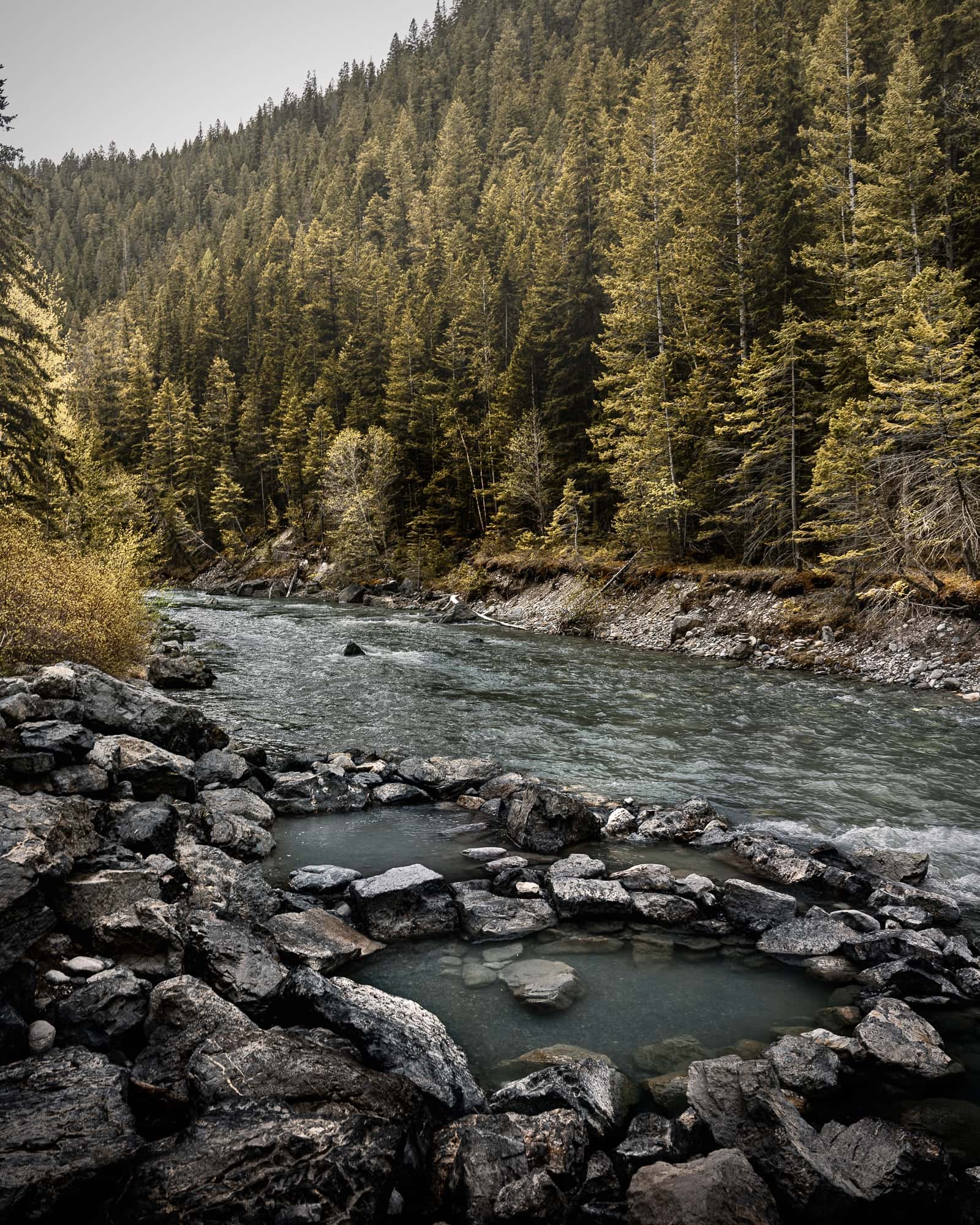 If you time your visit right, you will be able to experience one of the most beautiful natural hot springs in BC without the crowds. You'll hear the spring trickling from pool to pool and the calming sounds of nature as the icy Lussier River rushes past you.
In this guide, we've shared everything you need to know in order to visit Lussier Hot Springs, and some helpful tips to make your experience the best it can be.
Are Lussier Hot Springs Open?
Lussier Hot Springs are open year-round, although they can temporarily close when there is flooding. When we visited back in early June 2022, the springs were open yet closed soon after due to rising river levels from the later than normal snow melt; the lower pools were completely submerged.
To make sure the springs are accessible, check the BC Parks website for the latest info. A notice will be posted if they are closed.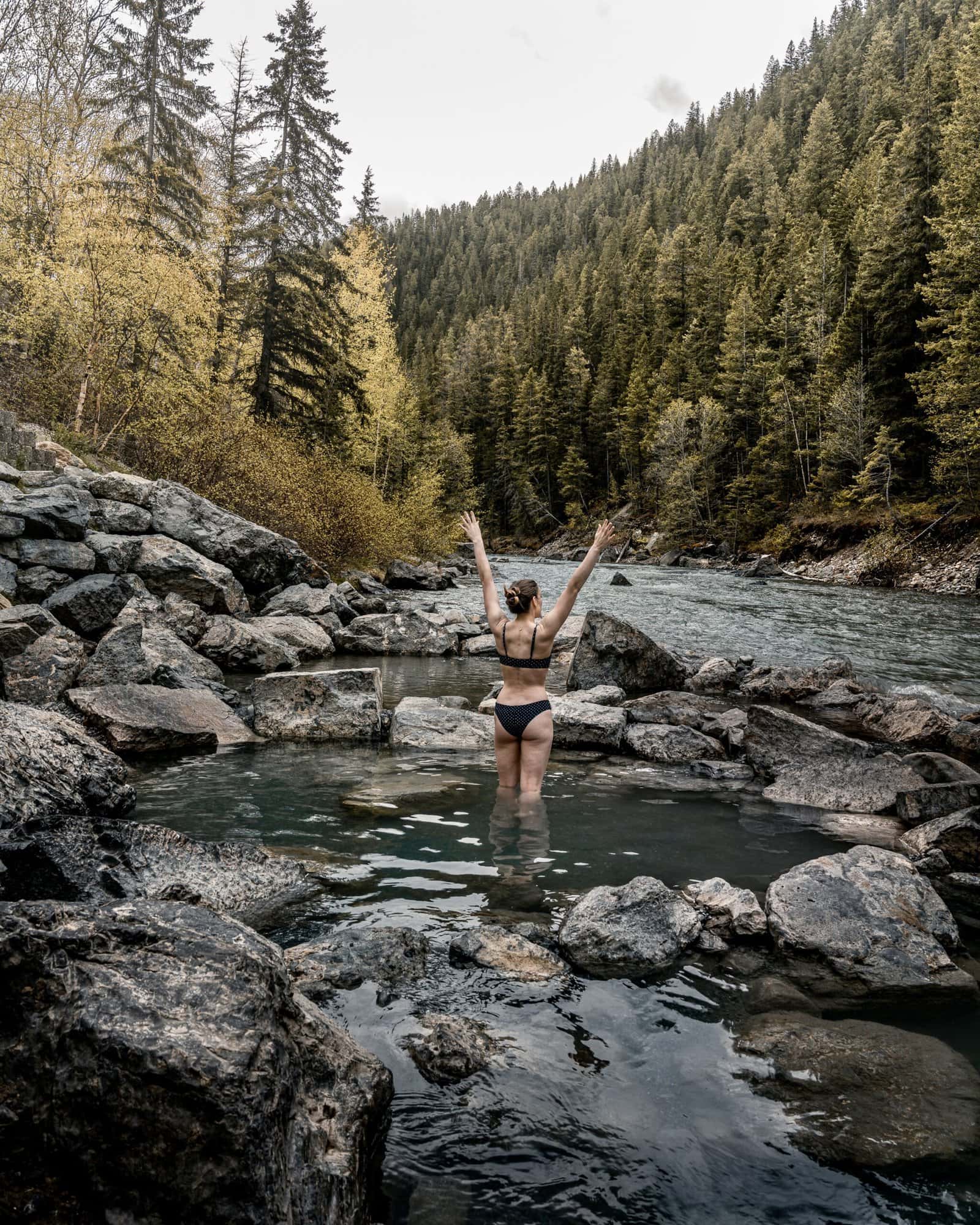 How to get to Lussier Hot Springs
Located in Whiteswan Lake Provincial Park, Lussier Hot Springs is about halfway between Cranbrook and Radium Hot Springs.
⇢ From Vancouver: It's around a 10-hour drive from Vancouver. Why not make it into a road trip where you visit Kamloops, Revelstoke and Golden, or take the scenic Highway 3 passing Manning Park, Osoyoos, Nelson and Cranbrook. You can combine the routes for an epic loop through some of the most stunning scenery in BC.
⇢ From Calgary: A visit from Calgary takes you on a 4-hour drive through Canmore, Banff, Kootenay National Park and Radium Hot Springs, the views alone through this area are worth the drive.
Once on Highway 93 going south (from Golden/Radium Hot Springs), turn left just south of the town of Canal Flats at the sign for Whiteswan Lake Provincial Park.
Up next, you'll be driving on an unpaved (dirt) logging road for about 17km.
Driving the logging road to Lussier Hot Springs
After leaving Highway 93/95, you'll find yourself on the Whiteswan Forestry Road, which is a fully operational logging road 365 days of the year. The road is in good condition and climbs steadily into Lussier Gorge, where you'll find the trail to the springs.
Be careful around this section, as there are no barriers with a steep drop, and traffic heading in both directions. In winter, the road is not maintained and can become hazardous, so take extra care when driving on it.
Logging trucks always have the right of way, so keep your distance. If the road narrows to a single lane, pull to the side to let them pass.
Lussier Hot Springs Parking & trail
There's plenty of parking at the hot springs. There are no changing rooms, but the two pit toilets have hooks on the walls to hang clothes or your towel while you change. This is especially handy after your visit, so you can put on dry clothes!
The trail down to the springs is a short 100m walk on a gravel path. In winter, the trail becomes slippery, and might be tricky to climb back up; consider taking cleats with you to make the walk back up the path easier.
If the weather allows it, you can leave your personal items and change of clothes on the rocks by the pools. Many visitors also opt to change by the springs. There's a stone wall near the springs which reaches about chest height where you can stand behind, however, this might not provide sufficient privacy if the pools are busy.
The Pools at Lussier Hot Springs
Lussier Hot Springs are a series of four pools, all naturally constructed next to the rushing Lussier River. The hottest pool is closest to the path and furthest from the river, while the lower three pools decrease in temperature the closer you get to the river, giving you a chance to feel the alternating heat of hot springs and cool river water.
We would wade into the colder pools, dipping down for a few seconds, before rushing back to soak in the warm water of the top pool. A sequence we repeated several times during our visit.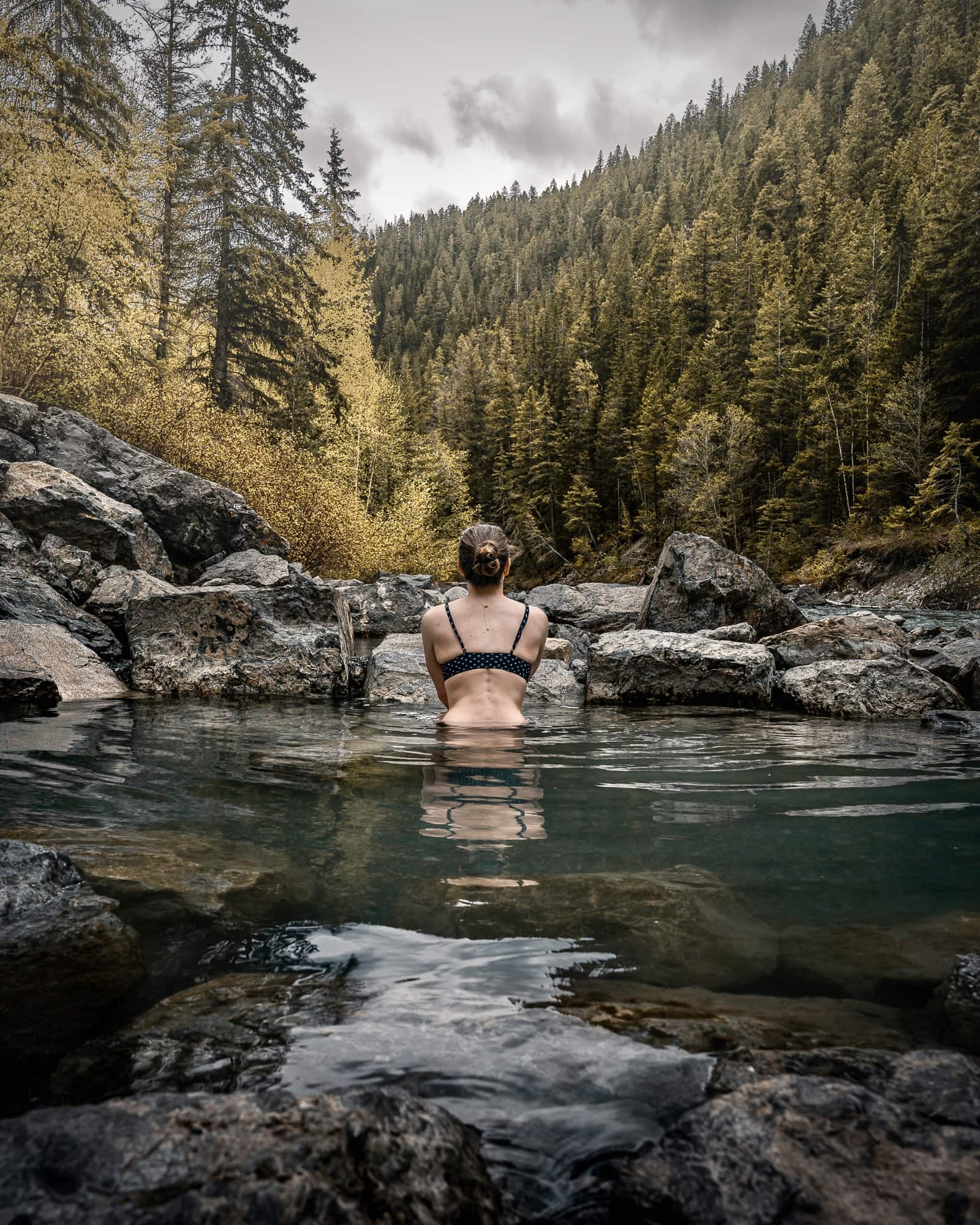 When is the best time to visit Lussier Hot Springs
Lussier Hot Springs are open throughout the year, unless adverse weather conditions make it inaccessible, especially during the off-season. The hot springs are a popular destination for hikers and campers in the summer, and skiers and other winter sports enthusiasts in the winter.
If you want to avoid the crowds, plan your visit for spring or fall and on a weekday. Mornings are your best bet for a peaceful soak, as it can get busy in the afternoon.
We visited early June on an overcast Friday morning, and while there was a group finishing up when we arrived at the springs, we soon had the area almost to ourselves, with only us and two other couples enjoying this unique location. Everyone was respectful, and the whole experience made this one of our favourite springs to date.
CHECK OUT OUR LUSSIER HOT SPRINGS VIDEO ↷
Things to know before you go
⇢ It is prohibited to bring dogs or alcohol to the springs.
⇢ Use the garbage bins located at the parking area to dispose of your trash to help keep these wildland hot springs clean.
⇢ Bathing suits are mandatory.
⇢ Park Rangers regularly patrol Lussier Hot Springs.
⇢ Make sure to take water with you and stay hydrated.
Things to do near Lussier Hot Springs
Whiteswan Lake Provincial Park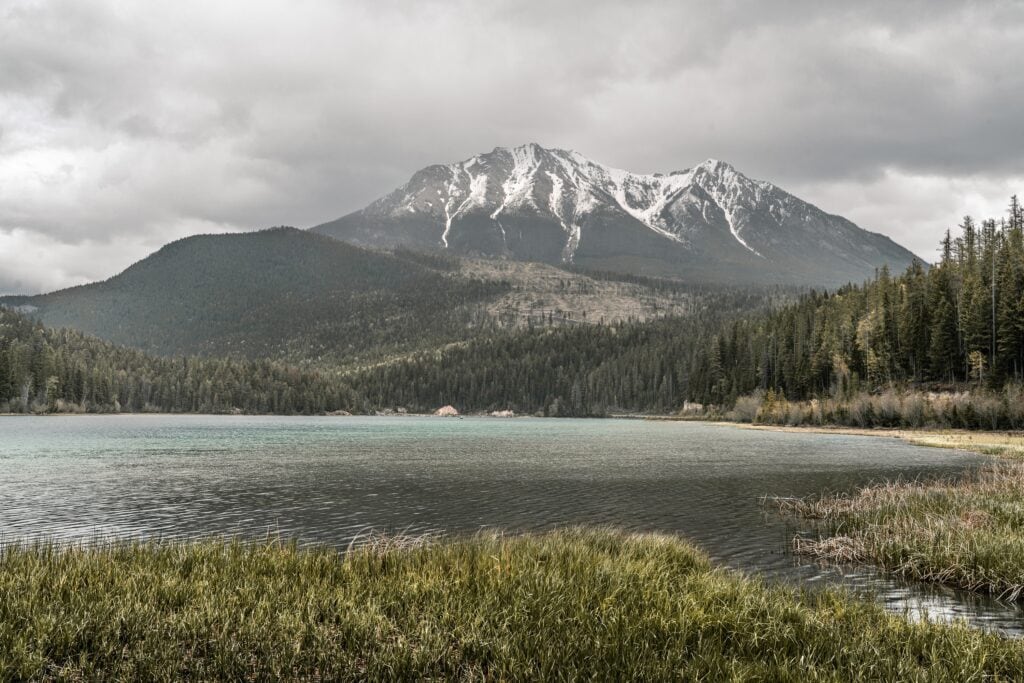 Whiteswan Lake Provincial Park has a variety of outdoor adventures on offer.
Bear Country: Whiteswan Provincial Park is bear country, so be bear aware while visiting. This includes:

⇢ Do not leave any food out, as this will attract wildlife
⇢ Carry bear spray and know how to use it
⇢ Make lots of noise, so bears are aware you're in the area and know to avoid you
⇢ Keep pets on a leash
⇢ It is highly recommended to hike in groups
Both Whiteswan Lake and Alces Lake are excellent spots for swimming, fishing, canoeing, kayaking and hiking. One of the best hikes is Whiteswan North Shore Trail Loop, a 20km loop that takes you around the shoreline of Whiteswan Lake with stunning scenery throughout the hike.
If you don't feel up for the full hike (which takes between 5-7 hours), you can opt to hike a section of the trail, which will still give you a taste of the beautiful landscape at both Whiteswan and Alces Lake.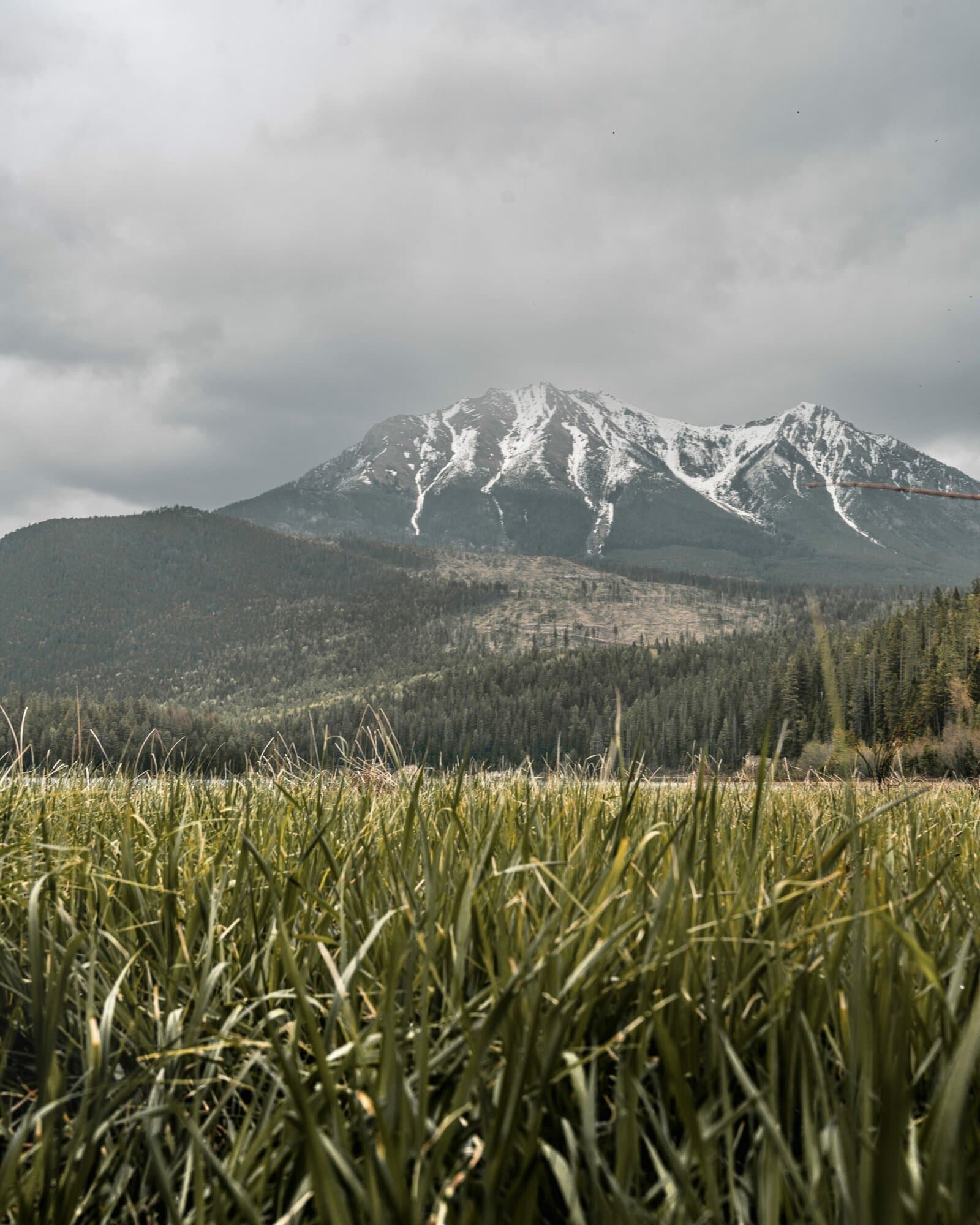 Visit Fairmont Hot Springs
The closest town to Lussier Hot Springs is Fairmont Hot Springs, where you can ski at Panorama Mountain Resort, float on the Columbia River, go for a swim at Windermere Beach or visit the commercial Fairmont Hot Springs.
Ram Creek Hot Springs
Ram Creek Hot Springs is a natural spring of three small pools in the middle of a forest. Just like Lussier Hot Springs, Ram Creek Hot Springs is located in Whiteswan Lake Provincial Park, but is much more challenging to get to.
Unfortunately, the springs are not a hidden gem anymore, and even though they are difficult to get to, they can still become crowded. This is an excellent Ram Creek Hot Springs guide if you want to learn more about the springs and how to access them.
Where to stay near Lussier Hot Springs
Campgrounds
There are 5 campgrounds within Whiteswan Provincial Park: Alces Lake, Packrat Point, Inlet Creek, Home Basin and White River.
Vehicle-accessible campsites are available on a first-come, first-served basis – campsite reservations are not accepted. The Cave Creek Campground is located about halfway along the north shore of Whiteswan Lake and offers backcountry camping facilities.
Fairmont Hot Springs Resort
Clean and comfortable rooms with views of either the Rocky Mountains or the Columbia Valley. As a guest, you have unlimited access to the Fairmont Hot Springs and a private guest-only pool.
Timber Resort
Quintessential charming cabins perfect for a family trip or romantic getaway.