Over the past 30 years, I have taken part in a few, what might be considered, dangerous activities; from paragliding and kayaking in rapids to jumping off waterfalls. With such activities, excitement and nervousness often go hand in hand.
When it comes to white water rafting, the same sentiment is true for me. However, I still jump into the experience with childish giddiness, ignoring my nerves and voices in the back of my head. The anticipation of being thrown around the river and soaked in water is such a rush, making it difficult to resist signing up for this exhilarating adventure.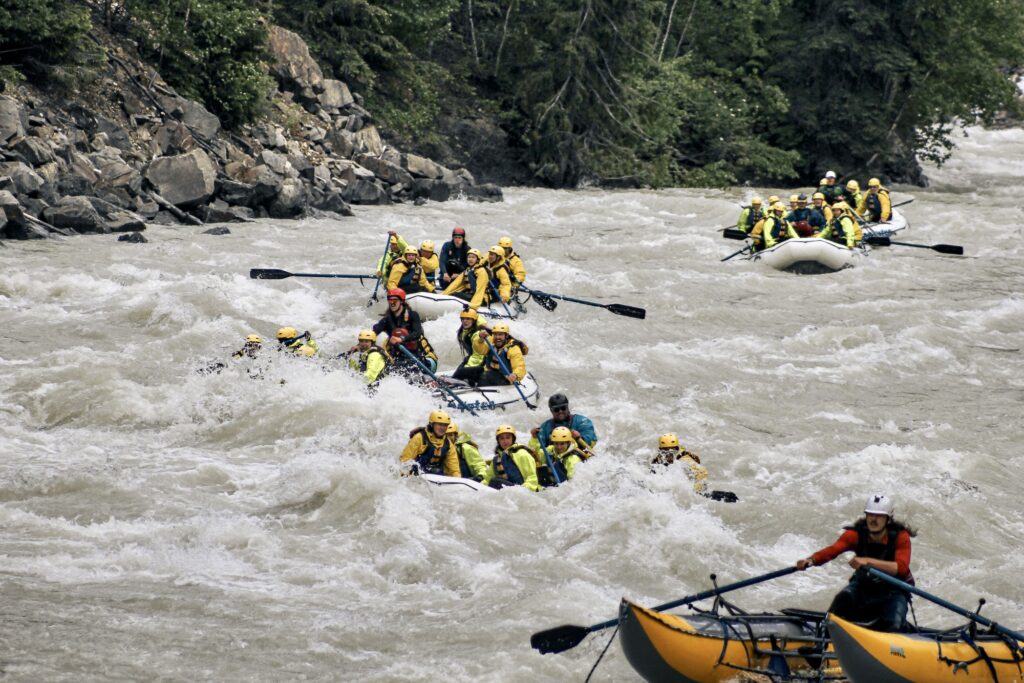 When we were based in Golden, white water rafting on the Kicking Horse River was high on Ash and my list. So on a late spring day, we headed to Wild Water Adventures RiverBase and joined the trip of a lifetime.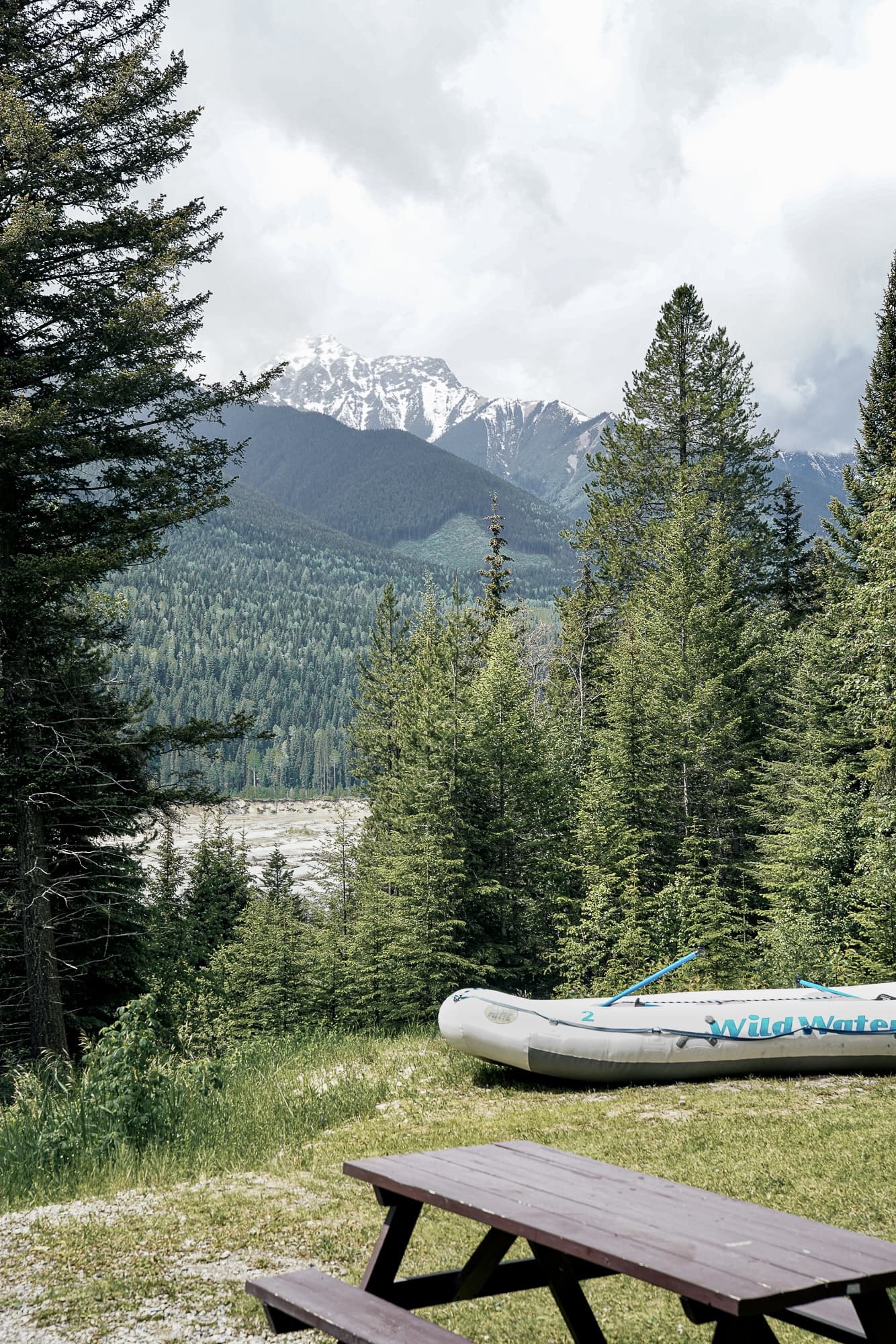 Rafting the Kicking Horse River
Wild Water Adventures offers several white water rafting tours starting from their RiverBase near Golden. One of them is a family-friendly, gentle introduction to class II and class III rapids, perfect for families.
To get a taste of something more thrilling, we opted for the Whitewater Exciter, a half-day trip that takes you through class III and IV rapids — the highest class allowed in commercial rafting in Canada — on the world-renowned Kicking Horse River.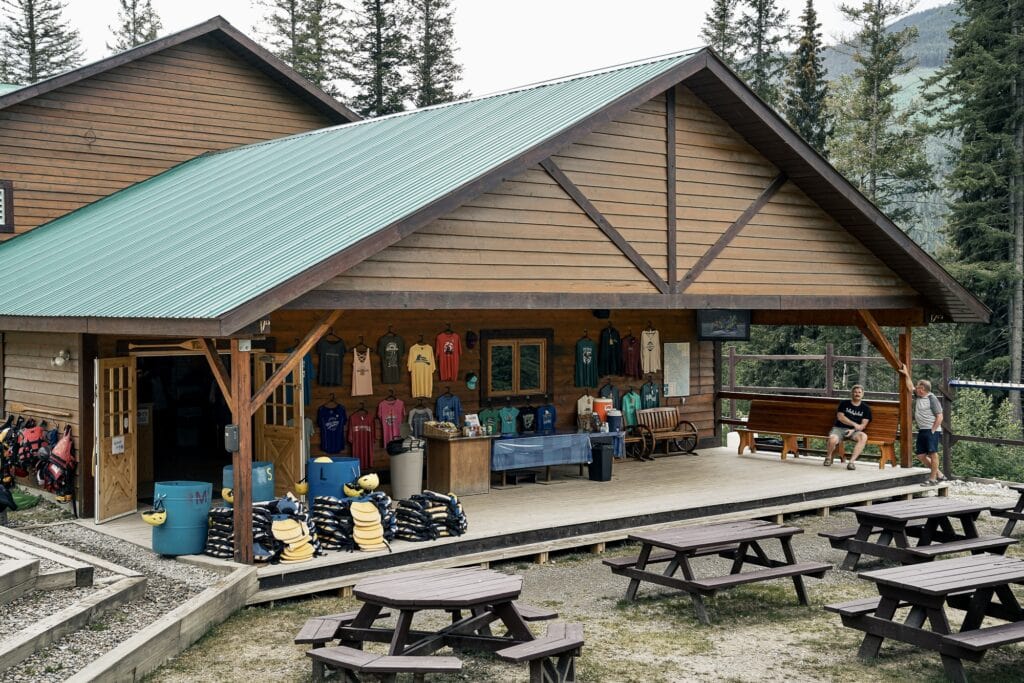 After 30 minutes, the base was abuzz with excited rafters. Once the waivers were signed, the guides walked around the groups, answering all questions thrown at them.
I soon realised this would not be your normal run-of-the-mill rafting experience. Word was out that the river was flowing high, very high, which makes for more dangerous — and more exciting — conditions. Class III rapids became class IV, and more care had to be taken when on the river.
Tip: We joined our rafting experience in June when the snowmelt dramatically raised the levels of the river. Head over to the Rockies in late spring/early summer if you want to experience rafting the Kicking Horse River at its most exhilarating! The exact dates can vary each year. The snowmelt in 2022 was late due to a cold spring. Check with Wild Water Adventures before booking your trip.
Nerves seeped into my excitement, but the guides put myself and other nervous rafters at ease. Wild Water Adventures has run tours on the Kicking Horse River for three decades, since 1992, and prides itself on being the premier outfitter.
The guides have years of experience rafting on several, world-renowned rivers and know how to keep you safe while maximising the experience, perfect for sensible thrill seekers.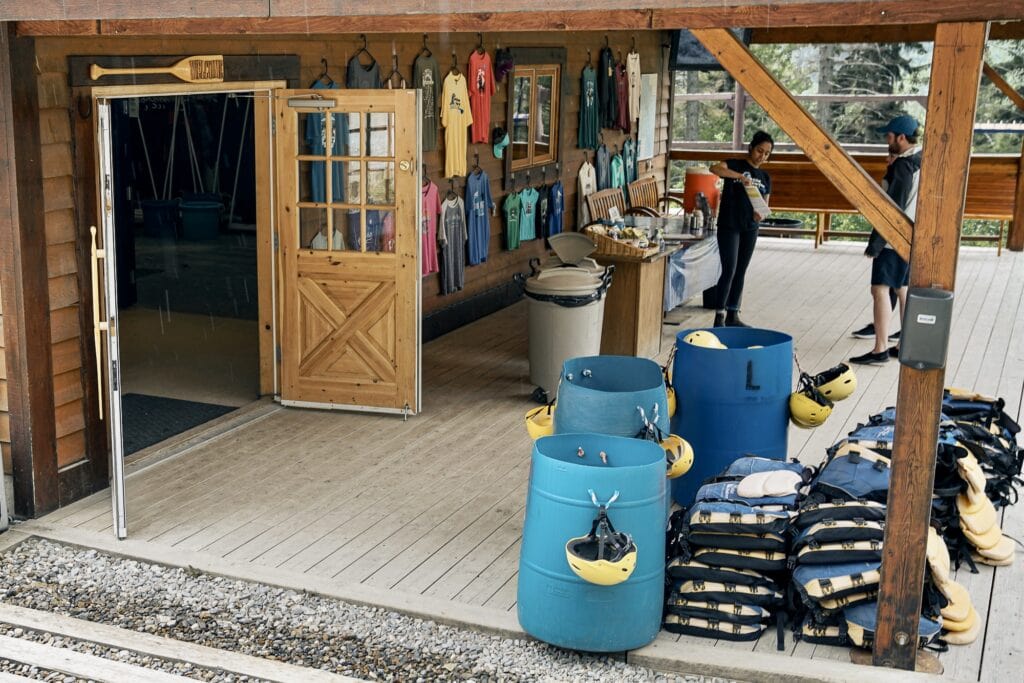 Once all rafters had arrived, we were introduced to the guides, followed by the first safety briefing, during which the experience of the guides became evident. They explained what to expect on the river, demonstrated the gear we would use, and threw in a few jokes to ease the nerves among the rafters.
Once we had put on all our gear — wetsuit, booties, fleece sweater, splash jacket, helmet and safety jacket — a large school bus transported us to the river.
Once at the river, the guides conducted a thorough safety briefing. The Kicking Horse River was unlike any other river I had rafted on with several hazards to be aware of. Some of these include floating tree trunks that could knock you out, a collection of trees where you could get stuck and hazards under water you could get caught in and pulled under.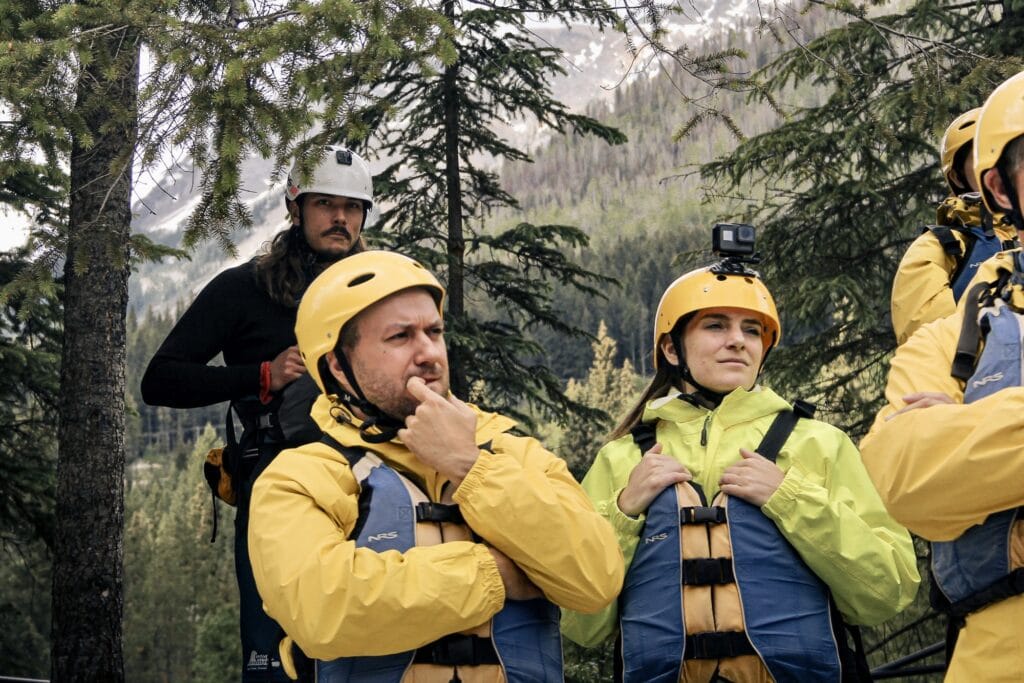 Our group was divided into five rafts, each holding up to eight people. Our guide, Mike, was a shining light whose unwavering excitement was exactly what I needed at that time. His catchy enthusiasm was calming, and we started our trip on a high note.
Once on the water, Mike gave us instructions to help him steer the raft and keep us all safe. After we had practised his steering and safety commands a few times, he was confident we were ready to face the rapids.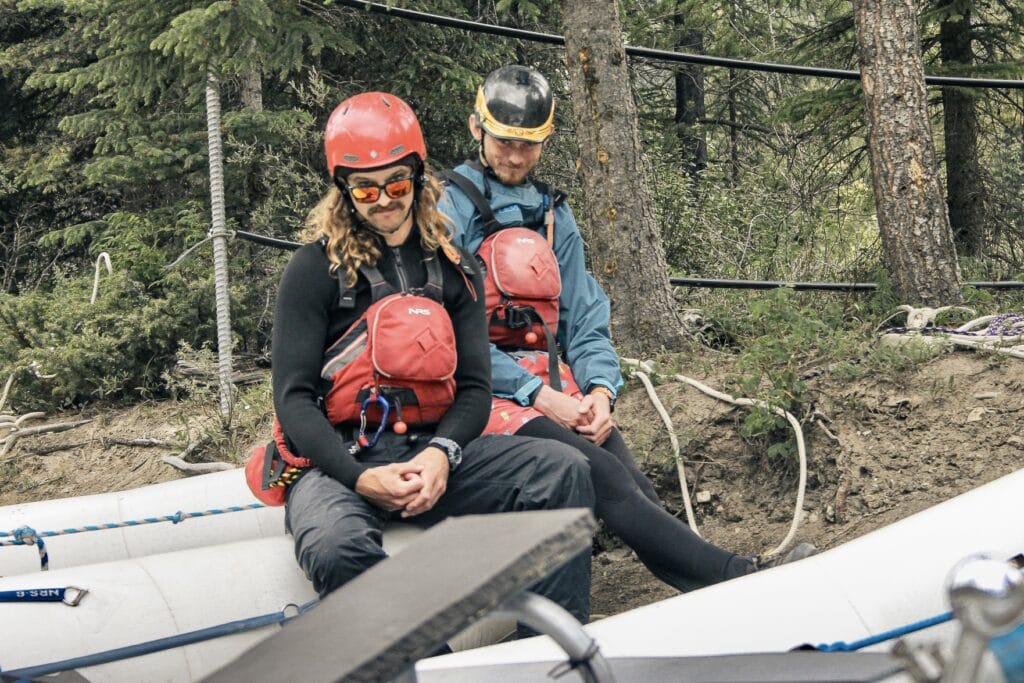 Ash and I sat at the front of the raft and were charged with the all-important task: taking the brunt of the waves and holding on. Behind us sat a recently married couple, honeymooning their way through Canada. They were paddling together with the group who sat in the back. Mike sat in the middle of the raft, his position allowing him to steer the raft more easily.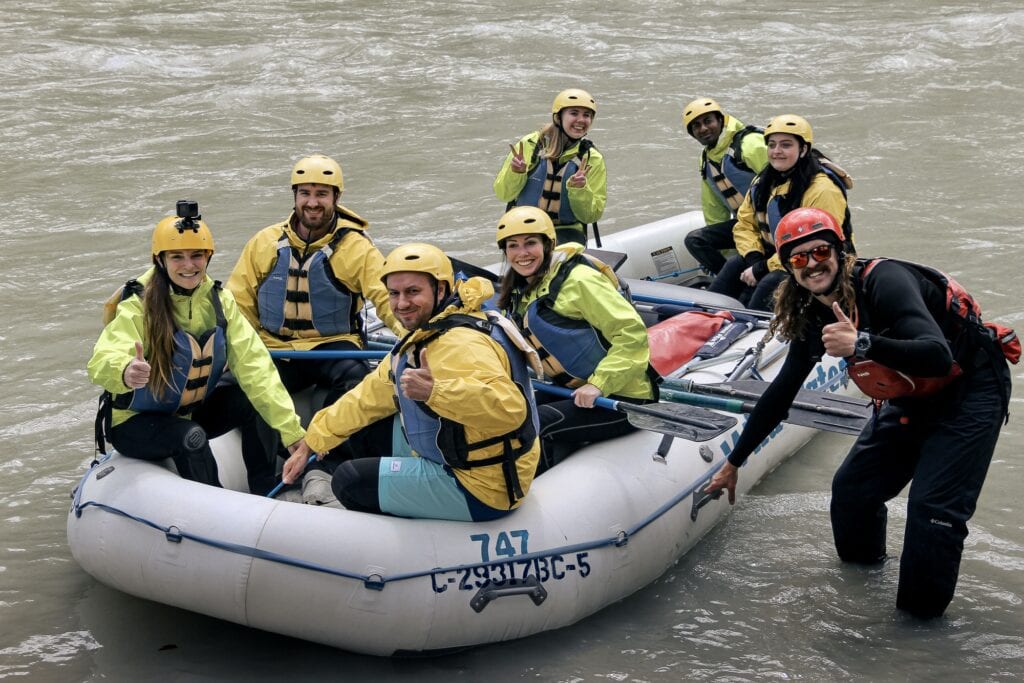 The first part of the trip was peaceful, with us floating down the river surrounded by large fir trees on the banks, backed by the towering Rocky Mountains. I can't think of a better place to white water raft. Soon we entered our first section of class III rapids, where we were tossed around and received our first proper soak.
Floating out of this section, nervous laughter erupted, and we all breathed a sigh of relief. We did not capsize. We continued down the mighty Kicking Horse River, passing a few more rapids before we took a break on the shore.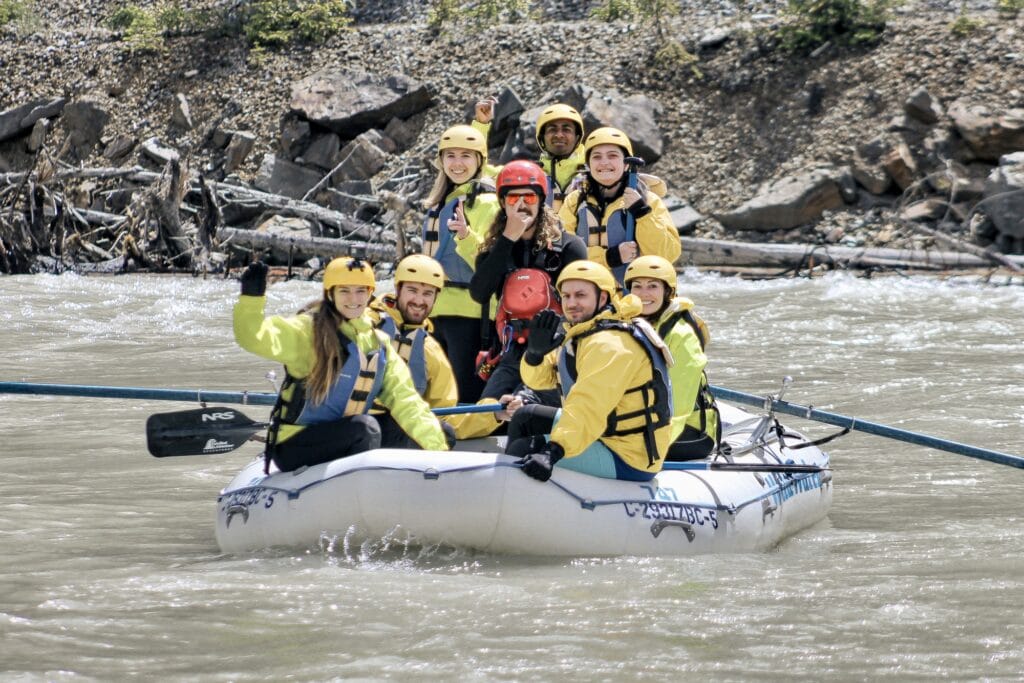 As we walked onto a slight outcrop, the raging river came into view, with rapids extending until the next bend. The guides casually mentioned this was the next part of our journey: 1km of class III and IV rapids, with no break or relief. As I watched the water churning and thundering, panic took hold of me. I tried to remain calm while listening to other rafters getting excited.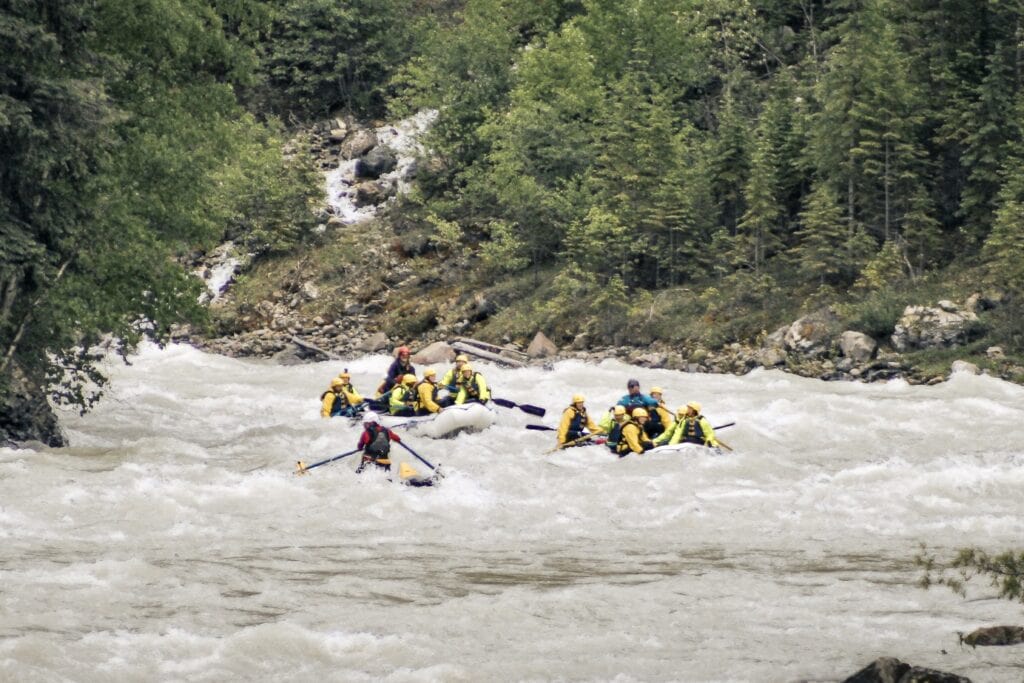 There was an option to walk this section, but no one was taking it, so I mustered up my courage and followed everyone back down to the rafts. The next section all happened so fast. I was holding on for dear life as we entered the rapids.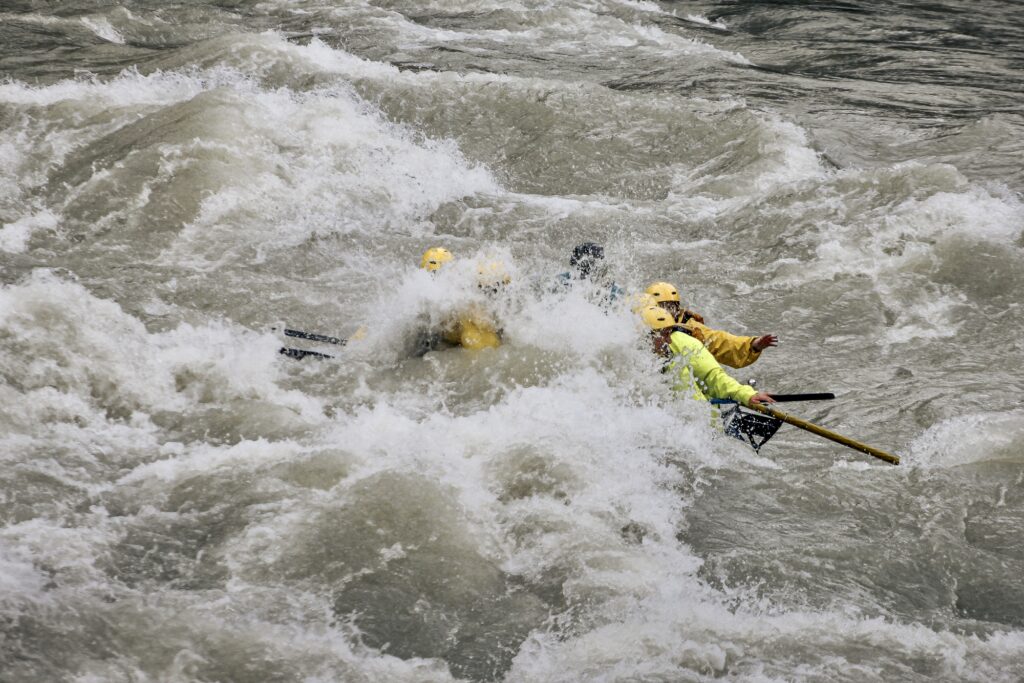 All of us ducked down into the raft as we dipped into the first massive rapid, and an enormous wave swept across the raft immediately followed by another. I stayed down, barely able to see what was coming up next. This continued for a while, being tossed around, waves slamming us from all directions as our guide steered and shouted instructions so we could safely navigate this intense section.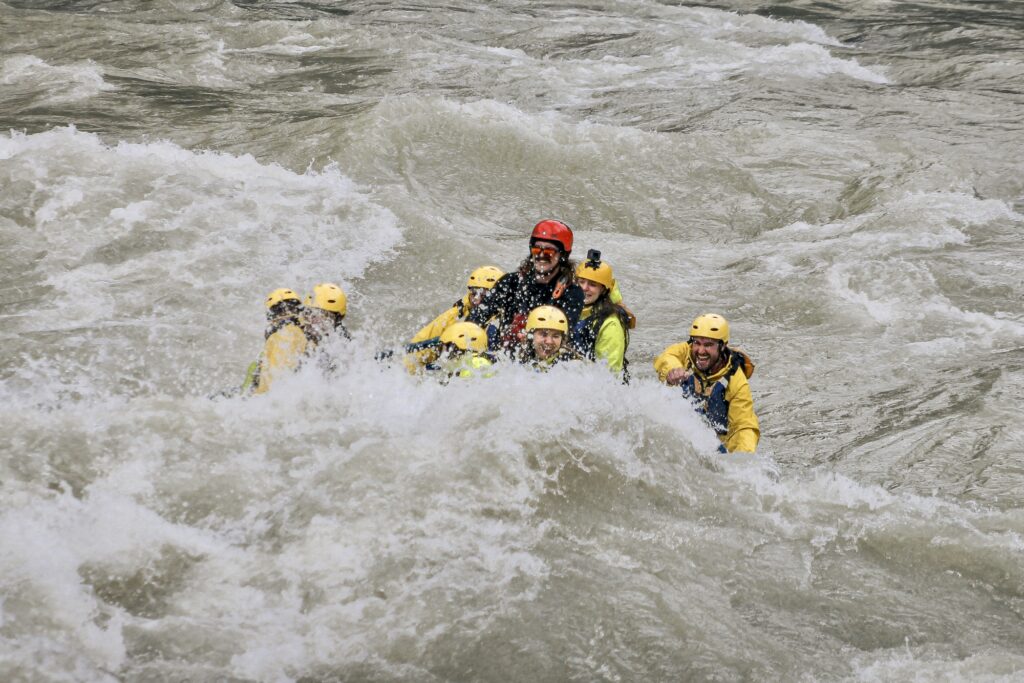 We emerged, drenched to the bone, but smiling nonetheless. All nerves had vanished, and adrenaline fueled us to face more of these exhilarating rapids. At the end of this section, all the rafts gathered together to ensure everyone's safety.
I was freezing cold from being submerged repeatedly in icy water and as a result, my clothing was soaking wet. Mike quickly helped me swap my wet fleece for a couple of dry ones to warm up before we continued.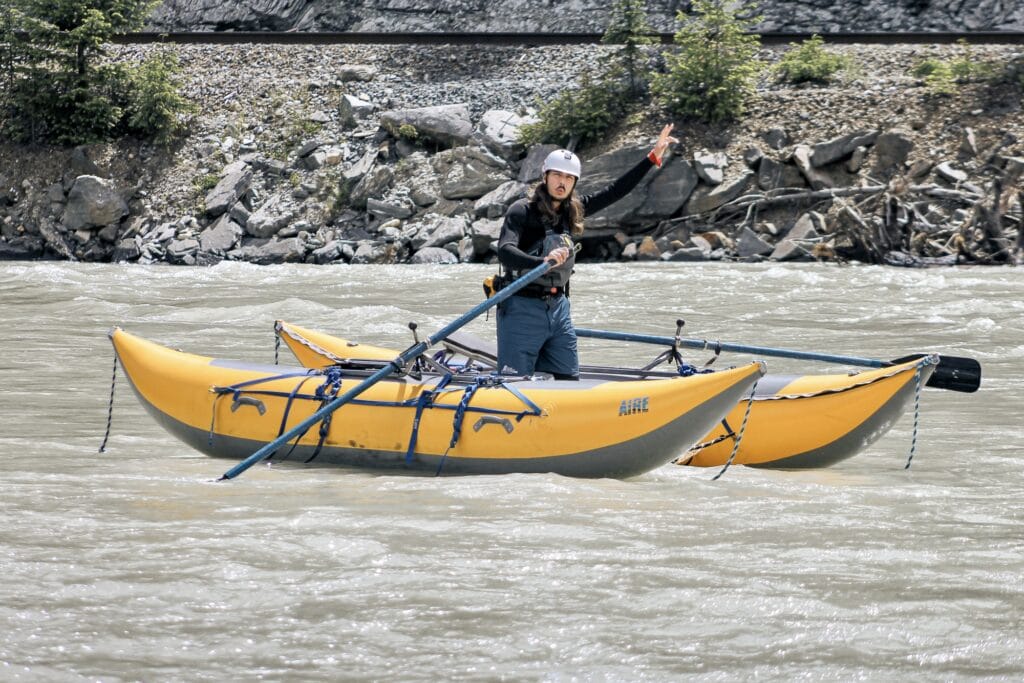 The break in the trip gave us the opportunity to move around the raft so everyone had a chance to sit in the front. While less thrilling to sit at the back, slightly removed from the action, I welcomed the change as it allowed me to stay dry and warm.
POV FROM THE RAFT ↷
We entered a few more exciting sections with class III rapids, followed by a calmer part of the river which marked the end of the trip. Our nerves subsided, the excitement of the adventure had completely taken hold, and while once strangers, through this shared experience a new bond had been formed with our fellow rafters.
We laughed, shared jokes and exchanged travel tips while the rafts floated down the Kicking Horse River on our last section of the trip.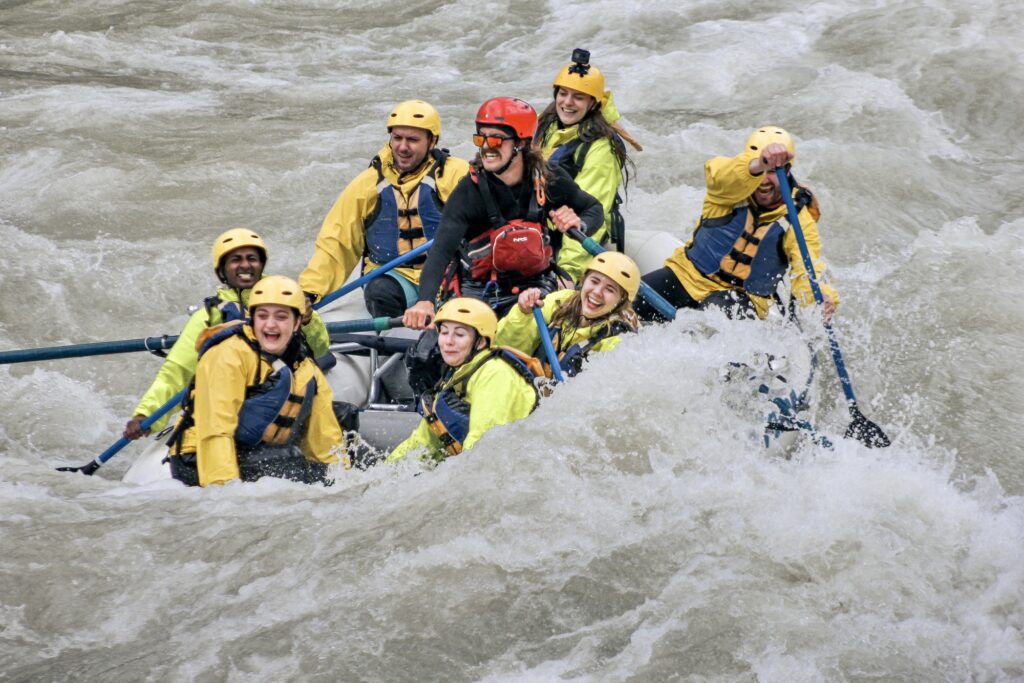 Back at RiverBase, we dropped our gear and warmed up with a coffee and hot chocolate while checking out the photos of our trip. Everyone was on a high, laughing and promising the guides to one day come back.
I thought about the rush of navigating through the rapids, the cold glacial water spraying my face, and the shared elation with our fellow rafters. A once-in-a-lifetime experience I would love to repeat.
White Water Rafting near Golden with Wild Water Adventures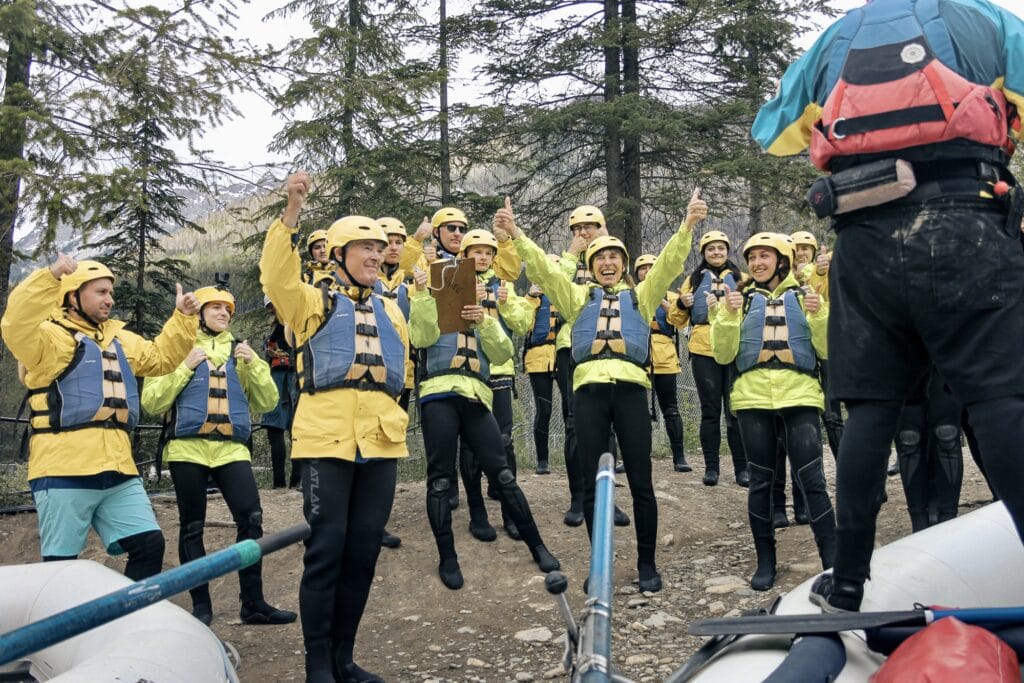 We went on a rafting trip with Wild Water Adventures, a rafting outfitter located between Golden and Field. They offer several white water trips, from half-day to multi-day trips.
We would highly recommend them to anyone considering a white water rafting trip if you are in Banff or Golden. They have a great RiverBase setup, knowledgeable guides and the safety and satisfaction of the guests are their top priority.
Getting here from Banff
It takes around 1h15 minutes to drive from downtown Banff to Wild Water Adventures RiverBase. It's a scenic drive through sections of Banff and Yoho National Park. You can combine your rafting trip with some excellent adventures around Yoho. (Future link here to Yoho Guide)
Getting here from Golden
A quick 20-minute drive takes you from downtown Golden to the RiverBase. You'll be driving through the spectacular Kicking Horse Canyon, one of the most rugged and scenic sections on the Trans-Canada Highway.
Unfortunately, there's currently ongoing construction on this section of the drive. The road is closed between 10 pm and 7 am, and there might be delays throughout the day. The expected completion date is Winter 2024. Make sure to give yourself enough time to get to RiverBase. You can find more info about the construction and closures here.
How to prepare for your rafting trip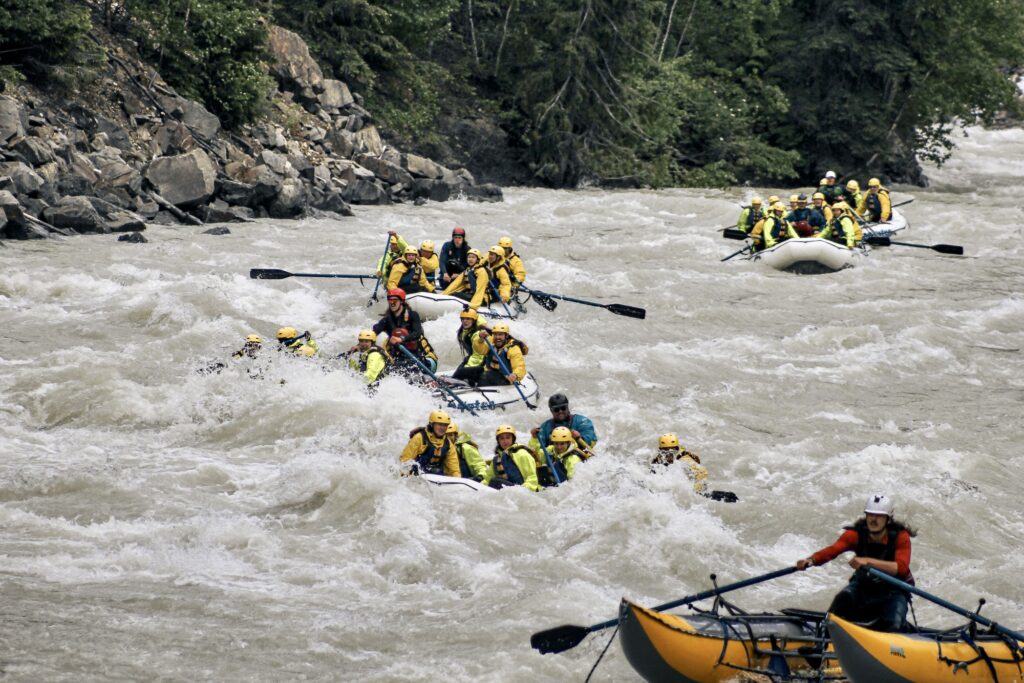 Here are a few tips to prepare you for your upcoming rafting trip:
Rafting can be an exhilarating experience, but it is important to remember that it is also dangerous. Listen to your guide's instructions at all times and never venture away from the group.
Since you'll be rafting in cold water, the team at the rafting company will provide all the necessary gear to keep you comfortable and safe during your trip. This will include a wetsuit, neoprene booties and gloves, fleece sweaters, spray jacket, life jacket and helmet.
Do not wear any cotton clothing under your wetsuit, as this absorbs water, which means it will be cold and heavy when wet. Opt for a bathing suit to wear underneath your wetsuit.
Leave your camera and phone in your car. The team will take photos on the side of the river, which you can view and purchase after your trip. If you are keen to capture the action, you can bring your GoPro, as this can be attached to your helmet.
Most importantly: Have fun!
Al rafting photos are courtesy of Wild Water Adventures