As I dipped my paddle into the water, I glided away from the wooden dock, chasing the fading rays of the setting sun. I paused, listening to nature's evening orchestra beginning to play around me: frogs croaking in rhythmic harmony and the haunting call of a distant loon accompanied me on my paddle.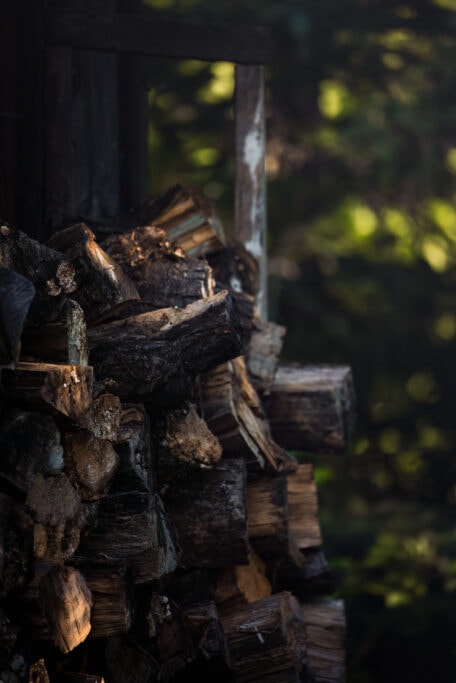 Suddenly, a joyful splash interrupted my musings. A group of fellow guests had just jumped into the invigorating waters following a spell in the hillside sauna. Wisps of steam still rose from the chimney, casting an ethereal contrast against the dark backdrop of fir trees. More guests joined the scene: a couple lounged on Adirondack chairs, sipping their drinks; a family enjoying dinner at a picnic table; and a few friends readied their paddles, about to explore the lake. Everyone came here to admire the sunset in this quiet setting, a welcome escape from their busy lives at home.
This peaceful retreat just outside Kenora in northwest Ontario was precisely what the owners, Kristine and Peter, had envisioned when they created their rustic eco-resort Wild Woods Hideaway. It was designed to escape hectic city life and spend quality time with loved ones.
A warm welcome
When we arrived that morning, just a 2-hour drive from Winnipeg, we meandered through the forest until we reached the parking lot at the end of the road. Here, Peter greeted us with a warm smile followed by Dandelion, one of their enthusiastic dogs, wagging its tail as my hand brushed its head. After our introductions, we set off on a tour around the grounds where it became apparent a lot of work had gone into the resort.
Starting with 15 acres of land littered with dilapidated structures and heaps of trash, Kristine and Peter were able to see it through and transform it into the rustic haven they envisioned and that you see today.
And what a vision it was! Five small cabins, three larger log cabins, and a tiny home dotted the forest, with four prospector tents perched on a gentle slope. Although the cabins weren't far apart, the surrounding trees provided the seclusion we craved.
To minimise costs, Kristine and Peter constructed the cabins themselves, creating beautifully handcrafted structures. To bring their dream of an eco-resort to life, their decisions were all made with the environment in mind. To keep water use to a minimum, none of the cabins had running water, and only the log cabins boasted a compost toilet. Solar panels provided electricity, ensuring ample light and power for our devices.
Peter guided us to a side path near the parking lot, leading to a stunning view of the lake and a wooden dock nestled into the rocky hillside.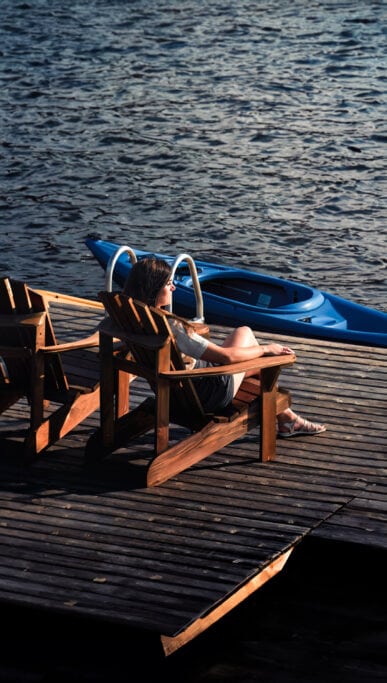 One of the main features that caught our eye was the wood-fired sauna offering picturesque lake views and the option of a quick plunge into the cool waters afterwards. We descended the stairs to the dock, where picnic tables, chairs, and even a slide beckoned. Here, a number of kayaks, canoes and paddle boards were available, so there's never a wait to explore the water.
After showing us the second sauna, hidden in the forest, and providing instructions on using the compost toilet, Peter wished us a great stay and bid us farewell. Even though the tour — which can be requested by any guest upon arrival — provided us with all the info we needed, Peter, or one of the associates, was only a text message away if we needed anything during our stay.
Exploring the Nettle Cabin
We headed to our cabin — called the Nettle — tucked further into the woods away from the lake. Our two fluffy cats, Kumo and Kiri, embarked on an exploration of every nook and cranny. The cabin's lower level featured an open-plan living, dining, and kitchen area — rustic yet minimalistic, with all the essentials. A woodstove stood in the corner, ready to warm us during the coming night. The kitchen boasted a propane cooktop, perfect for quick meals or a hot cup of tea. The toilet was to the right upon entering, small but charmingly decorated with art and a petite mirror. Hand sanitiser, hand towels and sawdust were thoughtfully provided.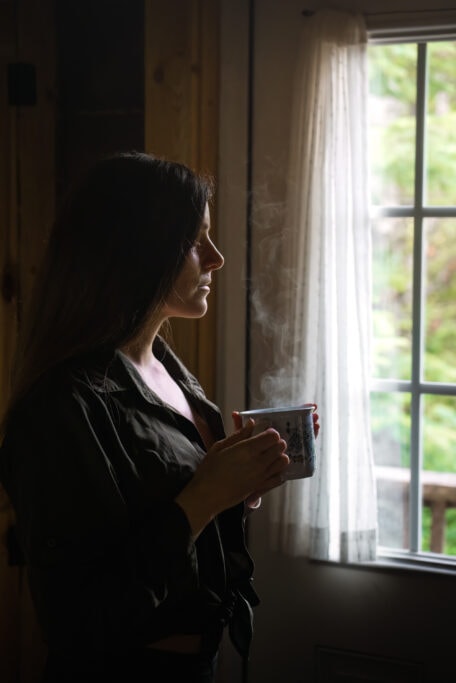 After admiring the vast windows that covered the entire back wall, connecting us to the outdoors, Kumo and Kiri cautiously ascended the steep stairs to the loft. Here we found a cosy space tucked beneath the cathedral ceiling. A low bed occupied one side, while a small sofa sat on the other, right next to a tiny window overlooking the front of the cabin. Bedding was not included, so we arranged ours as our feline companions playfully darted around.
Downstairs, a sudden commotion lured us away from the loft. Dandelion had come to inspect the new arrivals, his face appearing at our window, tail wagging, and inquisitive eyes following our activities as we unpacked and settled in. Two dogs, Dandelion and Austin, called the resort home — both friendly and always eager for a head scratch.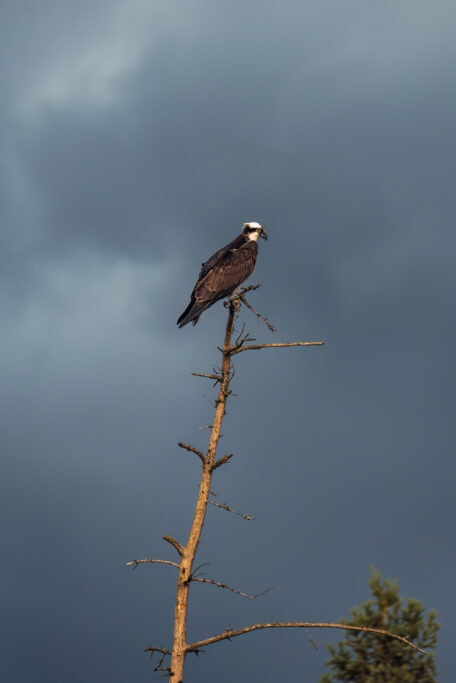 Once we were unpacked, we ventured outside to explore the surrounding trails. Armed with bear spray, insect repellent and some water, we entered the forest. Several trails were available, but we chose the Mink Bay Trail, winding through wetlands, wilderness and eventually leading to downtown Keewatin. The 4.3 km hike offered easy to moderate terrain, and along the way, we encountered abundant wildlife, from deer to ospreys, and thankfully, no bears — likely scared off by our constant clapping and my melodic singing.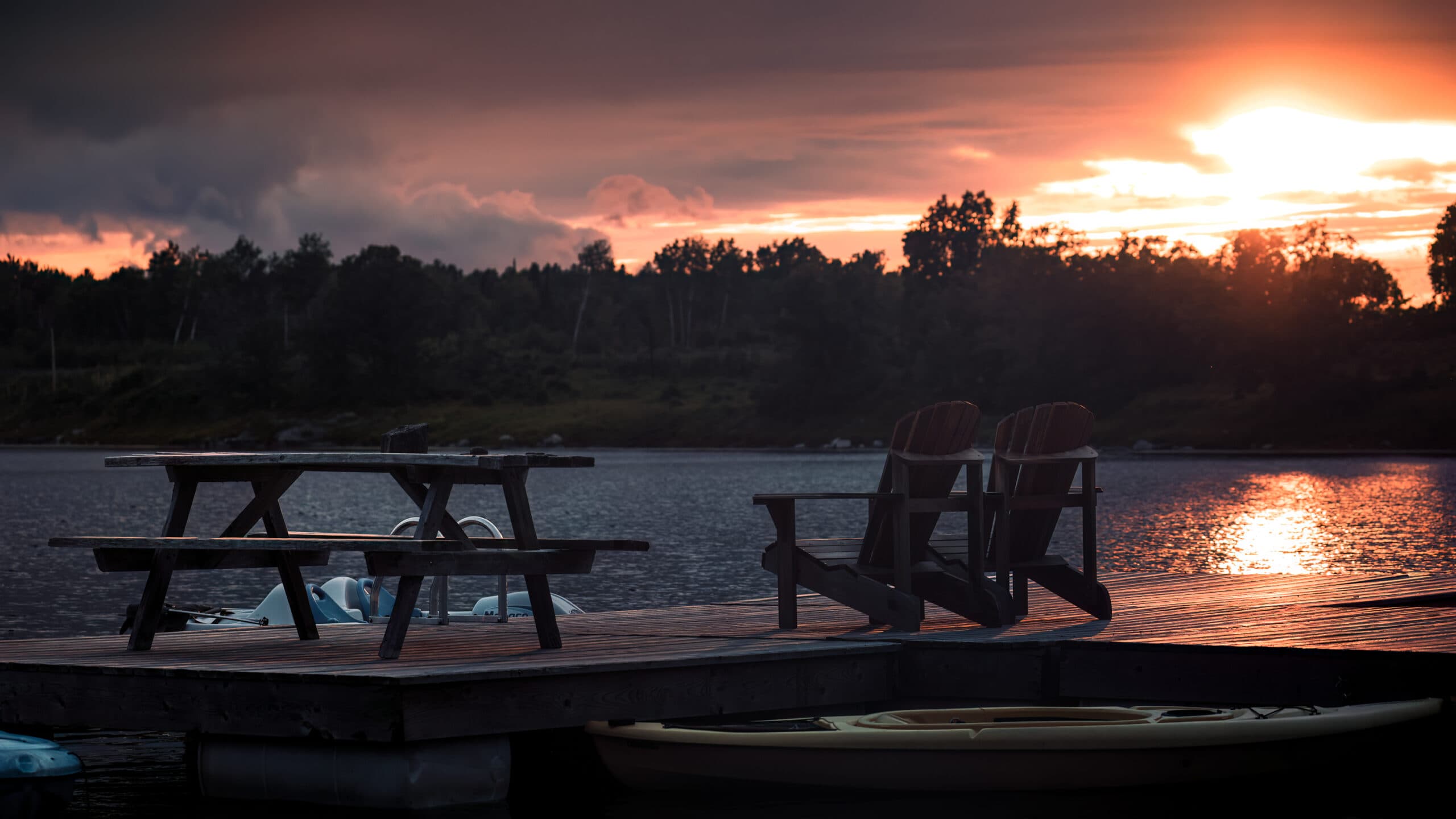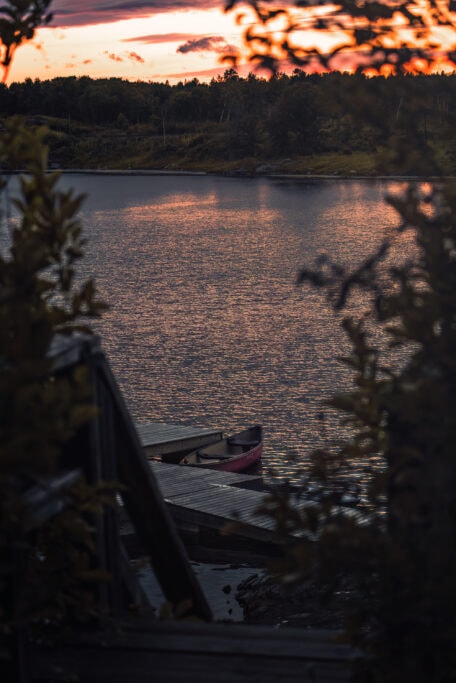 The sun was low when we returned from our hike. Having stocked up on snacks and groceries before arriving in Kenora, we settled on the dock, indulging in a simple dinner while soaking in the serene surroundings.
Following our sunset paddle, we returned to our cabin, where two furry faces greeted us from the upstairs window, welcoming us home. After enjoying a nightcap, we made our way up to the loft, with Kumo and Kiri joining us and settling by our feet.
As we turned off the lights, our eyes adjusted to the darkness, revealing a tapestry of stars through the tiny window. We dozed off, with the gentle breeze through the trees creating a soothing melody guiding us deeper into a slumber.
Embracing the Art of Slow Living
As the sun rose on our third morning, we reluctantly bid adieu to Wild Woods Hideaway. Our stay had been a welcoming journey into slow living, something we hadn't experienced in a long time.
Each day was a collection of unhurried moments where the resort introduced us to a world far removed from the incessant buzz of city life, allowing us to fully be in the present.
From mornings where the call of songbirds replaced the blaring of alarms to evenings illuminated by the soft glow of lanterns rather than the harsh glare of screens, Wild Woods Hideaway encouraged us to reconnect with the simpler, quieter pleasures of life.
As we made our way back to our city lives, we carried with us not just memories but a newfound appreciation for the art of living slowly.
Good to know
Location
Based on 15 acres of diverse forestland along the shores of Mink Bay, Wild Woods Hideaway offers the perfect blend of wilderness seclusion and accessibility. It's only a short 15-minute drive from downtown Kenora and a 2-hour drive from Winnipeg.
The Nettle cabin
We stayed in the Nettle cabin, their most secluded cabin, but still close to all amenities.
Inside Nettle, we found a well-equipped kitchen stocked with all the necessary essentials like pots, pans, cutlery, and detergent. Plus, it had a cooktop for those who love to whip up a meal indoors, along with a BBQ and a fire pit outside for your grilling and bonfire needs.
Everything inside the cabin was thoughtfully labeled, making it a breeze to figure out how to use everything, from the stovetop to the compost toilet.
Nettle doesn't have running water, but don't fret! Filtered drinking water and wash water are provided in convenient 5-gallon camping jugs.
For those chilly evenings, firewood for indoor heating is included in your rental. If you're planning an outdoor bonfire, you can purchase wood separately for just $10 per bag. Additionally, there's a $10 fee for sauna use, which covers the cost of firewood.
One thing to note is that pillows, towels and bedding are not provided, so make sure to bring your own.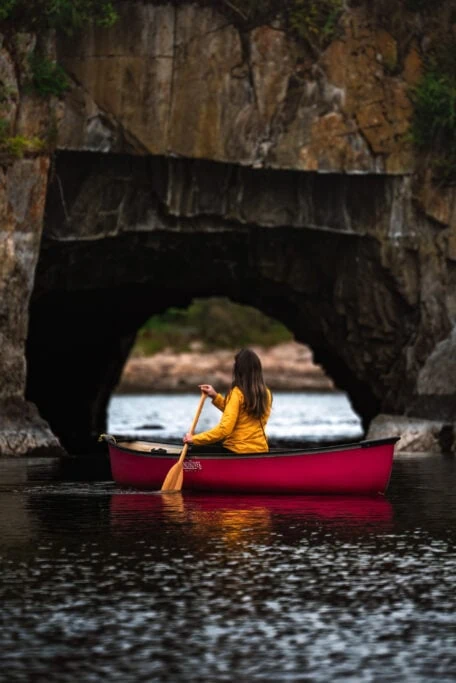 Amenities at Wild Woods Hideaway
Need to freshen up? Hot showers are available in a separate cedar pay shower area, just a short walk away. The cost is a reasonable $1 for 5 minutes.
The resort also boasts a welcoming dock with various seating options and an exciting slide for those looking to make a splash. It's the perfect place to soak up the sun and enjoy the views.
Wild Woods Hideaway offers complimentary use of canoes, kayaks, and stand-up paddleboards, complete with life jackets.
For the nature enthusiasts among us, easy access to the Mink Bay Trails is right at your doorstep.
Our trip was hosted by Tourism Kenora. As always, all opinions are our own and you will always read our genuine thoughts and experiences.