Brunch has become increasingly popular in Vancouver. New, all-breakfast places are popping up around the city, with many restaurants adding a brunch menu to their repertoire. From a variety of Eggs Benedict to chicken and waffles, there is plenty of comfort food to be found.
However, our favourite brunch places are the ones that dare to stray away from the usual brunch fare… The ones who let their creativity take over, allowing us to indulge in a selection of innovative plates and eclectic cocktails.
We have visited over fifty brunch places in and around Vancouver and have found the following restaurants to offer something more than your standard brunch. These are the places we keep coming back to time and time again — and we think you will love them as much as we do.
Here is our list of the best brunch places in Vancouver:
Chambar – Gastown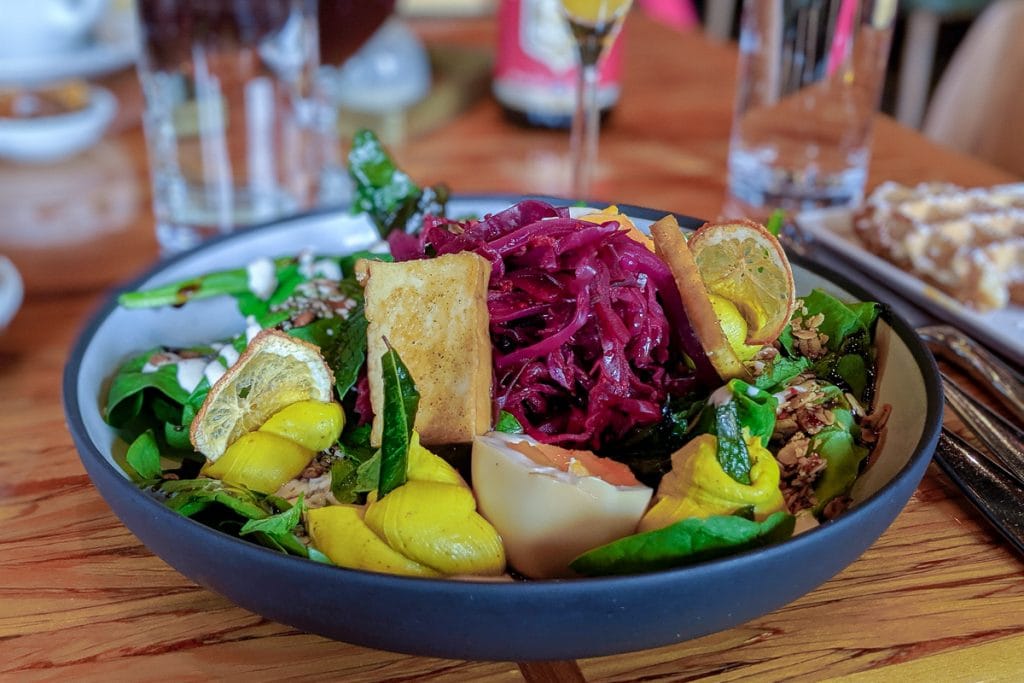 Brunch at Chambar is a casual, yet refined experience. Labelled as a Belgian restaurant, it boasts a Belgian-inspired menu, paired with a long list of Belgian beers.

The Vibe: Warehouse-style brick-and-mortar with wooden beams and modern art light installations.
Why We Love It: The service is always on point and the meals are consistently excellent. They make seasonal changes to the menu, so there's always something new to try.
Our Favourite Dish: Bol Santé for when you want something fresh; Bon Matin for when you're not too hungry; and Burger du Chasseur for when you're craving carbs. And, in true Belgian style, we usually add a waffle, with salted caramel topping, to the order.
Price Rating: $$$
Busy? You can reserve a table for brunch.
Vegetarian/Vegan? One of our favourite dishes at Chambar is vegetarian! And the omelette is usually vegetarian as well.
The Acorn – Main Street
This small, cosy restaurant is one of the most popular vegetarian restaurants in Vancouver. Its innovative cooking will convince even the most diehard carnivore to sample a vegetarian lifestyle.
The Vibe: Dark and intimate.
Why We Love It: Every dish that we have been served here has been excellent. Complimentary sparkling water and bread is a plus — and the service is impeccable.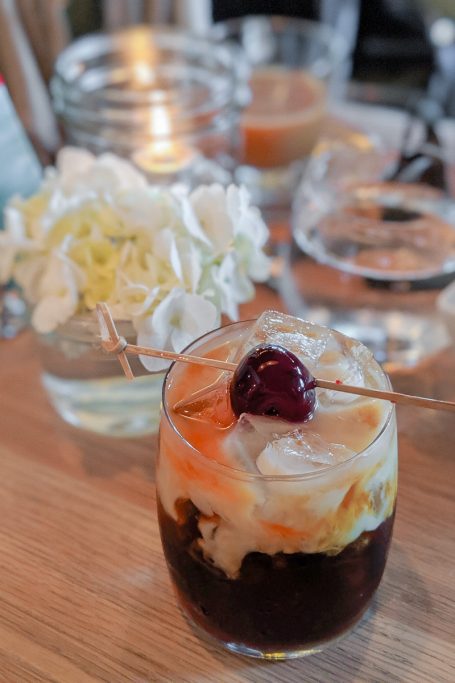 Our Favourite Dish: Southern-style fried local oyster mushrooms on a house waffle, topped with bourbon maple syrup, pickled Cropthorne Farm shallots and mushroom red-eye gravy.
Price Rating: $$$
Busy? The Acorn can get really busy when it comes to brunch — but if you arrive before 11am, you should be able to be seated immediately.
Vegetarian/Vegan? The Acorn is a vegetarian restaurant that also caters to vegans. What's more, the server will always ask for dietary restrictions when taking your order.
Wildebeest – Gastown
A farm-to-table experience, with an emphasis on meat dishes, set in historic Gastown.
The Vibe: A refurbished 19th century space with an open-concept kitchen. It offers a cosy, warm atmosphere.
Why We Love It: Their brunch menu has grown extensively over the years and is frequently updated with new dishes. We always try to get a table by the open-concept kitchen, as we love to watch the chefs cooking and plating the meals.
Our Favourite Dish: Fir beignets to start, followed by the foraged mushrooms with water buffalo ricotta and poached eggs on toast.
Price Rating: $$$
Busy? You should be able to get a walk-in table for brunch. However, if you don't want to risk waiting in line, they also accept reservations.
Vegetarian/Vegan? Even though they are known for their innovative meat dishes, Wildebeest also offers some excellent vegetarian options at all their meal services.
L'Abattoir – Gastown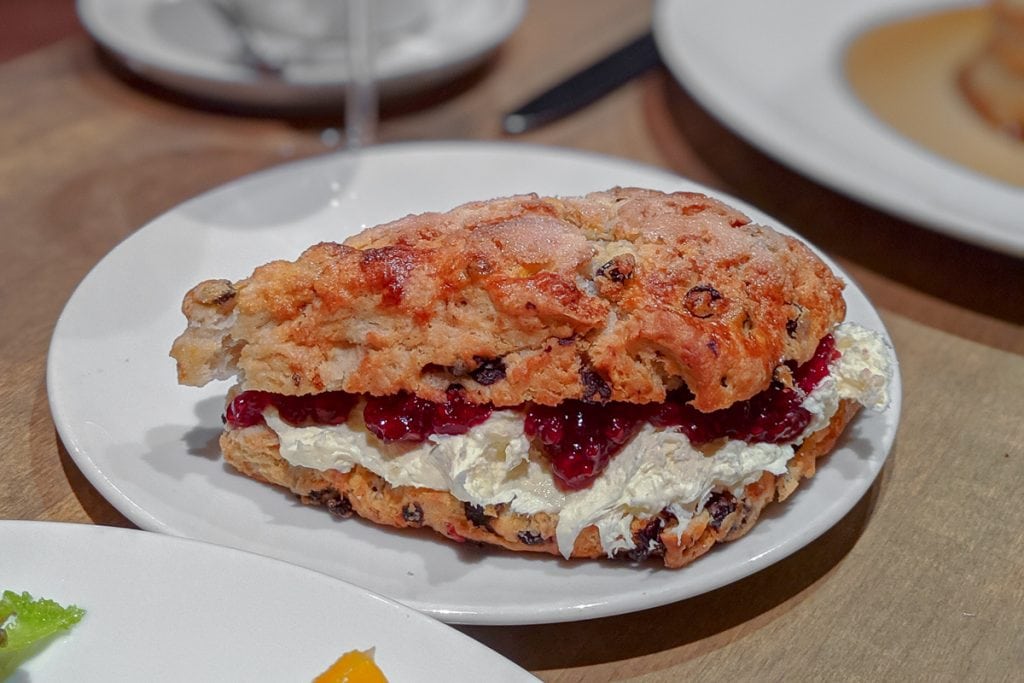 Refined dining with a French twist: L'Abattoir is one of the more upscale brunch places on this list. Still, it is definitely worth the splurge from time to time.
The Vibe: Located in a 19th century brick-and-beam heritage building, L'Abattoir combines historic flair with an intimate setting.
Why We Love It: The service has always been excellent and food is of a consistently high standard. We love the selection of homemade pastries, as well as the complimentary bread selection.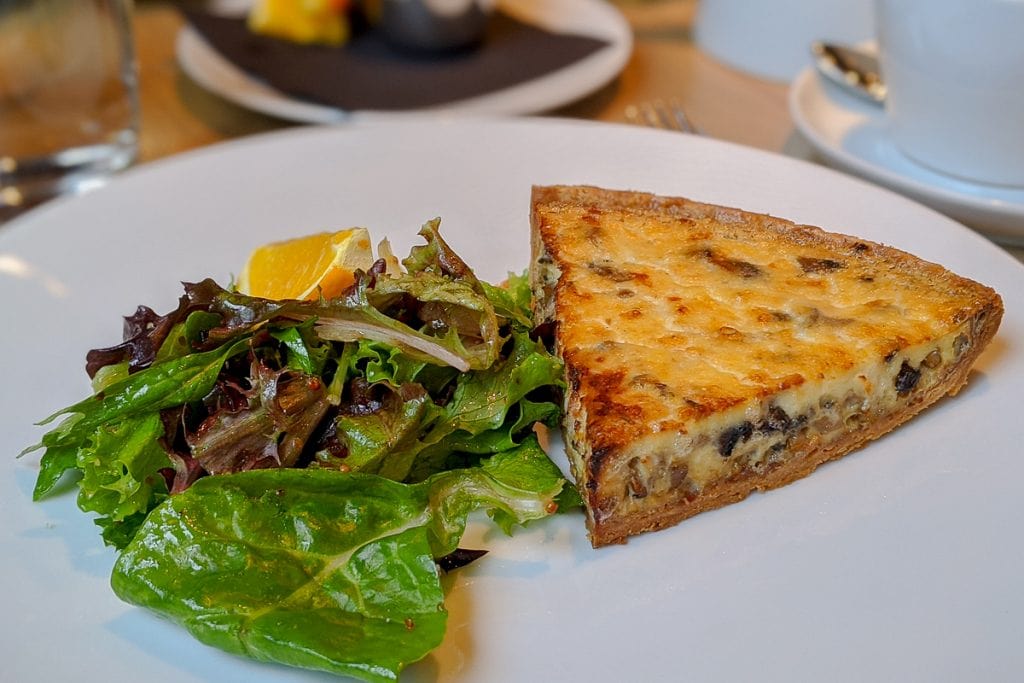 Our Favourite Dish: Wild mushroom quiche or buttermilk and ricotta pancakes, paired with Rosé bubbles. Their cocktails are also worth a try.
Price Rating: $$$
Busy? It is best to book a table here, as there can be a wait for brunch.
Vegetarian/Vegan? They offer a couple of vegetarian dishes, as well as some pastries.
GRUB – Main Street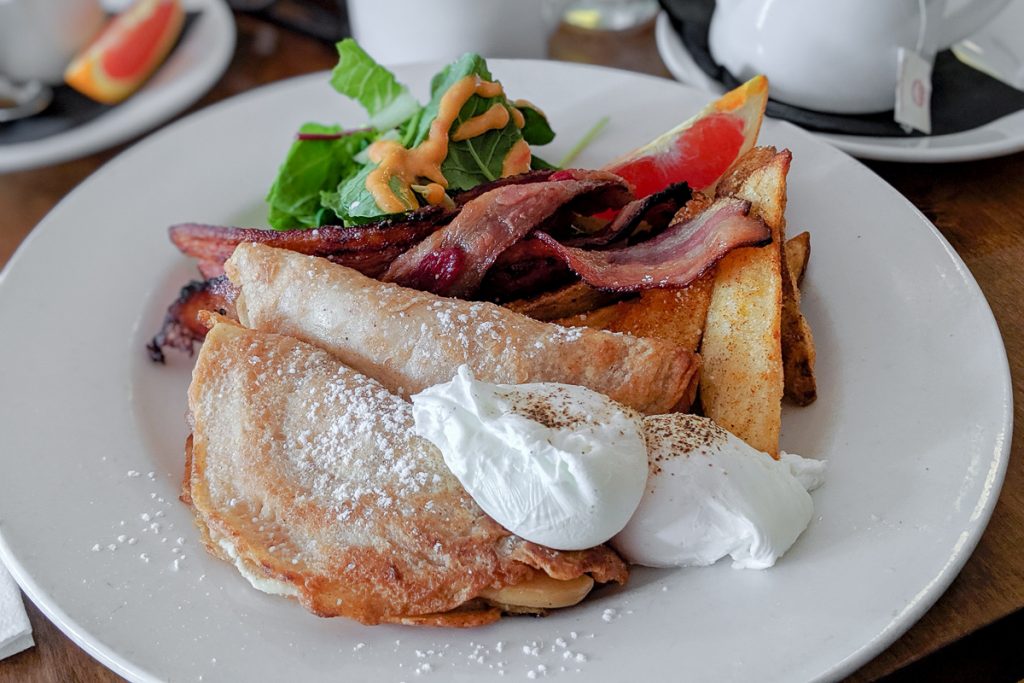 A casual restaurant on vibrant Main Street, GRUB uses fresh, local ingredients, which Chef Ling uses to create absolutely delightful dishes, both for brunch and dinner.
The vibe: It's a small, informal, yet airy space, with funky wallpaper.
Why We Love It: GRUB never disappoints. The meals are delicious and well-balanced, with great flavours and generous portion sizes.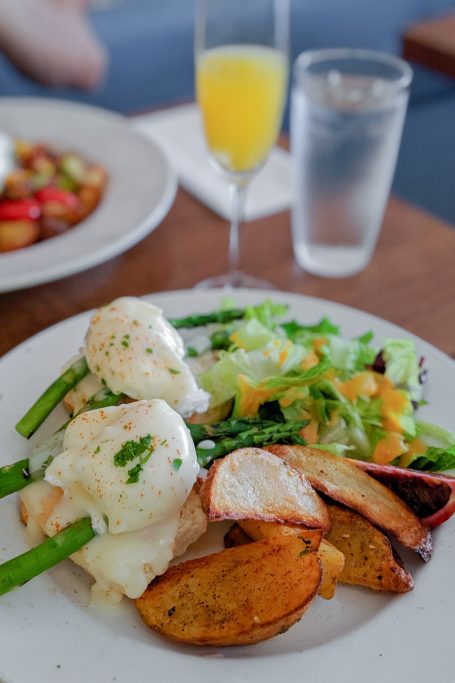 Our Favourite Dish: Almond crêpes, filled with caramelised apples and honey ricotta accompanied by alderwood smoked bacon, poached eggs, home fries and salad… We love the sweet and savoury mix.
Price Rating: $$
Busy? Brunch is usually not too busy here.
Vegetarian/Vegan? Their menu is adaptable and flexible, making it easy for vegetarians to find a dish. They also have a vegan brunch dish on the menu.
Egg & Co. – Fraserhood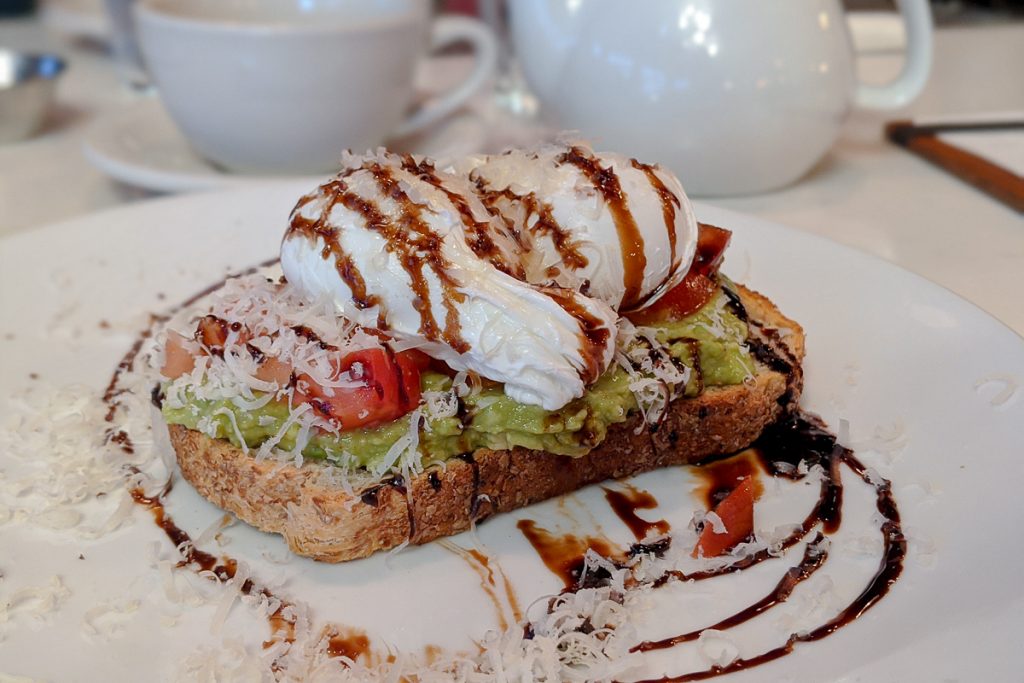 An all-day breakfast spot housed within a casual chic space, in up-and-coming Fraserhood. Classic, as well as creative, brunch dishes are on offer. And if you love mimosas — you're in for a treat! With seven flavours to choose from, you will have to come back to try them all.
The Vibe: An airy, relaxed space with beautiful European-style tiles decorating the floor and walls.
Why We Love It: The trendy decor, combined with the creative brunch dishes, make it a winner.
Our Favourite Dish: Chicken karaage and French toast topped with nori, bacon, sriracha mayo and maple syrup… It's divine.
Price Rating: $$
Busy? Brunch can be extremely busy here; we always try to arrive before 11am.
Vegetarian/Vegan? There are quite a few vegetarian dishes on the menu.
Belgard Kitchen – Railtown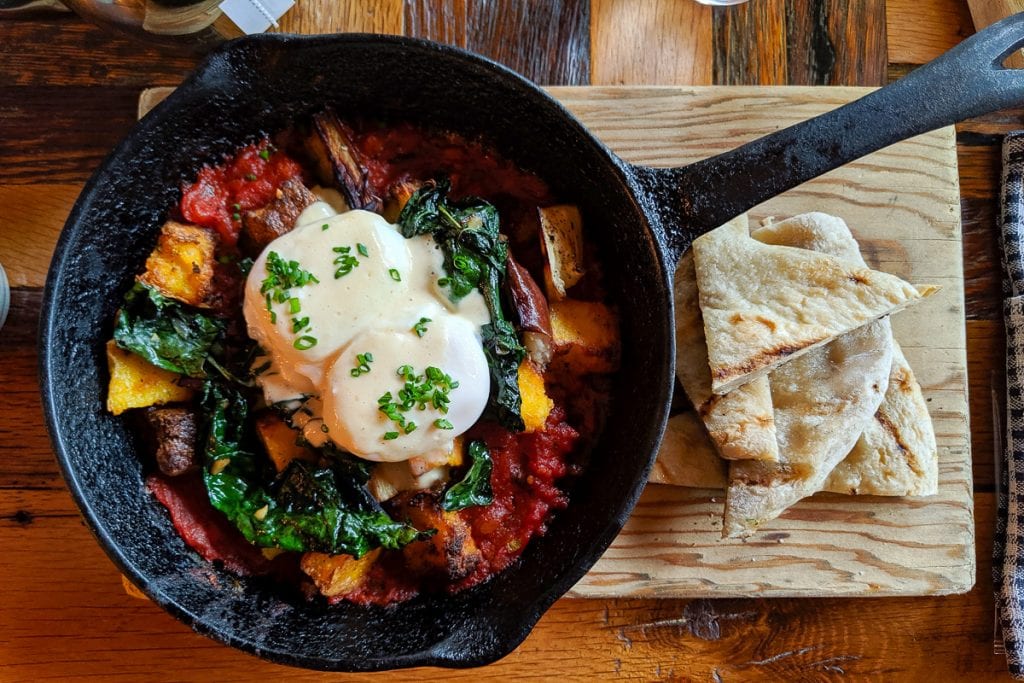 A popular brunch spot situated inside a brewery. It offers a big selection of beers and wines… What more do you need to know?
The Vibe: A spacious, industrial space with a 24-foot ceiling and wooden beams. You'll find plenty of character in this historic building.
Why We Love It: The setting is beautiful, the atmosphere is great and all the dishes that we have tried so far have been excellent.
Our Favourite Dish: Mediterranean Skillet or salmon gravlax hash.
Price Rating: $$
Busy? Brunch gets very busy here, so make sure to reserve a table well in advance.
Vegetarian/Vegan? They have a few vegetarian items on the menu.
LOVE IT? PIN IT!