As we looked out across the expanse of Lake Winnipeg, we were struck by its stark beauty. The view was dominated by a sea of white, the frozen lake surface covered in ice and snow, extending as far as the eye could see; occasional bumps or mounds of snow visible where the ice had broken and risen up. There were also a few brightly, coloured ice-fishing huts dotted offshore; these charming little structures stand in contrast to the otherwise barren winter landscape, the only sign of human activity in this frozen wilderness.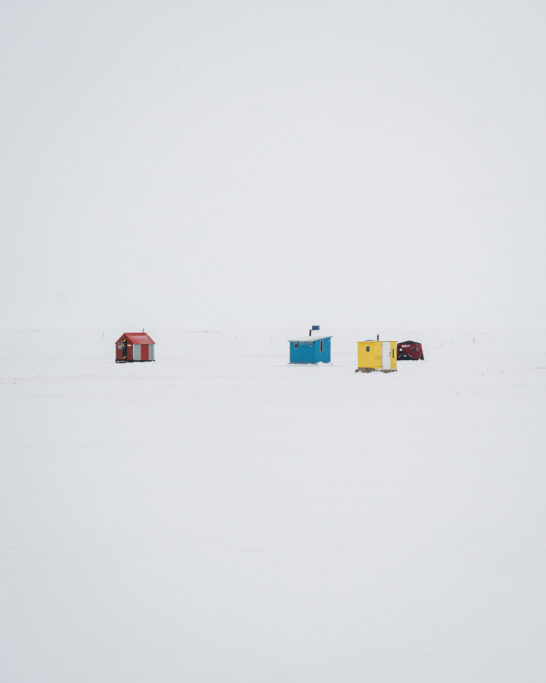 Nestled on the banks of Lake Winnipeg, an hour's drive north of Winnipeg, Gimli is a small town with a strong Icelandic heritage. Known as New Iceland, many of the town's early settlers were Icelandic immigrants, who brought their culture, traditions and customs with them. We had arrived in Gimli for our cosy cabin getaway with Bowerbird Stays, excited to explore one of our favourite Manitoba summer destinations in these vastly, different winter conditions.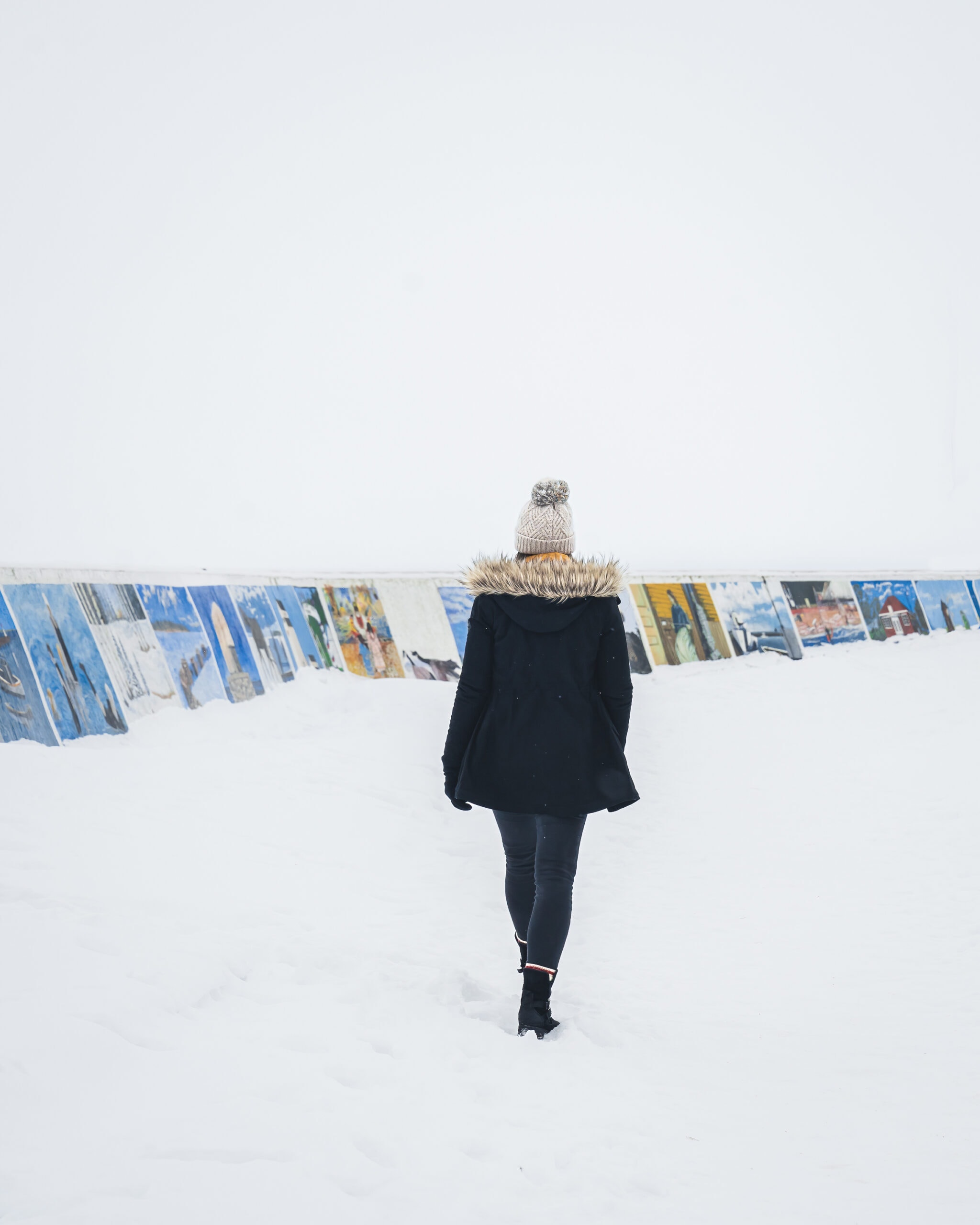 While Gimli is a popular summer location with a multitude of activities, it takes on a new dimension in the winter, when the peacefulness of the icy landscape provides the backdrop for a different kind of relaxing getaway.
Welcome to the cosy cabin in Gimli
After collecting some fish and chips in Gimli — freshly caught Pickerel — we made our way over to the cabin. It was a peaceful winter day, with birds flitting from branch to branch and deer casually crossing the road in search of food. The cabin, located just 15 minutes north of Gimli, is nestled among the trees with Lake Winnipeg only a few hundred meters away. It's a wonderful destination for a serene winter getaway.
Sunroom
You enter the cabin into the sunroom, a small, inviting space with a seating area and foosball table, great for evening entertainment.
Kitchen & living area
As we walked into the main living area, we were pleasantly surprised by the large open plan space with its wooden-panel walls and vaulted ceiling. Our eyes were drawn to the expansive wall of windows that offered a panoramic view of the garden outside and allowed an abundance of natural light into the space. An L-shaped couch, located directly in front of the windows, is the perfect spot to relax and admire the scenery. In the corner, a wood stove promised cosy evenings spent gathered around the fireplace.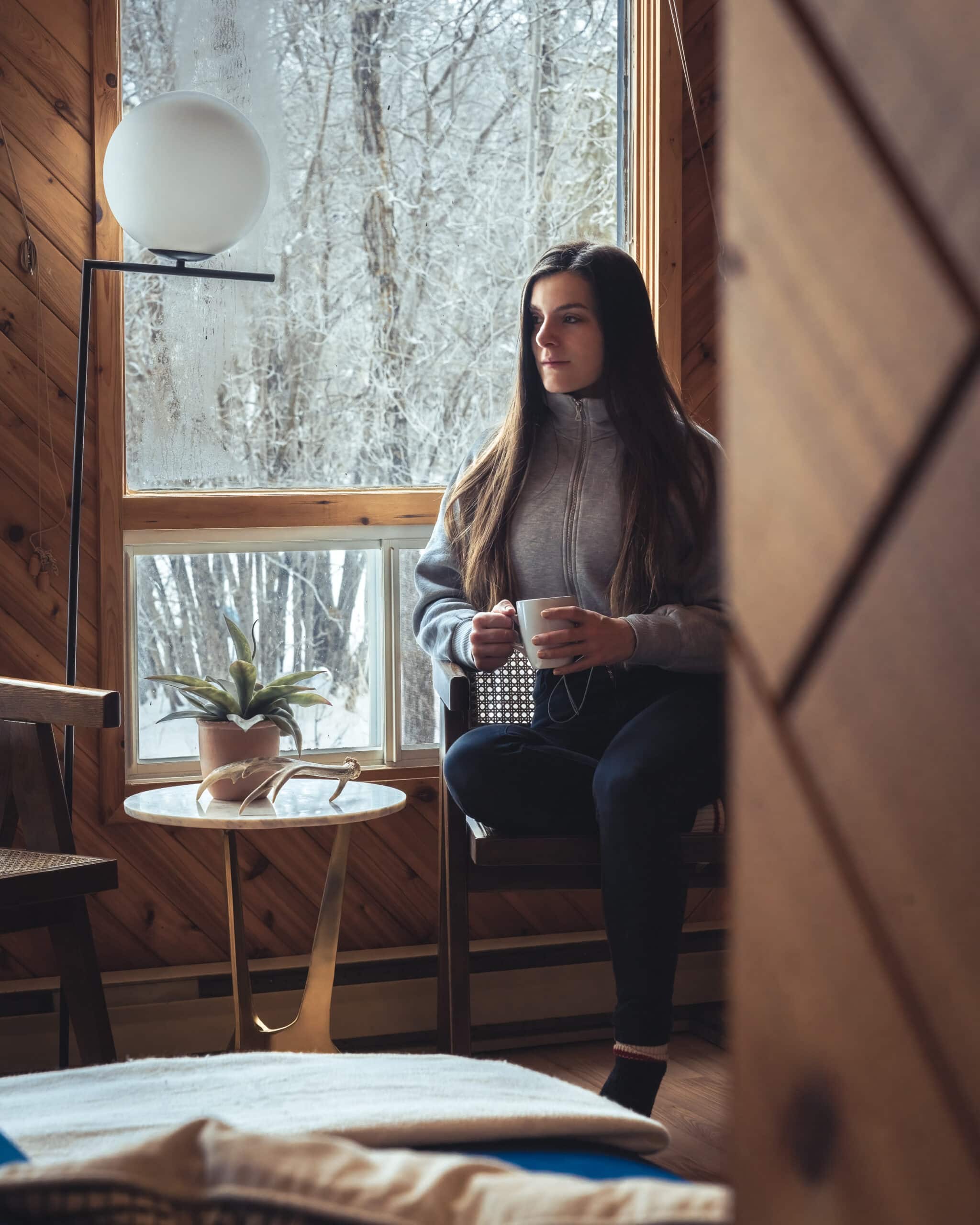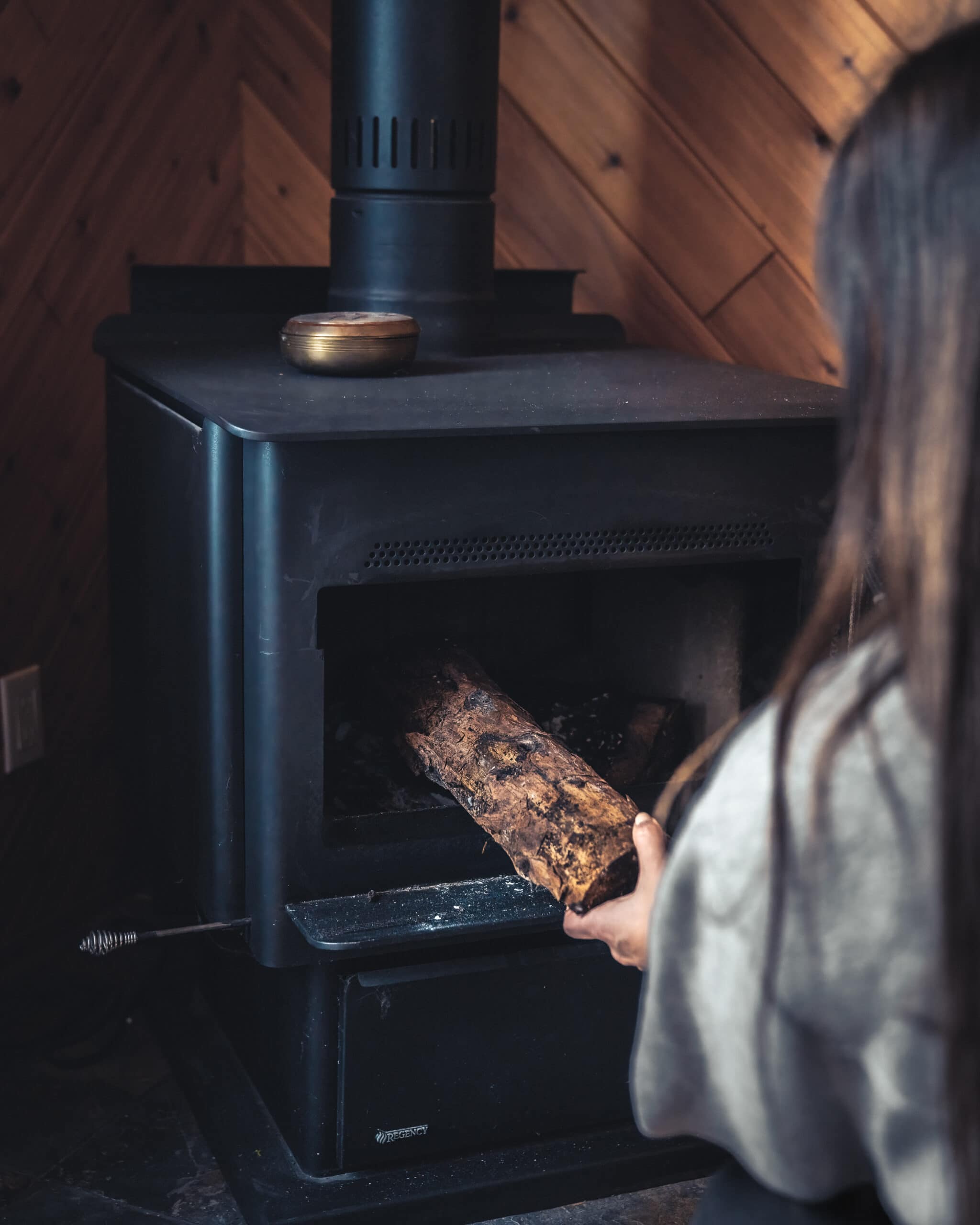 The kitchen is fully equipped with all the modern amenities we needed to whip up delicious meals during our stay including a refrigerator, freezer, microwave, oven, and dishwasher. We loved the large dining table, which provided ample space for us to enjoy our dinners. The kitchen island, with its convenient layout and functionality, quickly became our favorite spot to start our mornings with a warm cup of coffee and a tasty breakfast.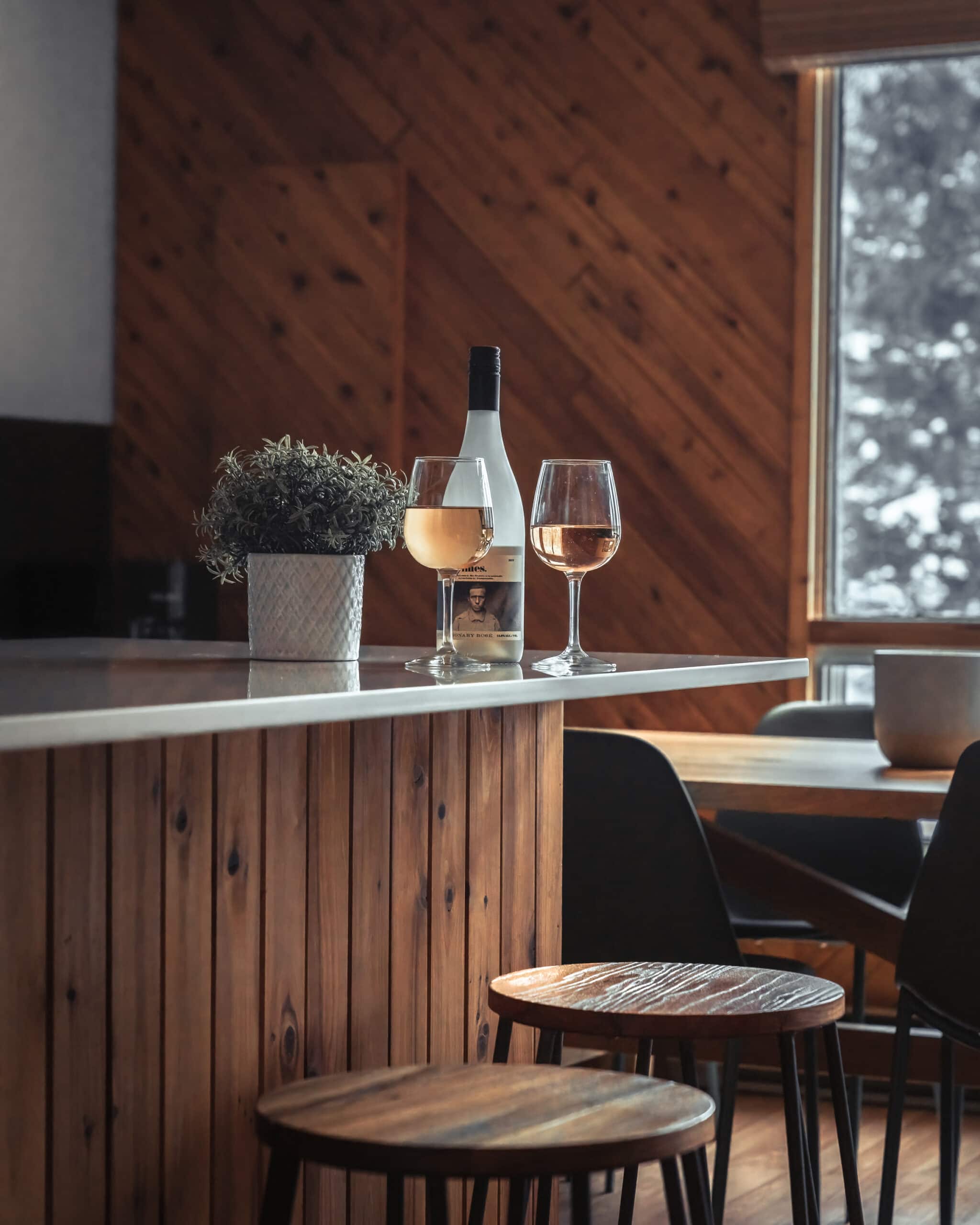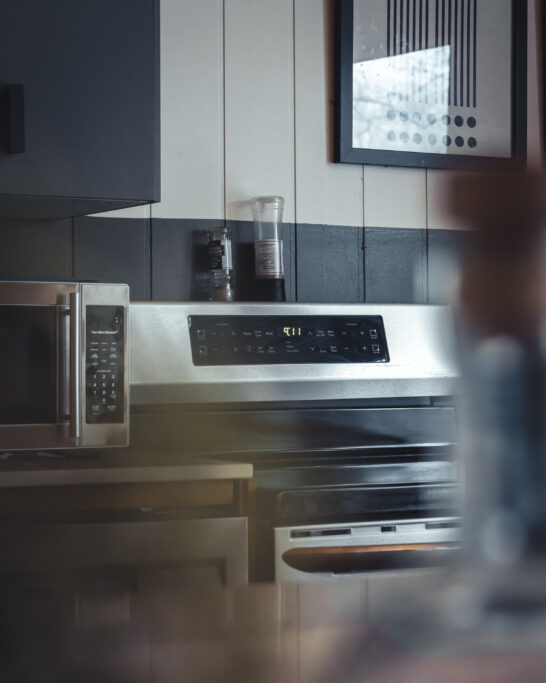 Bedrooms
There are three spacious bedrooms along the hallway just off the kitchen. Two of the rooms boast comfortable queen-size beds, while the third room features a queen-size bunk bed, great for the little ones. This cabin is the ideal size for a large family or group of friends to enjoy together.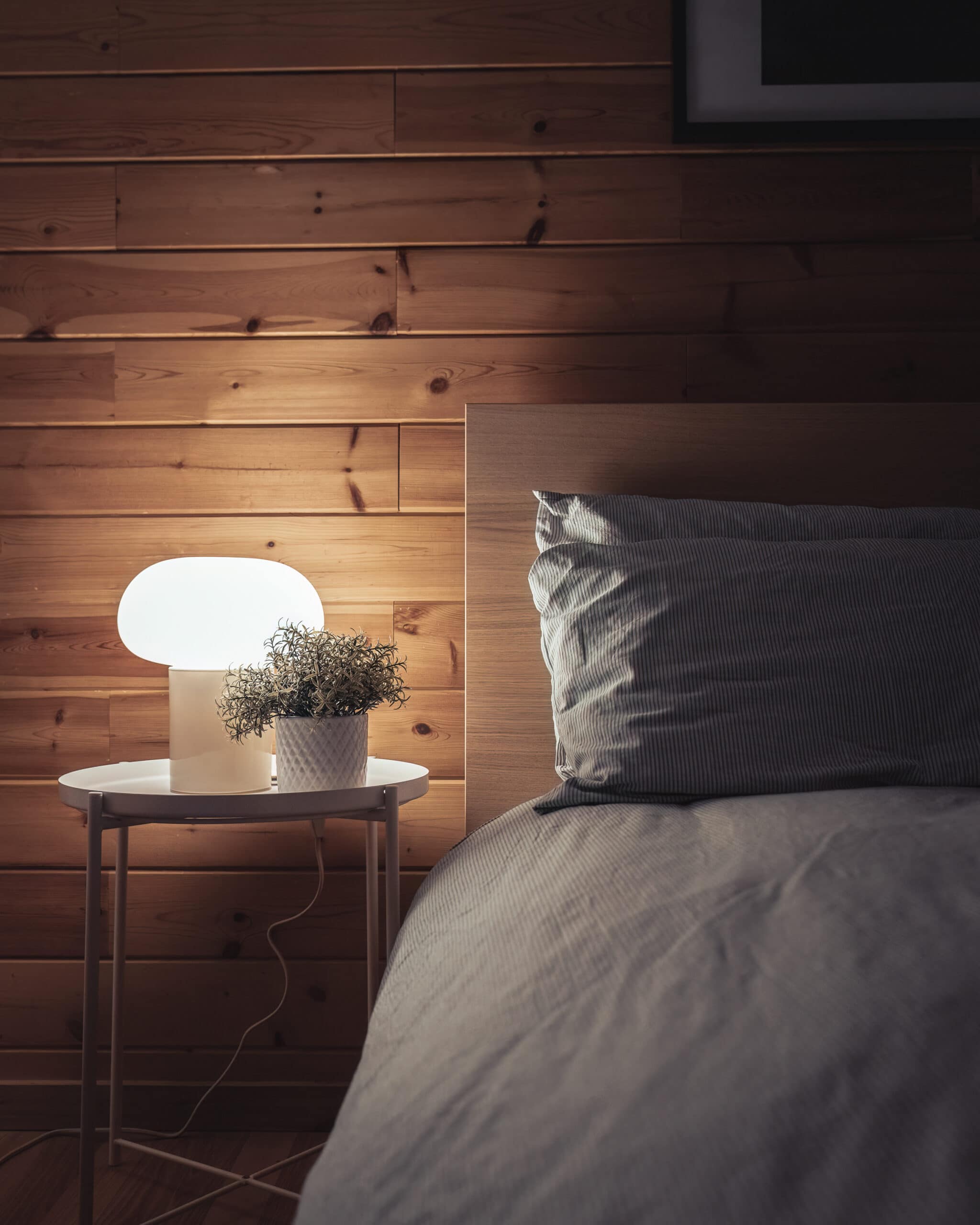 The bedrooms were spacious enough for us to move around and store our luggage, yet intimate enough to retain the cabin's charming character. Each room features a wardrobe for storing and hanging clothing. The bedding and extra pillows and blankets ensured a comfortable night's sleep for both of us.
Bathroom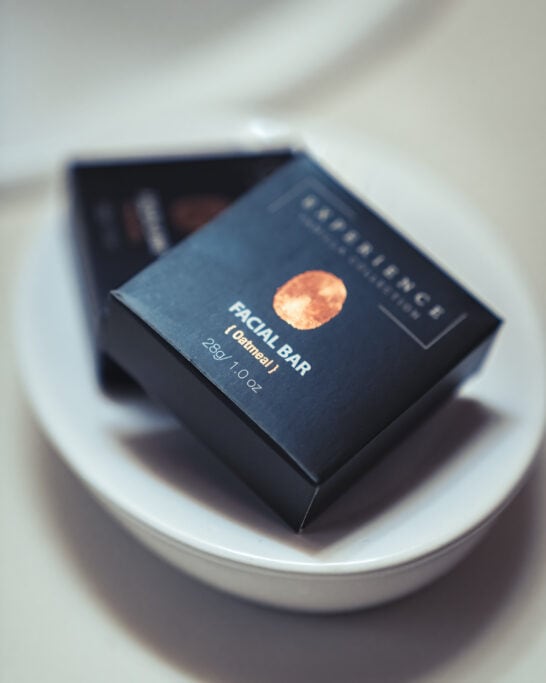 There's one full bathroom located opposite the master bedroom. Though relatively small, it was sufficient for our needs, with every convenience thoughtfully provided. The bathroom is equipped with plush towels, hand soap, and shampoo for guests to use, making us feel right at home. The space is efficiently designed, making it easy for us to get ready in the morning and get on with our day.
Garden
The garden was blanketed with snow during our stay, but in summer it's the perfect place to entertain and BBQ, with plenty of seating to enjoy a meal and drinks on a sunny day.
Final thoughts
The winter cabin getaway was exactly what we needed. The cabin itself is cosy and inviting, with a warm fireplace and comfortable furnishings that made it an ideal setting to relax and unwind. Surrounded by the natural beauty of the winter landscape, it was easy to forget the stresses of everyday life and simply enjoy the present moment.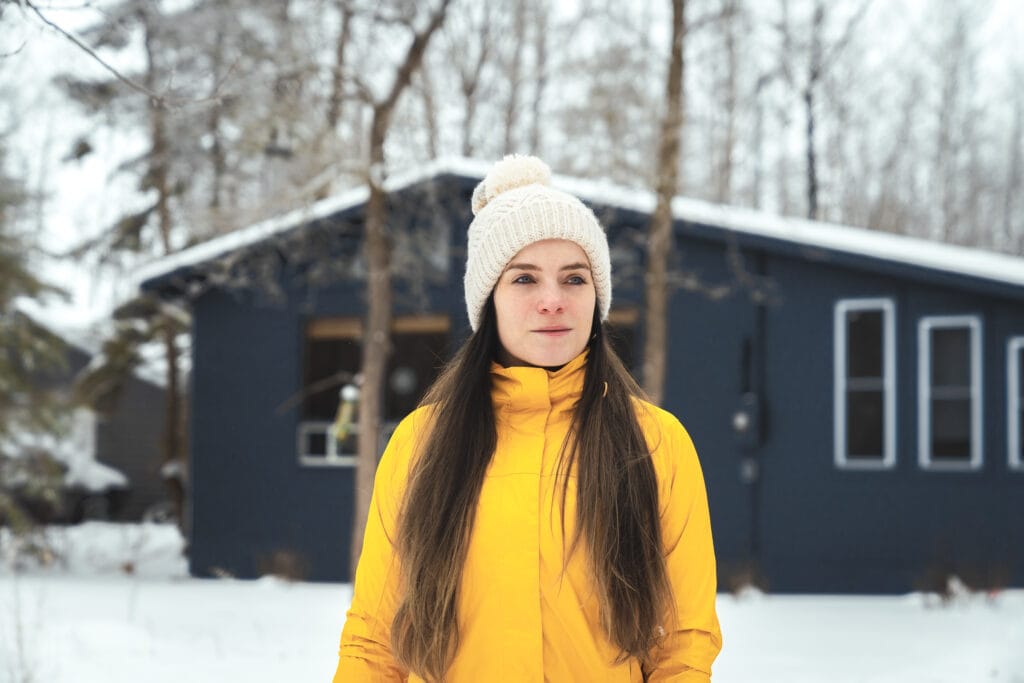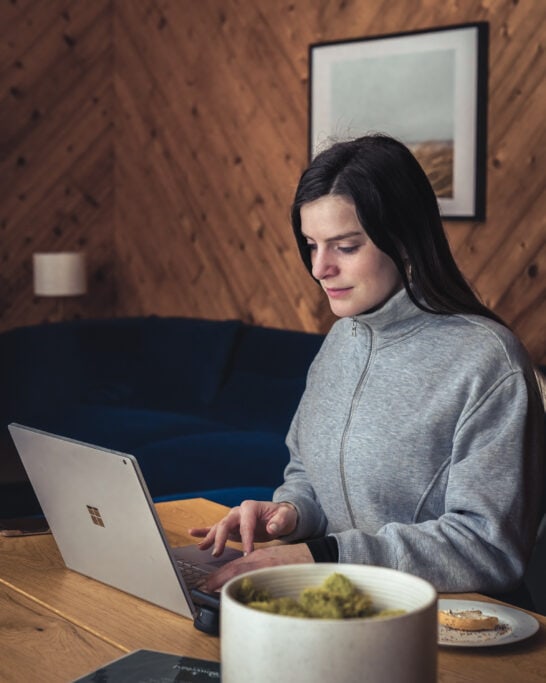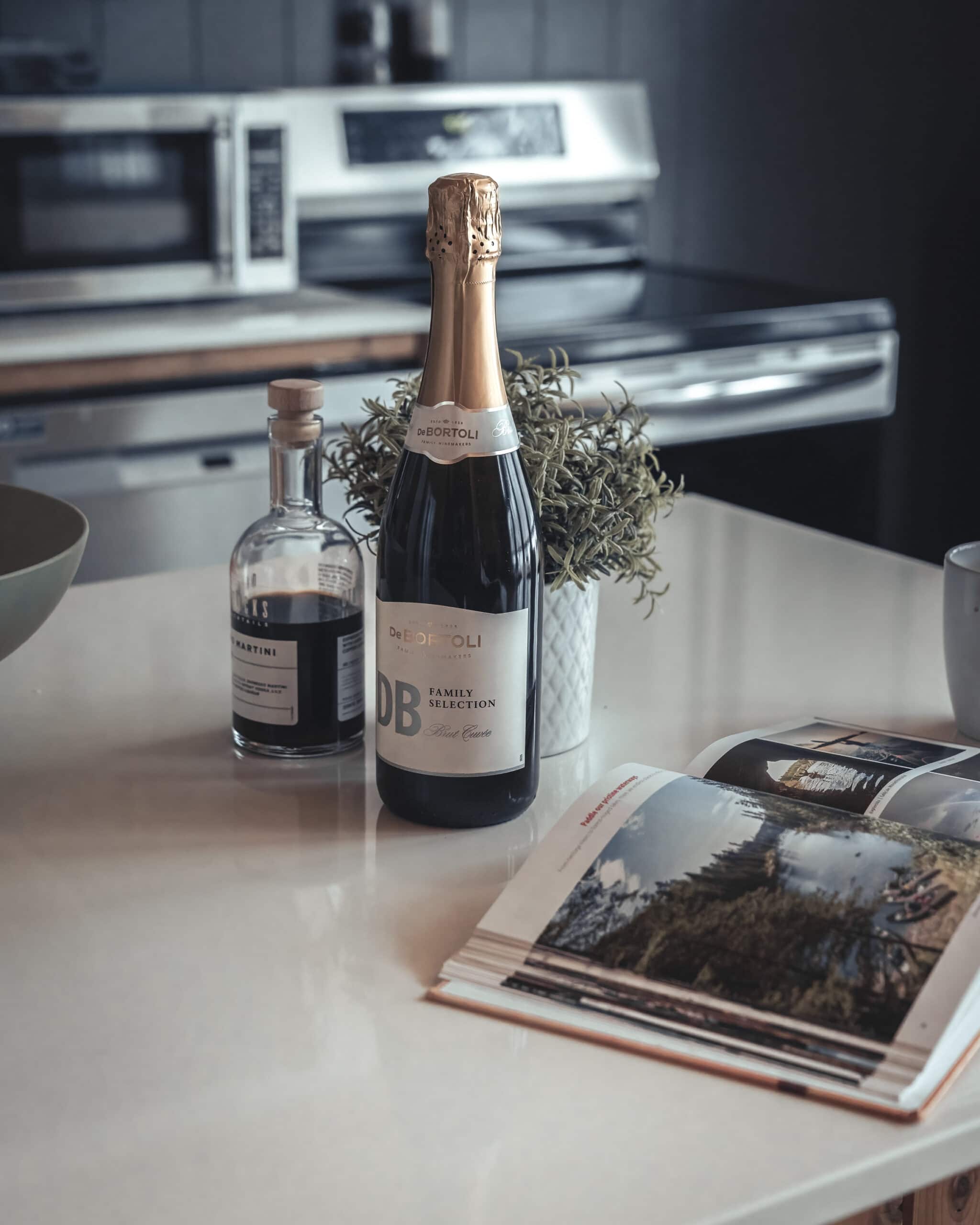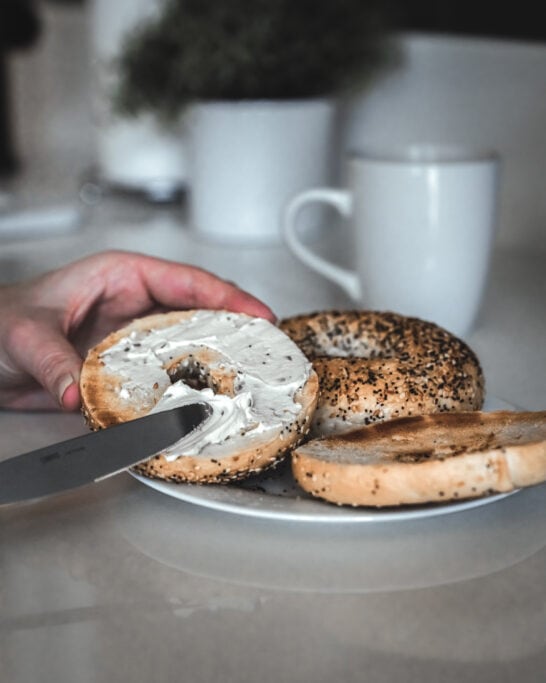 Things to do in Gimli
Being located on the shores of Lake Winnipeg, Gimli boasts unique activities to enjoy. The town is known for its beautiful beaches and marina, and in the winter, the lake freezes over, providing opportunities for ice fishing, skating and snowmobiling.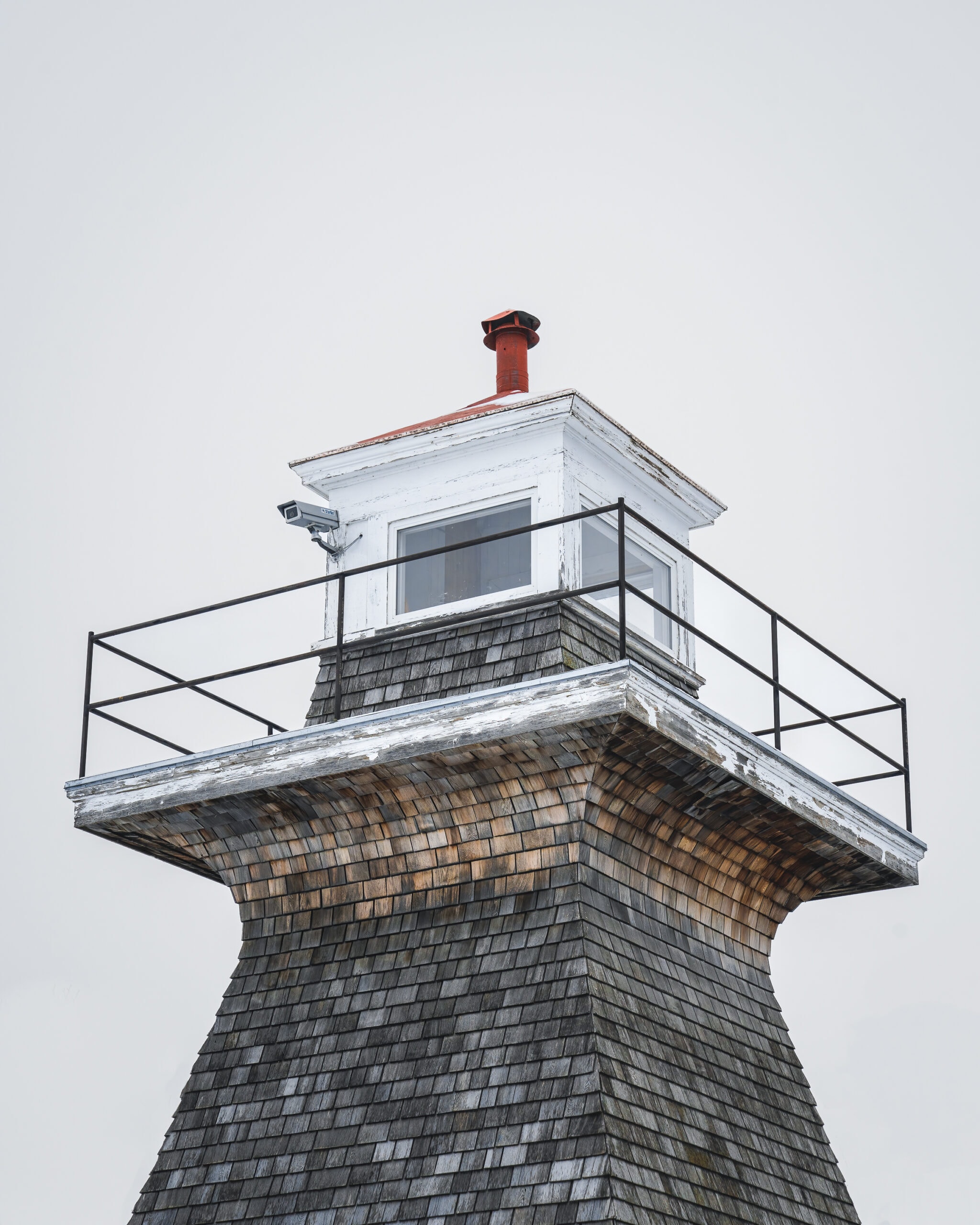 Visit the New Iceland Heritage Museum
Learn about the history of the Icelandic settlers in Gimli. The museum is home to a variety of exhibits, artifacts, and interactive displays that tell the story of the town's Icelandic heritage and the lives of the early settlers.
Take a walk on the Gimli Boardwalk
The boardwalk stretches along the shore of Lake Winnipeg and offers beautiful views of the lake. Take a leisurely stroll, have a picnic or watch the sunset from this picturesque spot.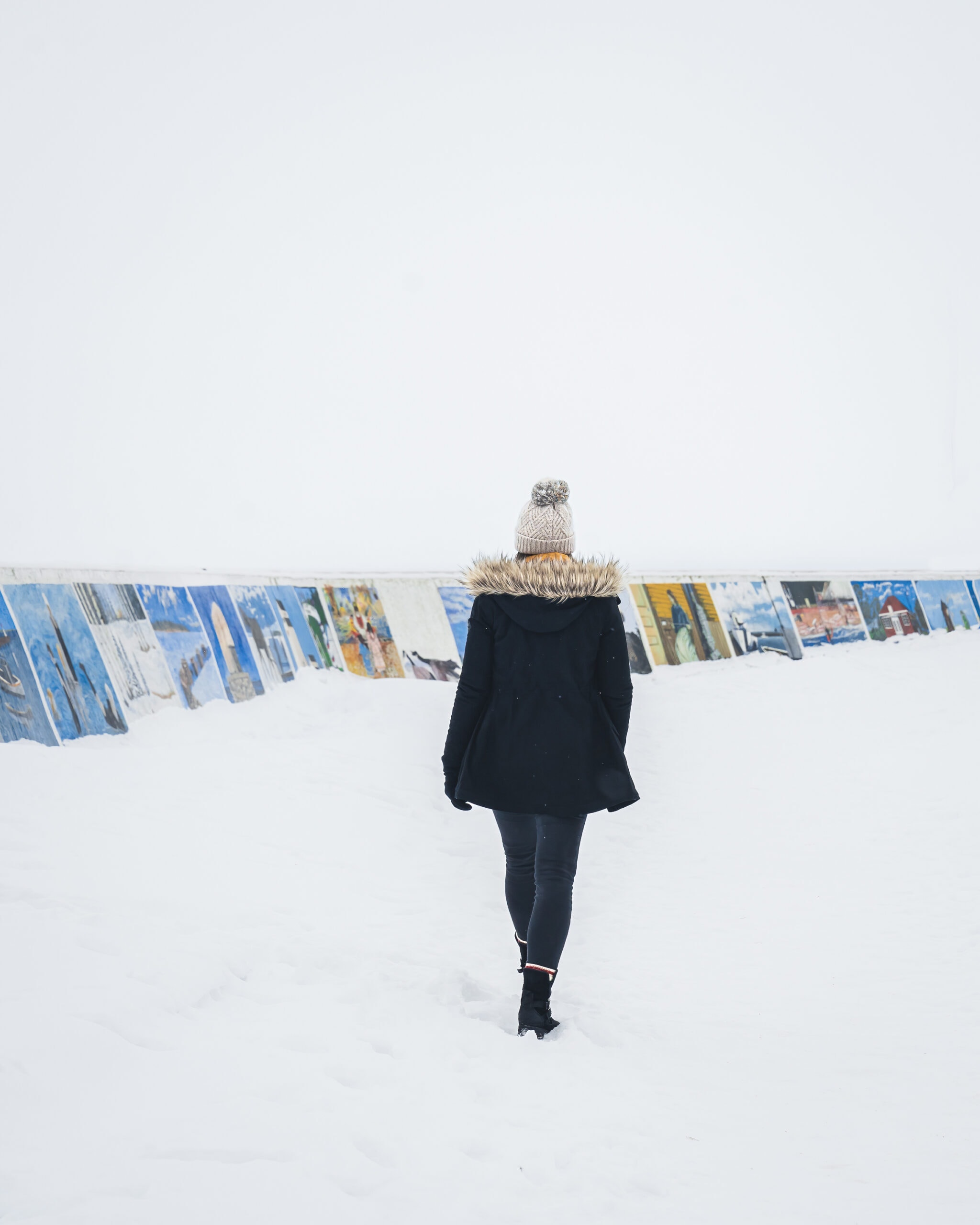 Go fishing on Lake Winnipeg
The lake is an excellent destination for fishing, being home to various fish species, including walleye, pike, and whitefish, and is a popular destination for anglers year-round.
Enjoy a beach day at Gimli's sandy waterfront.
The beach is a hotspot for swimming, sunbathing, and beach activities in the summer months.
Visit the Viking statue in Gimli
The Viking Statue is a tribute to the town's Icelandic heritage and represents the large Icelandic community in the area.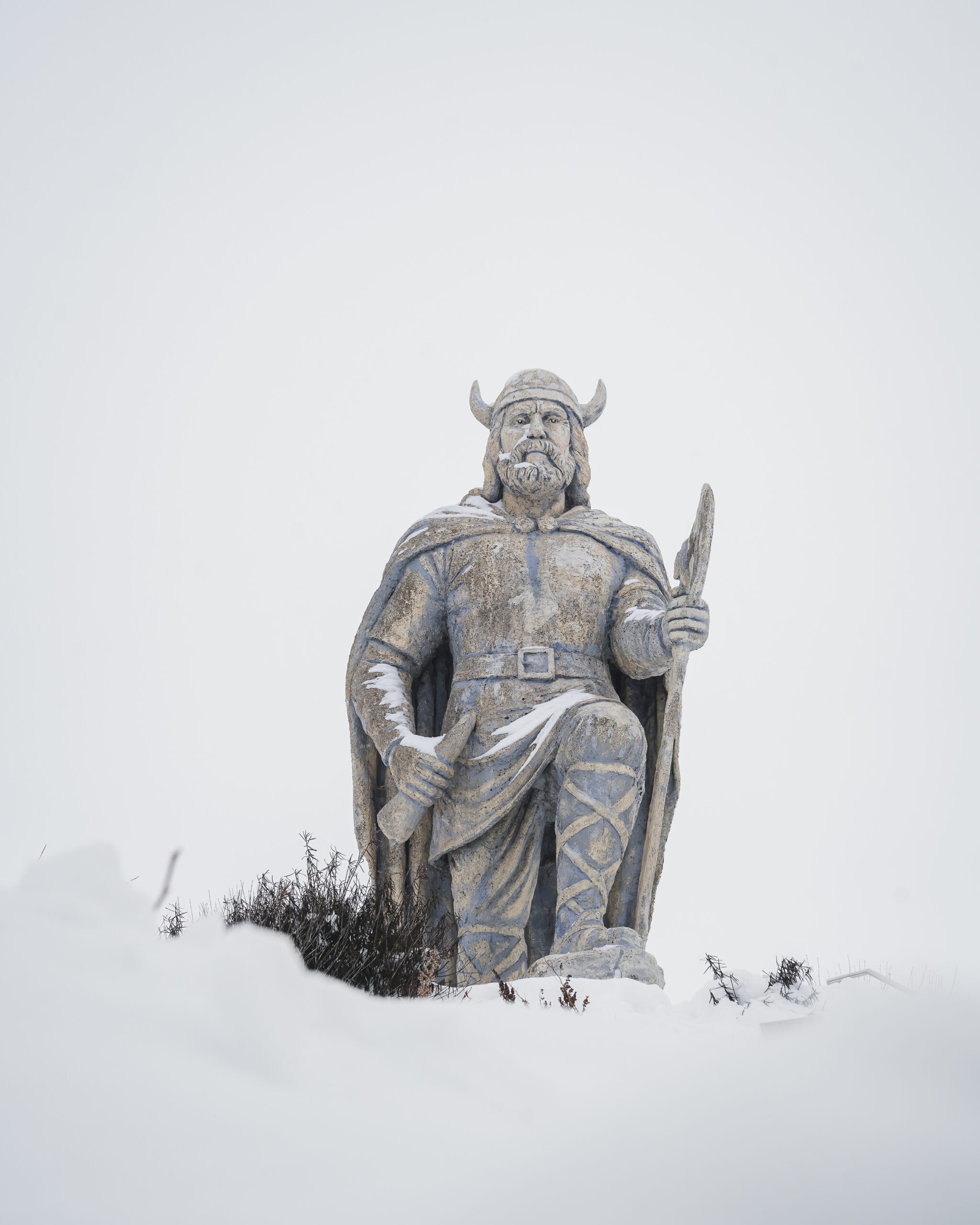 Attend Islendingadagurinn
The Icelandic Festival of Manitoba, which takes place in Gimli every August, features traditional Icelandic music, food, and culture. Experience the town's Icelandic heritage through parades, reenactments, and tournaments.
Take part in unique winter activities
Such as ice fishing, ice skating, and snowmobiling on Lake Winnipeg, with several companies offering equipment rental and guided tours.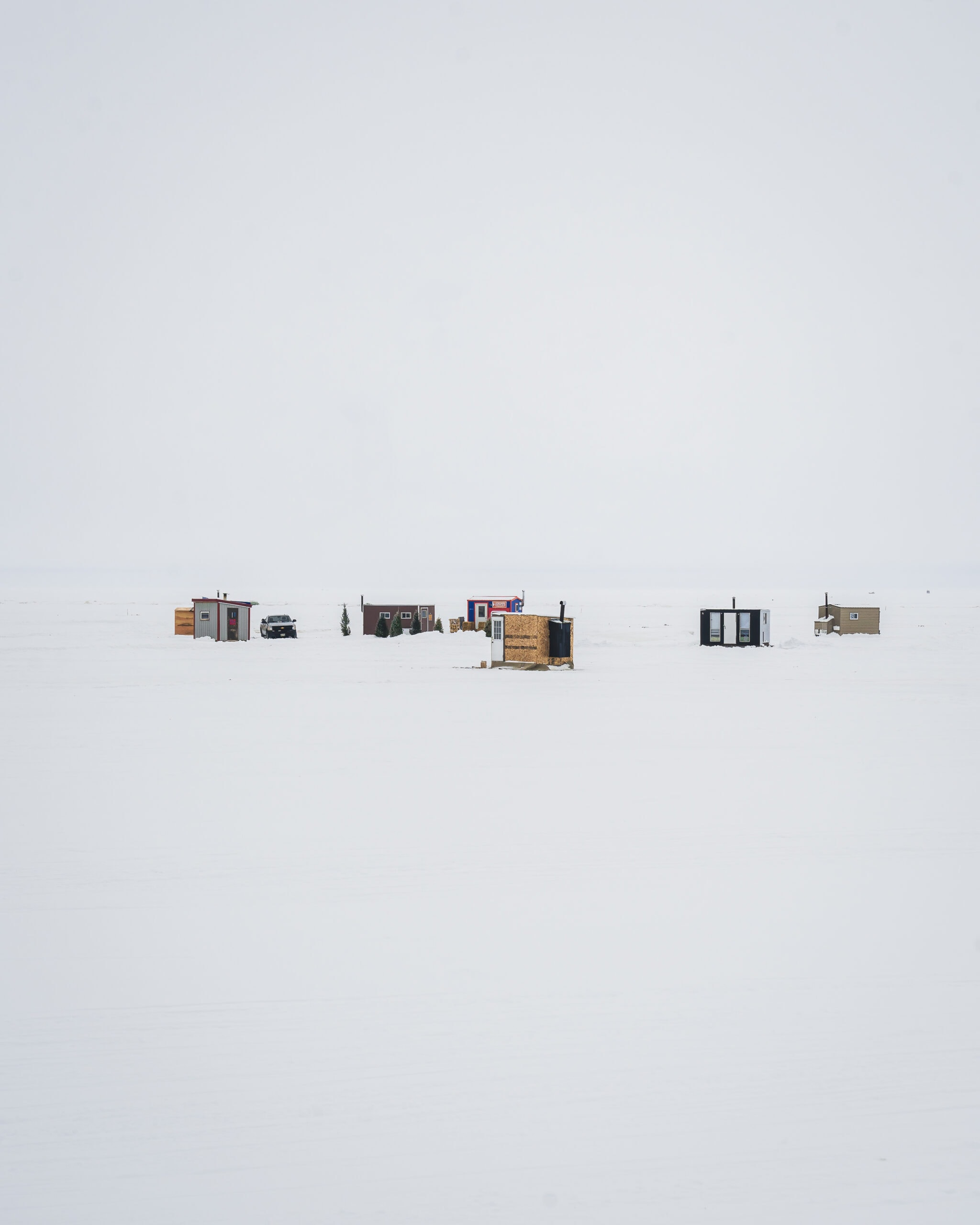 Go cross-country skiing at Camp Morden Provincial Park
North of Gimli, you'll find a variety of trails, groomed tracks and beautiful scenery.
Try some locally caught fish at one of Gimli's restaurants.
Gimli is known for its delicious fresh fish, especially pickerel caught daily in Lake Winnipeg. You can find many restaurants and pubs with a variety of dishes on the menu.
We were hosted by Bowerbird Stays on our trip. As always, all opinions are our own and you will always read our genuine thoughts and experiences.