Rushing River Provincial Park is a wonderful place for nature lovers. Located in Lake of the Woods, a world-renowned tourist destination in northwestern Ontario, the park is home to a variety of flora and fauna. As most Lake of the Woods can only be explored by boat, Rushing River Provincial Park offers the best of both worlds: You can explore a remote area in Lake of the Woods while still having access to modern amenities nearby.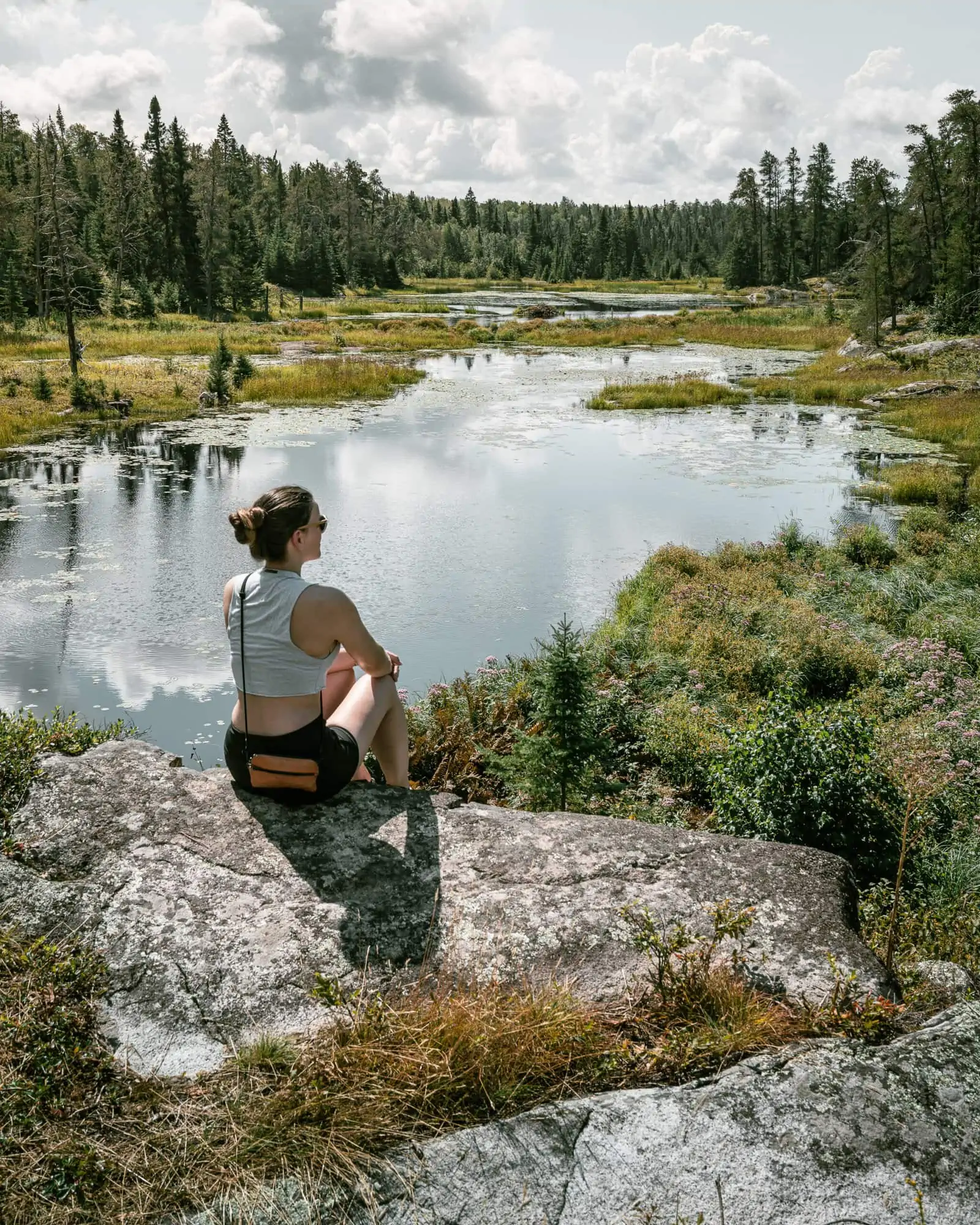 Discovering Rushing River Provincial Park was a highlight of our visit to Lake of the Woods. We loved exploring the park with its peaceful setting and abundance of diverse wildlife and lush greenery. We consider this scenic and predominantly quiet park perfect for anyone looking to get away from it all and connect with nature.
In this guide, we've shared an overview of Rushing River Provincial Park, with all the information + inspiration to plan your visit. 
How to get to Rushing River Provincial Park
→ From Kenora: The park is located less than 30 minutes southeast of Kenora off Highway 71.
→ From Winnipeg: Winnipeg is the closest major city to Rushing River Provincial Park. By car, the journey takes around two and a half hours. Most of your drive will be on Highway 1 until you enter Ontario. Just outside Kenora, the main city in Lake of the Woods, turn right onto Highway 71, and after ten minutes you'll reach Rushing River Provincial Park.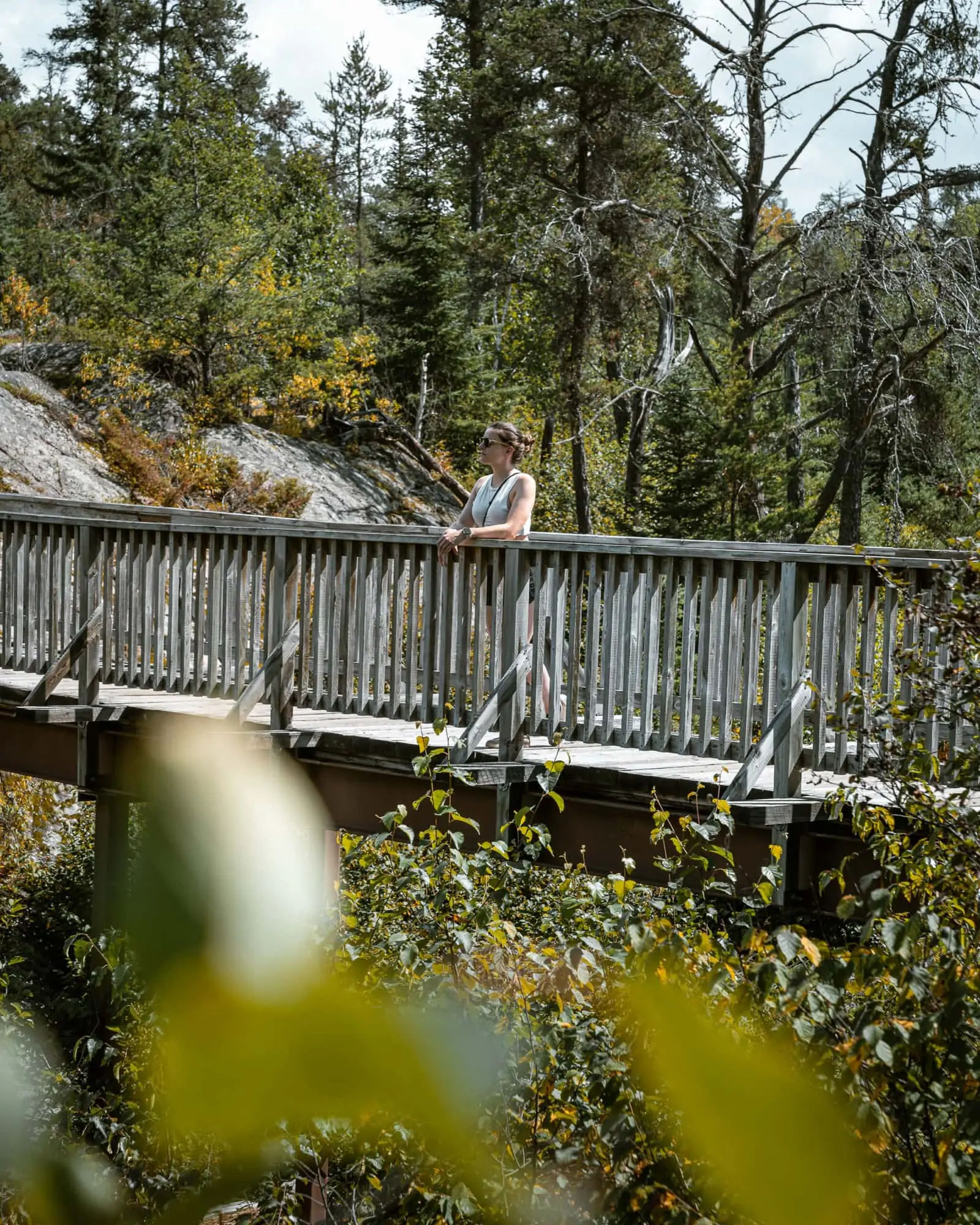 → From Toronto: If you're open to a road trip, you can drive from Toronto to Rushing River Provincial Park. This epic journey will take you 19h15min and bring you through stunning locales such as Sudbury and Thunder Bay. The quickest way from Toronto is to fly to Winnipeg and drive for 2.5h to the park.
→ From Thunder Bay: Starting in Thunder Bay, it's around a 5-hour 15-minute drive to the entrance of Rushing River Provincial Park. It's easy to visit the park as part of a road trip that takes you on a loop around Lake of the Woods. From Thunder Bay drive West on Highway 17, turn left onto Highway 71 where you'll find Rushing River Provincial Park, continue south until you reach the Canadian/US border and turn left onto Highway 11 which takes you back to Thunder Bay.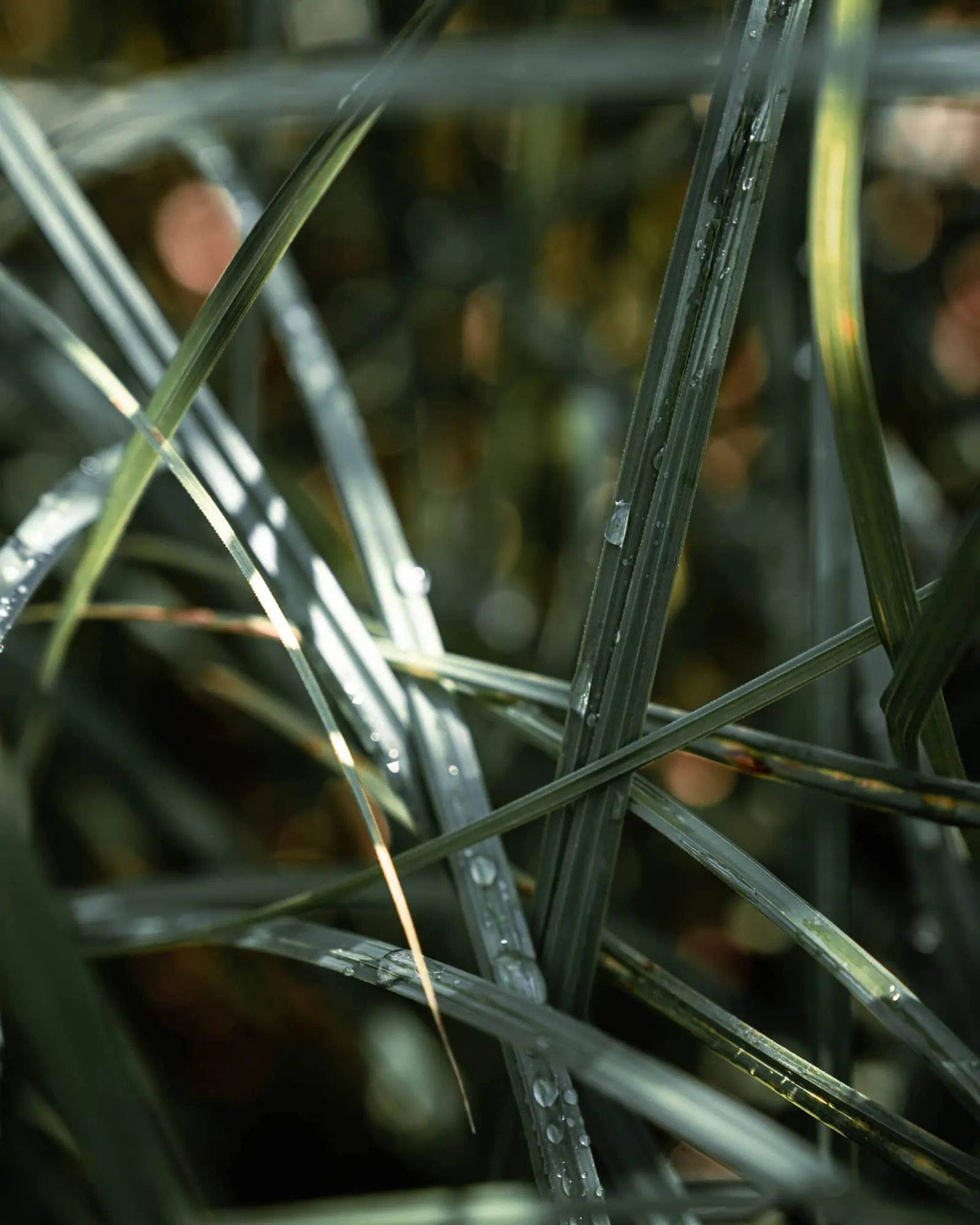 When to go
Summertime is the best, albeit the busiest, time to visit Rushing River Provincial Park. Around Lake of the Woods you'll find that restaurants, shops, lodges and cabins are open and you'll be able to take part in most summer activities inside the park.
In winter, the park is open for day use, but you'll find many amenities in and around the park and in Lake of the Woods closed. Make sure to plan your winter trip accordingly and bring groceries with you from Kenora when staying in a cabin.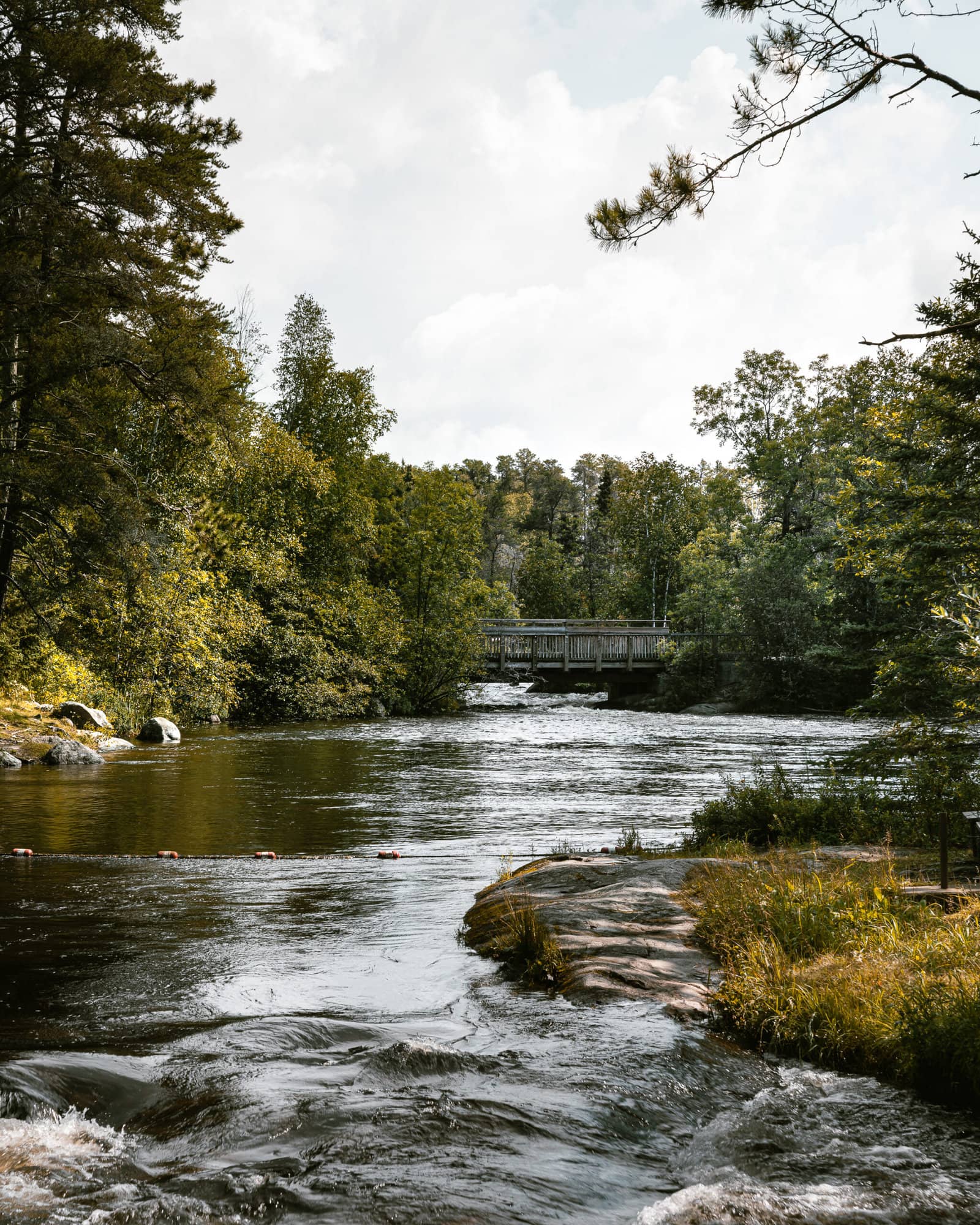 What to do in Rushing River Provincial Park
Have a picnic next to the Rushing River
The Rushing River is one of the key features of the park where a series of rapids cascades over glacier-carved rock into Blindfold Lake. Along the river, there are several picnic shelters where you can sit down and enjoy a lunch or barbecue. Be cautious when walking around the river as the rocks can be slippery. When we visited, the river was high and the water flow was fast so make sure to keep your distance.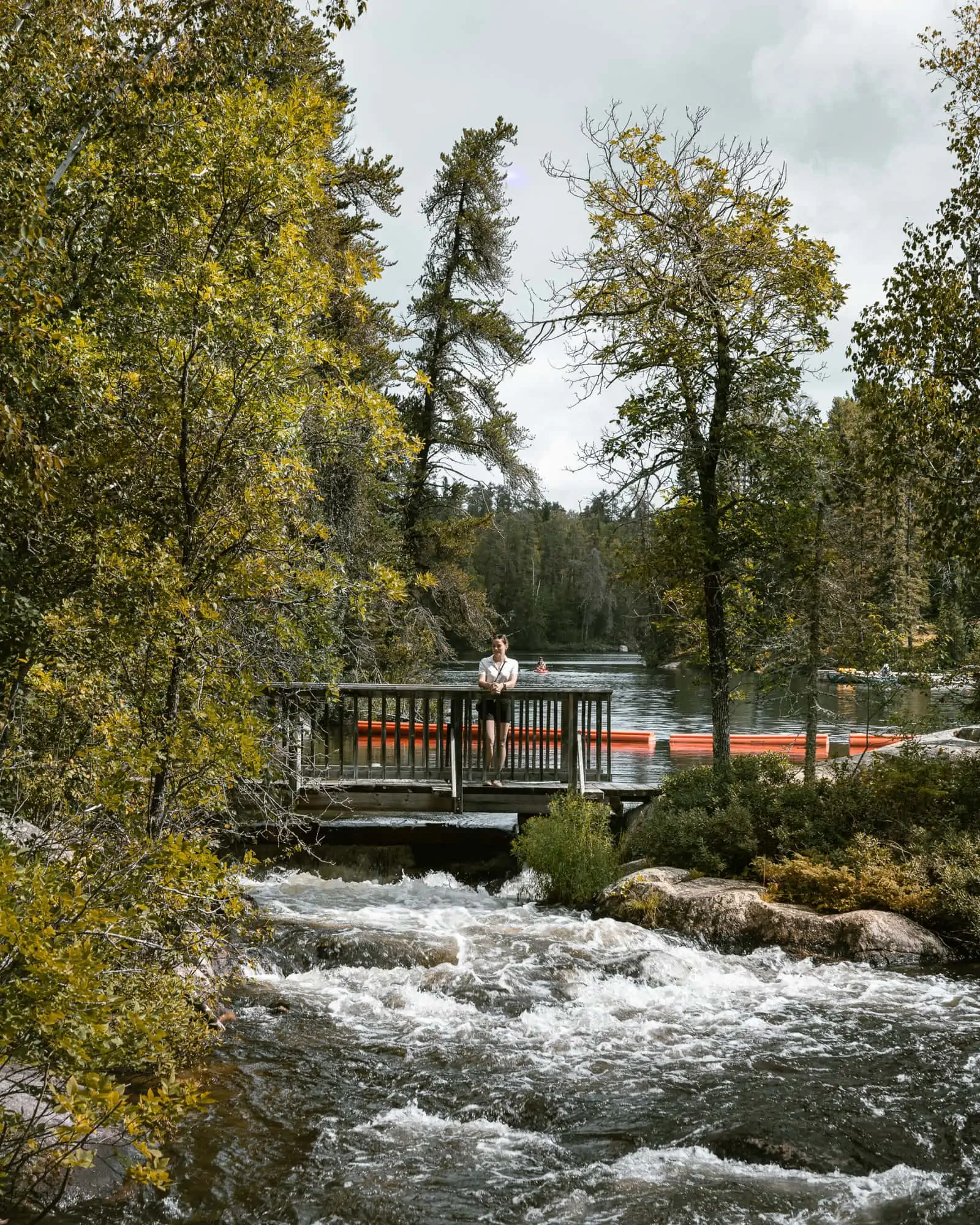 Paddle around Dogtooth Lake
The park is a hot-spot for kayaking, paddle boarding and canoeing. There are rentals available for those who want to enjoy the lake but don't have the necessary equipment. Kayaks, paddle boards and water bikes can be rented by the hour or day on-site or at the Rushing River General Store, located less than one kilometre south of the park.
Ontario's best multi-day canoe routes start from Rushing River and range from 32 kilometres to 103 kilometres. If you're up for an adventure, see the section on canoe routes below for more info. 
Go for a swim
The four sand beaches at Rushing River provide excellent swimming areas, with shallow roped-off sections perfect for children. Main beach, near the entrance, is popular with campers and day visitors alike. Venture a little further down the park and you'll find more secluded beaches for a quiet swim. Do note there is no visitor parking at the other beaches.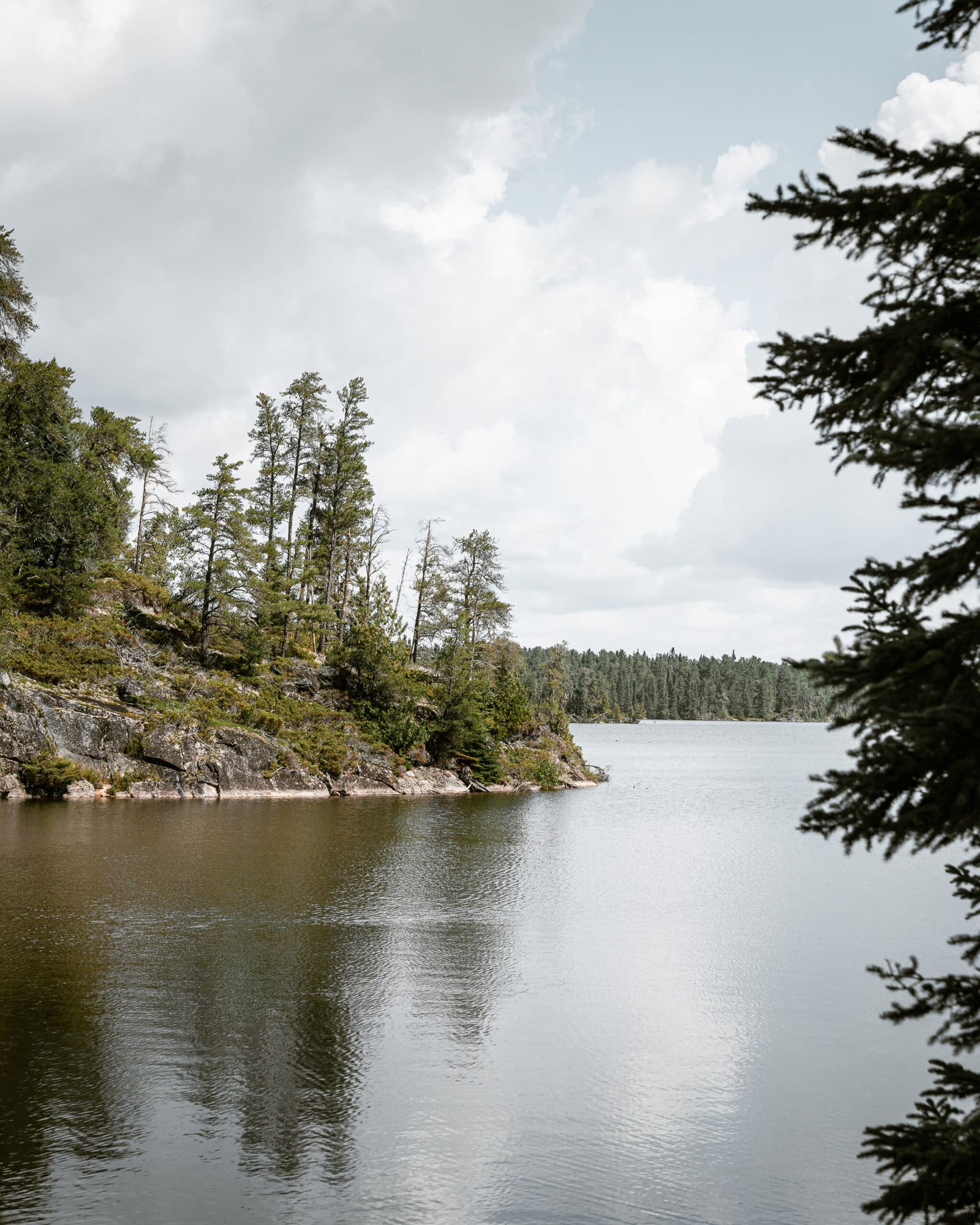 Try your luck at fishing
Rushing River is home to numerous fish species, including walleye and pike. Dogtooth Lake is a popular destination for fishing enthusiasts, who can purchase fishing licences from the General Store just outside the park.
Launch your boat
There are two ramps on either side of the park for launching and docking boats. For public safety and the protection of fragile shorelines, boaters are reminded that the channel is a no-wake zone.
Join the Discovery Program
Come explore the wonders of nature with park staff at Discovery Drop-ins taking place at the park during July and August. Use the equipment and materials provided to observe plants and animals. To find out more, check the park's weekly calendar of events.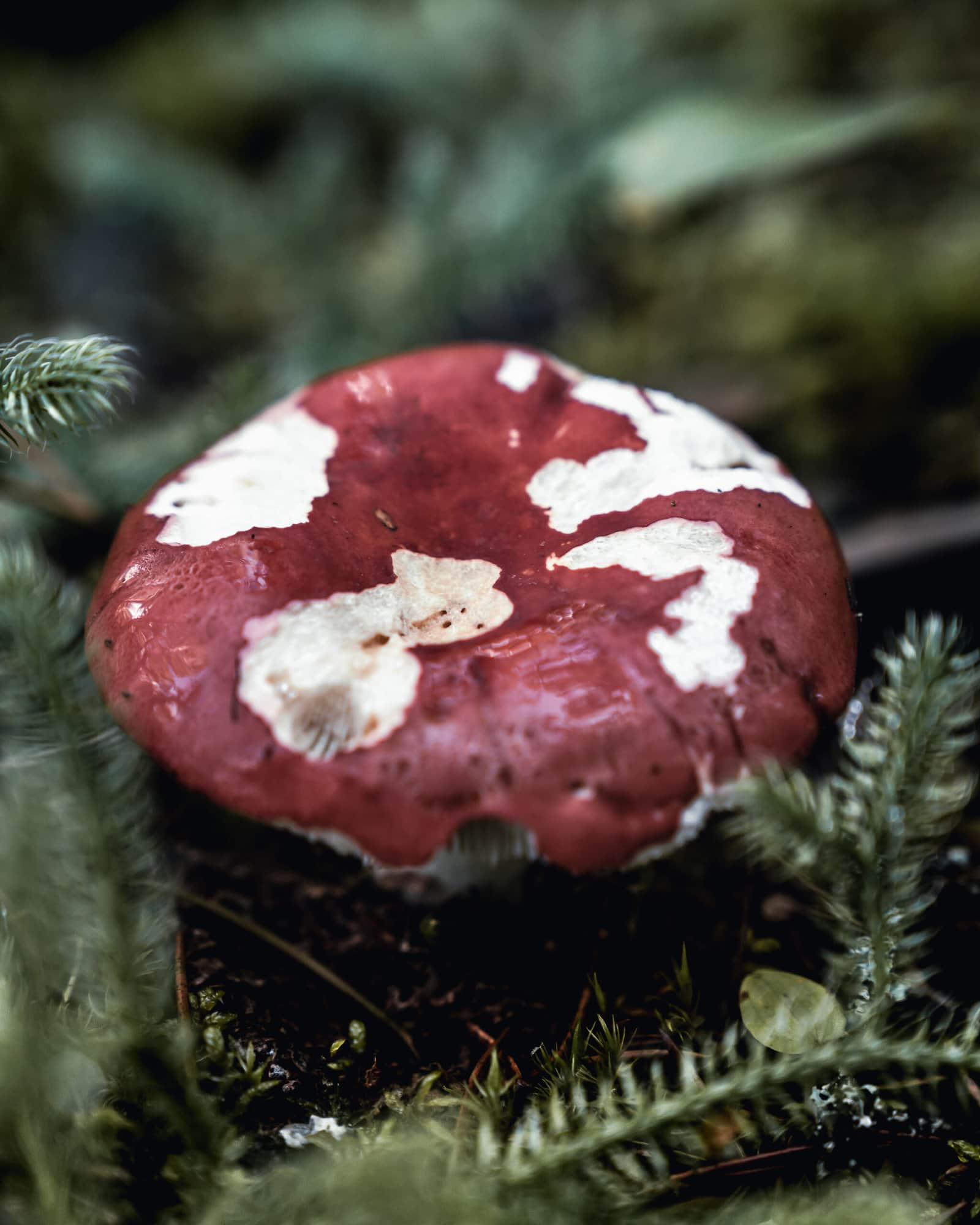 Hiking
Four nature trails wind through the park, providing excellent hiking and wildlife viewing opportunities. The trails are also great spots for bird watchers to observe a variety of songbirds, warblers, sparrows, vireos and other species.
Hike the Lower Rapids Trail
1.8km loop, rated easy
The trailhead is located at the park entrance where you'll find a small parking lot, a description and map of the trail. The trail follows what may have been an old portage around the rapids and waterfalls, with many boardwalks, stairs and viewpoints overlooking the river. Be on the lookout for waterfowl and hear the call of the Green Frog and the singing of the Red-eyed Vireo.
Hike the Beaver Pond Trail
1.1km loop, rated easy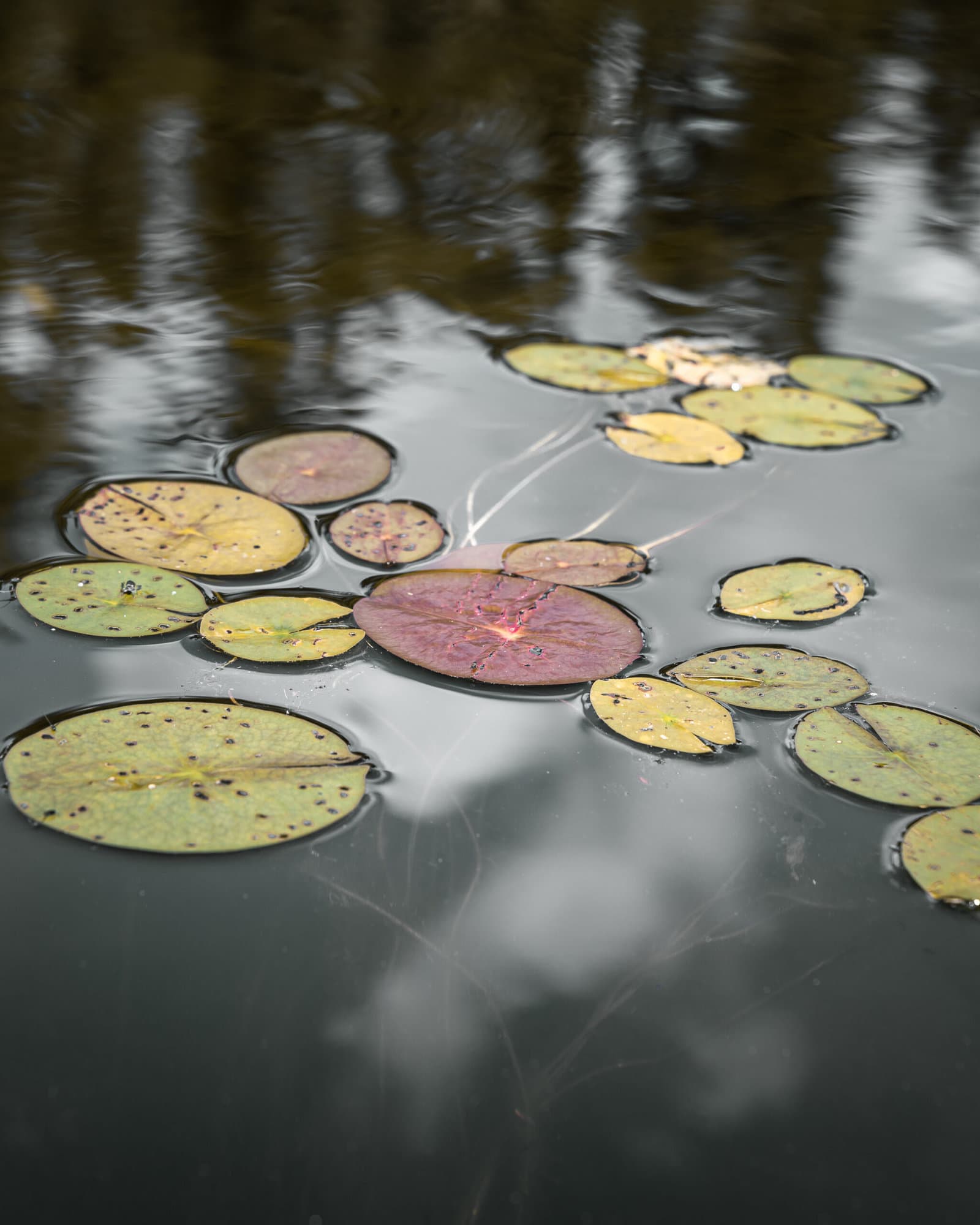 The trail starts in the forest next to campsite #102, leading to a small beaver pond filled with beautiful water lilies. Hiking this trail gives you a great opportunity to view the flora and fauna of the area: a variety of flowering plants and wildlife can be spotted on this trail, including forest songbirds and Great Blue Herons. Midway through the trail, you'll find the path branching off and connecting to the Granite Knoll Trail. Plan to hike here in the early morning or evening when birds and shoreline wildlife are most active.
Hike the Granite Knoll trail
2.7km loop, rated moderate
Granite Knoll Trail is one of our favourite hikes in all of Lake of the Woods. The trail winds along the shoreline of Dogtooth Lake, passing over millions of years' worth of geological history. It then swings back through open Jack Pine forest and over granite knolls. Hikers should wear hiking boots and bring insect repellent because there are some muddy sections and mosquitoes can be relentless during the summer months!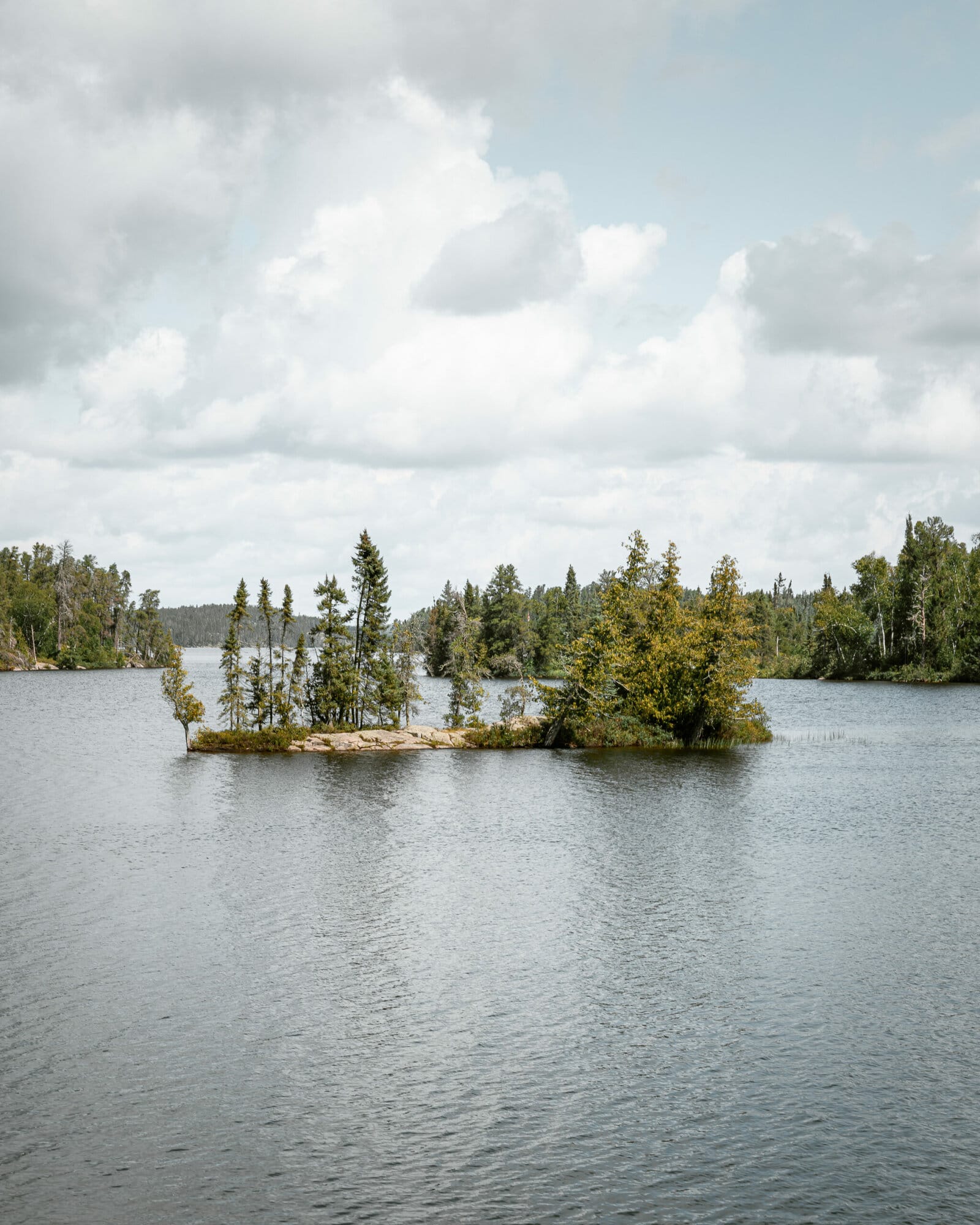 Hike the Pine Ridge Trail
500m out, easy
At the main day use area, take a short hike up the ridge towards the Park Office and exit. Look out over the campsites below as you walk amongst tall Red Pine trees.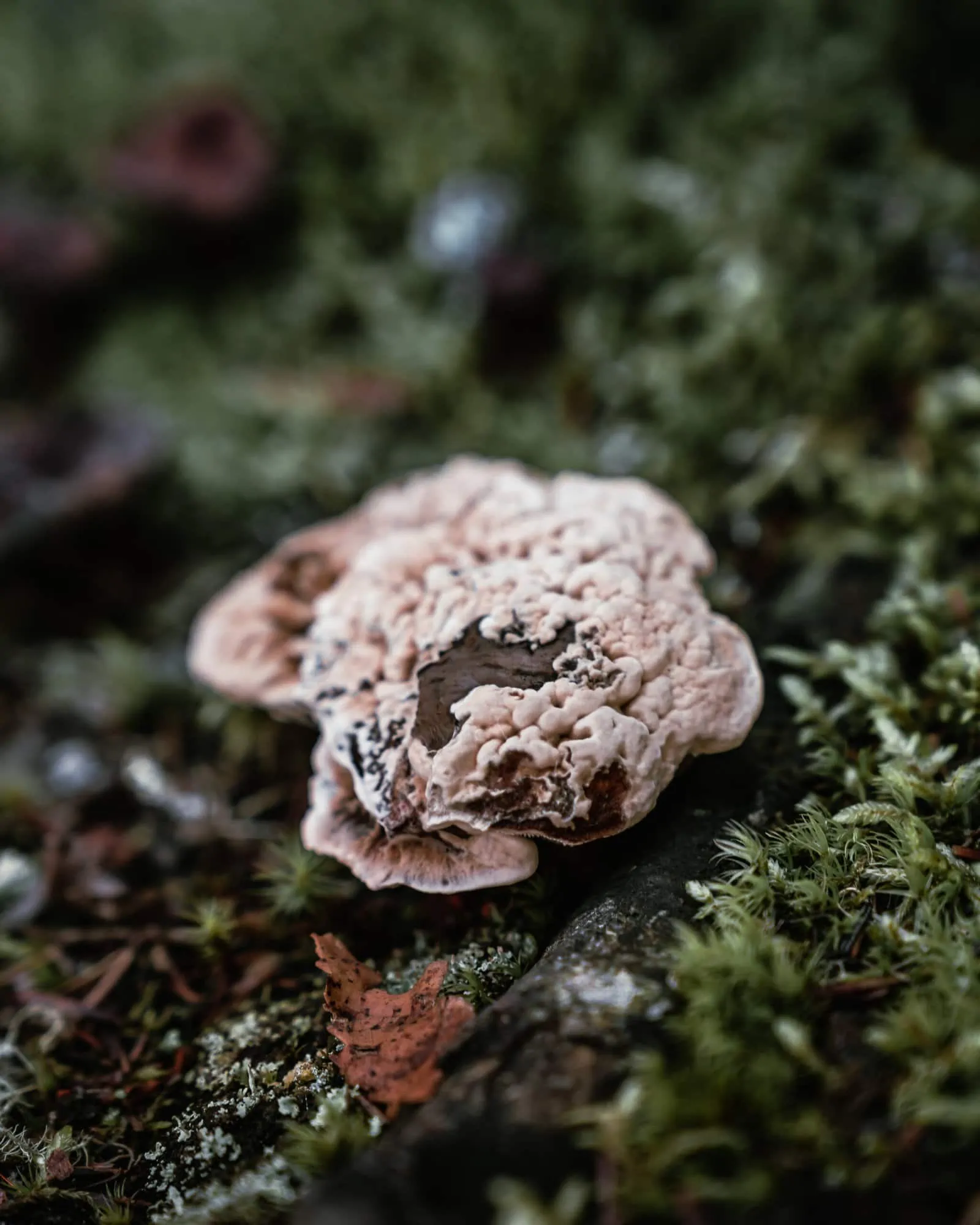 Winter activities
All of Rushing River's beauty is on display when the frozen river is covered in a blanket of snow. The parking lot next to the rapids is open, washroom facilities are available, and a picnic shelter will give you a place to enjoy a winter picnic. You can purchase permits for day use in Rushing River at the park's self-serve fee station.
Cross-country skiing
Eighteen kilometres of trails for skate and classic cross-country skiing offer something for beginners and experts alike. The beginner trails are wide and welcoming, while the expert trails will challenge even the most seasoned skier. You can view a map of the park's ski trails online.
Snowshoeing
Visitors to the park can enjoy hiking on foot or by snowshoeing. Snowshoers should be aware that there are no designated snowshoeing trails.
Where to stay
Campground
Rushing River offers 217 campsites, 75 of which have electrical service. Modern, well-maintained shower and washroom facilities are on-site and amenities like picnic areas and a playground make this the ideal family camping destination.
Chalet
You'll find this gem right next to Rushing River Provincial Park available to rent from spring until fall. The cabin features 3 bedrooms for up to 10 guests, high vaulted ceilings in the living room with large windows providing stunning views over the forest.
Bowerbird Beach Camp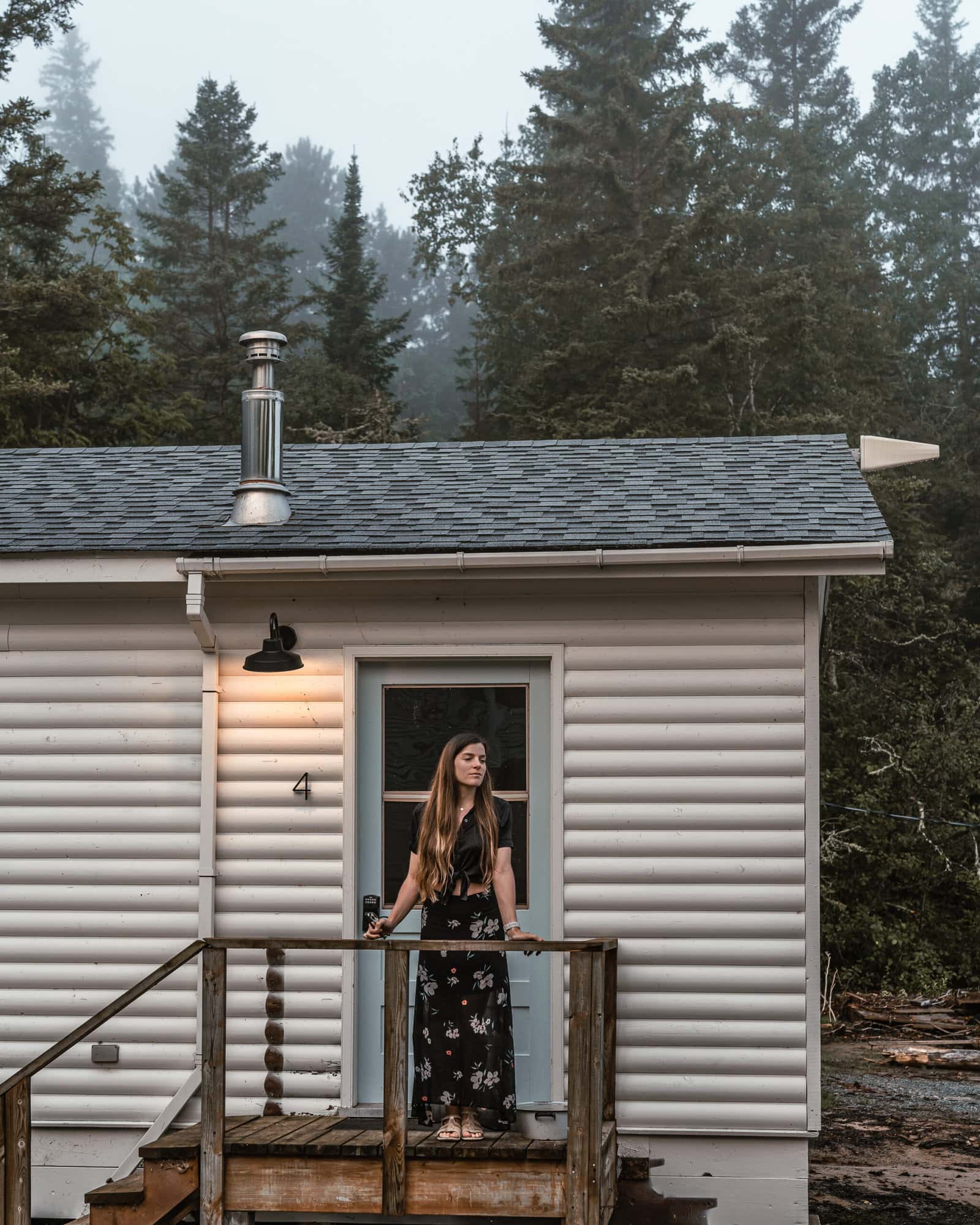 A little further south from the park is Bowerbird Beach Camp. You can choose between six recently renovated cabins right by the lake, tucked away in the forest providing you all the peace and quiet you need during a stay in Lake of the Woods.
Canoeing in the area
Eagle-Dogtooth Provincial Park
Rushing River is the gateway to several Eagle-Dogtooth Provincial Park's canoe routes. Eagle-Dogtooth Provincial Park is an important recreational waterway, linking Eagle Lake with nearby protected areas such as Winnange Lake and Rushing River. One of the easier routes is Dogtooth Lake canoe route: a three-day two-night trip around the lake.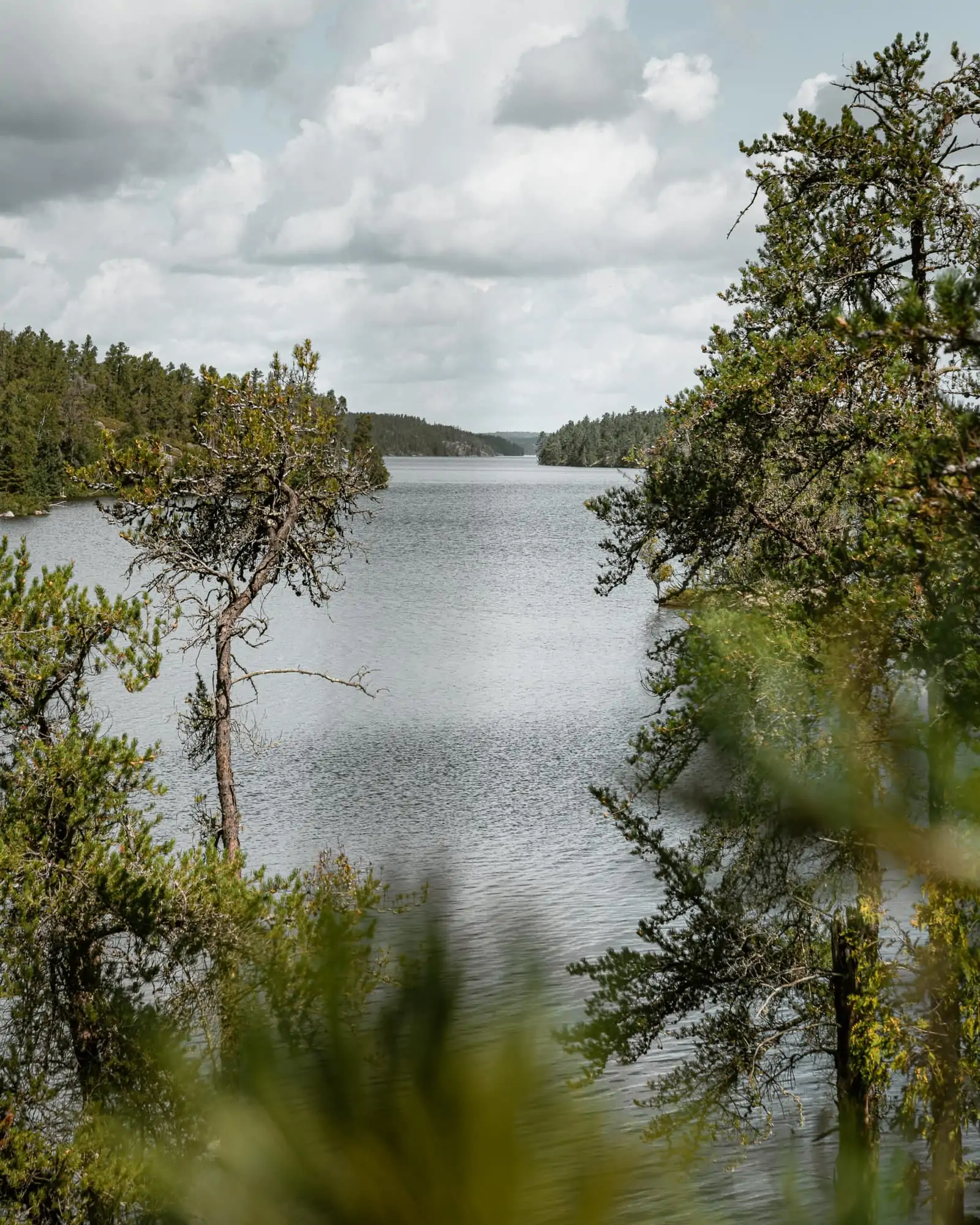 Contact the Rushing River Provincial Park at (807) 548-4351 for more information on the canoe routes. Detailed maps and lake charts are available and should be purchased prior to setting out. There are also many experienced guides locally who can help you plan your trip.
If you are keen to paddle one of the canoe routes but aren't sure where to begin, Green Adventures offers guided canoe tours for all levels.
Path of the Paddle
Rushing River is part of the 1200 km water route known as the Path of the Paddle on the Trans-Canada Trail. This route, used for millennia by Indigenous Peoples, starts in Thunder Bay and takes you on a scenic journey along Lake Superior, through Lake of the Woods and finishes at Whiteshell Provincial Park in Manitoba. Visit Path of the Paddle for more information about the route in the area.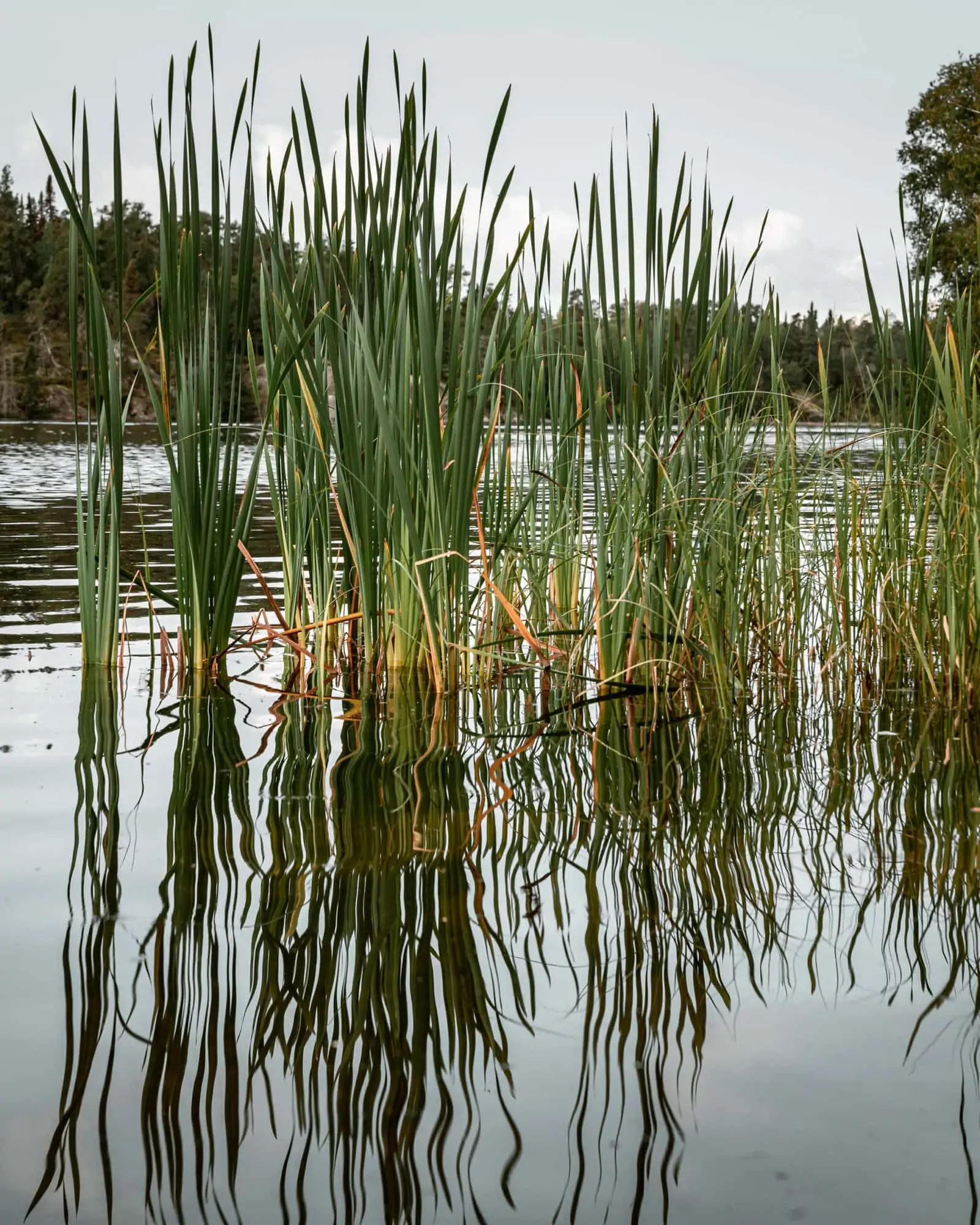 Practical tips for visiting Rushing River Provincial Park
Water levels can fluctuate based on rainfall. If there are hazardous flow conditions in Lake of the Woods, these will be posted here.
Rushing River Provincial Park is bear country. Make sure to be bear-aware when hiking and camping.
The weather might be fantastic in summer, but this also means mosquitoes are out in full force. Bring insect repellent with you, especially when hiking.