In the northwestern corner of Ontario, we found a place of escape, exploration and endless adventures. Over four days, we explored Lake of the Woods, with its myriad of islands, beaches and forests.
We hiked the granite knolls along rocky shorelines and paddled the calm waters where we spotted loons swimming in their natural habitat. Each night, after a day spent exploring this pristine wilderness, we returned to our cosy cabin, reminiscing of the day's adventures.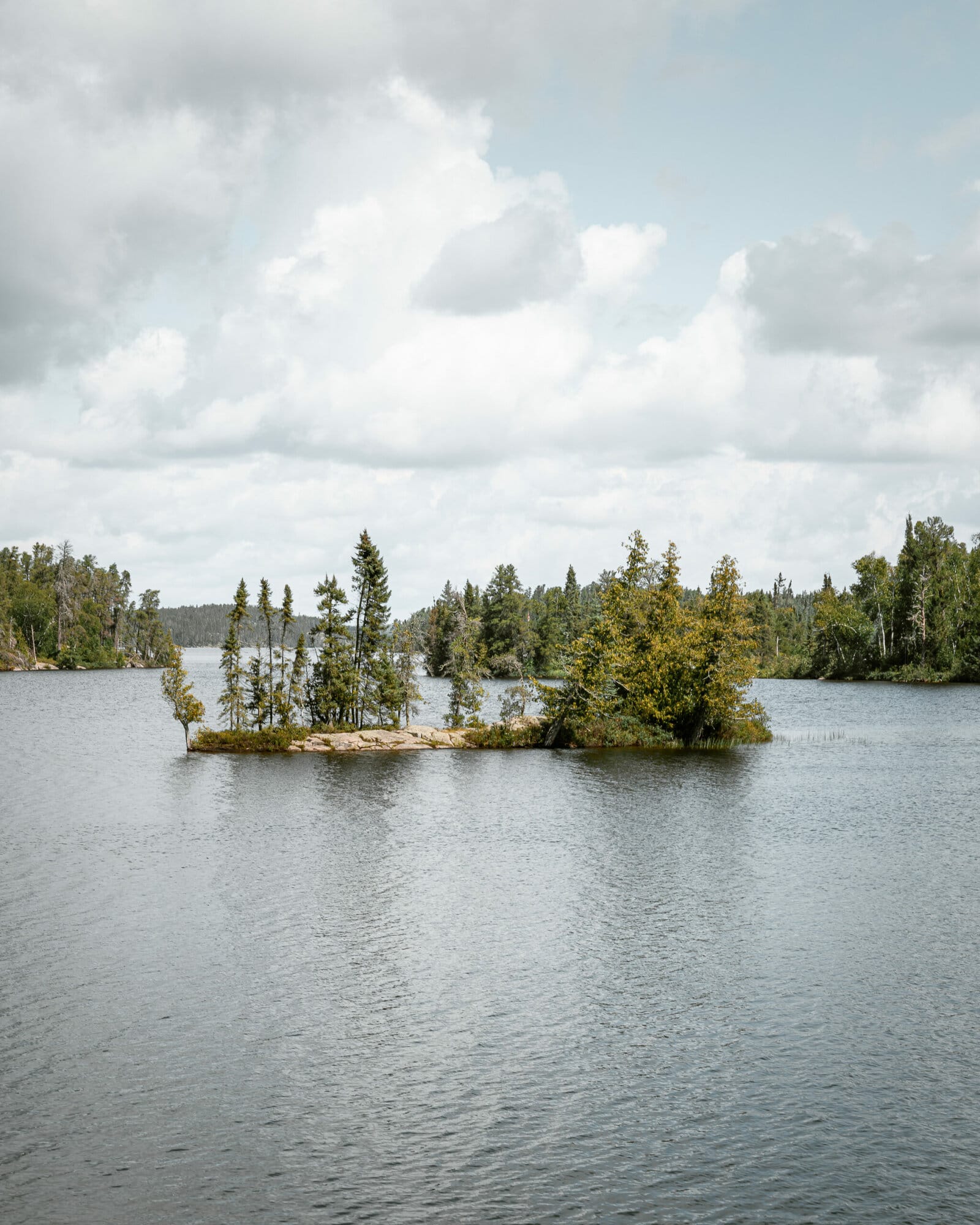 Lake of the Woods is rich with opportunities for outdoor enthusiasts. The area – 100km long and wide and dotted with over 14000 islands – is home to many pristine lakes and rivers where anglers can go fishing and paddlers can explore the wilderness by canoeing, kayaking or paddle boarding.
A variety of lodges offer fishing trips and family vacations, to both enjoy the wilderness and reconnect with nature. If you crave a truly remote experience, you can also stay at a cabin on one of the many islands, only accessible by boat.
To help you make the most of your visit to Lake of the Woods, in this guide, we share the best things to do, where to eat, and where to stay.
Get to know Lake of the Woods
Where is Lake of the Woods Located?
Lake of the Woods is the 36th largest lake in the world by area and lies on the US-Canadian border, located in the southeast of Manitoba, Northwest Ontario and north Minnesota. Most of the lake is in Ontario, with Highway 1 passing the northern side, making it easily accessible by car.
If driving is a little too far, the closest international airport is Winnipeg Airport (YWG), which is a 2-hour drive from Lake of the Woods.
What is Lake of the Woods famous for?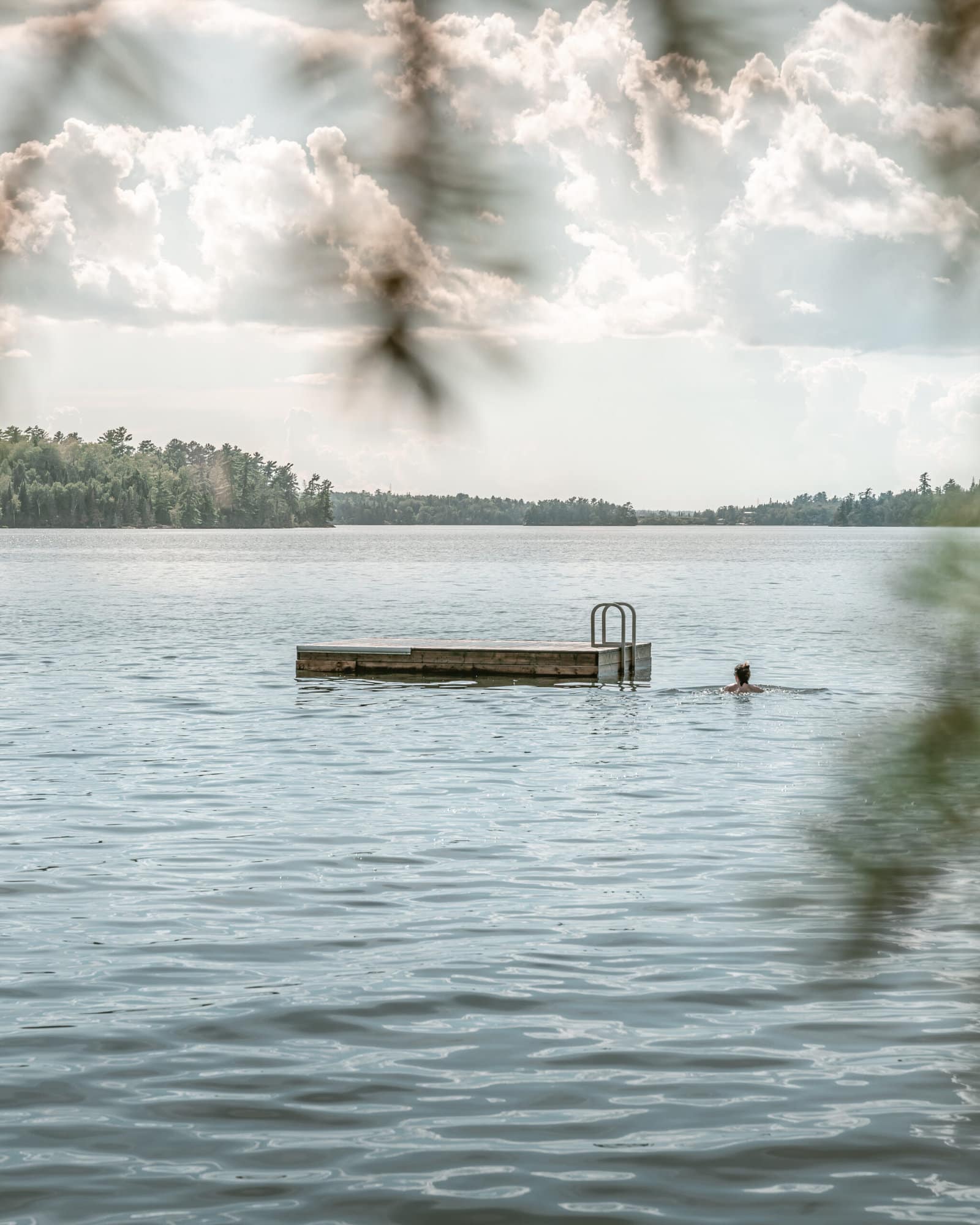 Lake of the Woods is primarily known for its fishing, especially its exceptional muskie fishing. The area is also famous for its beautiful beaches, bays and coves, as well as water activities such as kayaking and canoeing.
Is Lake of the Woods a Natural Lake?
Lake of the Woods is a natural lake, and was formed in the glacial lake basin of the ancient Lake Agassiz, the largest lake in North America during the last deglaciation.
When to visit Lake of the Woods?
Lake of the Woods comes alive during the summer months. Visitors flock to the lake to take advantage of the excellent fishing opportunities, the sandy beaches and the water activities.
The crowds die down as autumn comes around, with many cabin rentals, lodges and campgrounds closing for the season.
Some lodges and restaurants stay open all year-round, offering ice fishing opportunities and other winter activities, such as snowmobiling and cross-country skiing.
Visit Kenora
Start your visit to Lake of the Woods in Kenora, the largest city and major hub on the north shore of Lake of the Woods. This vibrant city has both a bustling city centre and a scenic wilderness setting. Kenora is the perfect starting point for your visit to Lake of the Woods, whether you're looking for an exciting outdoor adventure or a relaxing spot for a romantic getaway.
Sample a tasting flight from Lake of the Woods Brewery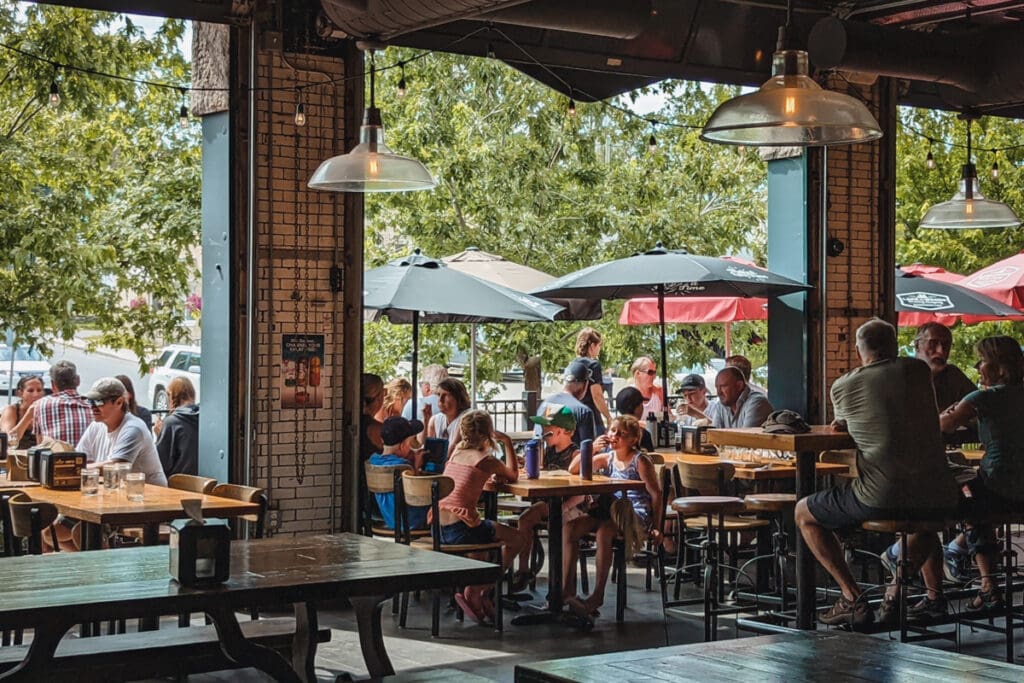 Located in a 105-year-old firehall, Lake of the Woods Brewing Company's brewery and taproom produce many flagship beers, like Sultana Gold and Forgotten Lake, as well as a selection of seasonal beers.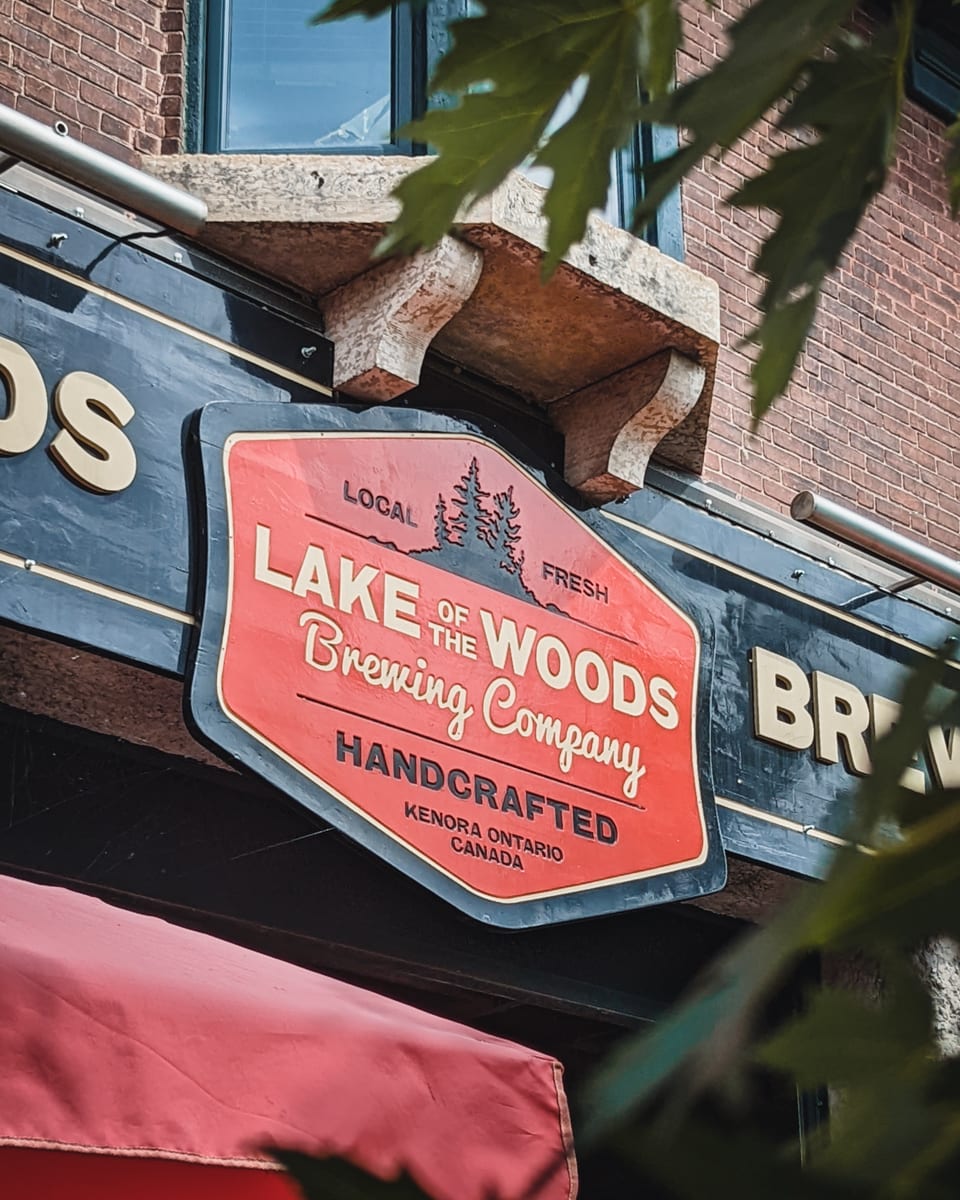 During the weekends, you can book a tour of the beer-making process on-site. Enjoy a craft beer while learning about Kenora's history and the Lake of the Woods Brewery's operation from 1898 to 1954.
Visit the Discovery Centre
The Discovery Centre, located on the shore of Lake of the Woods, is not only a visitor centre but also hosts many rotating exhibits and events. You can see amazing local art displayed on the exhibit walls and multimedia outlets, as well as interactive educational displays that tell about the history of Lake of the Woods.
Heritage townscape murals walking tours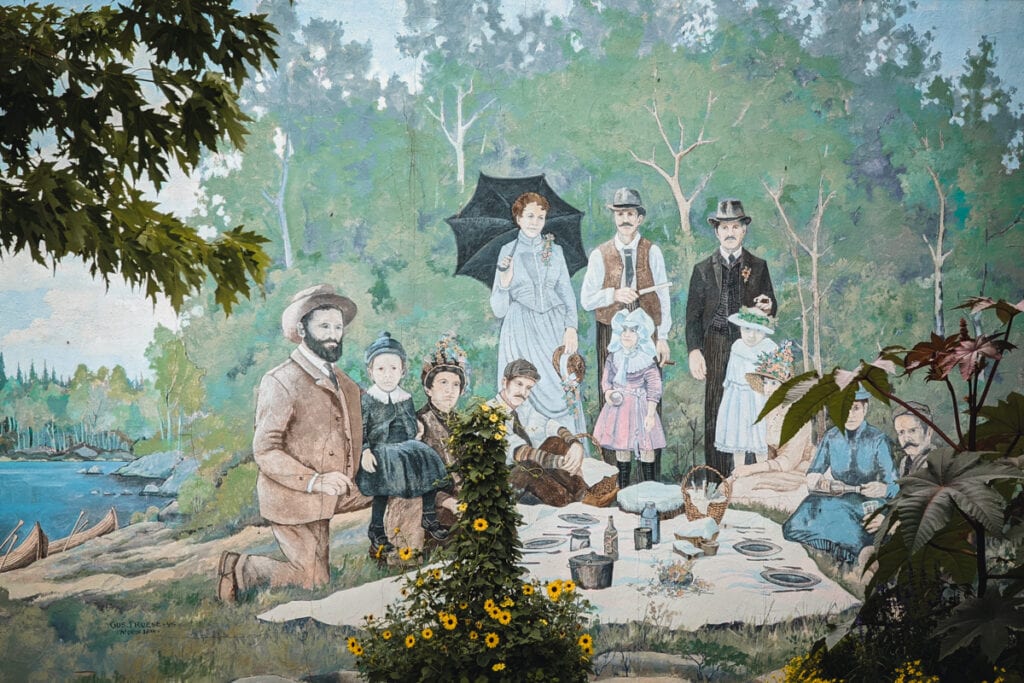 As you wander through the city, you will see many stunning murals along the sides of buildings where local artists show you Kenora's heritage. Pick up a map at the Lake of the Woods Discovery Centre that shows you where to find these 22 murals.
Cemetery walking tours
For a truly unique activity, join a historical daytime and lantern-lit night tour of the cemetery run by local historian Braden Murray. For more information, check out the events at the Muse.
Go see Husky the Muskie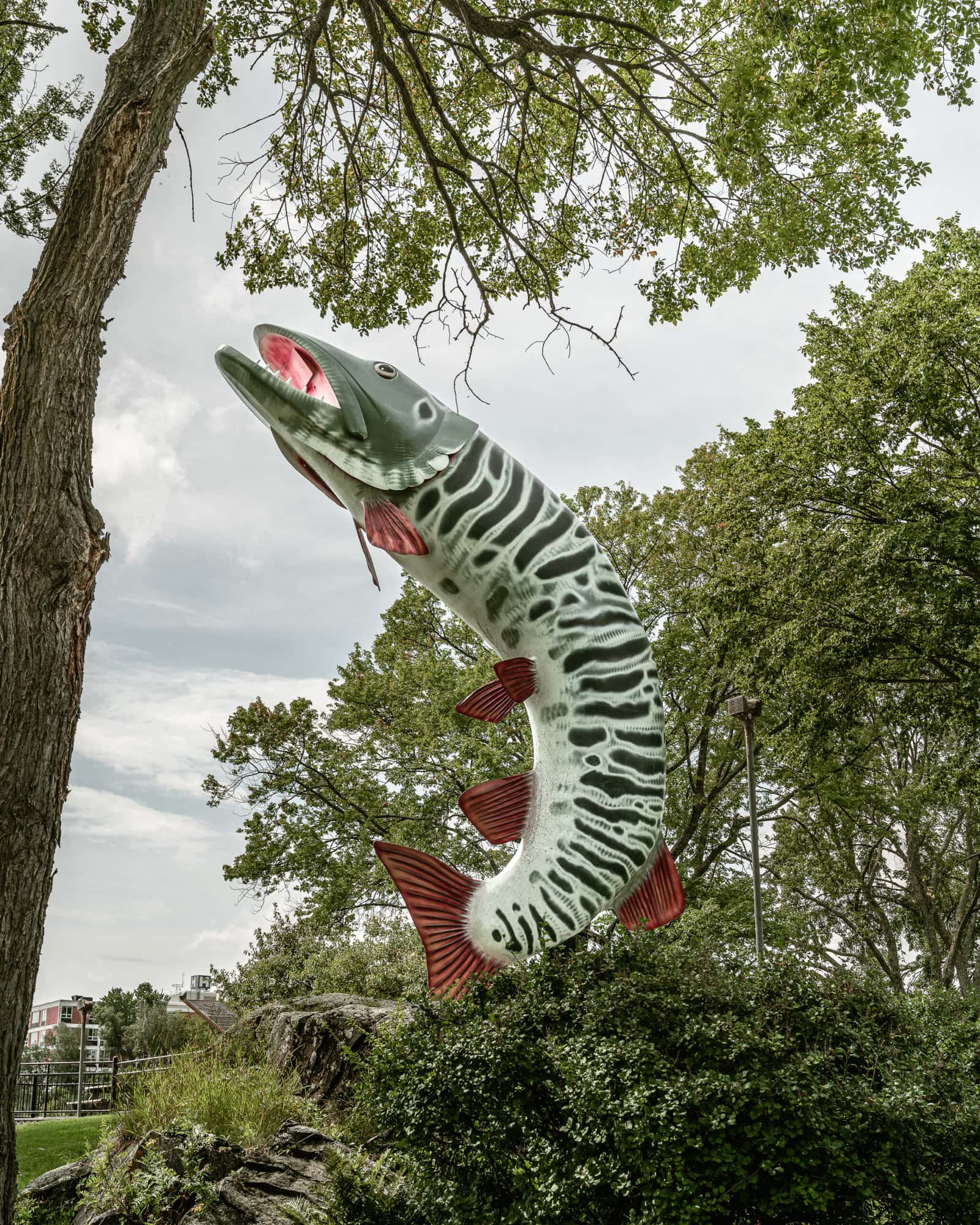 Husky the Muskie is a large, 12m, outdoor sculpture of a muskie fish in McLeod Park and has become a national symbol for Kenora.
Goodwill Geyser
Don't miss the Rotary Goodwill Geyser, a well-known water feature in Safety Bay. You'll find the Geyser along the Kenora Harbourfront, where it erupts every hour from 8 a.m. to 11 p.m., spouting water 75 metres high.
Grab a coffee
For a pick-me-up, head to Iron & Clay or HoJoe Coffee & Eatery. Iron & Clay specialises in freshly roasted, ethically sourced coffee and fresh home-baked pastries, while HoJoe offers a large selection of coffee drinks as well as delicious sandwiches. Grab them to go and settle for a picnic at the harbour front.
Activities from Kenora
Once you've explored downtown Kenora, it's time to experience its surroundings.
Visit Coney Island
Coney Island, which is only accessible by boat in summer, can be found just a short distance from downtown Kenora and is one of the more popular beaches in Lake of the Woods. The lakeside beach has a playground and concession stand and also features public docks. The island and beach offer a variety of activities, including canoeing/kayaking, swimming, boating, picnicking and sunbathing.
Coney Island shuttle operates the following schedule and costs $10 for a return trip:
10 to 11 a.m. | 12:15 to 2 p.m. | 4 to 6 pm.
Go on a floatplane sightseeing tour
Lake of the Woods is exciting to explore from the water, but why not see it from another angle? You can experience the vastness of Lake of the Woods and all its 14,542 islands on a flight with River Air Ltd from their Kenora base. Seeing the lake from this high vantage point is a unique and exciting experience for visitors and locals alike.
Take a cruise on the MS Kenora
Enjoy a 1.5- to 2.25-hour cruise on Lake of the Woods aboard MS Kenora, the city's main cruise vessel. These tours will take you around the lake, through picturesque channels and bays and peaceful, unspoiled wilderness areas.
Cruise during the day, or you can opt for an evening cruise, with or without dinner, where you can enjoy a beautiful northwestern Ontario sunset.
Visit Rushing River Provincial Park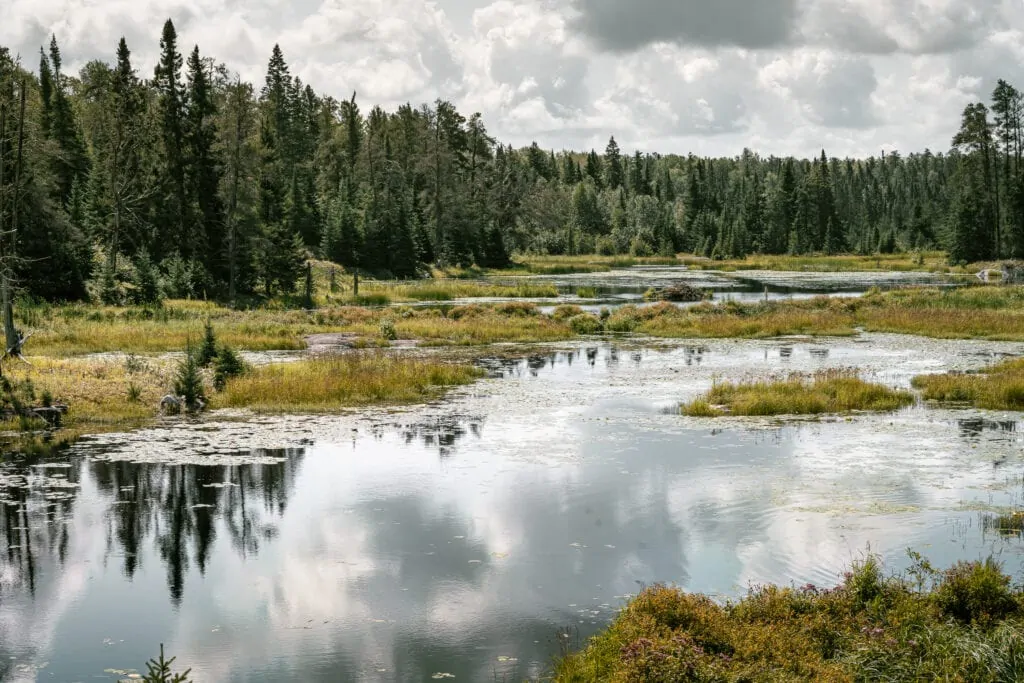 After exploring Kenora and its surroundings, make your way to Rushing River Provincial Park on Highway 71. This scenic and predominantly quiet park is a must-visit when in Lake of the Woods.
Have a picnic next to the Rushing River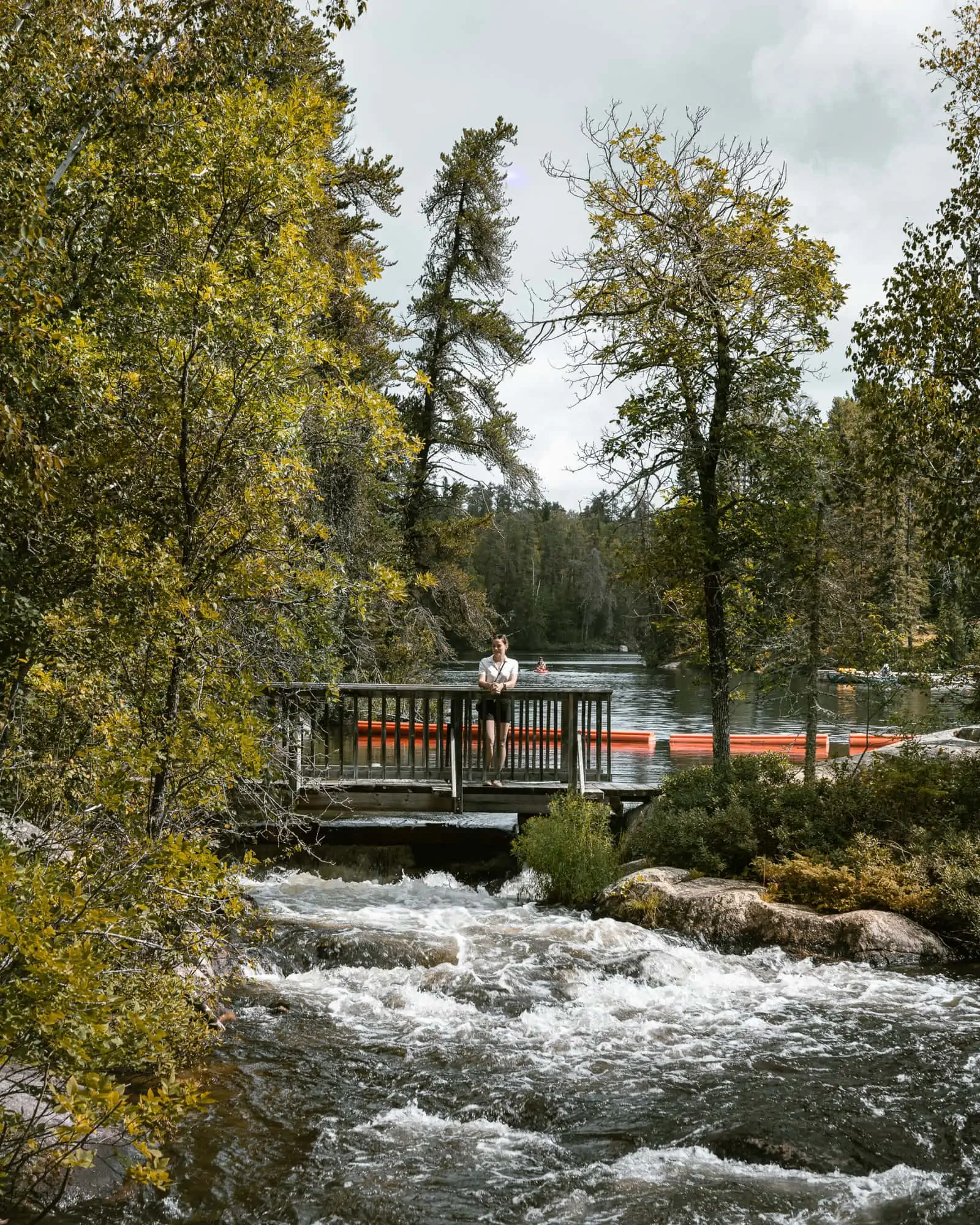 One of the key features in the park is the Rushing River, which in a series of rapids cascades over glacier-gouged rock.
Go for a paddle
The park is a hot-spot for swimming, hiking, fishing, paddle boarding and canoeing opportunities and rentals are available on-site and at the Rushing River General Store. Ontario's best multi-day canoe routes start from Rushing River, as well as some great day paddles!
Hike the Granite Knoll trail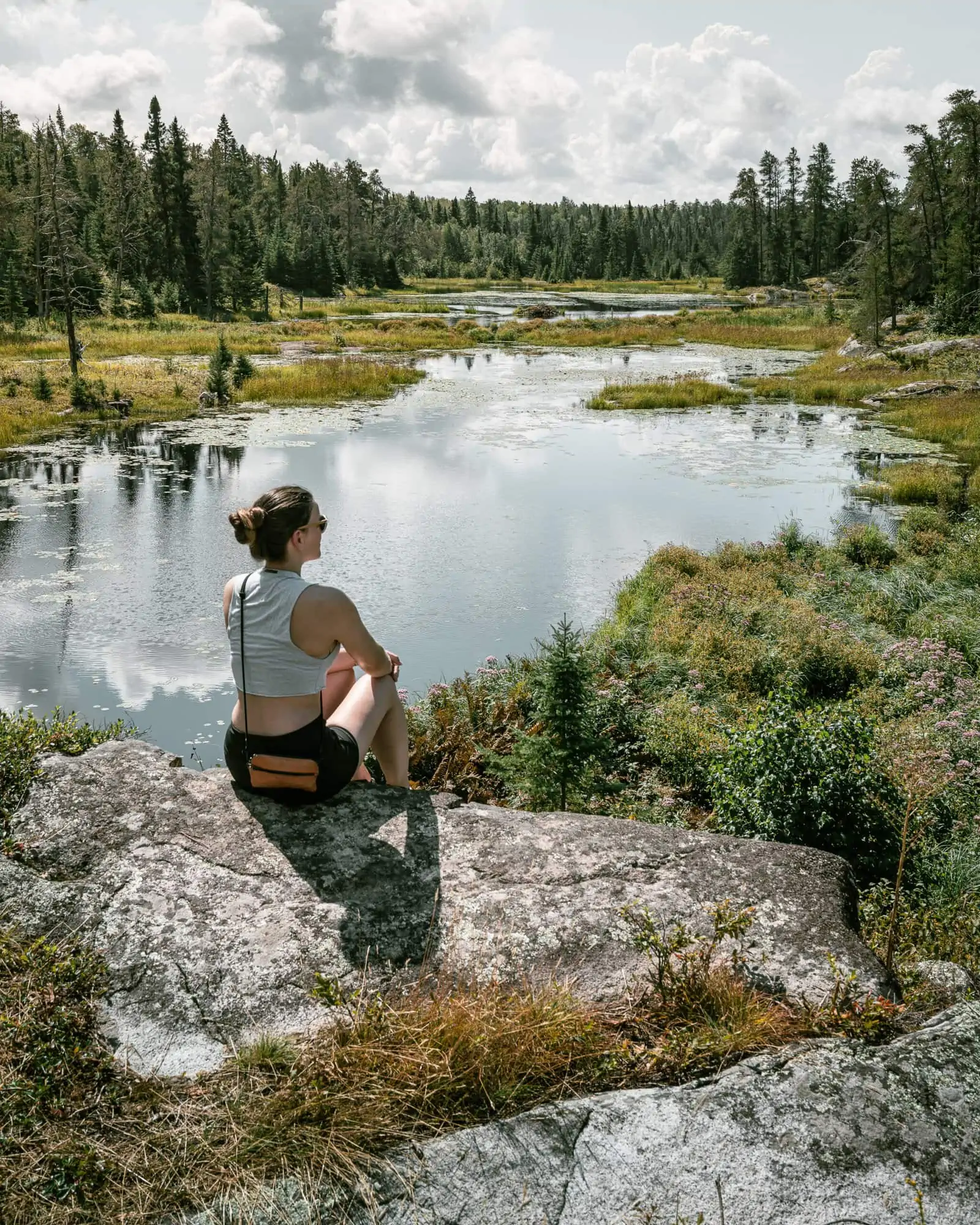 One of our favourite hikes in all of Lake of the Woods was the Granite Knoll trail, on the east side of the park. The hike takes you through the forest and along the rocky shoreline with granite knolls, jack pines and water lilies on a 3.5km long trail. Make sure to wear hiking boots and to bring insect repellent, as there are some muddy sections and the mosquitoes are relentless during the summer months!
Go cross-country skiing
During the winter months, the park offers 18 kilometres of groomed cross-country skiing trails.
Visit Sioux Narrows
When travelling further south on Highway 71, you'll arrive at Sioux Narrows, a small town on the east shore of the lake, home to the Northern Ontario Sportfishing Centre. The area is great for grabbing a drink and food, but I recommend staying a little while and renting a cabin if you are looking for some peace and quiet. Apart from quaint cabins, Sioux Narrows is also home to a handful of full-service resorts.
Swim at Sioux Narrows Provincial Park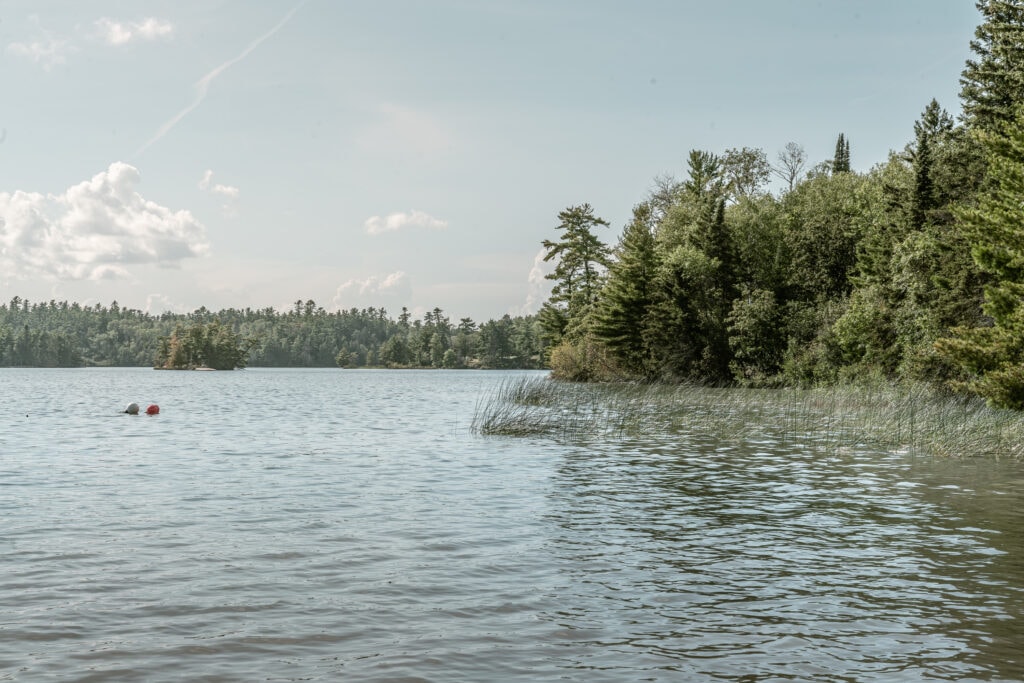 Before entering the town, you'll pass Sioux Narrows Provincial Park, located on the shores of Lake of the Woods, surrounded by huge White Pine trees. The park offers fantastic recreational opportunities, such as swimming, hiking, canoeing and fishing, with walleye fishing being a hallmark of the park.
The park's beachfront is long and sandy, and well-known for its warm waters. A roped-off swimming area is located on the sandy beach, with a floating dock. There is no lifeguard on call, so please be safe while swimming here.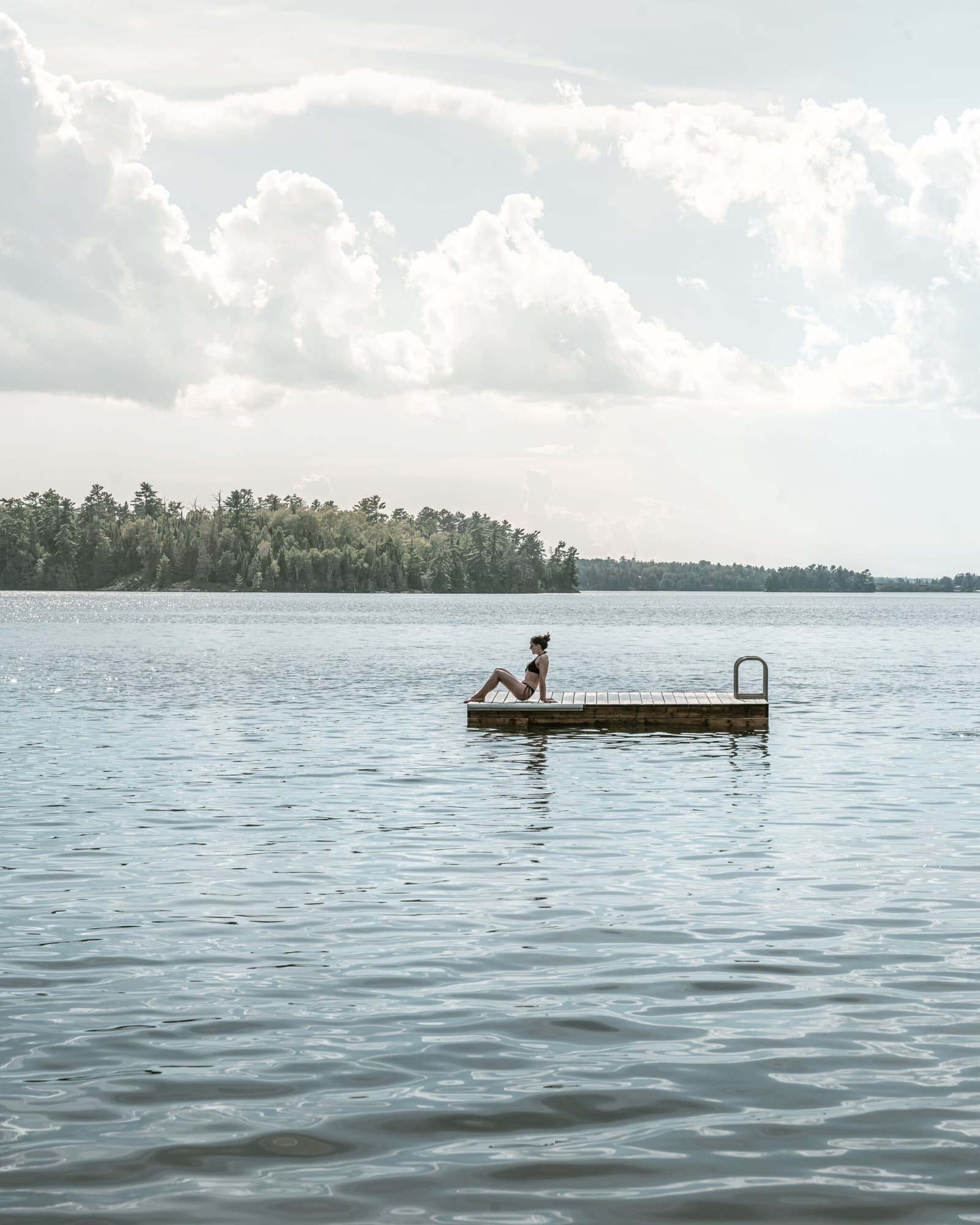 Cross-country skiing tours are available in winter throughout the park and surrounding areas. These tours take place along the ski trail that starts at the entrance of Sioux Narrows Provincial Park.
See Ancient Artwork
The Sioux Narrows Provincial Park is surrounded by islands and numerous historical water routes that can be explored. The park's narrows are the location of many First Nation battles, and it's where a battle took place between an invading Sioux group of warriors and local Ojibway. It was here that the Sioux were defeated after being ambushed at the Narrows.
Boats and canoes are able to venture onto the Lake of the Woods to find red ochre First Nations pictographs, which offer a glimpse into Ojibway history. Directions can be obtained from the park office.
Visit the Sioux Narrows Bridge
Once in town, you'll cross Sioux Narrows Bridge, once the longest wooden single-span bridge in North America. Built in the mid-1930s, the bridge spans 210 feet across the Lake of the Woods narrows and has been designated a Provincial Heritage Site. Much of the original timber was kept intact when the bridge had to be rebuilt for safety and durability. You can see the original top layer of wood today.
You can view the bridge from the lake shore, or grab a drink at Big John's Bar & Grill, whose patio offers exceptional views of the lake and bridge.
Check out the Narrows gift shop
Although I rarely recommend shopping at gift shops, the Narrows is a great place to visit. You will find quality products, including home decor and apparel. The shop also sells its homemade fudge in a variety of delicious flavours.
Dine out
Sioux Narrows has various dining options if you don't feel like cooking. You can grab a quick lunch at the Trailer or Lazy Loon. There are many great options for dinner at Big John's Bar & Grill and Totem Restaurant. The Snackhouse Restaurant offers all-day comfort food.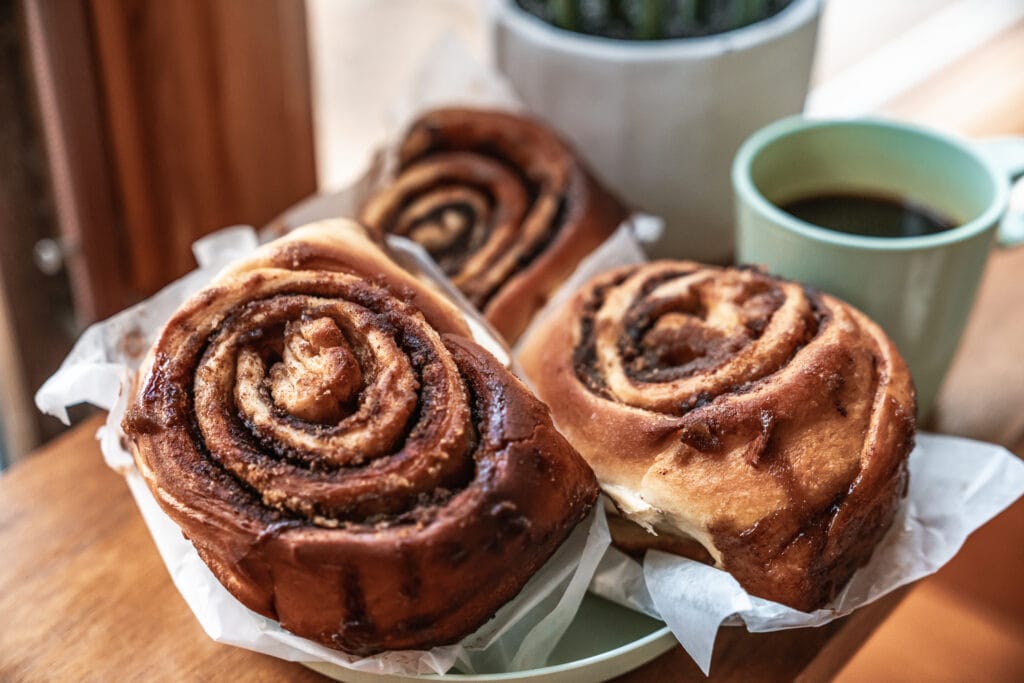 Last but not least, don't forget to try the Reel bakery's delicious cinnamon buns at the Rod and Reel Resort. You will need to call them at least one day in advance to place your order. However, it is worth the wait!
Enjoy a round of mini-put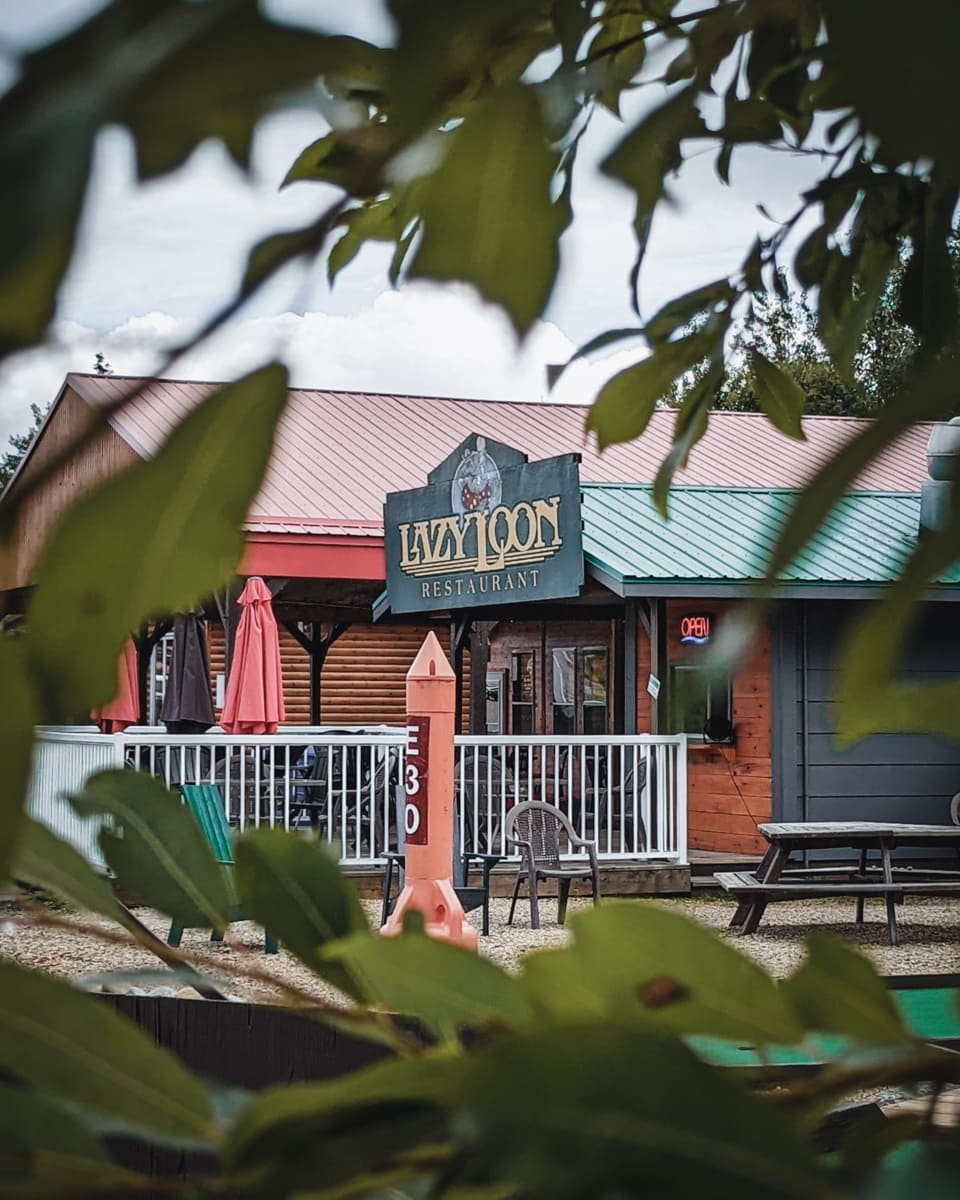 Besides comfort food, Lazy Loon also offers a mini-put course for days when the weather isn't perfect. We headed here for some ice cream and a round on a cloudy afternoon. It was the perfect activity.
Visit Nestor Falls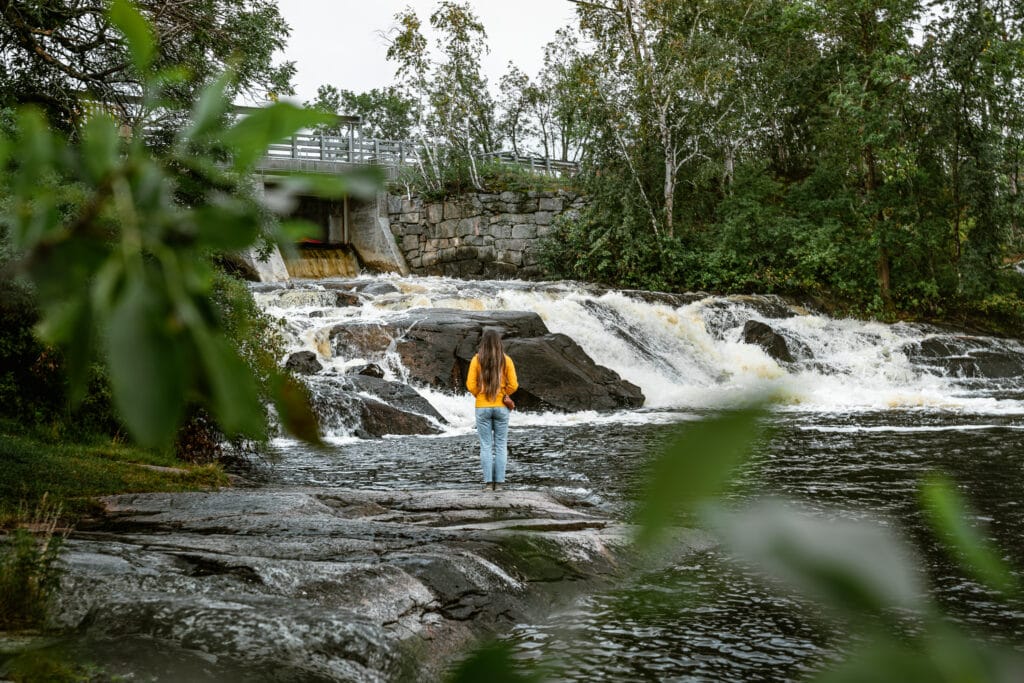 After your visit to Sioux Narrows, continue heading south to Nestor Falls, a town similar in size to Sioux Narrows.
Just outside the town, you'll find small waterfalls with a picnic area, restrooms, as well as interpretive signs with excellent information about the area's rich history and activities.
Nestor Falls is also home to the Moose n' Fiddle Music Festival, a 2-day summer festival featuring professional and emerging musicians, folk bands and country singers. You can also visit an artisan's village, try food trucks and sample local beer & coffee, all set on the shores of the picturesque Caliper Lake.
Canoe or kayak the lake and channels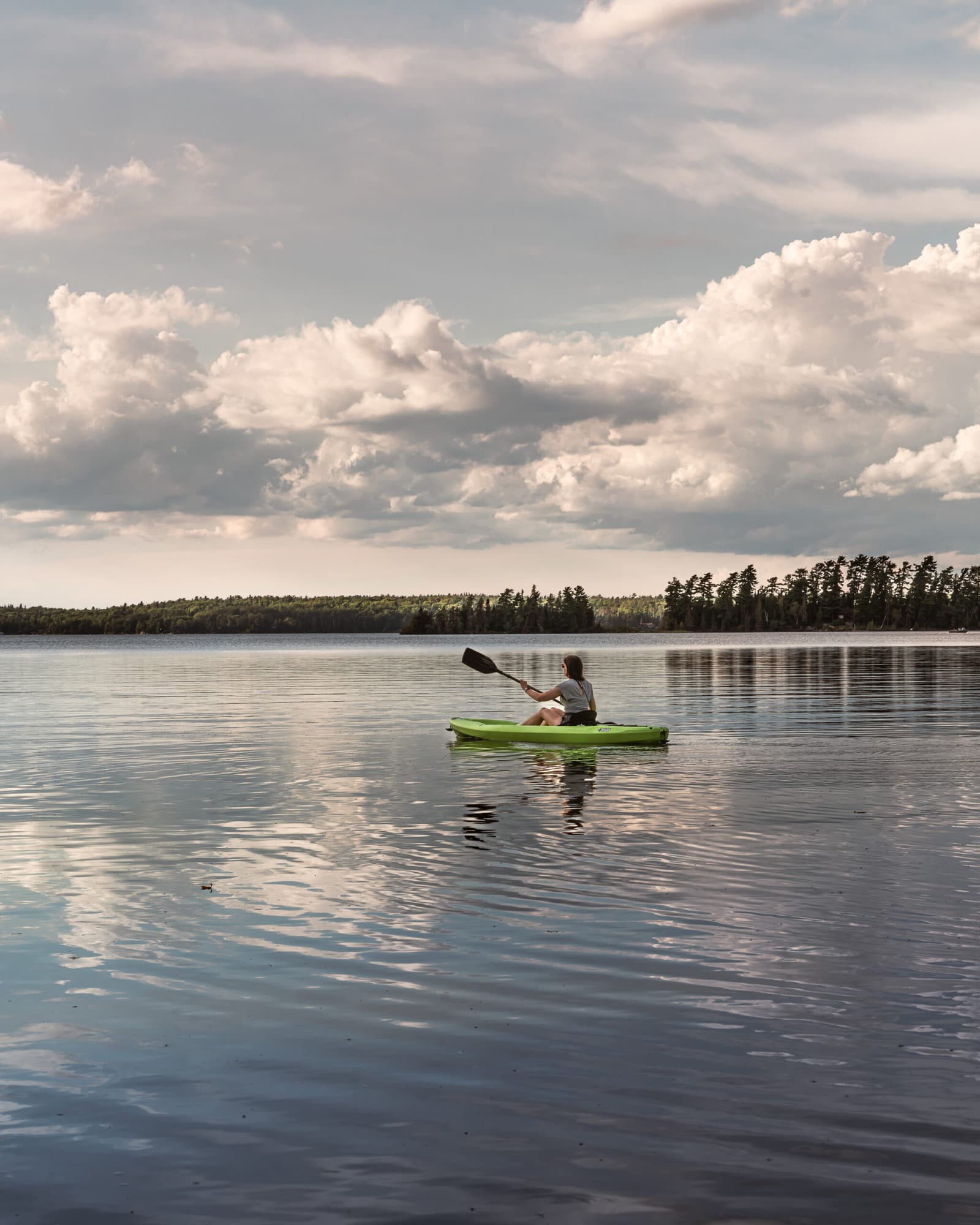 Both Kenora and the provincial parks offer opportunities to get on the water. However, there are many places around Lake of the Woods where you can launch from.
Although the area of Lake of the Woods around Kenora can be busy, there are long stretches of channels, many lakes and dozens of tributaries outside of Kenora, which make it one of the best kayaking and canoeing spots in the world.
Canoeing is a fantastic way to spend time on the water, whether you are trying to canoe a section of the Great Trail or just enjoy a morning paddle. If you don't want to head out on your own, Green Adventures in Kenora offers guided paddle tours, including day trips, 2-night paddle trips and all-inclusive paddling & camping trips.
Go Fishing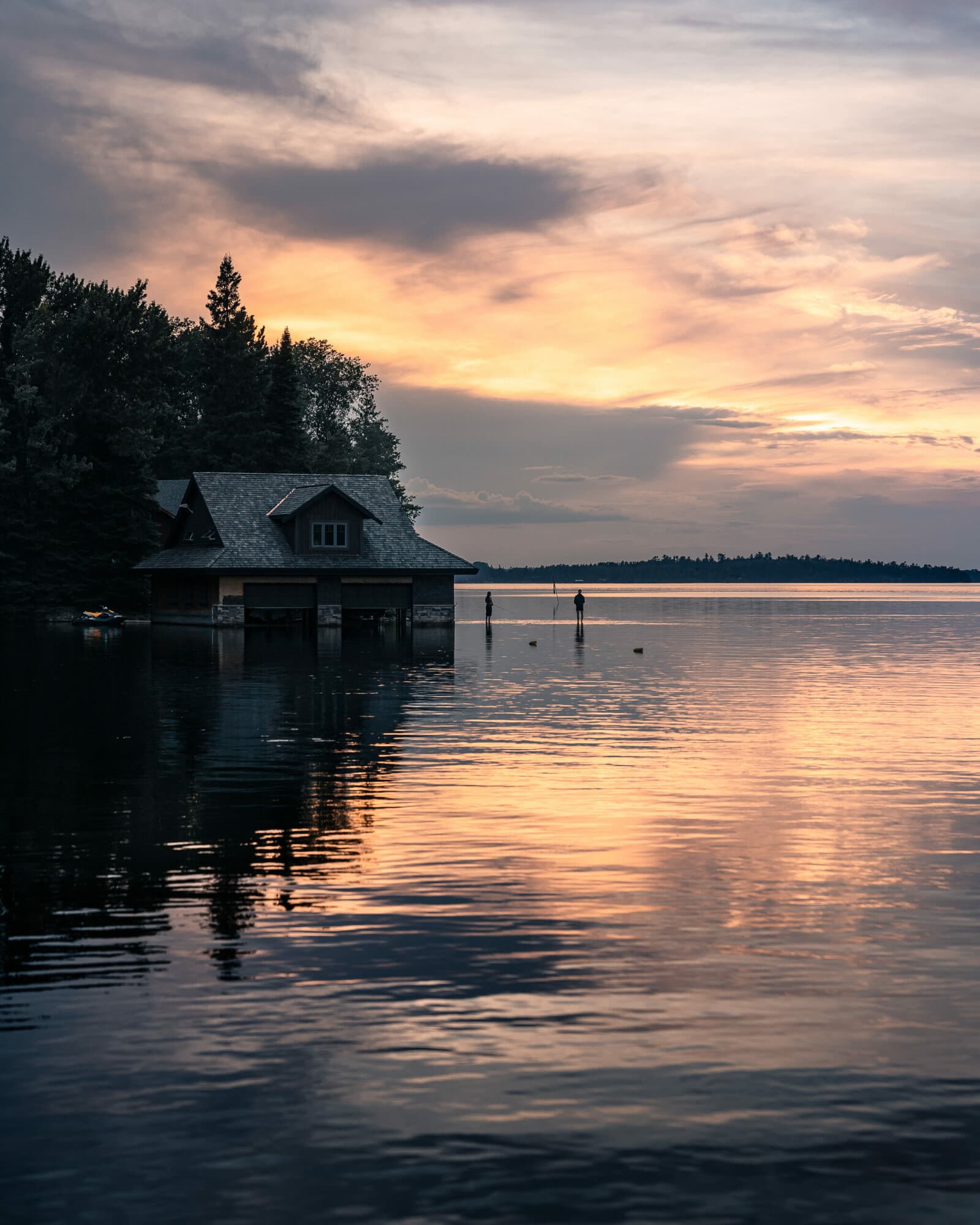 Lake of the Woods is famous for its muskie fishing, but it also boasts walleye, pike, lake trout, perch, bass, crappie and whitefish, and is among the best places on the planet for freshwater fishing—year-round
For anglers seeking trophy-sized fish, the odds of success are high. If you want to increase your chances, consider staying at one of the resort lodges on the lake which offer guided fishing tours.
Winter activities in Lake of the Woods
Besides being a popular summer vacation destination, Lake of the Woods offers numerous activities in the winter.
Cross-Country Skiing
The wide open spaces make this a prime destination for cross-country skiing. Both Rushing River and Sioux Narrows Provincial Parks have groomed cross-country ski trails during the winter. You can also find over 20km of groomed trails on the Kenora Nordic Trail system. If you're more into traditional skiing, they have downhill skiing available at Kenora's Mount Evergreen.
Ice fishing
Catch walleye, crappie trout, perch and pike through the ice. There are many lodges fully winterized and have packages for ice fishing. Some even offer ice hut rentals, so you can get out of the cold.
Snowmobiling
With its vast open spaces and expansive forests, Lake of the Woods is one of the best places in North America to go snowmobiling. You'll need a permit to ride on groomed trails, so check out Sunset Trail Riders for trails and permits.
Where to stay in Lake of the Woods
Bowerbird Beach Camp – $$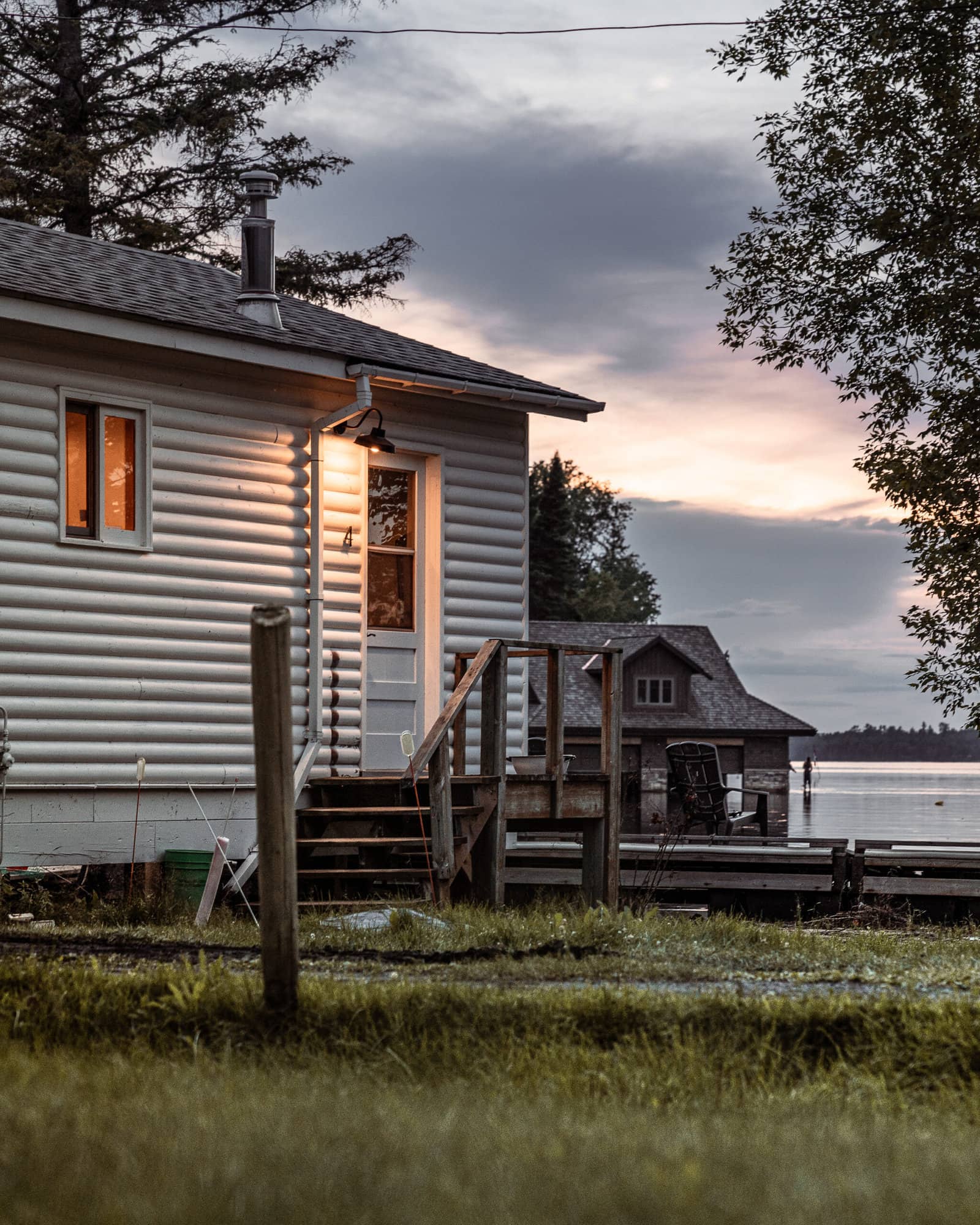 During our visit to Lake of the Woods, we stayed in a beautiful rustic cabin at Bowerbird Beach Camp. The camp sits by a secluded cove, offering a peaceful getaway close to Sioux Narrows. You can choose between 6 cabins, all recently renovated, with views over the lake, from where to enjoy those stunning Ontario sunsets.
Rushing River Campground – $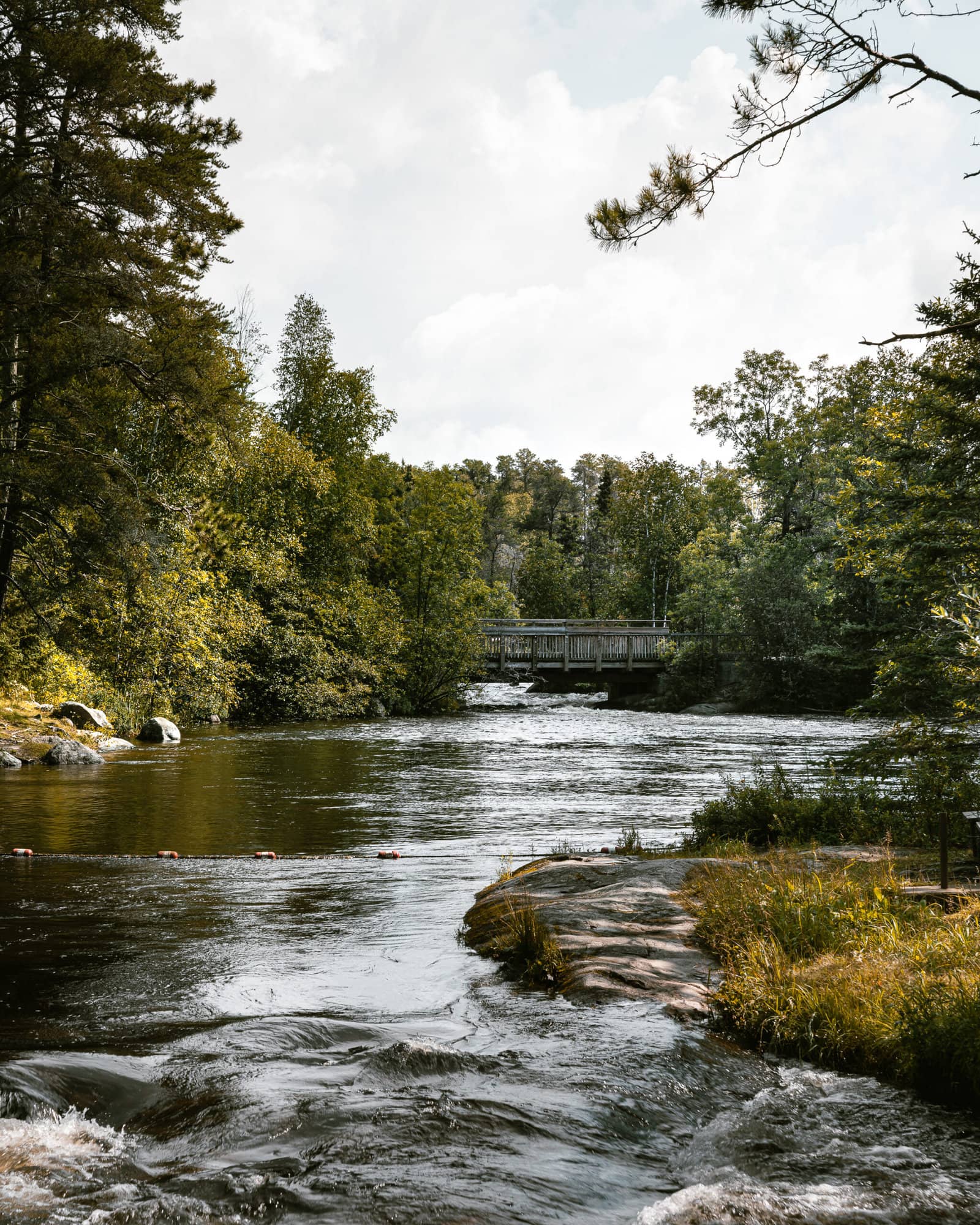 If you are on a budget and want to experience a getaway close to nature, Rushing River Campground is an excellent choice. The campground offers various electrical and non-electrical sites well suited to any size tent and RV. Many sites have waterfront views over Dogtooth Lake, and most come equipped with a picnic table and fire pit with grill.
Sail on the Grace Anne II yacht – $$$$
Built in 1931, the Grace Anne II, an 85-foot mahogany yacht, sails Lake of the Woods for 1 to 5 night cruises, including a stay at their lodge. The lodge offers wilderness excursions, fishing packages, golf packages, sport shooting and water sports. Taking a wilderness excursion with the Grace Anne II will transport you to a bygone era when white-gloved service, silverware and fine linen were all part of the experience.