As the leaves change colour and the air grows crisp, it signals the arrival of my favourite season: fall. Sunflower fields make way for pumpkin patches, dotted around the farmlands, waiting to be picked and carved into Halloween decorations or turned into a delicious pumpkin pie.
I love the change of pace it brings from the hectic summer months. Every fall, I like to indulge in hot chocolate by the fireplace or snuggle up inside a cabin in the woods. It's a time to unwind and enjoy the simple things in life.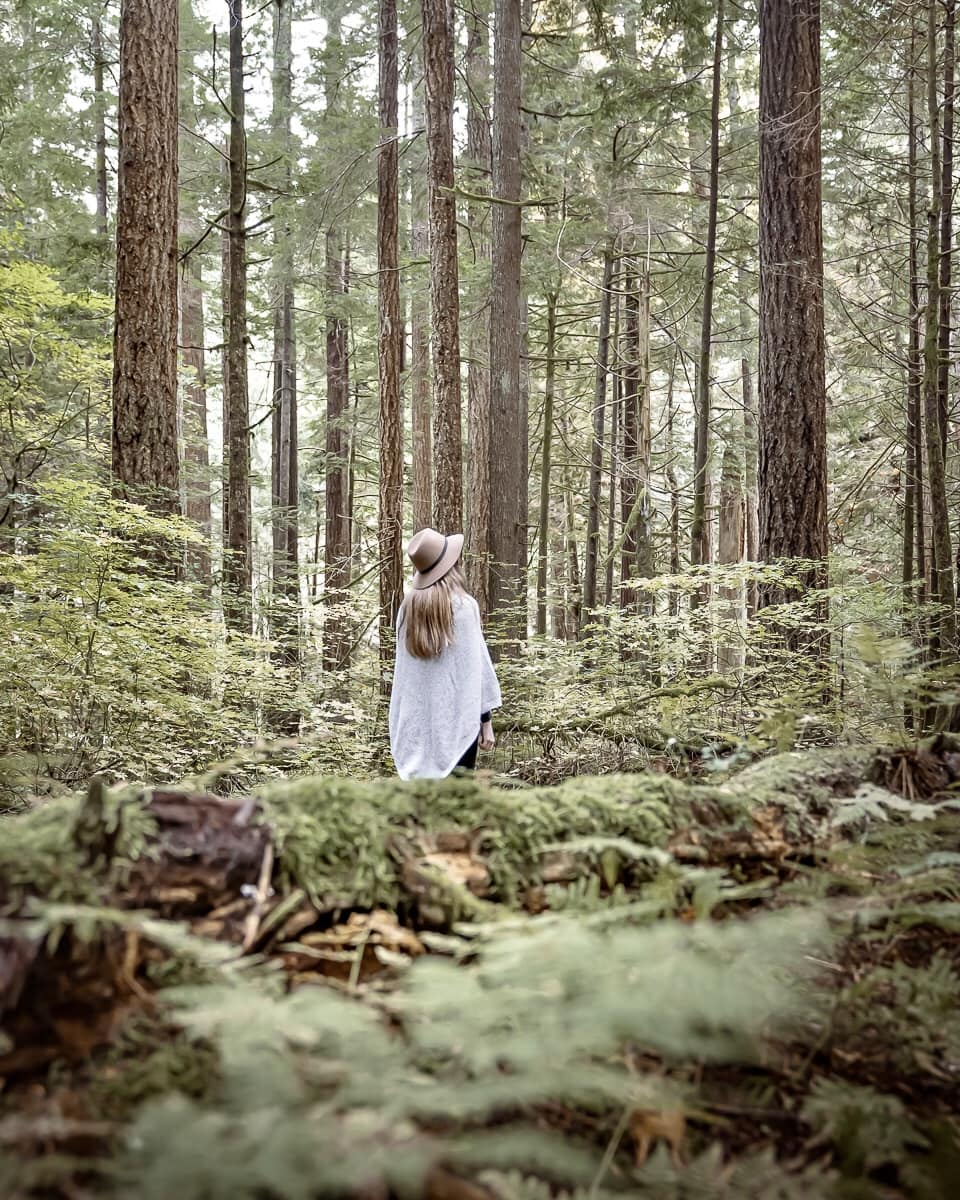 Whether you're hunting for the perfect pumpkin, looking for events to celebrate the season's change or cosy cabin stays, we have you covered! In this guide, we show you the best fall getaways from Vancouver 2023 and things to do in each area.
Fall getaway to Squamish
Squamish is a charming town on the Sea to Sky Highway, an underrated destination for outdoor enthusiasts. This mountain community is known for its world-class hiking, rock climbing, mountain biking and kiteboarding. For a more relaxed getaway, you can take a ride on the Sea to Sky Gondola with stunning views over Howe Sound and Stawamus Chief.
The Fall Experience in Squamish
Spending fall in Squamish means you can do as little or as much as you want. It's the perfect place to hunker down for a weekend, read a good book by the fireplace or marvel at the colourful leaves while walking the many trails around Squamish.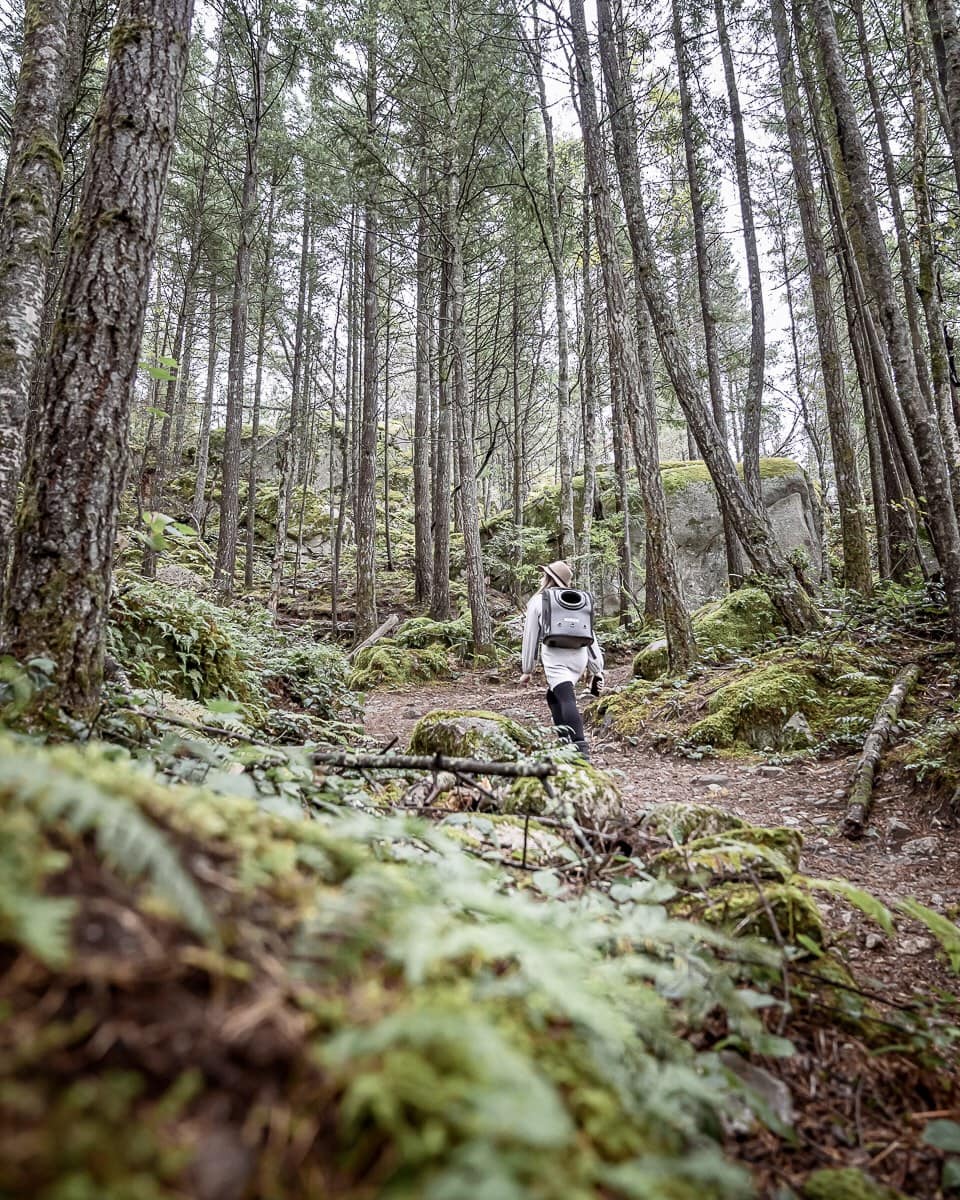 Things to do in Squamish this fall
Eagle watching
At the end of the fall, head to Brackendale Eagles Provincial Park to watch North America's largest congregations of wintering bald eagles.
Fly-fishing
The Squamish River is a world-class angler destination, providing fishing opportunities year-round. River systems are filled with Chum and Trout in the fall due to the cooler weather.
Horse riding
There's no better way to enjoy the fall colours and crisp air than on a horseback adventure through the Squamish Valley. Squamish River Horse Adventures offers 1 to 2-hour tours as well as half-day and full-day adventures.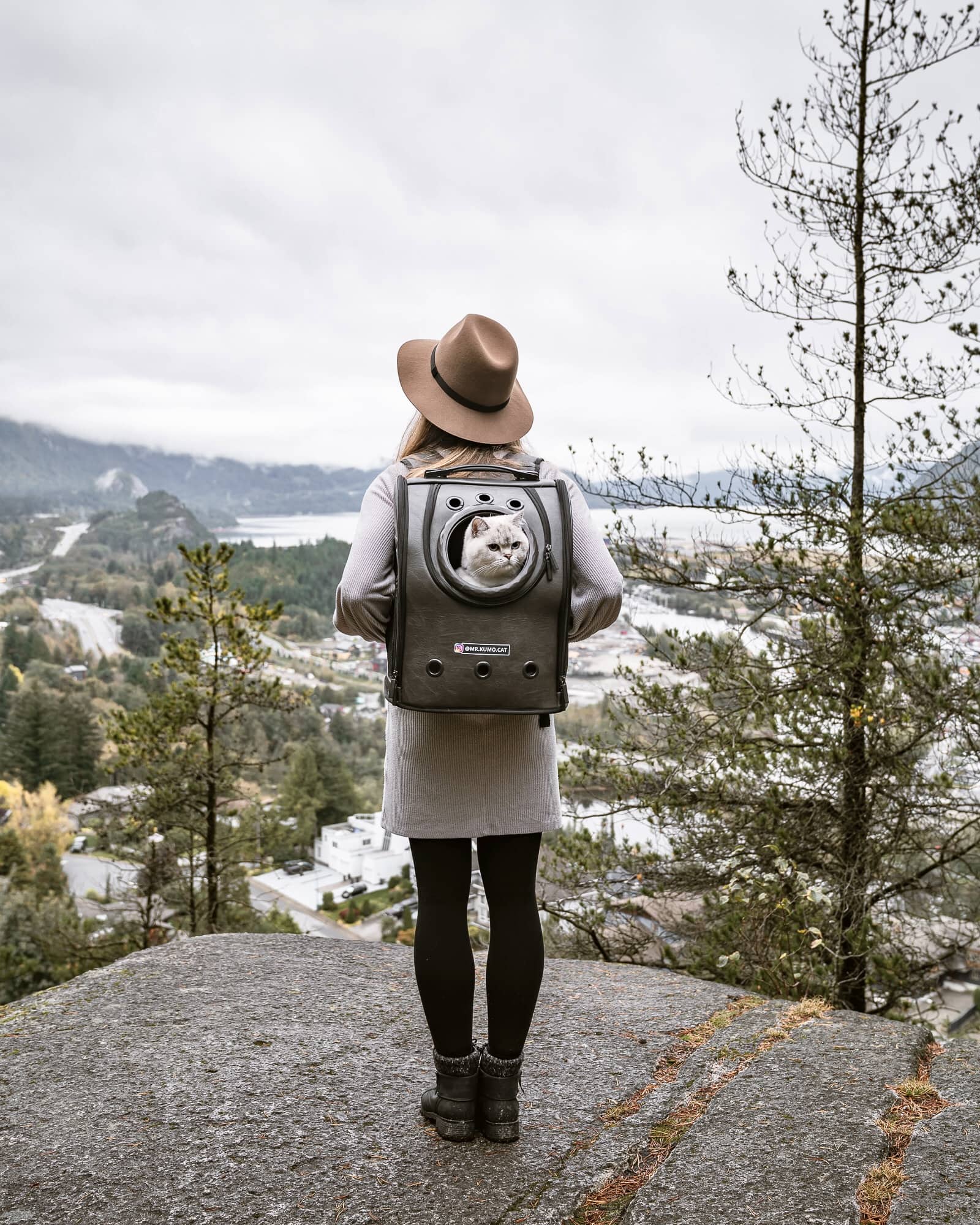 Where we stayed in Squamish
We stayed at Sunwolf Riverside Cabins, right on the edge of the Cheekye River, which provided a feeling of remoteness within a forest setting.
The Logger's Shack, featuring a striking yellow door, was all we needed for our fall getaway. We relaxed by the wood-burning fireplace, watched the night sky from the bedroom skylight and marvelled at the stunning fall colours surrounding this cute cabin.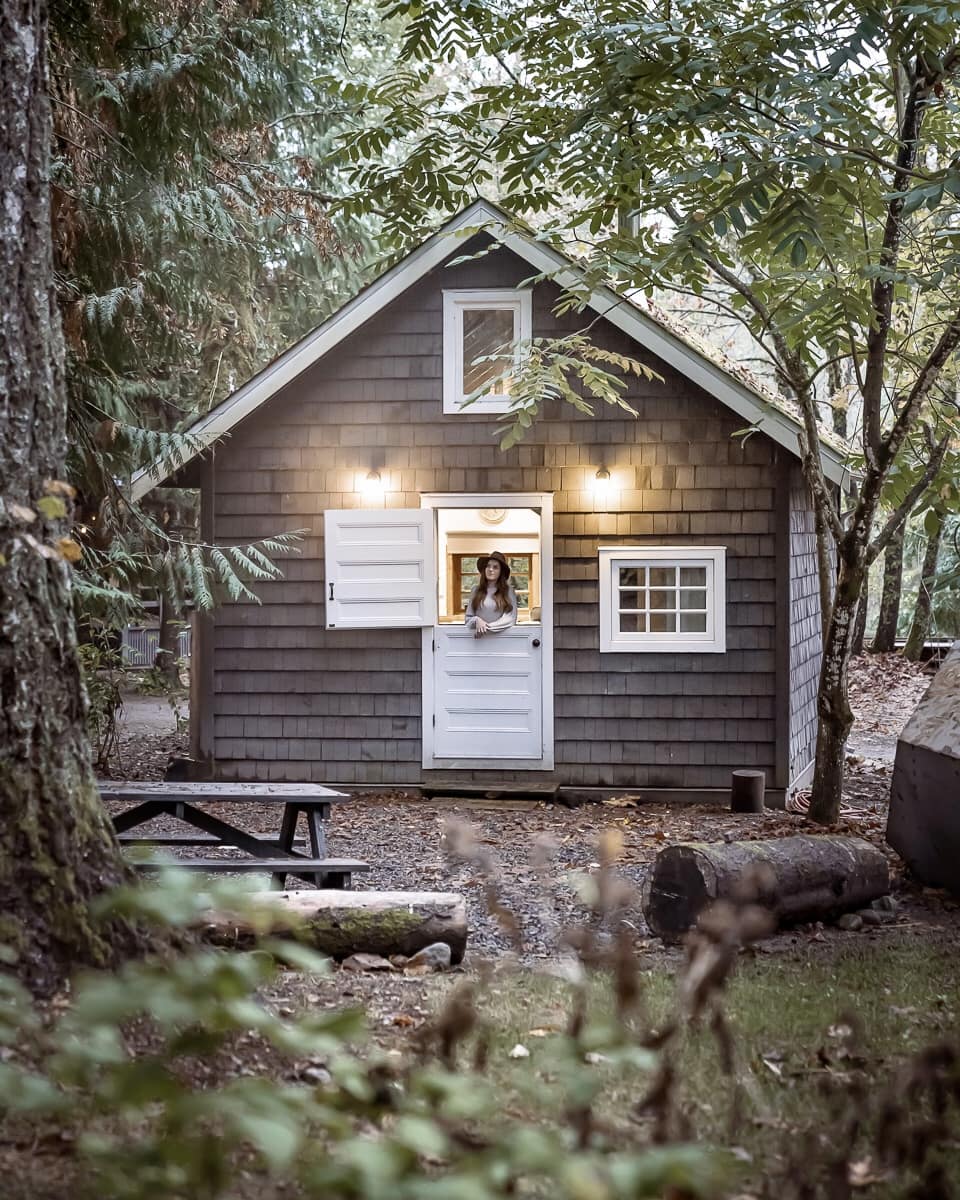 Sunwolf is also home to Fergie's cafe, our favourite place for brunch in Squamish. You can sit outside on their large garden patio or indulge in delicious brunch inside by their wood-burning fire.
Fall getaway to Galiano Island
Galiano Island is a picturesque and remote destination, home to a population of just over 1,000 people. The island's spectacular shorelines, cute villages and abundance of natural attractions make it the perfect fall getaway.
There are multiple trails and protected parks to explore, including the scenic Bodega Ridge Provincial Park, where you can hike a cliff edge and take in the breathtaking views. You can also enjoy the scenery from the porch of your quaint cabin, or head down to Pilgrimme for some Pacific Northwest-inspired fare.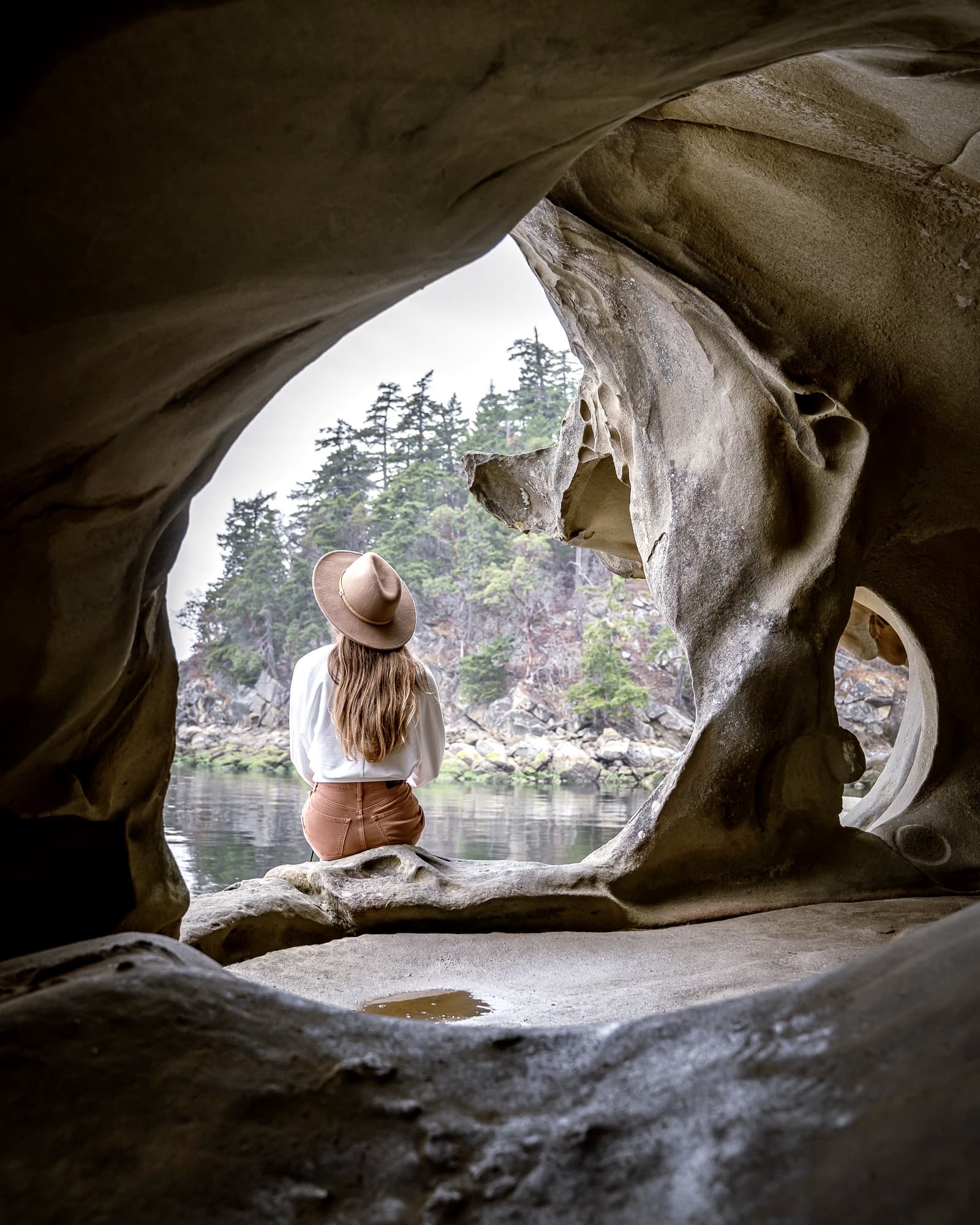 The Fall Experience on Galiano Island
Fall on Galiano Island is a time to relax and slow down. Treat yourself to a cosy cabin stay or indulge in fall-inspired food treats.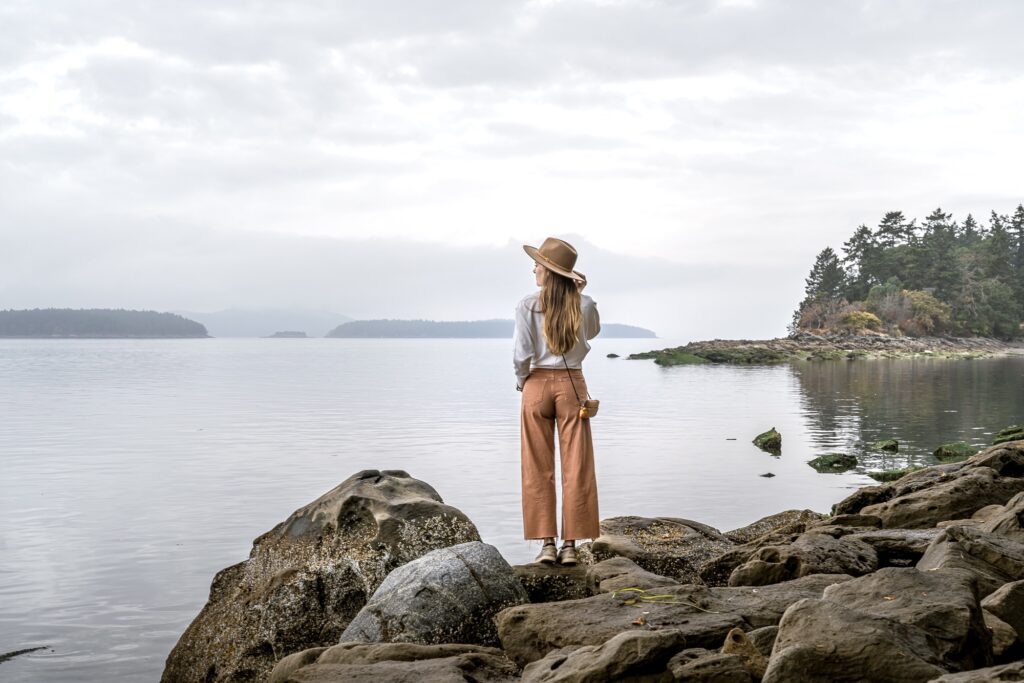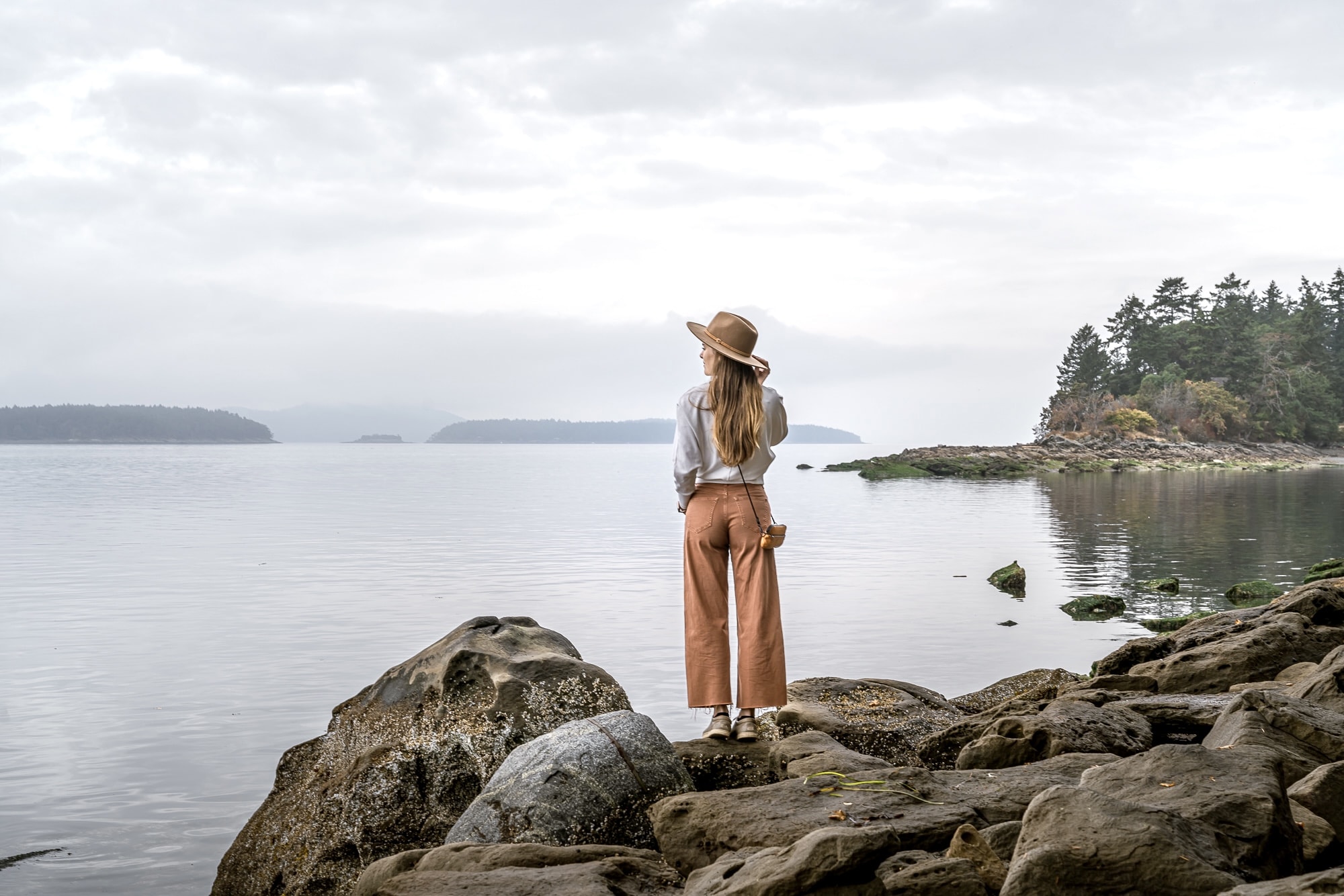 Things to do on Galiano this fall
Blackberry Tea and Pie Festival
On the Saturday of Thanksgiving weekend, the Galiano Club holds the Blackberry Tea and Pie Festival. Pies are made from scratch by volunteers during the week leading up to the festival.
At the festival, you can purchase fresh or frozen whole pies. During the festival, you can grab a variety of treats including pie, homemade soups and bread, tea and coffee.
Fall Herbal Harvest
Join the Galiano Conservancy's two-day introductory workshop to wildcrafting and herbalism. Celebrate the fall season by creating tasty kombuchas and lacto-fermented vegetables.
On the first day discover how to make healing salves and liniments from plants growing right in your backyard. On the second day, you'll forage for food and learn how to ferment and increase the shelf life of your harvest. Fall Herbal Harvest takes place on 15th and 16th of October 2022 and is a great way to learn and support the Galiano Conservancy.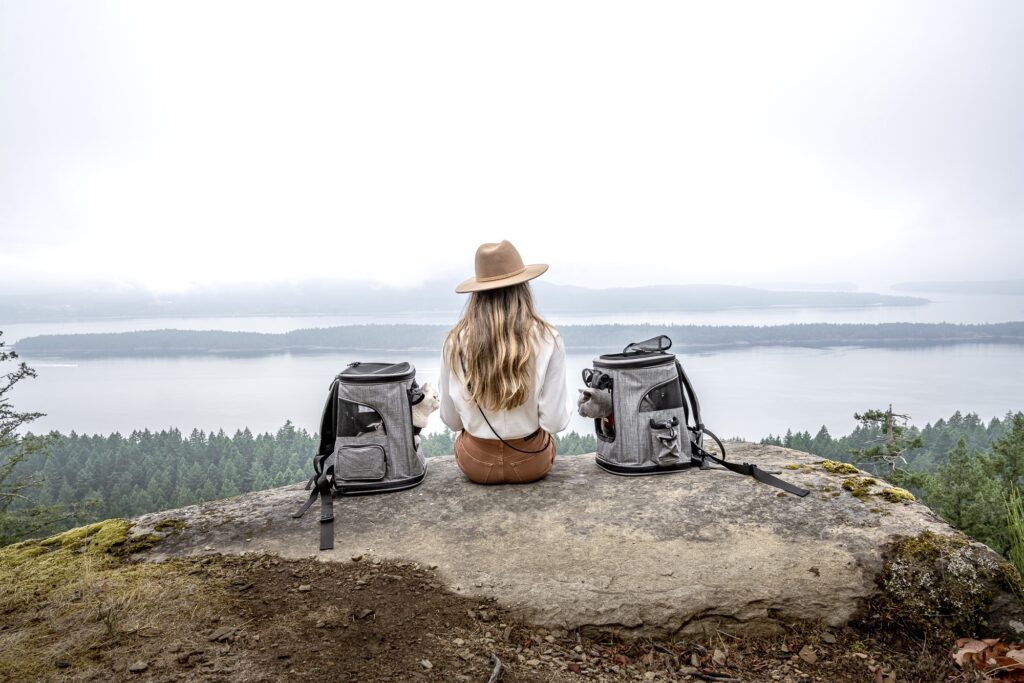 Relax and recharge
As summer fades away, the Gulf Islands prepare for a slower pace of living. With fewer crowds, you can enjoy local hikes and the quiet of the forests. Indulge in a spa treatment at Madrona del Mar Spa or grab a hot drink and treat from Sturdies Bay bakery. This is a time for quiet reflection, reconnecting with loved ones and simply doing nothing at all.
Where we stayed
If we had to choose one place in British Columbia to return to again and again, it would be Bodega Cove at Bodega Ridge. Bodega Cove comprises 5 restored 1960s-era Panabode cabins featuring all the conveniences and comforts of home.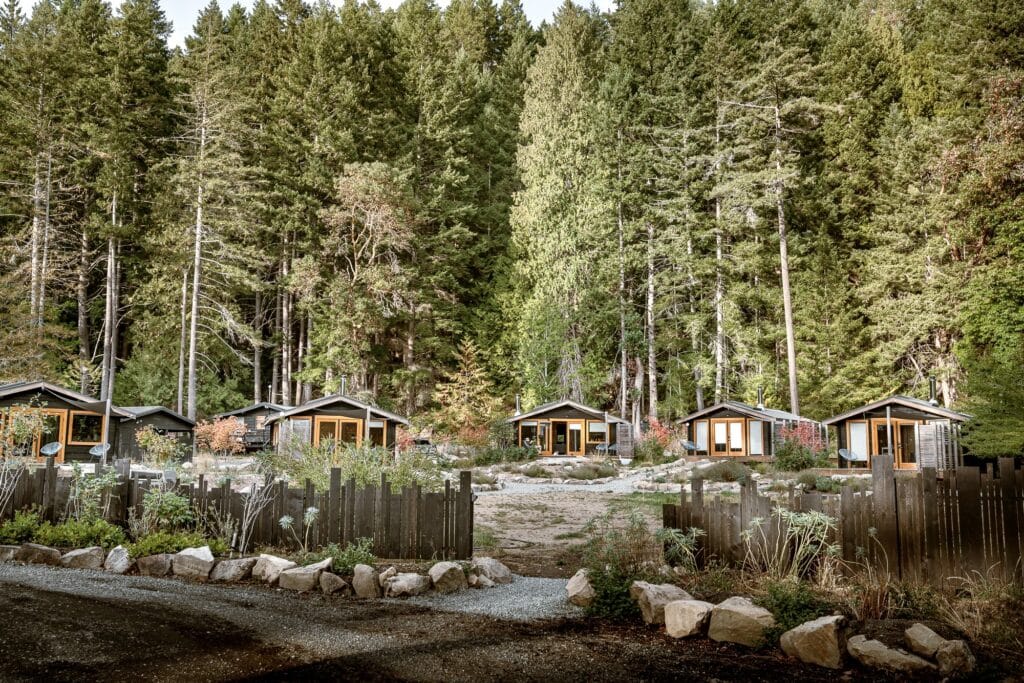 While the exteriors of the cabins maintain a rustic feel, the interiors have been updated with modern amenities including deep soaker tubs and cedar decks.
We loved coming back to our cabin after a day spent in nature, unwinding in front of the fire or savouring a few local treats on our deck while watching a family of deer slowly make their way through the front lawn.
Fall getaway to Mayne Island
Fall is a beautiful time to visit the island halfway between Vancouver Island and the mainland. Located in the Salish Sea, Mayne Island is a secluded refuge offering mild weather, few crowds and stunning scenery.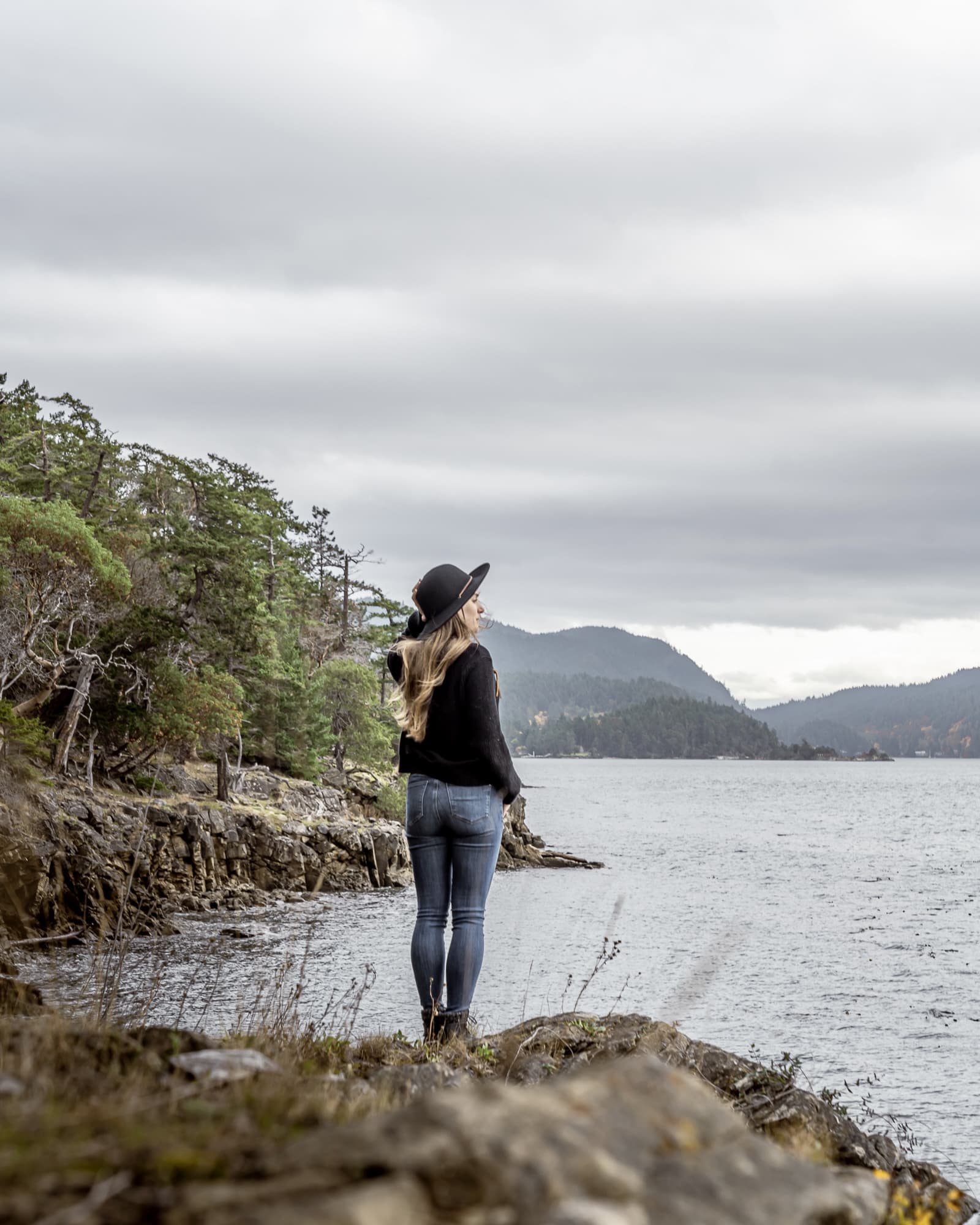 The Fall Experience on Mayne Island
Just like Galiano Island, Mayne Island's fall season encourages relaxation and slowing down. Get comfortable in a cabin this fall, hike a quiet trail or indulge in fall-inspired food.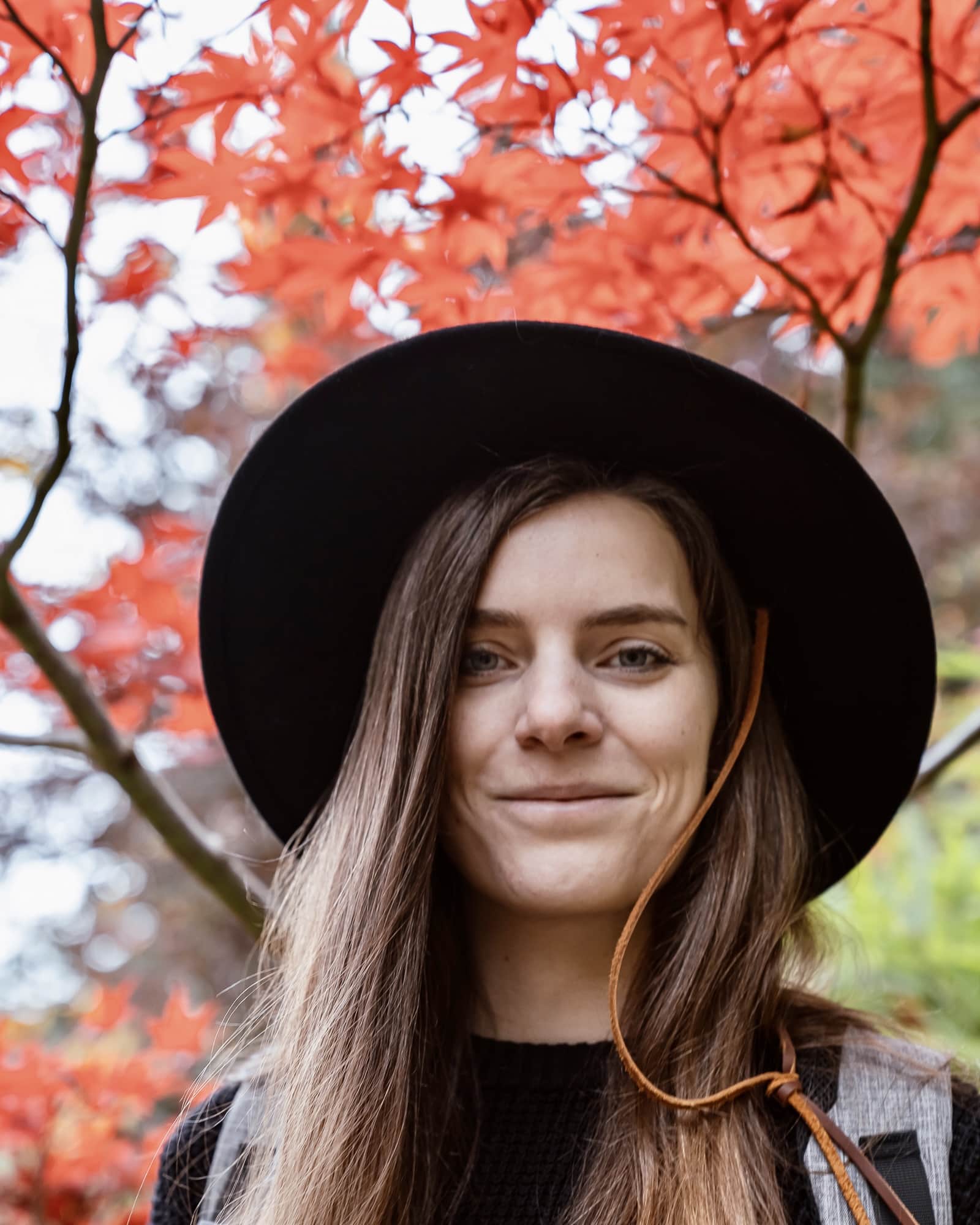 Things to do on Mayne Island this fall
Fall Fair
At the end of August, the island's Agricultural Hall hosts the oldest fall fair in the Gulf Islands. At this event, you'll enjoy local music, wheat grinding and a farmers' market.
The Apple Festival
The Apple Festival takes place in October around Thanksgiving and here you'll find various special apple treats provided by market vendors.
There will be a display of local apples, a chance to vote for Mayne's Best-Tasting Apple, cider-making demonstrations and apple-preparing ideas — from soup to pie. Stay tuned for the exact date for 2022.
Halloween bonfire and fireworks
Celebrate Halloween on Mayne Island this year with a community bonfire and fireworks!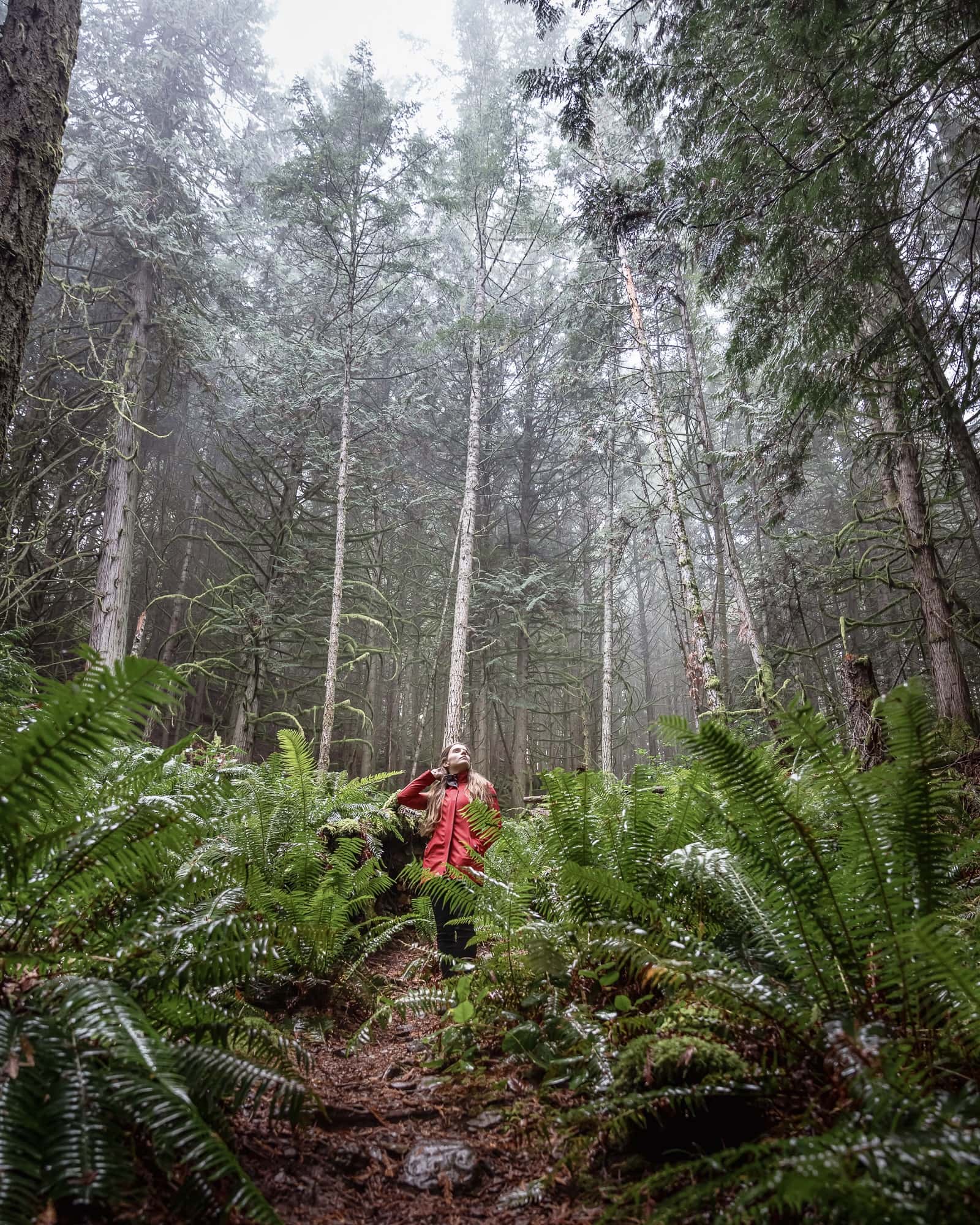 Where we stayed
We stayed at Mayne Island Resort which is located on the east side of the island. The resort offers rooms as well as villas and seaside cabins. Our two-bedroom villa had a large patio and beautiful views of the ocean.
Because of its excellent location right by the ocean, we set off on morning walks along the beach and hikes around the resort through a seaside grove of giant wind-twisted arbutus up to Campbell Point.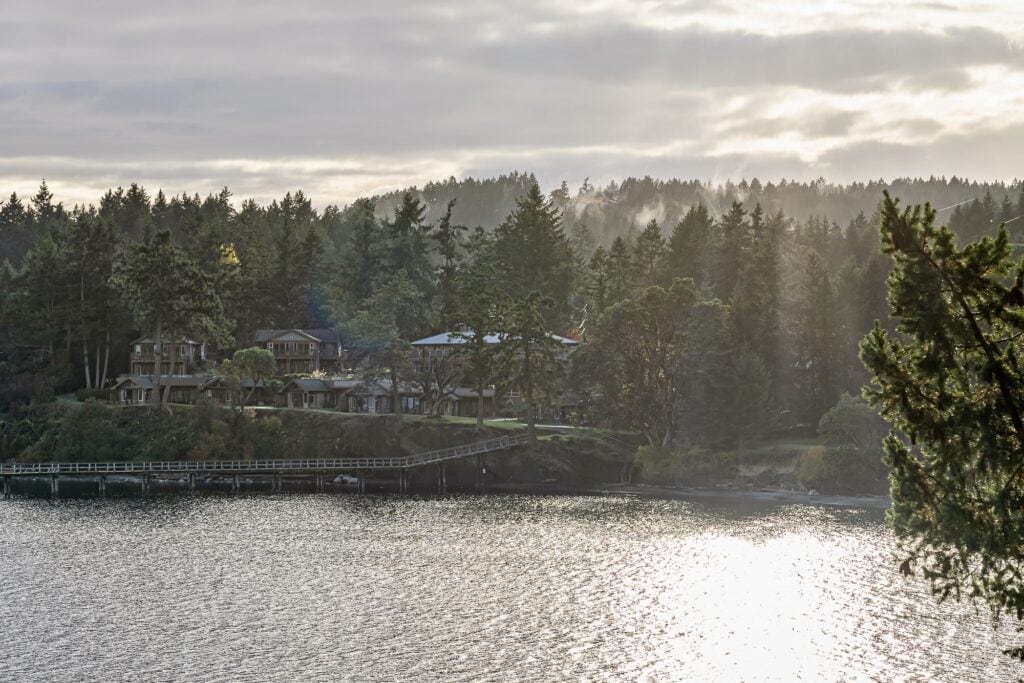 Fall getaway to Fort Langley
Fort Langley is a charming village with a population of only three thousand people. It's a popular weekend getaway for Lower Mainland families and is full of nature and history.
Fall brings the town to life with beautiful fall decorations, colourful leaves darting along the pavement and the smell of pumpkin spice filling the air.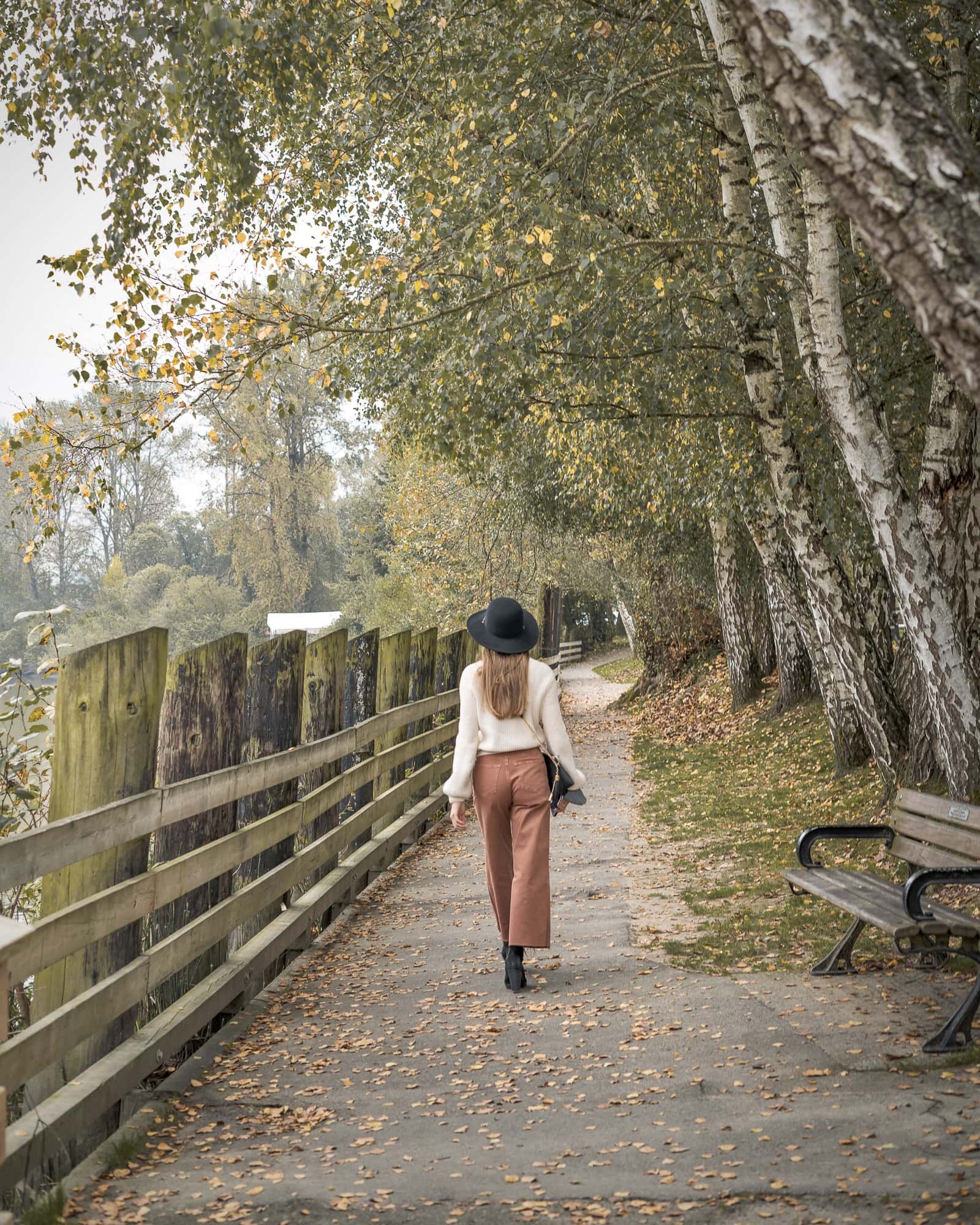 Explore Fort Langley's Fort-to-Fort trail and take in the picturesque sights of autumn leaves reflecting off the Fraser River. After your stroll along the river, settle in for a good book, a warm latte and a quick treat at Wendel's Bookstore and Cafe.
The Fall Experience in Fort Langley
The fall experience around Fort Langley is a mix of unique boutique shops showcasing fall products as well as many charming farms and winery estates.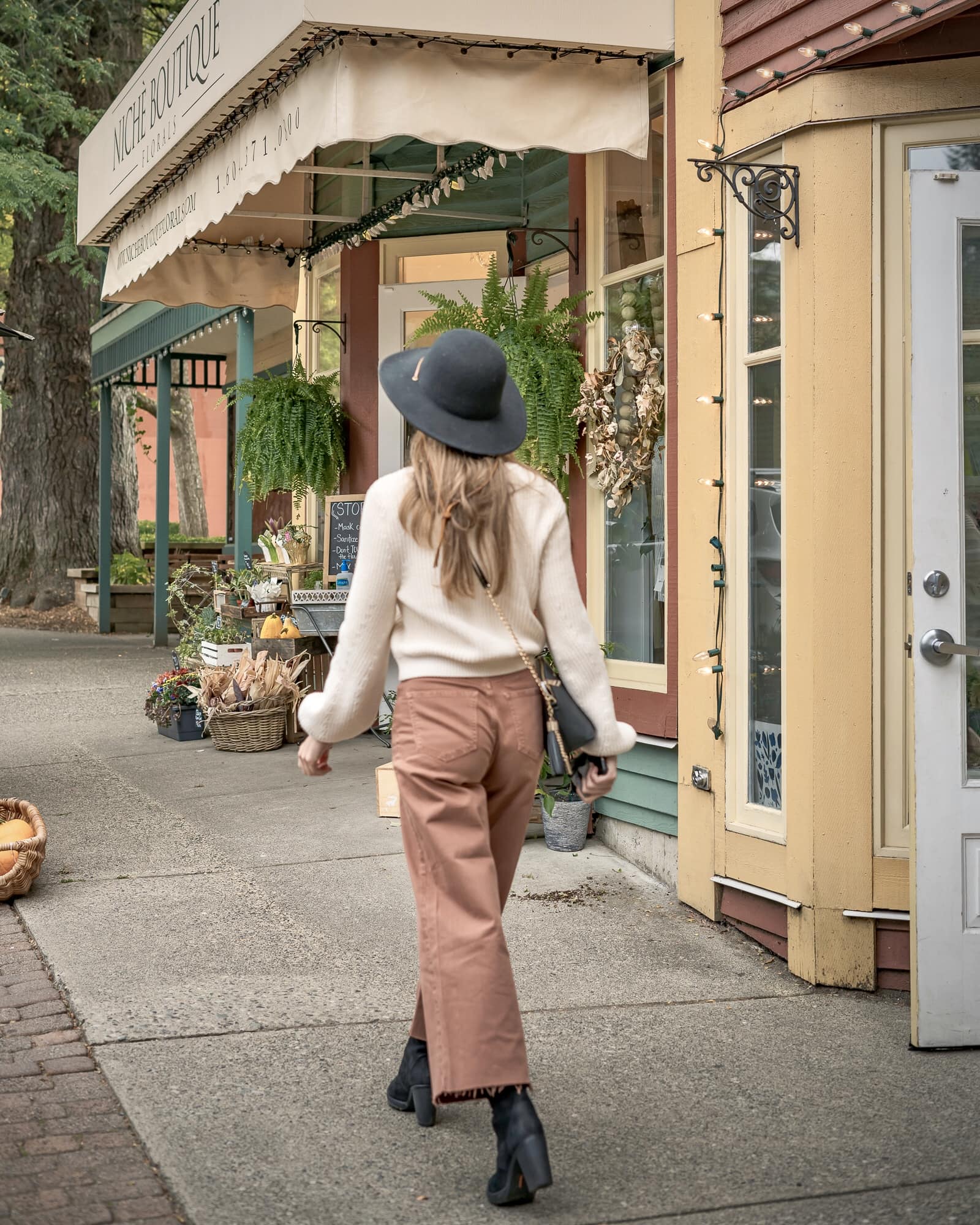 Things to do in Fort Langley this fall
Aldor Acres
Our favourite farm in all the Lower Mainland, Aldor Acres provides a complete fall experience. In October, the Fall Pumpkin Patch & Market is open daily, providing fresh corn, u-pick sunflowers, pumpkins and farm animals. To keep the hunger pangs at bay, there are several food trucks and a coffee stall around the grounds.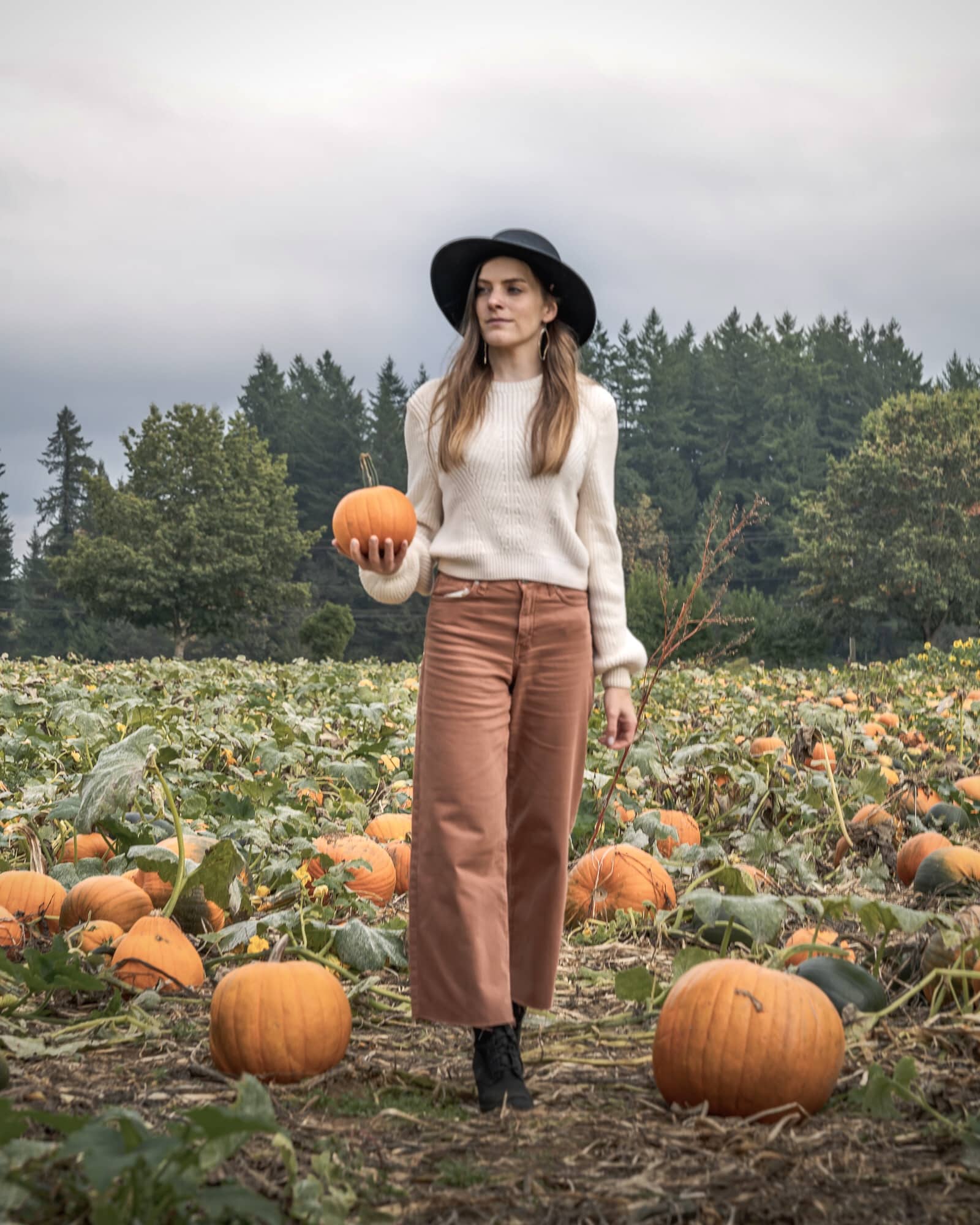 Cranberry Festival
The 28th Cranberry Festival will take place on Saturday the 7th of October, and is a much-loved event celebrating the region's history and tradition. Apart from the cranberries, visitors can indulge in a variety of food from the food trucks and craft beer while listening to live music. 
Krause Berry Farms & Estate Winery
The Krause farm has various u-pick fruits on offer in late summer followed by the u-pick pumpkin patch. During the fall, you can find fall-inspired baked goods in their market store as well as their award-winning wines and locally sourced products.
Grave Tales Spooky Walking tour
Grave Tales is a spooky walking tour during the Halloween season at night in October. Join our expert storytellers for a two-hour program of spine-chilling stories, as you walk through the Fort Langley village at night.
Things to do near Fort Langley this fall
Seaside Pearl Winery
Seaside Pearl Winery is a boutique winery 25 min drive east of Fort Langley. The chapel tasting room is in the heart of the vineyard where you can sample their small lots of artisanal wines. If the weather allows it, take a seat on the patio overlooking the vineyard and enjoy a glass of wine in this scenic setting.
Maan Farms Market and Estate Winery
Maan Farms is a great place to visit all year-round. However, from late summer to fall, the farm has many fantastic activities, from berry u-picks and picnics in the petals to a corn maze and pumpkin patch. For all thrill seekers, the scariest corn maze in Canada is coming back this year, the perfect Halloween activity with friends.
Keep an eye out for all the delicious fall-inspired treats in their market!
Taves Farm
We loved our visit to Taves Farm in the fall! This farm might look small at first glance, however, it packs a complete list of fall experiences. Stroll around their sunflower patch, pick your own apples, taste a flight of homemade apple cider, find your way through the corn maze and pick your favourite pumpkin.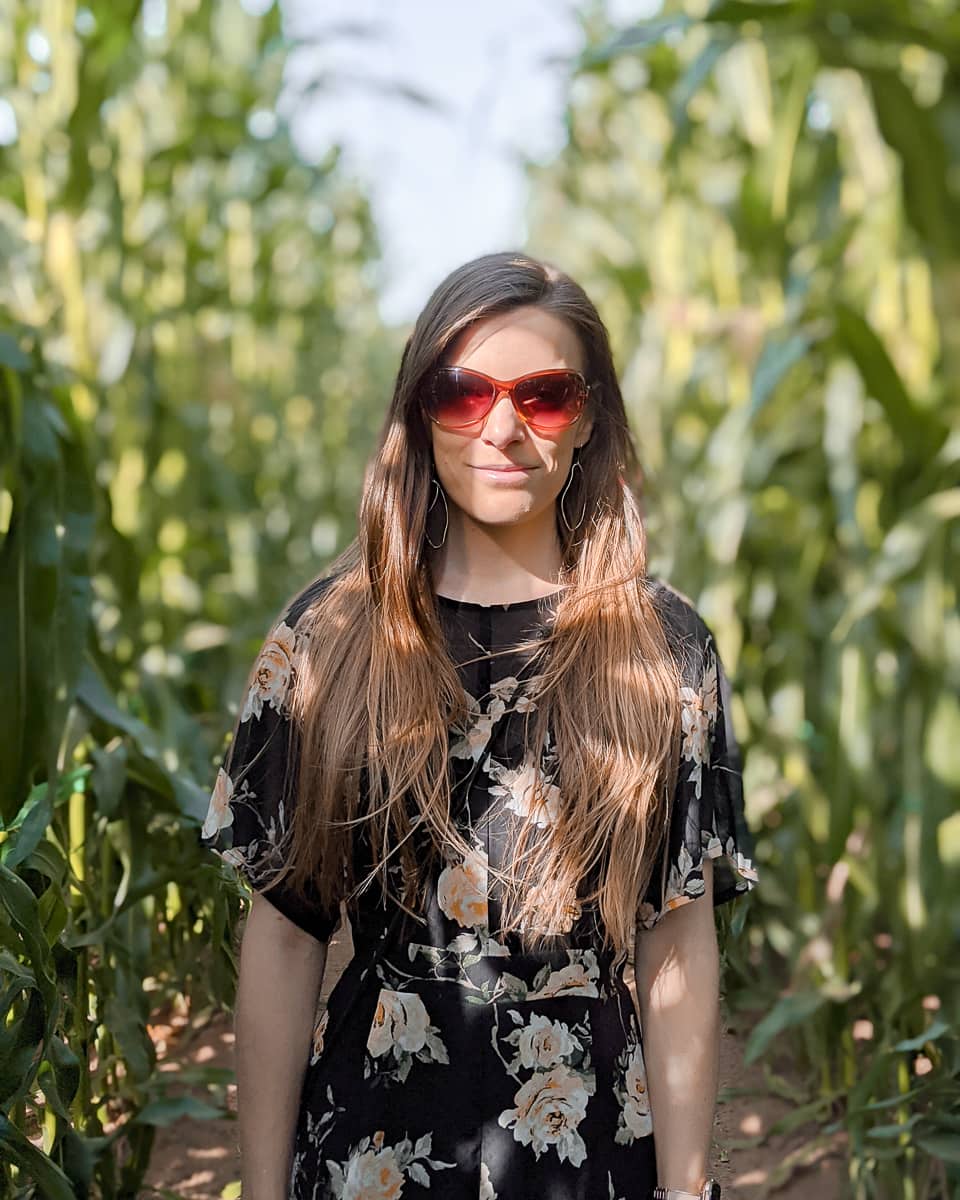 Where we stayed
Unfortunately, we've never stayed in Fort Langley, always visiting on day trips. However, the following places have been high on our lists for a getaway:
oTENTik
oTENTik is an A-frame cabin and prospector tent exclusive to Parks Canada located inside the Fort Langley historic site.
Fall getaway to Agassiz
Located in the Eastern Fraser Valley, Agassiz is one of the region's best-kept secrets. Its location makes it easy to explore everything the Fraser Valley has to offer. Surrounded by mountains, lakes and the mighty Fraser River, there is something for everyone in Agassiz, from skiing at Sasquatch Mountain Resort to fishing on the Fraser River.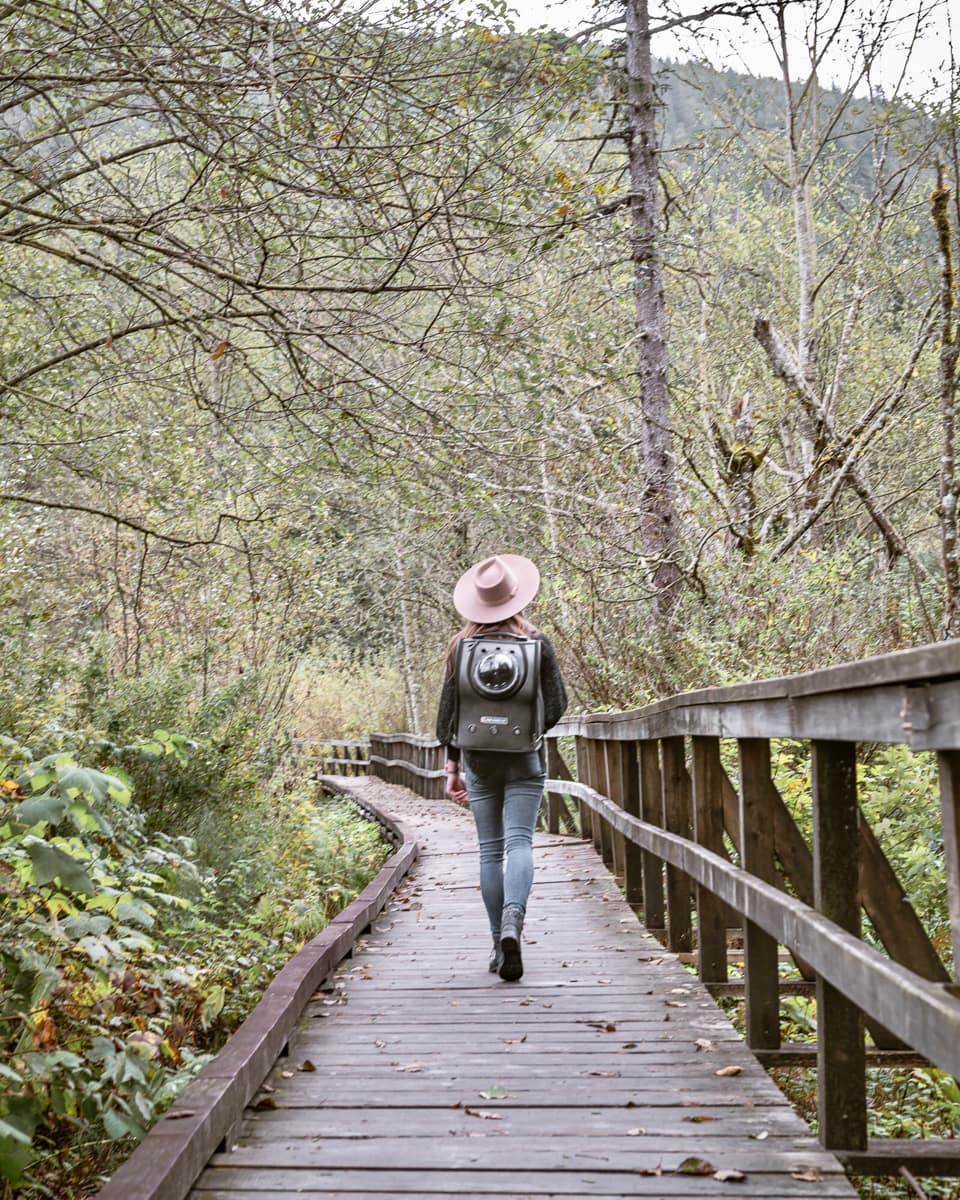 For those who prefer a more leisurely pace of life, there are numerous agri-tourism destinations for you to explore. Go on a self-guided Circle Farm Tour and visit several unique agri-tourism destinations or explore the region's history at Kilby Historic Site or Agassiz-Harrison Museum & Visitor Information Centre.
The Fall Experience in Agassiz
The fall experience in Agassiz is all about nature activities and cosy lodge stays. Marvel at the changing leaves while hiking or fishing, and indulge in pumpkin pie or a hot chocolate by the campfire while taking in the stunning views of Mount Cheam.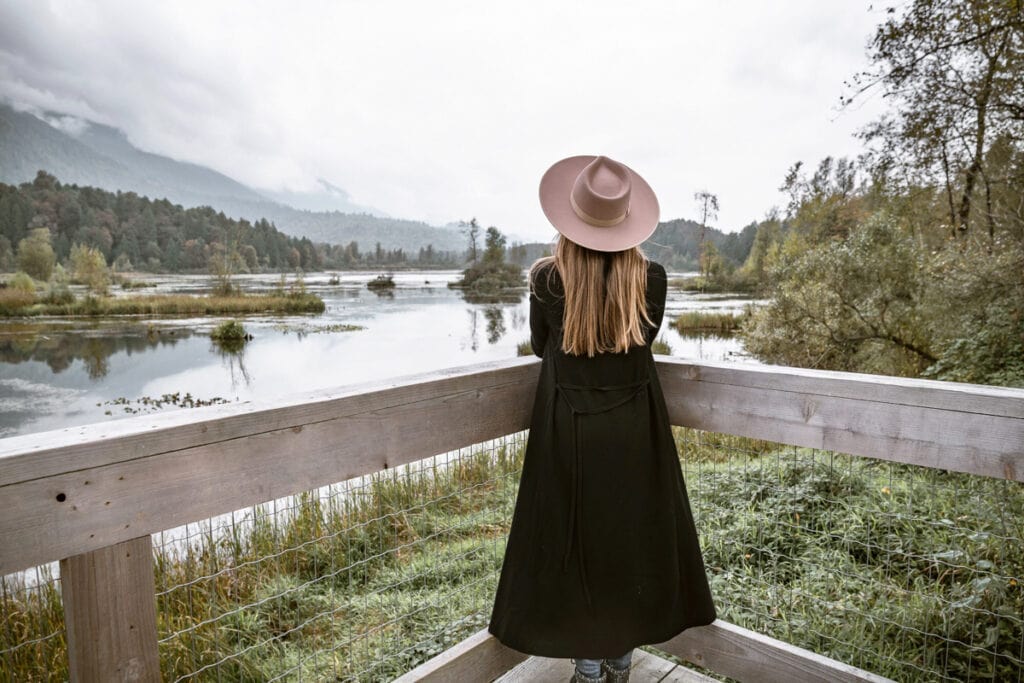 Things to do in Agassiz this fall
Agassiz fall fair and corn festival
The Agassiz Fall Fair and corn festival is a community event with activities ranging from live music, a parade and lots of fun activities. This fall festival is held annually and celebrates the community's agricultural heritage.
Visitors can also enjoy the Agassiz Corn Festival, which takes place indoors at the Agricultural Hall and outdoors at the fairgrounds.
The Eagles of the Fraser Valley
The Fraser River is home to the largest over-wintering population of bald eagles, which flock here in November and December to feast on spawned-out salmon carcasses.
Farm experiences at Greendale Acres
Greendale Acres provides a host of activities throughout the fall. Go on an interactive experience getting lost in the 12-acre corn maze, or find your perfect pumpkin among 15 varieties at their pumpkin patch.
There are many more activities for children and adults, such as Meditation Monday and the Fireside Music Series, that will keep you entertained for an entire day.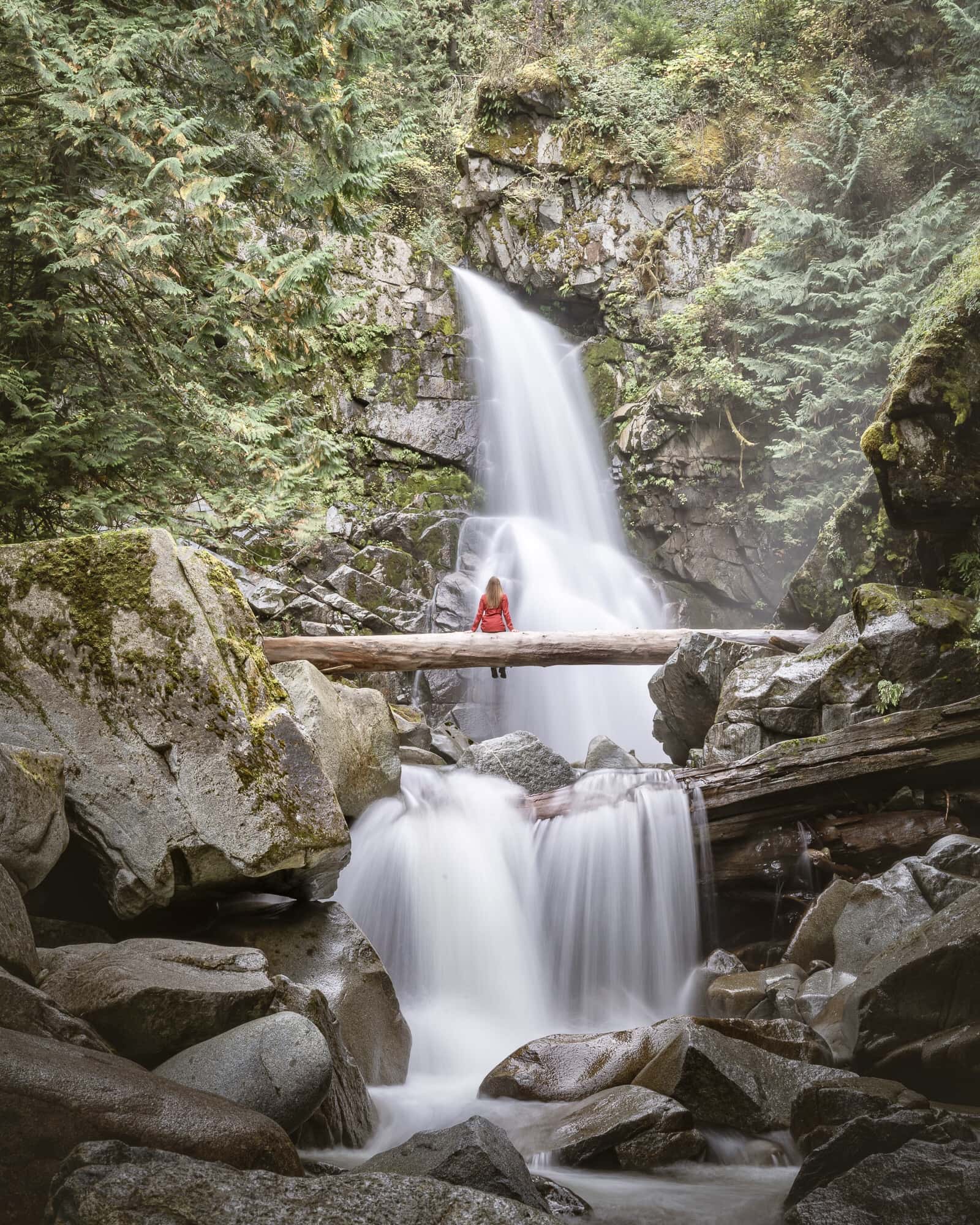 Where we stayed
Situated on the banks of the mighty Fraser River, Fraser River Lodge offers a luxurious escape from the stress of everyday life. It lies just an hour away from Vancouver and minutes from Agassiz or Harrison Hot Springs.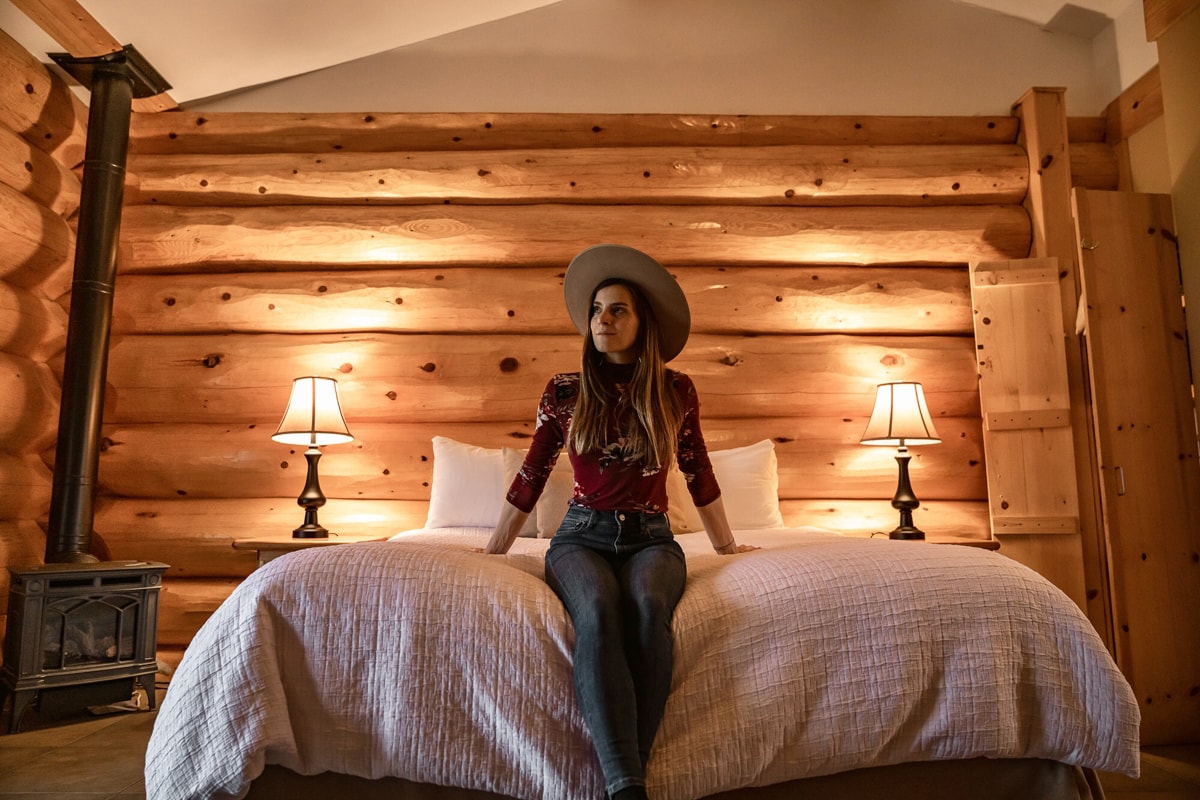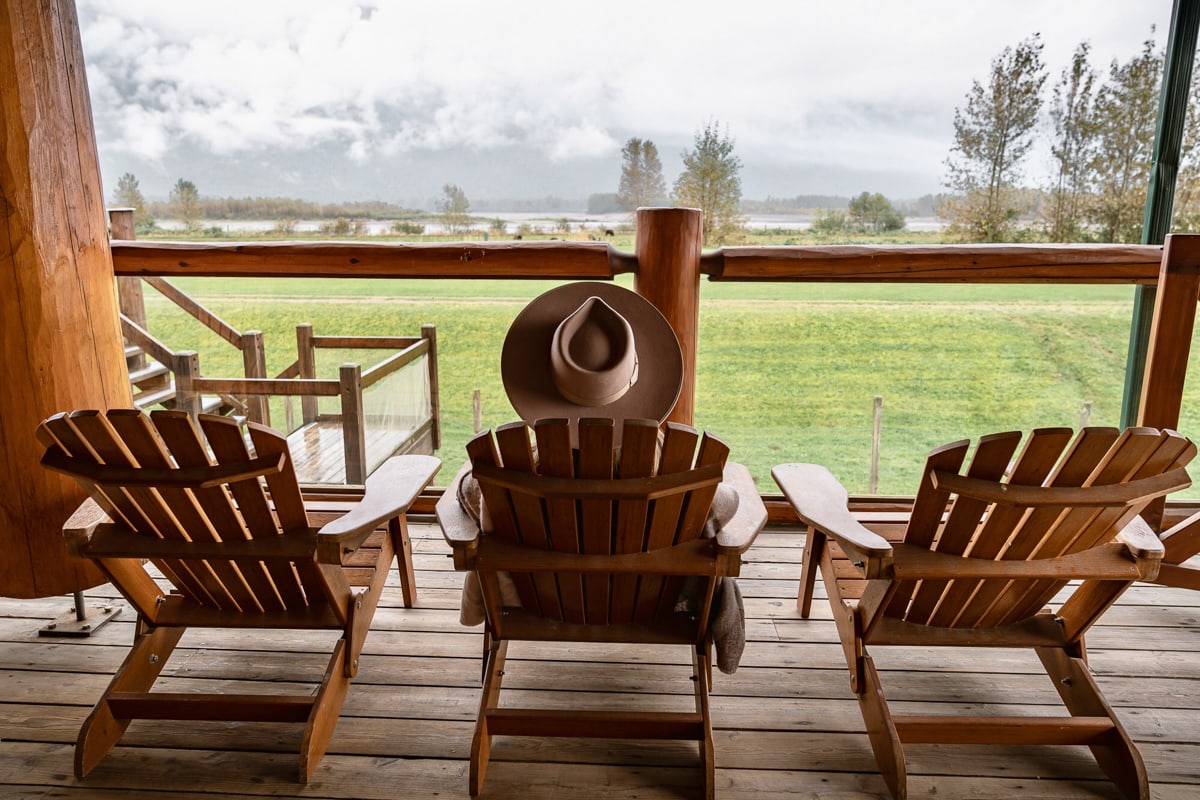 There's something to do all year round, but the lodge really comes alive during the fall months. We experienced a quintessential getaway at the lodge and Agassiz, and it is still one of our favourite fall stays to date. From activities such as local salmon fishing to indulging in s'mores by the campfire to beautiful fall hikes and fall-inspired gourmet dinners, it's the perfect fall getaway.
Like it? Pin it!