As we paddled into Lost Lake, carefully avoiding submerged logs & dense grasses scattered around our path, we couldn't help but notice how quiet it was; the only sounds were our paddles dipping into the water and the birds singing in the trees.
The Columbia Wetlands, one of the most unique paddle destinations in British Columbia, with a maze of channels and lakes, is one of North America's largest, freshwater wetlands. It spans 180km, following the Upper Columbia River through the Rocky Mountain Trench.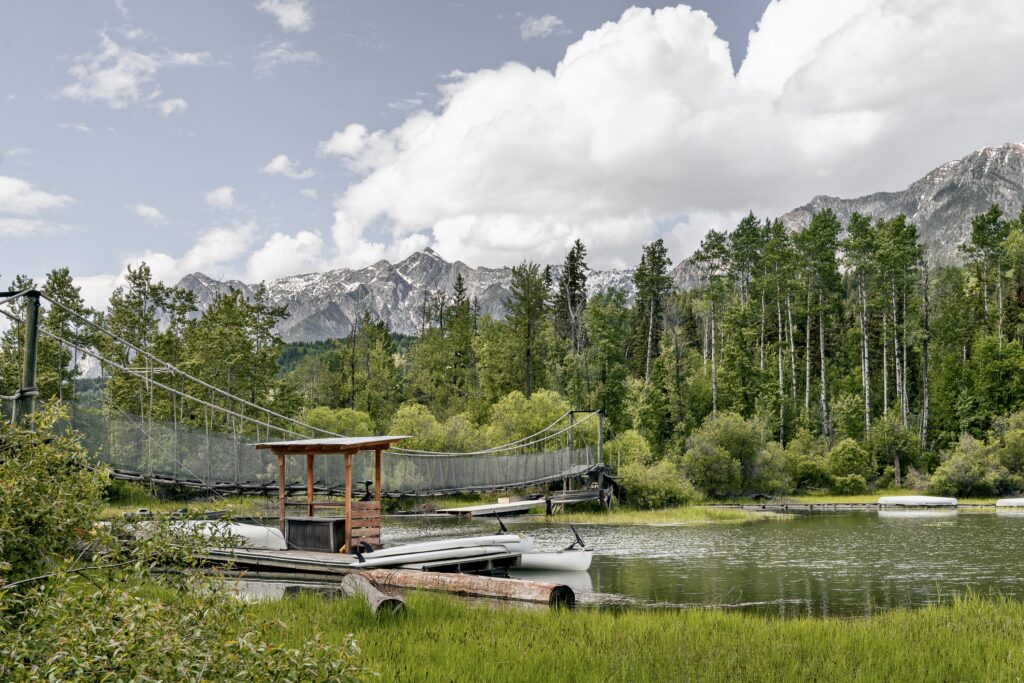 Cradled between the Rocky and Purcell mountain ranges, the wetlands serve as a major stopover for migrating birds on the Pacific Flyway route; a waterfowl migration route connecting the Arctic Ocean with South America. It's also home to about 250 species of birds and other wildlife such as beavers and elk.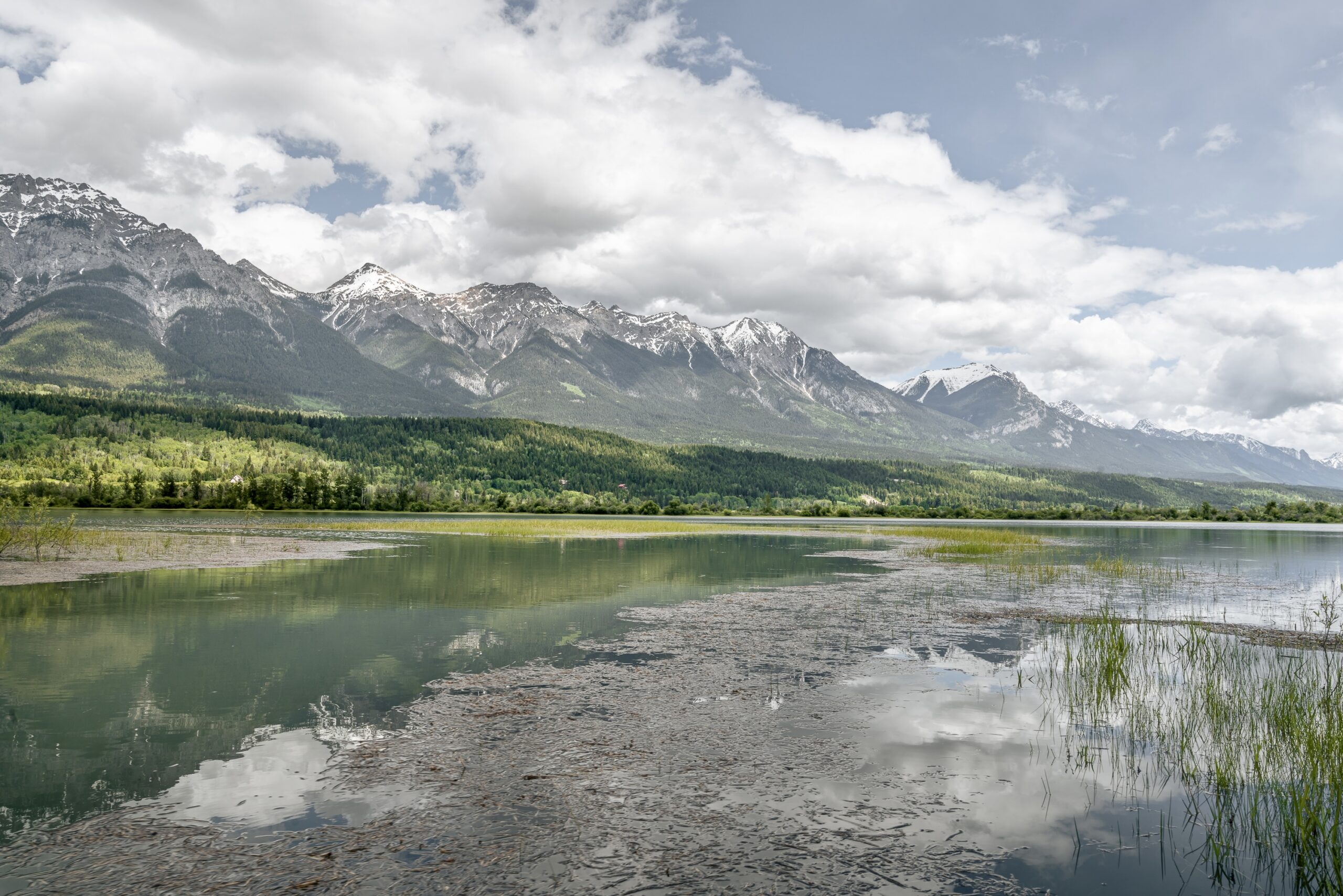 The best way to experience the Columbia Wetlands is of course from the water, paddling through this area is both peaceful and serene while also allowing you to get up close and personal with the wildlife that inhabits this unique ecosystem.
As we made our way along the channels, there was an abundance of wildlife, with eagles soaring overhead, ospreys diving for fish, and a great blue heron standing tall along the shoreline. You might also be lucky enough to see a bear going about its business.
Related: Are you looking for more paddling adventures around Canada? Read about our canoe trip on the Yukon River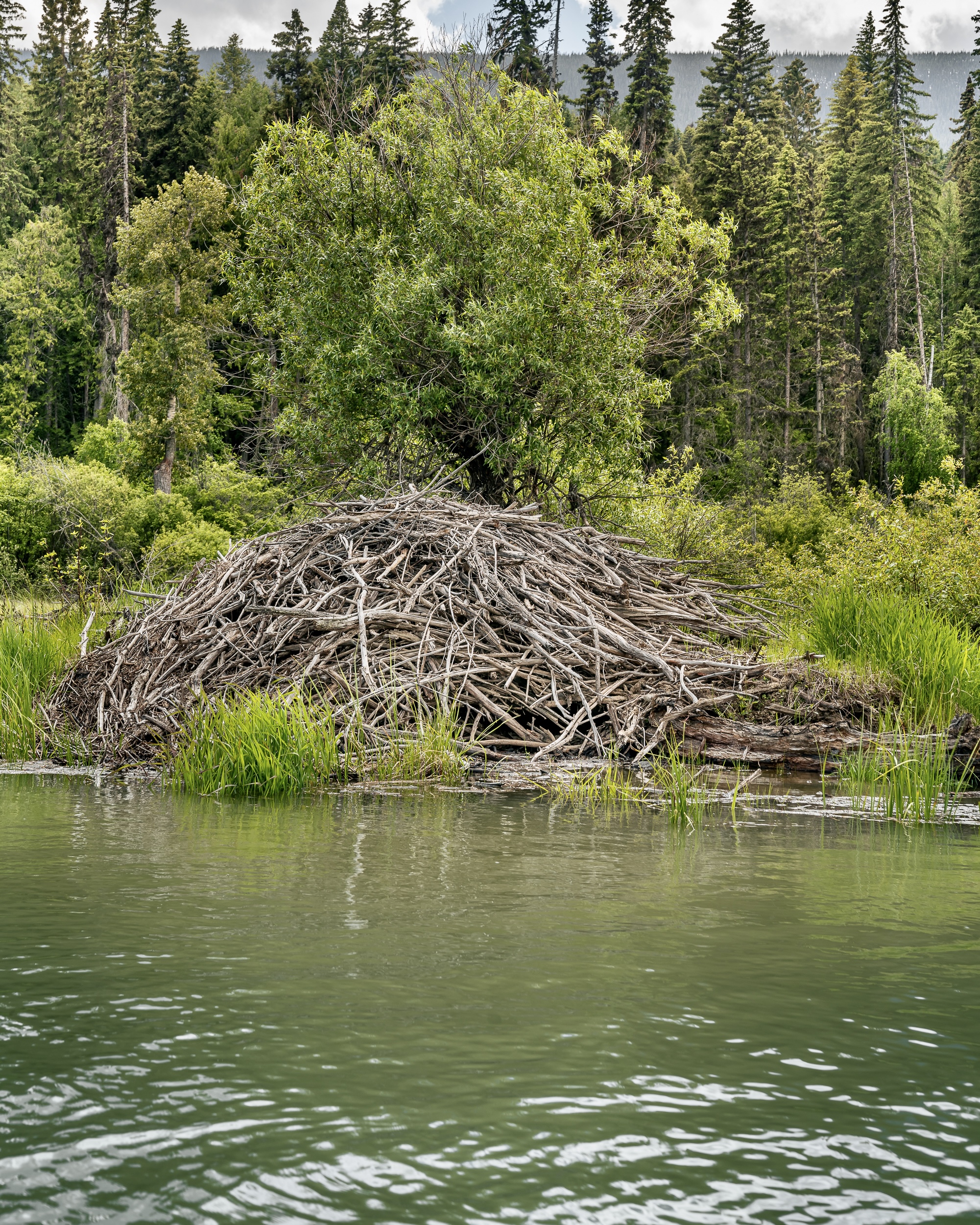 While there are many ways to explore the wetlands, we chose to rent an e-canoe through Columbia Wetlands Outpost, which is located about a 16-minute drive South of Golden. They offer self-guided canoe, kayak or paddle board rentals as well as e-canoes if you need a little help with the upstream sections on the Columbia River.
After a quick introduction at the iconic red barn, we followed our guide across to the launch area, where she gave us our safety gear and paddles. A suspension bridge leads to the picturesque "Captain's Dock", complete with Adirondack chairs and a recreated ship's bow, offering a peaceful oasis from which to admire the wetlands with the Purcell Mountains as a backdrop.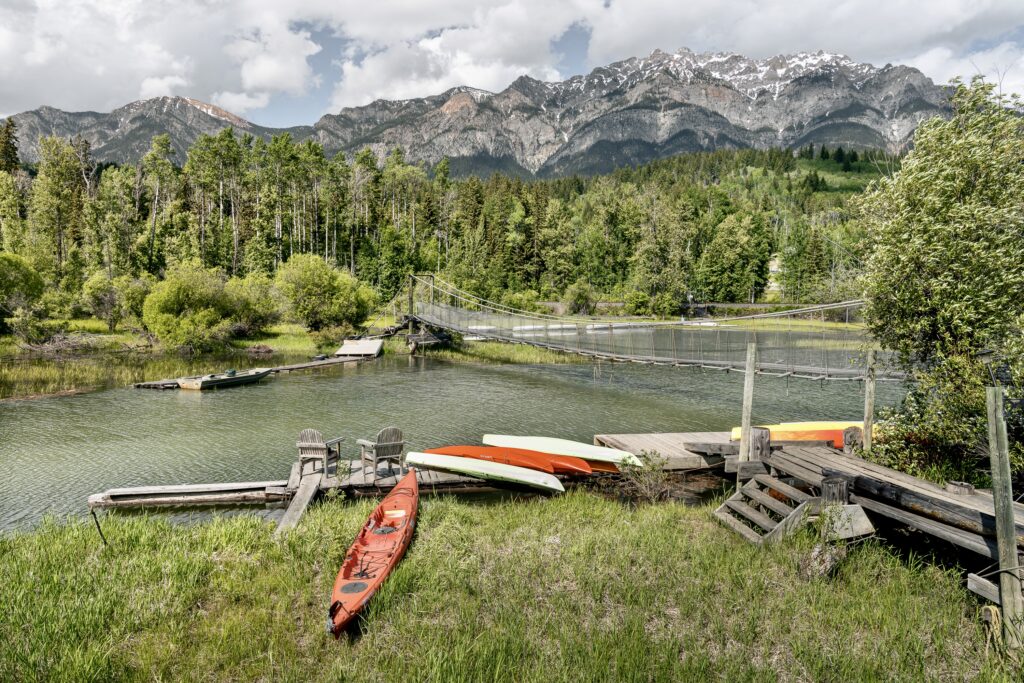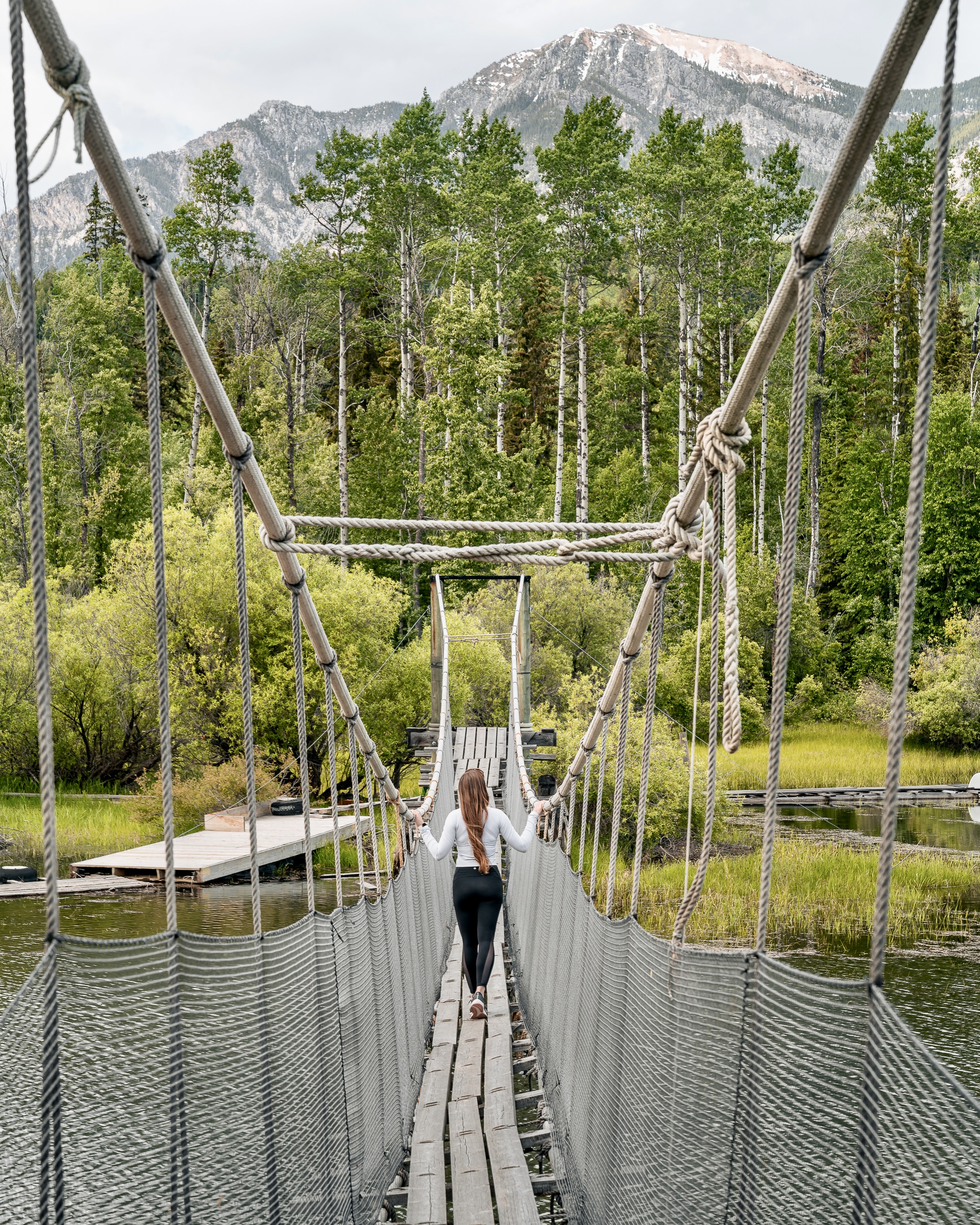 After a safety talk and a brief tutorial on how to operate the e-canoe, we set off on our adventure along the Columbia River and the wetlands. We let the river guide our canoe, gently floating along the shoreline, taking in the quietness and beauty of the area. In a world where we rarely take a moment to ourselves, this is the perfect place to sit back and embrace nature at its finest.
FAQ
Why kayak the Columbia Wetlands?
The Columbia Wetlands is one of the most unique places to paddle; you'll be able to observe an abundance of wildlife in this idyllic setting.
Where can I rent a canoe or kayak?
I recommend Columbia Wetlands Outpost. They have a great setup right by the water where you can rent your choice of kayak, canoe, paddleboard or e-canoe. Before or after your paddle, you can relax and enjoy the views from the "Captain's Dock".
When is the best time to kayak on the Columbia River and Wetlands?
When the water is high, more of the channels and lakes are accessible. This is usually around late spring/early summer.
What to take with you
The following list will make your trip more comfortable and prepare you for any unforeseen circumstances:
– Shoes & clothes that you can get wet. Avoid cotton, which will chill you; quick-drying clothing is a must.
– If it's a sunny day, make sure you protect yourself from the sun. Bring a hat and sunglasses and make sure to apply sunscreen.
– Take snacks and water with you. You'll need it to fuel your body with all the paddling you'll be doing. It will also come in handy if you get lost or you are on the water longer than expected.
– Binoculars will help you get up close to the wildlife without disturbing them
– And of course, don't forget your camera!
Where to stay near Columbia Wetlands?
Columbia Wetlands Outpost offers accommodation at their lodge or for a more unique experience, you can stay in one of their Teepee Tents overlooking the Purcell Mountains (coming soon).
There's also a whole range of accommodation options for all budgets in Golden, 16 minutes North of the Outpost.
Moberly Lodge: Rustic log cabin outside of Golden -> BOOK NOW
Basecamp Lodge Golden: Timber-framed lodge walking distance from Golden -> BOOK NOW
Canyon Ridge Lodge: Cosy bed & breakfast with hot tub -> BOOK NOW
Like it? Pin it!
Columbia Wetlands Outpost invited us to experience the Columbia Wetlands on a canoe trip. As always, all opinions are our own and you will always read our genuine thoughts and experiences.