I'm not really known to be a daredevil, although I do love adventure and I would love to take some risks from time to time (but I rarely do), so when my boyfriend surprised me with a paragliding tandem flight for my birthday, I was pretty scared.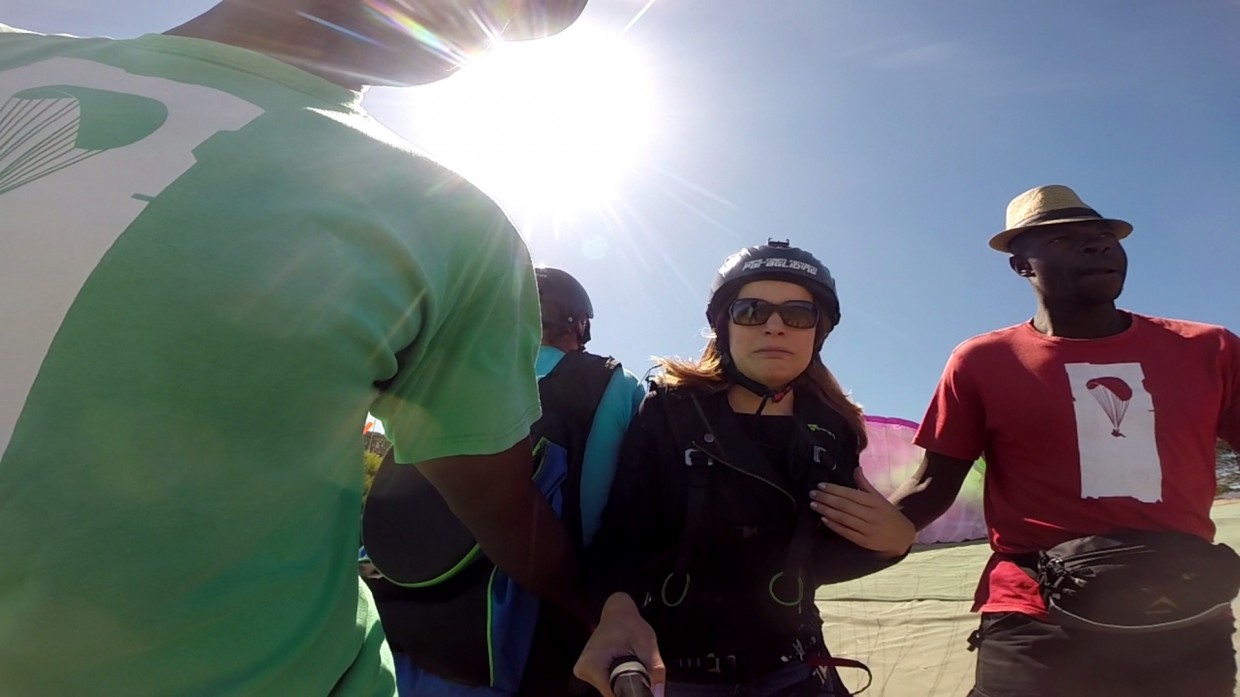 – Can you see the fear –
Luckily, he only told me a few hours before the event, so I was only able to freak out for a short time.
Apart from the nervousness, I was pretty excited. I had been hoping to do a paragliding flight for a few weeks now, but whenever I thought about it, I told myself there were plenty of other opportunities at a later date. (I like to postpone…)
But this time, there was no turning back, everything was booked and I was on my way to the launch site on Signal Hill in a matter of hours after receiving the news that my life was going to be in the hands of a stranger.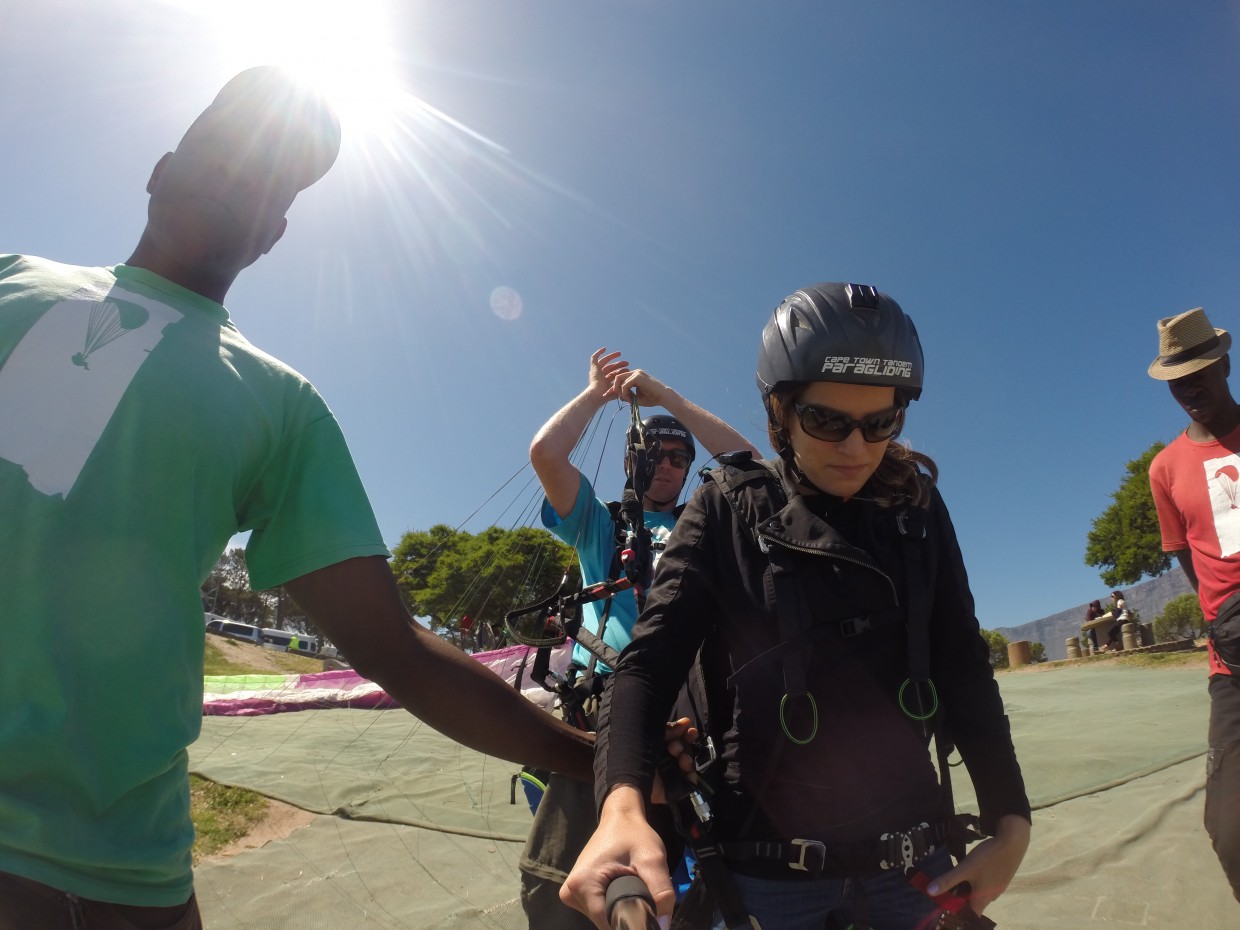 I shouldn't' have worried really. Everything was very organised. After signing the indemnity paper, they gave me a helmet and strapped me in the harness. Manu, from Cape Town Tandem Paragliding, told me he was going to be my pilot and reassured me everything was going to be fine. I just nodded and silently said a little prayer.
He prepared the GoPro, so all my petrified faces could be recorded, and waited for the wind so we could start running off the hill.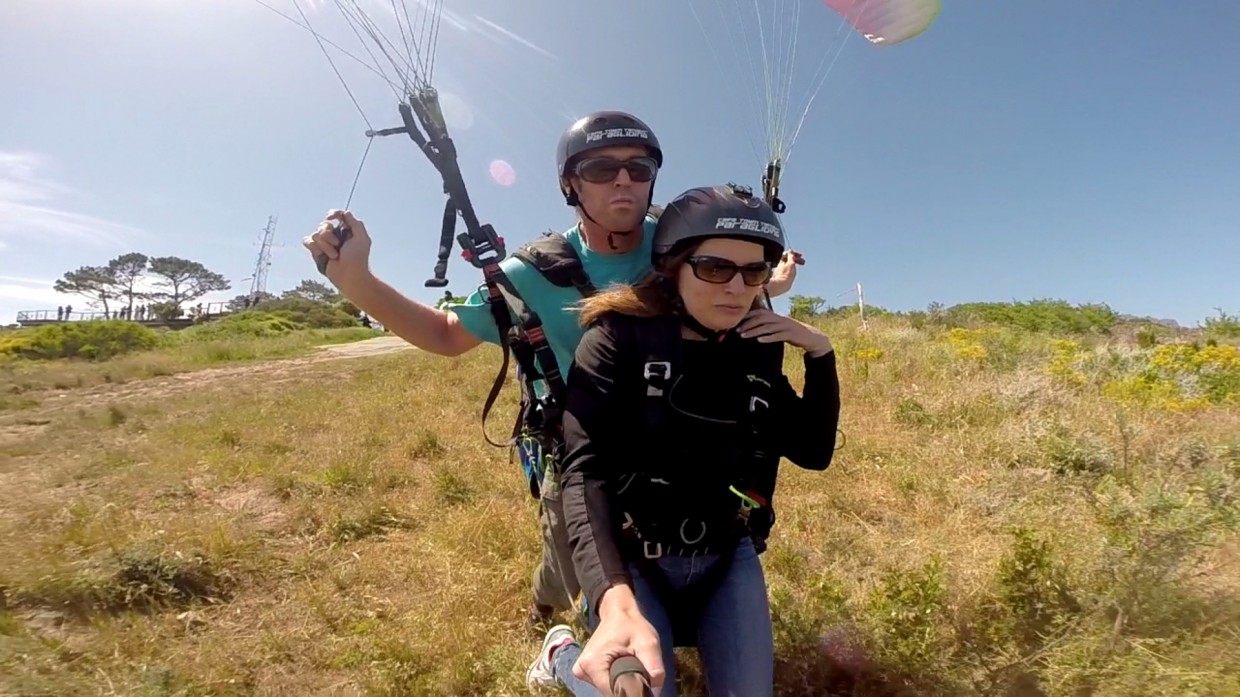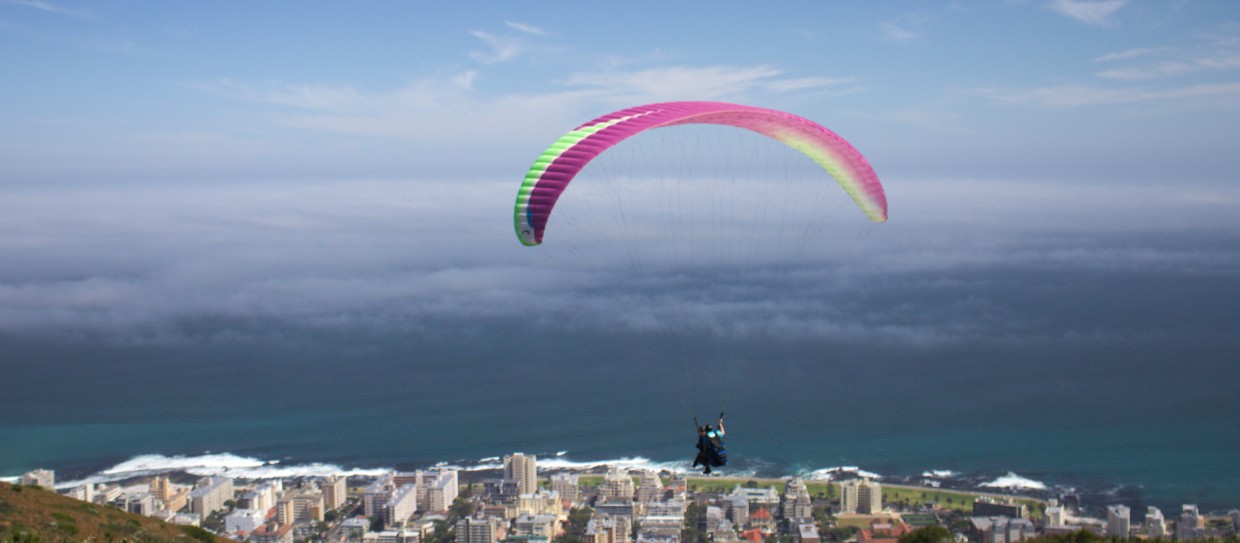 It all went so fast, and once in the air, surprisingly, I was able to relax. It was pretty amazing to see all the houses below.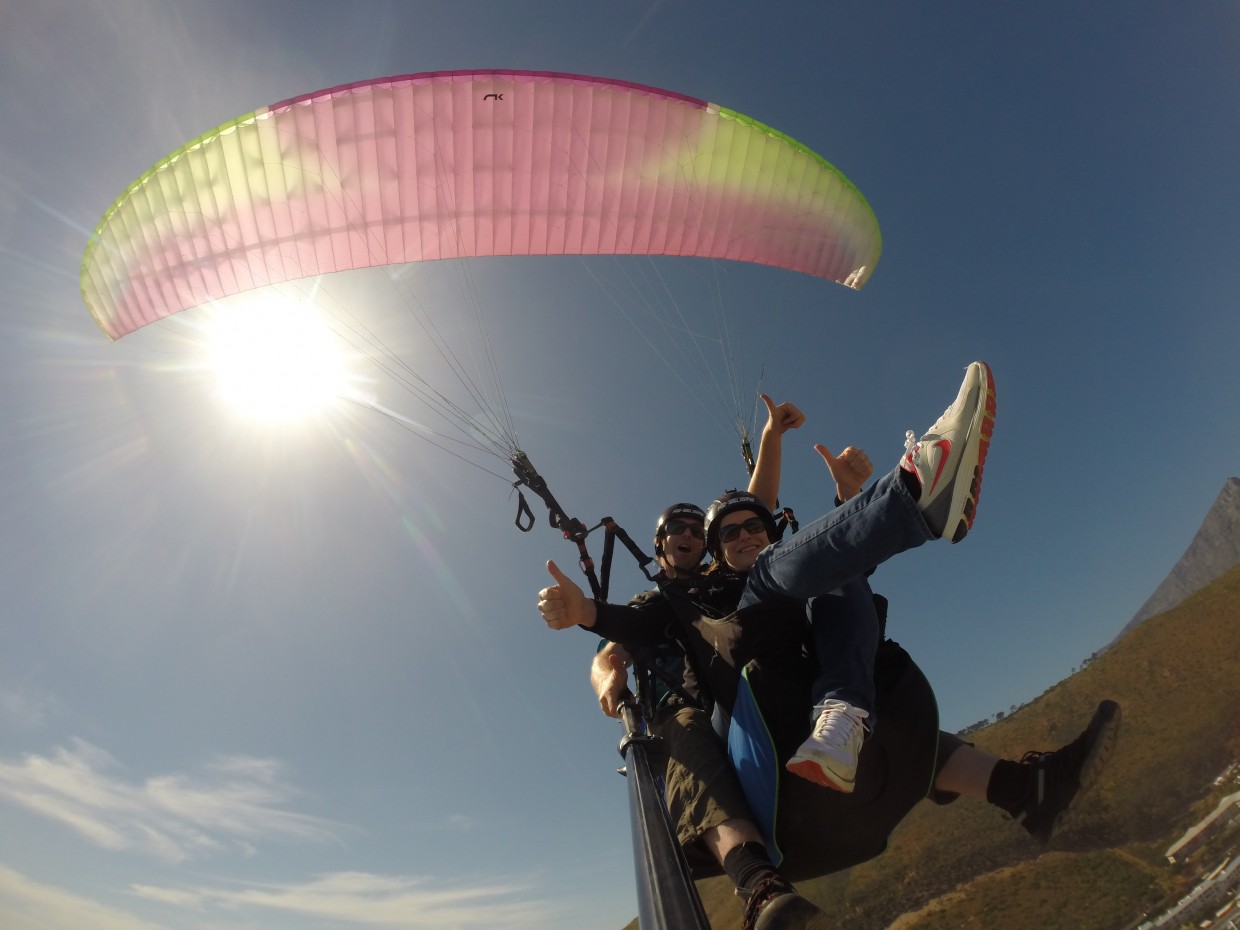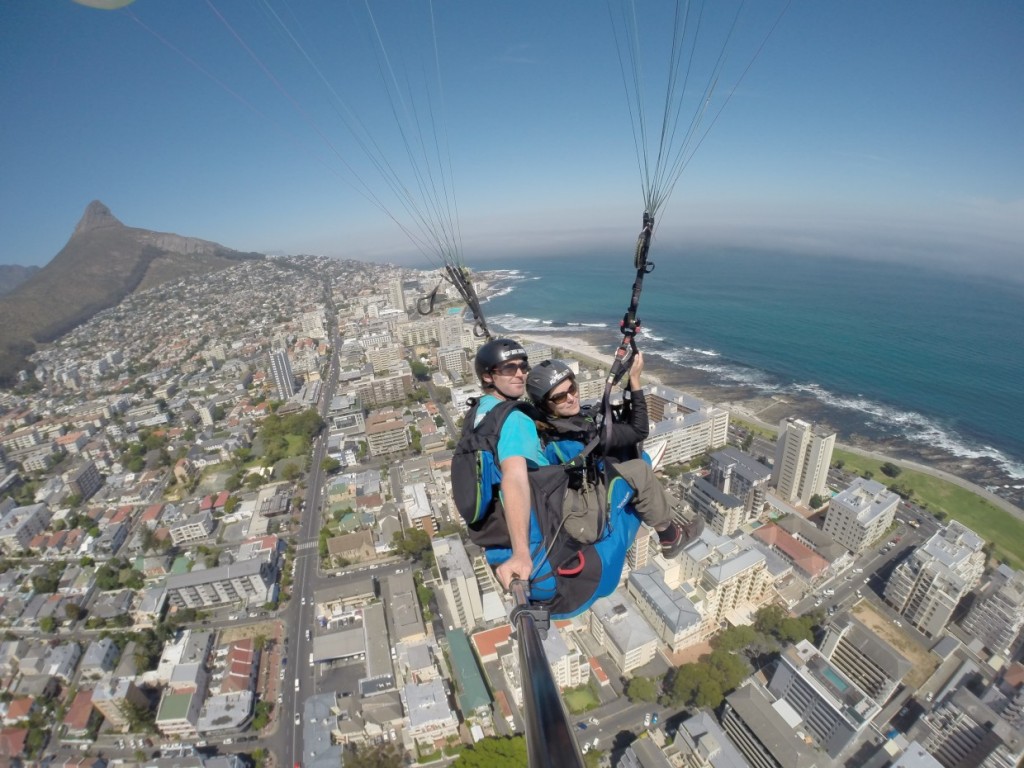 After flying for 5 minutes, and having taken a few pictures, it was time to land. Manu asked me if it was ok to do some tricks. 'Why not?', I said, and he started to swerve us around, which, if I had eaten a big breakfast, might not have ended very well. It was cool, but also weird, and I'm happy it didn't take too long.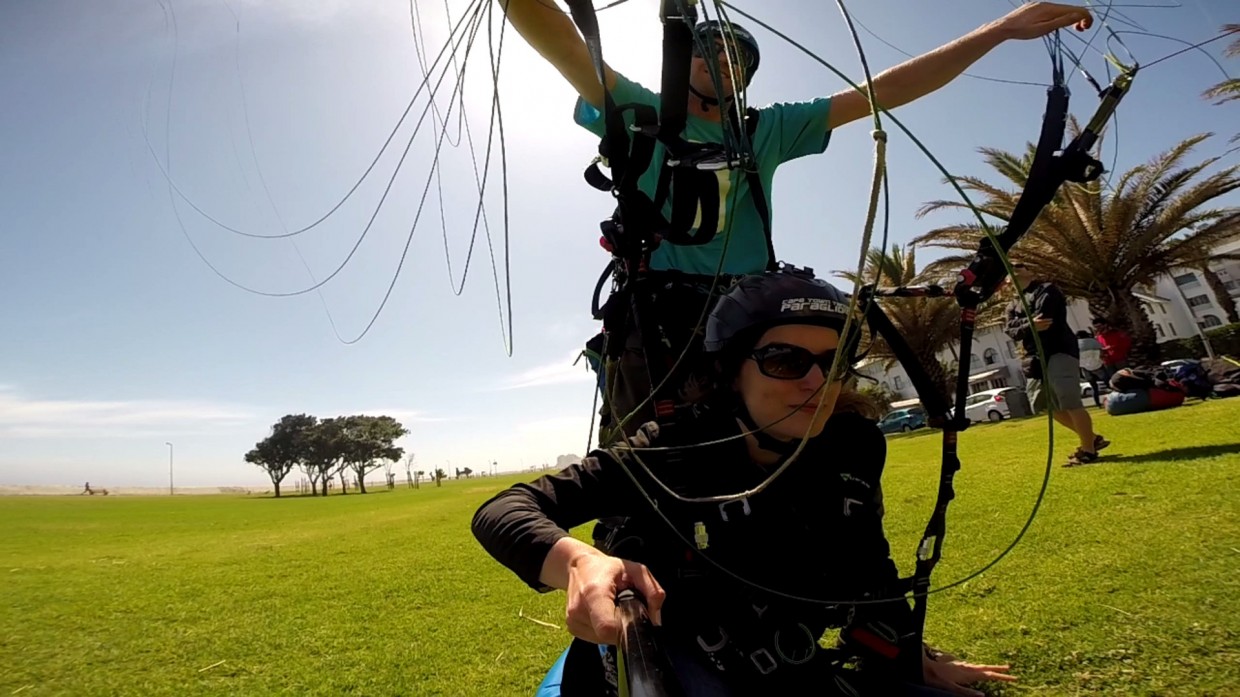 The landing at Sea Point was smooth (I imagined I would break at least one leg), and Manu handed me the memory card with all the films and photos taken during the flight, before driving back to Signal Hill.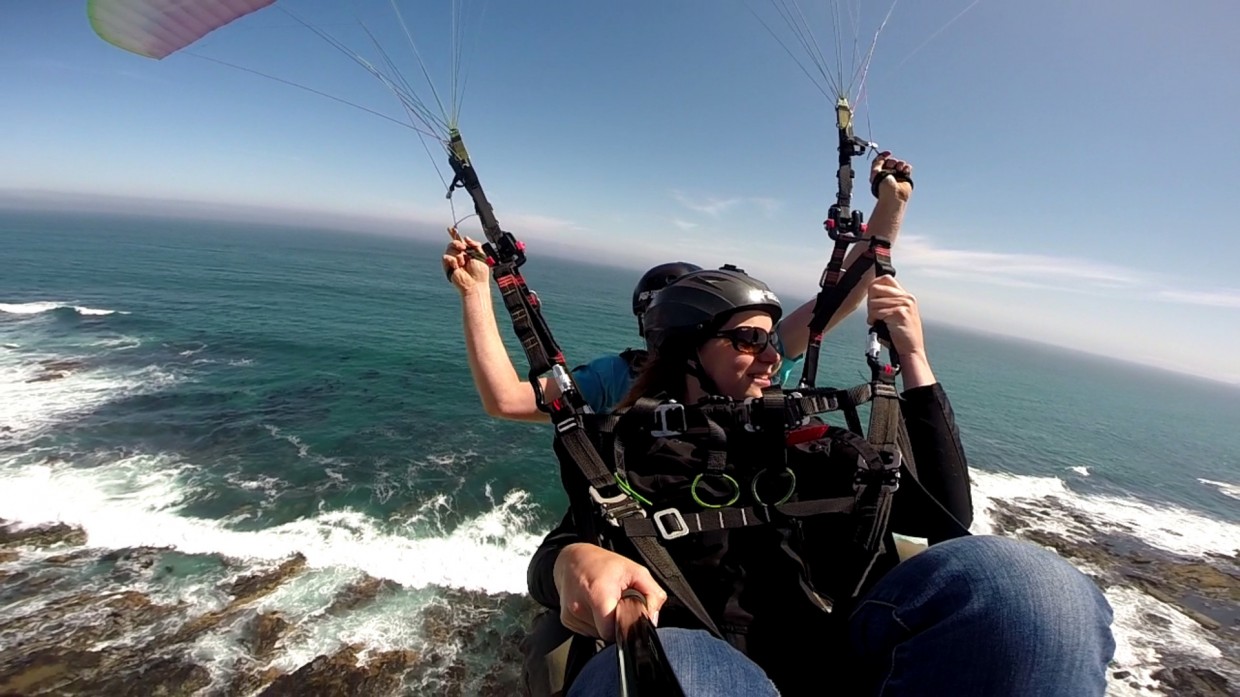 I loved my birthday present. It was pretty spectacular, although it would have been great if it had lasted a little bit longer than 5 minutes. (It all depends on the wind)
Love to try paragliding in Cape Town?
I flew with Cape Town Tandem Paragliding who depart from Signal Hill or Lions Head.
Cost is R1300 for the flight and for in flight photos and videos you'll pay an extra R300.
Things to know before you go paragliding in Cape Town
The launch site changes depending on the wind direction
The duration of the tandem flight can vary due to the wind and weather conditions
You do not need any experience prior to your tandem flight. All instructions will be given before the flight.
Commercial tandem flights are not allowed from Table mountain
What should I bring?
Comfortable closed shoes, preferably running shoes
Long trousers
Wind jacket
Sun block
You can bring your camera, but at your own risk
Ready to book your tandem flight in Cape Town?