As the sun rises over the frozen lake and landscape, a sense of stillness envelopes Hecla Provincial Park. But don't let that fool you, because beneath the icy surface lies a fascinating world brimming with life. With its clear, frozen lakes and abundant fish populations, Hecla is the perfect place to try your hand at ice fishing.
This stunning natural oasis in the heart of Manitoba, Canada, boasts picturesque forests, pristine lakes and an abundance of wildlife. What makes Hecla unique is its world-class ice fishing opportunities. It's the perfect destination for an unforgettable experience, whether you're a seasoned angler or a beginner
Preparing for Ice Fishing
To ensure a safe and successful ice fishing adventure in Hecla Provincial Park, it's crucial to be well-prepared. This involves having the proper equipment, clothing and knowledge of regulations.
In this article, we provide a summary of key information to help you prepare for a rewarding ice fishing trip in Hecla Provincial Park.
Ice fishing FAQ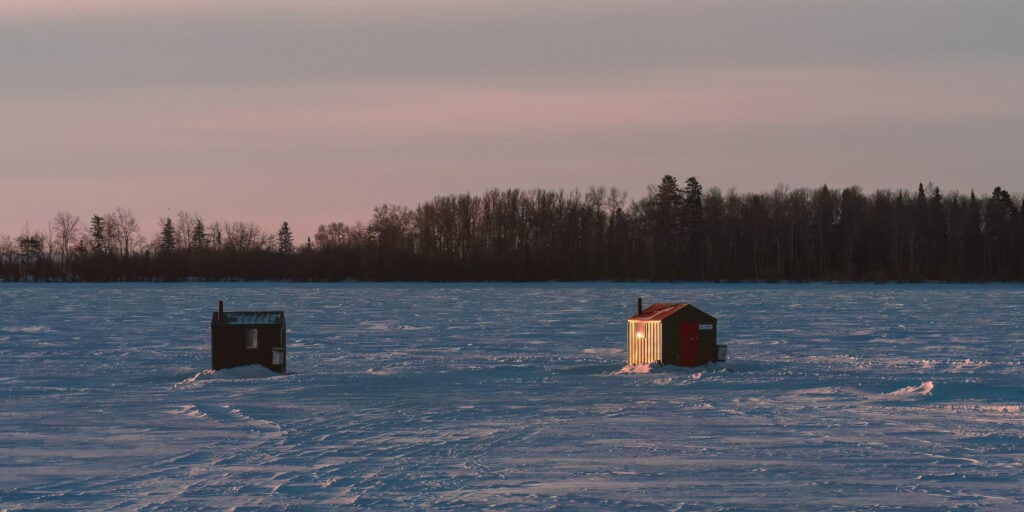 Q: When is the ice fishing season in Manitoba?
A: The season in Manitoba usually starts in December and runs through March.
Q: What are some popular ice fishing destinations in Manitoba?
A: In the Interlake region, Hecla/Grindstone Provincial Park and communities along Lake Winnipeg and Lake Manitoba are top spots. In the west, Turtle Mountain Provincial Park, Rivers Provincial Park and Riding Mountain National Park are popular choices. The eastern region has Atikaki Provincial Wilderness Park, Nopiming Provincial Park and Whiteshell Provincial Park, which are also popular for fishing lodges, cottage resorts and outfitter camps. Clearwater Lake Provincial Park, Grass River Provincial Park and remote lakes near Thompson and Churchill in Northern Manitoba are also excellent choices for ice fishing.
Q: What types of fish can be caught through ice fishing in Manitoba?
A: The winter season in Manitoba offers opportunities to catch a variety of fish, including walleye, northern pike, perch, lake trout, brook trout and rainbow trout.
Q: What is the best time of day for ice fishing?
A: The best time of day is typically early morning or late afternoon, when the fish are most active.
Guided Ice Fishing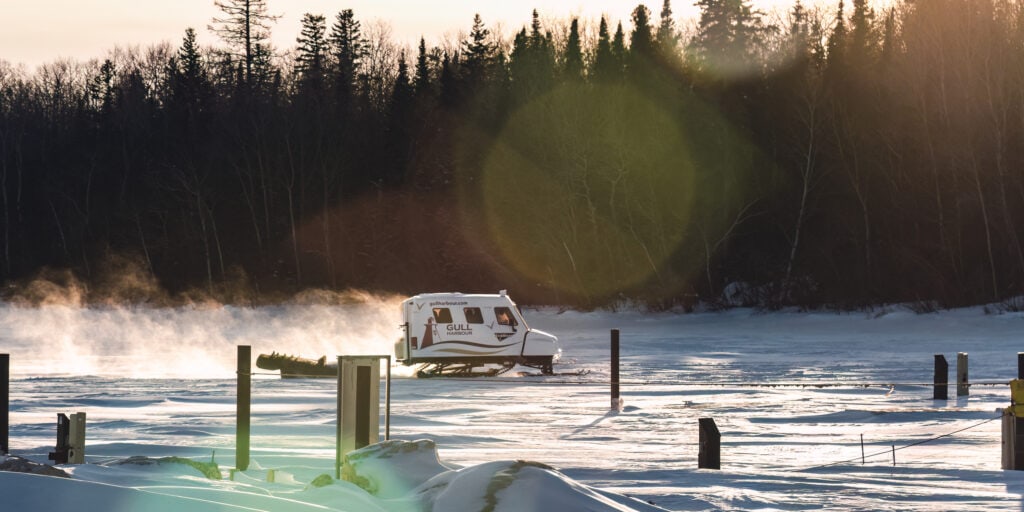 For those who are new to ice fishing or looking for a more structured experience, guided tours are an excellent option in Hecla Provincial Park. These tours provide expert knowledge, equipment and a warm comfortable shelter, as well as the opportunity to learn about the local ecology and park history from experienced guides.
There are several outfitters in Hecla running guided ice fishing tours, each with its own unique offerings and specialties. Booking a trip with an outfitter takes out all the guesswork and ensures you spend your time on the ice catching fish and not searching for them.
Ice Fishing with the SnoBear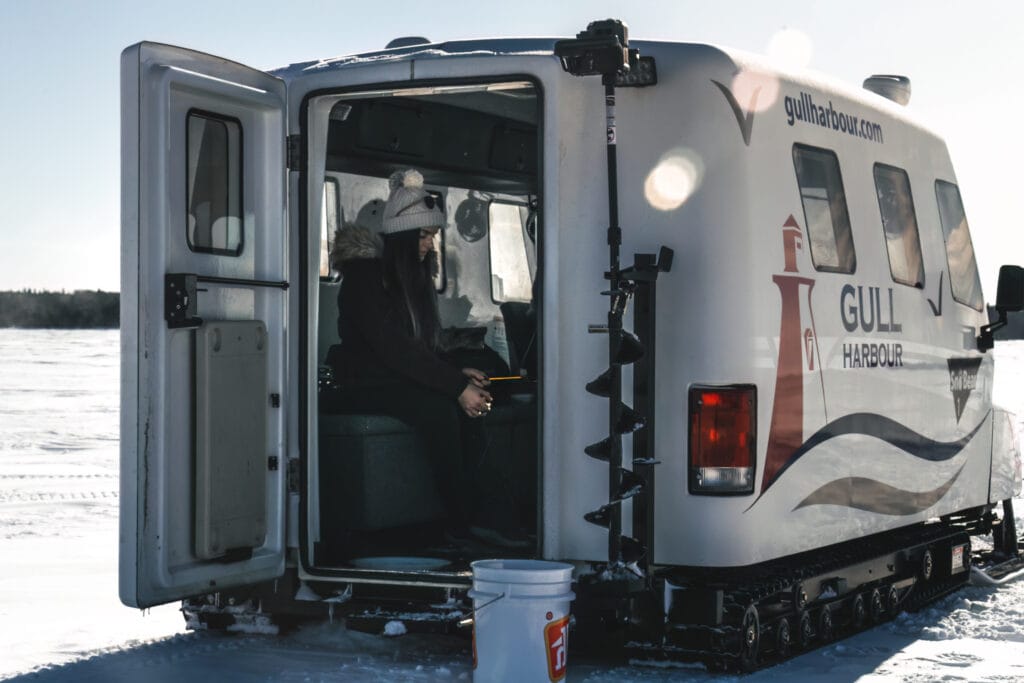 Ice fishing in Hecla Provincial Park can be taken to the next level with the use of a SnoBear. A SnoBear is a unique vehicle designed specifically for ice fishing, providing anglers with an unmatched experience. This all-terrain vehicle can easily navigate the snowy and icy terrain of the park and can even travel across the frozen lake to reach the best fishing spots.
With its heated interior and large viewing windows, the SnoBear provides a comfortable and exciting way to enjoy ice fishing in any weather conditions. Our own experience heading out on a trip with the SnoBear in Hecla was unforgettable, as we were able to explore the lake in the warmth and comfort of the vehicle while it was -20°C outside!
Outfitters around Lake Winnipeg
Gull Harbour
Gull Harbour offers guided excursions on Lake Winnipeg using SnoBear vehicles, providing comfortable transportation and heated shelter for anglers. Their experienced guides take you to the best fishing spots and include necessary equipment and bait, with full-day and half-day packages, as well as customised packages for larger groups.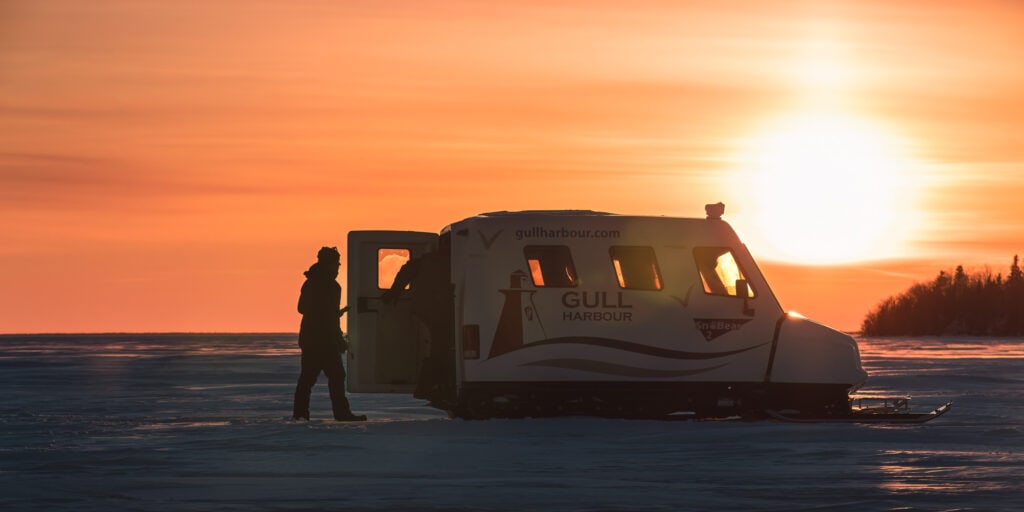 Blackwater Cats
Blackwater Cats takes you on guided trips on Lake Winnipeg. You either bring your own transportation, or you can opt for the outfitter's transportation services. Heated ice shacks and all the necessary equipment for a successful fishing trip are included. They even have a deluxe wheel house which comfortably fits 4 adults + kids and has 2 bunks for naps or relaxing as well as a range top and microwave for cooking.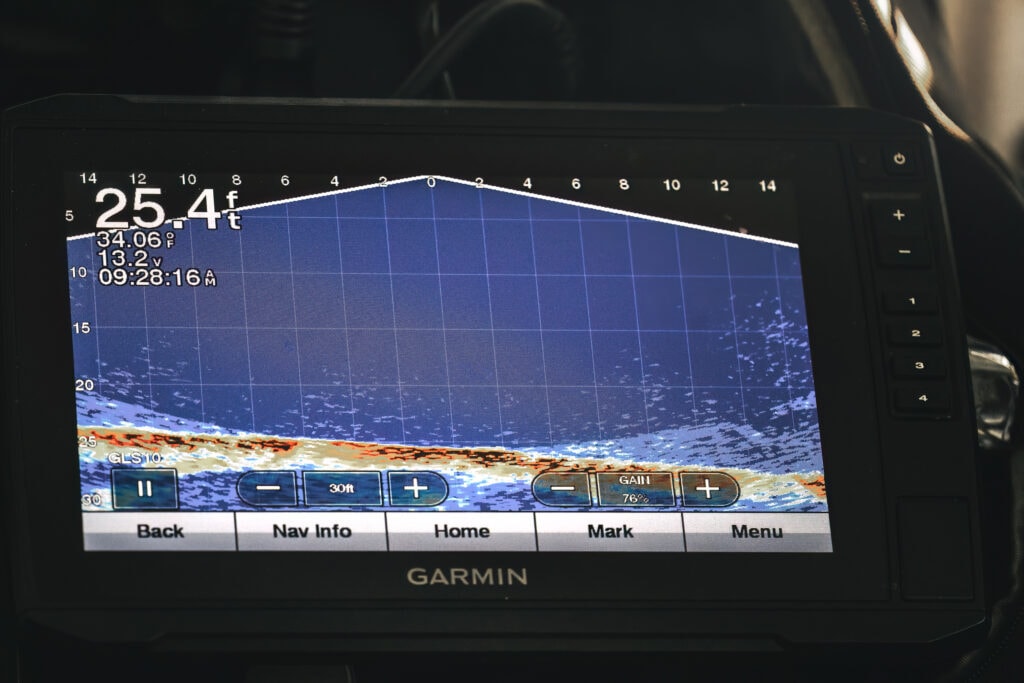 Icebound Excursions
Icebound Excursions has unique SnoBear rental packages for ice fishing on Lake Winnipeg. The package includes everything an angler needs for a day out on the ice, including a SnoBear vehicle, driver, sonar, gear, bait and lunch.
Bruin Outfitting
Bruin Outfitting offers comprehensive, all-inclusive packages at a very reasonable price. A knowledgeable guide will pick you up from your accommodations in the morning and transport you directly to the fishing location on the lake where all the necessary equipment for a successful day of fishing is provided. The outfitter's Clam X2 thermal fish shacks come equipped with propane heaters, ensuring warmth on colder days.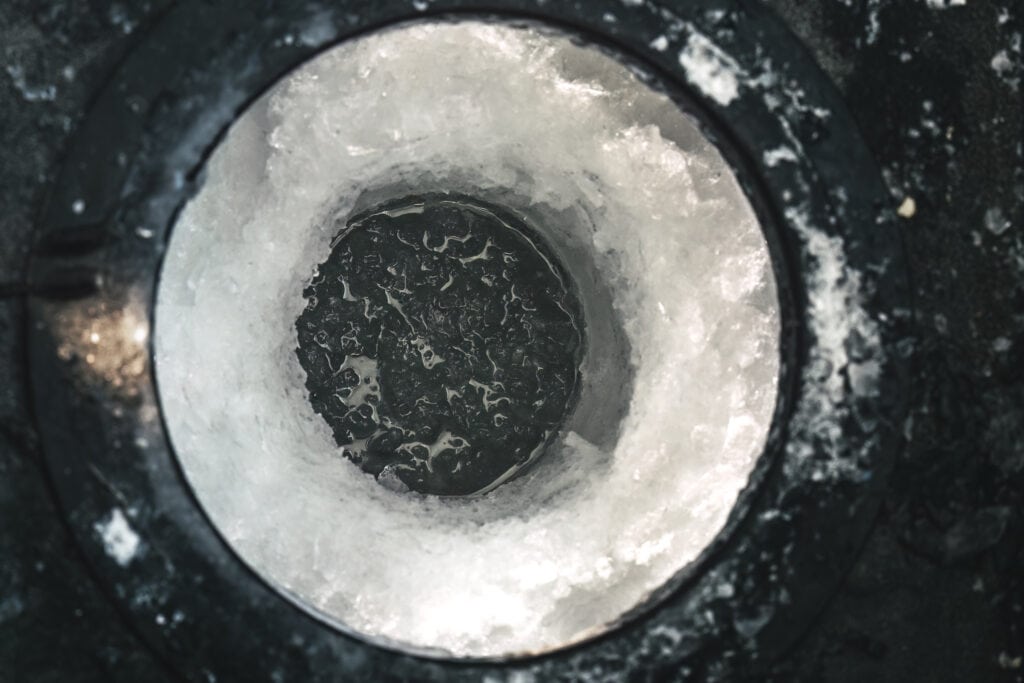 Cost of Guided Tours
The cost of guided ice fishing tours in Hecla Provincial Park varies depending on the outfitter and the specific tour package. Generally, prices range from around $100 to $200 per person for a half-day tour, with full-day tours and multi-day packages also available.
A full-day on the SnoBear with Gull Harbour costs $825 and can be booked here. This includes up to 4 guests and a guide. SnoBear season begins January 1 through March 31, 2023.
Some outfitters also include additional amenities, such as meals and accommodations, for an extra fee. It's important to research different outfitters before booking a guided tour to ensure you get the best value for your money.
Self-Guided Ice Fishing
Self-guided ice fishing in Hecla Provincial Park provides anglers with the opportunity to explore the park and its numerous fishing spots at their own pace. Planning your own trip requires careful preparation, including acquiring the necessary gear, checking fishing regulations and ensuring you have the proper clothing for the weather conditions.
But the rewards of a self-guided trip are numerous, including the freedom to choose where and when to fish and the opportunity to fully immerse yourself in the natural beauty of the park.
Staying safe on the ice
Ice fishing can be a great way to enjoy the winter season in Manitoba, but safety should always be a top priority. Here are some tips to help you stay safe on the ice during a self-guided trip:
Check the ice conditions: Before heading out, check the ice conditions in the area you plan to fish. The ice should be at least 10 cm (4 inches) thick for walking on and 20-30 cm (8 – 12 inches) thick for driving on. Look for signs of cracking or movement in the ice, which can indicate unsafe conditions.
Bring safety gear: Always bring safety gear with you, including ice picks, a throw rope, a whistle and a life jacket. Wear warm clothing and waterproof boots and carry a first aid kit with you.
Tell someone your plans: Let someone know where you're going and when you plan to return. This way, if something goes wrong, they can contact the authorities and provide them with important information about your location.
Check the weather forecast: Be aware of the weather forecast and any warnings or advisories that are in effect. If conditions are expected to be severe, consider postponing your trip.
For more great tips on staying safe on the ice, check out this excellent pdf by the Canadian Red Cross
Free Ice Fishing Huts at Gull Harbour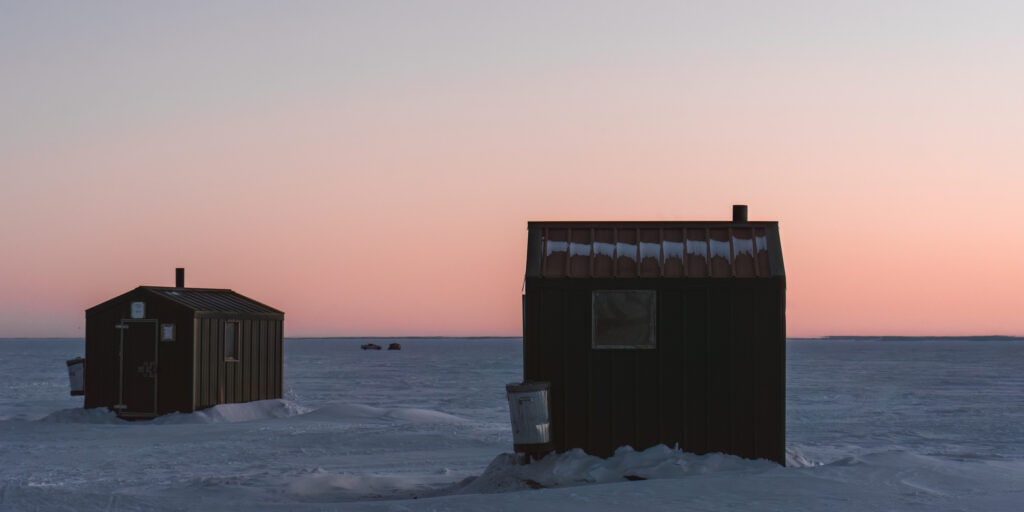 For those looking for an affordable and accessible ice fishing experience in Hecla Provincial Park, Manitoba Parks provides free ice fishing huts at Gull Harbour, available on a first-come, first-served basis. The huts are equipped with wood stoves and provide stunning views of the frozen lake and surrounding landscape.
Regulations and responsible fishing
Following certain practices while ice fishing can minimise your impact on the environment and preserve the natural beauty of Hecla Provincial Park. Manitoba has various regulations and guidelines in place to ensure the sustainability of fish populations and protect the environment:
Have a valid Manitoba fishing license
Be aware of regulations around catch limits, size limits and protected species and only take what you plan to eat.
Use barbless hooks and release fish that you don't plan to keep as quickly and gently as possible to minimise harm to the fish.
Use biodegradable fishing line and dispose of any trash properly, which can harm wildlife and the ecosystem.
Avoid damaging the shoreline or disturbing wildlife by staying on designated paths and avoiding sensitive areas.
To learn about ice fishing regulations in Manitoba, Check out the latest Manitoba Angler's guide on this webpage.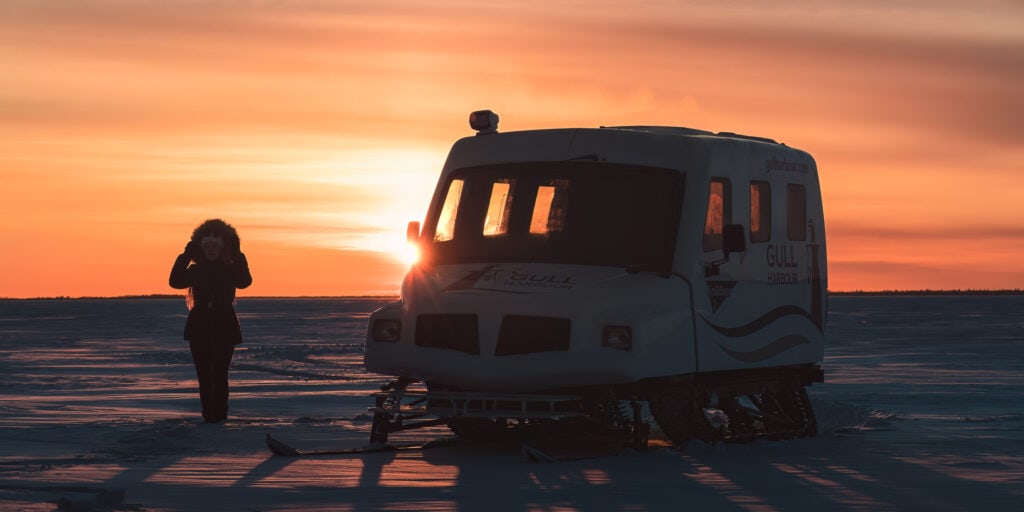 It's a sustainable and responsible way to harvest fish if done within regulations and with consideration for the health of the fish populations. Ice fishing is an excellent way to connect with nature and appreciate the winter landscape and can be a fun and educational activity for both kids and adults. By being mindful of the environment and the health of fish populations, you can enjoy the beauty of the park while also respecting and preserving its natural resources.