While in Oudtshoorn, it's hard to miss all the signs to the numerous Ostrich (show) farms around the area. I had seen a few ostriches running around the Western Cape, on farms or the national parks, but I wanted to get to know these gigantic birds a little bit better and Oudtshoorn seemed to be the perfect place for a tête-à-tête.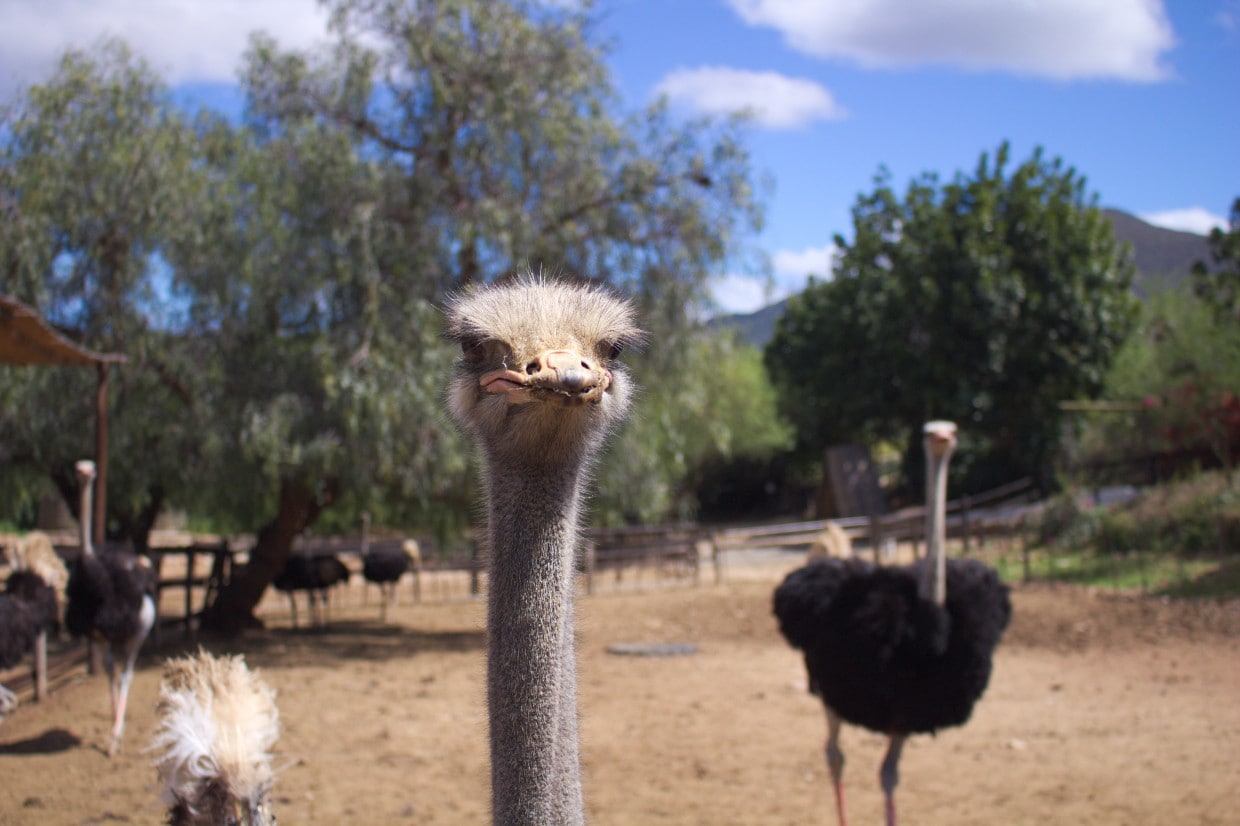 Since we had quite a tight schedule (we still had a 5 hour long journey ahead of us to reach our next destination), we hadn't been able to do much research about ostrich farms in Oudtshoorn, so we ended up at the nearest one to our hotel: Cango Ostrich Farm
It turned out to be a show farm and not a working farm. We got a tour around the premises, first starting with a general introduction to the farm, what they do, what's in store for us on the tour, and general information about ostriches.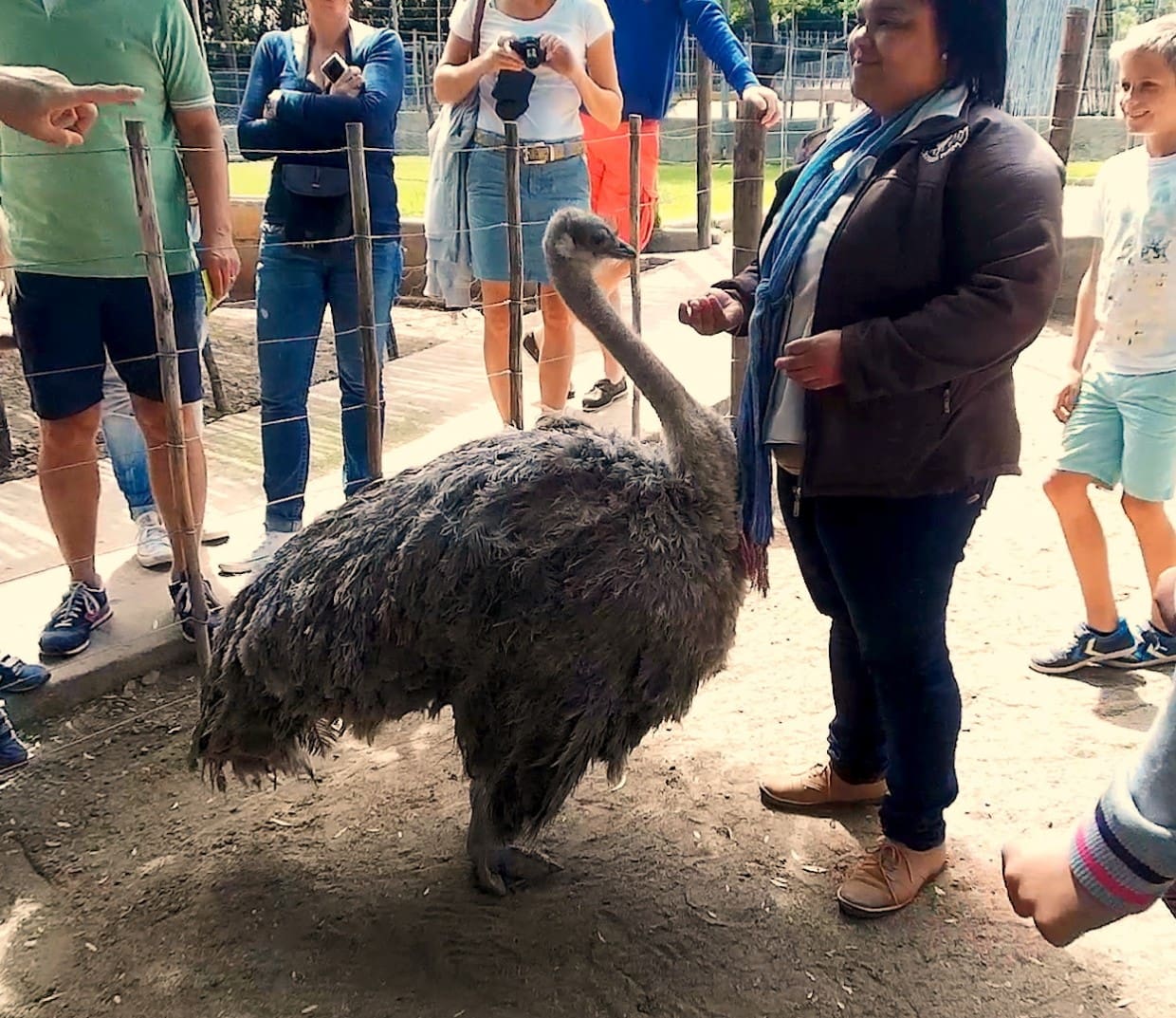 Once outside, we were introduced to a 10 year old dwarf ostrich (one of the cutest things I've ever seen) and an ostrich called Betsie. These are very tame ostriches, and this is the reason why they let visitors interact with these two. The whole group was given the opportunity to 'feed' Betsie (one pellet per person) and some were given a 'massage'. One lucky man even got a 'kiss' from Betsie.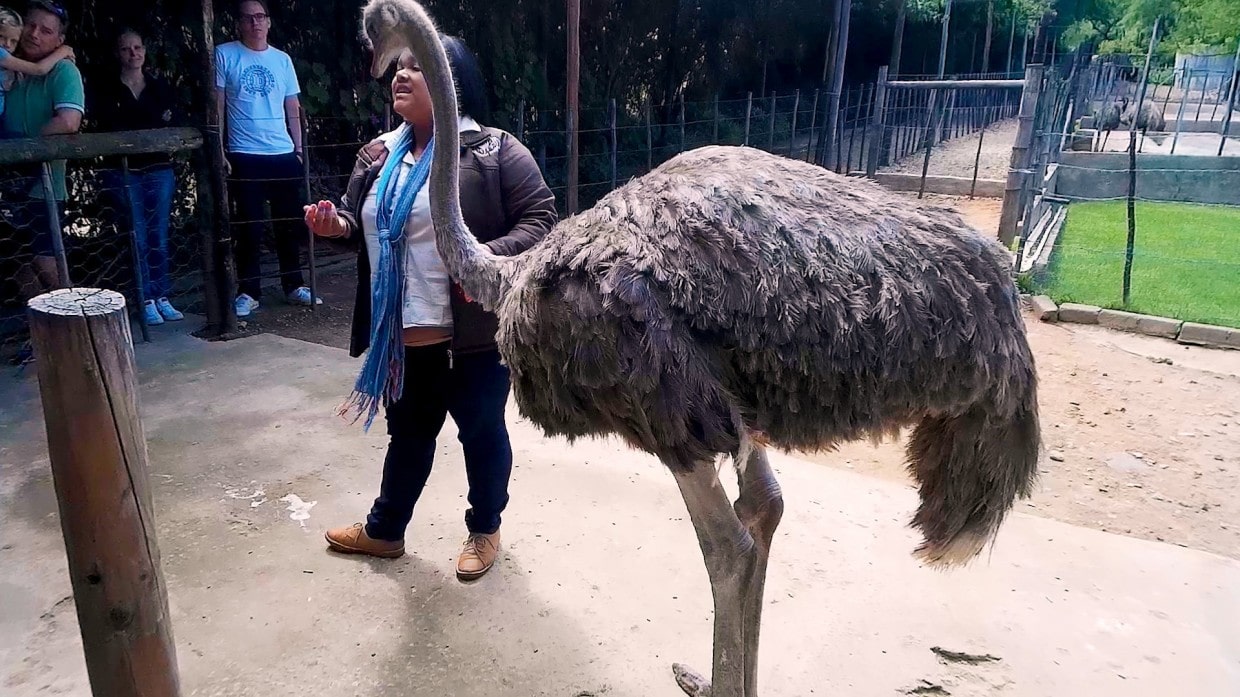 This all seems like fun, but to me, it felt a little bit forced. Not necessarily interactions forced on the bird (although it kind of is), but more like 'forced fun'.
The tour guide, however, was great. She was very entertaining and knowledgeable, and dropped quite a few interesting facts about ostriches in her tour.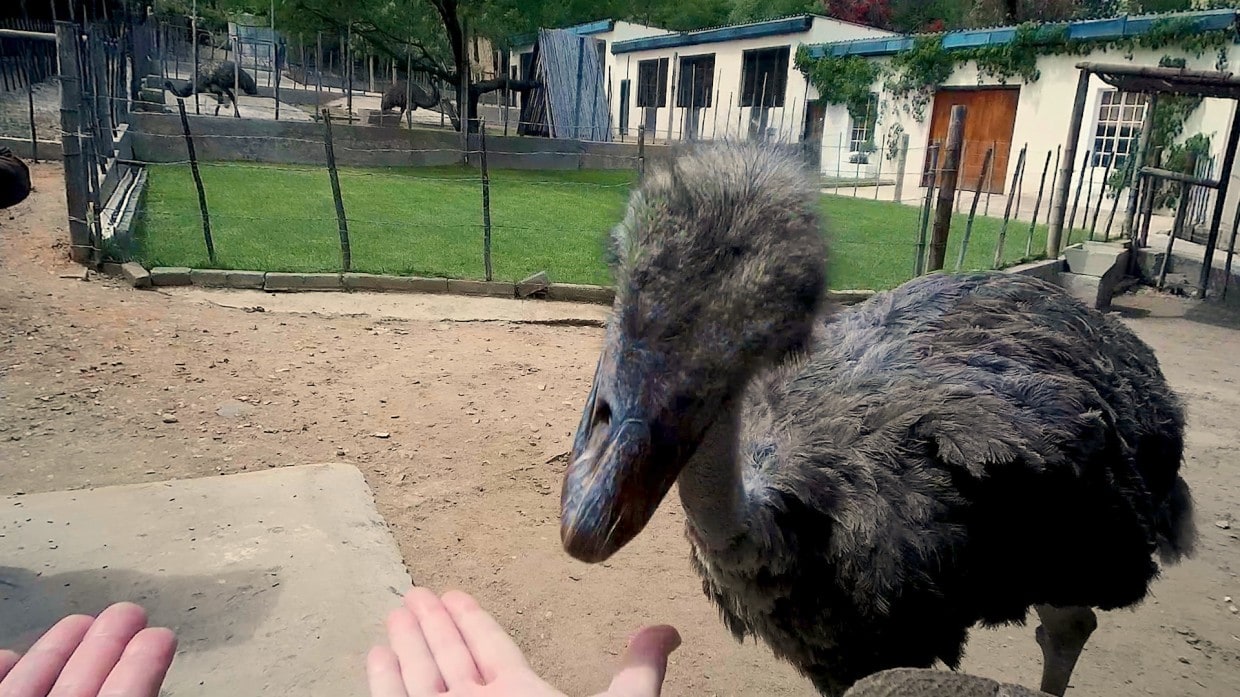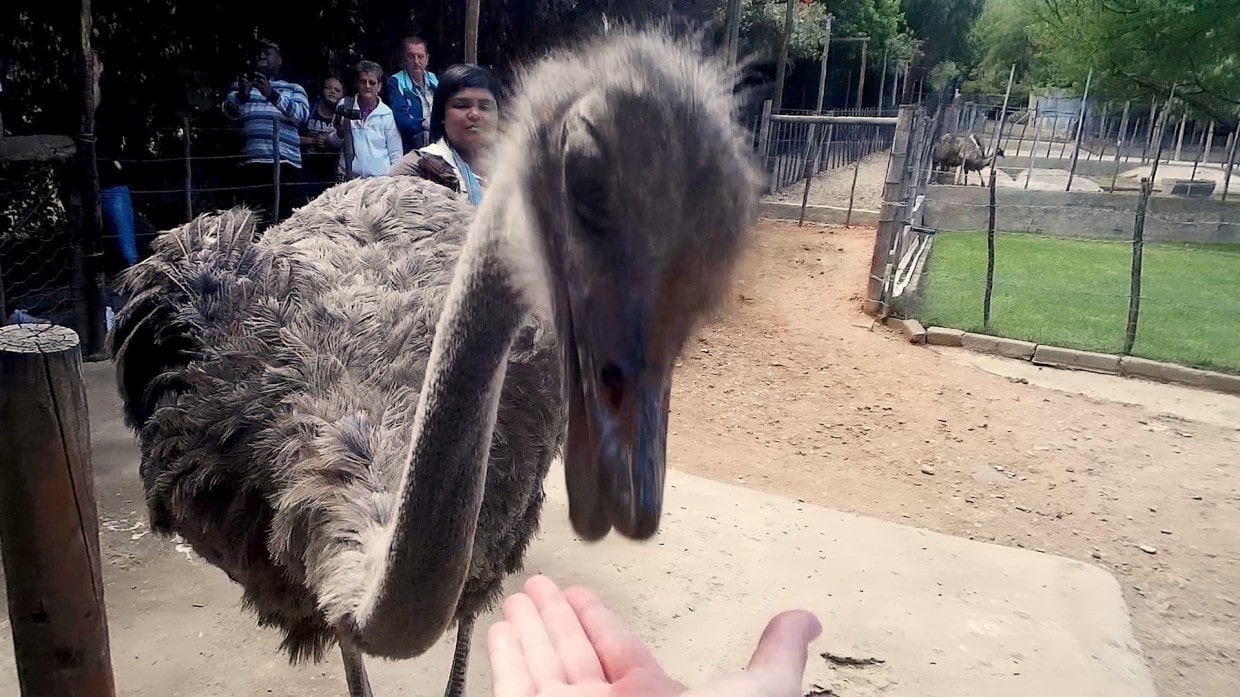 After meeting the dwarf ostrich (I wish I could remember her name!) and Betsie, we continued the tour past a couple of ostrich pens. One of the enclosures had an ostrich couple. This was one of the two couples they let reproduce naturally (aka, they leave the eggs with the mum instead of bringing them to the incubators).
The dad didn't look too happy when we passed….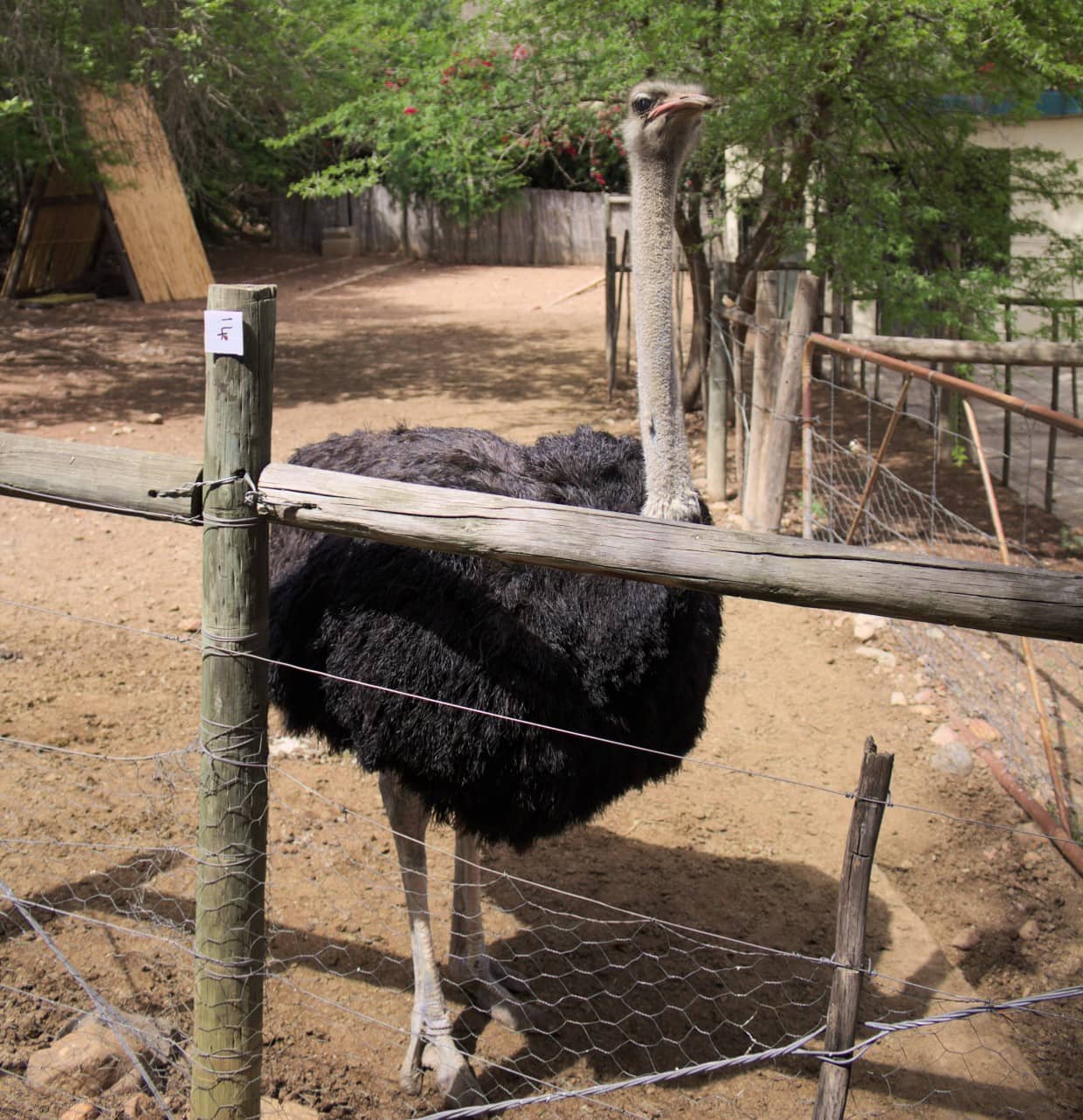 Ostrich riding
The next stop was the enclosure where the ostrich riding takes place. There's a little seating area on the side where the whole group can sit, watch and laugh at the people trying the ostrich riding.
And yes, I was one of those people trying to ride an ostrich.
Note: Cango Ostrich Farm has stopped offering ostrich rides. Scroll down to read more about the change to a more responsible tourism experience
It took quite a lot of internal contemplation before reaching my decision to ride one. When we got to the enclosure, and I saw all the ostriches with blue cloth covering their backs, it felt like a circus to me. I cursed myself for not researching ostrich riding before coming to Oudtshoorn, and initially decided not to ride the bird.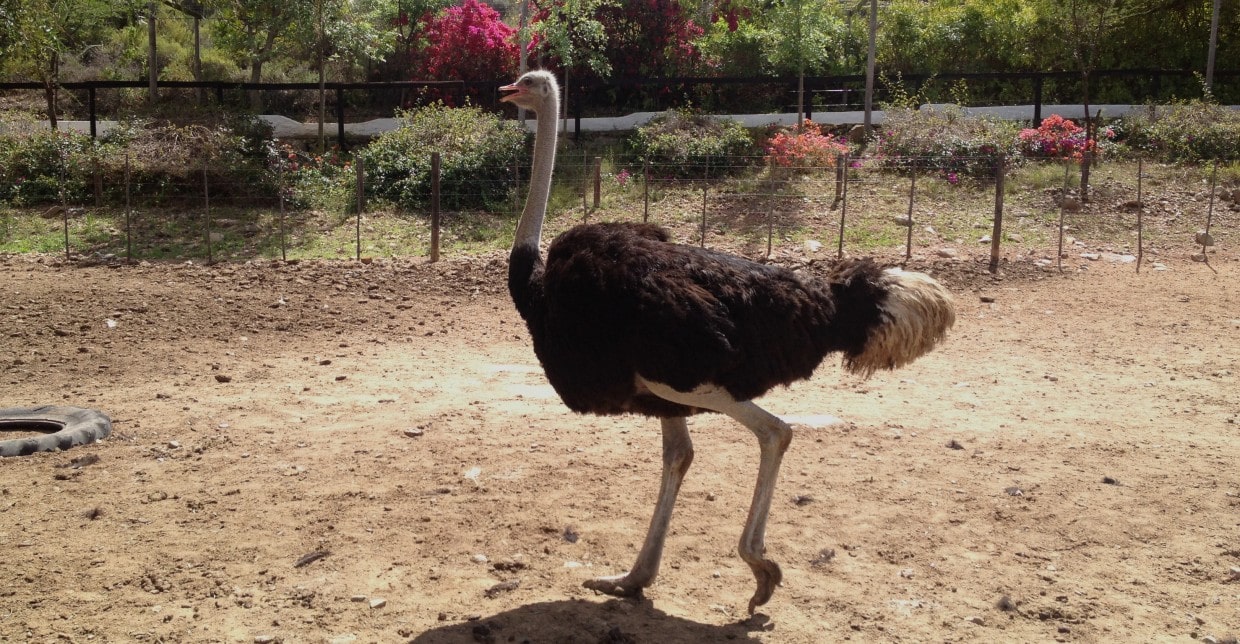 They wouldn't let anyone weighing over 75kg ride the ostriches, and only a handful of people were allowed to ride one. There were two helpers catching the ostrich for the rider, putting a hood over its head so the bird wouldn't get stressed. Once the rider was on the ostrich's back, they would remove the hood and off they went… The helpers would be there on each side of the bird, guiding the bird and catching you if you'd fall. The ride only lasted around 5 seconds, and was definitely not an elegant ride to behold.
After seeing a few women having a go, I decided to go for it. I regret to say that my decision came from the most basic of reasons "It's a once in a lifetime opportunity". When I got onto the ostrich's back, it felt very strong. Once I was on, they put the wings on top of my legs and told me to hold onto the front of the wings, sit back and lean back (which goes completely against your instincts, as I, and everyone else, just wanted to lean forward).
[one-half-first]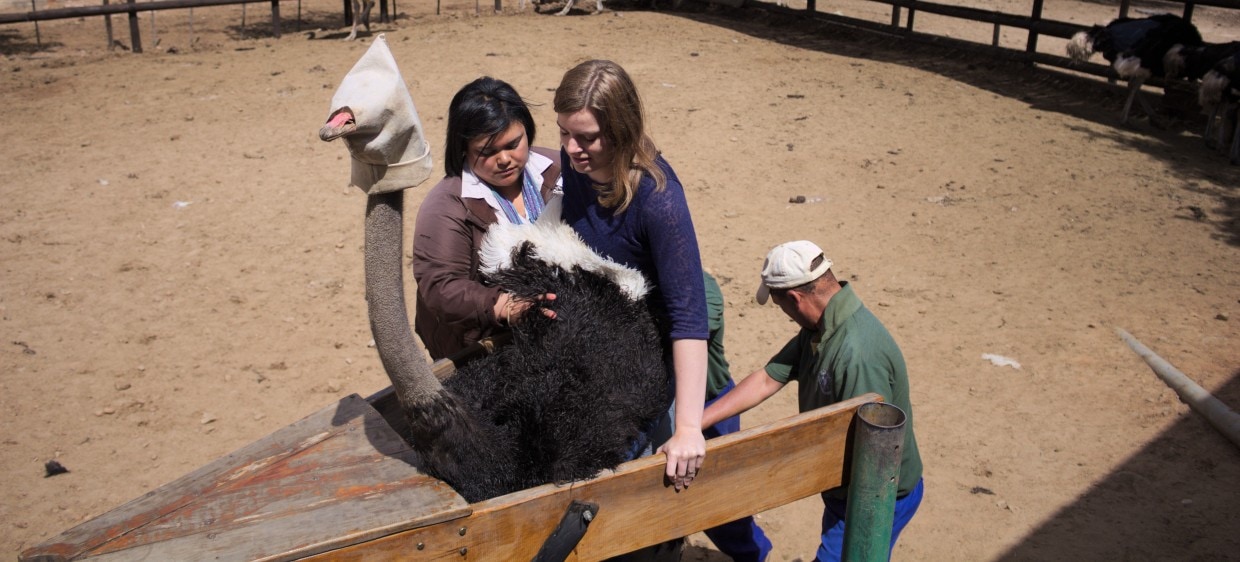 [/one-half-first]
[one-half]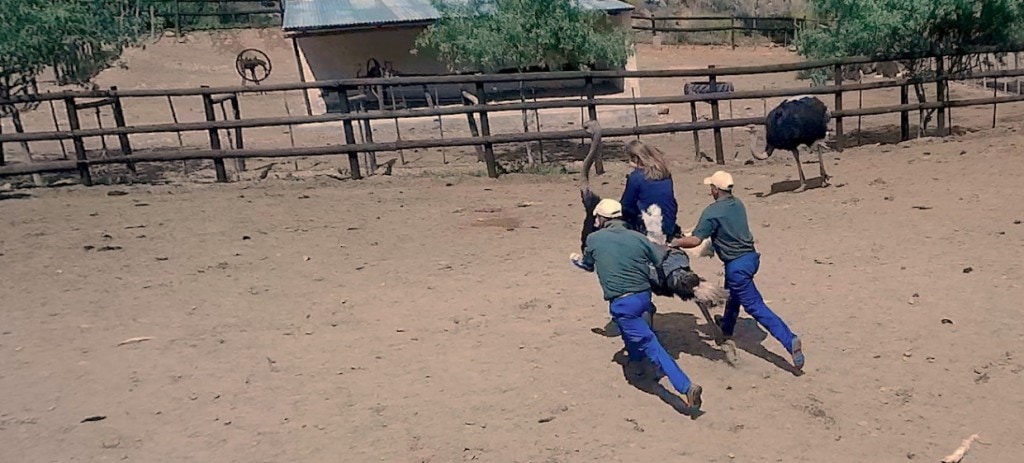 [/one-half]
They take the hood off the ostrich's head, and off you go…It was all over in a heartbeat. The only thing I could think of was "Hold on tight, hold on tight, don't fall off, oh God", and then it was over.
After letting a handful of people ride the ostriches, they gave the opportunity to everyone else to sit on the ostrich for photos. After everyone was satisfied, they let the helpers 'jockeys' give a demonstration on how to ride an ostrich. There was a lot of 'bending the ostrich neck in every possible way' movements going on, which made me cringe. Surely that must hurt the ostrich?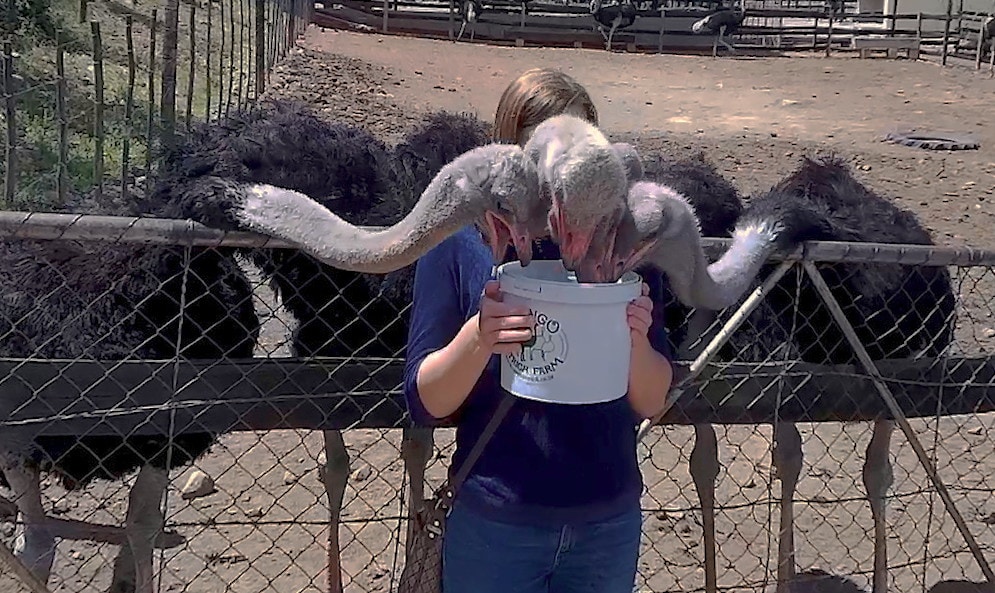 All in all, it was an entertaining experience, but I was constantly left thinking "is all this good for the ostrich?"
Update on ostrich riding in South Africa
Ostrich riding has been fairly popular among tourists in the Oudtshoorn region but the practice has come under scrutiny by animal welfare organisations. After my experience ostrich riding in Oudtshoorn, I have been researching the issue and the different questions that have been raised since. Even though ostriches don't undergo a torturous training to accept people on their backs, compared to elephants' more controversial training called 'Phajaan', there are still questions raised regarding the welfare of the ostriches on these farms.
In 2017, two big ostrich farms around Oudtshoorn, including the Cango Ostrich Farm we visited, have stopped offering ostrich rides as a response to concerns of ethical and responsible tourism. I applaud the move to a more responsible way of interacting with animals and I'm glad to see more companies actively trying to create awareness about the issues involving riding any animal.
Many people (including myself), are not always informed about the ehtical practices involving animals. What ostrich riding in South Africa taught me is to always look into the activity beforehand, and if you feel slightly uncomfortable, avoid the experience.
If you are looking for more responsible experiences in South Africa, visit the Born Free Big Can Sanctuary or Addo Elephant National Park.