No matter whom you speak to, when visiting the Mother City, visiting the best wine farms in Cape Town (and her surrounds) are top of everyone's to-do list… and with so many gorgeous, award-winning wine farms in Cape Town, travellers and locals are well and truly spoiled for choice.
But don't fret, for, even among the masses, there will always be a select few that stand out above the rest… And these are my personal picks of the best wine farms near Cape Town:
Paradise found at Dunstone Wine Estate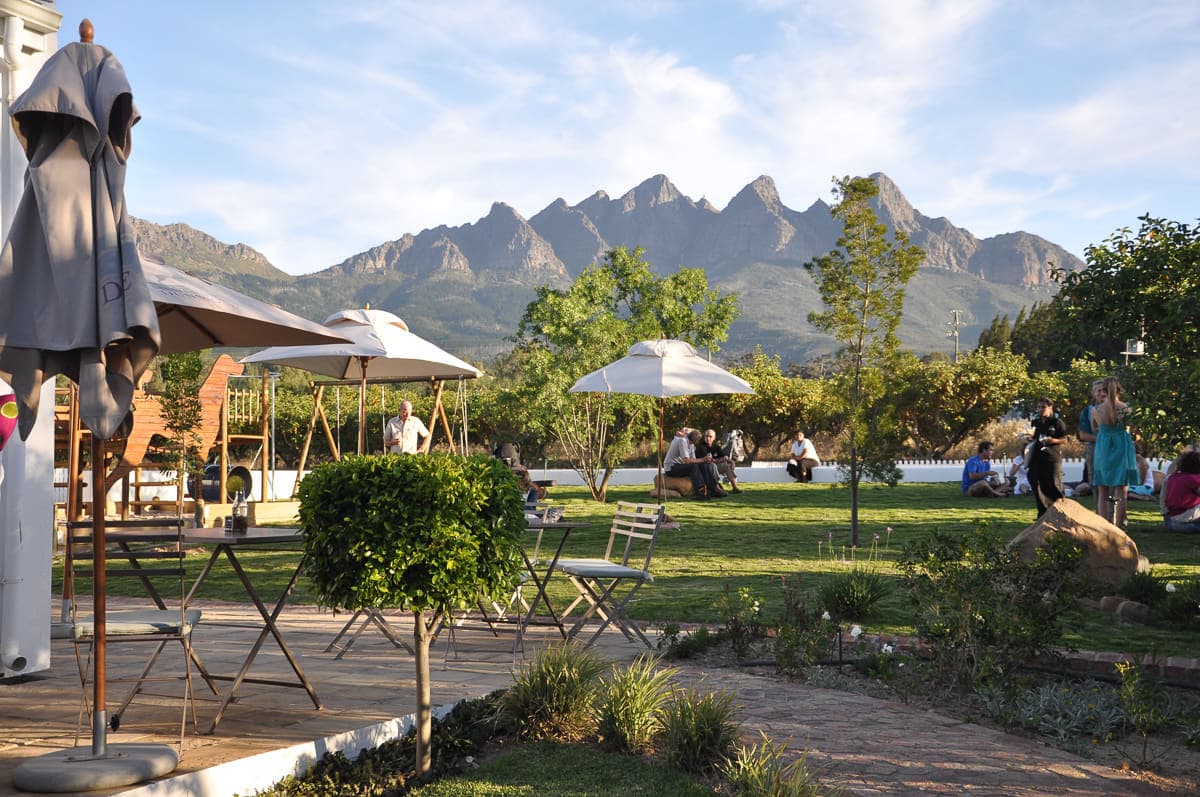 Wellington is the Cinderella of the Cape Winelands: overlooked (in favour of wine valleys like Franschhoek, Stellenbosch, Durbanville and even Robertson) and underrated until it has a turn to shine… and then, it renders one breathless.
There are a few hidden gems in Wellington and, in late 2017, we discovered quite possibly the finest of them all: cue, Dunstone Country Estate and Winery.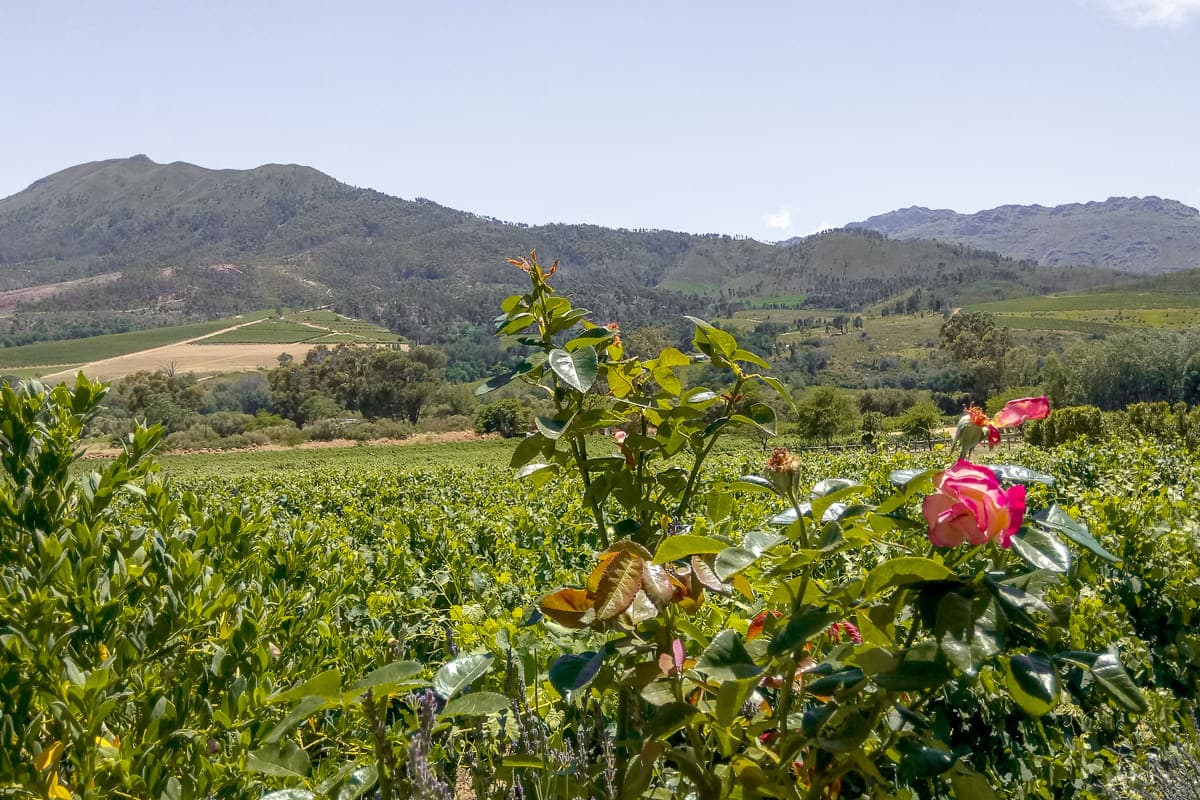 Protectively sheltered beneath the breath-taking Limietberg mountains and situated outside Wellington, Dunstone is a luxury boutique wine estate and guest farm, equipped with four-and five-star accommodation, a top bistro, award-winning wines and exceptional owners and staff. Here, passion and sincerely thoughtful touches permeate through every inch of this impressive estate.
During our overnight stay and visit, we personally enjoyed gorgeous accommodation, gourmet country fare and of course, delicious wines at Dunstone – so the memory of this gorgeous estate will stay with me for a long time to come…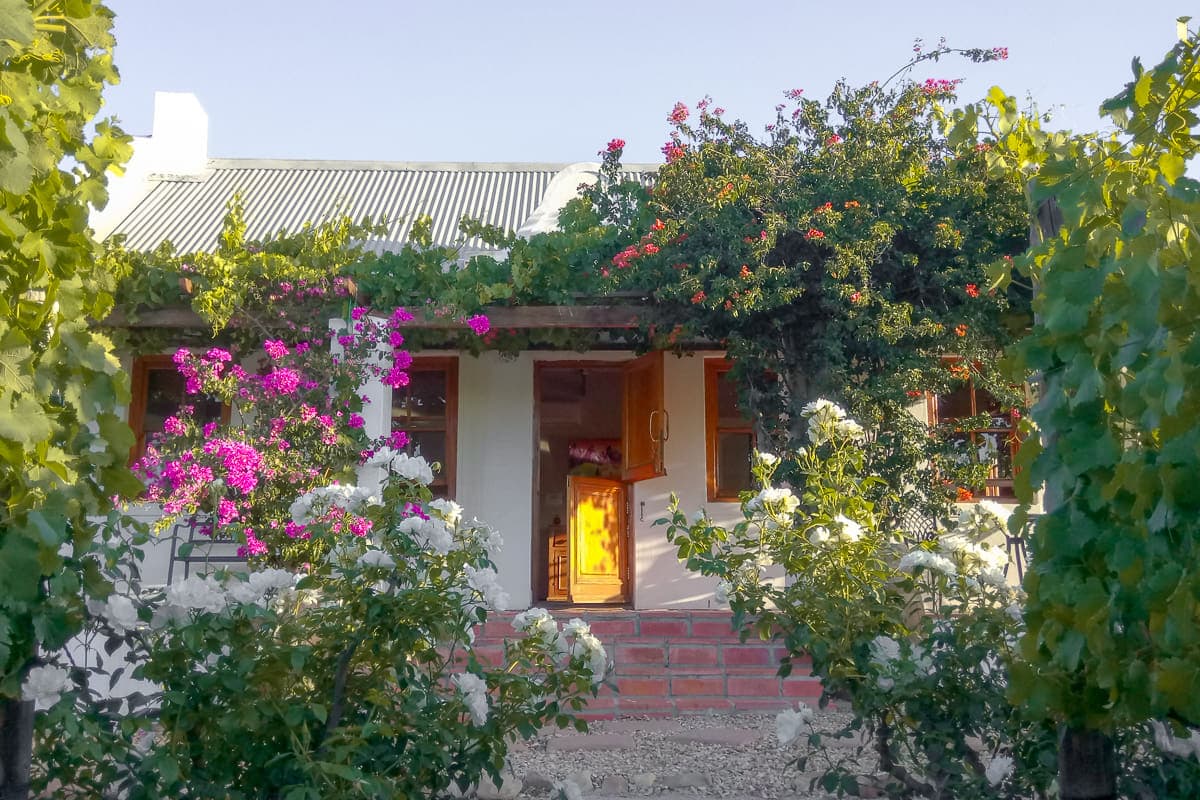 In so many ways, Dunstone was virtually faultless and, if you can only experience one or two wine farms in Cape Town, then let the Cape's best kept secret, Dunstone, be counted among them.
Book your tour to wine farms near Cape Town here
Make a day of it at stunning Spier
Spier Wine Farm is one of the Cape's most recognisable and well-known wine estates. And, rather than this leaving it commercialised or tired as some might expect, Spier stands out as one of the Western Cape's most spectacular, all-encompassing wine farms.
Here, outstanding wine, food, accommodation, local art and nature reign supreme. At Spier, families, friends or foreign visitors can enjoy the best Stellenbosch has to offer. Especially as it offers one: Cape Dutch history and architecture, luxury food and wine and stunning natural and man-made beauty.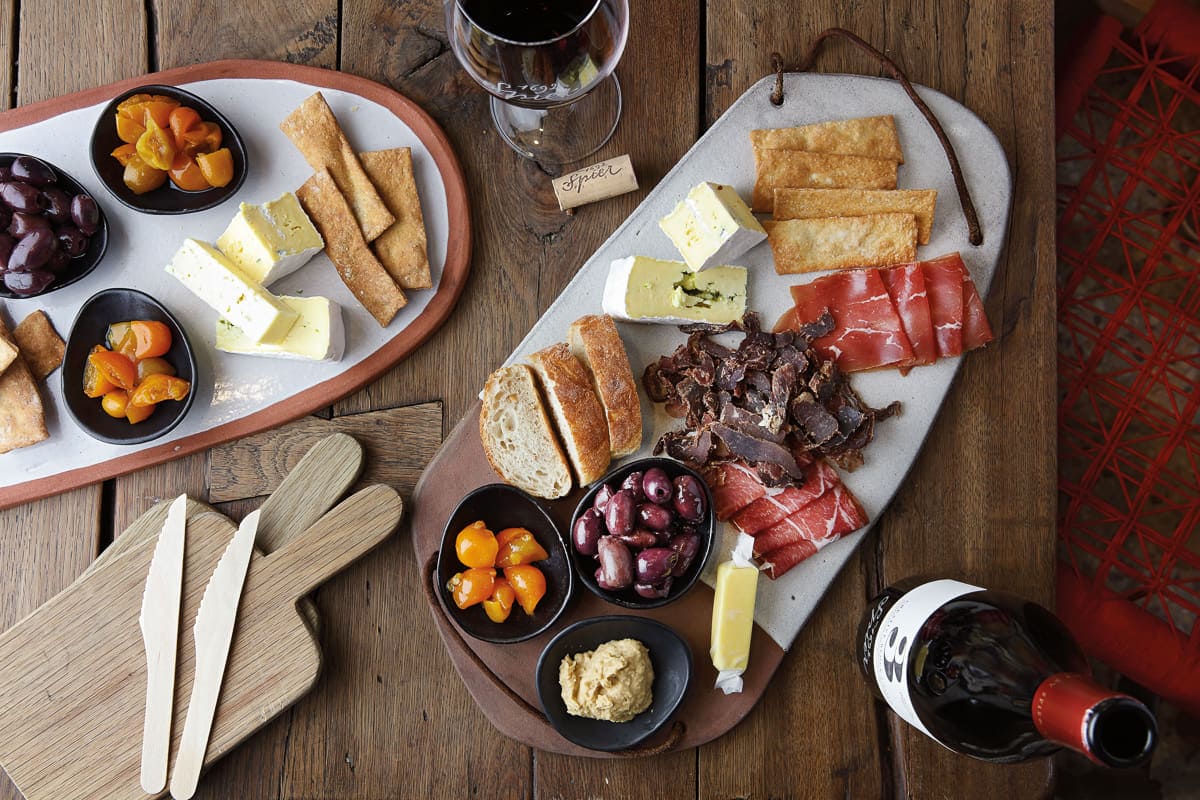 [one-half-first]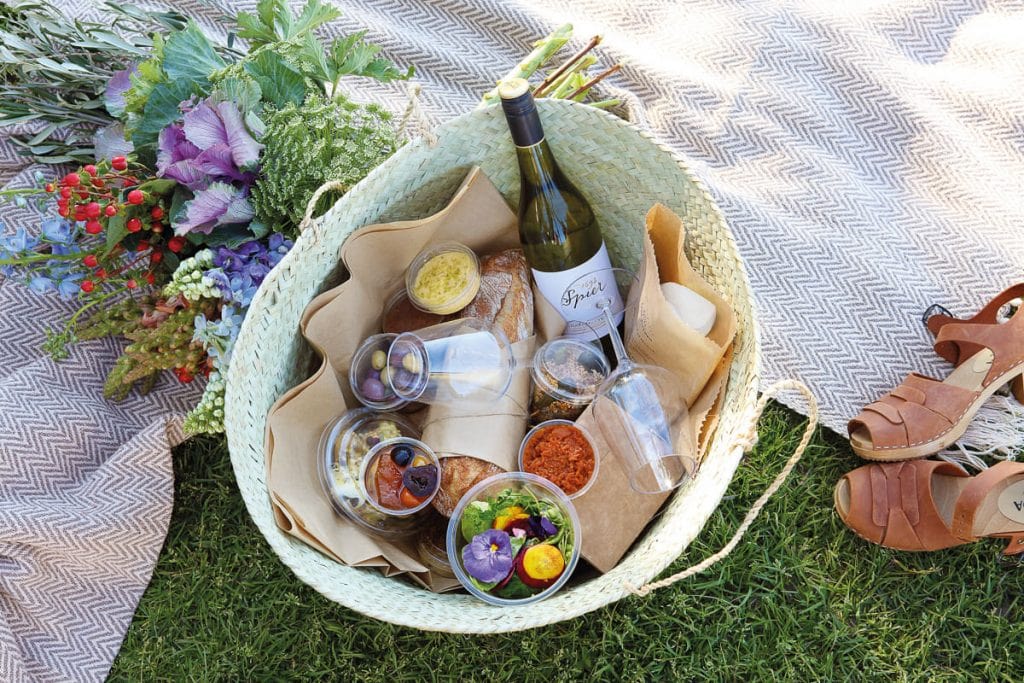 [/one-half-first]
[one-half]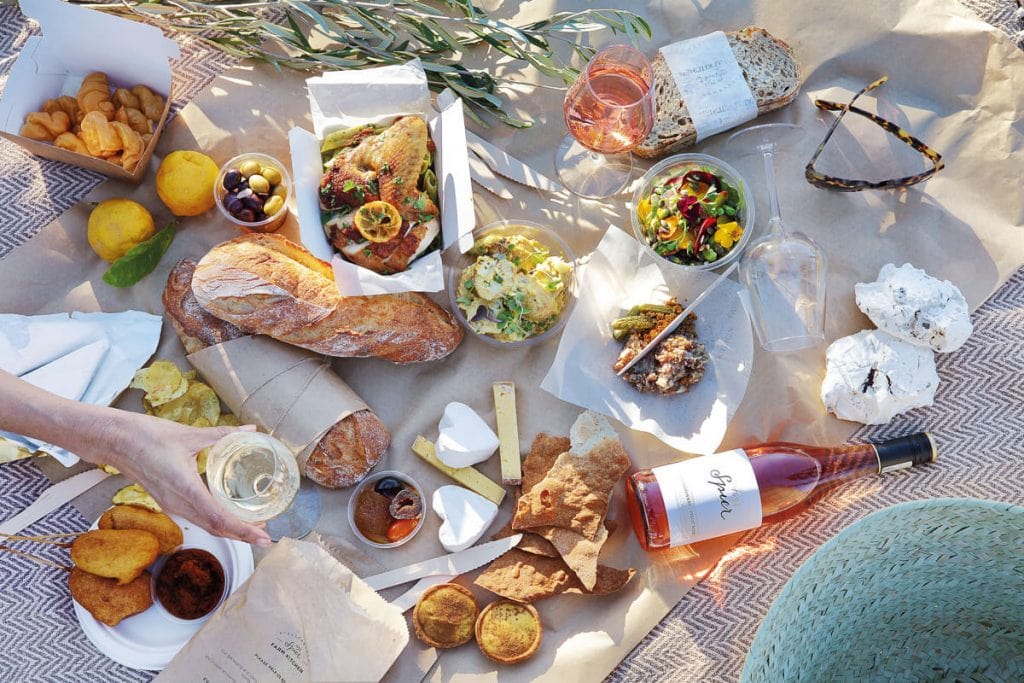 [/one-half]
We had a particularly fun day out at Spier, exploring every inch of the farm… This included a visit to their outstanding Eagle Encounters (where we interacted with rescued birds of prey and wildlife); a gourmet picnic by the dam; and browsing the Spier Farm Kitchen, farm shop and outdoor mosaic exhibition.There is so much to do and enjoy at Spier – before you even add their hotel and spa, craft market, artisan studio or restaurants.So, if you're after a fun day out in the Stellenbosch Wine Valley, look no further than a day (or overnight) visit to Spier.
Beautiful Babylonstoren near Franschhoek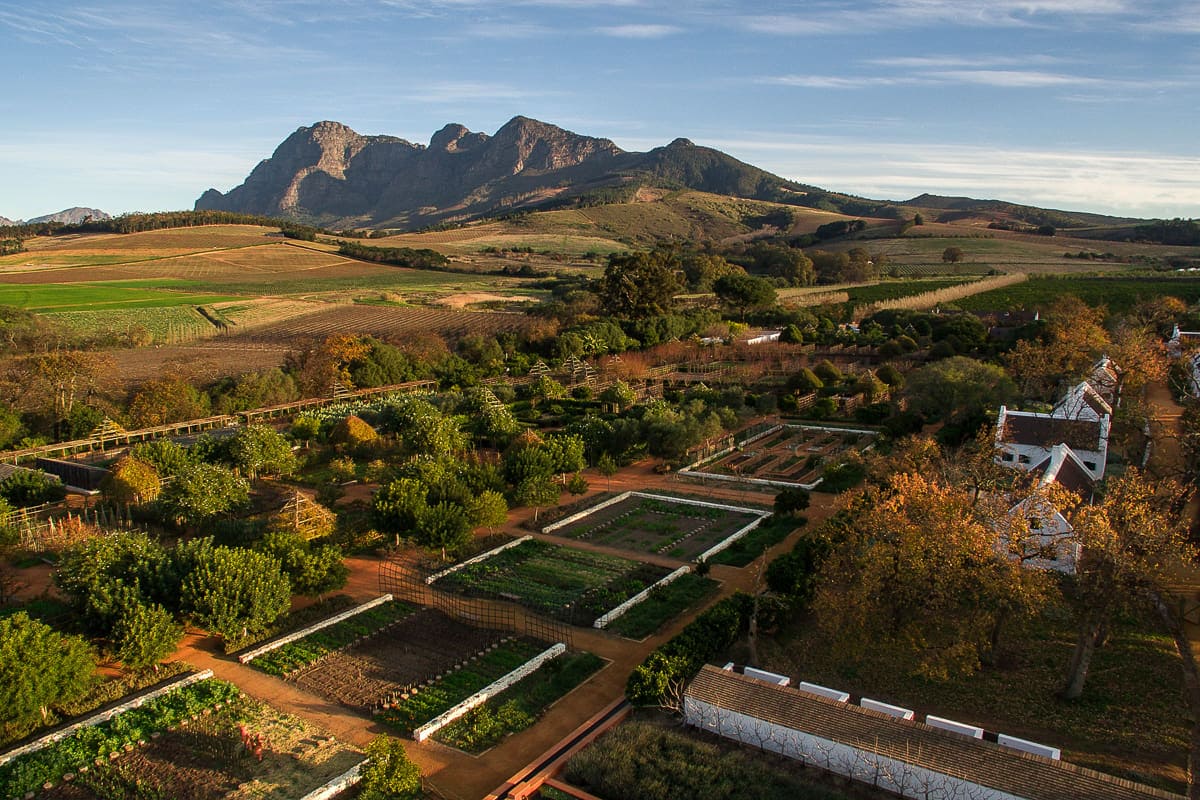 If ever a wine estate has been name-dropped (in less-than-subtle terms) as one of the best farms around Cape Town in recent years, it's this wonderful working estate.
Found near Franschhoek, this well-beloved farm – first established in 1692 – has been reinvented into something truly amazing by current owners, media mogul, Koos Bekker and his equally talented, creative wife, Karen Roos. Under their ownership, praises for the estate keep rolling in – and quite deservedly so because this humble, yet ultra-chic, wine estate is one of the most memorable I've visited in the past two years – and I've been to +30 in that time!

[one-half-first]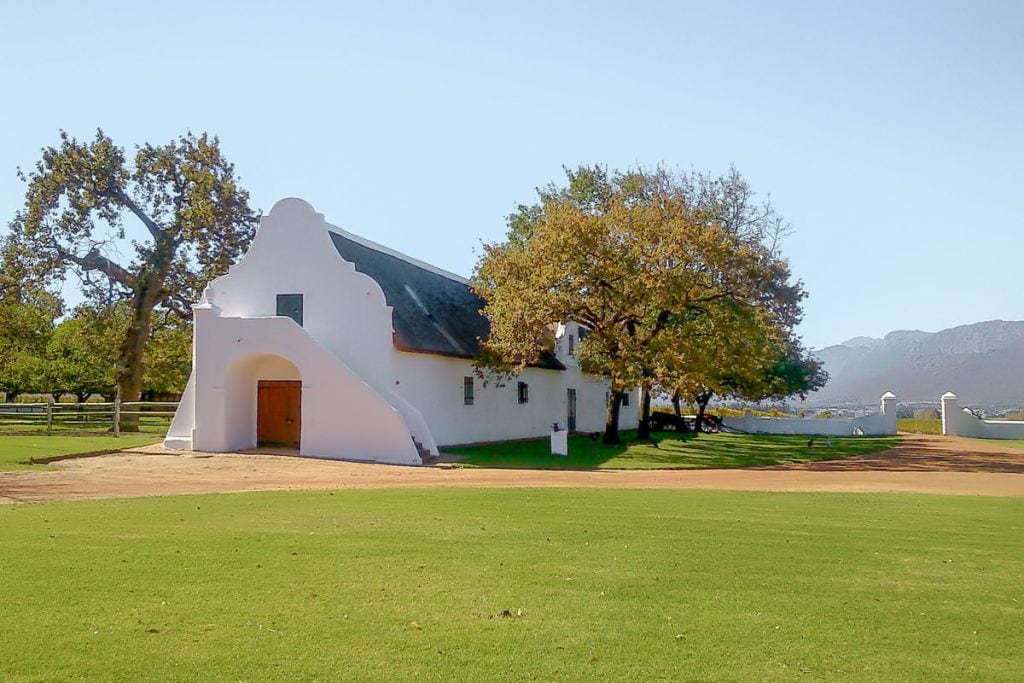 [/one-half-first]
[one-half]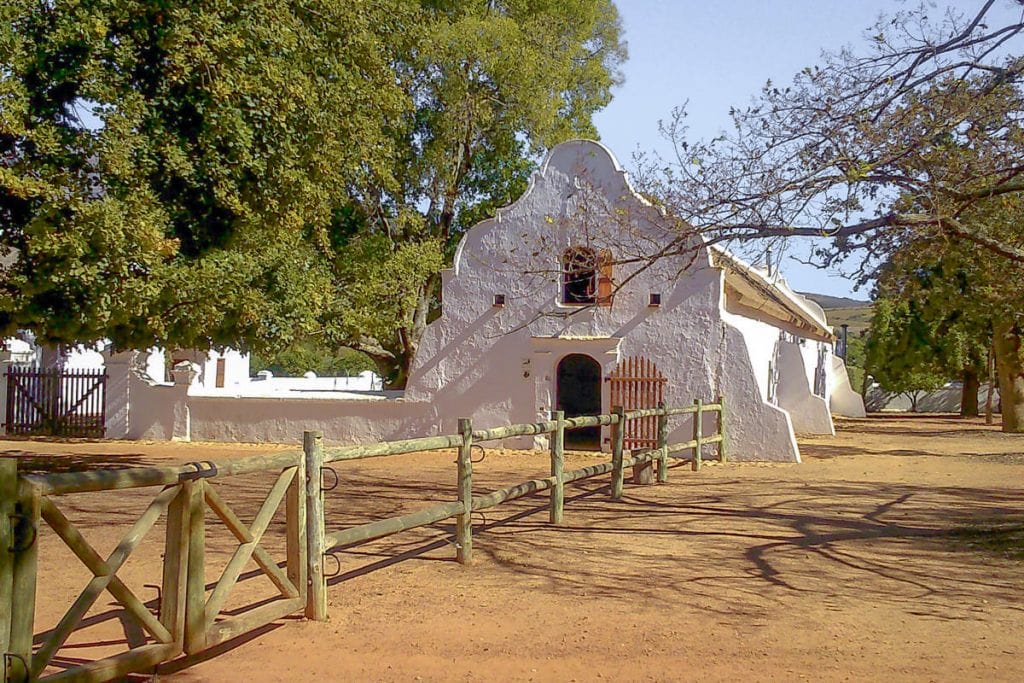 [/one-half]
Babylonstoren is an honest-to-goodness working farm and wine estate that has it all: a farm shop, two lovely restaurants (Babel for chic wine farm dining; Greenhouse for relaxed family meals) and bakery, a luxury hotel and spa, complete with gorgeous farm accommodation, a tasting room, quality wine – and of course, labyrinthine gardens to delight young and old!So, whether you stroll the vast gardens, eat at one of the restaurants or simply enjoy a delicious wine tasting, you can't go wrong with a visit to Babylonstoren.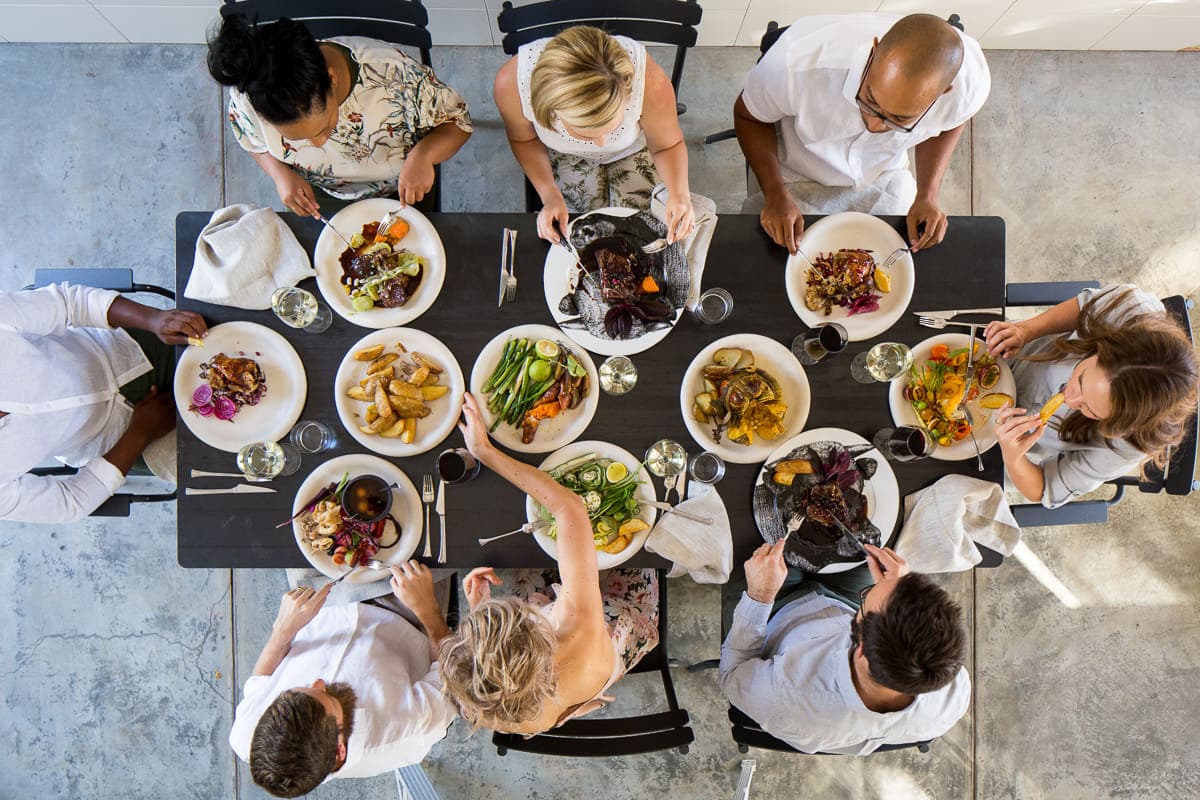 Closing note: I also love that, while Babylonstoren requires on a small entry fee, these funds go towards local child education. (Weekends and public holidays are R20 adults and R10 for children under 12, while weekdays are R10 for all entrants.)
Lovely Lourensford in Somerset West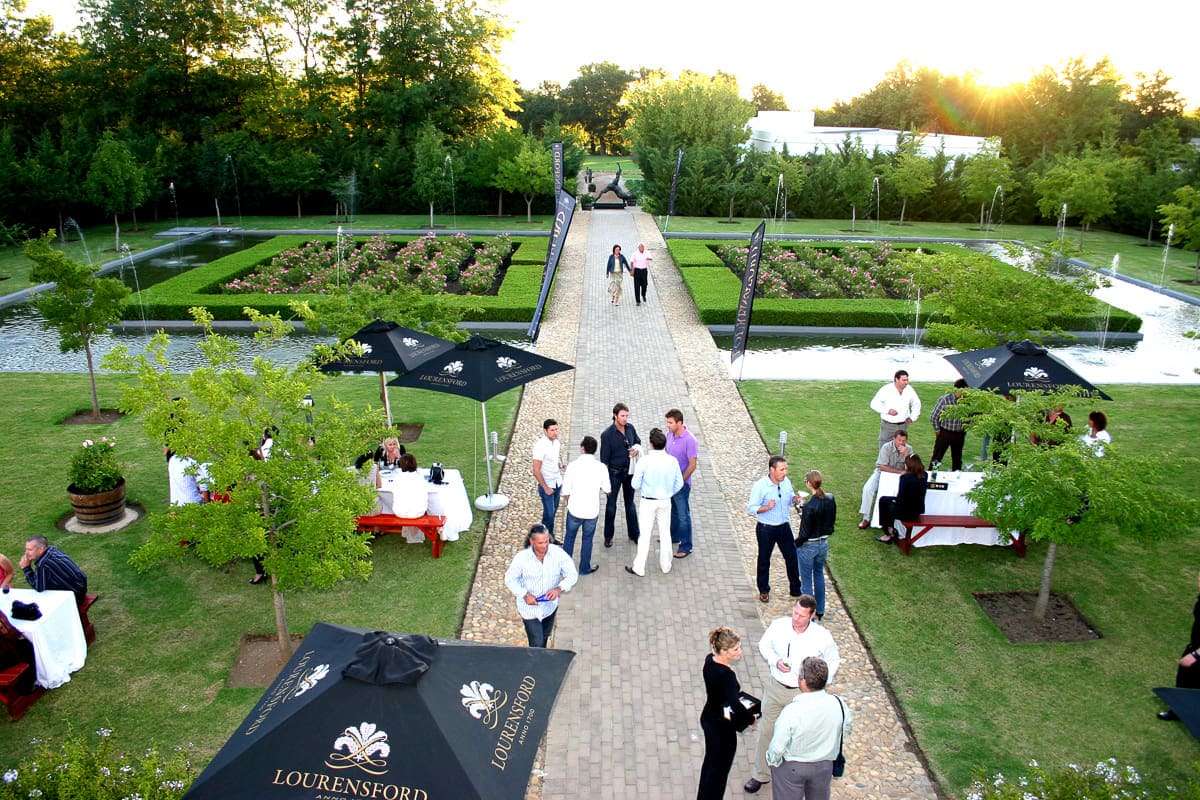 Lourensford was the first Somerset West farm I've visited – and it certainly did not disappoint.
This popular estate has so much for visitors to do and enjoy… Not only is it hugely child-friendly (a relative rarity among Cape wine farms) with its sprawling lawns, sprouting water features and delightful garden spaces – but it has plenty to keep teens and adults satisfied with too.
[one-half-first]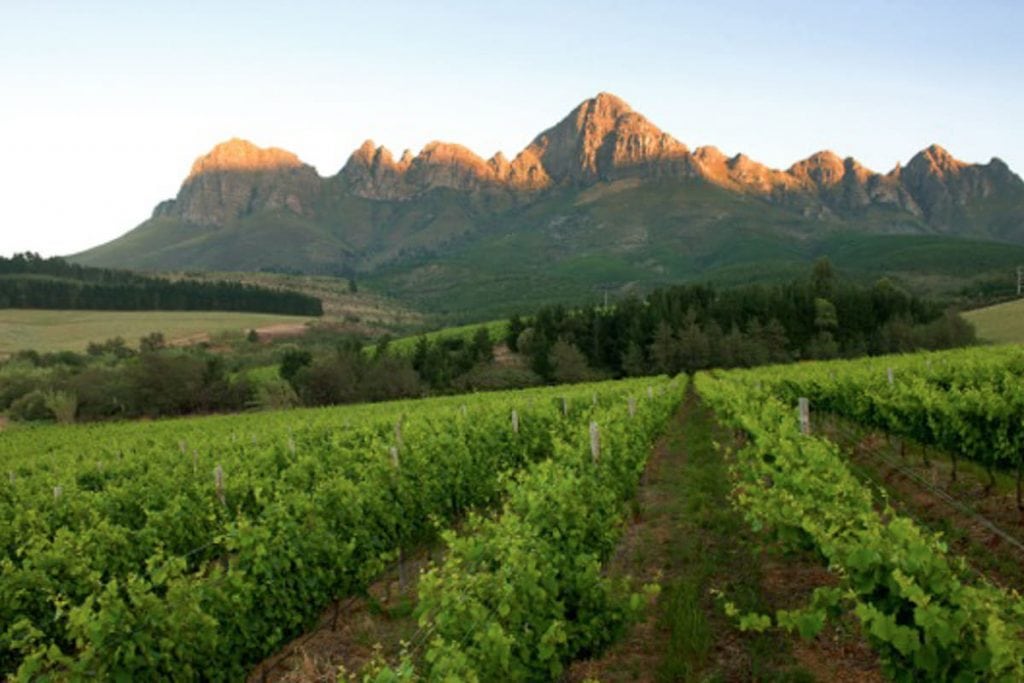 [/one-half-first]
[one-half]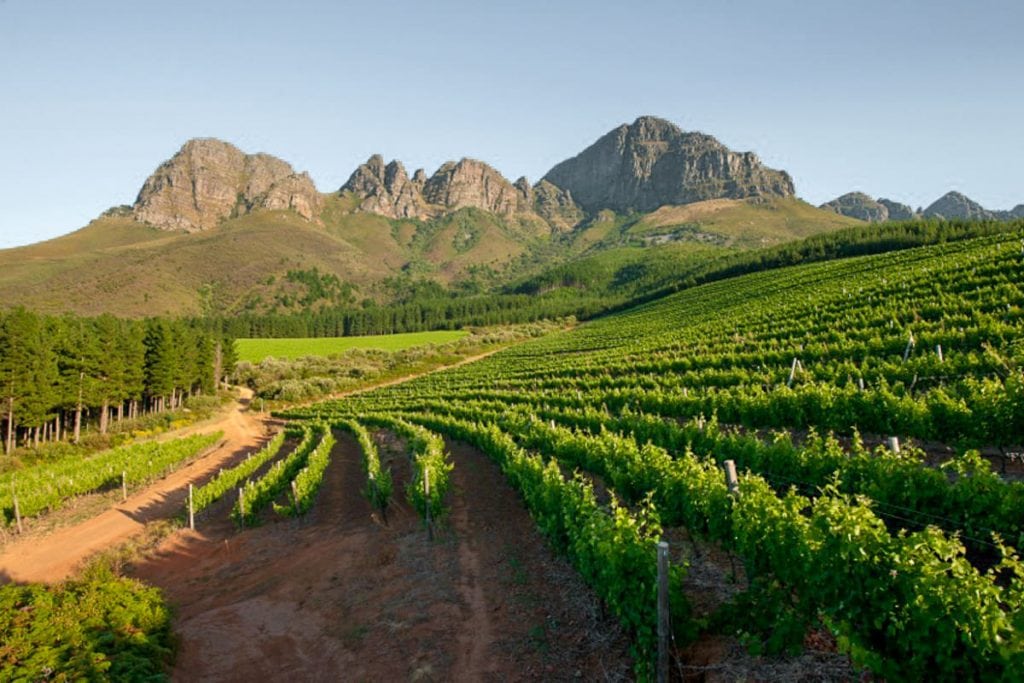 [/one-half]
Think: brilliant wine tastings, the awesome Lourensford Market, a classic Motor Studio and two eateries in The Coffee Roasting Co. and Red Riding Hood Deli, and The Millhouse Kitchen.On the Sunday morning when we visited, we first enjoyed a truly decadent and delicious wine tasting, sampling the Belgian chocolate and wine pairing… This was all kinds of awesome, and one of the most enjoyable and slickly conducted wine tastings I've enjoyed in the Cape Winelands to date.
Afterwards, we popped into The Coffee Roasting Co. and Red Riding Hood Deli for a simple, yet delicious meal, before making our way over to the buzzing Lourensford Market and perusing the art gallery and Motor Studio in turn.The Lourensford market and Motor Studio add an element of Cape Town chicness to the estate, while the beautiful gardens and conservation efforts give a compassionate nod to nature…. Something I really appreciated and loved about Lourensford.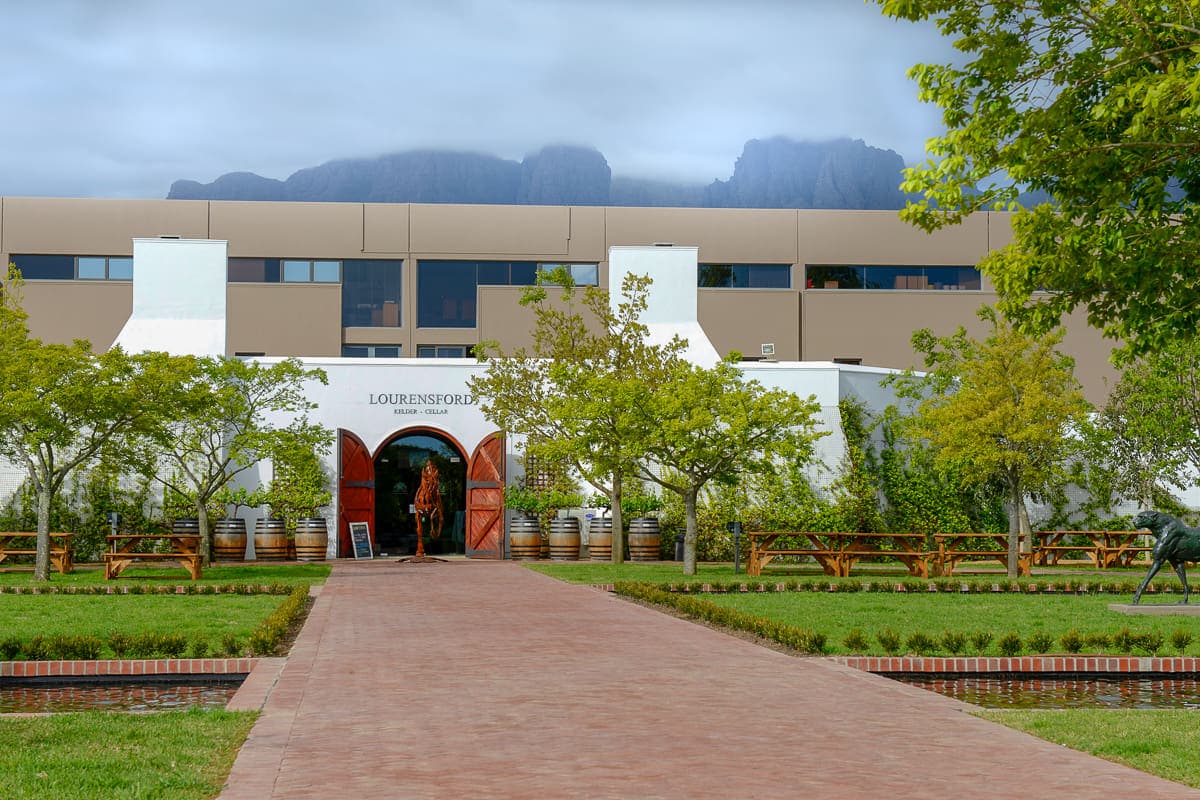 All in all, Lourensford Wine Estate is a wonderful place to visit for groups of friends or families, and I can definitely recommend it for wine tastings; their limited release Chardonnay and Lourensford Shiraz with chili-infused Belgian chocolate was particularly yummy!
For more information on Lourensford Wine Estate, contact [email protected] or visit their website.
These are just a handful of my favourite wine farms but they are certainly some of the best in the land… So, when in Cape Town, make as the locals do by unleashing your inner wine-loving explorer, and enjoying the best wine farms Cape Town has to offer, where natural beauty, fine wine and warm Cape hospitality take precedence.
Travel disclaimer: The Western Cape and Cape Town has been hit by the worst drought in its history and there are intense water-saving measures underway so, when you visit, please fall in line and help us save water as much as possible – and, if you're able to, bring some of this precious natural commodity with you when you visit.
Affiliate Disclaimer: Some of the links on this page are affiliate links. If you click and buy/book something through the link, I will receive a small commission at no extra cost to you.
LOVE IT? PIN IT!