As the wild, untamed land that was the site of the Klondike Gold Rush, the Yukon Territory conjures up a romantic image of life in its frontier. Though mostly unpopulated, it is home to several small towns, thriving wildlife, and some incredibly rugged terrain. Whitehorse, the capital of the Yukon Territory, is a city of rich culture and natural beauty and the gateway to one of Canada's most breathtaking wilderness areas.
We visited Whitehorse in October, for my birthday treat and a first attempt at seeing the Northern Lights. Aside from its stunning scenery, Whitehorse is a prime spot to watch the mesmerising Northern Lights dance across the night sky.
There's no shortage of things to see and do in Whitehorse. In this guide, you'll find suggestions for activities, accommodations, things to do in different seasons and what to pack for your trip to Whitehorse.
How To Get To Whitehorse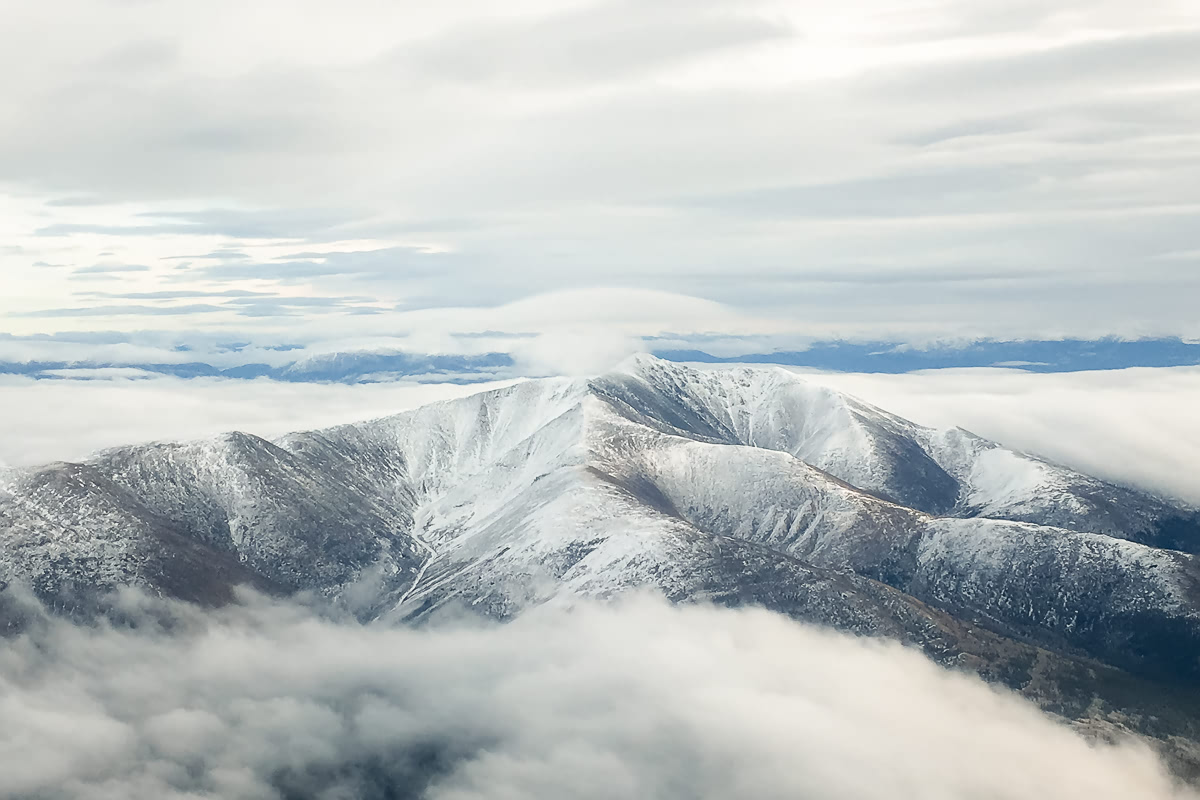 Flights to Whitehorse
The easiest way to get to Whitehorse is by air. Year-round, two airlines service the Yukon capital from several destinations within Canada, they are: Air North and Air Canada. You can fly direct to Whitehorse with Air North from Vancouver, Kelowna, Calgary, Edmonton, Yellowknife and Dawson City. Air Canada has direct flights from Vancouver and WestJet has direct flights from Vancouver, between May–October.
If you live in Europe, then Condor might be an option for you. From May until September, the airline offers nonstop flights to Whitehorse from Frankfurt for around €850.
We flew with Yukon's airline, Air North, from Vancouver. The 2.15h flight was smooth and on time. I expected little from such a short flight, but we received a complimentary sandwich, snack and drink, and as a bonus, we had clear sky the whole way and caught a glimpse of the spectacular coastal mountains.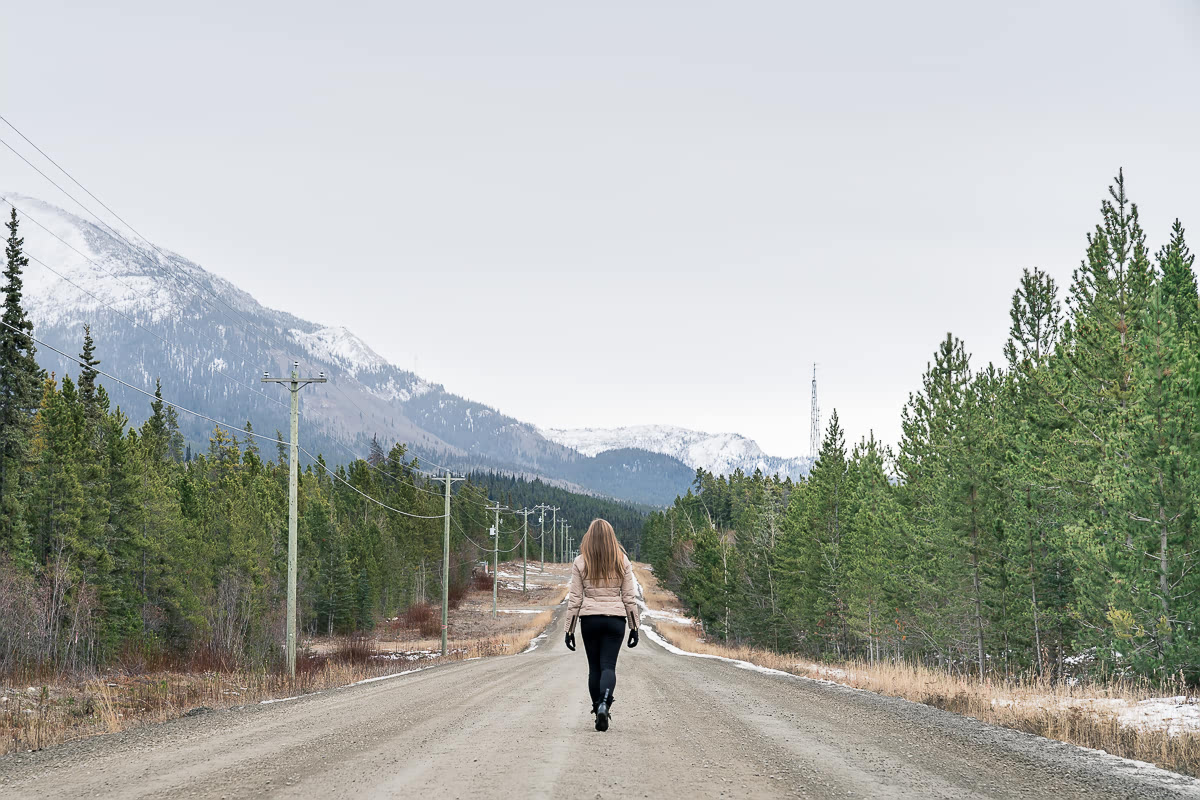 By Road
If you have more time, you can opt for a road trip from either Alaska or British Columbia. Ryan Szulc drove from Vancouver to Whitehorse and back and documented this trip on his blog.
If you want to know more about our visit to Alaska, I'll be posting an article about the trip from Whitehorse to Skagway, an Alaskan cruise port, and formerly, the gateway to the Yukon for Gold Rush prospectors, near the end of the 19th century.
Getting Around – Car Rental Whitehorse
A car is a must if you want to explore Whitehorse and surrounding areas. We booked our car through Driving Force, which came highly recommended. What I like about Driving Force is they operate in Northern cities, hence they are experts in the type of cars you might need in that part of the world.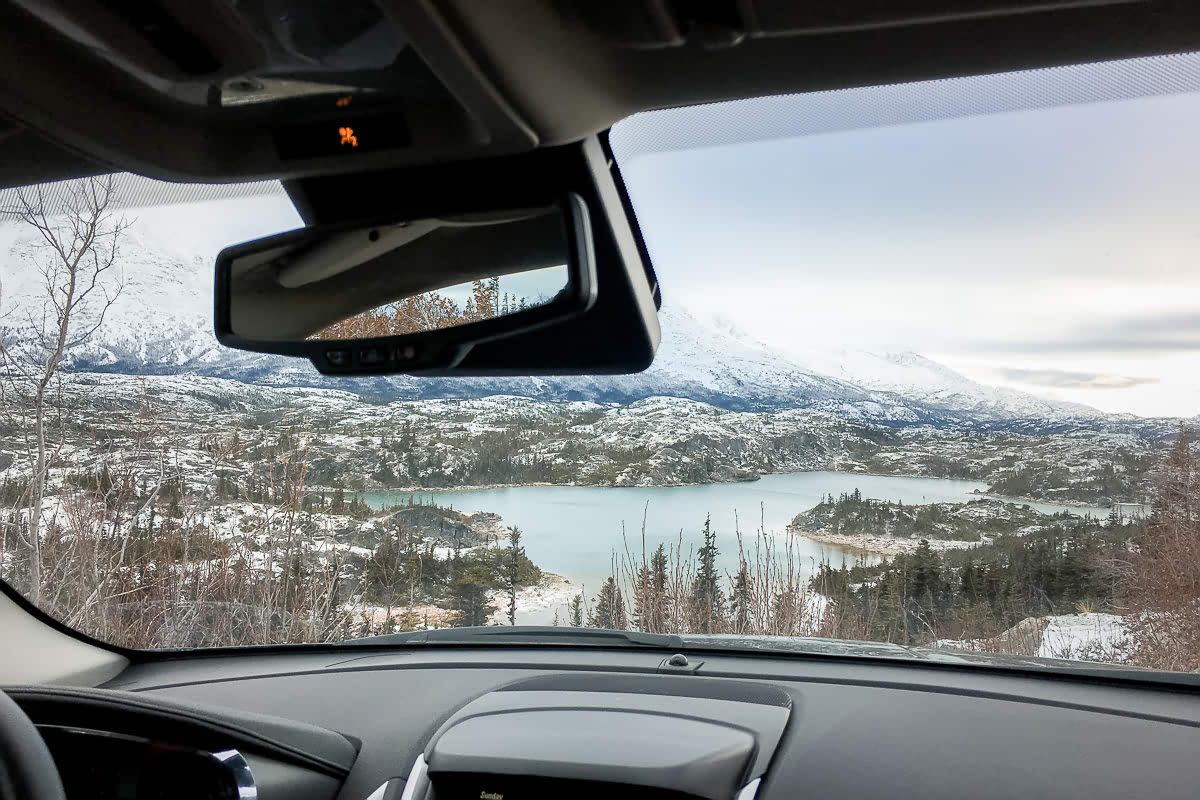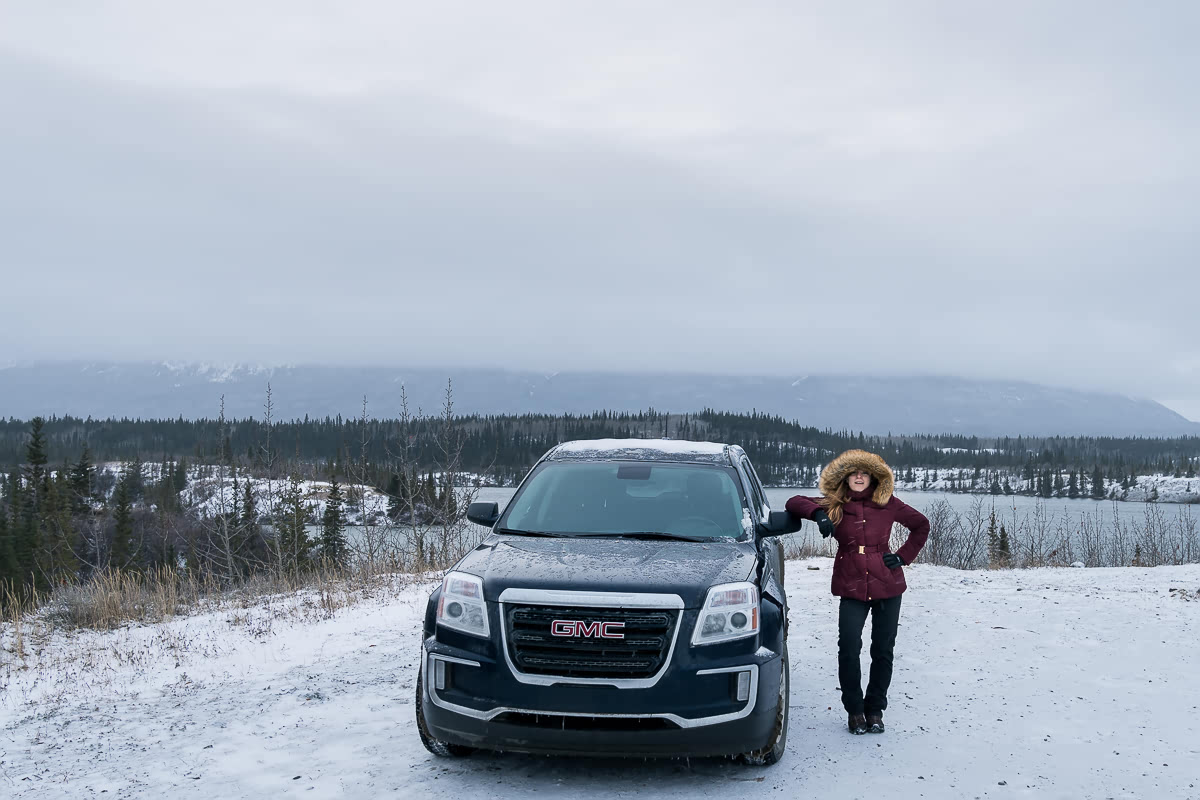 Our car was waiting for us as soon as we landed at the Erik Nielsen Whitehorse International Airport. We opted for a medium size SUV and received a GMC Acadia with winter tyres. Taking the road we would have to drive into consideration, we purchased a loss damage waiver to give us added peace of mind.
Note: If you want to drive the Dempster Highway (the only public road to cross the Arctic Circle), you have to rent an SUV or truck, as passenger cars are not allowed on this highway. If you only stay around Whitehorse, you need not worry about this, as the Dempster Highway is located closer to Dawson City, 500km north of Whitehorse.
Plan your activities in and around Whitehorse
Things To See And Do In Whitehorse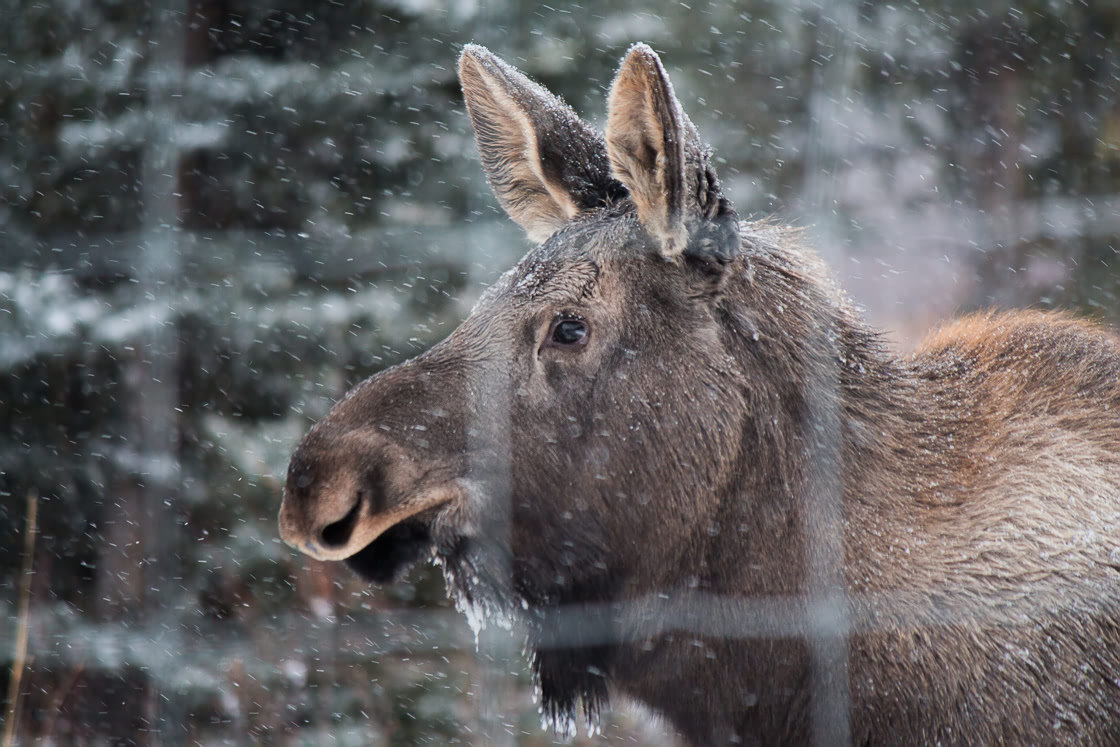 Because we visited Whitehorse in October, we weren't sure what experiences would be available to us because the summer activities had ended and the winter activities hadn't started due to a lack of snow… but our first stop helped us create an itinerary for the next few days:
Yukon Visitor Information Centre
The Yukon Visitor Information Centre contains a wealth of information. There are many leaflets and booklets on display and friendly staff to guide you through the information. Free Wifi and a dedicated seating area give you the opportunity to put together the perfect itinerary.
SS Klondike II
The ship is a restored sternwheeler, which used to carry freight between Whitehorse and Dawson City. Today, it has become a museum ship and national historic Canadian site on the Yukon River.
Built in 1929 it was operational until 1936 when it ran aground in the Yukon River. The wreckage was used to build the new SS Klondike II, which operated until 1955. You can explore the inside of the ship during the summer months, though it is still a must-see sight in winter.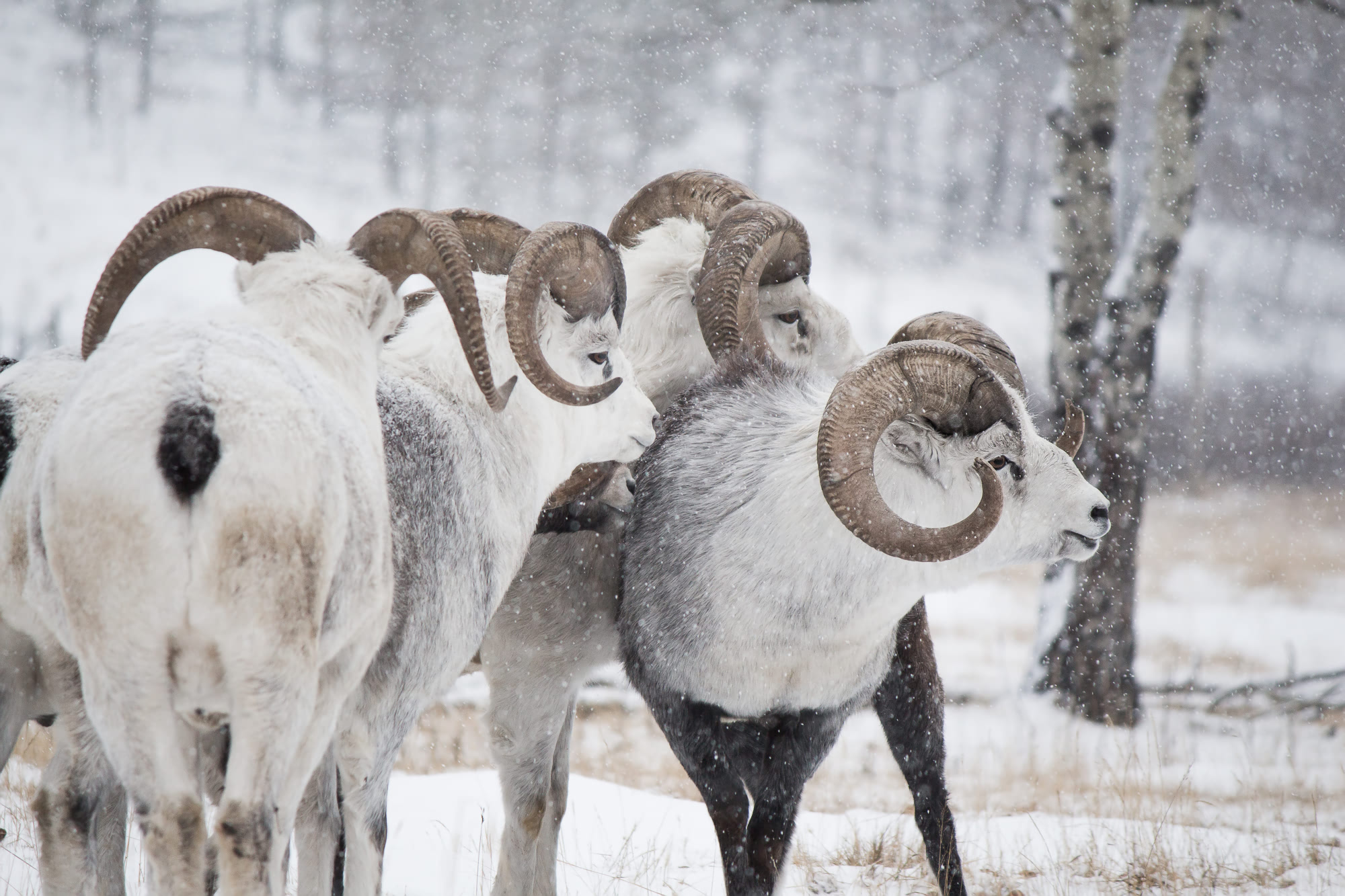 Yukon Wildlife Preserve
The preserve is located outside Whitehorse and is home to ten major animal species from the North. You can walk around the preserve on your own, or jump into one of the buses, which take you around the preserve in 75-90 minutes.
We walked around on our own, so we could decide how long we wanted to spend at each habitat. That morning, snow had fallen, colouring the preserve with a blanket of white and making our walk a more authentic northern experience. The Yukon Wildlife Preserve was one of the highlights of our trip.
Animals you will encounter are thinhorn sheep, muskoxen, moose, woodland caribou, mountain goats, lynx, arctic fox, mule deer, wood bison and mountain elk.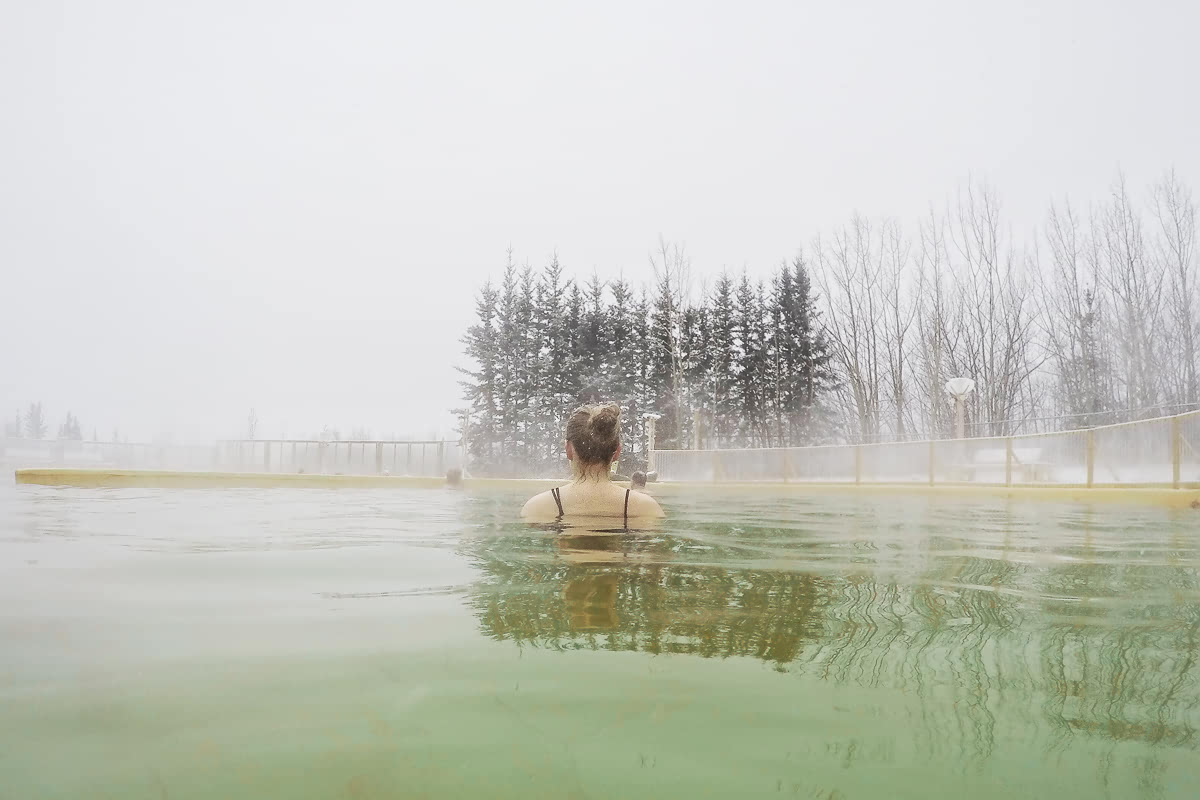 Takhini Hot Springs
After a few hours, it was time to relax, made easy thanks to the Takhini Hot Springs lying only a few minutes away from the wildlife preserve.
There are two connecting pools, with no sulphur smell, that contain calcium, magnesium and iron. The water enters the pool at 47 degrees and cools down to 35 degrees at the far end of the second pool. We didn't stay in the pool for too long, but it was a nice break from walking in freezing temperatures.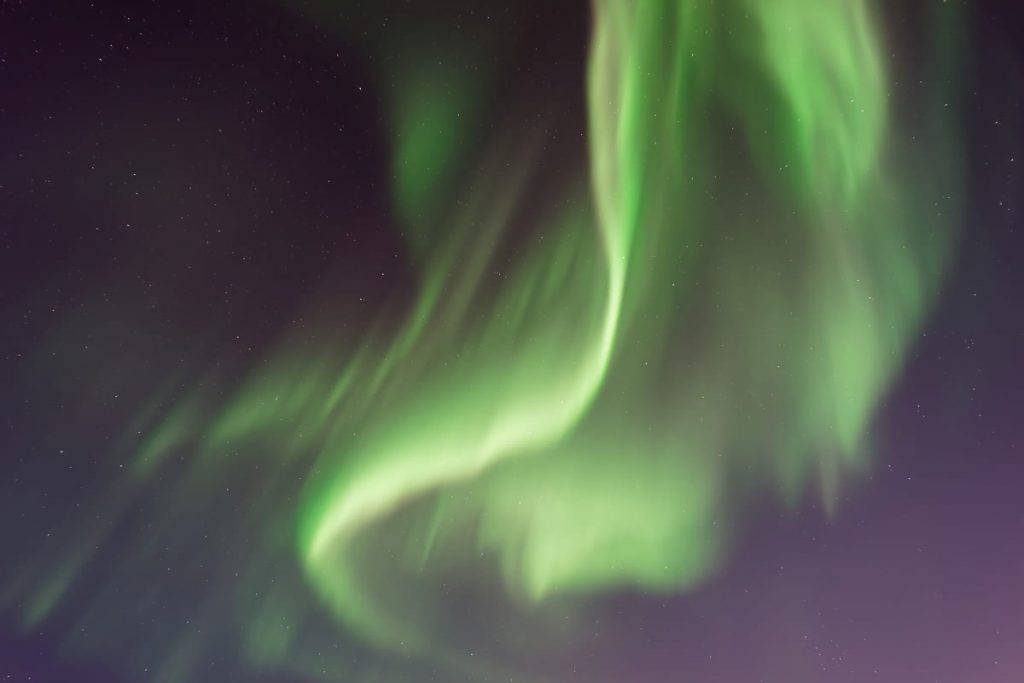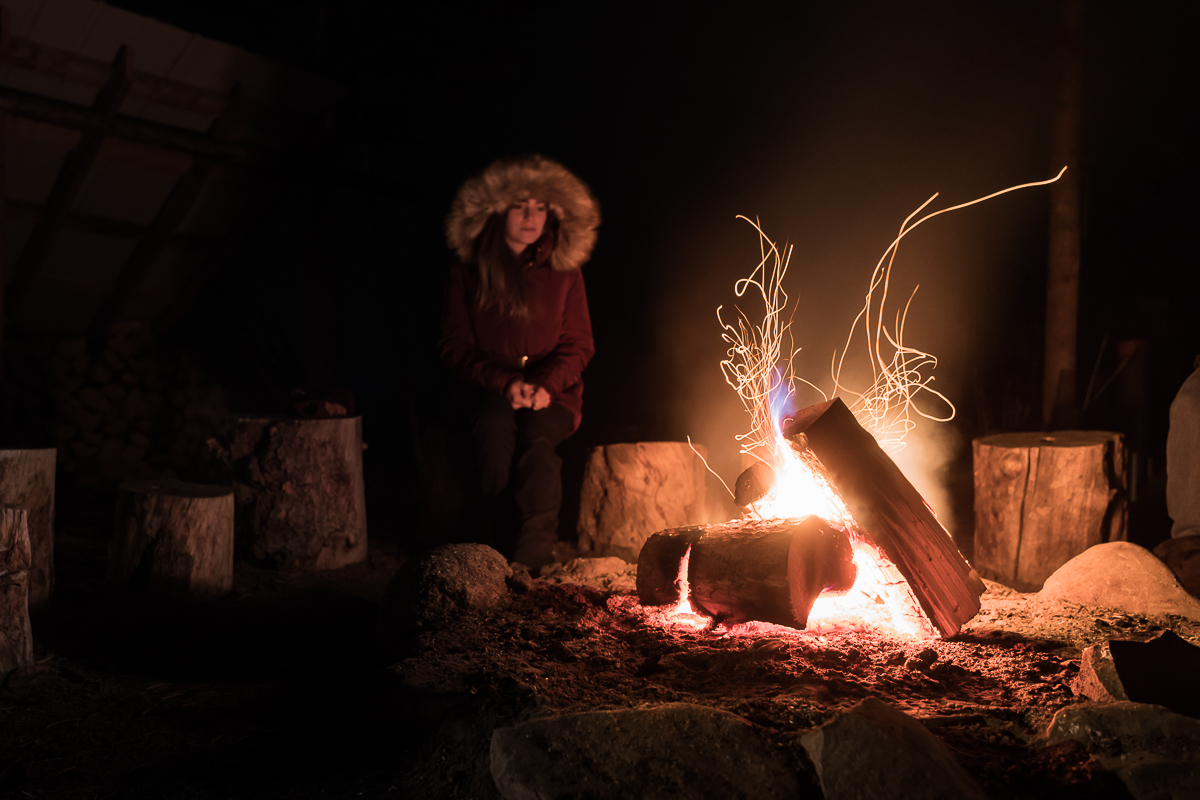 Whitehorse Northern Lights
Whitehorse is a prime spot to see the Northern Lights. Several tours take you to a place outside the city. We booked a tour through Northern Tales for a one night Aurora viewing. The tour included transport from Whitehorse (and back) to a site away from light pollution.
The site had two cosy walled tents/cabins, a campfire to keep warm while waiting, two outdoor toilets and hot drinks and snacks throughout the night. Unfortunately, we never witnessed the lights due to cloud coverage. However, I still enjoyed the experience.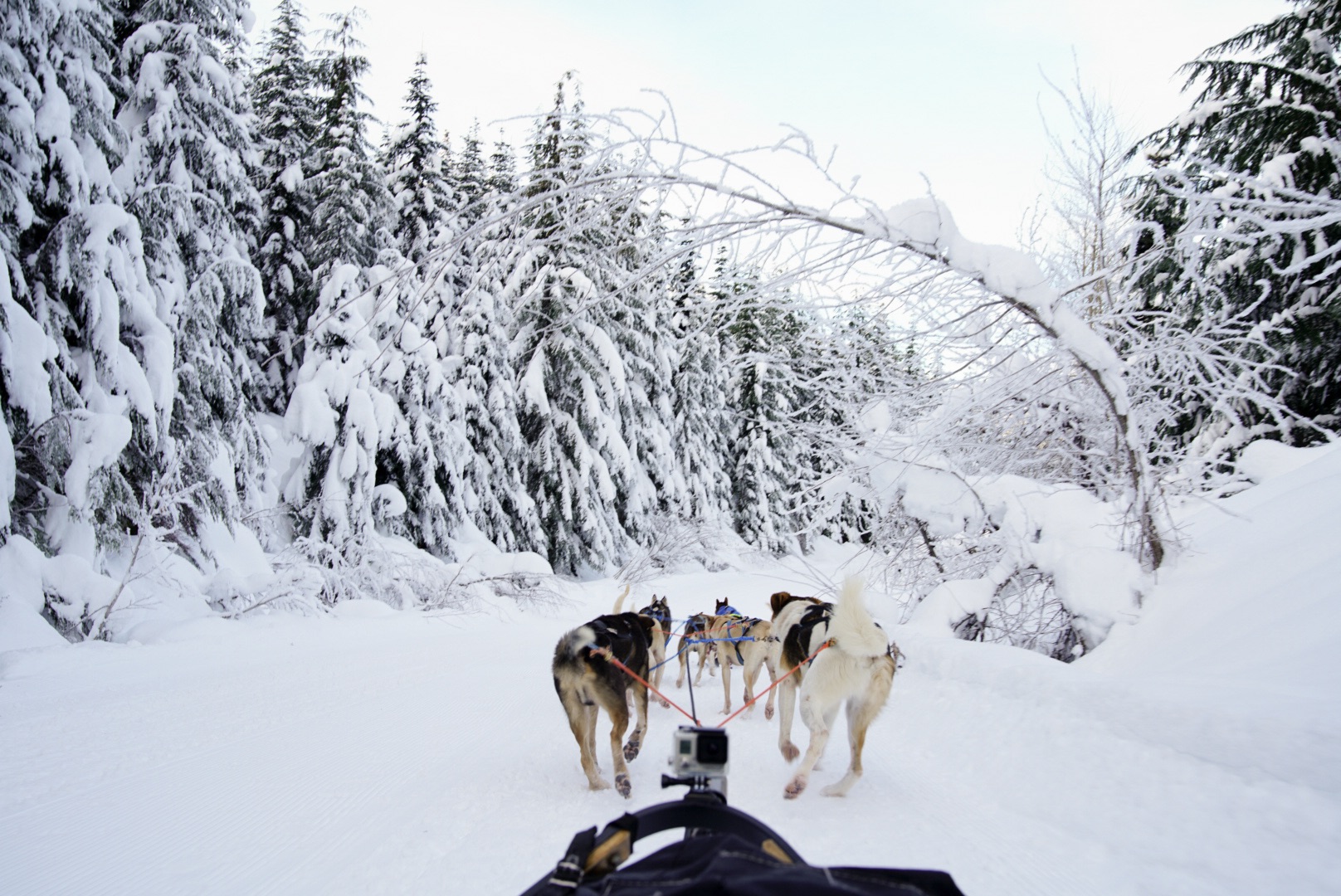 Outdoor adventures
There are many outdoor adventures to choose from. In summer, this includes: canoeing and kayaking on the many lakes and the Yukon River, as well as white water rafting, horseback riding, ATV and hiking.
Some of the more popular winter activities are dog sledding, snowmobiling, ice fishing, snowshoeing and viewing the aurora.
Museums
Whitehorse also offers several museums, such as the MacBride Museum, Yukon Beringia Interpretive Centre and the Yukon Transportation Museum. The two former museums are in Whitehorse, and the latter is right next to the airport.
Unfortunately, we didn't have time to visit any of the museums (we prefer to stay outdoors), but hopefully, we can visit a few next time we are in Whitehorse.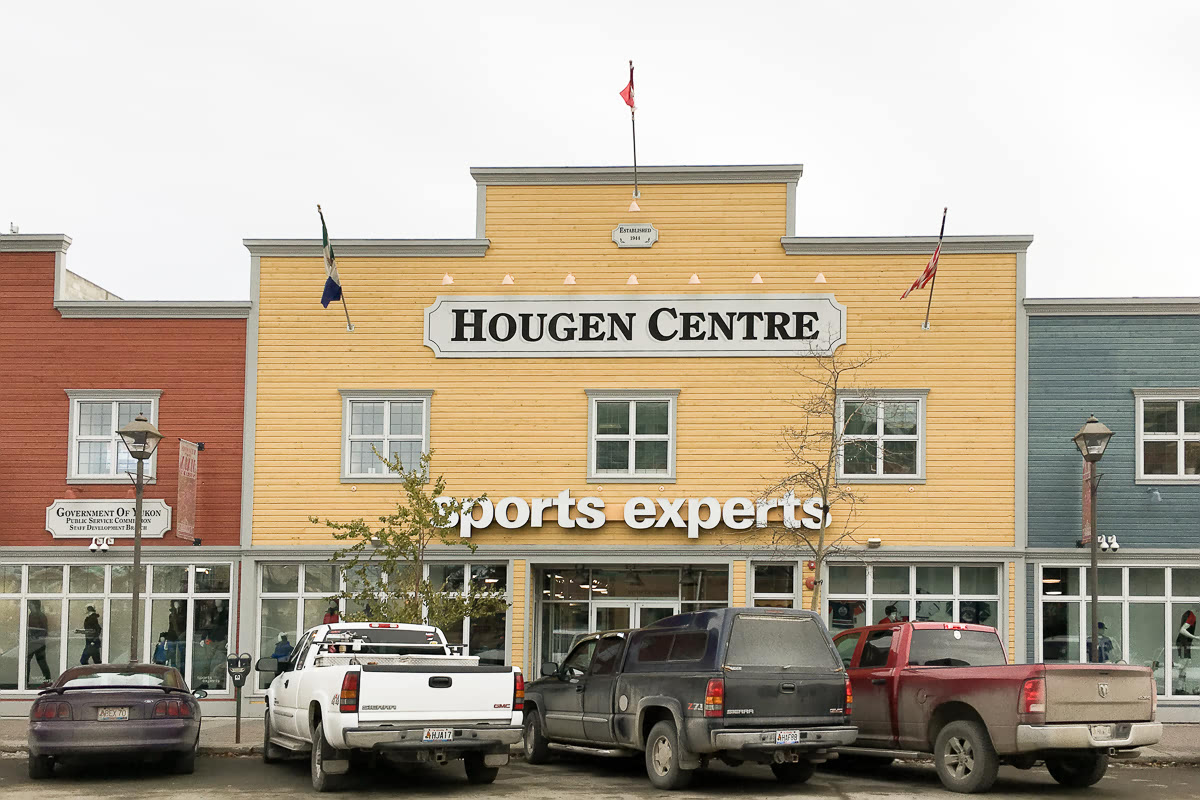 Shopping
Forgot to bring a warm coat or hat, or your hiking boots not as sturdy as you thought they were? In case you've forgotten an essential item, you'll find many outdoor shops, located inside colourful, timber frame buildings, on Main Street.
Things To See And Do Around Whitehorse
Carcross
Carcross is a small community, found along the Klondike Highway, some 50 minutes South of Whitehorse. It is home to the Carcross/Tagish First Nation. During the Klondike Gold Rush, The town became a key stopover and with the arrival of the railway, it developed into a major transportation centre.
During summer, the train from Skagway to Whitehorse still passes through this little town. Many buildings feature traditional Tagish First Nation designs, and the S. S. Tutshi – a tourism ship from the early 20th century – has found its final resting place in Carcross. You can visit the burnt-out ship and read about Carcross, as well as the ship's own history.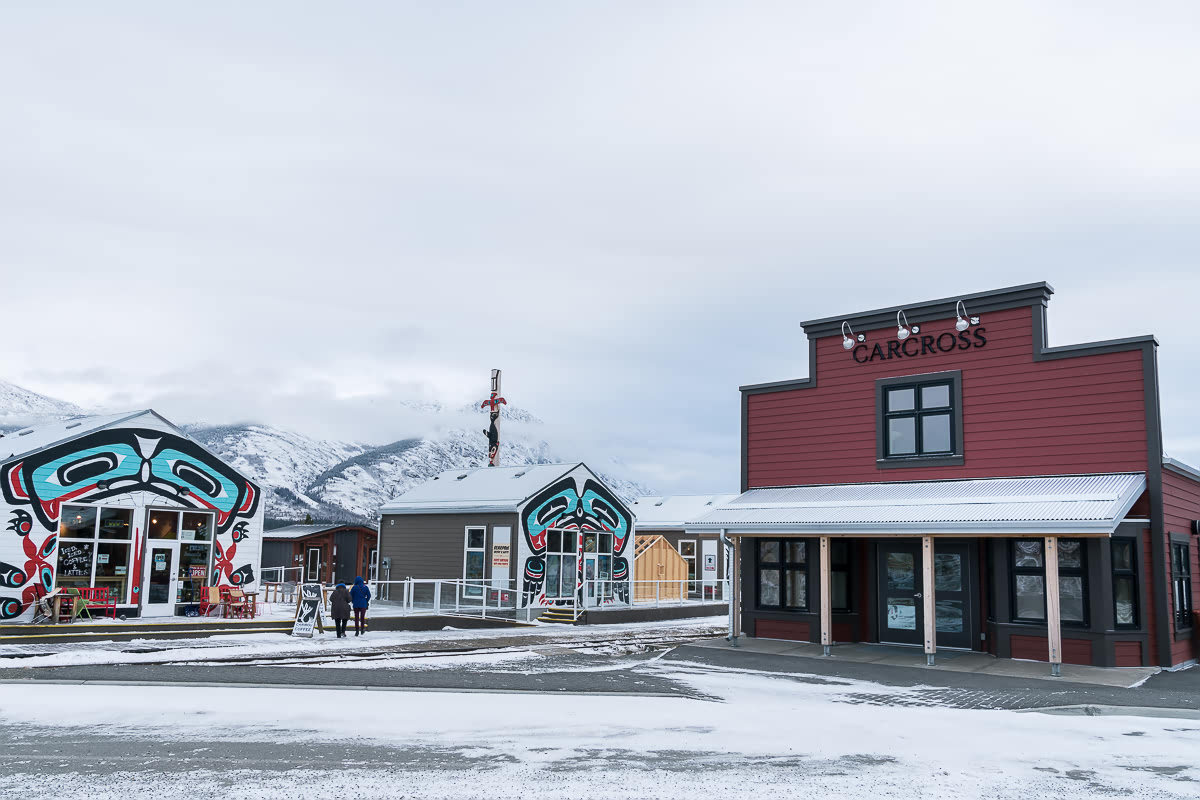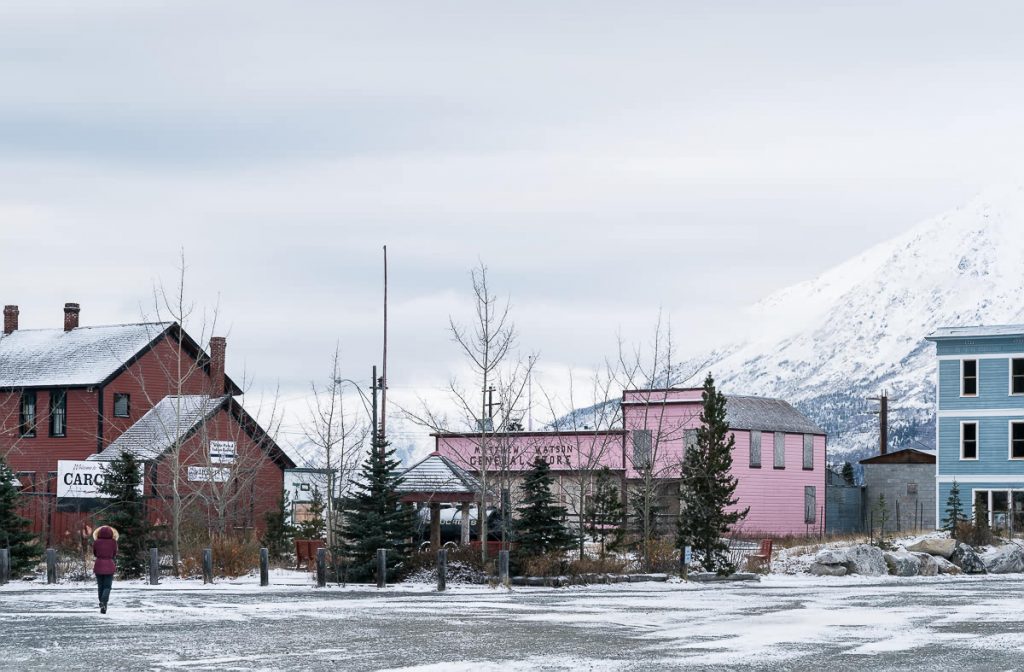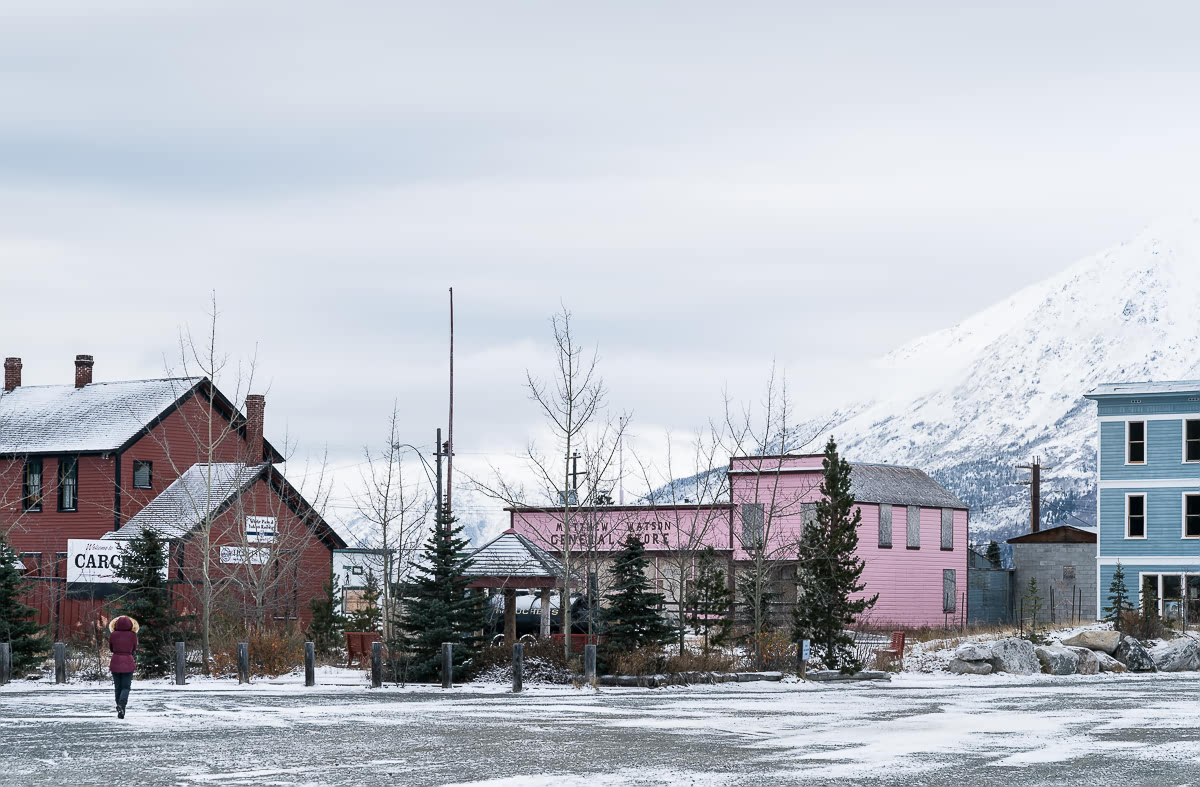 When we visited in October, the village felt like a ghost town. The only open business was a coffee shop where we gladly bought hot chocolate and a coffee to warm our cold bones. All other places, such as the hotel and the convenience store, were closed and boarded up, waiting to reopen in spring, when the train from Skagway would pass through once again.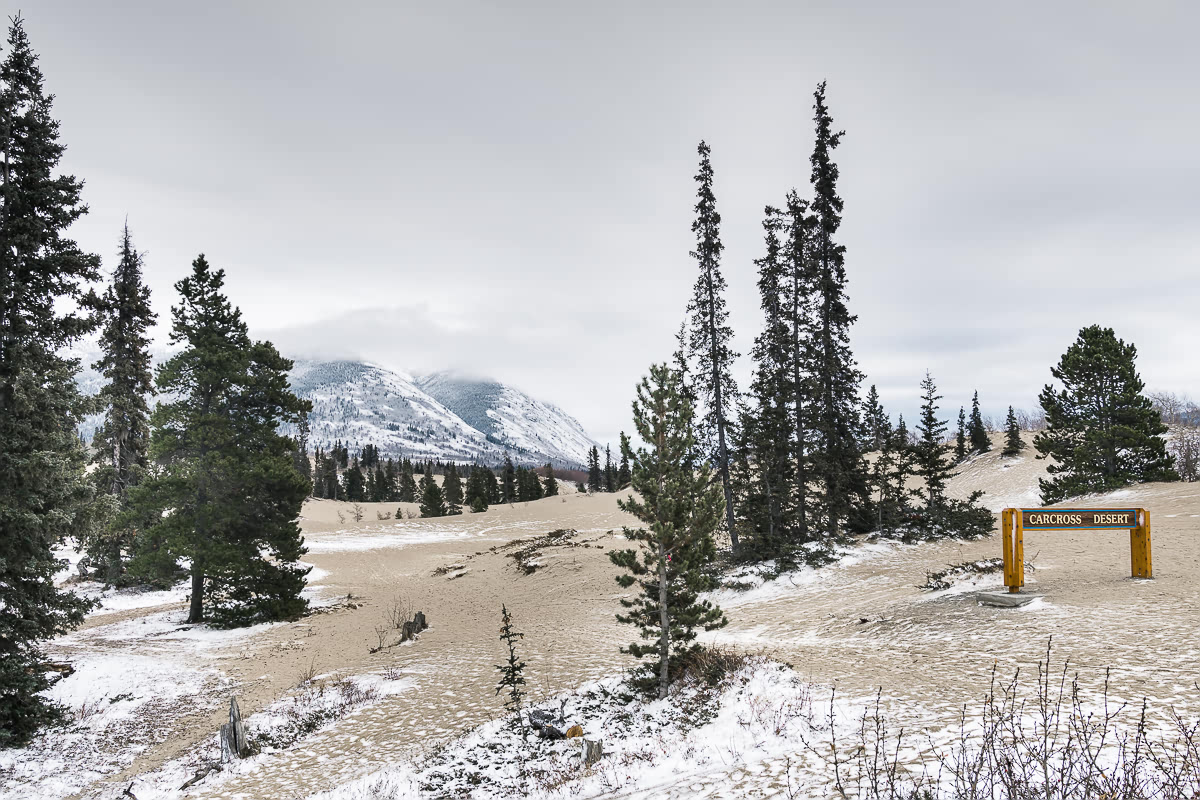 Carcross Desert
A desert is the last thing you would expect to encounter in the Yukon, nonetheless, before entering Carcross, you pass through Carcross Desert. It's known as the smallest desert in the world, despite technically, not being a desert but rather, a series of northern sand dunes.
Because of the precipitation though, the area can't really be classified as a desert, because, to be considered a desert, an area needs to receive less than 25 centimetres of rain per year.
Nevertheless, the dunes are popular with locals for sand boarding, off-road scenic tours by tourists, cross-country skiing and snowboarding.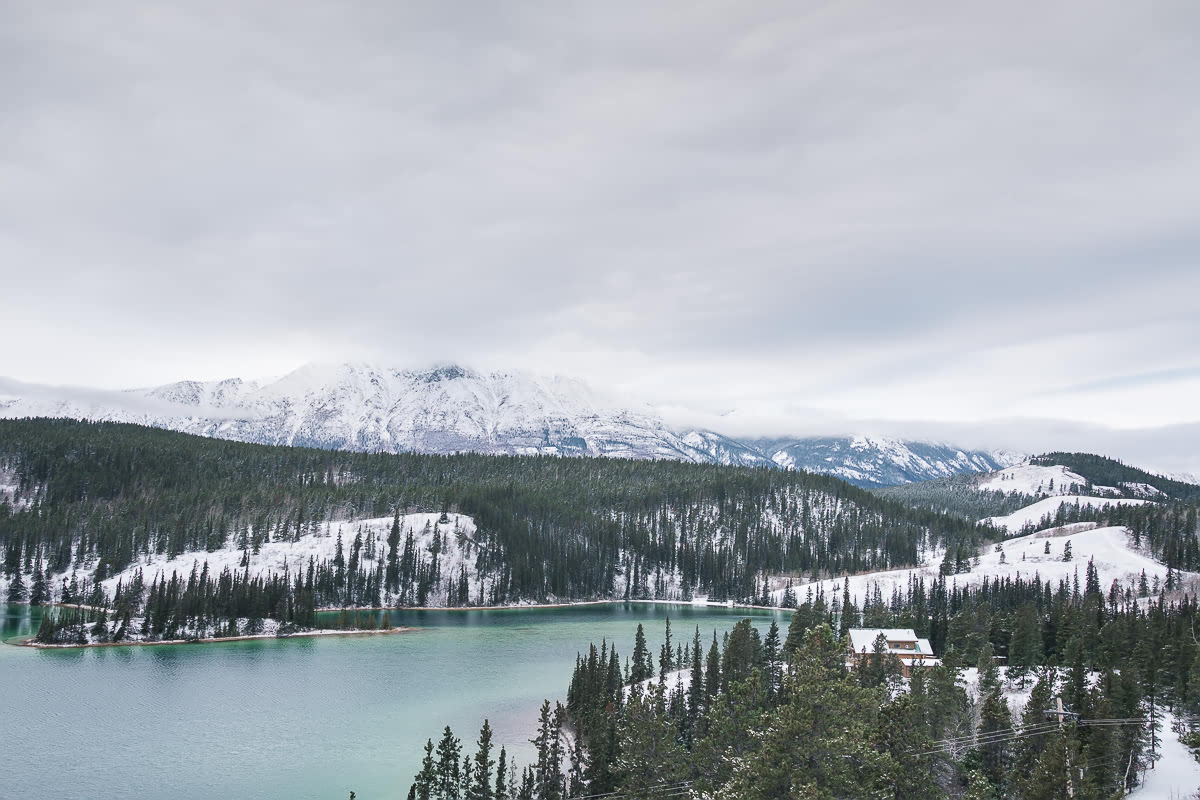 The Southern Lakes Loop
The Southern Lakes are a number of lakes south of Whitehorse. From Whitehorse, drive South on Highway 2 towards Carcross and visit Emerald Lake. Once in Carcross, you can visit Bennett Lake and Nares Lake. Make your way east to Tagish where you'll find Tagish Lake.
Before reaching Jakes Corner, take the road south towards Atlin, and pass Little Atlin Lake. Turn back and drive back towards Whitehorse on Highway 1, passing Marsh Lake. Apart from a scenic drive, the lakes provide a stunning backdrop for all your photos. We took quite a few beautiful winter photos of all the lakes.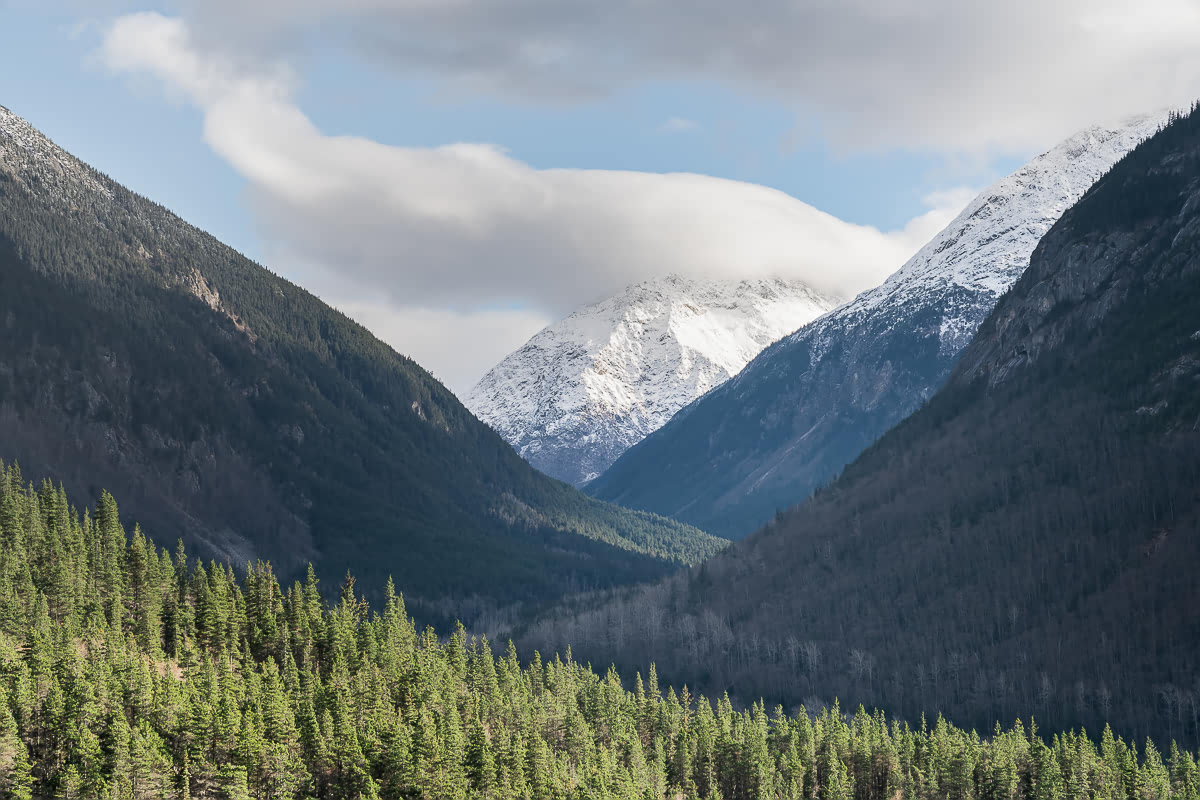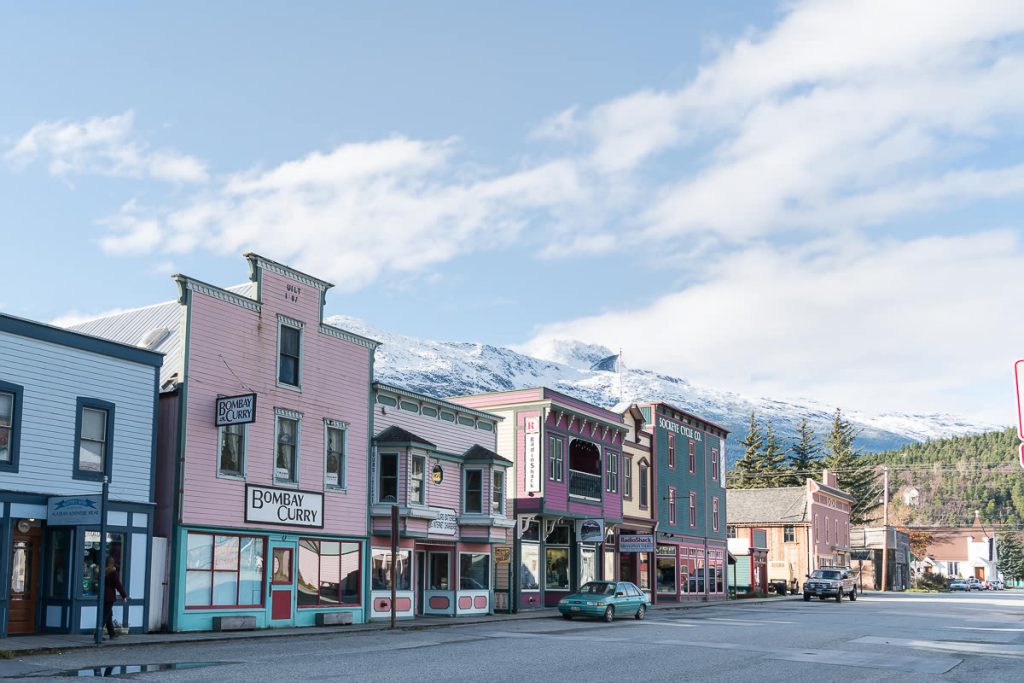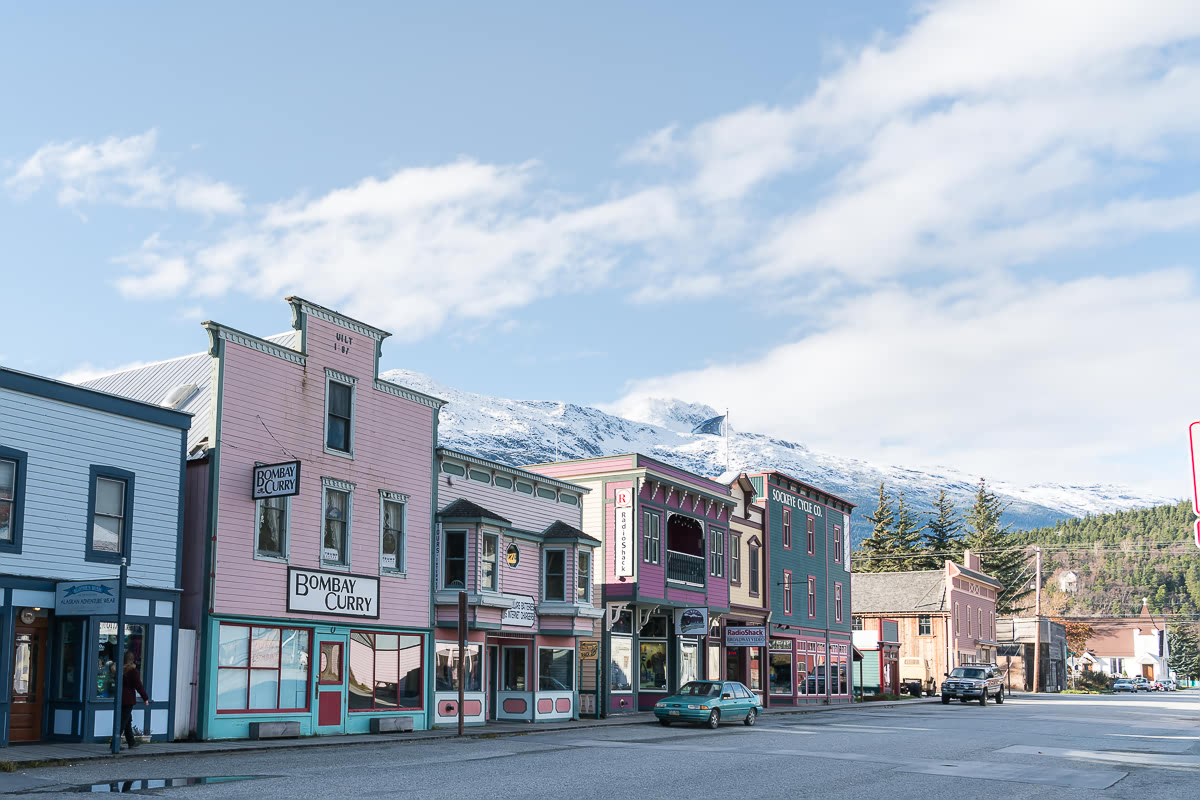 A road trip to Alaska
It has always been a dream of mine to visit Alaska, and once we realised how close it was to Whitehorse, we drove to Skagway via the Klondike Highway. Though it's a 3-hour drive, there are many scenic stops along the way.
Still, prepare yourself for a full-day road trip by making sure you have your passport, work permit or visa with you to ensure passage into the US. After the Canadian border, you'll pass White Pass, a mountain pass which prospectors used during the Klondike Gold Rush.
Trip to Haines Junction
Haines Junction is a small village, 1h40 west from Whitehorse. It is the gateway to Kluane National Park and Reserve. Kluane is a UNESCO world heritage site and boasts spectacular North Coast Mountains.
Here, you can take a flight to see the ice fields or enjoy activities such as: hiking, mountain biking and river rafting.
Atlin
After a 2h40 drive outside of Whitehorse, you will find the lovely isolated town of Atlin. Despite the town only having around 500 residents throughout the year, it is home to a thriving art community. The town is an exceptionally scenic place on the banks of Atlin Lake and is surrounded by mountains.
Things To Do Around Whitehorse In Fall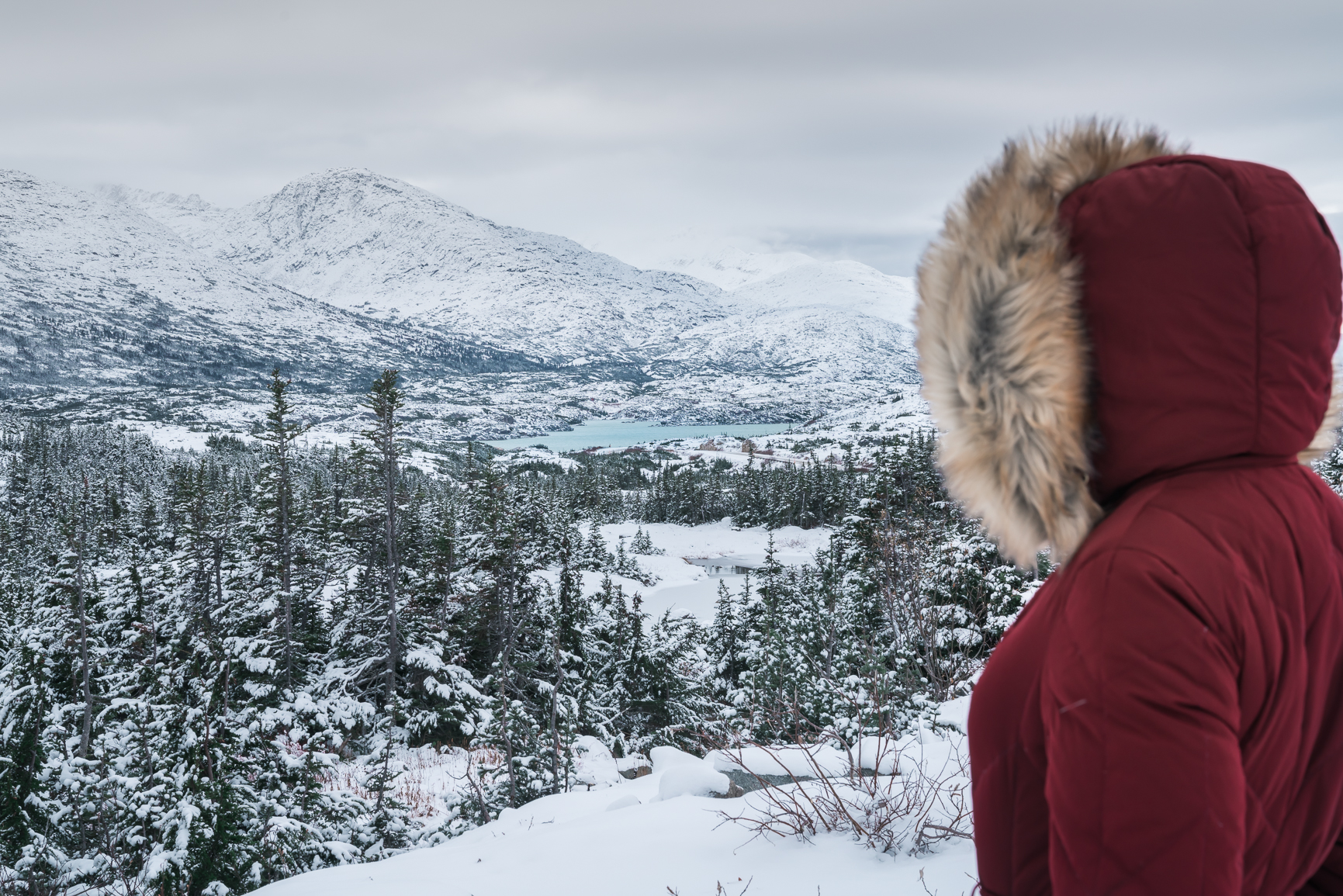 During fall, finding activities is a little trickier. We arrived in October, and most lakes and rivers had too much ice floating on the water to do any kayaking or canoeing, and even though it had snowed, most winter activities hadn't started yet.
With a bit of research and contacting numerous companies, I have, however, found a few activities one can enjoy during the fall.
Fat biking
As soon as the first snowflakes fall, you can switch from your mountain bike to a fat bike, which allows you to ride on snowy trails. Boreale Ranch offers trails for beginners and experienced riders.
ATV training run with sled dogs
Dogs don't lie around idle when there is no snow around. Fall is the perfect time to experience how the dogs train for winter. Alayuk offers training runs from April until November, while Muktuk also offers training runs with their sled dogs in the fall.
Whitehorse Climate – What To Wear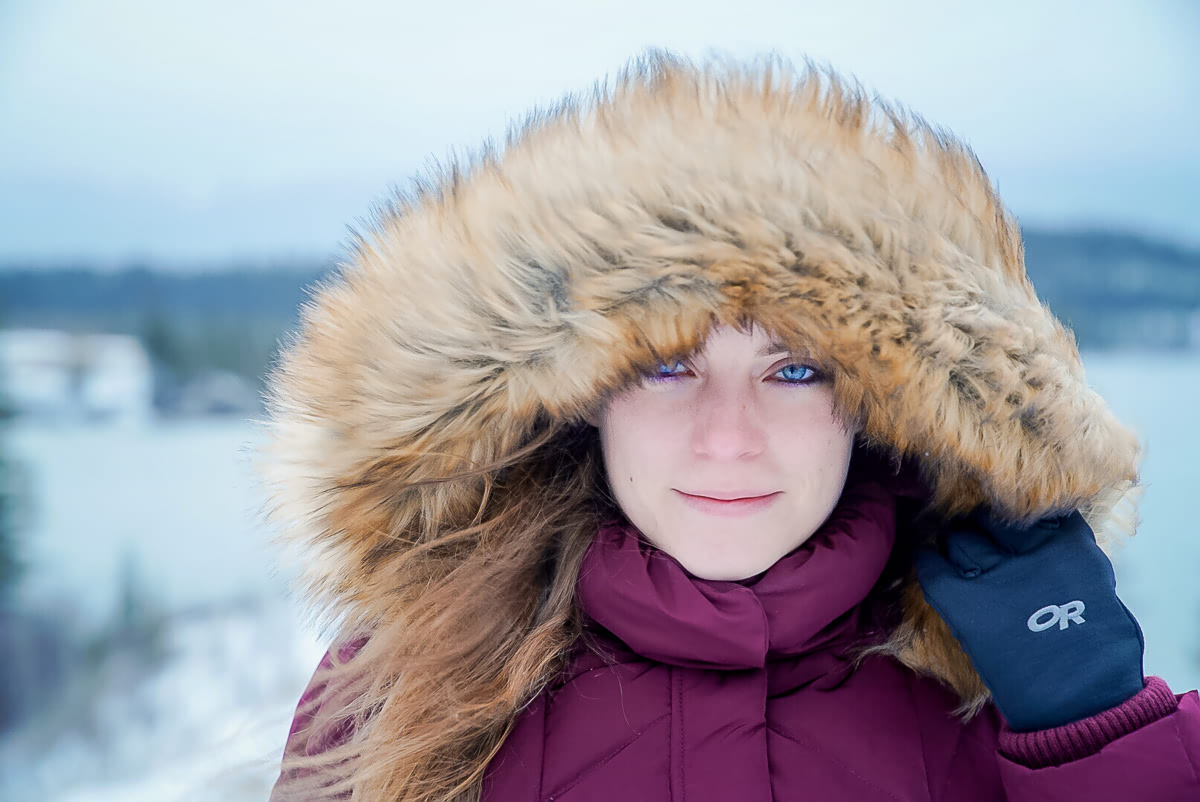 The weather differs significantly between seasons. Temperatures can soar above 30 degrees during summer, while winter can see them drop to minus 30 degrees.
For all seasons, pack enough layers and sturdy hiking boots. Whitehorse has a relaxed dress code, so no need to pack any fancy clothes or shoes.
Summer
Bring shorts and t-shirts for the warm days, but do make sure to bring a few sweaters too. Long sleeves and trousers are advisable when setting off on a hike.
Fall
I would suggest packing sweaters and long trousers. Include hats and gloves in your packing list, along with a few base layers. Pack a windbreaker or a parka if you're going late in the season.
When we visited in October, temperatures dropped to -16, and we were glad we brought our base layers and insulated fleece hiking trousers.
Winter
Base layers and a parka are a must. My down-insulated parka, together with a fleece insulated hood, keeps me warm in -20 degrees. Bring a hat with a fleece rim to keep your ears warm if you don't have a hood.
My winter clothing to help me stay warm:
Feet: Smart wool socks + snow boots
Bottom: Long johns + fleece insulated leggings or snow pants
Top: long sleeve base layer + fleece top + thin puff insulated jacket + parka
Head: Fleece snood neck warmer, which I can pull up to protect my face + hat with fleece rim or hood with fleece lining
Hands: Gloves with fleece lining. Thin ones if I'm not going to be outside for long and I need to take photos, with thick ones for when I'm out hiking.
Spring
Temperatures are rising, but you'll still need warm clothing. Pack long sleeves and long trousers together with gloves and hats. No harm in packing base layers.
Where To Stay In Whitehorse
There are many cosy cabins and hotels to choose from in Whitehorse. First, though, you must decide if you'd prefer to stay in Whitehorse or outside the town.
Why you should stay in Whitehorse
Close to all amenities the town has to offer
Choice of different restaurants each day
Aurora tours and other activity tours start from Whitehorse
You don't need a car
Why you should stay outside Whitehorse
Closer to nature
Opportunity to view the Northern Lights without leaving your hotel
Food and drinks are usually included and are of a high standard
Most hotels offer activities around the area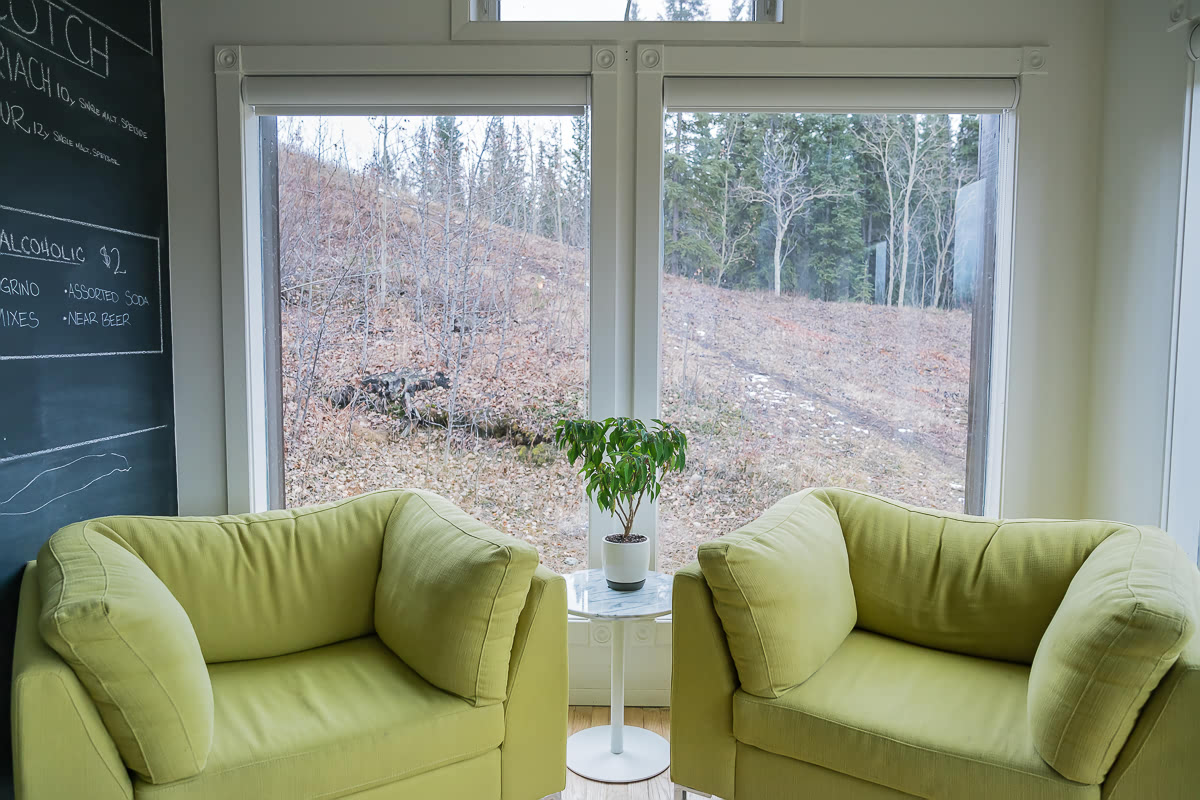 Where we stayed
We stayed at the Boréale Ranch, 30 minutes south of Whitehorse. It's an intimate hotel with only a few rooms. Food and drinks are all included, and the chef creates the most fabulous meals you could ever expect to find in a hotel or restaurant.
Other hotels we considered outside of Whitehorse
Northern Lights Resort & Spa has rooms and log cabins, and offers tours and Aurora viewings from the hotel.
Inn on the Lake, which is located on the banks of Marsh Lake and offers cosy, rustic rooms.
Hotels in Whitehorse
Best Western Gold Rush Inn – this hotel is situated in a timber frame building on Main Street. It's centrally located and Northern Tales tours start here.
BOOK YOUR STAY
Ready to start planning your trip to Whitehorse? Book your stay here
LOVE IT? PIN IT!