Our feet take us on all kinds of journeys; exploring cities, hiking mountains, discovering new trails through forests or grabbing a coffee nearby. They are constantly working, taking us from one place to another through wind, rain and snow. As avid travellers and adventurers, we know all too well the importance of reliable, comfortable footwear that can keep up with all-weather conditions. While we may love the thrill of discovering new places, we don't always love the blisters, aches and wet socks that can come with it. It's important to take care of your feet so you can climb that next mountain, tread on new paths or explore new cities.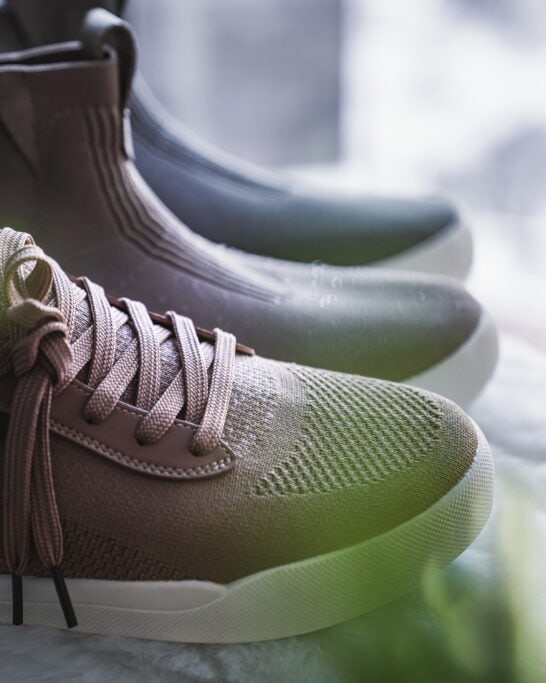 Having tried and tested many different types of footwear over the years, we were excited to have the opportunity to try a unique shoe brand. Vessi, based in Vancouver, Canada, has revolutionised the footwear industry with their 100% waterproof and breathable shoes.
They know how important it is to keep your feet dry, comfortable and happy, no matter where your travels may take you. Whether you're facing a downpour on the streets of a bustling city or tackling a muddy trail, their sh1oes are designed to protect your feet from the elements while also allowing them to breathe.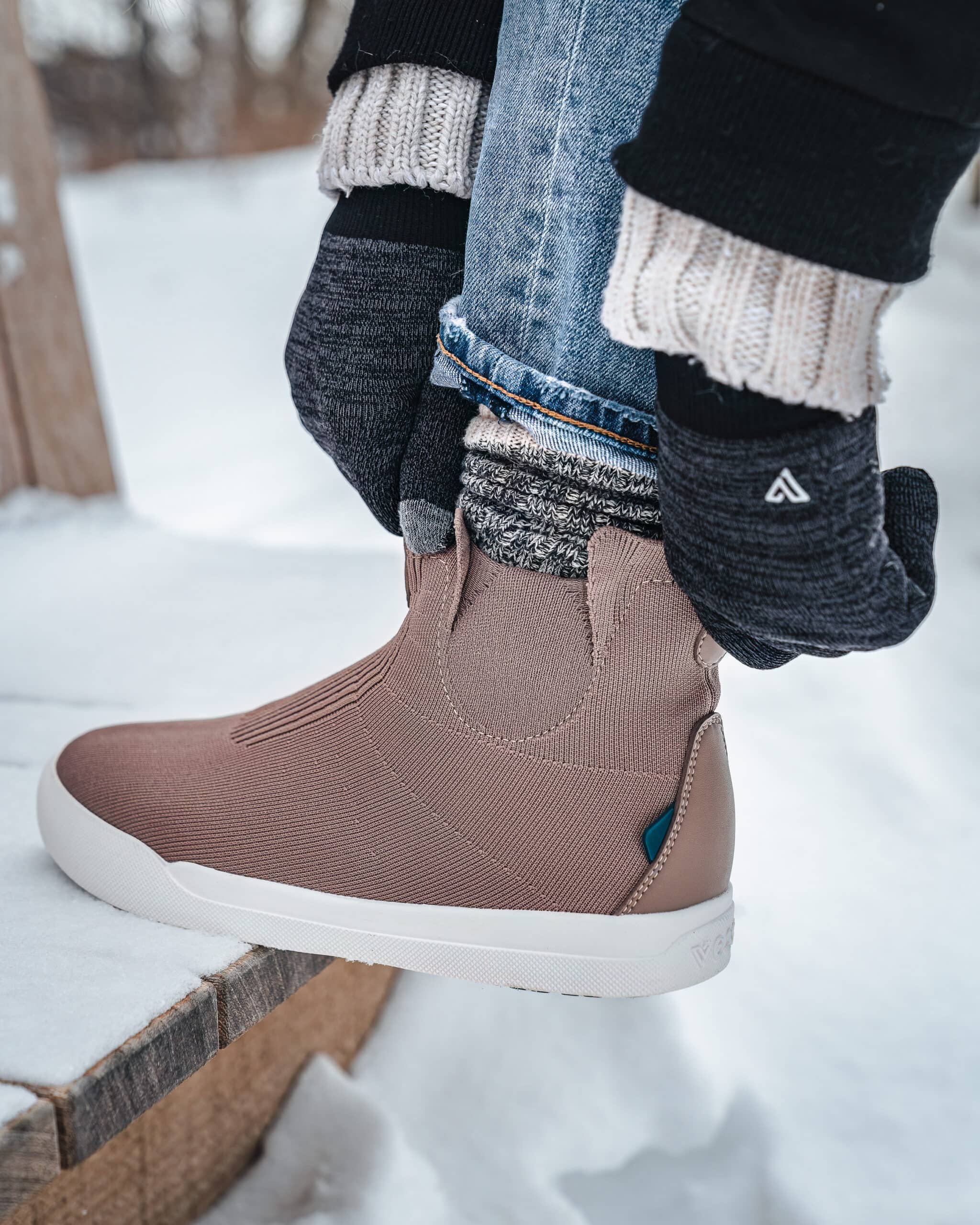 In this post, we'll be sharing our firsthand experiences with Vessi shoes, from their durability and comfort to their versatility and style. So if you need a reliable pair for your next adventure, or are just looking for a comfortable, all-weather option for your daily life, read on to see why Vessi should be at the top of your list.
At Vessi, they offer a range of models for men, women and children. We had the opportunity to try out the Weekend Chelsea for myself and Ash, as well as the Weekend Sneaker for myself.
What sets Vessi apart
100% Waterproof and breathable Footwear
Vessi's waterproof shoes stand out due to their unique waterproofing technology and lightweight design. Each pair weighs around 190 grams, making them the lightest waterproof shoes in the world. They are more versatile than rain boots, snow boots, or water-resistant sneakers because of their waterproof design.
To ensure that the shoes are waterproof and breathable, Vessi uses a revolutionary layer called Dyma-Tex. Made from polyurethane, this layer has millions of pores that are small enough to prevent water molecules from entering the shoe but large enough to allow heat and moisture to escape. This ensures both waterproof and breathable footwear that keeps your feet dry and comfortable no matter how active you are.
Eco and Vegan-Friendly
At Vessi, sustainability and ethical production are top priorities. Recognising the impact that the traditional footwear industry has on the planet, the company has implemented mindful manufacturing practices and uses 100% vegan materials in the construction of their products. This includes water-based adhesives and engineered leather and suede, ensuring that no animal products are used in any visible or hidden parts of their shoes.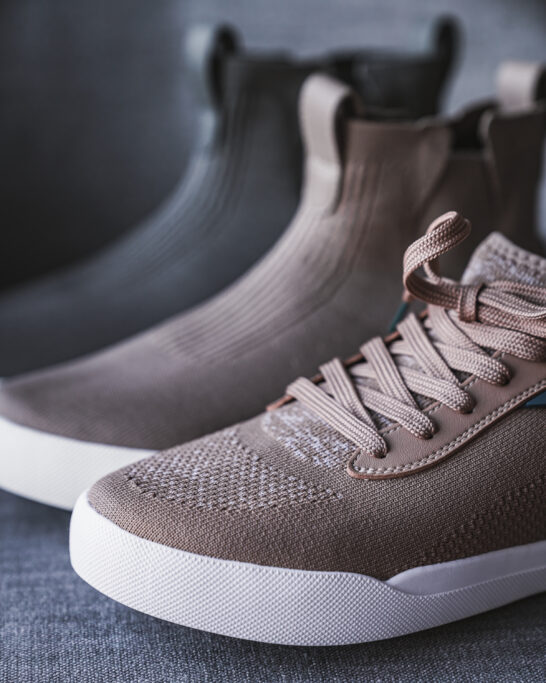 Thanks to Vessi's innovative Dyma-Tex waterproof layer, these shoes have a lifelong waterproofing quality without the need for harmful chemicals or coatings. This means you won't need to replace your Vessis as they will remain waterproof for their entire lifespan. This helps to combat fast fashion and keep shoes out of landfills.
By focusing on sustainability and ethical production, Vessi is setting a new standard for environmentally conscious footwear. They are committed to reducing the carbon footprint of the footwear industry and creating products that customers can feel good about wearing.
Our Personal Experience with Vessi Shoes
We put our Vessi shoes to the test on our adventures around Winnipeg and Manitoba. The freezing temperatures and snowy conditions made it crucial to have reliable, waterproof footwear and Vessi more than delivered.
As we navigated the slushy, snow-covered streets and provincial parks, our feet stayed warm and dry thanks to the waterproof and breathable material of our Vessis. We were able to explore the snowy landscape without worrying about our feet getting wet, and the shoes held up remarkably well in the tough conditions. We could hike, climb, and explore without damaging our shoes or dealing with blisters and other foot problems.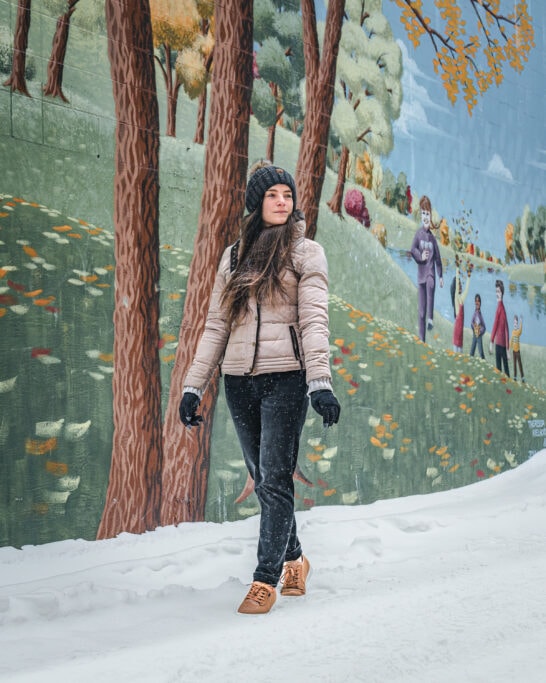 Even when the temperatures dropped below -15, our feet stayed relatively warm while wearing our Vessis and spending hours out in the cold.
But it's not just the waterproof and breathable features that make Vessi shoes stand out. They are also incredibly comfortable and versatile. The cushioned insole and flexible sole made them a pleasure to wear, and the sleek design means they can easily be dressed up or down for any occasion.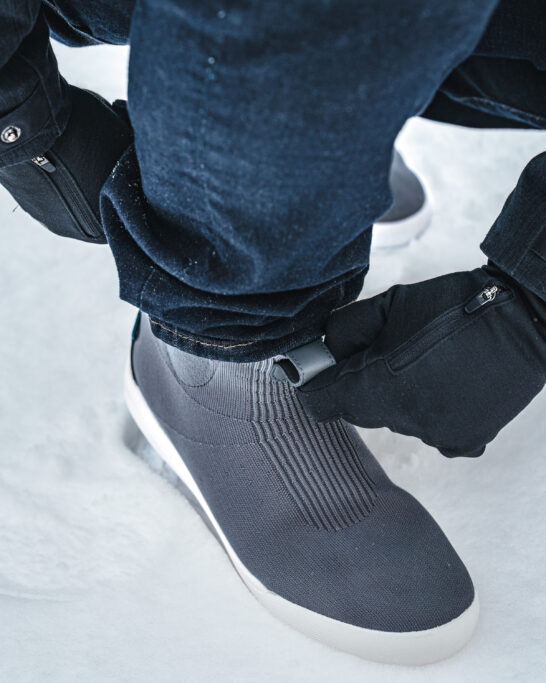 We wore them on long walks through the snow-covered streets and to lunch at an upscale bistro, and they looked great in both settings. Whether we were running errands around town or hitting the trails, Vessi had us covered. The comfort and versatility of these shoes make them an ideal option for most situations.
One thing we noticed while using our Vessis in icy conditions is that they can become slippery on certain surfaces. While the rubber Herringbone pattern on the thread helps with traction, these shoes are not certified as non-slip, so it's important to be cautious when exploring.
Overall, we were thoroughly impressed with Vessi shoes and the way they performed in the snowy and slushy conditions. They kept our feet dry and comfortable, making them the perfect choice for travellers like us.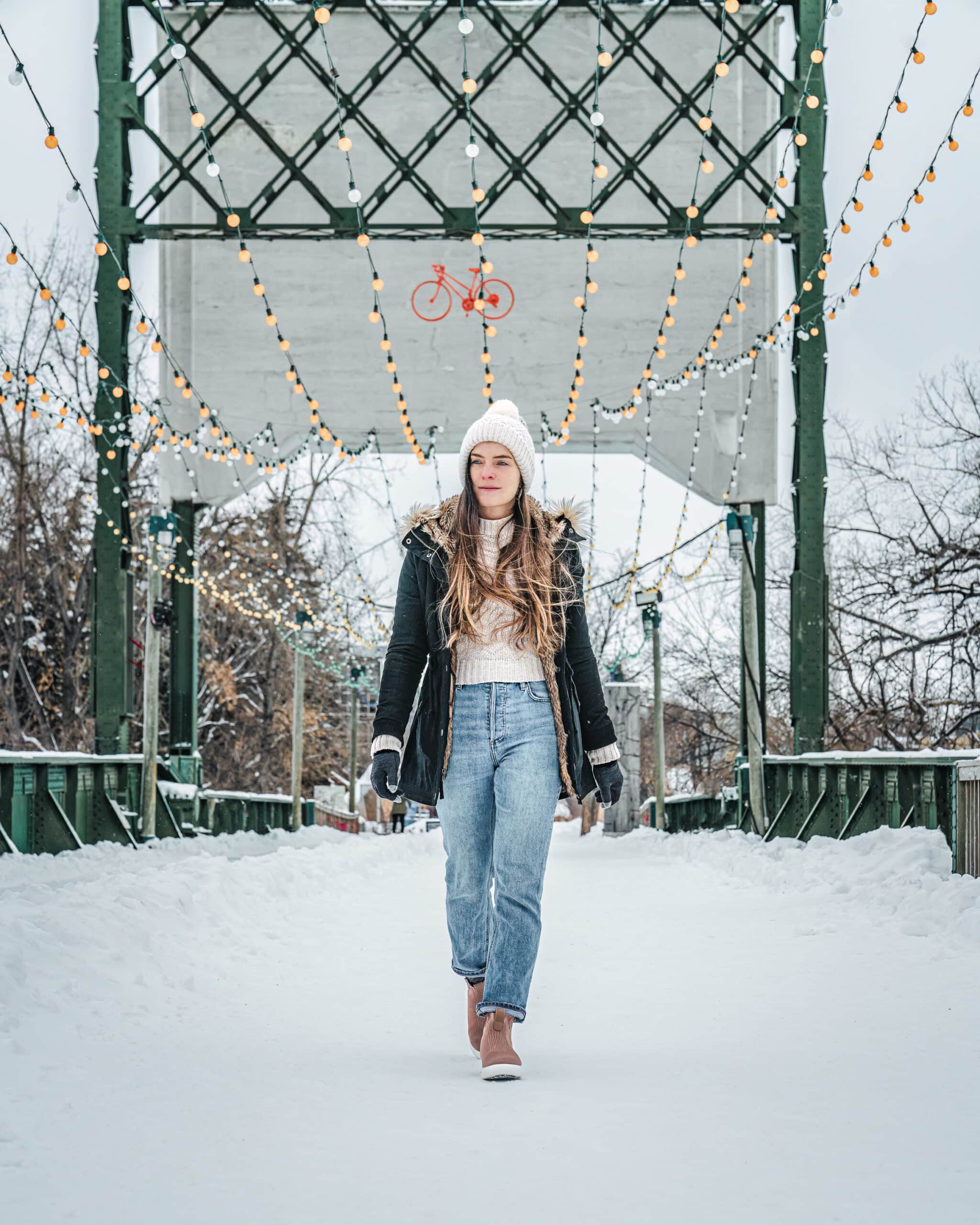 Testing out Vessi's Waterproof Gloves
Besides their waterproof shoes, Vessi also offers a range of accessories, including waterproof gloves. We had the chance to put them to the test on our adventures, and we were impressed by their performance!
We wore them on several hikes and throughout the city, and they were great in the winter conditions. Like the shoes, the gloves feature Vessi's Dyma-Tex layer, which keeps them waterproof while also allowing them to be breathable. This technology was a game-changer for us, as it meant our hands stayed dry and comfortable even in the wettest and snowiest conditions.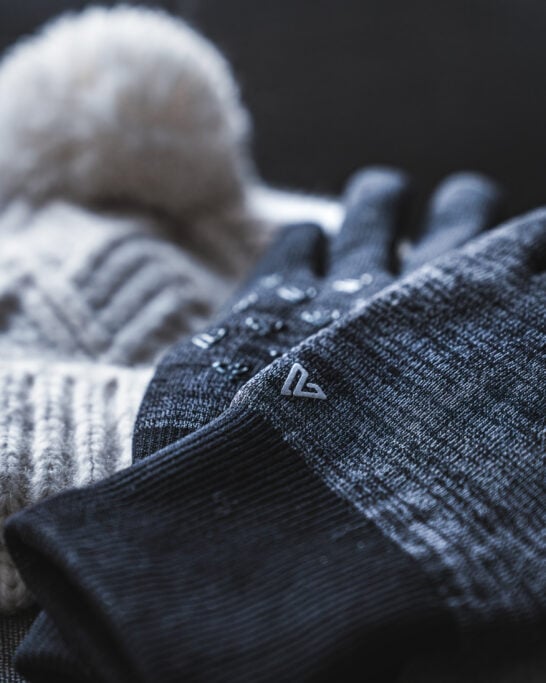 But the gloves had more to offer than just waterproofing. The tech-friendly finger pads and palm grips were extremely useful, allowing us to operate our phones without exposing our hands to the cold. We also loved how stretchy and form-fitting the gloves were, as they enabled us to maintain dexterity in our hands.
The only slight downside we noticed was that when temperatures dropped below -10, these gloves were insufficient for prolonged exposure to the extreme cold. They are, however, perfect for milder Canadian winter temperatures and we would definitely recommend them to anyone in need of reliable, waterproof gloves.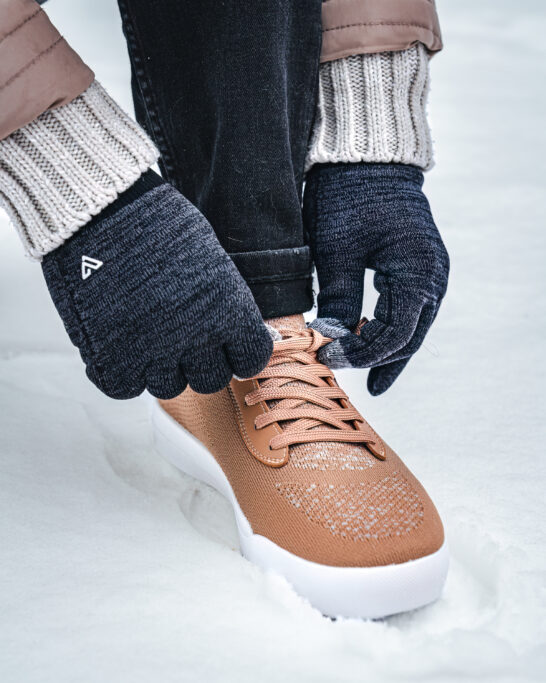 In a Nutshell & Things to Know
100% Waterproof & breathable.
Vegan-friendly – no animal products are used.
Extremely lightweight, at around 190 grams.
Shoes only come in whole sizes. But their flexible, form-fitting knit conforms perfectly to your feet. I have a half size, and the shoes fit my feet like a glove.
365-day warranty.
90 days to change your mind and return your product.
Currently shipping to: Canada, United States, Australia, New Zealand, Japan, Taiwan, South Korea and Singapore.
Final Thoughts
Vessi shoes offer a range of benefits for travellers, adventurers and anyone in need of versatile footwear. Their 100% waterproof and breathable material keeps your feet warm and dry, even in the wettest of conditions. The cushioned insole and flexible sole make them a pleasure to wear, and the sleek design means they can easily be dressed up or down for any occasion.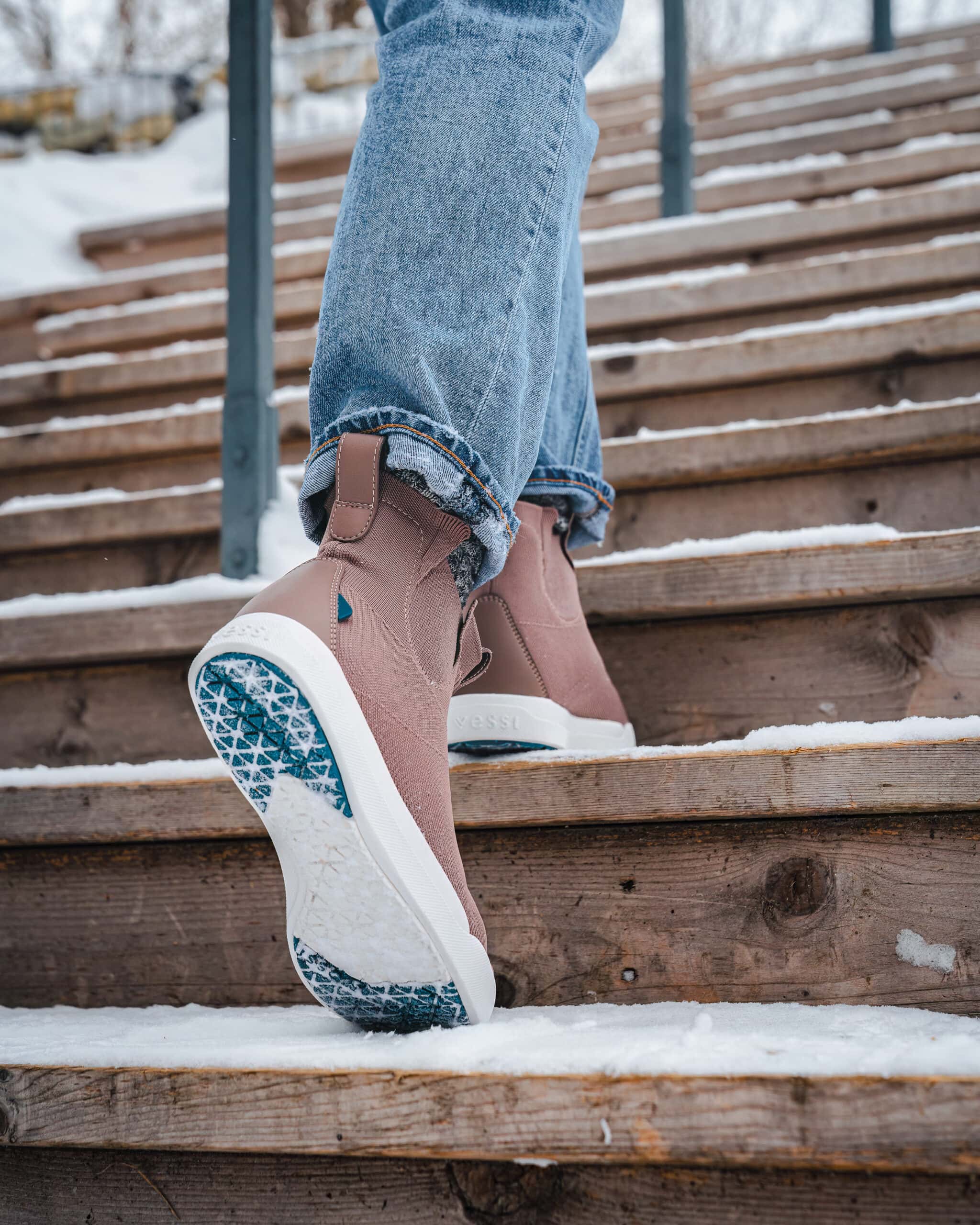 In addition to their practical features, Vessi is also committed to sustainability and ethical production, using 100% vegan materials and mindful manufacturing practices. This makes them an excellent option for those looking for environmentally conscious footwear.
We highly recommend Vessi shoes to anyone in need of reliable, comfortable, and waterproof shoes. Whether you're planning a trip, hitting the trails, or just looking for a new pair to wear around town, Vessi has something for everyone. Give them a try and see the difference they can make on your next adventure or in your everyday life!
Vessi sent us three pairs of shoes and one pair of gloves to review. As always, all opinions are our own and you will always read our genuine thoughts and experiences.