Early on Friday morning, we set off on our long weekend away to Osoyoos, located in the southernmost tip of the Okanagan valley. Our home for the next three days was the Watermark Beach Resort, which offers a quintessential Okanagan experience. As guests, we were invited to experience the many amenities at the resort and to go further and explore all the activities this unique location has to offer, including visiting a selection of the wineries in the region.
Unique Location
[one-half-first]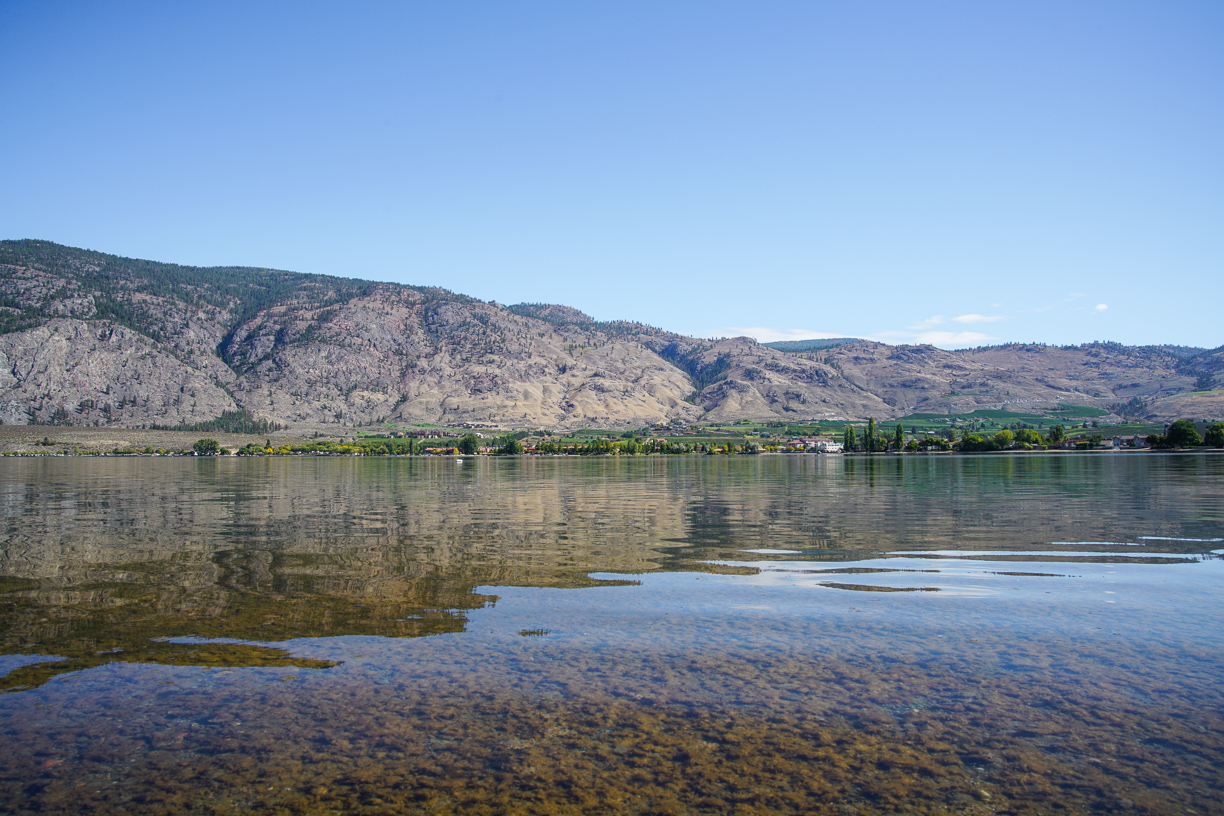 [/one-half-first]
[one-half]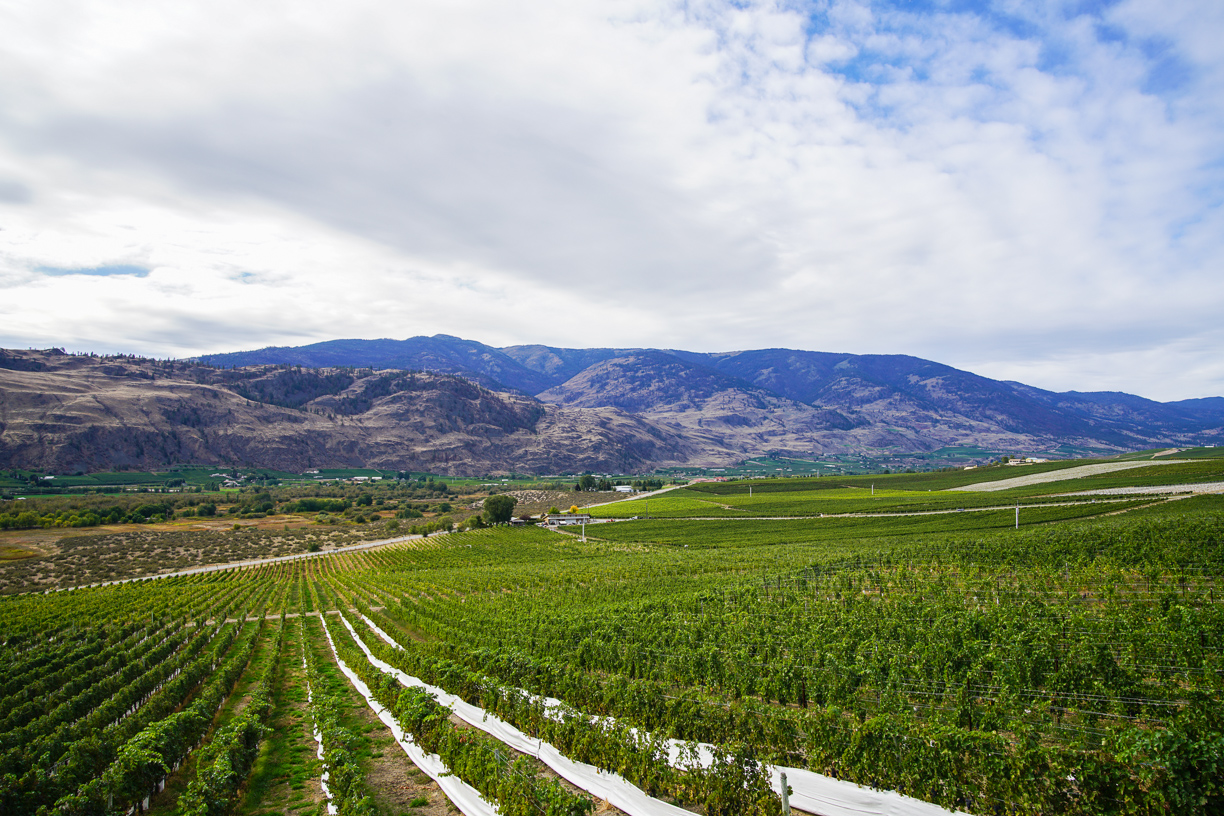 [/one-half]
The resort, situated on the banks of Osoyoos Lake (Canada's warmest fresh water lake), is within walking distance of the town's shops, restaurants and cafes. The desert terrain that surrounds the resort consists of arid hills, dotted with fir trees and is reminiscent of a scene from the Lord of the Rings. It is home to unique plants and wildlife found nowhere else in the world, with over 100 rare plants and over 300 rare animals harboured in this sensitive ecosystem. Explore the area and maybe you'll glimpse one of these elusive animals.
More Than Just A Room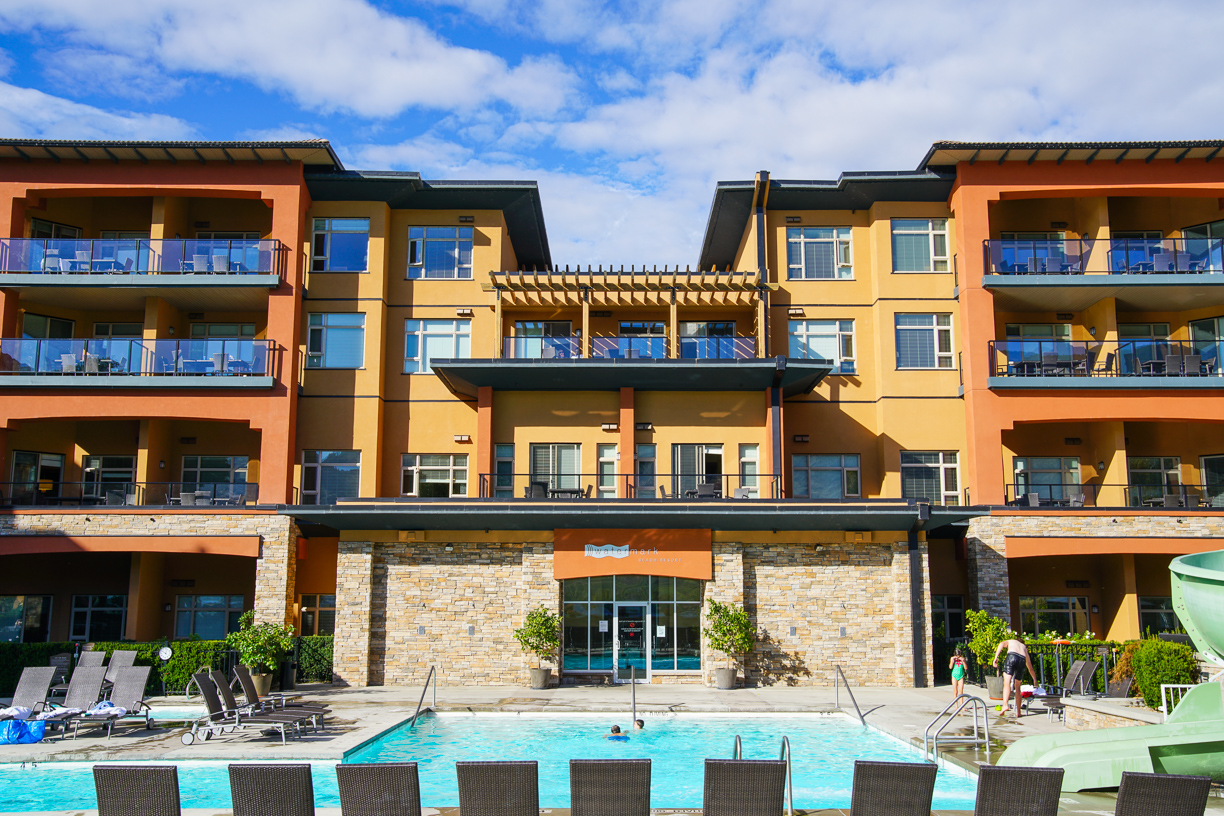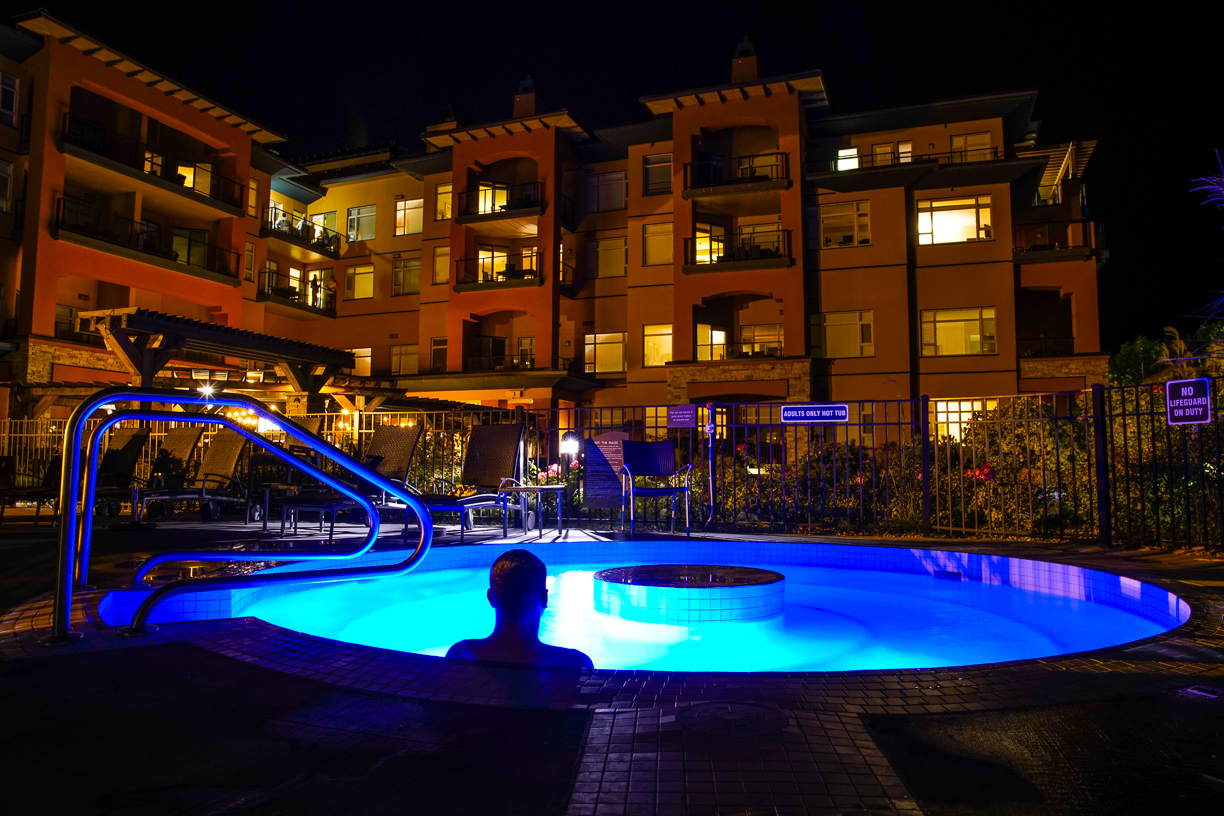 [one-half-first]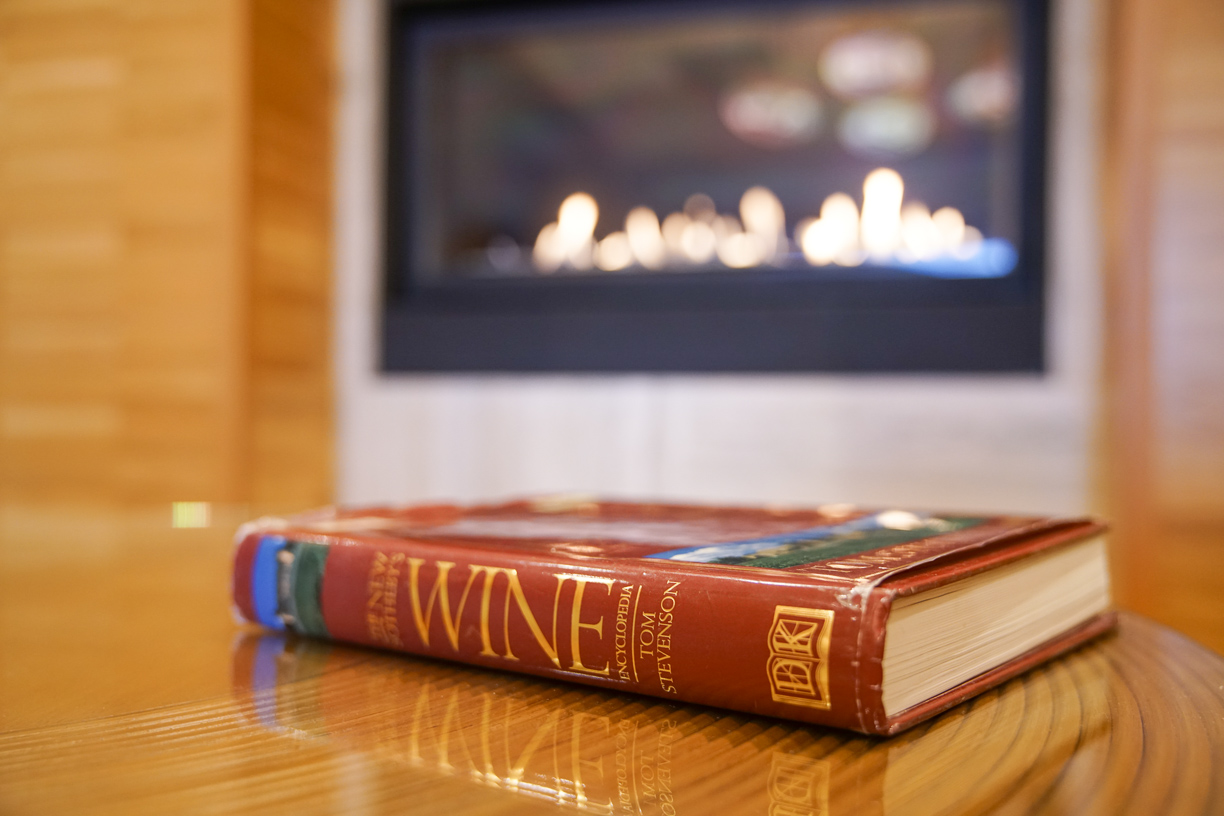 [/one-half-first]
[one-half]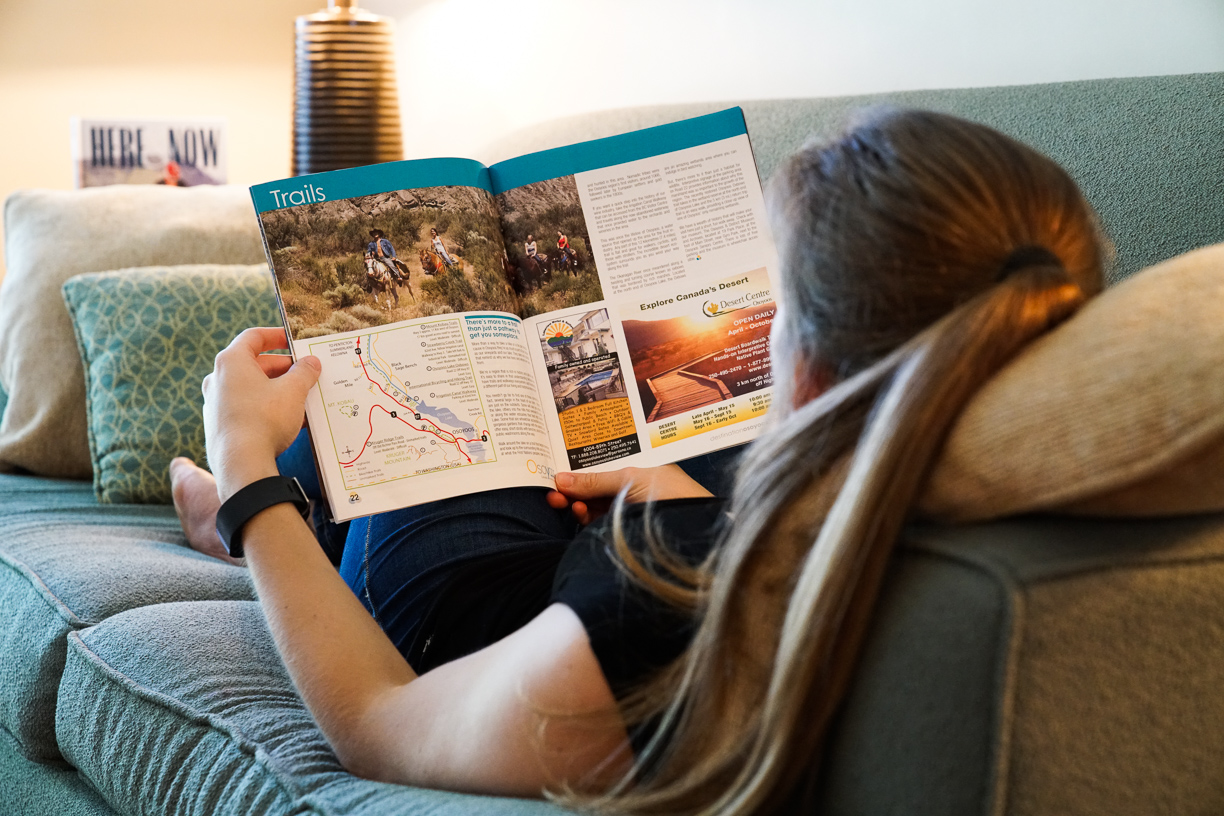 [/one-half]
Watermark offers more than just a room with stunning views overlooking the lake and mountains. The main building has a selection of studios, 1, 2 and 3 bedroom penthouse suites and adjacent are beautifully appointed beachfront town homes. Apart from the studios, which have a kitchenette, these all feature a fully equipped gourmet kitchen, comfortable lounge area, and either a spacious balcony or patio (3 bedroom and town homes come complete with cosy gas fireplace and BBQ), while amenities include in-suite washer and dryer, high speed complimentary internet and TELUS TV and movies to name but a few.
Outside, you'll find the saltwater pool with water slide, two hot tubs and a communal family BBQ area, perfect for enjoying the warmer climate.
Fitness & Wellness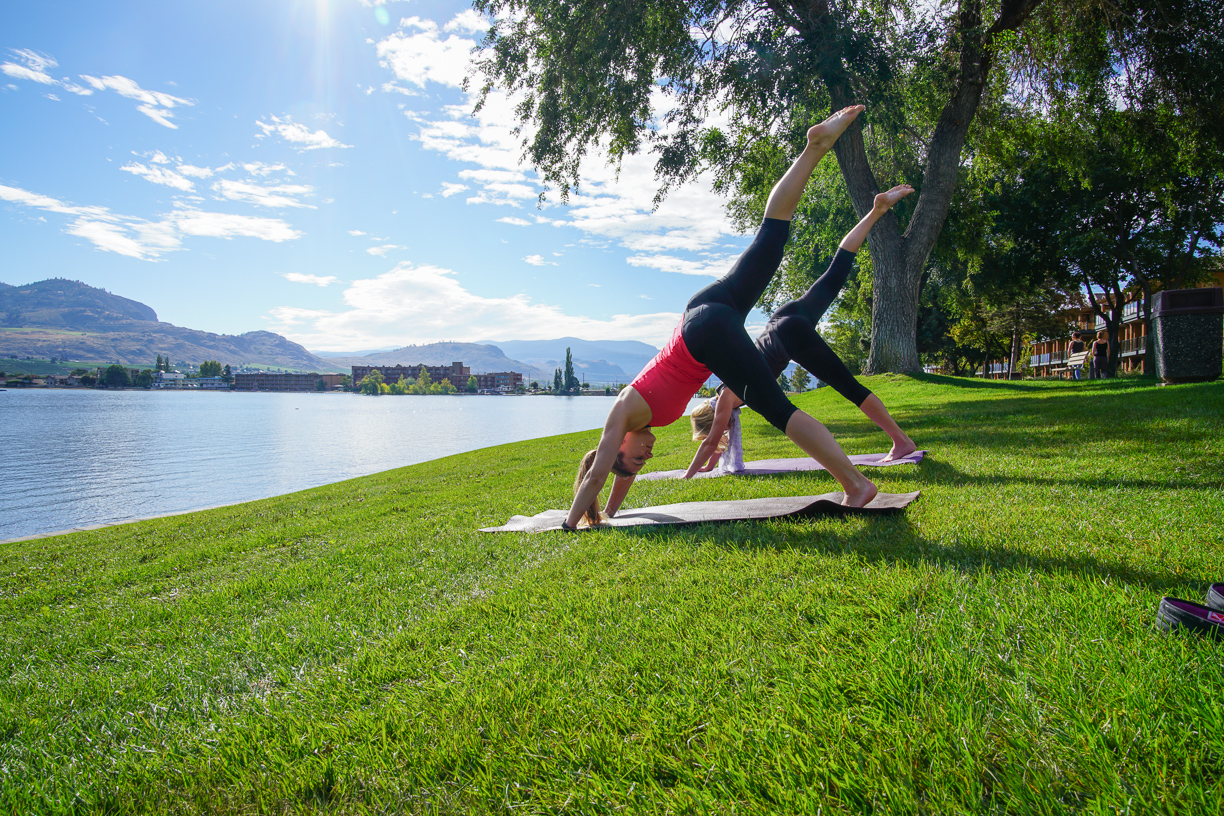 The hotel serves as an ideal location for fitness and wellness fans.
The crisp morning air, combined with the stunning views of the lake, made my yoga session with the lovely Kelsi Bissonnette, the on-site health and wellness coordinator, the perfect start to my day. Kelsi has a wealth of experience in the fitness industry, and offers over 25 classes as well as retreats, workshops and seminars throughout the year.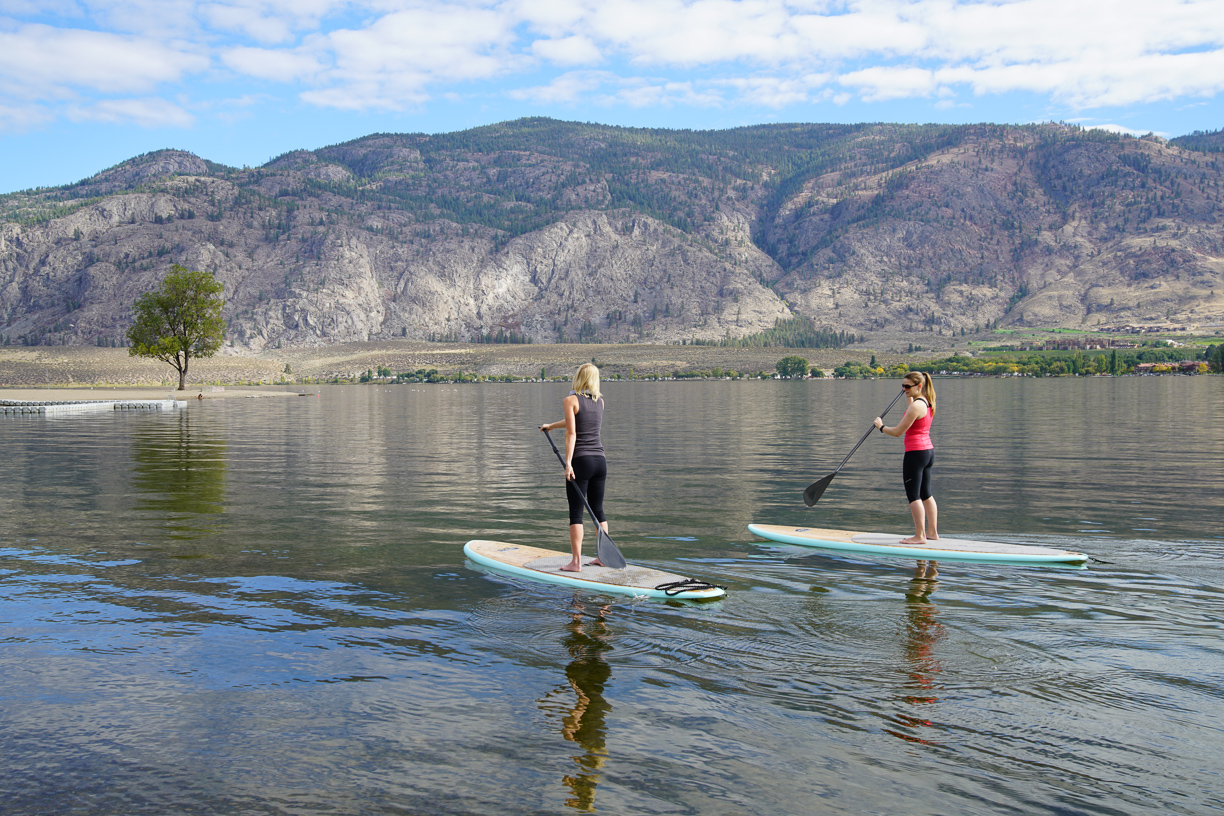 After my invigorating yoga class, we picked up some paddle boards and made our way down to the sparkling waters of the lake. This was my first time doing stand-up paddle boarding (SUP), and I was relieved to find out the activity wasn't too challenging and within minutes I was comfortable enough to make my way along the shore, while taking in the beauty of my surroundings.
The resort also provides a functional gym, with several classes such as spinning and full body toning available via an easy, online signup.
If you'd prefer to be pampered after a day of wine touring, the on-site spa has all your wellness needs covered. From manicures and pedicures to facials and massages, you can relax at the spa or steam room before heading out for dinner.
Dining
[one-half-first]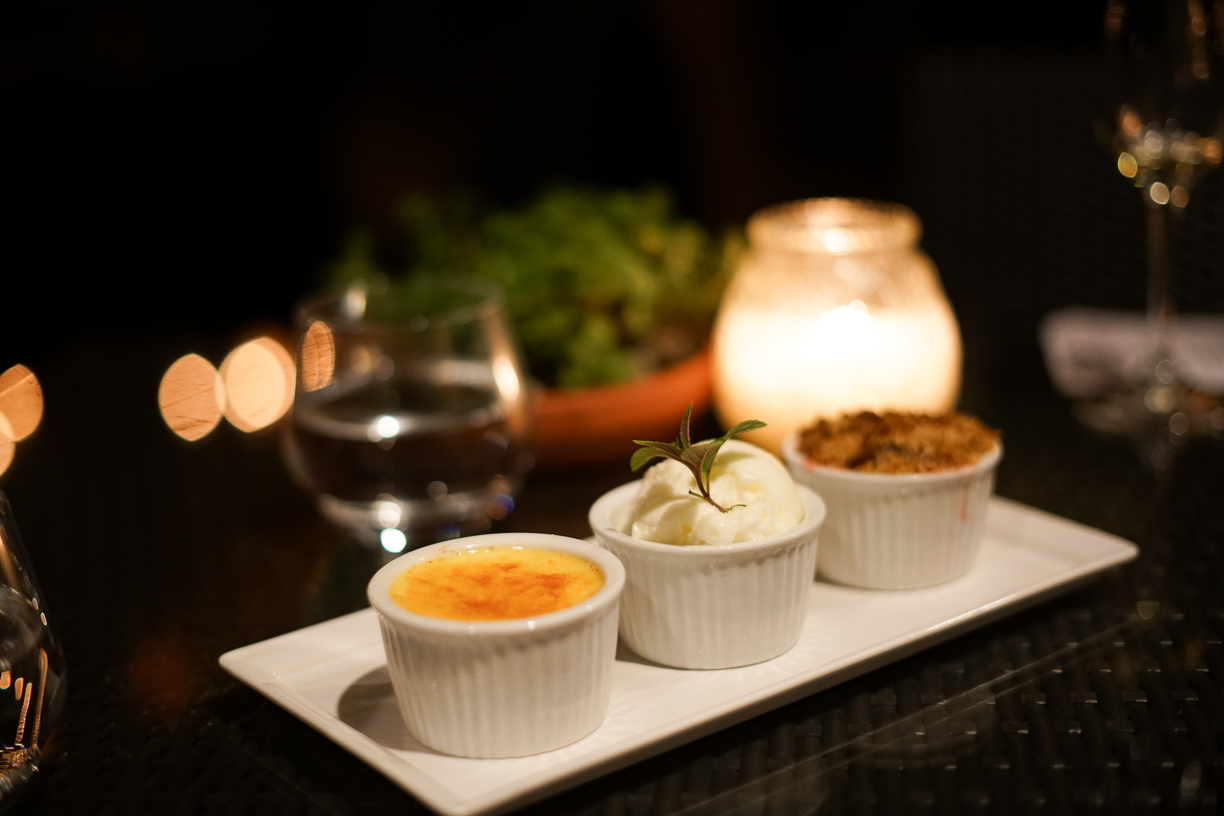 [/one-half-first]
[one-half]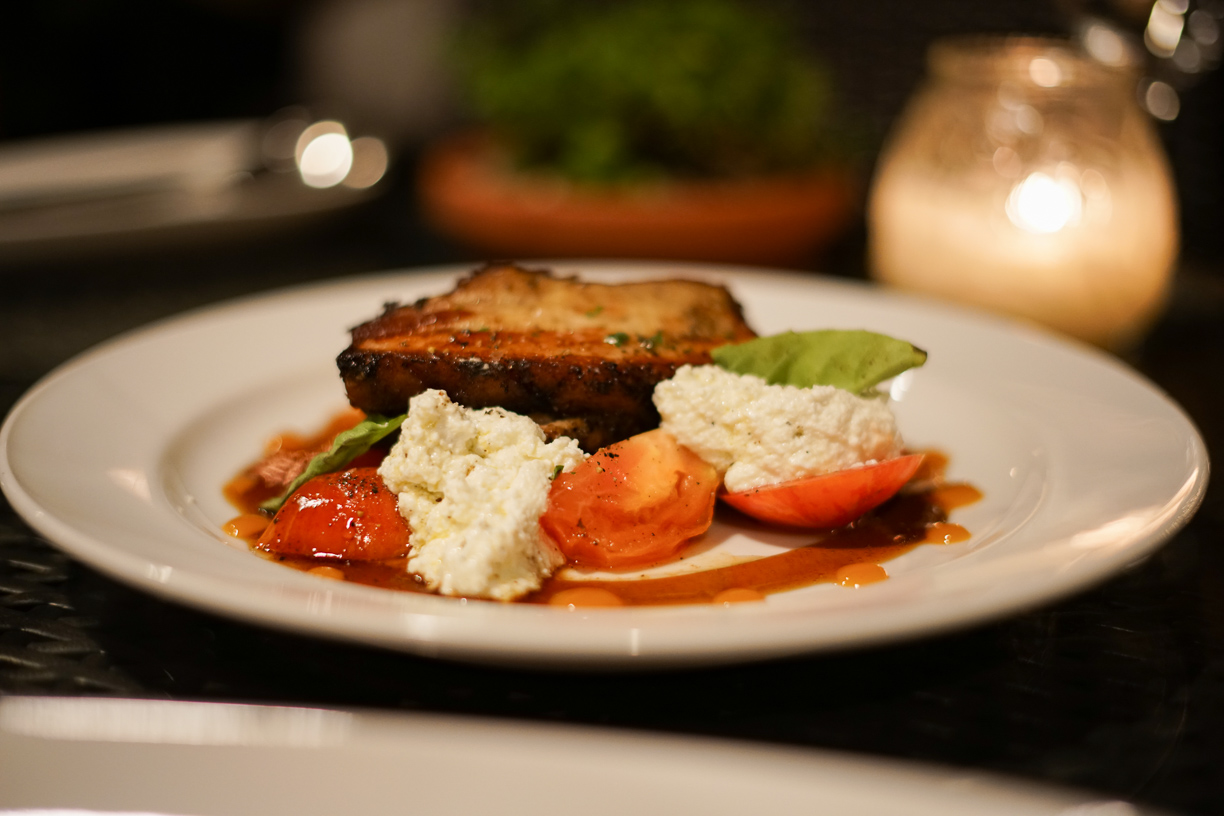 [/one-half]
Watermark Beach Resort's restaurant offers a unique dining experience, featuring signature dishes representative of the region and also taking great pride in being able to offer fresh, locally sourced and seasonal foods. Working closely with nearby organic farms and sustainable suppliers, their seafood is Ocean Wise certified and their meats are free-range, grass-fed and hormone-free.
I highly recommend the "Farm to Vine" Signature Experience, a 3 course meal of delicious, mouth-watering cuisine paired with excellent wines from the Osoyoos region. The restaurant menu also features a tapas style selection of dishes, perfect for sharing, and a fantastic way to sample the tastes of the region.
[one-half-first]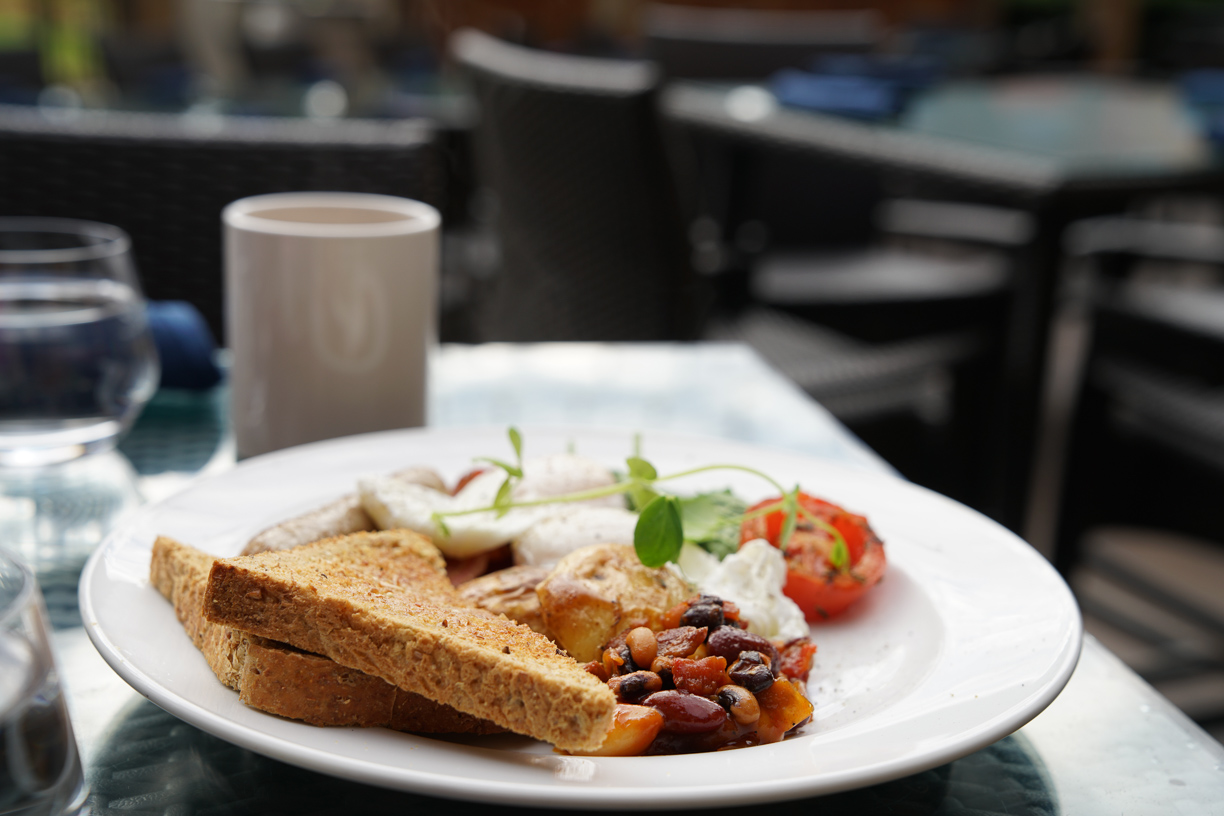 [/one-half-first]
[one-half]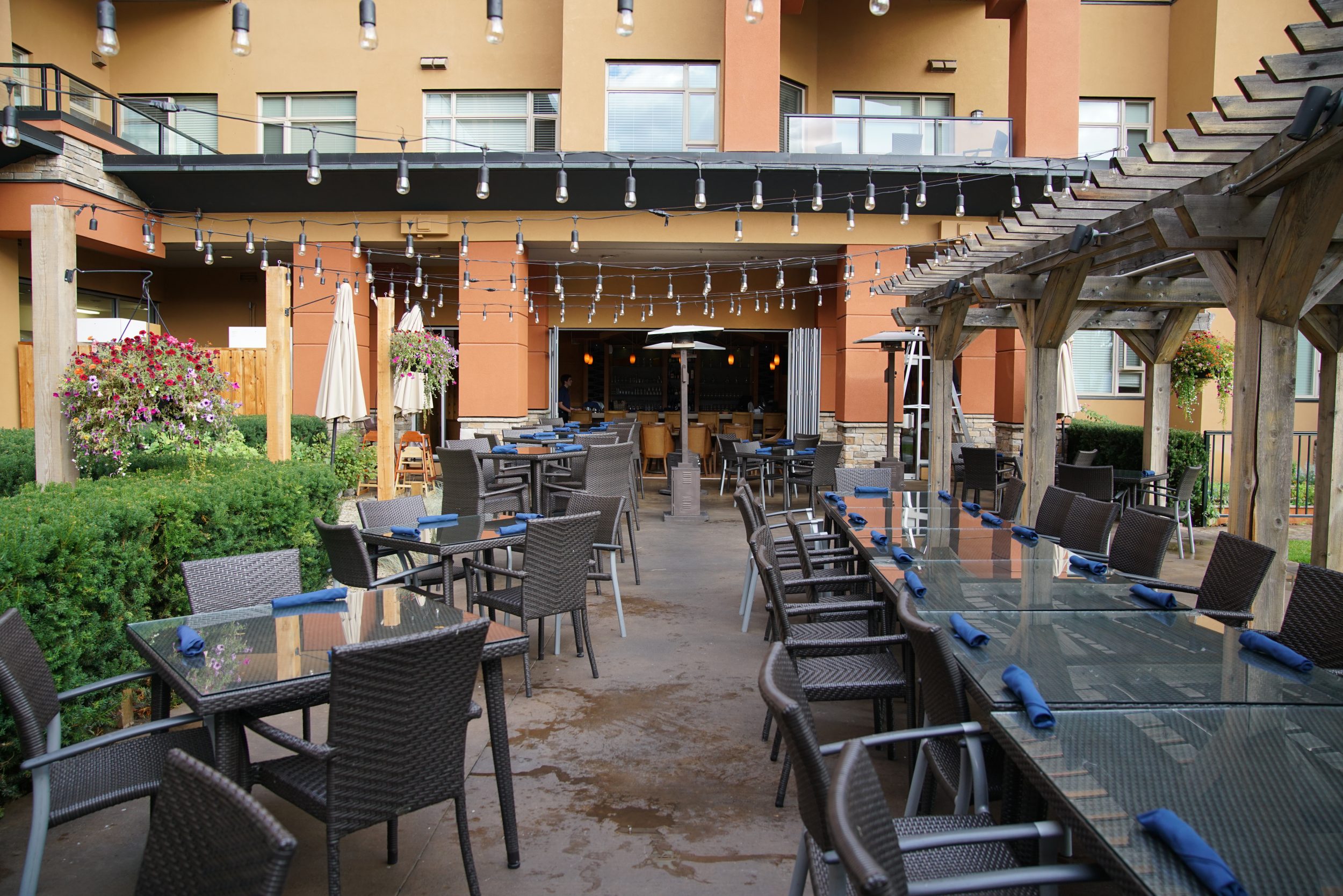 [/one-half]
The restaurant serves breakfast, lunch and dinner, with seating available for diners either indoors or outside on the poolside patio. The interior is tastefully furnished with a fully equipped and well stocked bar offering a fine selection of cocktails, spirits, beer and of course locally procured wines, while the outdoor area offers pleasant views of the lake and a relaxed atmosphere, perfect for enjoying an evening under the stars with friends and loved ones.
Why We Love This Hotel
Apart from its spectacular location, we loved all the amenities on offer. Our suite felt like a home away from home and we enjoyed many relaxing strolls along the lakeside boardwalk. Here, guests can find a relaxing getaway in the middle of a unique wine country setting.
How To Get To Watermark Beach Resort
The route to the hotel is an experience on its own. From Vancouver, I recommend a road trip which will take you through the lush rainforests around Hope, the stunning alpine meadows in E.C. Manning Provincial Park and eventually the semi-arid landscape of Osoyoos. The trip normally takes around 4.5 hours of non-stop driving; however, it took us around half a day with stops along the way. From Vancouver, take highway 1 to Hope where you change to highway 3.
If you don't have time for a road trip, you can take a 1 hour flight from Vancouver or Calgary through to Penticton, which is only around 1 hour North of Osoyoos.
Sustainable Practices At The Hotel
Through conservation programs and employee training, the hotel is creating sustainable practices and encourages to make a positive impact, no matter where you are.
Ocean Wise certified seafood at their restaurant
Towel and linen reuse
Recycling bins available in each suite
Three electric vehicle charging stations free of charge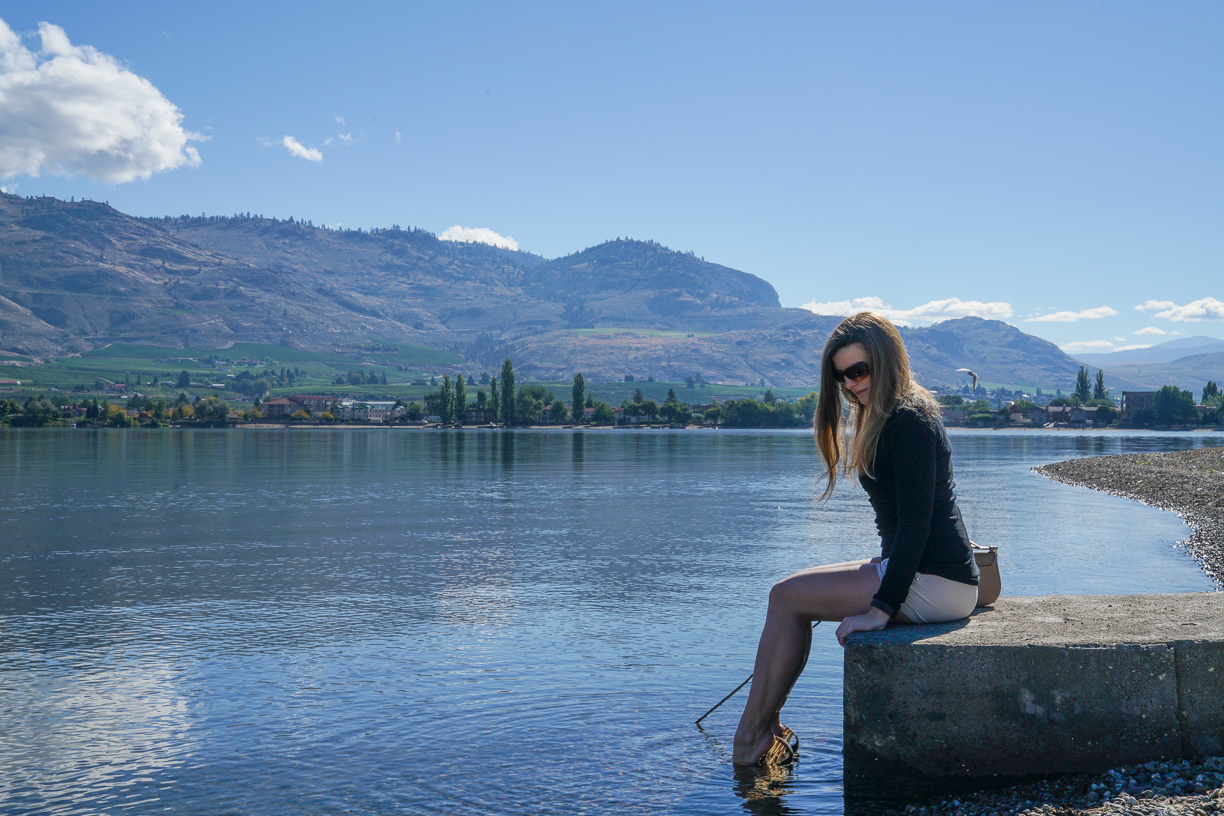 More Info
Watermark Beach Resort
Address: 15 Park Place, Osoyoos, BC, V0H 1V0
Amenities: Restaurant, pool, hot tub, paddle board rentals, yoga and fitness classes
Unique features: Fireplace and kitchens in all suites, yoga and paddle boarding classes, the beach at your doorstep.
Check-in/Check-out: 4pm check in/11am check out
We were offered a complimentary stay and dinner at the Watermark Beach Resort, however all opinions are my own and you will always read my genuine thoughts and experiences.