Tilburg, a city in the south of the Netherlands, is often overshadowed by its more renowned counterparts such as Amsterdam or Rotterdam. But for those who take the time to explore it, this city has much to offer. 
With its vibrant energy and a trove of undiscovered gems, Tilburg is a place where urban forests beckon adventurous souls, where foodies can indulge in unforgettable cuisines and where creatives can find inspiration around every corner.
From the moment I stepped foot in this urban centre, I knew I was in for an extraordinary experience, a journey that would take me beyond the surface and into the very heart of this vibrant city. And I wasn't alone in my quest – a group of passionate travel bloggers and creators were ready to join me on this expedition, eager to dive deep and uncover the secrets of Tilburg.
Moerenburg
As the sun began to rise, I eagerly wolfed down a scrumptious breakfast and hurried to meet my travel companions and our guide in the bustling city center. Our trusty e-steps awaited us, ready to transport us on our adventure-filled day.
Our first stop was Moerenburg, where the breathtaking tower "De Nieuwe Herdgang" awaited us. Here, we were met by the skilled team from Full Frame NL, who taught us the art of drone flying, taking our excitement to new heights.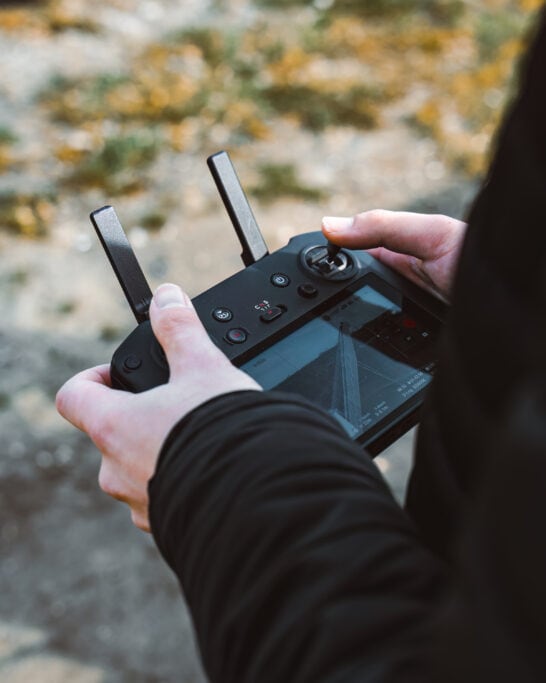 With their expertise and passion for high-quality video productions, we learned how to fly drones and capture stunning aerial footage of the beautiful countryside surrounding Tilburg. At first, it was challenging, but once we got the hang of it, it was an absolute blast.
Afterward, we ascended to the top of the tower, relishing the inspiring views of the surrounding countryside.
Stadsbos013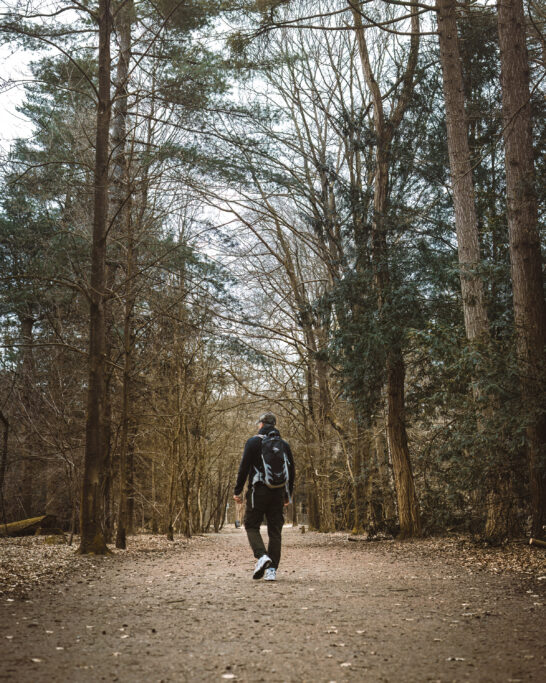 Continuing on our journey, we headed to Stadsbos013. This urban forest offers a diverse range of ecosystems, including forests, meadows and wetlands, all conveniently located within reach of the city centre.
As we rode through the forest, we caught a glimpse of the Siberian chipmunks, who had escaped from the zoo in 1973 and had made this forest their home ever since. It was a unique experience to see these cute little creatures up close and learn about their history.
Stadsbos013 is a hidden gem in the heart of Tilburg. It's a green oasis that provides a refreshing escape from the hustle and bustle of city life.
Oude Warande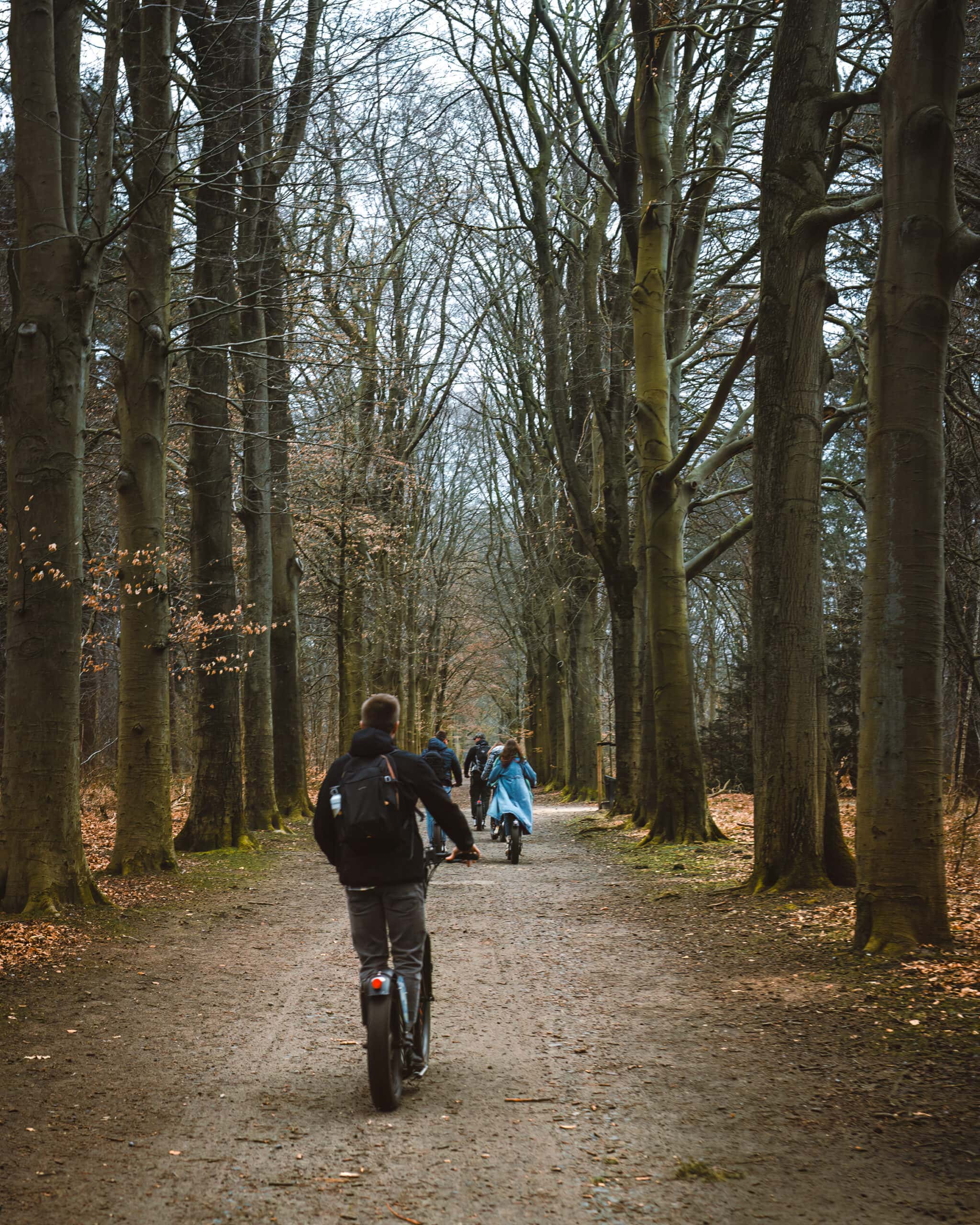 The Oude Warande, a stunning baroque forest, was our next stop. Our e-steps glided quietly along the grand lanes, flanked by century-old trees. The forest is steeped in history and natural beauty and is the only remaining "star forest" and one of the oldest baroque forests in the Netherlands.
Oude Warande spans 60 hectares, with four different parts, each with its own unique pattern: square, circular, diamond, and octagonal shapes.The pathways seemed to weave an intricate maze, tempting us to get lost in the charm of the place.
Our journey through the forest led us to the Grotto, a glass pavilion nestled in the heart of Oude Warande. It's the perfect place to enjoy a leisurely coffee or indulge in a picnic amidst the natural surroundings. But alas, we were pressed for time and had more stops to make.
La Nouvelle Auberge
The morning's adventure had left us famished so we eagerly made our way to Auberge du Bonheur, where a gastronomic treat awaited us at their restaurant La Nouvelle Auberge. Upon entry, we were immediately taken aback by the grandeur of the pre-war manor. The elegant interior design and luxurious furnishings made us feel like we had stepped into a different era of opulence and extravagance.
The four-course lunch we were treated to was nothing short of outstanding, with each dish a work of art, expertly crafted with fresh, locally-sourced ingredients that delighted our taste buds.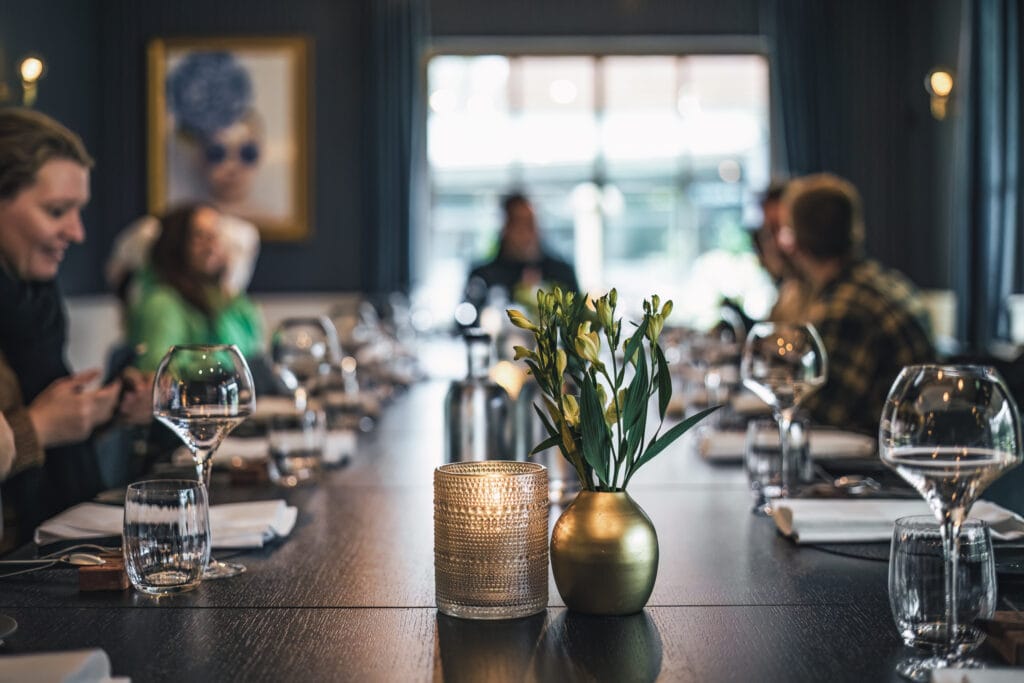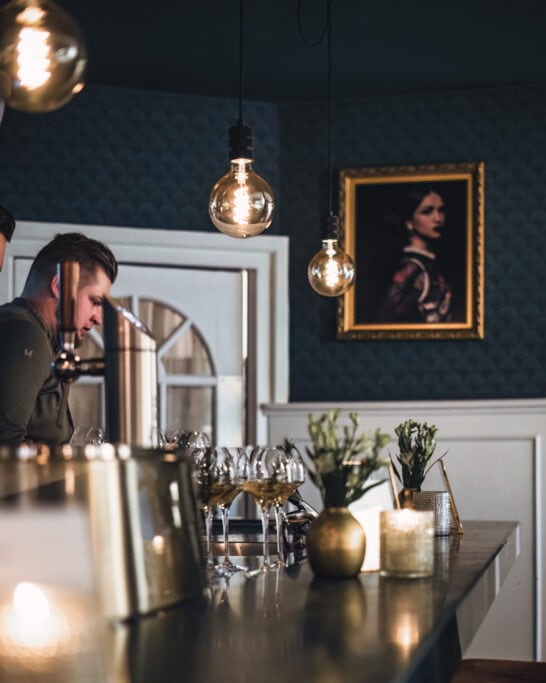 The culinary experience was further elevated by the expertly paired cocktails and wine selections that complemented each course perfectly. With its rich history and impeccable service, Auberge du Bonheur is a gem in the world of upscale dining and hospitality.
Spoorpark Tilburg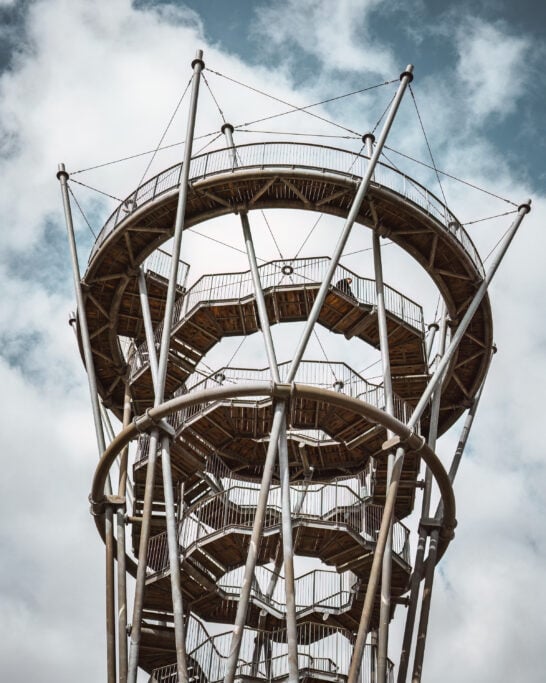 As we bid farewell to the sumptuous lunch experience at Auberge du Bonheur, we made our way to the final stop of our adventure: Spoorpark Tilburg.
This unique green space covers 7.5 hectares and offers everything from beautiful gardens and playgrounds to sports facilities such as an outdoor gym, beach volleyball and skate park. The park is also home to a wide variety of events and festivals throughout the year, making it a hub of activity and excitement.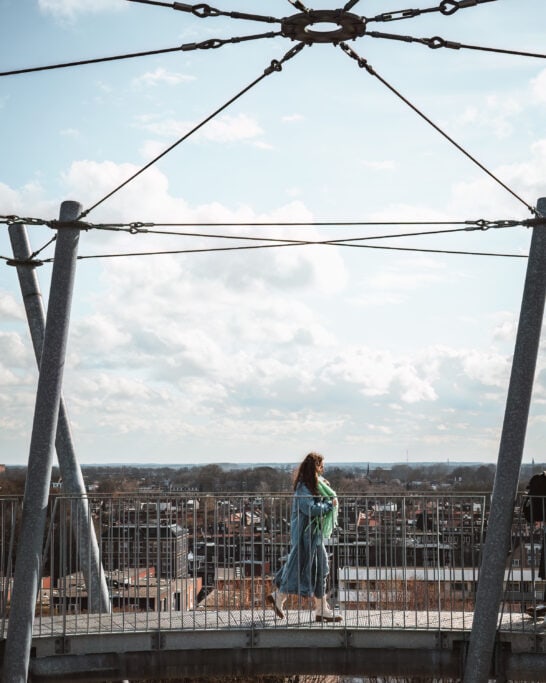 But one of the main attractions is de Kempentoren, a 37-meter-high tower, looming majestically in the distance, beckoning us to climb its heights. From the top, we were treated to a panoramic view of the city, its winding streets and hidden gems laid out before us like a glittering tapestry.
As we returned to downtown Tilburg, we finished the day at De Snor, enjoying a drink and sharing stories with our fellow creators. The day had been filled with adventure, laughter and some unforgettable experiences, reminding us why Tilburg is a destination that should not be missed.
If you're looking for a unique and exciting trip, don't overlook Tilburg. With its beautiful nature, and outstanding food, it's a city waiting to be explored. From soaring above the treetops with Full Frame NL to discovering the history of Siberian chipmunks, our journey through Tilburg was one that left us inspired and with a newfound appreciation for this lesser-known city.
Things to do in and around Tilburg
FAQ
Q: Where to stay in Tilburg
A: I stayed at the stylish and comfortable Mercure Hotel Tilburg Centrum. The hotel's prime location, just a short walk from the train station, made it the perfect base for exploring the city. As soon as I arrived, I was warmly greeted by the friendly and attentive staff, who made me feel right at home. The room was spacious and modern, with all the amenities I needed to make my stay as comfortable as possible.
One of the highlights of my stay was the delicious breakfast buffet, which included a wide variety of hot and cold dishes, fresh juices, and tasty pastries.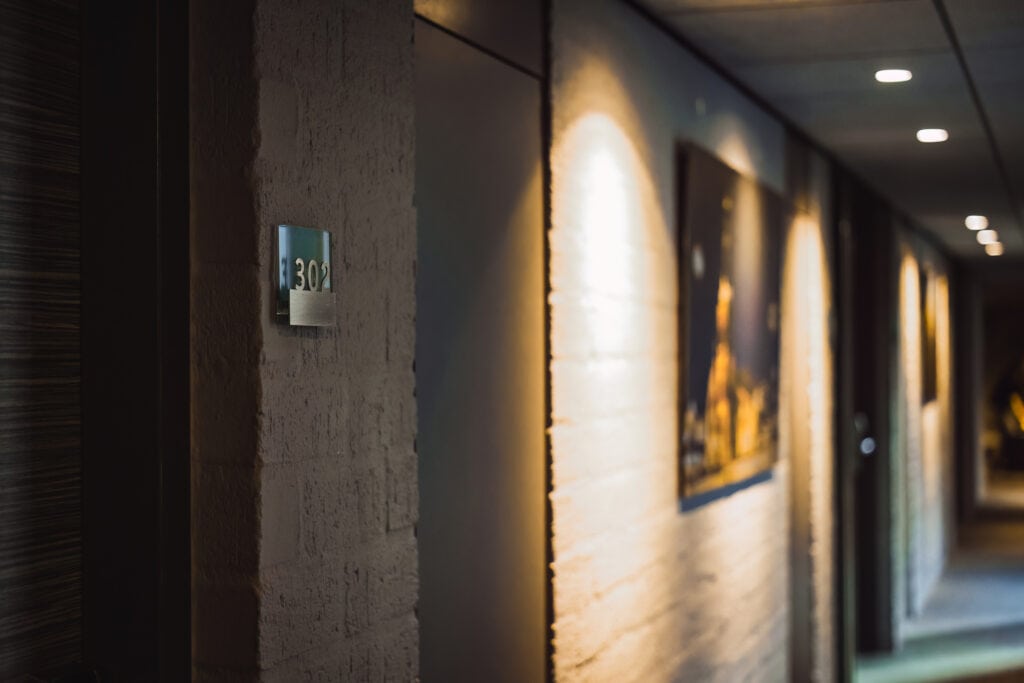 Q: How to get around the city
A: Getting around Tilburg is easy and convenient with the use of e-steps. These electric scooters are readily available for rent throughout the city and offer an efficient way to cover a lot of ground in a short amount of time. With the extensive network of bike lanes, it's easy to navigate the city safely and efficiently. Plus, e-steps provide a fun and eco-friendly way to explore Tilburg's attractions and neighborhoods, from its picturesque parks and green spaces to its vibrant cultural hotspots.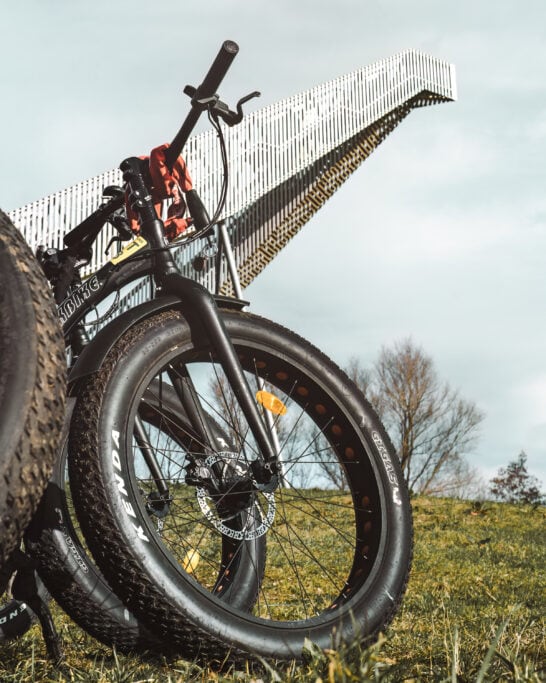 Q: What is the best way to get to Tilburg?
A: Tilburg is well-connected by train, and there are frequent trains running to and from the city. If you're flying in, the nearest airport is Eindhoven Airport, which is about 30 minutes away by train.
Q: What is the best time of year to visit Tilburg?
A: The best time to visit Tilburg is from late spring to early fall when the weather is mild and pleasant. However, keep in mind that summer can be peak tourist season, so be prepared for larger crowds.
Q: What are some must-see attractions in Tilburg?
A: Apart from the spots mentioned in this article, other top attractions in Tilburg include het Dwaalgebied, the Spoorzone, the Piushaven, La Trappe brewery and the Tilburgse Kermis (the city's annual fair).
Q: What is the local cuisine like in Tilburg?
A: Tilburg is known for its hearty, comfort food. Local specialties include stews, soups and meat dishes, as well as local beers and spirits.
Q: What are some outdoor activities to do in Tilburg?
A: There are plenty of outdoor activities to enjoy in Tilburg, including kayaking in the Piushaven, cycling through the city and surrounding countryside, and hiking in the nearby nature reserves.
Q: Is English widely spoken in Tilburg?
A: Yes, English is widely spoken in Tilburg, especially in tourist areas. However, it's always a good idea to learn a few basic Dutch phrases to show your appreciation for the local culture.
Q: Are there any cultural events or festivals in Tilburg?
A: Yes, Tilburg hosts a number of cultural events and festivals throughout the year, including the Tilburgse Kermis and the Festival Mundial. These events are a great way to experience the city's vibrant cultural scene.
Our day exploring Tilburg was organised by Ticket to Tilburg, the city's tourism board, in partnership with the Belgian travel blog awards. As always, all opinions are our own and you will always read our genuine thoughts and experiences.