Imagine standing at the top of a slope, heart pounding with anticipation as you prepare to take on the ride of a lifetime. Skiing for the first time is an exhilarating experience that requires courage, focus and a love for adventure. When I took the plunge, the rush of adrenaline was unlike anything I'd ever felt before. Every turn, every dip, every twist and every breathtaking view made it clear to me that this was the beginning of a lifelong passion.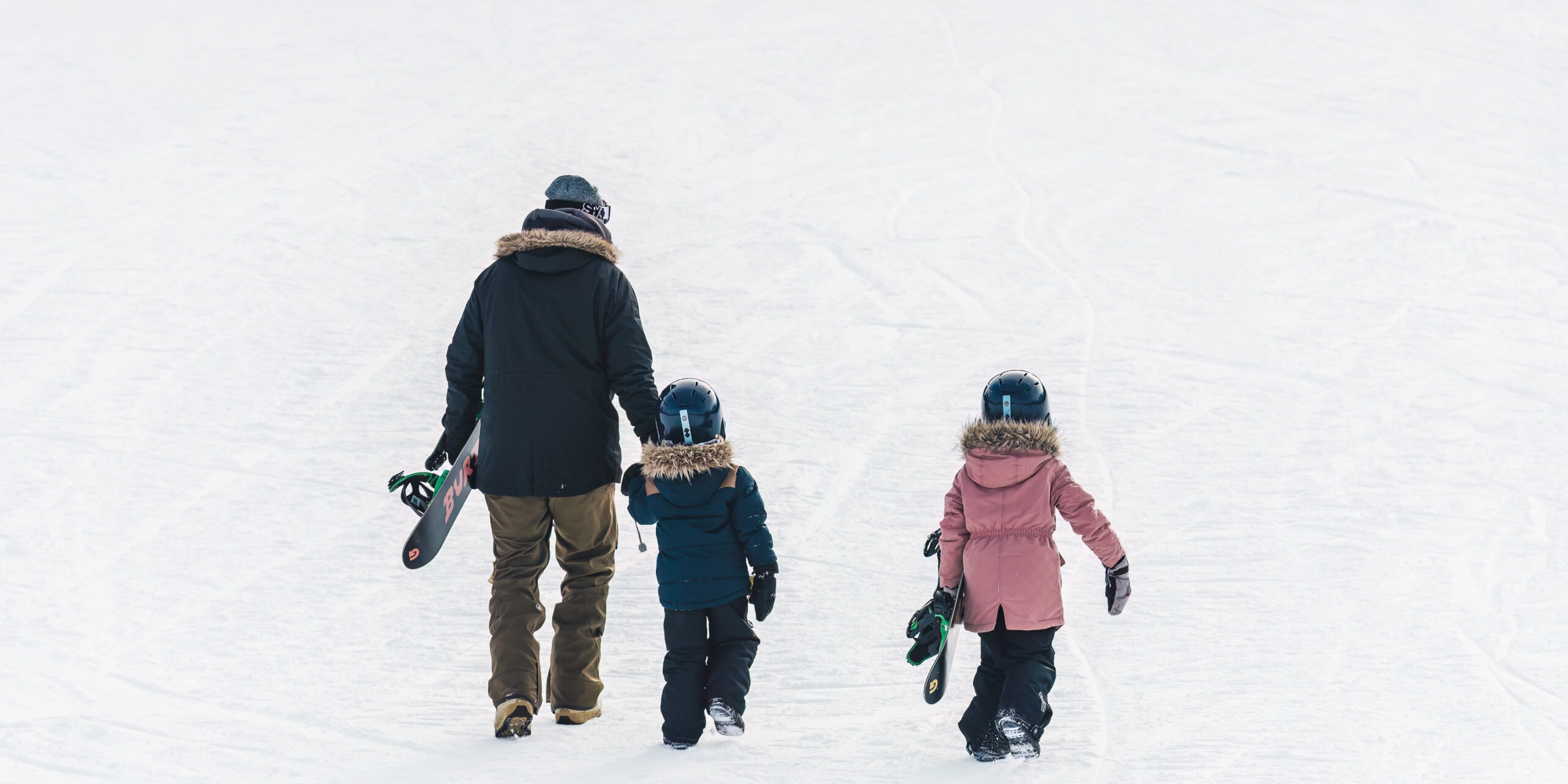 As I arrived at the quaint Falcon Ridge Ski Resort, an old-school ski resort hidden in the woods of the Whiteshell Provincial Park in Manitoba, I couldn't help but feel a mix of excitement and trepidation. I had previously attempted snowboarding at a larger resort in Vancouver, and had spectacularly failed, falling off the chairlift and face-planting on the bunny hill. So, the prospect of a first-time skiing lesson on these small hills was both thrilling and nerve-wracking.
Falcon Ridge has 20km of nordic ski trails and twelve alpine ski runs to choose from, including a terrain park for those looking for a challenge. The lifts, including one t-bar, two rope tows, and a handle tow for beginners, were easy to navigate, even for a first-timer like me.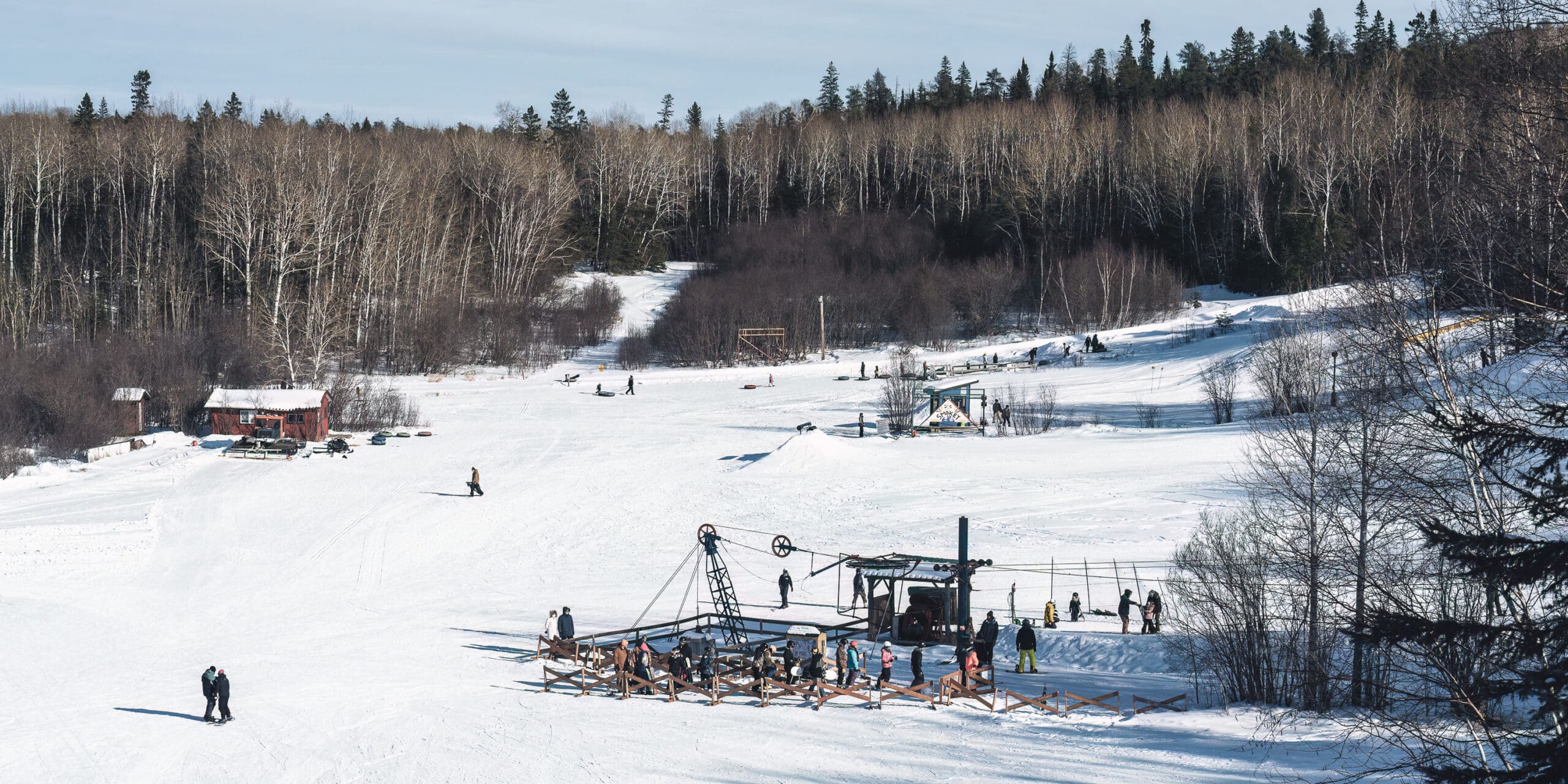 My instructor, Challen, was a young man who exuded a relaxed confidence and an infectious enthusiasm for skiing. As I gathered my gear – boots, skis, and helmet – he reassured me that skiing was much easier than snowboarding and that I was in good hands.
But as I stepped onto the snow and clipped on my skis, my legs suddenly felt like jelly and I could feel the sweat beginning to trickle down my back. I was acutely aware that these were just small hills and not mountains, but to me, they seemed like Mt. Everest.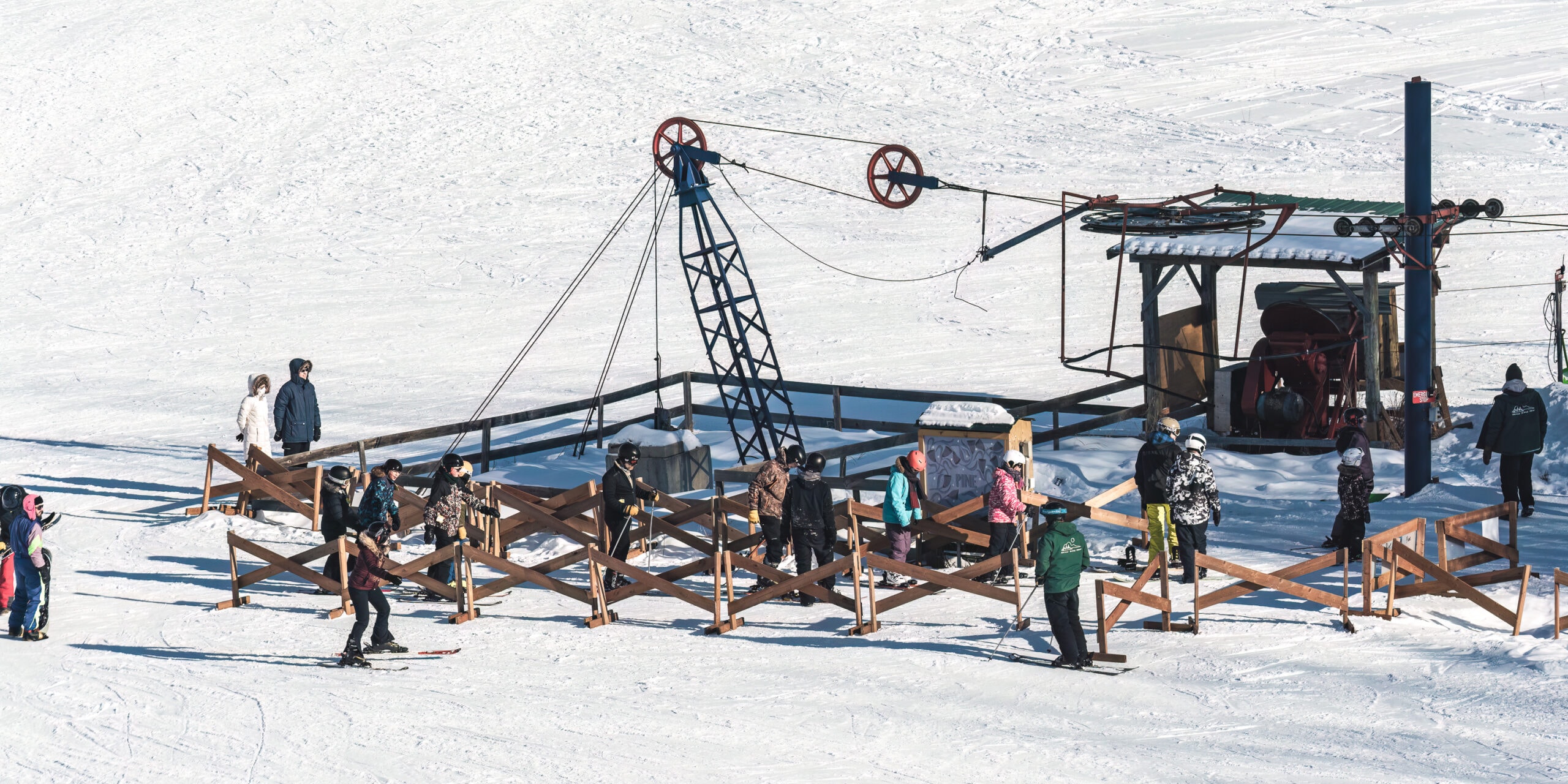 Challen took me through the basics, showing me how to move and control my skis. I wobbled and tottered, my heart in my throat, but eventually managed to stay upright. As we made our way to the bunny hill, I felt a sense of impending doom.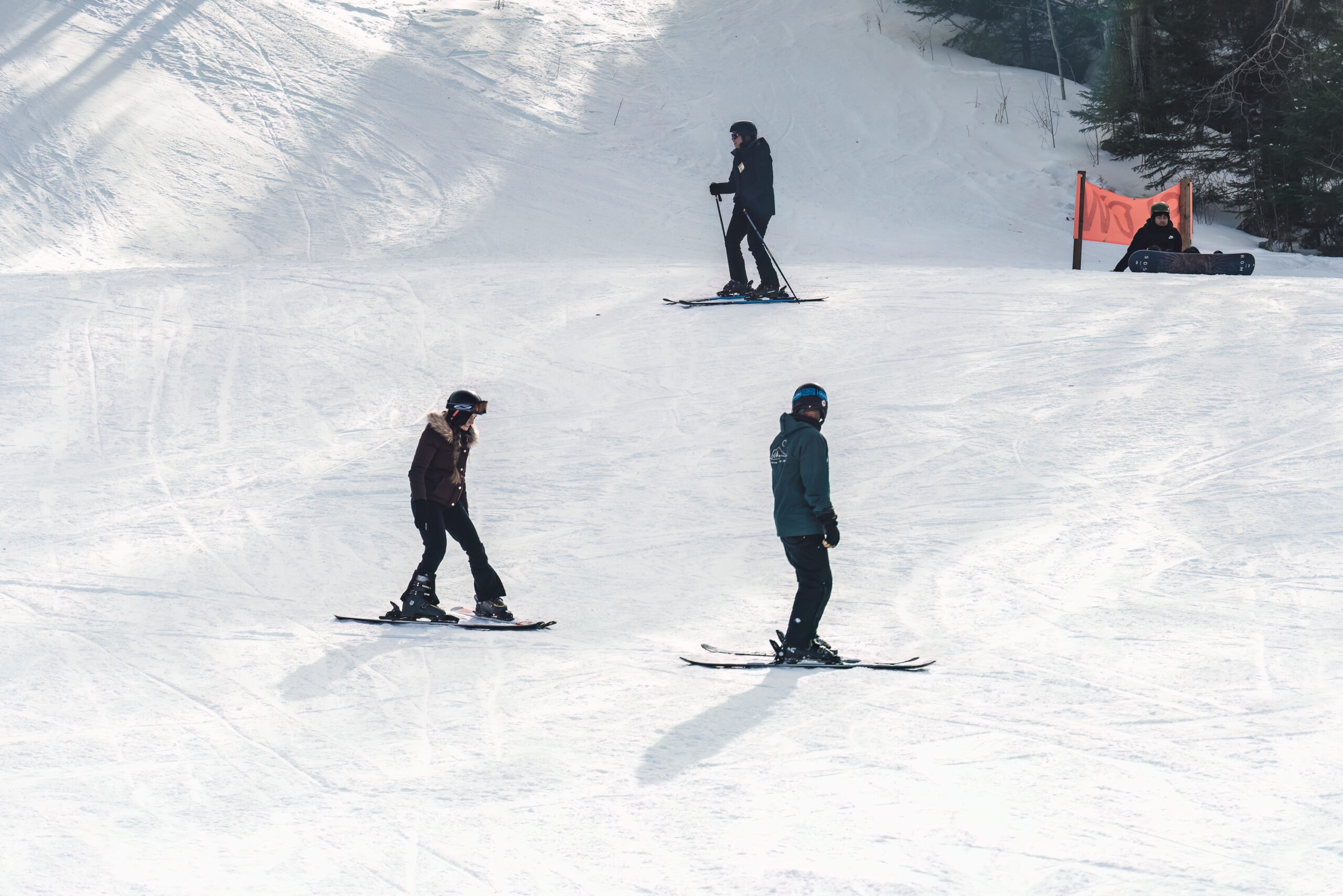 My nerves kicked into overdrive as we approached the handle tow. The thought of dangling from the handle while being pulled up the hill made my stomach churn. I took a deep breath, grasped the handle and felt it jerk forward as I started to ascend. My heart was pounding as I held on tight, afraid that I might slip and fall.
Looking down at the ground below, I could see small children being whisked up the hill with ease, making me feel like a total amateur. To my surprise, it wasn't as bad as I had imagined. I even found myself enjoying the ride, taking in the beautiful scenery around me, the smell of fir trees immersing me deeper into nature.
Once at the top, Challen's patient guidance and humor made all the difference. He taught me the snowplow technique for stopping and helped me gain the confidence to make my way down the hill without falling. As I made my way down the slopes, the sound of laughter and chatter from other skiers and snowboarders echoed around me. The sense of community and shared love for the sport was palpable, and I was now part of it for a very short time.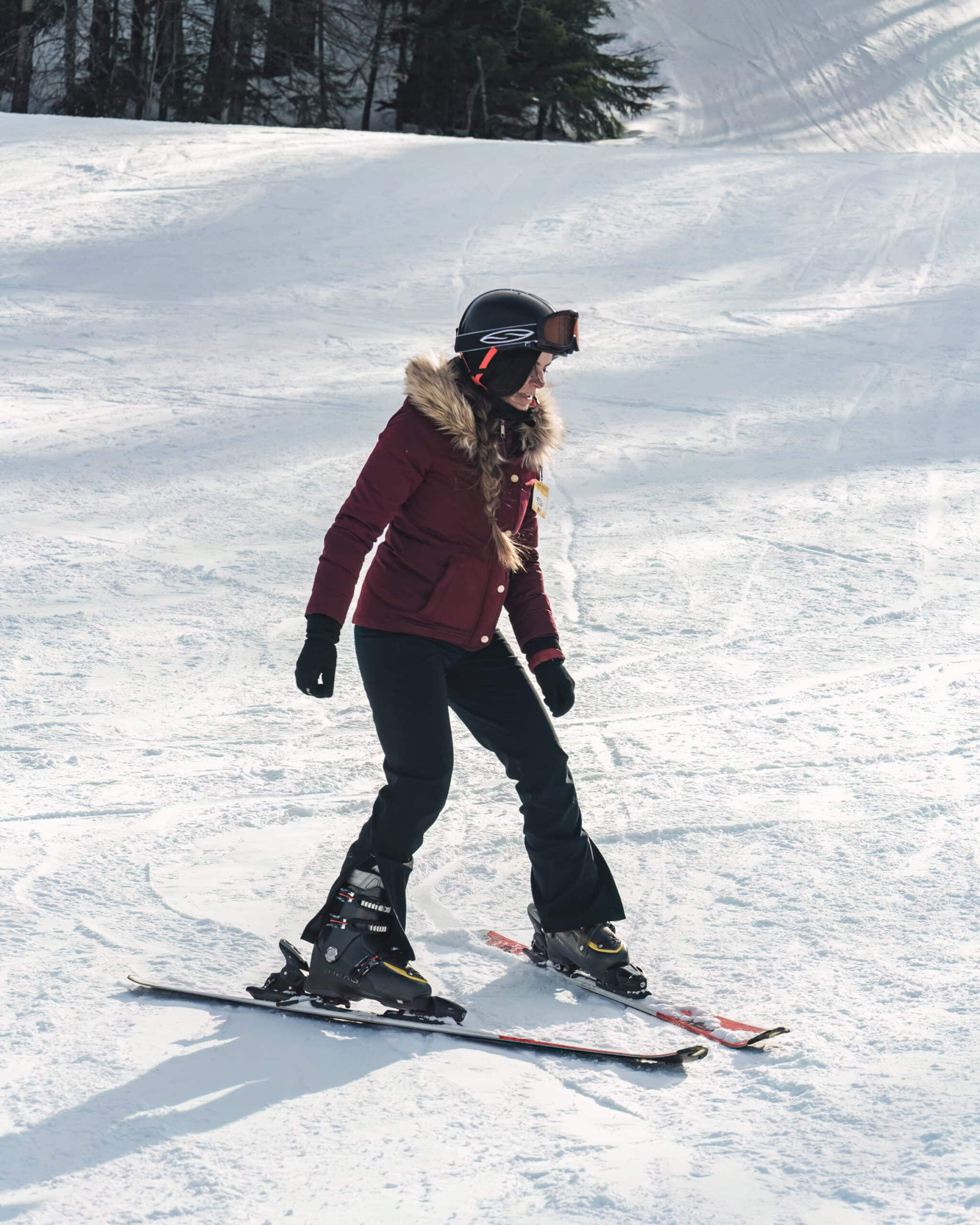 Next we progressed to the main hill, where I felt a renewed sense of determination and excitement. 
As I approached the T-bar for the first time, I couldn't help but feel like a seasoned skier ready to conquer the mountain, or in this case, the small hill. Alas, my confidence quickly dissipated as I lost my footing and watched in horror as one of my skis made a break for it, leaving me to do the infamous walk of shame back to the start of the lift, hobbling like a penguin with one ski. Lesson learned: always make sure your equipment is as committed to the journey as you are!
At the top, the slope was steeper than the bunny hill, and I hesitated for a second before pushing off and gliding down the hill. As I gained speed, I felt a rush of adrenaline and a sense of exhilaration that I had never experienced before. The scenery may not have been as grandiose as a mountain range, but to me, it was magical.
In the end, I didn't fall once, and I couldn't help but feel a sense of pride and accomplishment. I had conquered my fears, learned a new skill, and most importantly, had a lot of fun. My time at Falcon Ridge Ski Resort may have been on small hills, but the memories will last a lifetime. Who knows, maybe I'll even give snowboarding another try…or maybe not.
Hitting the slopes at Falcon Ridge Ski Resort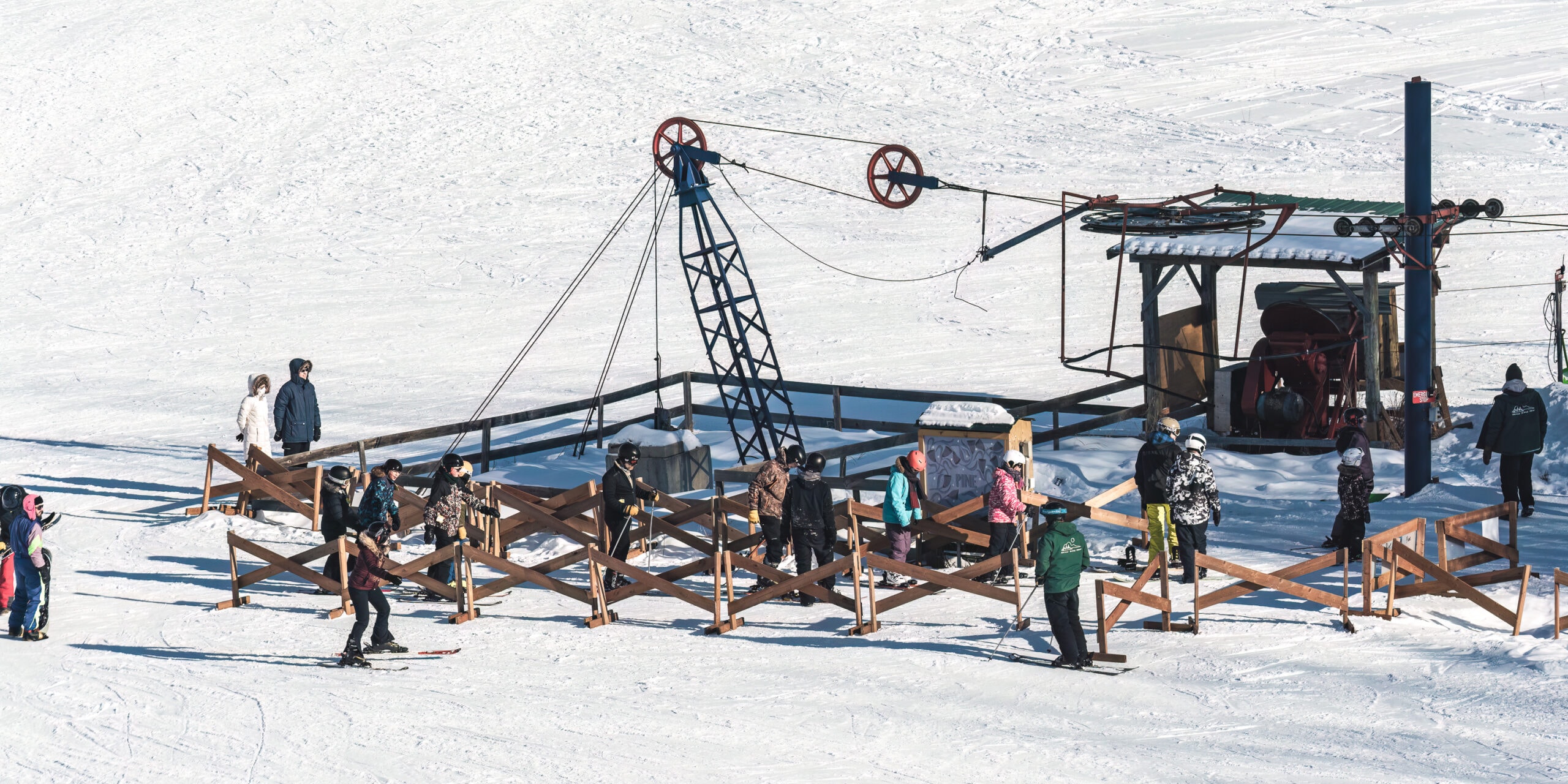 Things to know before you go
The resort is open on weekends and holidays from 10:30 until 4:30
Book your lift tickets in advance. There is only a limited quantity available over the weekend.
If you need to rent equipment, you can book this online as well.
Towards the end of the season, they stop selling tickets online. You can only buy walk-up tickets at the resort.
Check the weather forecast before heading to the resort and dress appropriately for the conditions.
You can book a 1h private or group ski or snowboard lesson. Call the resort to book a spot
The runs are pretty easy and not too steep, making this a great resort for beginners and those wanting to return to skiing after a long break.
Always follow posted signs and warnings, and be aware of the risks associated with skiing or snowboarding.
The Trail's End Cafe is the perfect spot to grab lunch or a quick drink to warm up.
For delicious coffee, head to Falcon Trails Resort lobby for specialty coffee from Little Sister Coffee
Don't forget to enjoy the scenic views and take plenty of photos to capture your memories on the hill!
Where to stay
There are several charming places to stay near the resort, and we've listed our favourite ones below:
Falcon Beach Ranch
Stay in one of the private, chalet-style cabins and experience rustic charm paired with modern amenities. Relax in the cosy lounge area by the wood-burning fireplace or take in the boreal forest view from your screened or sundeck equipped with a barbecue.
For ultimate relaxation, take a dip in the outdoor hot tub or unwind in the cedar log sauna. As the day comes to an end, gather around the outdoor fire pit to roast marshmallows under the starry night sky. With high-speed internet and WiFi, you can stay connected while immersing yourself in the natural beauty surrounding you. From horseback riding to sleigh rides, Falcon Beach Ranch offers endless adventures, and with discounted rates for guests, you won't want to miss out.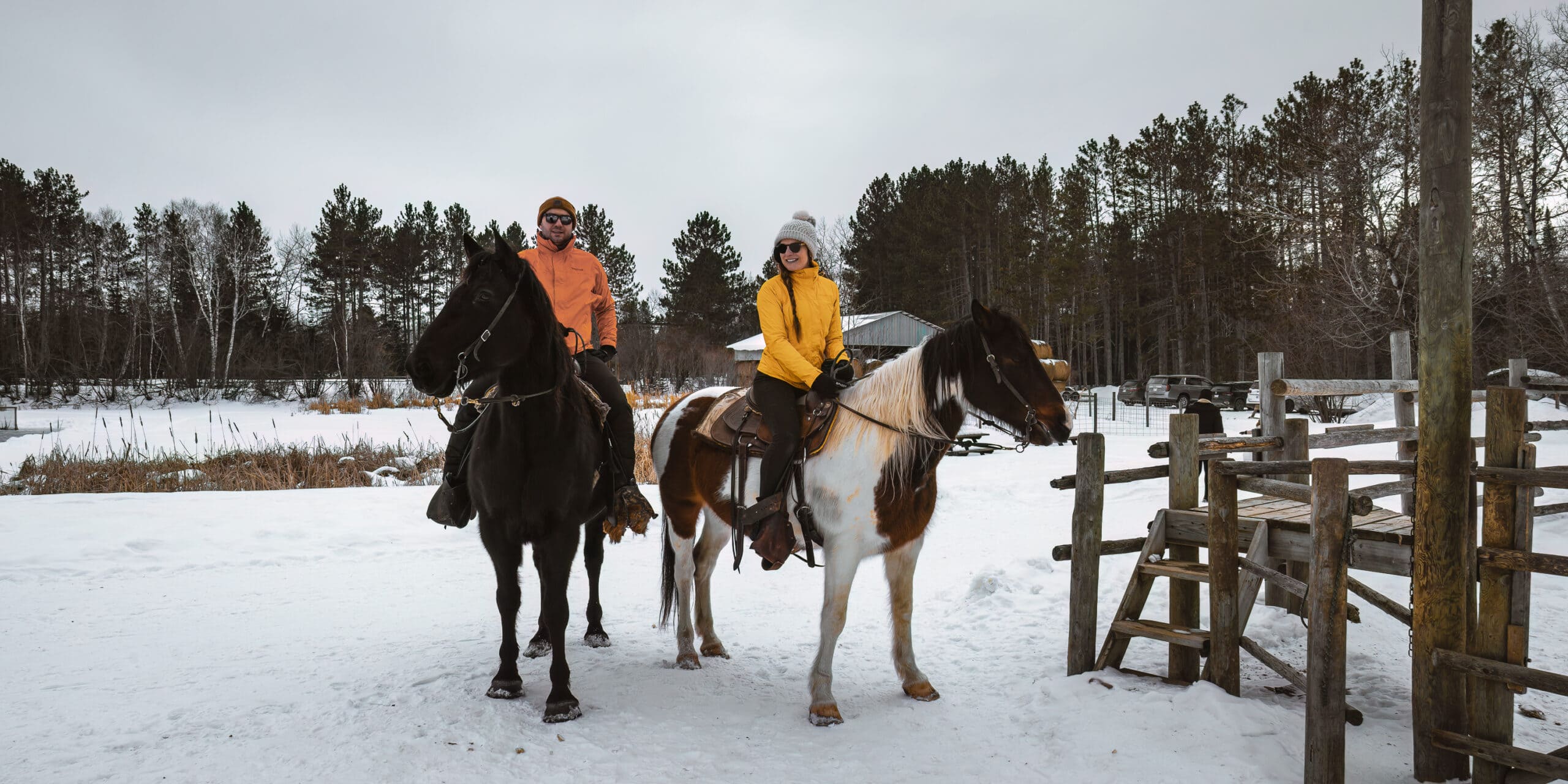 Falcon Trails Resort
Nestled on the shores of Falcon and High Lake lies Falcon Trails Resort, an all-season wilderness getaway. The resort offers a range of accommodation options from luxurious lakefront cabins to cosy eco-cabins, each designed to blend harmoniously with the natural surroundings. Enjoy stunning sunsets from your private deck, or cosy up by the fireplace with a good book. For adventure seekers, the resort offers hiking and biking trails, canoeing, kayaking, and stand-up paddleboarding. In the winter, explore the winter wonderland on snowshoes or cross-country skis.