It was a crisp December day when we set out on our winter getaway to Western Manitoba. The sun's warm rays seemed to mock the frigid temperature of -20°C outside. A steady breeze blew snow across the highway, creating mesmerising patterns that seemed to dance along the surface. We couldn't help but marvel at the ethereal beauty of the wintery landscape.
Our destination was Oak Haven Oasis, a glamping retreat located just 20 minutes south of the city of Brandon. There we found three luxurious glamping domes nestled within the forest. We had heard so much about the Oak Haven Oasis and we were eager to start our winter escape,  relaxing in the comfort of one of their beautiful structures.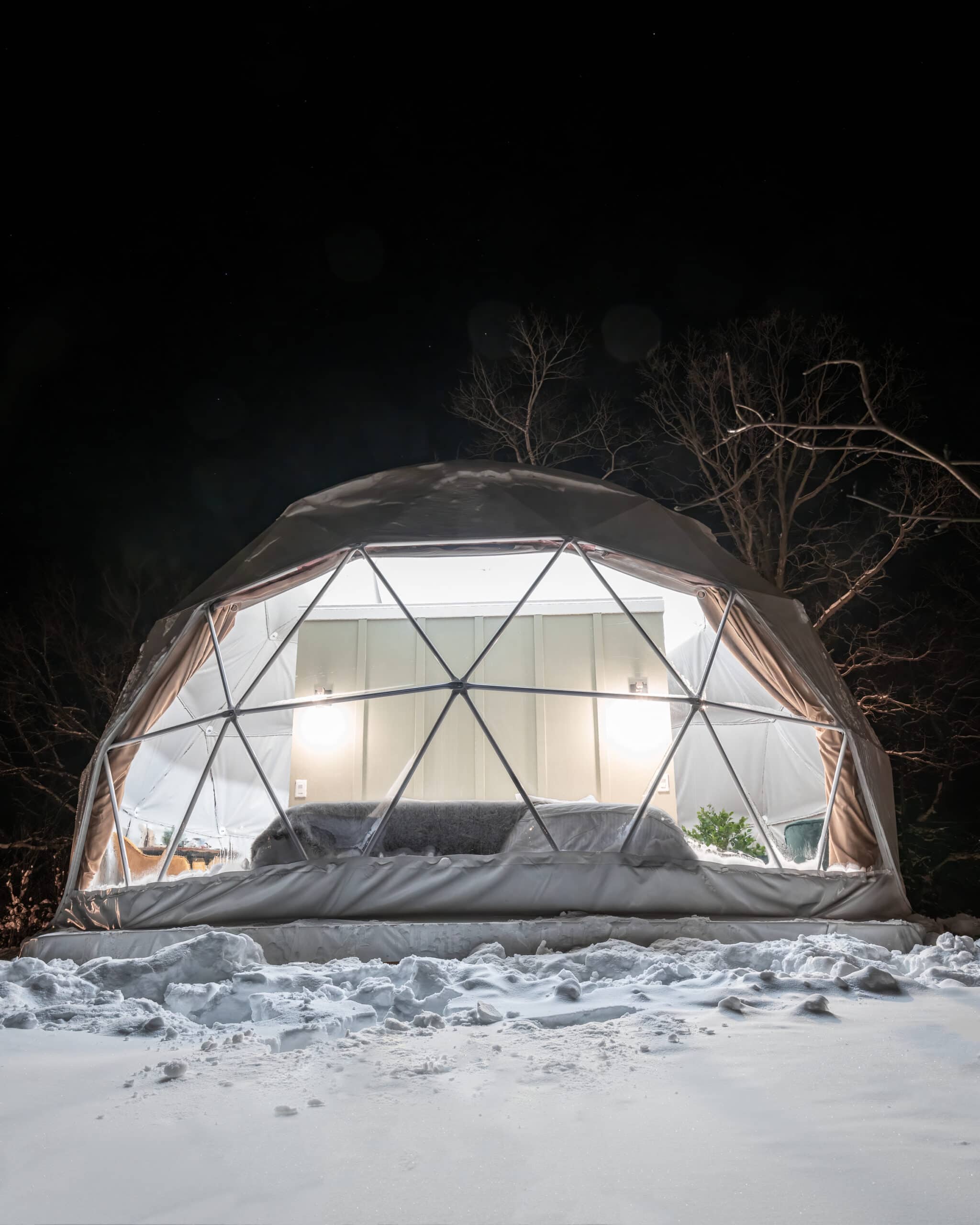 Upon arrival, we followed the signage that led us down a short snow-covered path to our own private dome. Through the bare branches, we caught a glimpse of the geodesic structure with its gleaming white exterior and large clear windows. We were struck by how beautifully it blended in with its natural surroundings, as if it were part of the forest itself.
We couldn't wait to get inside and explore this unique and quiet retreat.
Welcome to Oak Haven Oasis glamping domes
As we entered the dome, we were welcomed by the open and airy feel of the space. The interior was filled with natural light thanks to the large main window and the skylight, giving it a bright and inviting atmosphere.
This modern geodesic dome design provided the perfect blend of style and functionality, with an upscale and contemporary interior that boasted all the comforts of home. The attention to detail was evident in every corner, from the elegant furnishings to the stylish decor. We were keen to settle in and make ourselves at home in this luxurious space.
Natural light
The key feature that sets a geodesic dome apart from other structures is the natural light that floods the space.
Panoramic window
The highlight of the dome was the large panoramic window, which offers a stunning view of the surrounding forest. Imagine waking up to this breathtaking vista each morning, or settling in for the night with a cup of hot chocolate and a good book as you gaze out at the trees illuminated by fairy lights.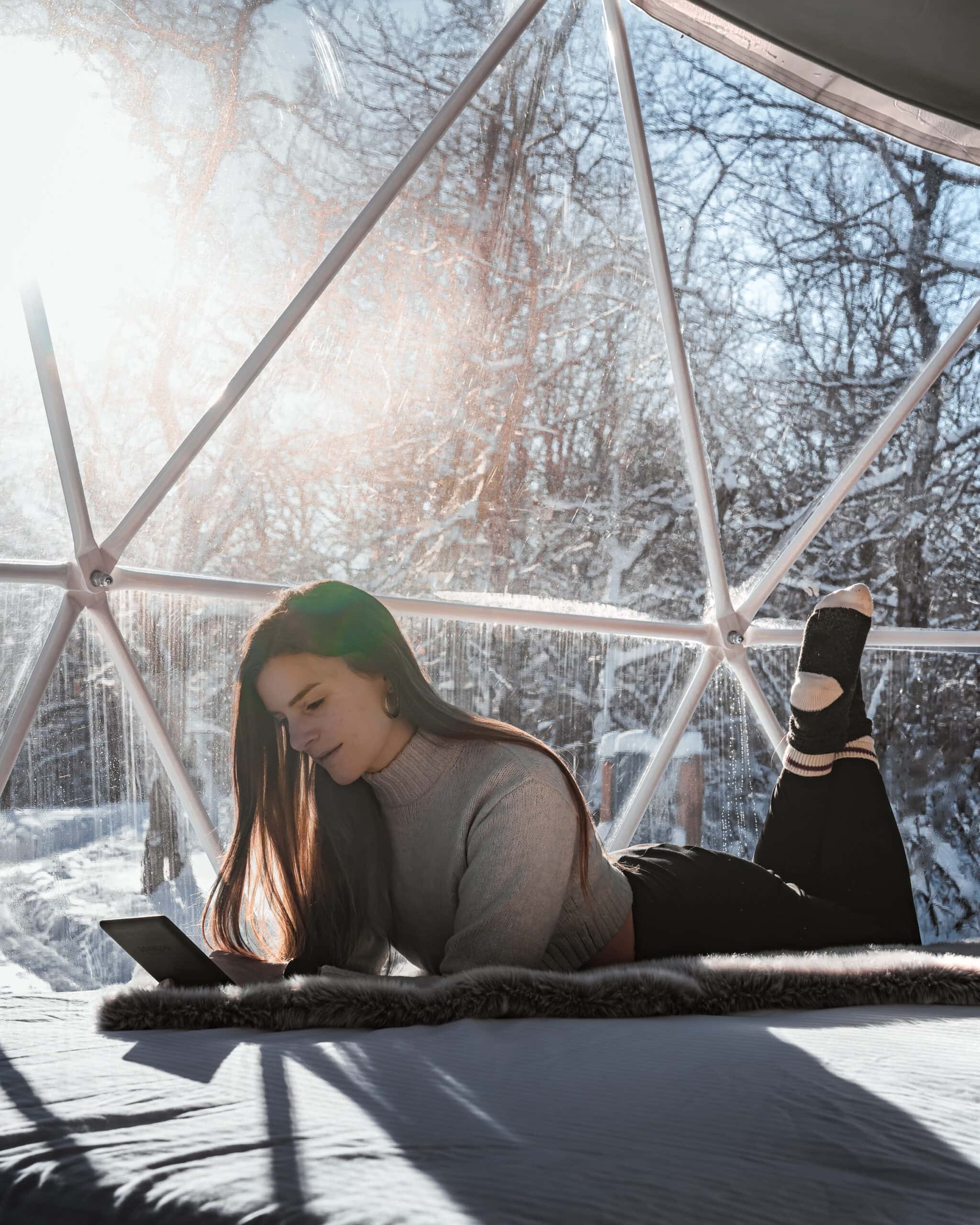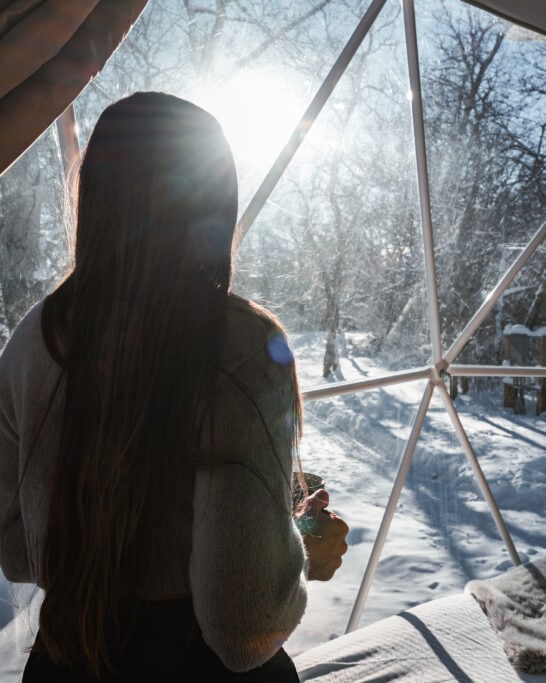 Skylight
The dome also features a skylight, providing the perfect opportunity for stargazing on clear nights. Unfortunately, ours was covered in snow, but on a beautiful snow-free day, you can snuggle under the blankets and look up at the night sky.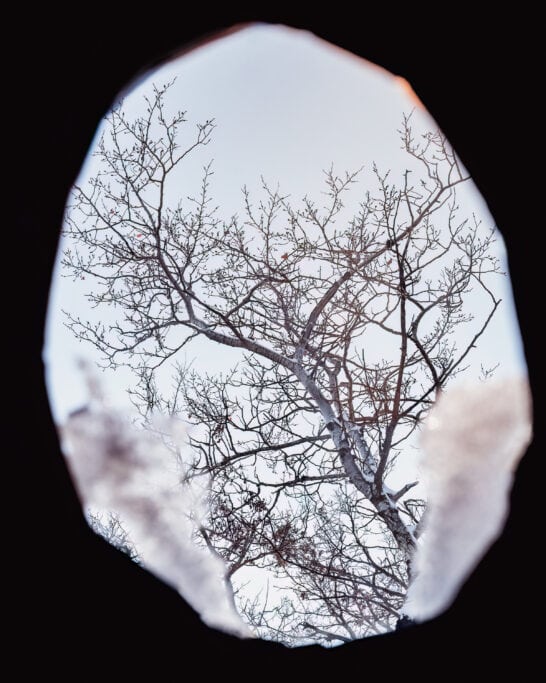 Portholes
There are also two portholes allowing in light around the back section of the dome.
Modern comforts
The design allows for many modern features you would find in a similar size cabin, providing everything we needed to make our stay as comfortable as possible.
Bedroom
The bedroom is located by the large window, taking advantage of the main feature of the dome and creating a sense of being nestled in the natural surroundings while lying in bed. The king-size bed offers a comfortable and peaceful place to rest after a day of exploring. Two curtains on either side of the window provide privacy from neighbouring guests without obscuring the view outside. These elements made the bedroom a restful and rejuvenating space. We found ourselves relaxing there most of the time throughout our stay.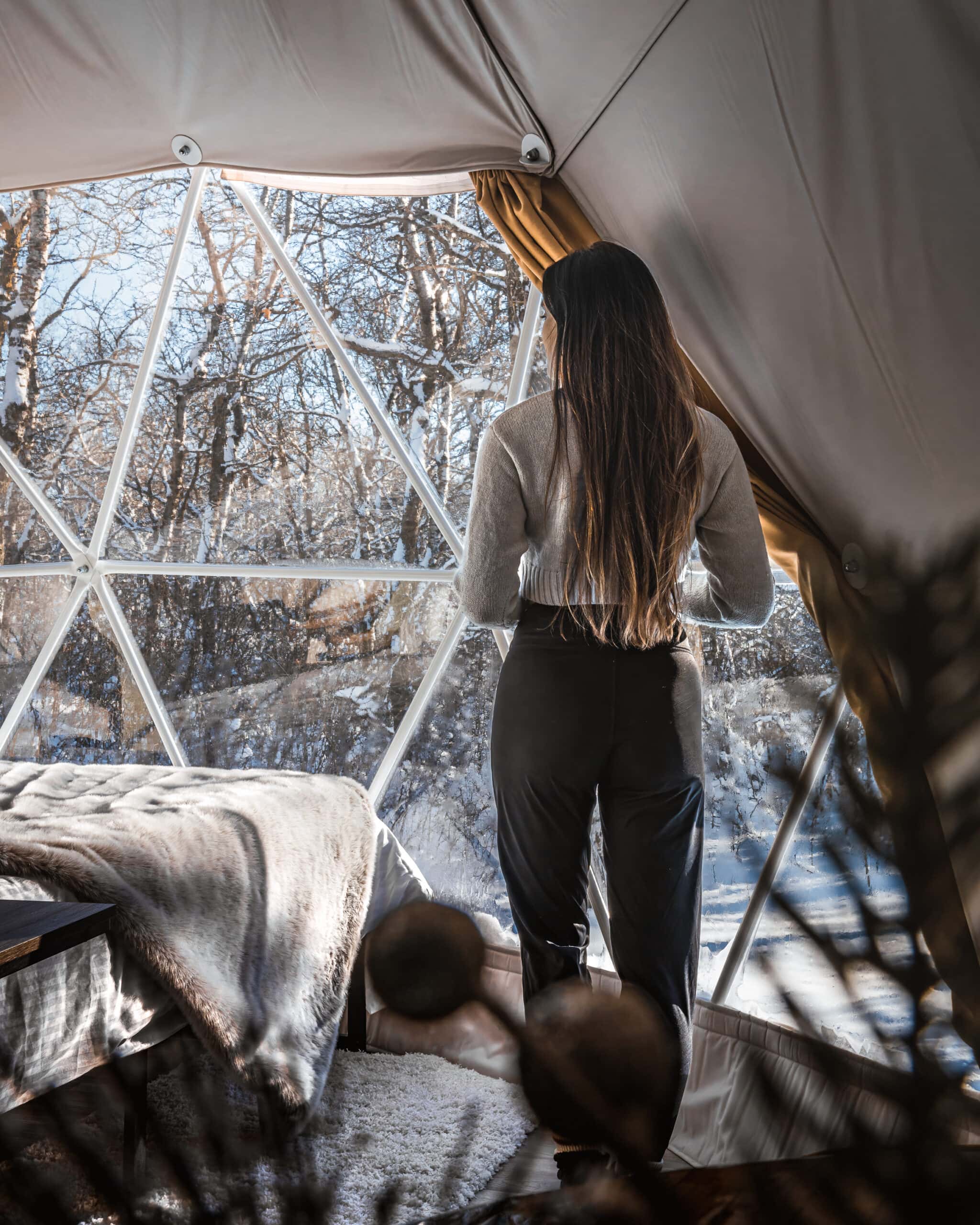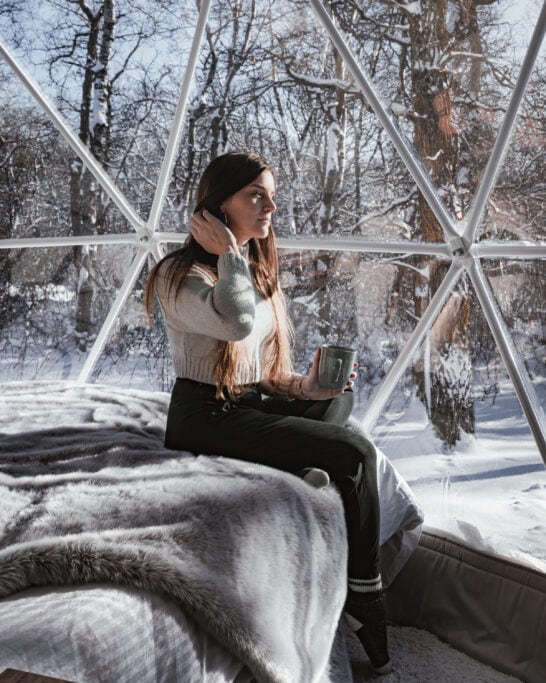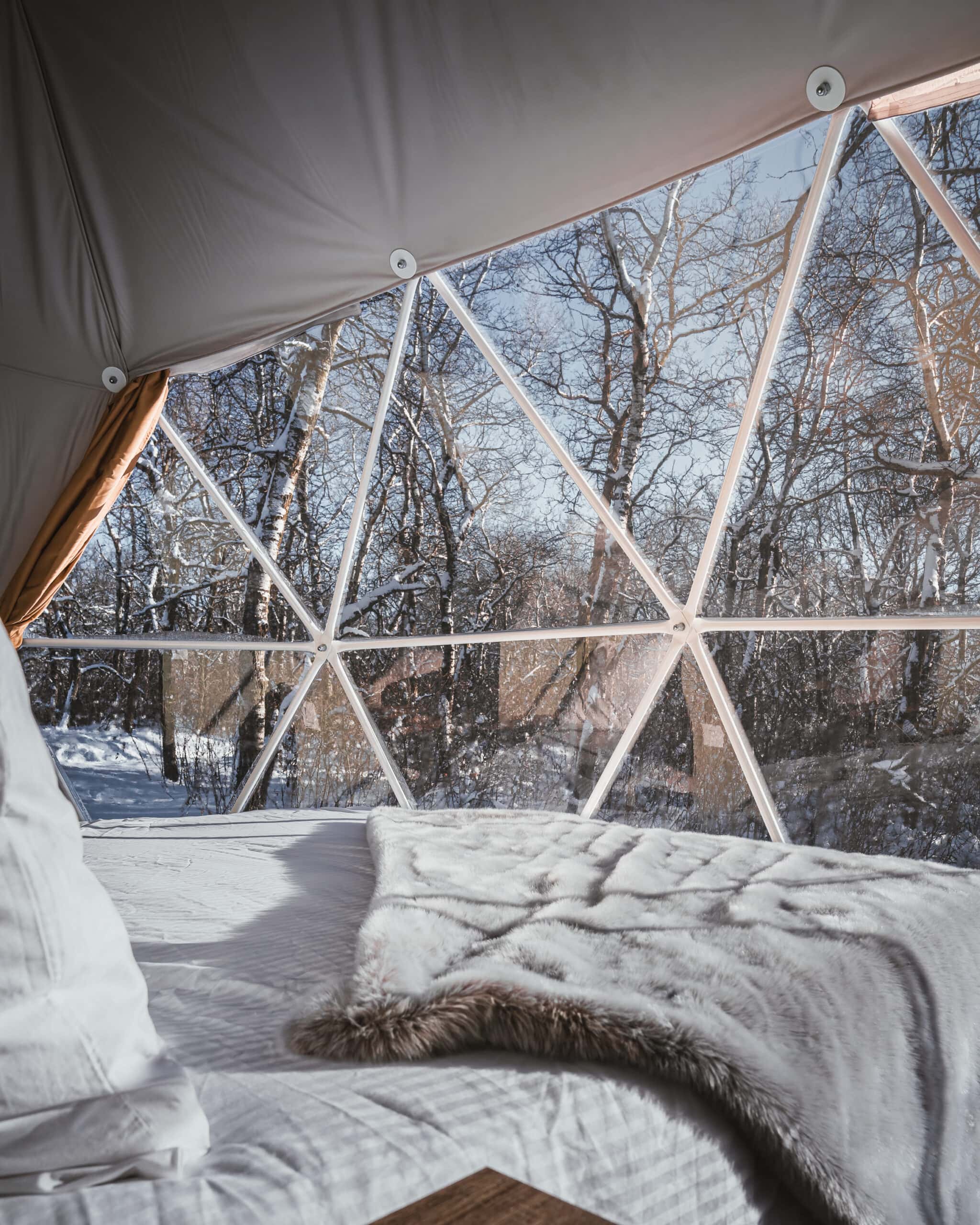 Kitchen + dining area
Despite its compact size, the room was impeccably designed, with every inch utilised to its full potential and a variety of cooking tools and utensils were at our disposal.
Coffee beans from Forbidden Flavours – a local roaster – were waiting for us, ready to be ground and brewed into the perfect morning pick-me-up. A mini fridge and freezer, microwave and portable cooking stove rounded out the amenities, ensuring that we had everything we needed to whip up a quick breakfast as well as our multi-course dinner.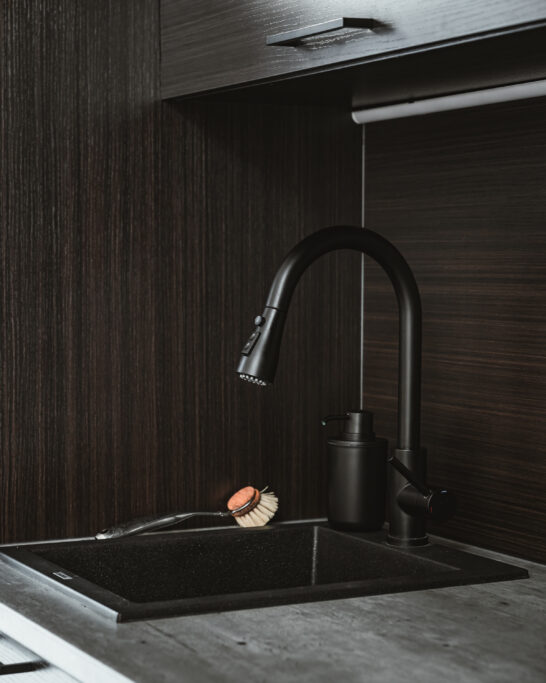 Seating area
On one side of the dome, there is a small seating area, ideal for reading a book, enjoying a cup of coffee or playing a game.
Bathroom
Few glamping spots boast an in-dome bathroom, however one of the standout features of Oak Haven Oasis was the luxurious three-piece bathroom inside the dome. The attention to detail in the design is impressive, from brass fixtures to the sleek black shower fittings adding a touch of sophistication. The overhead skylight allowed natural light to flood the bathroom, creating a bright and inviting space.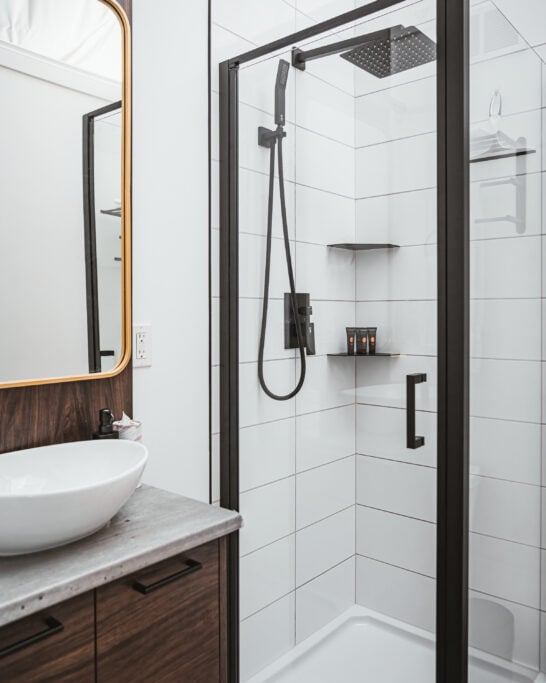 Outdoor Deck
Located at the back of the geodesic dome, the spacious deck offers the perfect spot to relax and unwind. Each dome area is furnished with a BBQ, gas fire pit, and hot tub, and we took full advantage of these amenities during our stay. In particular, the hot tub was a highlight, surrounded by privacy curtains for added seclusion. The deck was truly special in the evening, when the warmth of the soft, glowing lights created an intimate and inviting atmosphere. We marvelled at the starfield above us, enjoying the peace and solitude of this magical space.
Final thoughts
When it was time to leave this idyllic retreat, we couldn't help but reflect upon the experiences we had during our stay. From waking up to the sight of snowflakes drifting outside our window, to the leisurely days spent exploring the wintery forest that surrounded the dome, each moment had been infused with a sense of peace and relaxation.
The dome had offered us every modern convenience, ensuring that we were never without the comforts of home. It provided us the best of both worlds, allowing us to feel fully immersed in nature while still enjoying all the amenities we were accustomed to.
It had been the perfect winter getaway, and a location we could definitely visit again..
In a nutshell: Things to know before you go:
The dome sleeps 2.
There's an in-dome bathroom.
Soap, shower gel, shampoo, lotion and towels are provided.
There's a kitchenette with a mini fridge and freezer, sink, coffee machine (filter), toaster, microwave, portable stove, coffee grinder, all pots and pans, dishes & cutlery. There's no oven or dishwasher.
You'll find pepper & salt as well as two kinds of coffee beans for grinding in the cupboard.
Soap and dish/wash cloths are available.
Two sets of bathrobes and slippers are provided.
Luxurious bedding is provided, including four plush pillows and a cosy blanket.
There's an on-site dog called Plug. He's incredibly cute and excited to see you when you arrive!
Sorry, no pets allowed.
Things to do around Oak Haven Oasis
Souris
20 minutes east of Oak Haven Oasis, you'll find the small town of Souris. One must-see attraction is the longest swinging bridge in Canada at 184 m, which offers stunning views of the Souris River and the surrounding landscape. The community outdoor pool is a great spot to cool off on a hot summer day, and the Victoria Park Bird Sanctuary is a haven for birdwatchers and nature lovers and is known for their resident population of peacocks. The Hillcrest Museum is also worth a visit, offering a glimpse into the history and culture of the area.
Brandon
Drive 26 minutes north of Oak Haven Oasis and you'll drive into Brandon, Manitoba's second largest city.
Winter
There are plenty of exciting things to do around Brandon during the winter season. Go skate at Brandon's Skating Oval which offers free skating for anyone looking to test their moves on the ice. Outdoor enthusiasts can go winter hiking, snowshoeing, or cross-country skiing at Brandon Hills, Spruce Woods Provincial Park or Turtle Mountain Provincial Park.
Summer
Go hiking, biking and birdwatching at the nearby Spruce Woods Provincial Park, or hit the fairways at one of the city's many golf courses. Other popular attractions include the Western Manitoba Centennial Auditorium which hosts a variety of concerts and events, and the Brandon Farmers' Market, where visitors can browse local goods and produce.
We were hosted by Oak Haven Oasis on our trip. As always, all opinions are our own and you will always read our genuine thoughts and experiences.