Vancouver is the perfect base if you're into winter sports. I noticed this fact as soon as I set foot on Canadian soil, and this was in summer! I promised myself that the upcoming winter season would be the moment where I would set foot on a slope for the first time in my life. As you might have read in my previous post, my first morning on the slope didn't go very well…
And I was desperately hoping the afternoon would see me going down the slope without too many injuries.
Back On The Slope
The whole afternoon was spent on the same hill we ended our morning on. Our instructor kept giving us individual tips and was pointing out our mistakes. I managed to get very comfortable sliding from side to side, while going very fast at the same time. It was fun when I was able to keep myself up, but the speed also meant my falls were pretty hard. I hurt every single part of my body, as well as hitting my head a few times causing a headache.
Towards the end, we practised heel to toe and toe to heel turns and eventually linking the turns. Unfortunately, I never made it to linking the turns (although, I kind of managed twice, but any snowboarder who knows what they're doing would have frowned upon my technique).
" I even found it fun when I wasn't falling "
Even though the turning wasn't working for me yet, I kind of grasped the sliding down from left to right. I even found it fun when I wasn't falling. I managed to steer the board, dodge people and come to a stop when I wanted to stop, staying upright at the same time.
On my last run down, I was feeling quite confident. This confidence translated into me overtaking my boyfriend who was practising his heel to toe turn. As luck might have it, I fell right into his path. As he finished his turn, he only just saw me going down and wasn't able to dodge me in time, resulting in a spectacular crash.
He crashed into my back, head and hand and rolled over me. I instantly felt a sharp pain in my wrist and I stayed down for a few seconds to see if anything else was hurt. Luckily, nothing else seemed to hurt, and my boyfriend had no injury or pain whatsoever, which was a miracle.
"He crashed into my back, head and hand and rolled over me and I instantly felt a sharp pain in my wrist. "
Luckily we were both ok, and the pain in my wrist started to disappear after a few moments. Our instructor was at our side almost immediately, making sure we were fine. We made our way down with no more incidents and I was glad the day was over.
Wrist Injury
As I was returning our rentals, my wrist started to ache again. This time it was gradually getting worse. Worry was written all over my face to the point that the rental guy had to ask me if I was ok.
My wrist had started to swell and hurt with even the lightest touch. We decided to go to first aid to assess the situation. We were supposed to come back the next day for our second snowboarding session, which would be impossible with a wrist injury.
It seemed my wrist wasn't broken, but the doctor advised me not to snowboard for the time being. He put a splint on my arm, gave me an ice pack and sent me on my way.
I wasn't too sad about the fact I couldn't snowboard the next day. By now all my muscles had stiffened up, and I was barely able to move an arm or a leg. The snowboard school was kind enough to give us a voucher to use at a later day, so all I had to focus on now was getting home and take a long hot bath to relax the muscles.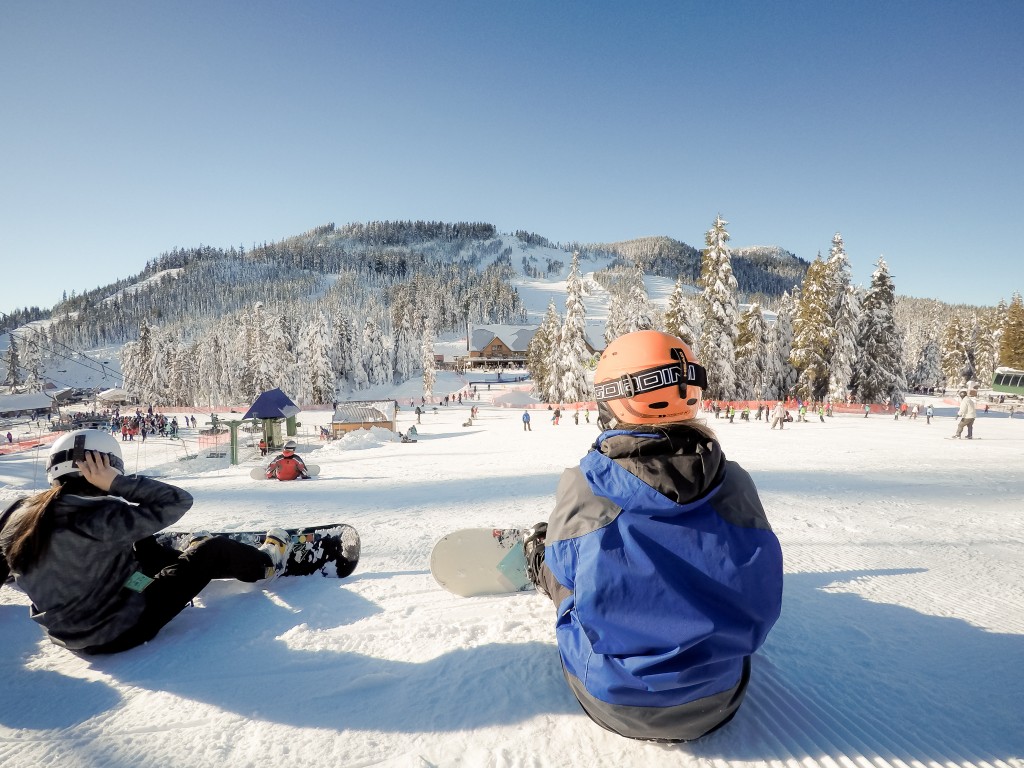 Recovery Time
1.5 weeks after my snowboarding experience, I was finally able to walk normally again, however, a few more injuries have popped up after the pain of my muscles had subsided.
Initial stiffness/pain
Shoulderblades, butt, top of my knees, ankle, front of my shoulders, upper arms, wrist and left forearm (accident), back and neck.
A day later, more started to ache: Area on the bottom of my underarms, my entire neck (front up to the chin) and abs.
Unfortunately, 2 days later, I suffered a groin injury while crossing a street (I was lightly running) which I attribute to over straining during snowboarding. I was barely able to walk, and wasn't capable of doing any recovery exercises. It still hurts while walking, so I won't be performing any sports any time soon.
But it doesn't stop there! A few days after snowboarding, the pain in my left ankle started to gradually increase. It feels as if I've sprained my ankle, which I think happened on numerous occasions when I fell. (I fall sideways, but the board stays straight. My left foot suffered the most, since I fell on my left side most of the time).
Will I Be Back On The Slope
If you had asked me on the day, I would have said no. It was such a tough experience, and all the pain afterwards didn't help.
Right now, I actually feel a little excited about going back. I definitely want to give it a second chance, but first I'll have to recover from my injuries!