I wish I could say I looked like the man in the feature photo on my first day on the slope. Confidently balancing on my board, gliding down the slope with all the grace of a gazelle.
Unfortunately, I looked more like a baby trying to take its first steps, not so gracefully dropping down to the ground more than I could count.
I knew before I booked my first class, that I was going to fall. I was fully prepared, or so I thought. I'm a fairly sporty kind of person and I usually pick up any sport quite quickly. I thought snowboarding would be the same, but what I learned after the first 30 min was that my balance kind of sucks, something quite important when you're trying to snowboard.
What We Booked
We were presented with quite a few options around Vancouver to learn how to snowboard; Grouse Mountain, Cypress Mountain, Mount Seymour and a little further: Whistler. We had heard good things about Cypress Mountain and most of our Vancouver friends were enjoying their winter sports here. Apart from this, it's also quite cheap compared to Whistler.
Now we had picked our mountain, it was time to decide what type of lesson we wanted: a few hours, half a day, full day, or go all in and do a full weekend.
What to book? A few hours, half a day, a full day or a whole weekend?
Of course we wanted to be pretty comfortable with our snowboard after our lessons, so we booked a full weekend. Little did we know how stiff we were going to be after 1 full day of falling, and had to cancel our second day.
Arrival
We thought we were being well prepared, leaving our flat 1.5h before our class started. While Vancouver was still asleep, we drove to Cypress Mountain as the sun was rising. As we gradually got to the top, traffic had increased substantially, and it was chaos at the desk where we had to sign up.
Even though everything was booked online, we still had to queue, and it took us over an hour to finally get to the front of the line.
" Even though we arrived early, we still had to queue for over an hour to register and get our rental gear. "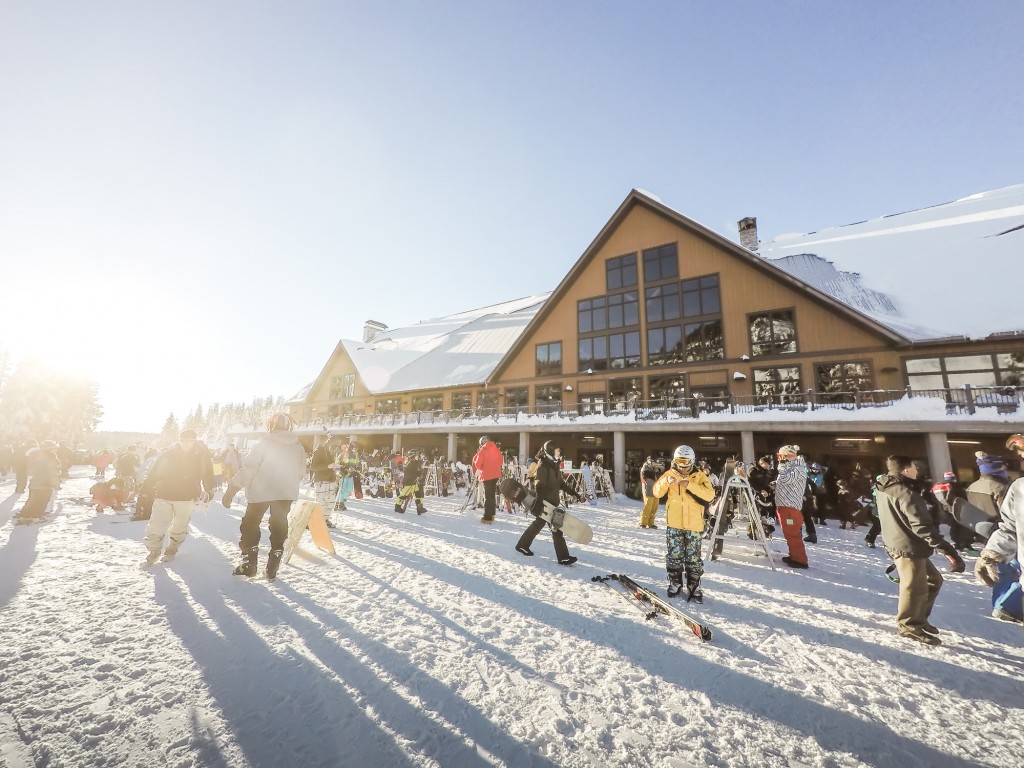 After our patience was tested in the queue, and we finally had all our rentals (a VERY oversized ski pants for me), we made our way to a little slope next to the main building. Here we met our group of 5 fellow newbie snowboarders and our instructor.
If I had to name 1 positive thing about this day, it would have to be the enthusiasm of our instructor. She clearly loves her job, and even when I was on the verge of tears, she was able to motivate me back onto my feet.
" If I had to name 1 positive thing about this day, it would have to be the enthusiasm of our instructor. "
First Hills
Our instructor explained a few things about our snowboards and how to put them on, before we scaled our first hill: a tiny slope, with only one foot strapped into our board to practice our balance and how to stand on the board. We were only coming down sideways, to practice coming off the chairlifts, which also has a little slope.
Everything seemed to be going fine here for the whole group. No one had major problems, and we were all able to keep our balance.
We quickly moved to the bigger hill. This was still a small hill with no lift access, which meant we had to climb up after coming down.
Here we practised sliding from left to right. Well, the rest of the group did. I on the other hand, was not able to stand up! The slope was quite steep, and I was losing my balance all the time. While everyone was able to slide a little (and then fall), I was struggling to even get started.
After a few times up and down the slope, our instructor taught us sliding backwards. This was a lot easier for me. I was able to actually stand up, properly find my balance, and start sliding. Unfortunately, after a few successful seconds, I fell backwards and hit my head pretty hard on the firm snow. Even though I was wearing a helmet, it was a pretty hard hit.
The "Big" Hill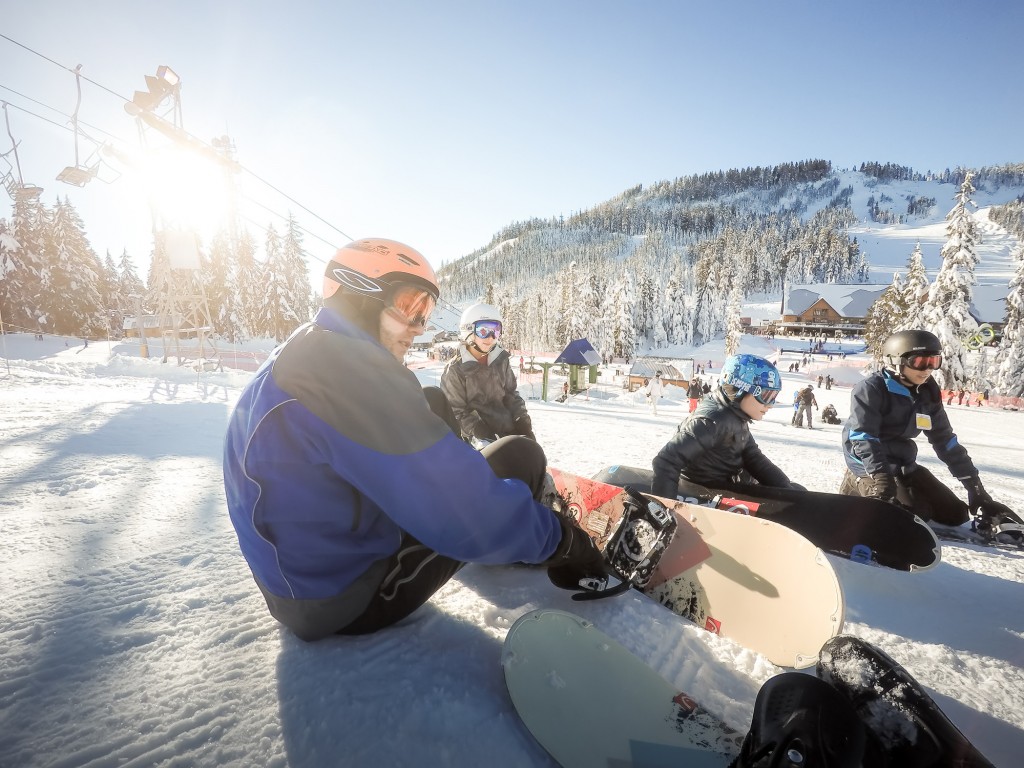 By now, everyone seemed to progress quite nicely, being able to slide down the hill without too much falling. Unlike me, who fell every second, and hadn't even properly gone down the hill.
Lunchtime was approaching, and our instructor suggested going up the 'big' hill once before having a bite to eat. I was not feeling very confident. To be honest, I had been pretty angry with myself for my lack of snowboarding skills and balance, and was not enjoying the experience at all.
" To be honest, I had been pretty angry with myself for my lack of snowboarding skills and balance, and was not enjoying the experience at all "
Luckily, the instructor gave me a quick pep talk, and not wanting to give up so quickly, I went with the group to the hill.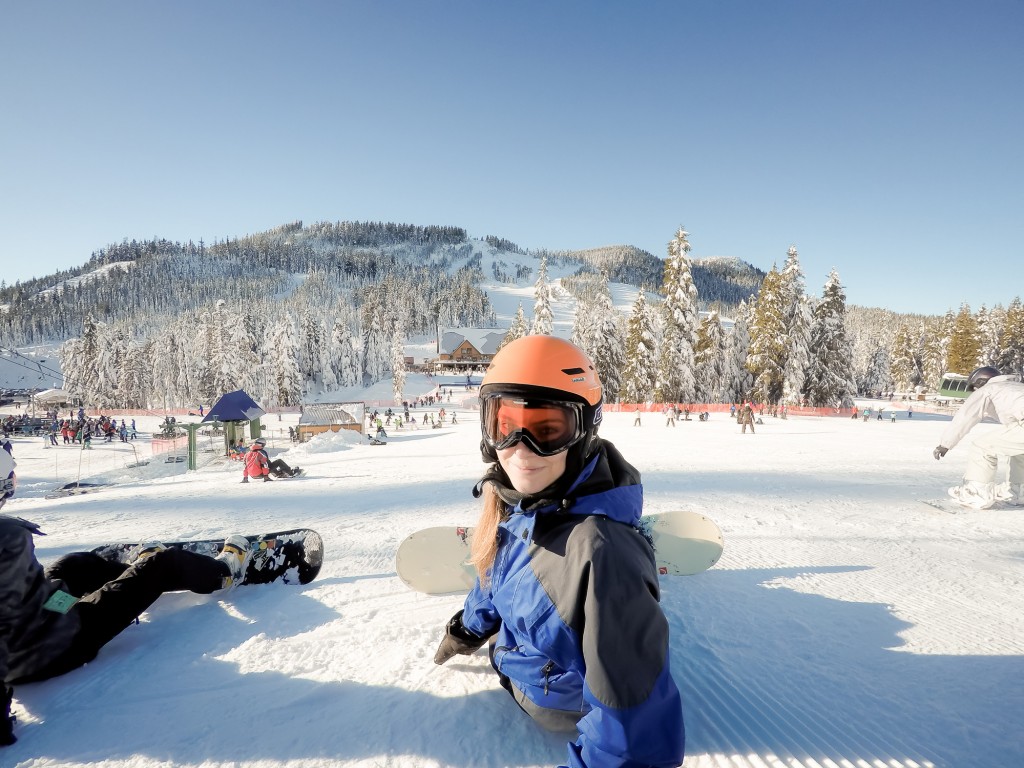 My raised spirits would only last for a couple of minutes until I had to get off the ski-lift. Such a great invention. An easy transport up the hill, to then fall while trying to get off the ski-lift. I took everyone down with me, and barely managed to get up and out of the way in time before the next batch got off the lift.
It really isn't easy to prepare your board sideways and wait for the right moment to put your weight on it, find your balance and slide down the little slope in very close proximity to your neighbours.
I fell two more times after this before the instructor suggested taking the right seat and hold onto the lift until I had found my balance before sliding down. I never fell again…
"While getting off the ski lift, I took everyone down with me. It's tricky to keep your balance while going straight in such close proximity to your neighbours. "
It was very hard not to start crying after the fall. I'm usually a lot stronger than this, but it seemed like snowboarding was proving to be the first sport to break me. The ski lift fall was my low point of the day. I'm athletic and usually very good at sports. I knew I was going to fall a lot, but I never expected to fail so miserably, especially compared to the rest of my group.
Giving up was on my mind. It was so tempting to just slide down the slope and hand back all the rentals and wait for my boyfriend to finish later that day.
But I would have been so disappointed in myself. I decided to keep going and assess at the end of the day. I was determined to succeed.
And I'm happy I did. As I was preparing to get down the hill for the first time, I found it a lot easier to stand up. The start of the slope wasn't as steep as the learner slope, and I was able to stand up and slide down a bit without falling. I was ecstatic!
" I was able to stand up and slide down without falling. I was ecstatic! "
This first run down the hill was still a challenge. There was quite a bit of falling involved, but I always managed to stand up and find my balance, unlike the other hill.
As we got to the bottom and made our way to the main building for lunch, I was still not 100% convinced about snowboarding. Would the lunch break give me some time to recover and get my motivation back? I already felt my muscles stiffening, and I feared I would not be able to get back on the board.
It's not an easy thing, trying to pick yourself up after so much falling…
Read More