If you're crazy about anything sweet and sugary, then Charly's Bakery is a must when visiting Cape Town.
Apparently, Charly's Bakery had its own reality TV show called 'Charly's Cake Angels' in 2011. This little fact was not the reason why I visited the bakery in Cape Town, I had no prior knowledge of the show, but it was the façade of the building that attracted my attention (and recommendations from a few people).
The bakery has a pretty playful exterior, white, grey and pink with tons of whimsical figures painted on the walls.
The size of the building, however, is misleading. It looks big from the outside, but once inside, you're squashed between the people queuing up to get their hands on one of the delicious cakes.
There's not much room inside and apart from the booths on either side of the entrance, there is no where else to sit down. They do have an outside terrace area which makes up for the lack of seating. Unfortunately, when you've found a seat outside, you are rewarded with a view of a not so interesting car park.
I loved the fact the cake decorations were all happening right behind the counter.
This all sounds a bit negative, but I did enjoy my time at the bakery. I couldn't stop taking pictures of the carefully made cakes and I couldn't wait to get my teeth into one. I loved the fact the cake decorations were all happening right behind the counter, so you can see Charly's Cake Angels placing all the intricate details on the cakes right in front of you.
I ordered a hot chocolate and a velvet cake on the go. The cake came into a pretty little box, white and pink, saying 'Mucking Afazing Cakes'.
Cheesy, maybe, but it did put a smile on my face.
The hot chocolate was tasty, but I wasn't too keen on my cake (It contained beetroot, I love beetroot, but I didn't think it worked well in the cake). However, my two companions loved theirs, so I'm determined to go back and get myself another one.
[one-half-first]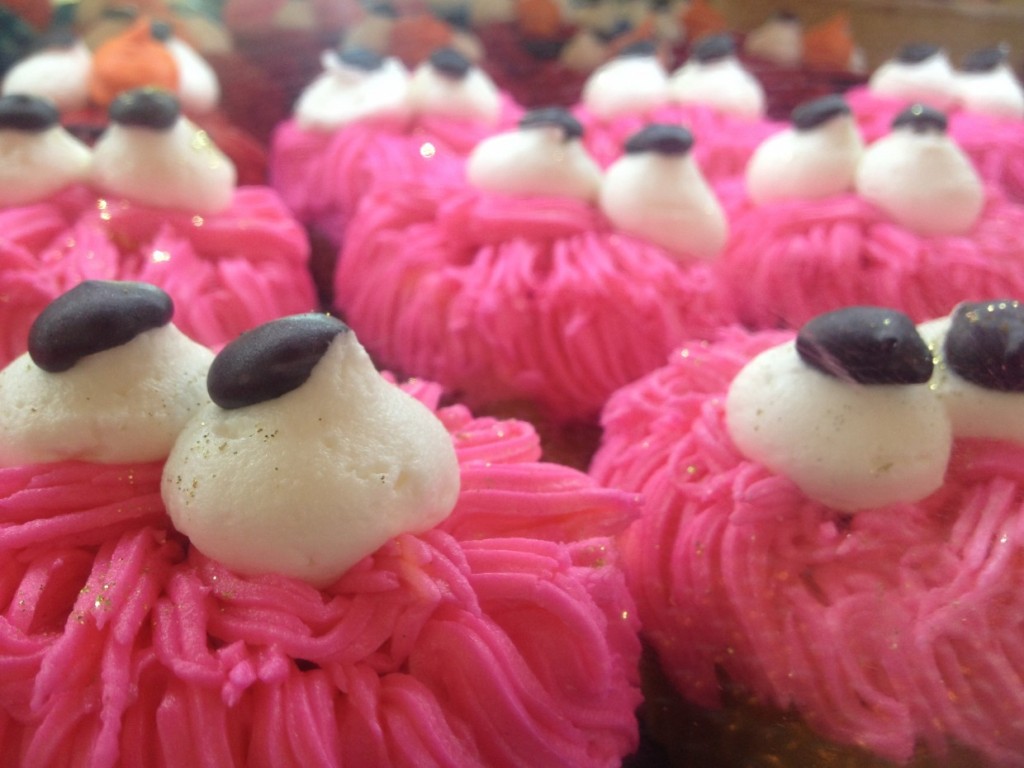 [/one-half-first]
[one-half]

[/one-half]