Known as the Gem of the Salish Sea, Galiano Island is home to a vibrant community of artists and farmers. Over the years, the area has flourished thanks to its unique local culture and stunning natural beauty and Galiano has been a favourite among travellers from the lower mainland, eager to experience its charm for themselves.
We headed to Galiano for a fall getaway and over three days we explored the island's rocky beaches, intriguing sandstone formations and stunning trails through dense forest. It's a short ferry ride from either Vancouver or Victoria, BC, and provides an escape from the urban jungle without travelling too far.
If we had to choose one island to return to in the Southern Gulf, it would be Galiano!
In this guide we share everything you need to know to plan and make the most of your trip to Galiano Island.
Get to know Galiano Island
Best time to visit Galiano
The island's climate is warmer and drier than Vancouver's, making it a good year-round destination.
The best time to visit Galiano is between May and September when the climate is drier on the island. While these months are the warmest of the year with the least possibility of rain, they are also the busiest, and requires accommodation to be booked well in advance.
Fall is a beautiful time to visit because there are fewer crowds, the weather is nice, and the fall colours on the island are stunning.
How to get to Galiano Island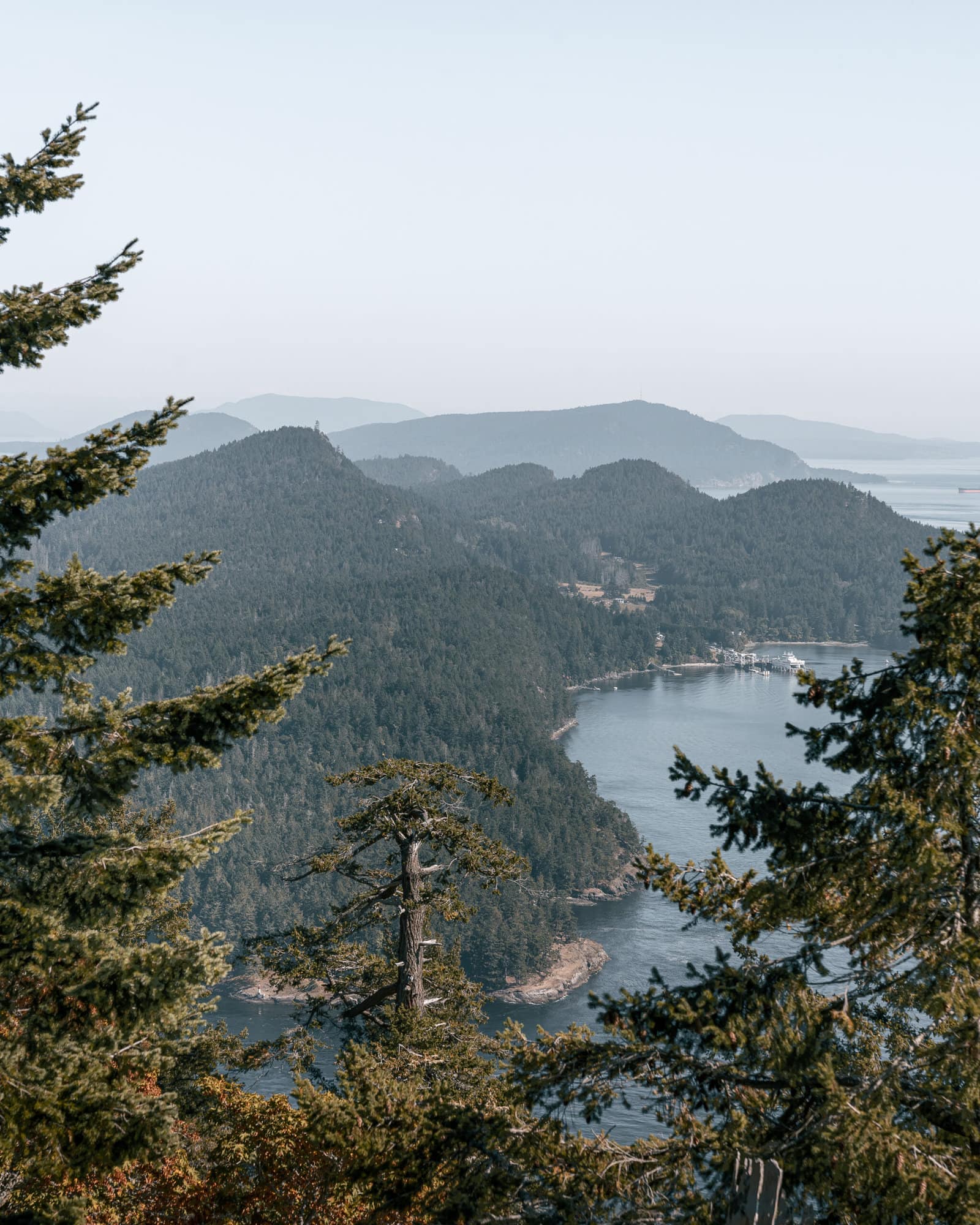 Galiano Island is 21 kilometres from Vancouver and is easily accessible by ferry or floatplane.
How to get to Galiano Island from Vancouver
Driving/ferry: There are several departures each day, from Tsawassen to Sturdies Bay, with the ferry trip taking around 55 min. The ferry is small so reservations are encouraged.
Seaplane: There are daily departures by seaplane between downtown Vancouver or Vancouver International Airport to Montague Harbour with Seair and flights take around 20 to 30 minutes.
How to get to Galiano Island from Victoria
Driving/ferry: There are multiple sailings between Swartz Bay and Sturdies Bay, with the sailings taking between 1 to 2 hours. You can't reserve a spot on this ferry, so arriving early is advised.
Some sailings are direct to Galiano while others stop at a couple of other islands along the way. The route is scenic, so if this is your first time travelling around the Gulf Islands, it's a great way to see the area and if you're lucky, you might even spot some wildlife.
Best way to get around Galiano Island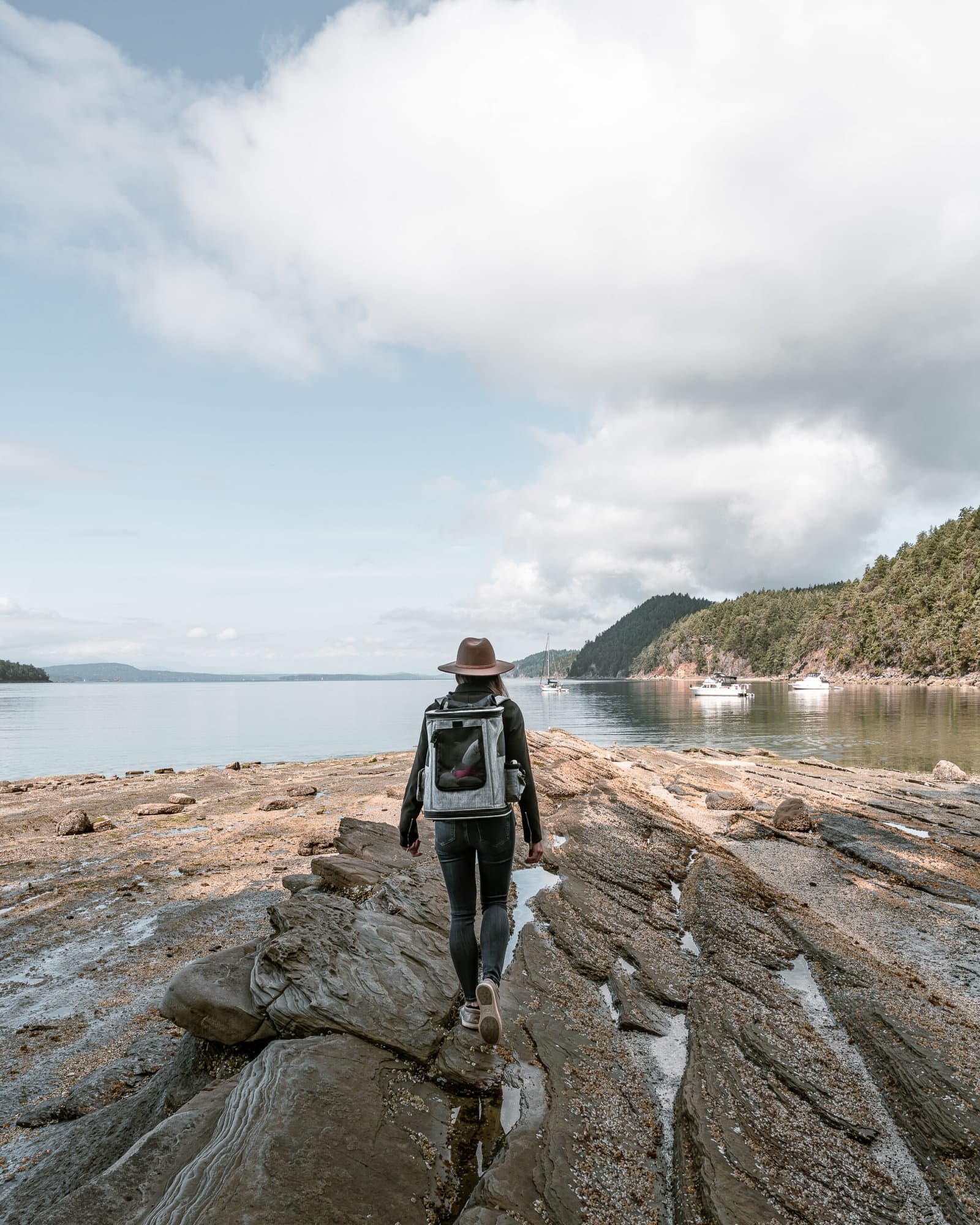 If you plan to visit Galiano as a foot passenger, there are several options to get around the island.
Galiano adventures offer e-bike and moped rentals, which are perfect for exploring hidden beaches, hiking trails and lookout points along the hilly country lanes. It's possible to rent these for a couple of hours or up to a few days, and they will pick you up at your hotel and drop you off again at the end of your stay, so you can enjoy your car-free vacation to the fullest.
If you're keen to explore the island from the water, Galiano Adventures also offers boat rentals. You will have the opportunity to view a variety of birds, seals and orcas, as well as to discover some unique hidden coves during your trip.
Hike the many trails
On Galiano Island, you can choose from several hiking trails for a day of outdoor adventuring.
Bluffs Nature Protection Area
On our first day on Galiano, we hiked through Bluffs Nature Protection Area, 342 acres of green space. We wandered the quiet and secluded paths, stopping occasionally to relax on the bluffs and watch the ferries as they made their way through Active Pass.
Bodega Ridge Trail – 8.4 km – easy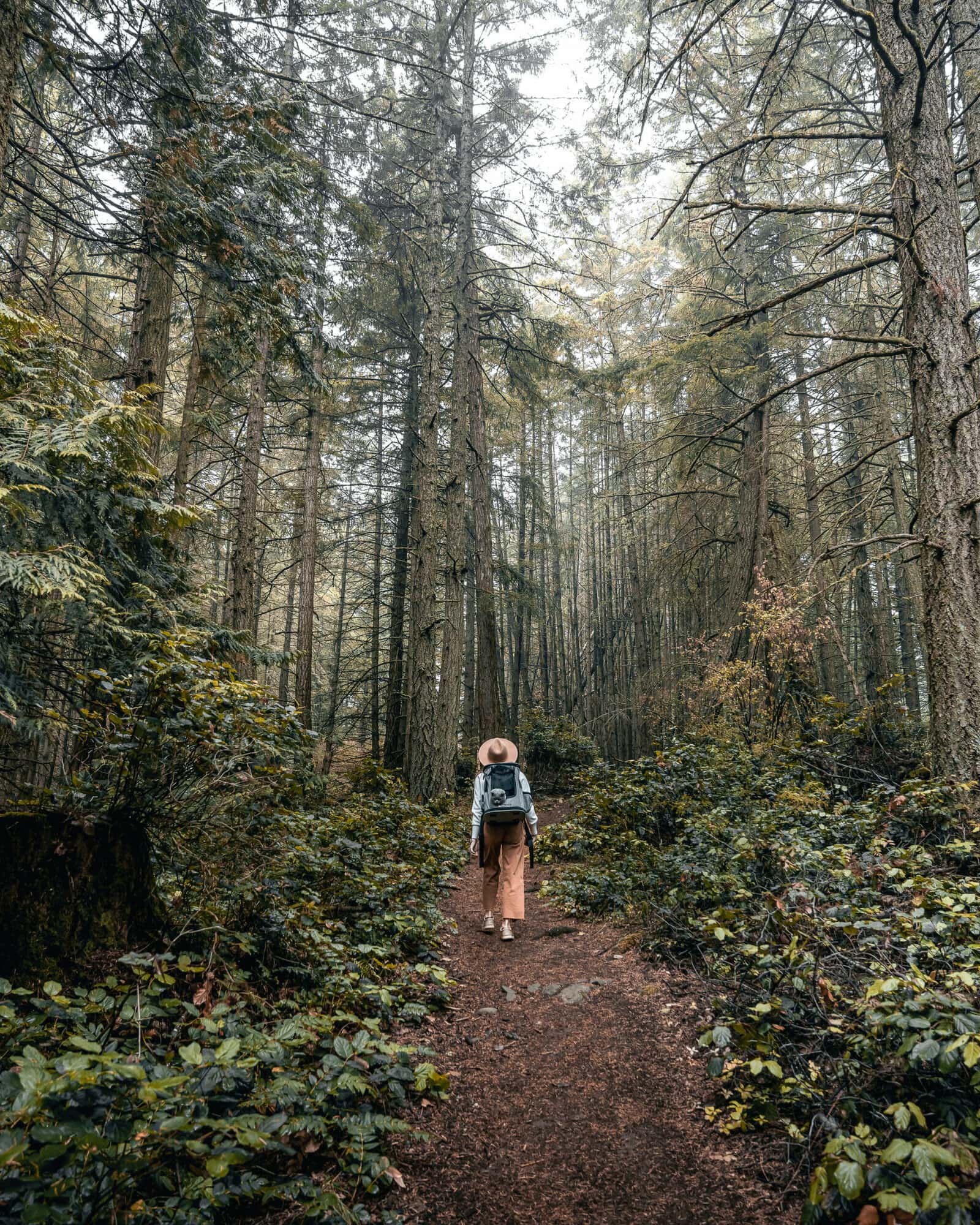 On our second day, we ventured into the forest to hike one of our favourite trails on the island: hiking along the ridge of Galiano Island in Bodega Ridge Provincial Park. This trail isn't by the ocean but follows the ridge, offering stunning views along the way. The trail is around 8km long, but the northern section is overgrown and without views. As a result, we hiked about 5km out and back from the Cottage Way trailhead.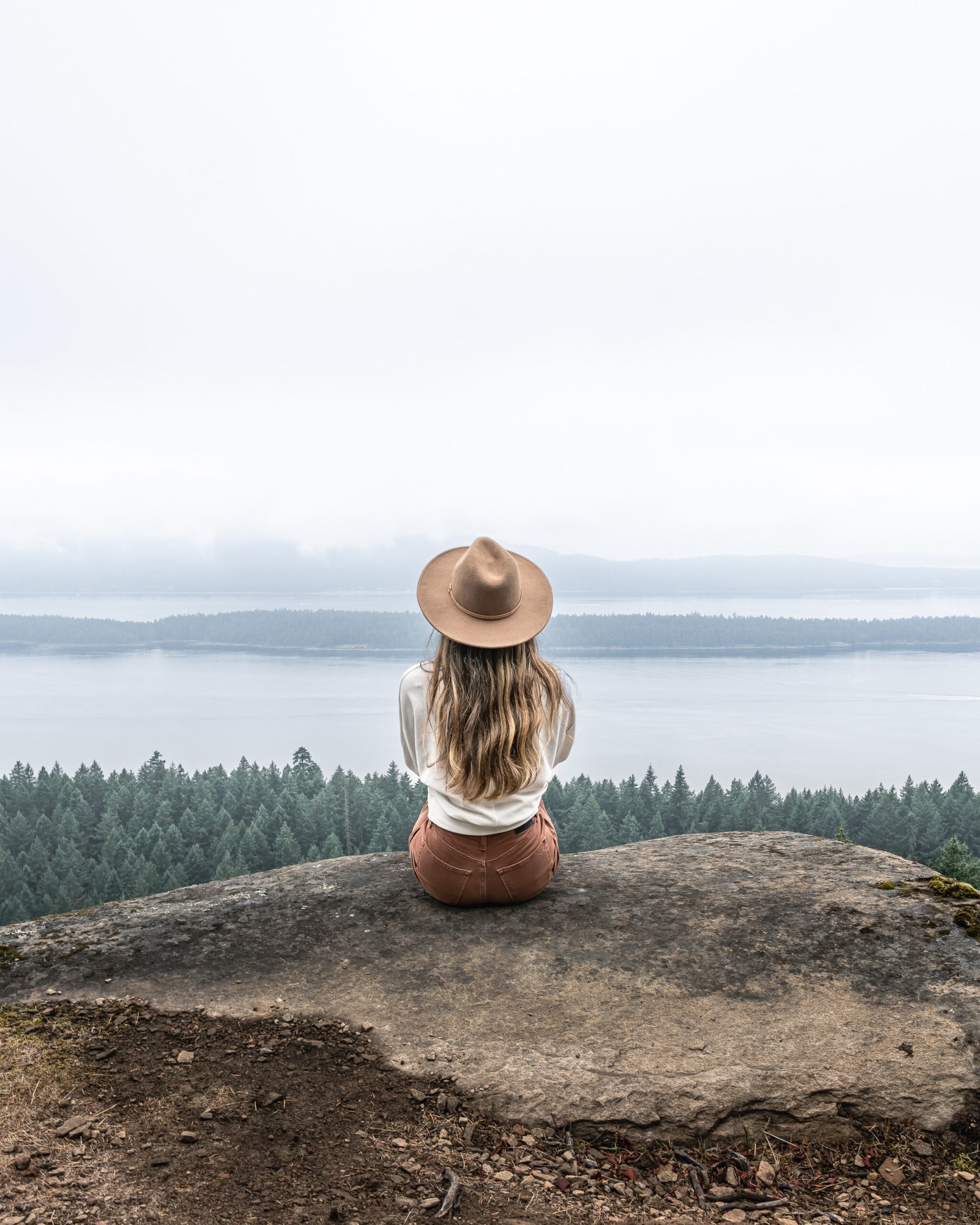 Our hike began with a short walk through dense forest. After around 0.5 km, we arrived at the edge of the cliff with sweeping vistas to the west over Trincomali Channel, Wallace Island, Salt Spring Island and Secretary Island.
After following the path for a few more kilometres, we turned around when the trail cut back into the forest, highlighting the end of the ridge and the spectacular views it provided.
Montague Harbour Provincial Park – 2 km – easy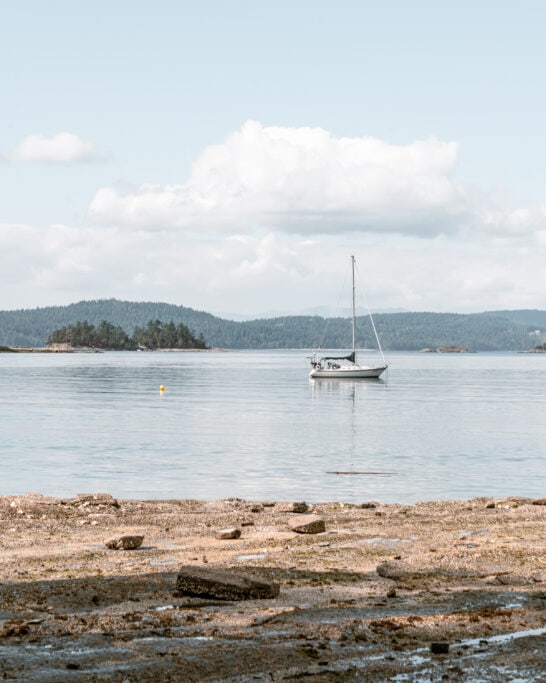 We started our third and final day with a hike around the Gray Peninsula in Montague Harbour Provincial Park. It's one of the easiest hikes on Galiano, looping around headlands and beaches of the Gray Peninsula, giving you panoramic views of the surrounding bays and islands. We recommend arriving at this location during low tide, which makes it possible to walk along the beaches and explore hidden rock pools.
Mount Galiano – 6 km – moderate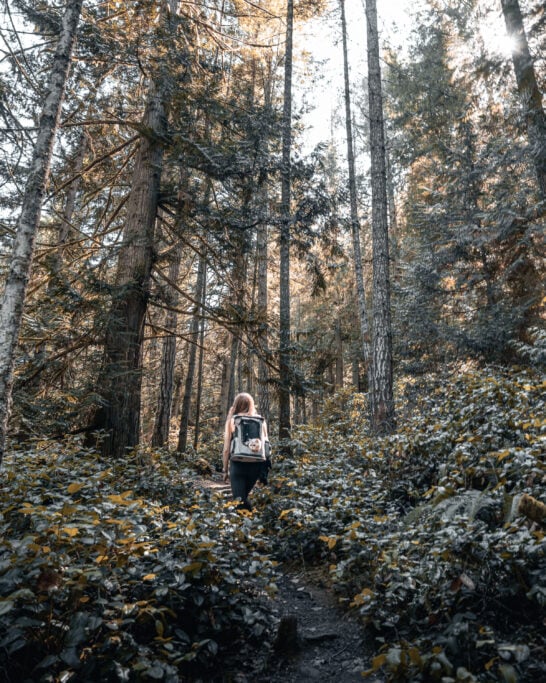 Mount Galiano is the highest point on Galiano — at 311 metres — and offers some of the best views of the Gulf Islands. A short hike to the summit will bring you to a lookout where you can view ferry traffic as well as some of the island's beautiful bays and beaches.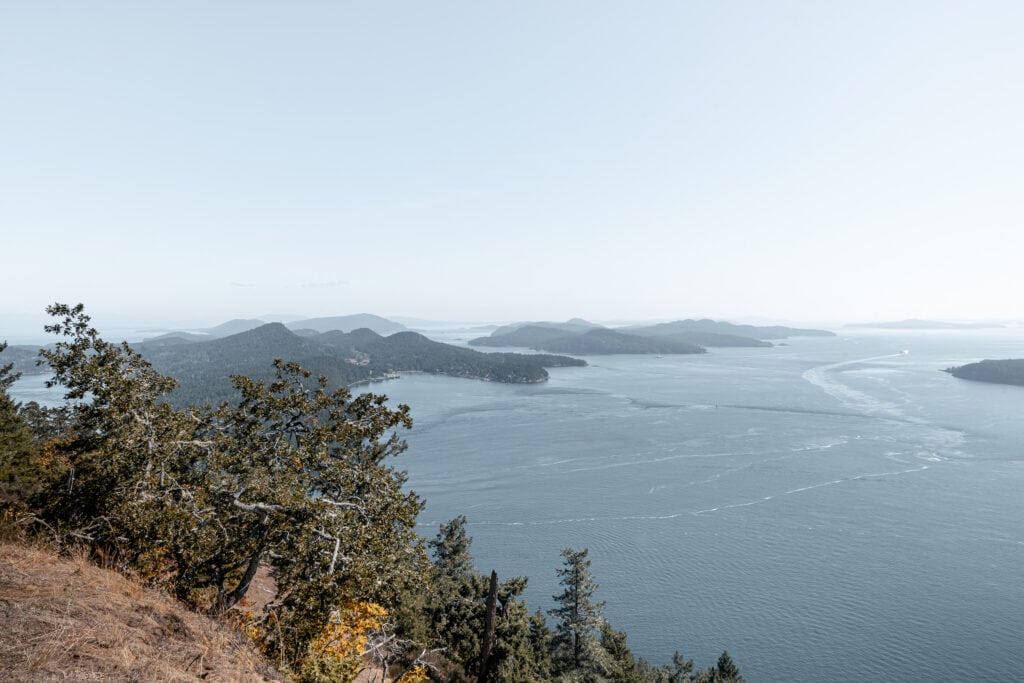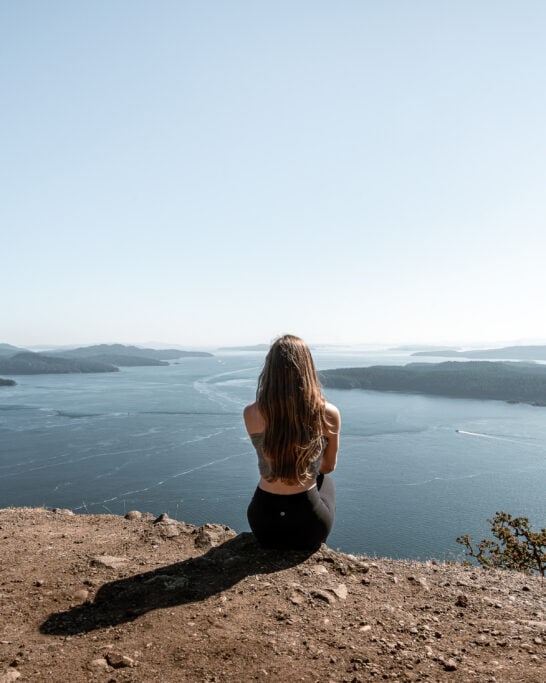 We kept the best for last, as we hiked up through dense forest on our final day on Galiano. The 6 km out-and-back hike features a steady uphill climb, gaining 250 m in elevation, but that didn't stop us from pushing through to the top on this hot day. A little over 3 km further, we emerged from the trees into a clearing with an incredible view down to the ferries in Active Pass. There's also a beautiful grove of Garry Oaks a little further past this viewpoint, which is definitely worth a stop before heading back down the trail.
Explore the bays and beaches
Galiano is an island paradise that is home to many beautiful bays and beaches. Visit the most popular bays or explore the shoreline by kayak and discover lesser-known spots and hidden gems.
Bellhouse Provincial Park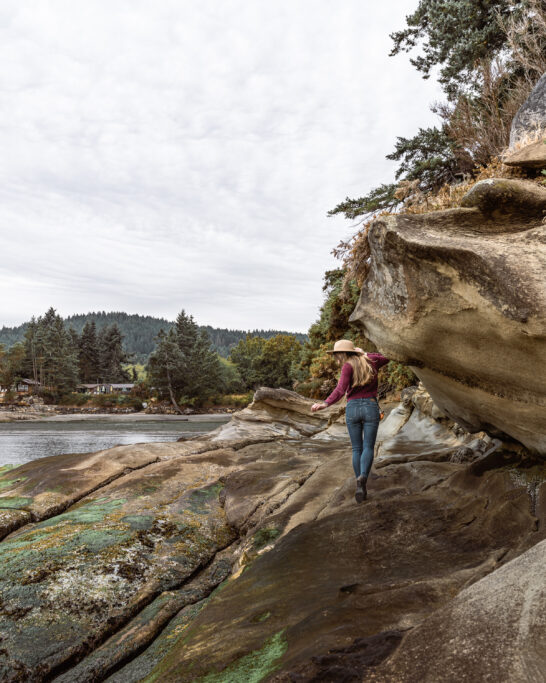 Fresh off the ferry and after a quick stop for coffee, we headed first to Bellhouse Provincial Park where we encountered the sandstone shorelines Galiano is so famous for.
Facing the open waters of Georgia Strait, you'll find a wide stretch of sandstone formed during the Devonian period from 450-360 million years ago, when the earth was covered in ice sheets that used to cover Canada and parts of the northern United States. The stone is now exposed at low tide, and hikers can appreciate its beauty as they walk along the shore.
Retreat Cove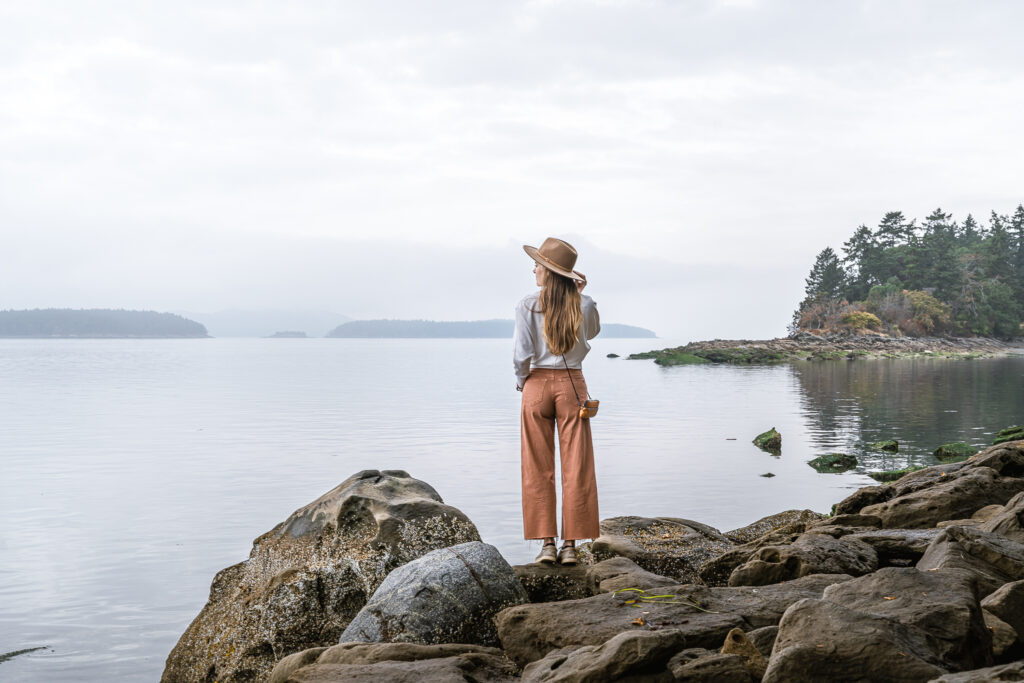 Retreat Cove is a beautiful spot located at the midpoint of Galiano Island and amidst its surreal rock formations, you'll find a small, hidden sandstone cave. Even though it features on many blogs and Instagram posts, there's some controversy and misinformation surrounding this picturesque spot.
If you are approaching the cave from the road you will pass through private property, and signs are placed at the jetty warning trespassers. But that hasn't stopped people from exploring the area, including going into the cave.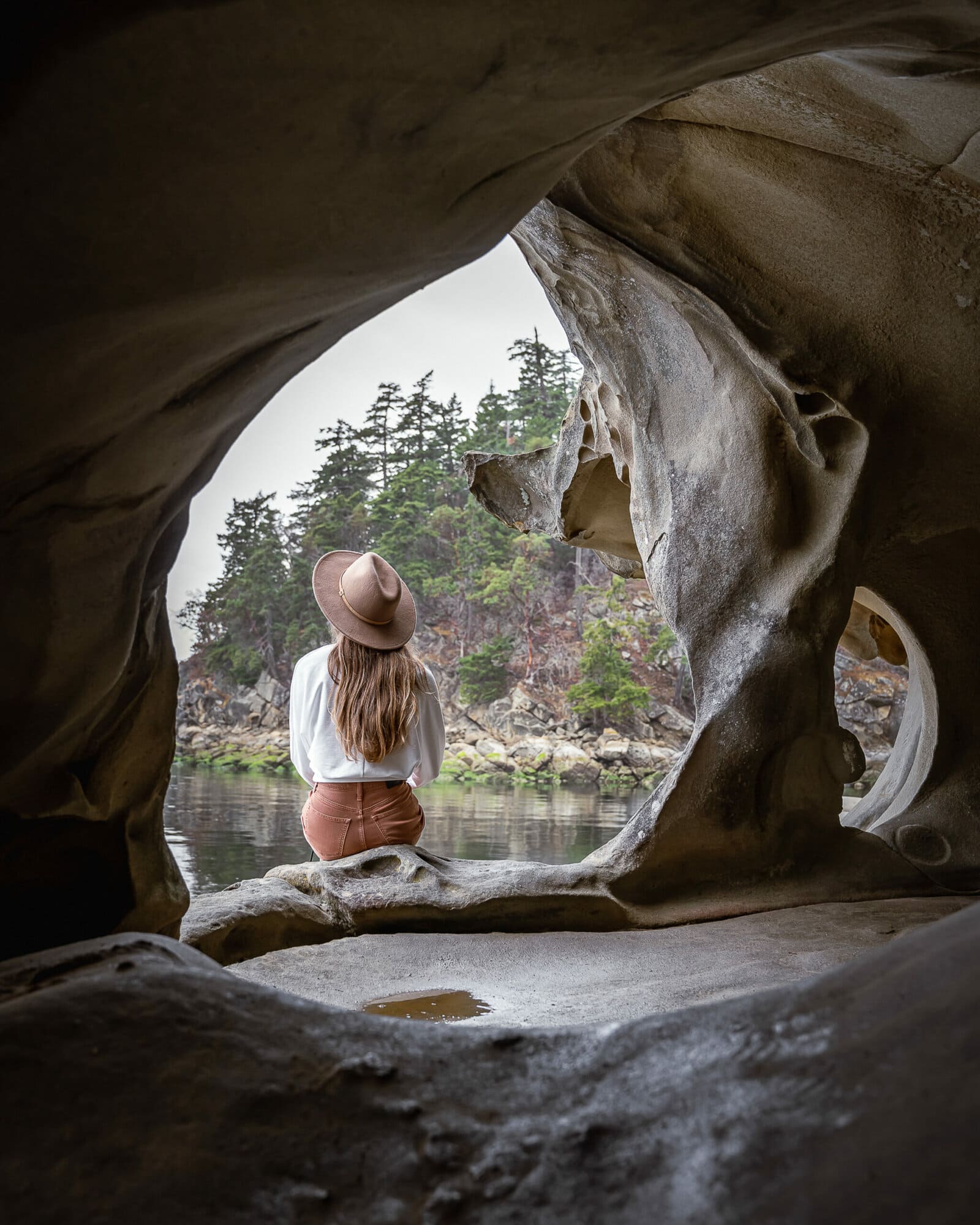 To avoid trespassing on private property you can approach the sandstone formations from the water, or walk up to the shoreline through public property and continue walking on the foreshore towards the caves. The foreshore is the land between the high and low watermarks of the ocean and is owned by the Province in BC.

In common law, the public retains the privilege to access the foreshore. In this case, if you visit the cave by accessing it from the water or walking on the foreshore, you wouldn't be trespassing on private property. For more info on foreshore and aquatic Crown land ownership in BC, check out this page. Another excellent page regarding who owns foreshore land can be viewed here.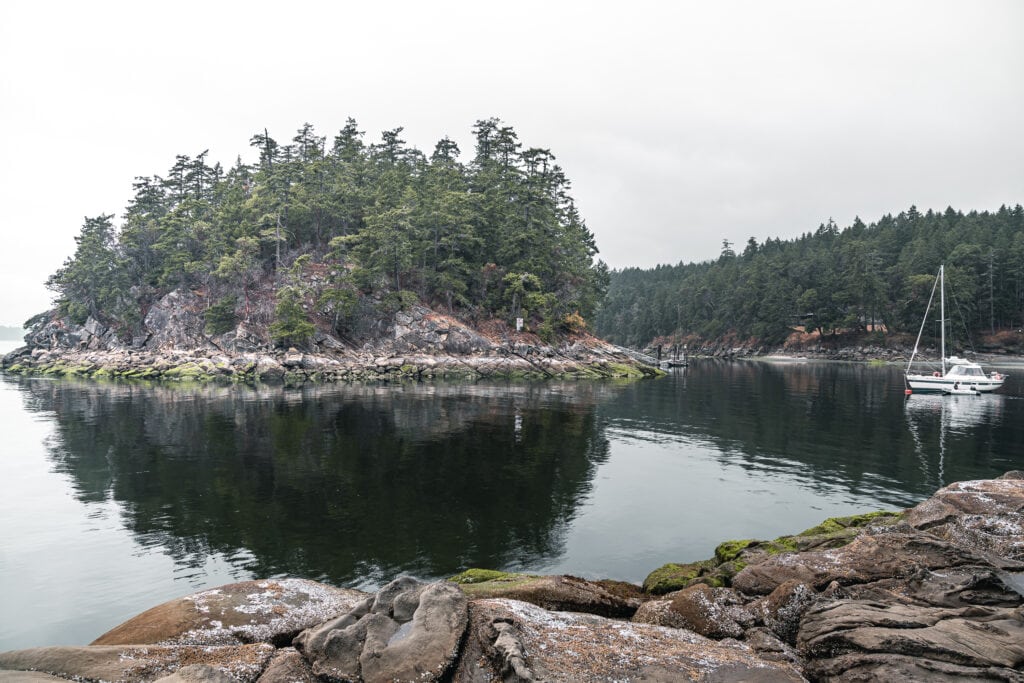 This cave was probably formed around 10-20 million years ago by sandstone with high silica content eroded by wind and rain. Now it's left with smooth-walled recesses and shallow pools of water, making it a wonderful spot if you time your visit right.
Luckily, we were able to enjoy the cave for about 15 minutes before the next group of visitors arrived, allowing us to take photos and marvel at the sheer beauty of these sandstone formations.
Dionisio Point Provincial Park
A Marine-Only Provincial Park, Dionisio Point Provincial Park features rugged headlands surrounded by sandy beaches and picturesque bays. At Dionisio Point, a diverse and unique shoreline includes sculpted sandstone shelves, pebble and sand beaches, and meadows blooming with wildflowers.
Technically, you can visit the park from inland, but you would be trespassing on private land.

Not wanting to trespass, and unfortunately having no time to make our way to the park from the water, we opted out of visiting Dionisio Point Provincial Park. However, if you have the time, the park is worth a visit for the many beautiful hiking trails and stunning bays and beaches.
Get out on the water
Galiano has much to offer, but get on the water and you'll find even more hidden treasures.
Kayaking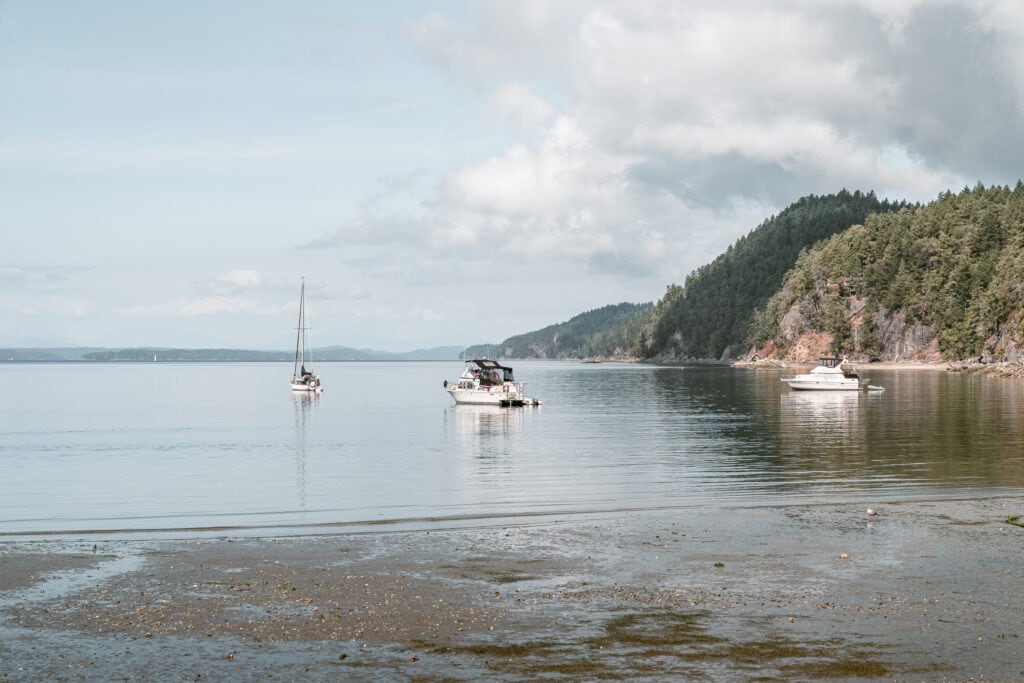 Kayaking around Galiano Island can be an excellent way to get outdoors and admire the sandstone coastline from a new perspective. Apart from the coastline, there are several offshore islands and islets to explore, perfect for a kayak adventure.
There's a wharf and mooring buoys at Montague Harbour Park, and many kayakers make this their home base. Other places to go kayaking on Galiano Island include Parker Island, Ballingall Islets and Prevost Island, which all offer protected anchorages.
Keen to get out on the water, we rented a kayak at Montague Harbour from Gulf Island Kayaking, one of the oldest sea kayak outfitters in British Columbia, which has been operating since 1985.
We paddled around the harbour and nearby islands for a while. The sandstone cliffs were the highlight of our paddle, with small cave-like alcoves begging to be explored.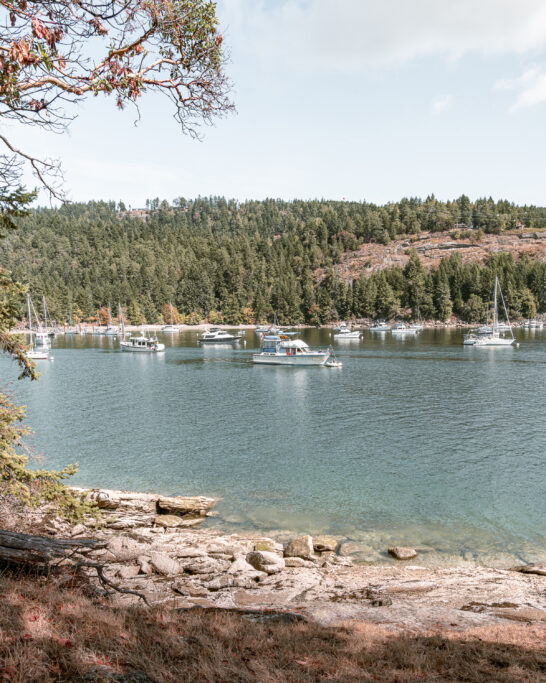 Swimming
The west coast of Galiano Island has several good swimming areas. On the west side, you'll find Montague Harbour Marine Park, Morning Beach and Pebble Beach. On the south, you'll find another great swimming spit at Georgeson Bay.
Scuba Diving
British Columbia is one of the best places to dive in North America and Galiano Island's clear waters and unique underwater landscape make it a divers' paradise.
Optimal diving conditions happen when there's good visibility which is hard to predict. Sometimes there are plankton blooms or river run-off that decreases visibility. But the time frame for the best visibility is usually October through early March.
There are several popular scuba diving destinations near Galiano Island, including Active Pass, Porlier Pass, Trincomali Channel, Lighthouse Bay and Ballingall Islets.
Where to eat on Galiano Island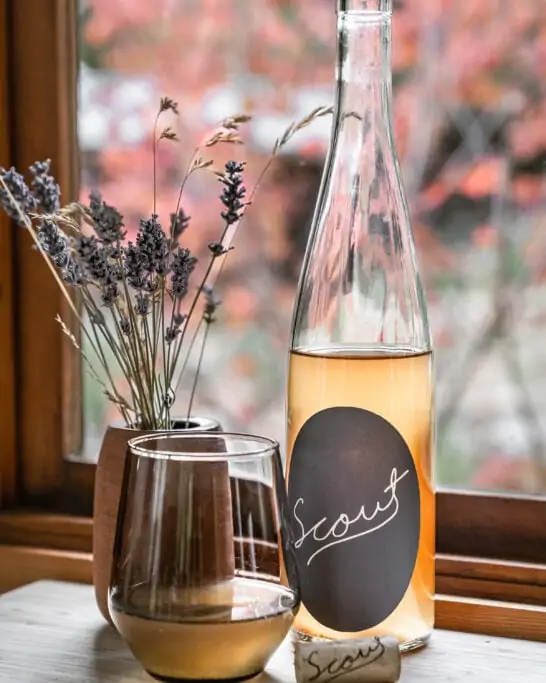 The island is home to some outstanding lunch and dinner places, from quick lunch spots to an award-winning restaurant.
Crane & Robin: This bar and restaurant is located right by Montague Harbour so it's an ideal place to watch the activity along the water while enjoying a beautiful sunset.
Babes in the Woods: Charming spot for a quick lunch, offering comfort food and delicious pizzas. Before hiking Mount Galiano, we grabbed a pizza from Babes and enjoyed a picnic by the ocean before our workout.
Pilgrimme: For a quintessential PNW experience, book a table at Pilgrimme. Set in a beautiful cabin, tucked away in a quiet forested part of the island, Pilgrimme offers a unique farm-to-table experience, focusing on local produce with a unique twist. Make sure to book in advance as the restaurant is very popular!
Charmer's Pizza: If Pilgrimme is fully booked, head to the back of the restaurant where Charmer's pizza is located. Here you can feast on naturally leavened sourdough pizzas, either on their patio or as takeaway to enjoy back at your cabin.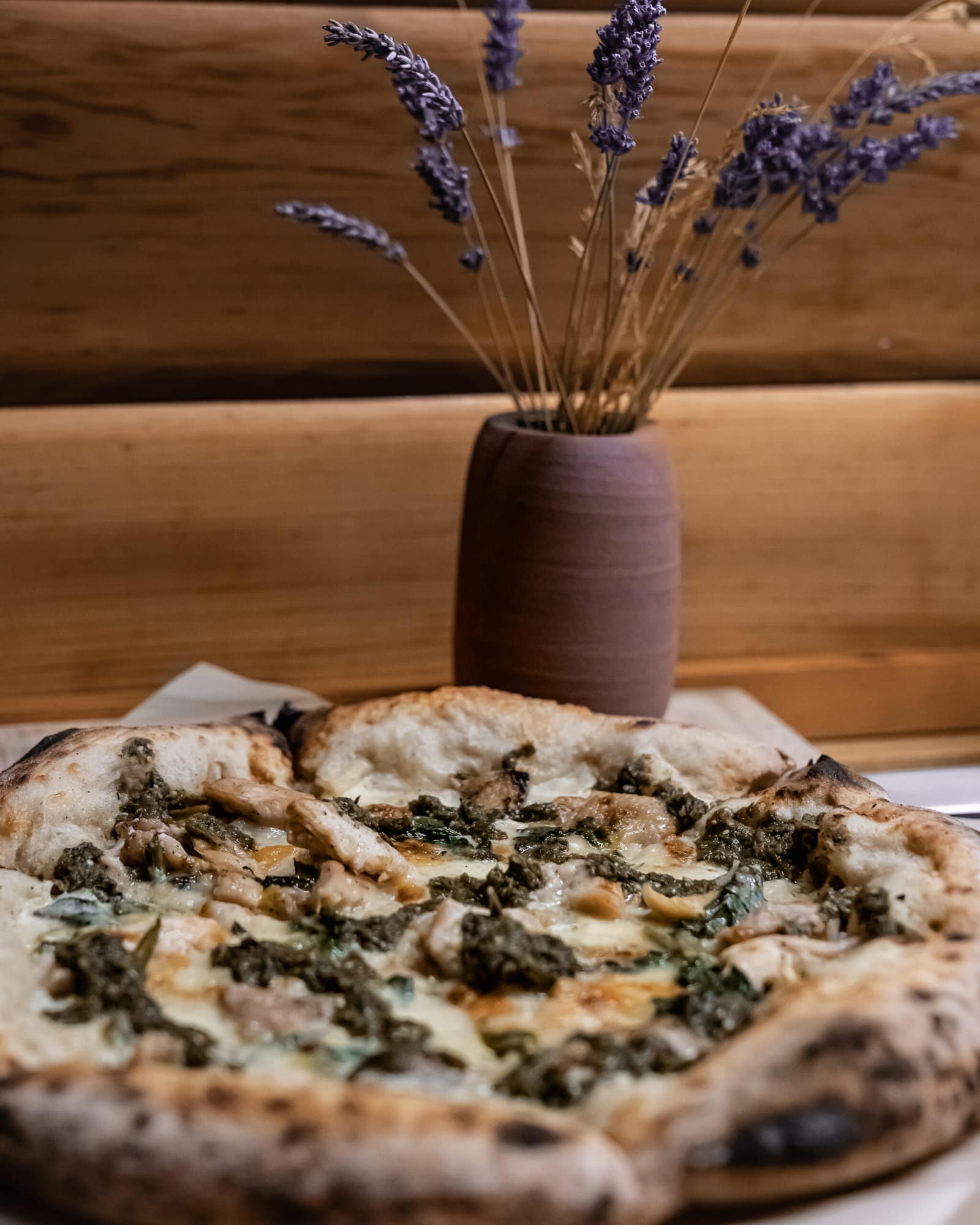 Atrevida – Serves contemporary west coast cuisine right by the ocean. At this popular spot, you will be blown away by the sweeping vistas of Active Pass. Dinner features locally sourced ingredients that are transformed into innovative dishes with many vegetarian options available. We booked a table at Atrevida on our first night on Galiano; the food was great, the service was friendly and the views from the dining room were excellent.
Woodstone Restaurant: The restaurant offers European-inspired dishes with local ingredients. Enjoy your meal in the dining room or on their patio with beautiful views over uninterrupted acres of valley and farmland.
Where to stay on Galiano Island
Galiano Island is a unique destination for a relaxing getaway. Whether you are looking for a luxurious hotel or a cute bed and breakfast, Galiano has a wide variety of accommodations to fit your needs.
Bodega Ridge & Bodega Cove
We stayed at Bodega Cove during our fall getaway and we couldn't recommend it enough. These lovely 1960s-era Panabode cabins have been recently renovated and include modern design features such as a deep soaker bath and design lighting fixtures while maintaining a rustic flare.
Woodstone Manor
The Woodstone Manor is a modern inn built on a private 9-acre parcel of land. The accommodations are peaceful and cosy, and guests enjoy views of the forested property, quiet nature trails and evening drinks by the fireplace on the restaurant's patio.
Galiano Inn and Spa
Located by the ocean, the Galiano Inn and Spa offers sweeping ocean views and wood-burning fireplaces in each suite and villa. The Inn also boasts a restaurant and spa, giving their guests a complete package for a romantic getaway.
LOVE IT? PIN IT!