When deciding on a destination for a weekend away a few weeks ago, Northern Ireland was a serious contender. Being only 1 hour away by plane from London meant we could fly on Friday evening after work, and still enjoy an evening in our destination.
Apart from being so close to London, the lush green landscapes, beautiful coastline and Game of Thrones filming locations, persuaded us to buy the plane tickets.
We arrived at our apartment we booked through airbnb just after 10 yesterday. The flat is situated in a more residential area, a brisk 20 minute walk from Belfast city centre. The weather was warmish, but the light drizzle made us want to cosy up inside as soon as possible.


After a very relaxing morning, we saw the clouds parting and the sun making an appearance. We decided to pass on the hop on-hop off bus, after a few negative experiences in other cities, and wrote down the areas we wanted to visit.
Belfast castle was up first. To be honest, we had no idea what to expect, so we were pleasantly surprised when our taxi approached Cavehill, where the castle was built against the slopes of the hill.

The current castle was built from 1811-1870 and is popular as a party and wedding venue. But our main attention was drawn by the views of Belfast and Belfast Lough. However, if you want better views, and feel up for a hike, you can make your way up one of the trails on Cavehill. If you're lucky, you can even see the Isle of Man and Scotland from the top.

I really enjoyed the walk through the forrest which opened up to a clearing called 'Devil's punchbowl', where you get a pretty good view of the top of Cavehill and 2 cave entrances. We made our way to one of the caves, and, encouraged by a couple already at the entrance, we climbed up the rocks to the cave.
I was wearing boots…with high heels…
In my defence, we never thought we were going to hike, let alone climb some rocks. Luckily, no accidents happened and we got back down without any scrapes or bruises.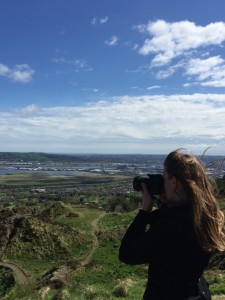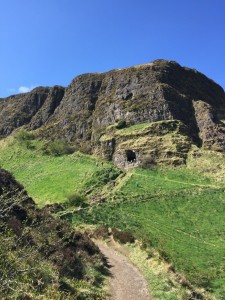 After our little hike, we made our way to the city centre where we visited st. George's market, strolled around the shopping area and grabbed a late lunch.
Our first day in Belfast turned out to be better than expected, mainly because the weather turned out to be sunny and not too cold, but I also thoroughly enjoyed my time on Cavehill.
I can't wait for tomorrow to come, where we'll be joining a tour to the Giant's Causeway, a Unesco world heritage site in the north.