It's not a secret that a visit to Venice, one of the world's most beautiful cities, is not kind to your wallet. Even when your wage is enough to comfortably pay off a mortgage and you're able to take several holidays a year, you will feel the difference when checking your bank account after your citytrip.
However, it doesn't need to be this way. You can enjoy Venice without breaking the bank and still feel like you've properly taken in what Venice has to offer.
Avoid Dinner At San Marco Square
If there is one place in the world where you should avoid having a meal or a drink, it's San Marco Square. As it is the main square in Venice, with a beautiful gallery surrounding the square as well as St. Mark's Basilica and the Campanile Tower, the place is crawling with tourists, with the restaurants taking advantage of the swarms of thirsty and hungry visitors.
If you feel like sitting on the terrace outside, enjoying the square while watching the tourists, don't be surprised to see inflated prices. A coke will set you back €10 and a beer €13. Don't forget to add the 'couvert' charge on top, which is usually €2 per person, and if you decide to enjoy a drink in the evening, you'll be presented with an extra cost of €6 per person for the privilege of listening to life music while seated.
Our reaction to the prices after sitting down
We just left. For 1 glass of wine and one beer, our total bill would have been €40. Even though we like to spend some money on excellent experiences, this was a little ridiculous.
What we did
If you'd like to enjoy the life music on the square, you can just join everyone else around the restaurant's terraces. As long as you don't sit down, you can listen for free. For drinks, you'll find anywhere else in Venice to be cheaper than San Marco Square. A local recommended the area in the North West of Venice, called Cannareggio, to go enjoy some more normal priced restaurants. My personal favourite (not the cheapest, but cheaper than San Marco), was a restaurant near the Rialto bridge on the banks of the river: Ristorante Riva Del Vin.
Take The Vaporetto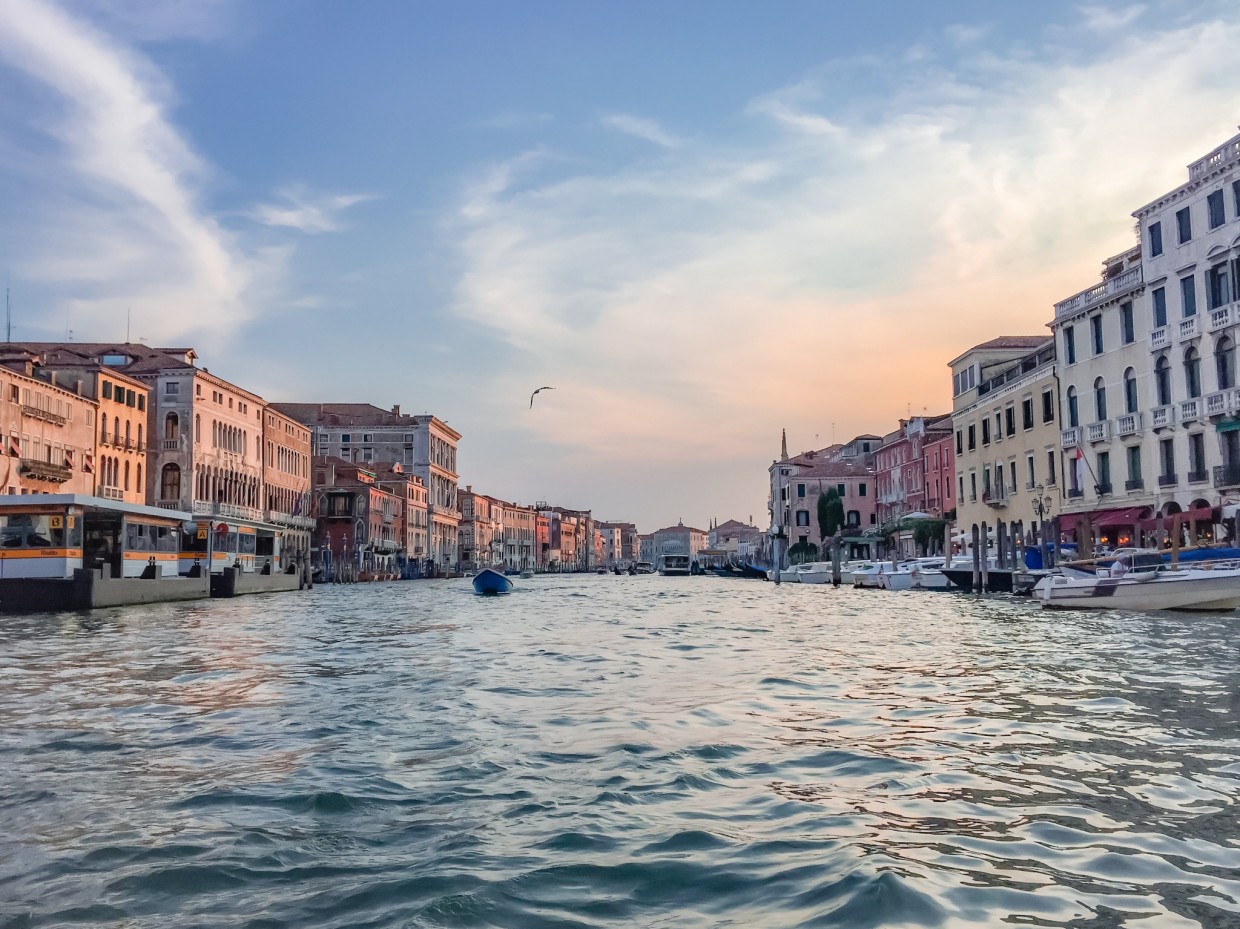 If you don't feel like spending €80 or €100 on a gondola ride but still want to enjoy the waterways in Venice, try the Vaporetto. Granted, this boat trip won't be as romantic or private as a gondola ride, but you can get to see the beautiful houses and architecture from the water for a fraction of the price.
Vaporettos are the public transport buses in Venice. There are several different routes, and buying tickets is easy. We paid around €7pp for a one-way ticket.
What we did
We took the Vaporetto twice. Once from the train station to the Rialto bridge (closest stop to our hotel), and the second time back from our hotel to the train station.
Our evening trip to the Rialto bridge was incredibly busy, and it was hard to enjoy the sights as we were being squashed by the hordes of tourists who had also just landed in Venice and were just as keen as us to get a glimpse of Venice by night.
Our trip back to the train station was so much quieter as it was early morning (around 7 am). The sun was rising, which gave us some great lighting for taking photos, and we were able to walk up and down the boat as there were only around 10 people on it.
Enjoy Take Away Lunches
[one-half-first]
[/one-half-first]
[one-half]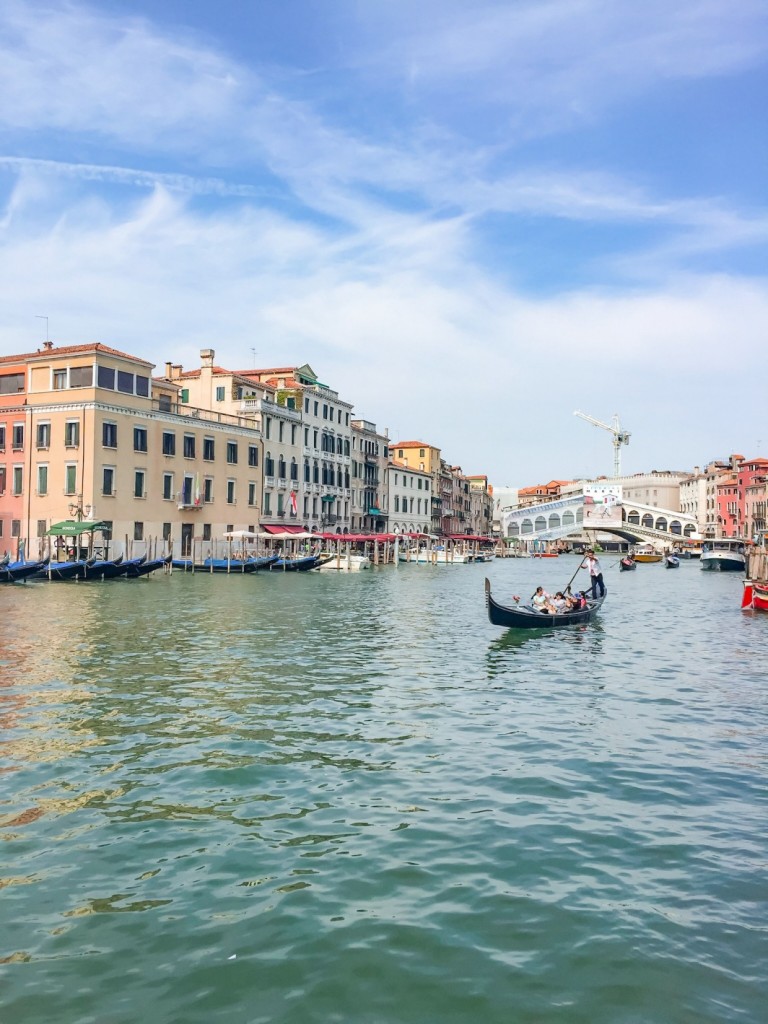 [/one-half]
We didn't mind spending a little bit of money on our dinners, but spending the same amount on our lunches would have created a huge dent in our wallet.
What we did
All around Venice, you can find street vendors or small places selling lunch, slices of pizza and drinks (and don't forget the supermarkets, where you can find everything for a normal price). We decided to buy a slice of pizza and beer, and sit by the water, quietly enjoying the boats and gondolas go by.
The slice of pizza was around €5 and the beer around €4. Not too bad for a lunch, especially if you think about the price we paid the day before for 1 plate of melon and prosciutto and a glass of beer in a restaurant, which was €35!
Centrally Located Hotel?
Hotels in Venice are incredibly expensive, and you don't really get value for money. A 4-star hotel in Venice would hardly be a 3-star hotel anywhere else in Italy. There are however a few gems in and around the centre of Venice if you don't mind cutting back on luxury. You'll be out and about most of the day, but it's always nice to be able to pop back to the hotel for a quick freshen up. Being near the centre saves you time and money travelling back and forth to your hotel.
What we did
We stayed in Venice for 3 days and two nights at the end of July and choosing a hotel was a challenge: Italy, on the whole, is expensive, and our visit to Venice was part of our 3 week trip in Italy.
I don't mind spending a little more on a hotel for 1 night, but when you have to book 10+ hotels, you tend to pay more attention to the cost. We ended up booking a small hotel: Antica Locanda al Gambero, which is quite centrally located. At the time, we managed to book the room with a discount, so it ended up being around the same price as hotels a little more outside the centre.
Travel In Shoulder Season
Shoulder season is generally quieter and cheaper, and this also applies to Venice. Another plus is that the weather is more bearable, as Venice (and Italy as a whole) tends to get sweltering hot during the summer months. Shoulder season starts from Late September to early November and March to May.
Comparing prices on Booking.com, this beautiful Venetian hotel charges £176 per night in November, while it costs £272 in August.
What we did
Unfortunately, we didn't have a choice but to travel in high season. Hotels are more expensive, and flights are more expensive, but there was nothing we could do about it.
Affordable Gondola Rides
A gondola ride can be expensive, but there are ways to make it cheaper. The ride costs €80 during the day and €100 after 7 pm (prices are the same everywhere). The price is not per person, but for the whole gondola. To reduce the cost per person, you can share the gondola with up to 6 people, making it a very affordable experience.
What we did
We decided to take a gondola tour on our own after 7 pm. This meant it would be more expensive, but also cooler and a lot less busy on the canals. The sun was almost setting, while our gondolier took us around the canals and canal grande, which dipped the whole city in a beautiful orange glow.
If there is something you want to spend a little bit of money on, it should be a gondola ride on your own.
Free And Cheap Admissions
There are plenty of free churches and places you can visit around Venice, so you don't need to spend a fortune to absorb some culture.
Two of the more famous churches that are free to visit are the Santa Maria della Salute and St. Mark's Basilica (do reserve a spot online, the queues are long).
Some interesting places worth a look are the Arsenale and Burano. Some state-owned museums have free admissions on certain dates (such as the first Sunday of the month), so check if the museum you'd like to visit has free entry.
If you like visiting museums, then the St. Mark's Square Museums Ticket might be of interest. It includes admission to the Doge's Palace, Museo Correr, Museo Archeologico Nazionale and Monumental Rooms of the Biblioteca Nazionale Marciana, and costs €18.
What we did
We bought the St. Mark's Square Museums Ticket and visited the Doge's Palace. We also visited the Santa Maria Della Salute, but skipped St. Mark's Basilica because of the queues. We were too late to reserve a ticket online, as all places were fully booked for the days we were there.
Walk Around Venice
[one-half-first]
[/one-half-first]
[one-half]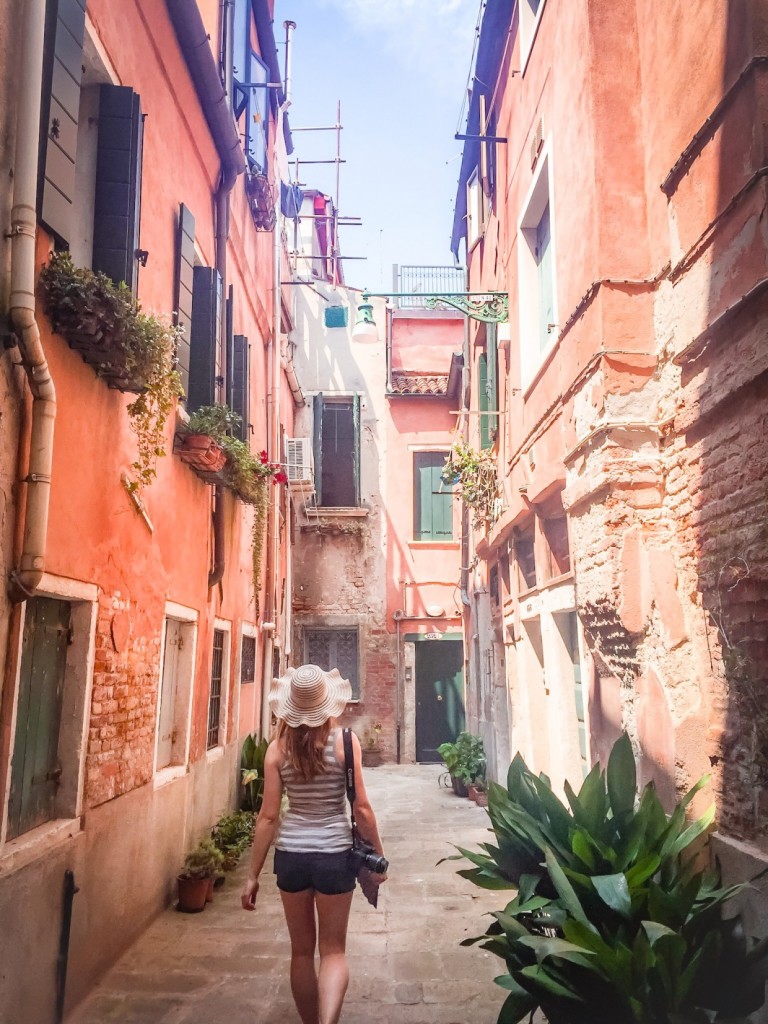 [/one-half]
The best way to enjoy and get to know Venice is to walk. Venice is a UNESCO World Heritage Site, and every street, bridge and house are worth admiring. The whole city is almost like a museum, and is free to explore!
What we did
We walked everywhere. It is fun to explore and meander around the cosy little streets and discovering places we otherwise never would have seen. We got lost in more residential areas and saw how the local Venetians lived, away from the tourists.

Some of the links on this page are affiliate links. If you click and book something through the link, I will receive a small commission at not extra cost to you. I would only recommend products and services I believe in.