I moved to Vancouver at the start of August, and apart from taking a gondola up a mountain, I hadn't really done anything adventurous. This was about to change when I booked a Tinggly Zipline tour in Whistler, a popular mountainous area near Vancouver, for my boyfriend and myself. Tinggly Experience Gifts is all about giving you a unique experience, and this is exactly what I wanted.
Check out Tinggly's whole collection here
We drove from Vancouver to Whistler, a 1,5h drive on the sea to sky route passing gorgeous lakes and beautiful mountain scenery. Unfortunately, we didn't check if there were any events going on the day, and found ourselves in the middle of the biggest bike race in Canada! Instead of a relaxing 1,5h drive, it took us over 3 hours to get to Whistler.
Our patience was properly tested as we were driving at a snail's pace behind a bus. After an hour, we realised we were never going to make it in time, so I phoned the Zipline company and hoped they would be willing to change the time to a later one. Luck was on our side this time, as they were very understanding and moved us to the 12pm group.
After 2 hours, we were able to drive a little faster, the roads widened, and there was no sharing of the road anymore with on-coming traffic. Our moods improved drastically when we finally reached Whistler.
PARKING IN WHISTLER
Parking was not a problem, as there are 4 huge parking lots near Whistler village. Even with the bike race and 1 parking lot dedicated to the storage of bikes, there was still plenty of space available
Whistler is a popular destination all year round. It's a great hub for the adventurous with numerous hiking trails on the Whistler and Blackcomb mountains, quad biking tours, mountain-biking and winter sports such as skiing and snowboarding. It's also perfect for a family day out, with the ski lifts and gondolas taking you to both peaks and the peak to peak gondola. On the ground, there are plenty of shops and restaurants to keep you busy after your day up on the mountain.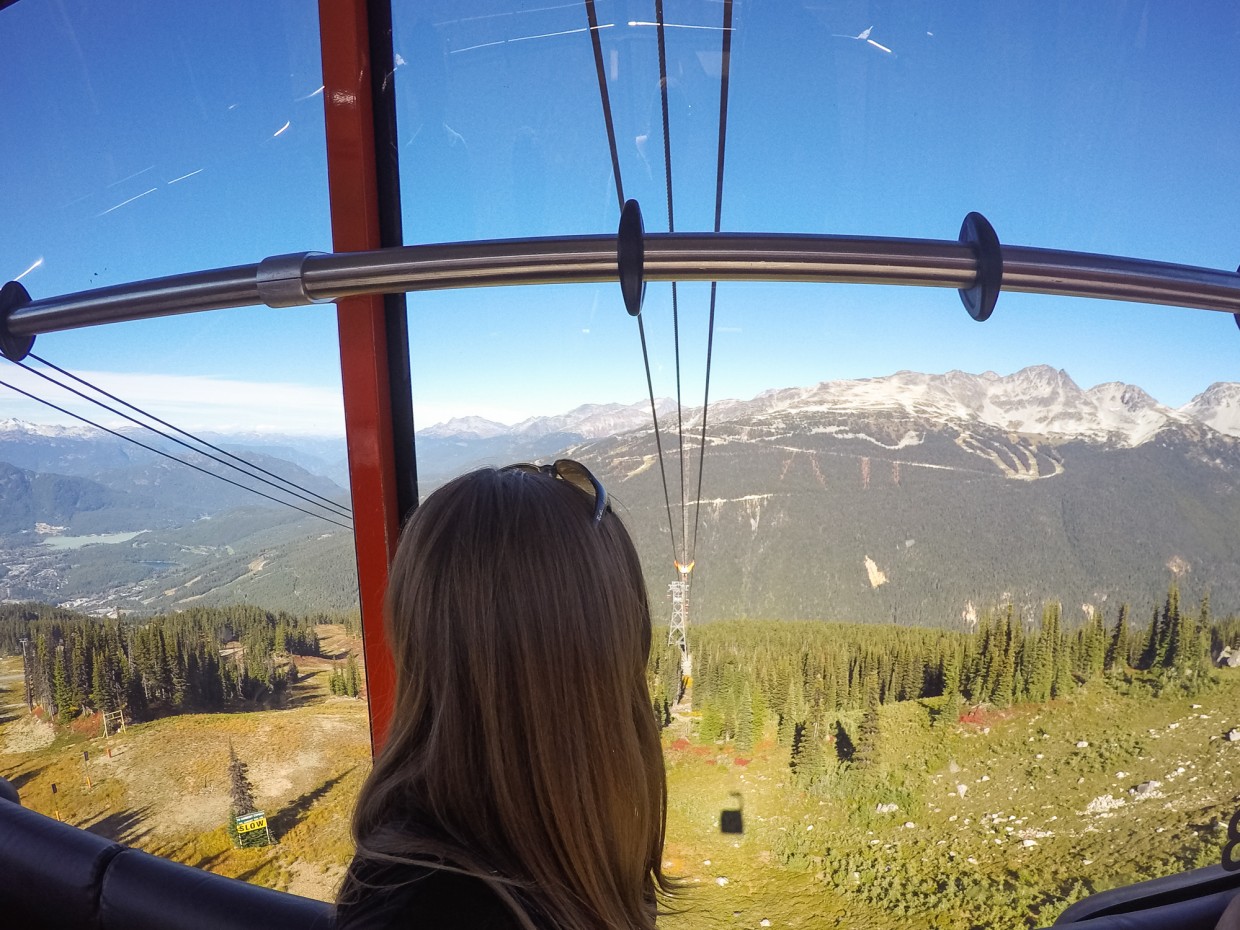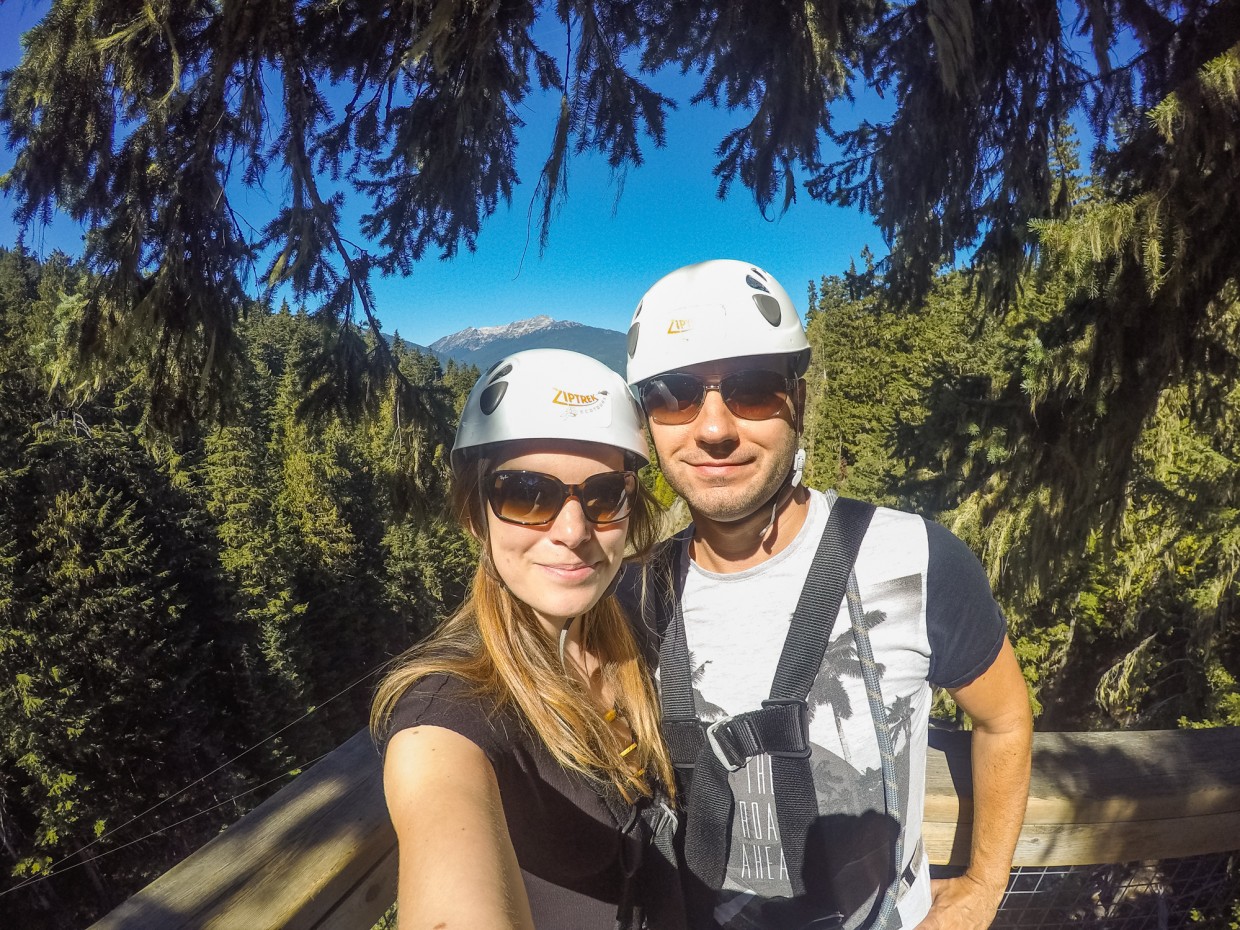 We were booked on the bear tour, which is one of the calmest Zipline tours. It takes around 2,5 to 3h and you'll be going on 5 Ziplines.
After signing the waiver at Zipline's desk, we made our way to the tent where we were strapped into our harness and given some pointers to be aware of while zipping through the air. Our group consisted of 10 people + 2 guides. We were all ushered into a small bus which took us to an area between Whistler and Blackcomb. On the way, one of our guides gave us some info about the area, the mountains and its inhabitants. And on cue, a black bear made its appearance next to the road.
BEARS IN WHISTLER
There are between 50-80 black bears around the Whistler area. They usually stay away from people, especially when in group. Make sure you don't have any food out, as this will attract them.
After getting off the bus, we walked through the dense forest, with only a few sunrays coming through the pine trees, up to our first zip line. The whole group was getting more excited and a little nervous, as our guide explained the whole procedure. We basically didn't have to worry about anything. Our guide would strap us on and all we had to do was step down the stairs and off we went.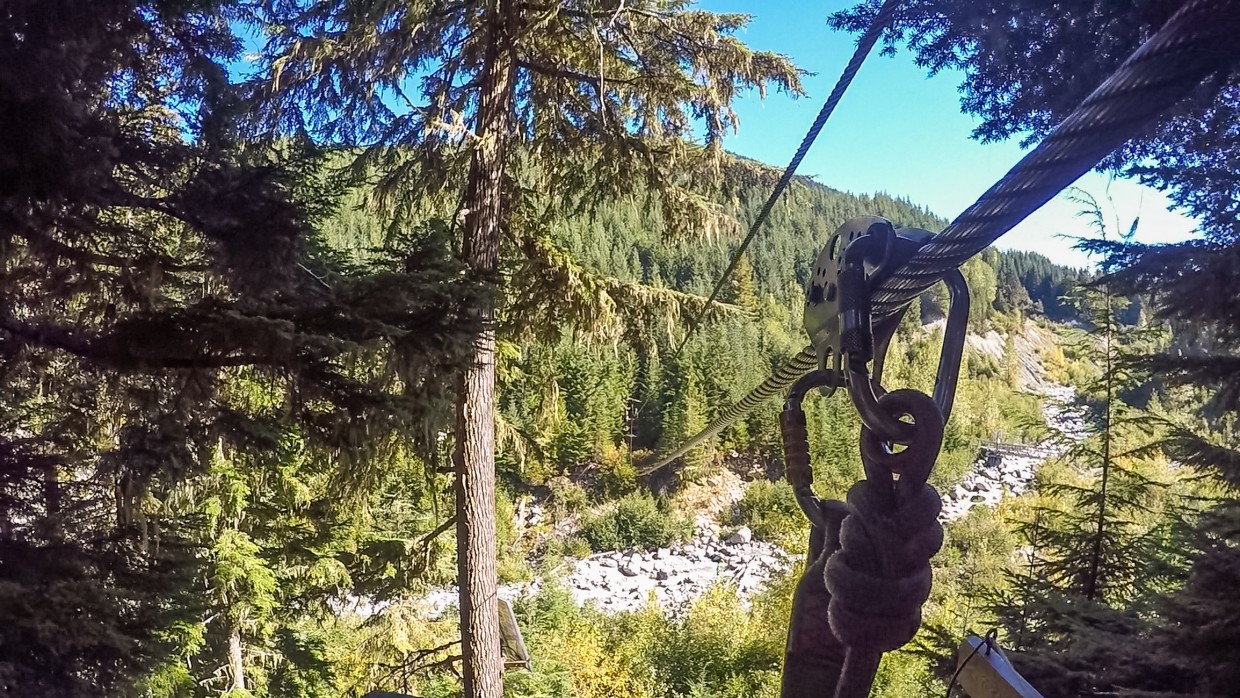 The first zip line was, in my opinion, a warm up. Slow and not very long. My fear disappeared almost instantly as I was zipping down the line. It was over in an instant, and before moving on to the next one, we had to wait for the whole group to zip to the other side.
The next lines were more interesting. We walked through a maze of walkways and suspension bridges up in the trees, while our guides talked about the different trees and birds in the area. We arrived at a high point overlooking the tree filled valley with an unusual blue coloured river meandering through.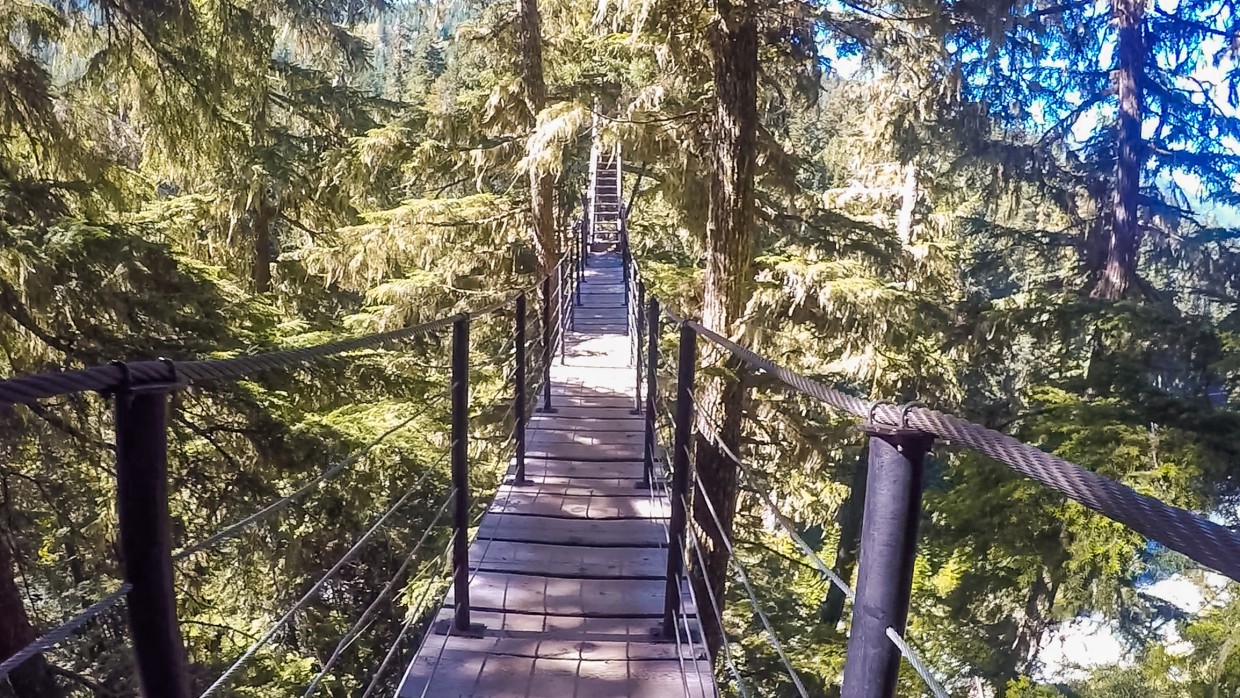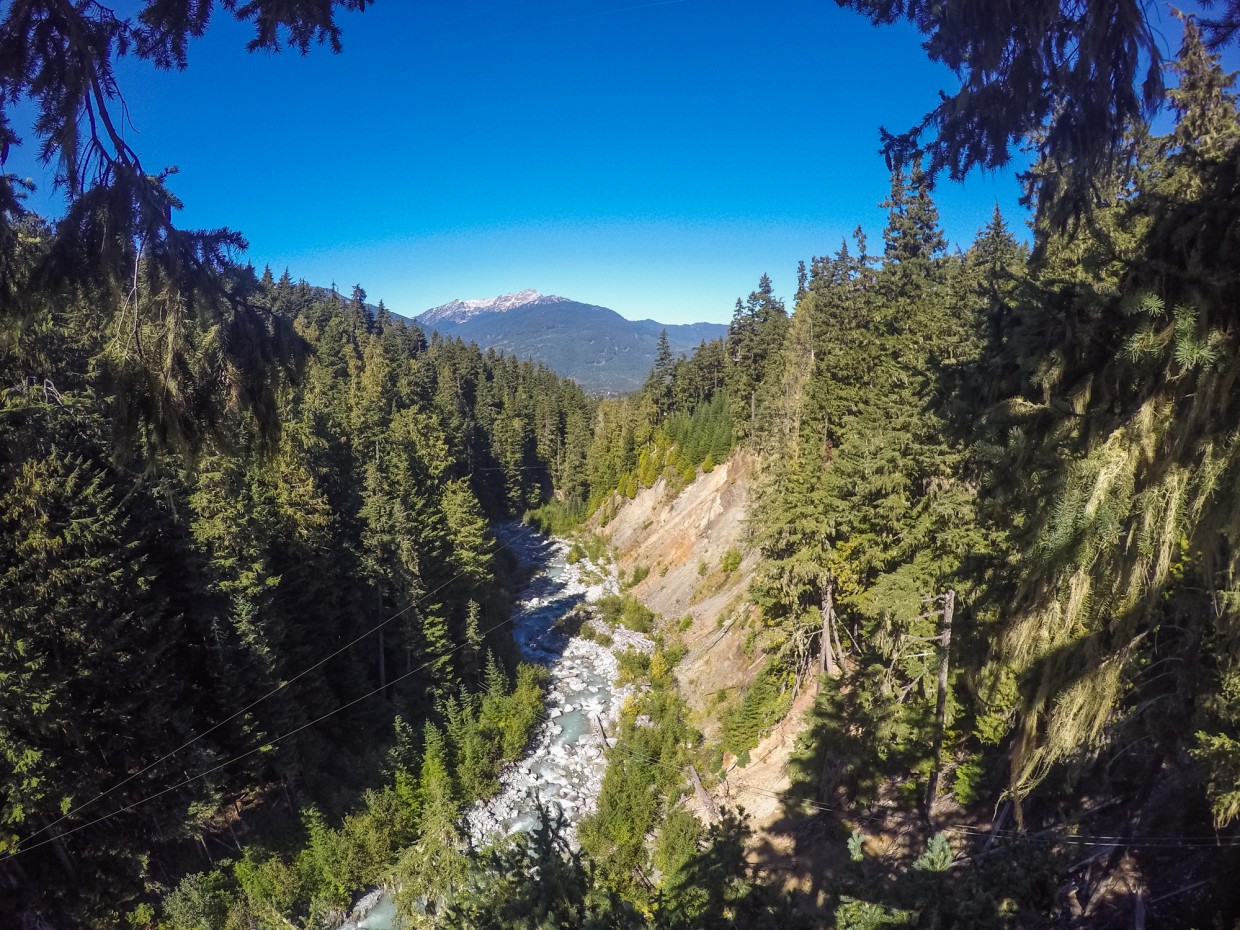 This is where we would Zipline next.
The views were spectacular, and the speed much faster. I had a lot of fun soaring through the air, and judging from the screams and laughter, my fellow zipperswere having a great time as well. The last Zipline was the fastest and longest. Here our guides showed us a few tricks and how to hang upside down. I wish they had showed us sooner, cause I would have loved to have tried a few of those on all lines.
On this last one I wanted to make the most of the ride, so I went upside down. It's pretty strange, but fun and I definitely recommend it. A dedicated photographer was taking photos of us from the end of the line, so I was hoping I didn't look like an idiot hanging down.
[one-half-first]
[/one-half-first]
[one-half]
[/one-half]
When all of us had arrived safely at the end of the line, a group photo was taken before we stepped back into the small bus and made our way down the mountain.
After taking off our harness, we were able to scroll through the photos and decide if we wanted to buy them or not. It costs $25 to get all your photos on a USB stick as well as the group photo. It's not cheap, but it gives you an angle you are just not able to take yourself, so I bought my photos, and I don't regret the decision.
The group quickly dispersed, and my boyfriend and I decided to enjoy Whistler a little longer by taking the gondola up Whistler mountain. The drive back to Vancouver was perfect, almost no traffic, and as it was golden hour, we were treated to some amazing lighting over the lakes and mountains.
It was the perfect end to an amazing day. Even though I could have handled a little more action, it was definitely enough adrenaline for the others in my group who had never ziplined before.
The area is incredibly beautiful, the guides were knowledgeable and all paths and ziplines were well maintained (they actually looked brand new), so I felt safe the whole time.
If you're thinking of booking this tour, make sure to bring your camera/GoPro, as it would be a shame to miss all the stunning and fun photos/videos you'll be able to take up there.
My zip line experience was organised by Tinggly, however, all opinions are my own and you will always read my genuine thoughts and experiences. If you'd like to know more about Tinggly, check out my post where I announce I'm a Tinggly ambassador.