I always imagined snowshoes to be an essential tool in the past. Necessary equipment to make life easier in snowy regions but is obsolete in modern times. Picture Ethan Hawke in White Fang, strapping huge 'tennis rackets' on his feet to wade through the snow.
Essential for fur traders and for anyone whose life depended on maneuvering through snow, like Ethan Hawke's character, who was digging for gold in the remote Yukon forests. But why would anyone need it now? Why would you go plodding through snow on purpose when we have vehicles these days?
Mount Seymour snowshoeing
Before moving to Vancouver, I had never really heard of snowshoeing. It's a little embarrassing to admit this lack of knowledge, but in my defense, I had never been on winter holidays and never been to ski towns or snowy mountains where snowshoeing activities would be advertised.
When winter arrived in Vancouver, I finally realised hiking in snow is popular, and to my surprise, I loved it. After months of struggling on hikes through the snow around Vancouver, I finally decided that snowshoes would probably not be such a bad idea after all. I saw advertisement for snowshoe trails everywhere, and threw my old prejudices of it being a thing of the past out of the window and decided to give it a go.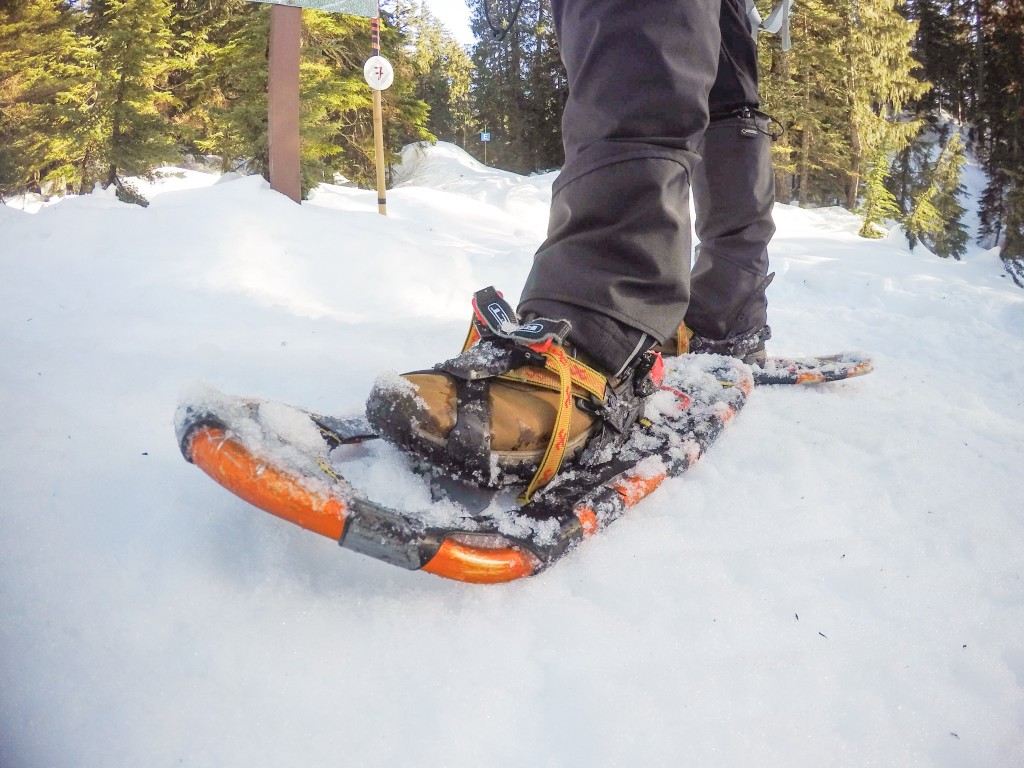 Snowshoeing is amazing! I can't believe I waited this long to give it a try. I could have avoided so much pain and sore muscles on my previous hikes. Joffre Lakes was all snowy and icy. 2 hours of hiking uphill with hiking boots was a huge challenge. This time my boyfriend and I went up to Mount Seymour, the only North Vancouver mountain we hadn't visited.
There are several trails, but we decided to go on the easier one. It was a gorgeous day, the sun was blazing hot and after a few minutes outside I was taking off my thick coat and my fleece sweater soon followed. It's kind of ironic. There you are, on top of a mountain with snow all around you, and you look like you should be on a sunny beach on the Italian coast.
We hiked for 2 hours on the Discovery Trail. Walking on snow is made so much easier with these shoes, and for the first time, I could walk downhill without fear of falling.
Not only is your weight more spread out by the shoes, making it possible to stay on top of packed snow, but there are also crampon cleats underneath the shoes, giving you more grip, especially uphill, downhill and on ice. It made the hike a lot less stressful. The only downside is that walking backwards and turning is quite a bit harder.
I'll definitely be back to explore the viewpoint trail on Mount Seymour before the snow is gone!
Mount Seymour Snowshoeing
Starting your hike: To access the snowshoe trails on Mount Seymour, you need a trail pass.
The trail pass: You can buy a day pass or a season pass. A day pass costs $9.50 for adults and a season pass costs $35
Snowshoe rentals: You can rent snowshoes on the mountain. Prices vary greatly, starting from $18 for a child to $27 for adults. The trail pass is included in the rental price.