I LOVE Christmas markets, and if I had the time and money, I would probably visit all the Christmas markets in Europe each year. Strolling passed charming little wooden chalets in your warmest winter coat, holding a hot chocolate or Glühwein, while festive songs are being played in the background; it's what I look forward to each year.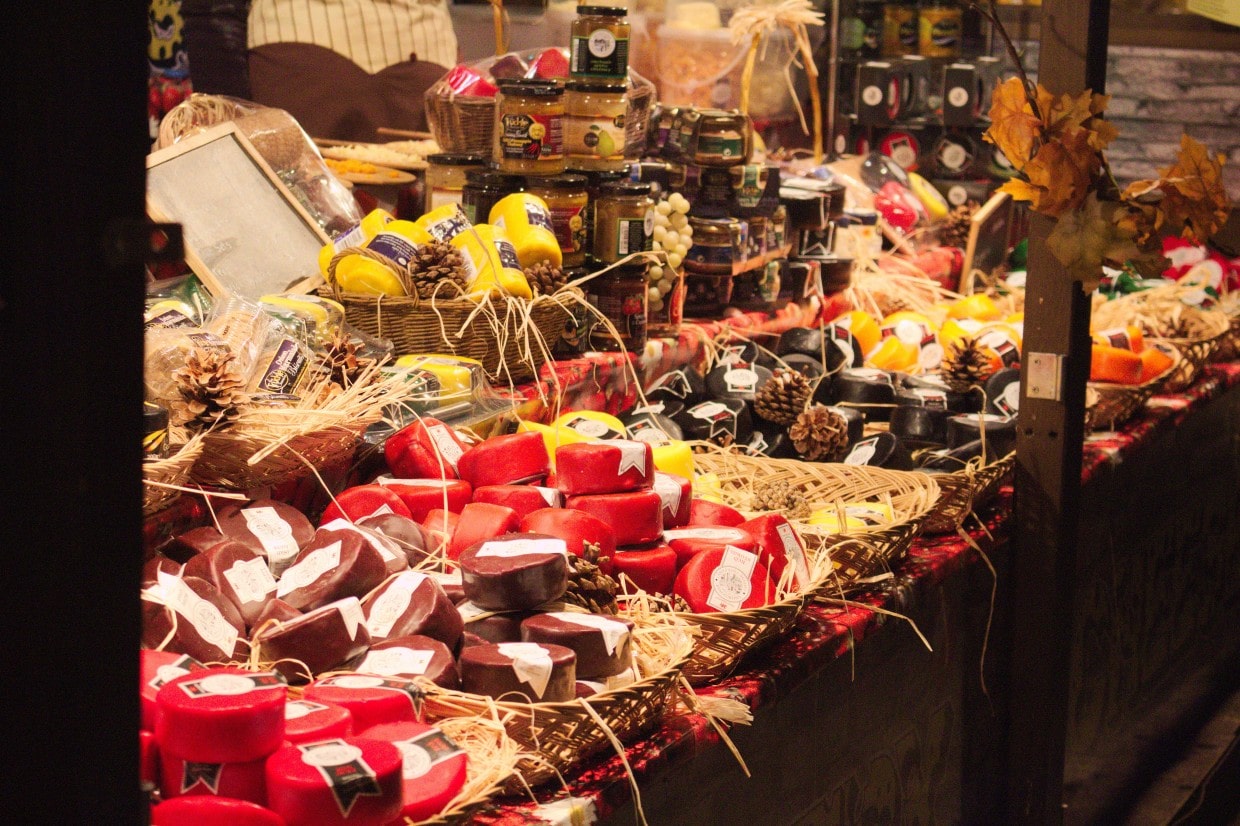 I love the hot-cold contrast and the plethora of smells, such as mulled spices, cinnamon, German sausages and chocolate, that meet you when you find yourself close to a festive market. Everyone is generally in a good mood, and it's very contagious!
I had been looking forward to visiting Winter Wonderland since last year's edition. The official opening was on the 21st of November, but we decided to go a few days later, on a Monday, to avoid the crowds. It turned out to be a very good decision, as the crowds weren't too bad. We didn't have to walk at a world record slow pace or dodge fellow Christmas market lovers while desperately trying to avoid spilling hot chocolate or your bratwurst.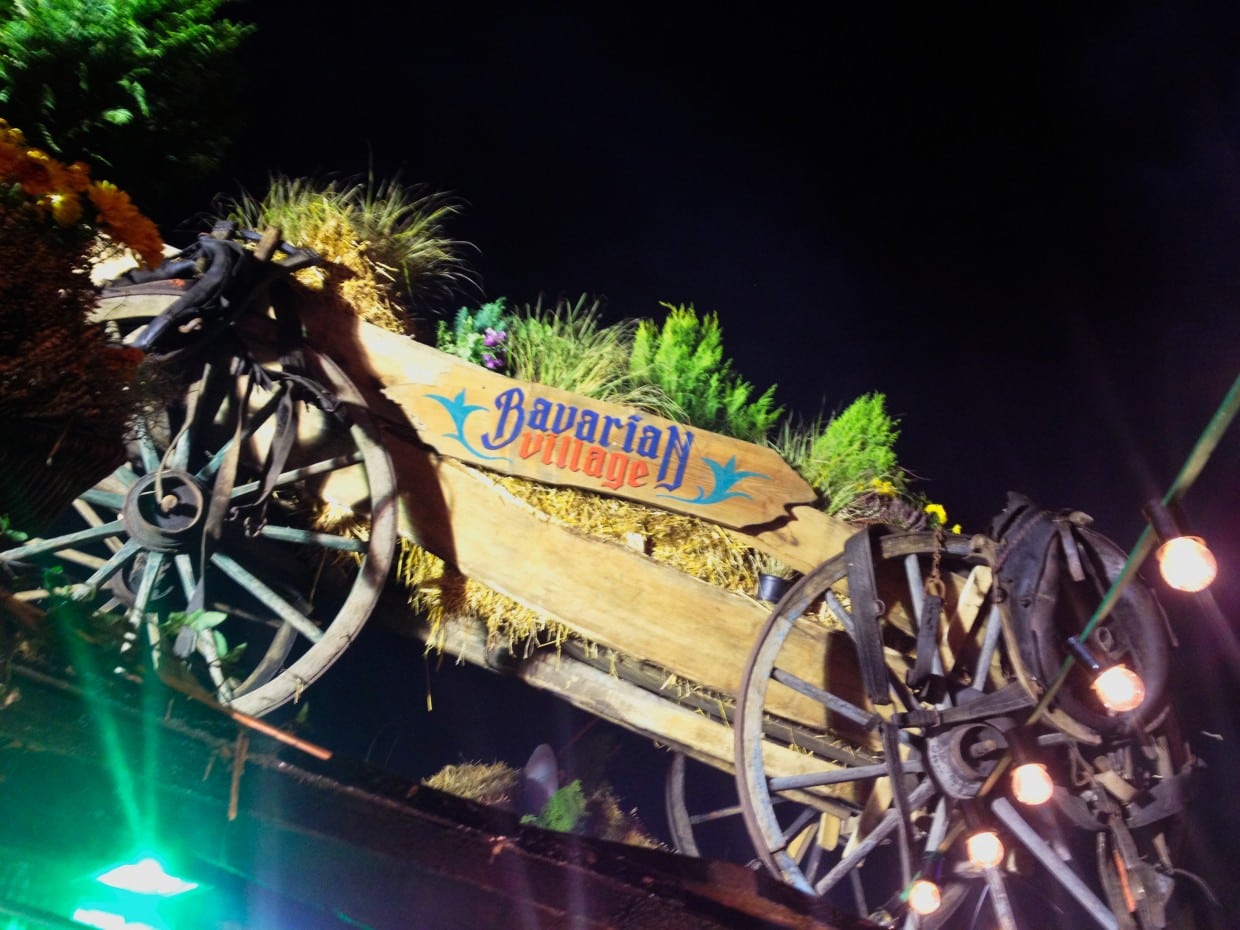 There are a few entrances to Winter Wonderland, but we decided to take the entrance closest to Hyde Park Corner Tube Station. As soon as we walked through the entrance, we found ourselves in the Angels Christmas Market, 2 pathways of wooden stalls selling things like fake fur hats and scarves, wooden carvings, lamps, and lots of hot chocolates. There were some food stalls here, but we thought it was best to walk around a bit more before deciding what to eat.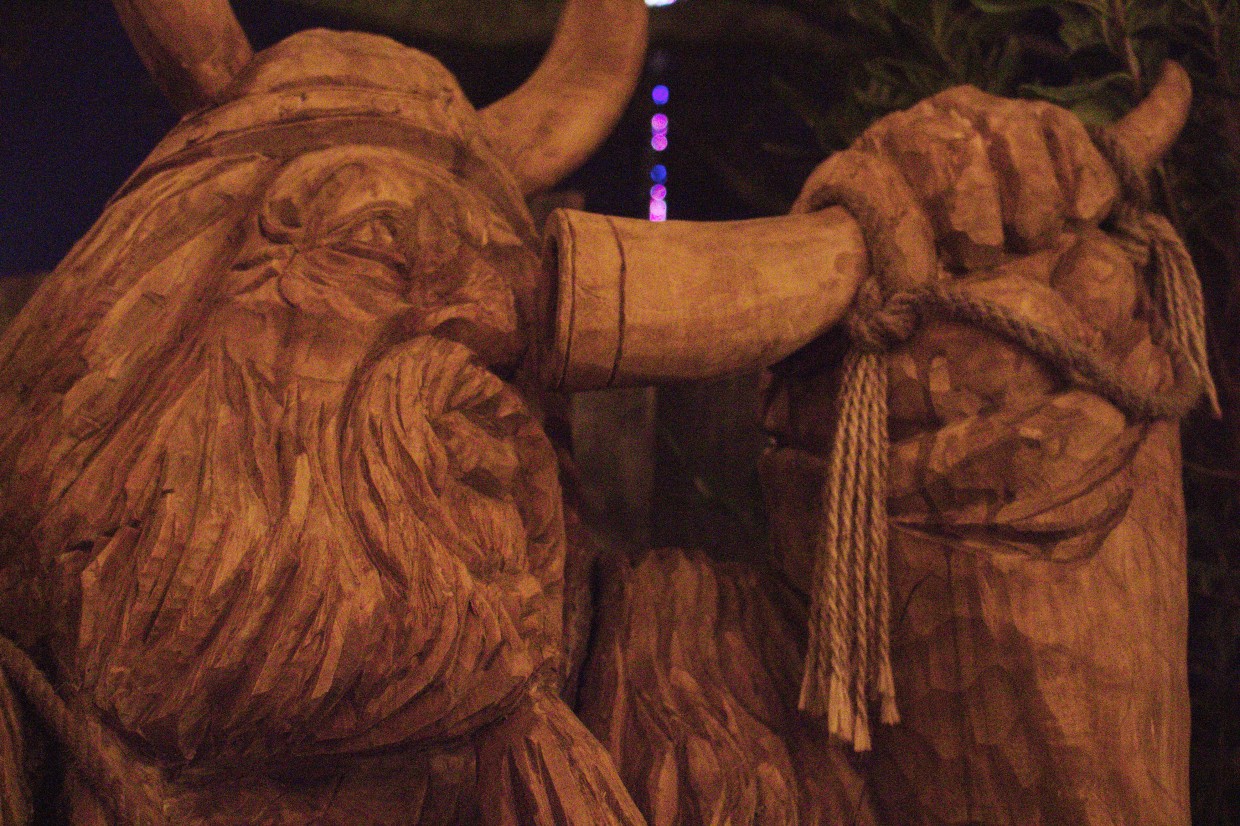 We soon found ourselves at the Bavarian Village. An area where food, drinks and live bands, all German style, are in abundance. The outside area offers seating, a stage and coal fires to keep warm while enjoying some German beer and sausage. We sampled a delicious German sausage with plenty of onions before making our way to the Great Hall in the Bavarian Village.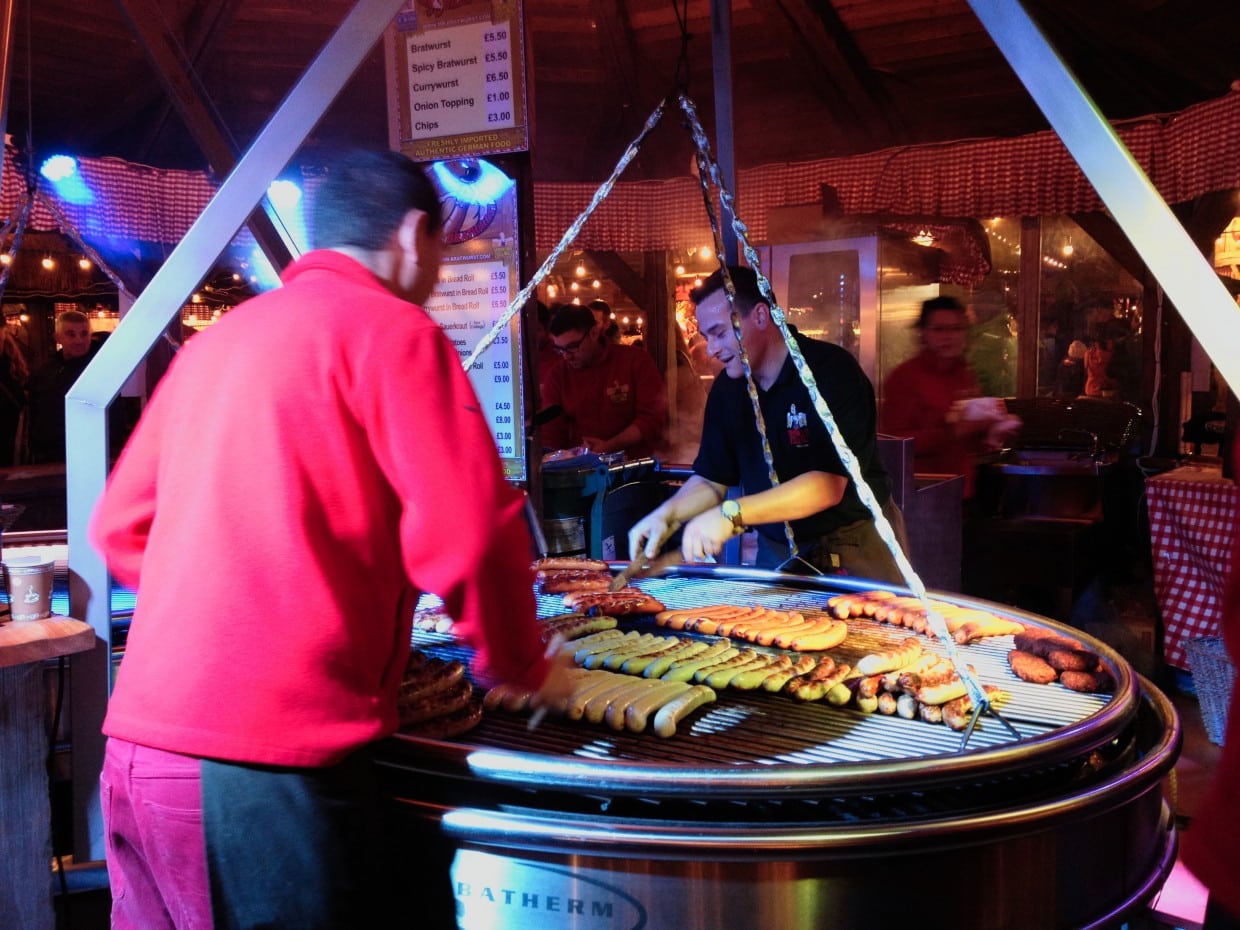 [one-half-first]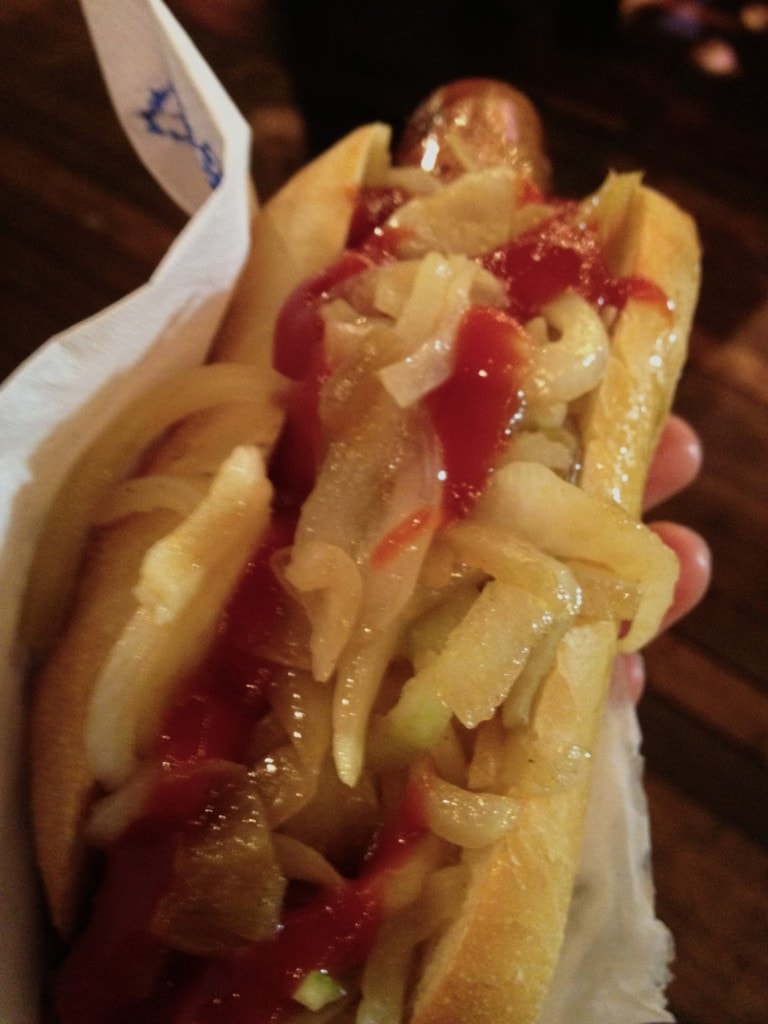 [/one-half-first] [one-half]
[/one-half]
The Great Hall is a gigantic space built out of wood, with lots of seating, bars and a stage. I immediately got transported back to the year 2000 when I heard 'Anton Aus Tirol' being sung by a cover band on the main stage. (If you've never heard of the song, I urge you to look it up!). We didn't stay too long as we wanted to see the whole market, but if we hadn't been in a rush, I would have stayed and danced on the tunes of Anton Aus Tirol.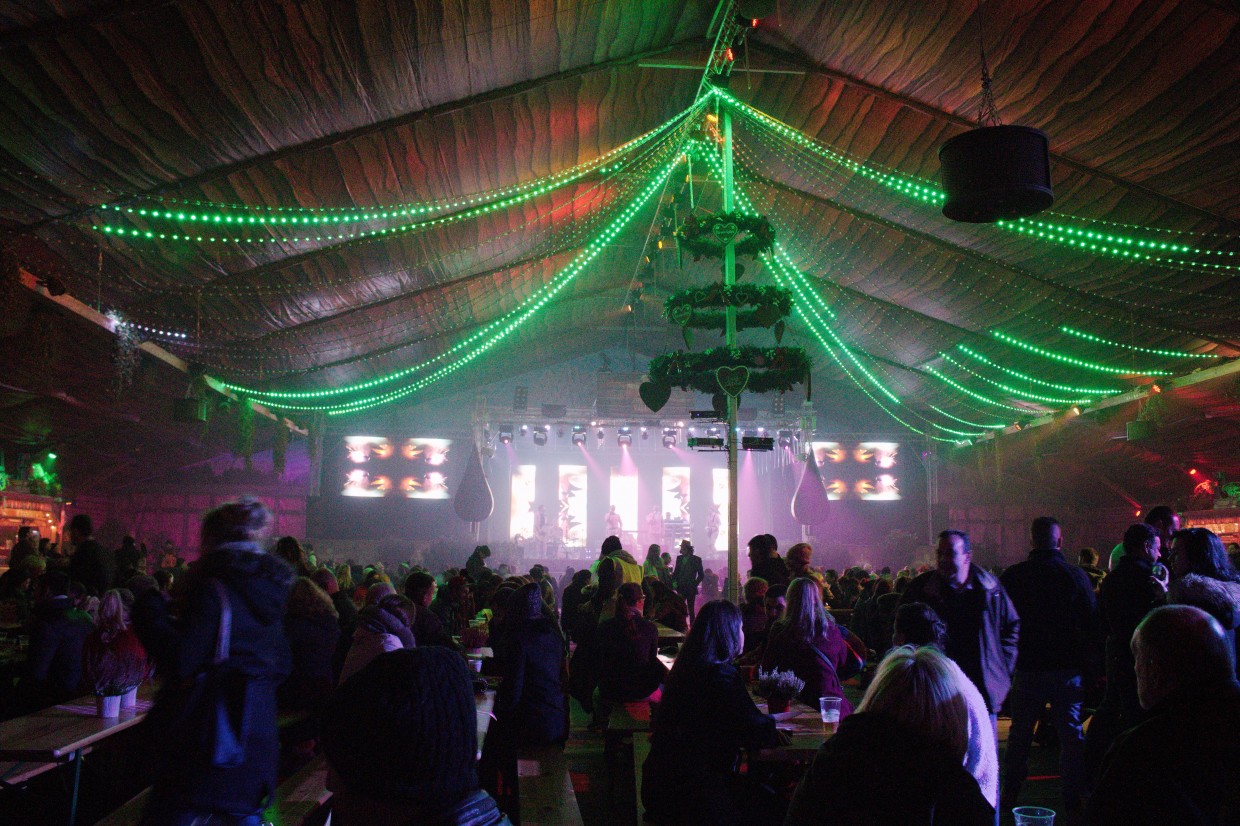 [one-half-first]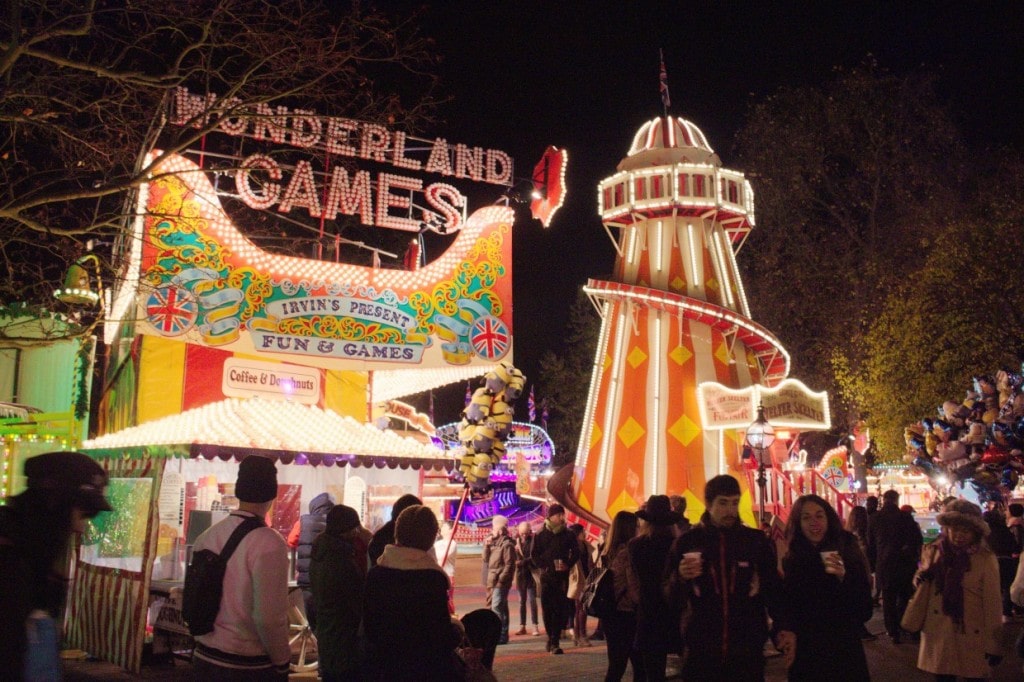 [/one-half-first] [one-half]
[/one-half]
As soon as we left the Bavarian Village, we were presented with a dilemma: A pancake. We had just eaten our sausage, and we weren't sure if we could manage a huge pancake. Unfortunately, the delicious smell was too much, so we queued for one with bananas and one with cherries, both with lots of Nutella. And as we had anticipated, they were delicious! (I'm surprised we managed to keep our greed in check, the pancake and sausage is all we ate in the end, as there were so many enticing food options all around us, it was hard not to try a bit of everything).
[one-half-first]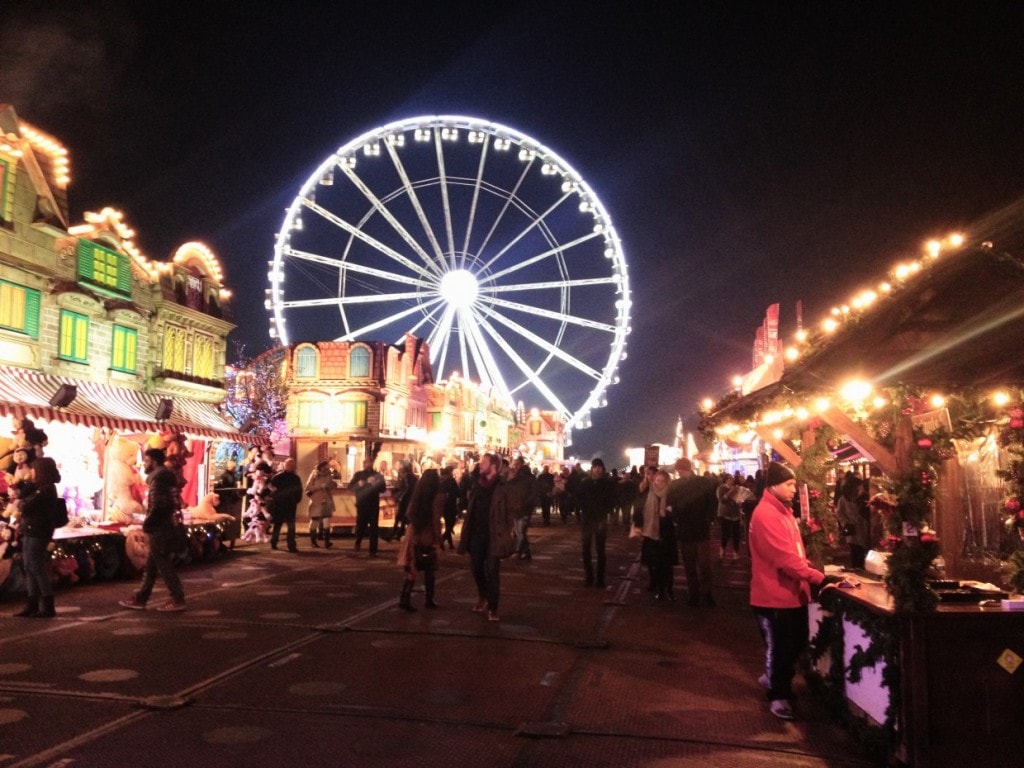 [/one-half-first] [one-half]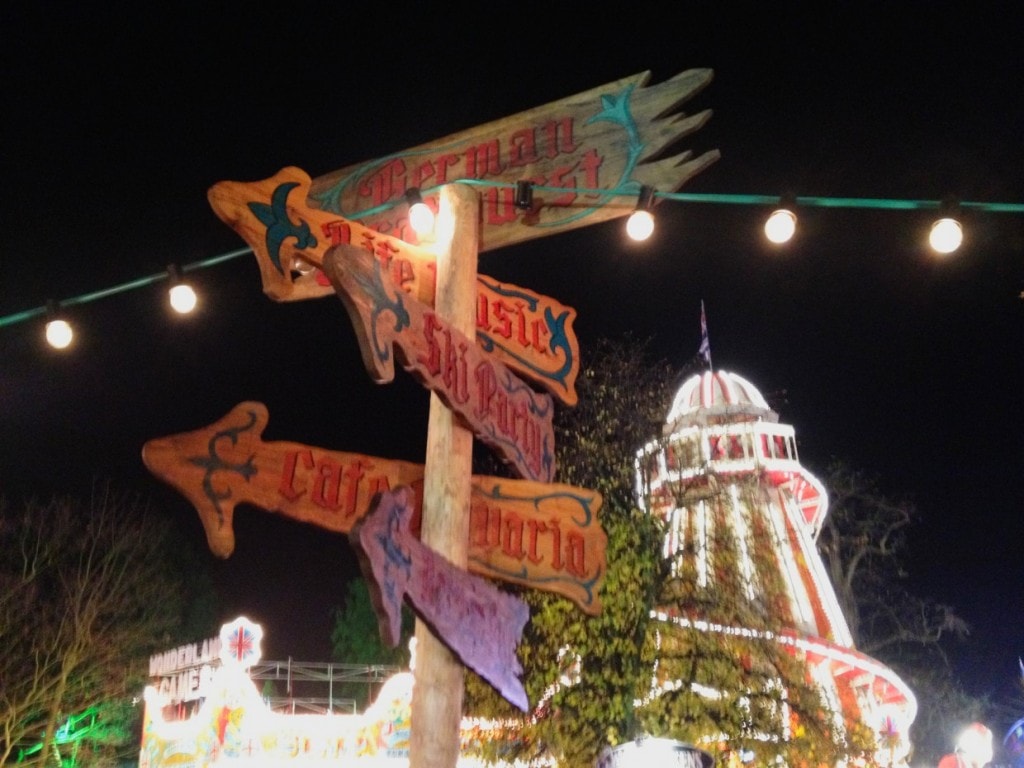 [/one-half]
After filling our stomachs with delicious treats, we slowly made our way to the theme park of Winter Wonderland. We passed many epic rides which we just gaped at, but figured it was best to leave these as it would probably not end well with our full stomachs. The entry to Winter Wonderland is free, but the rides are not. You buy tokens at the dedicated stalls, which you can use to pay for the rides. We weren't thinking of getting on a ride, but after seeing the Ice mountain, we thought it would be fun to at least enjoy one ride.
It turned out to be a pretty awesome ride! You can't see what's happening on the ride as everything is inside, so it was a bit of a surprise, which left me laughing until I got a headache. The photo taken during the ride was pretty epic, and embarrassing to say the least.
[one-half-first]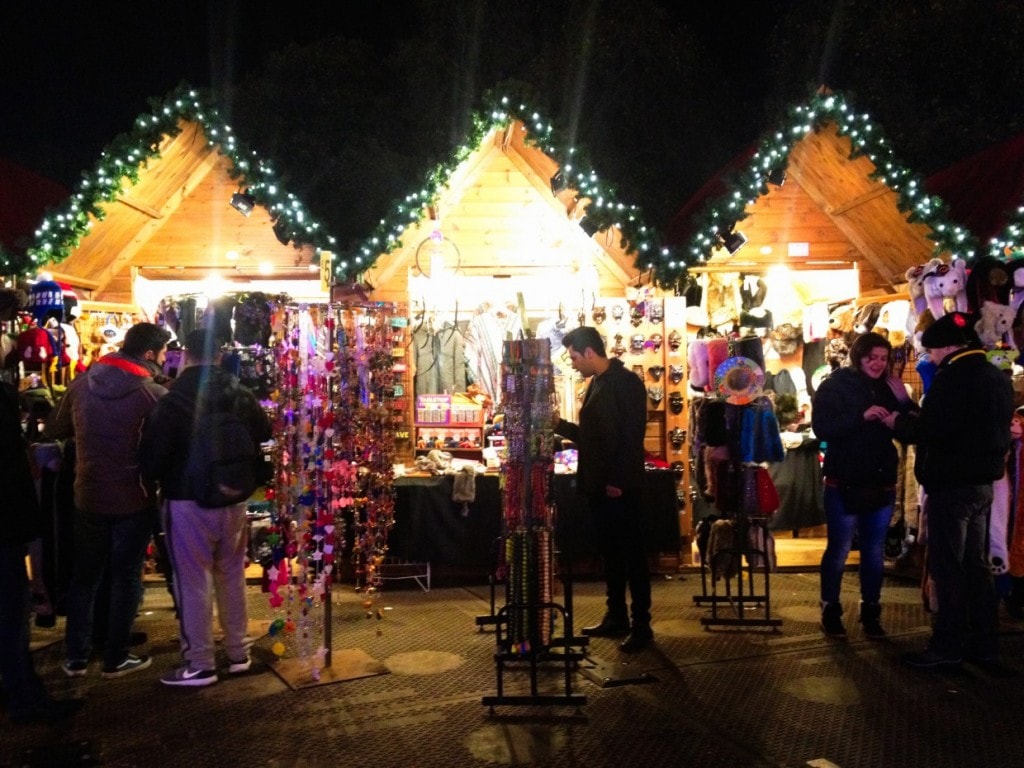 [/one-half-first] [one-half]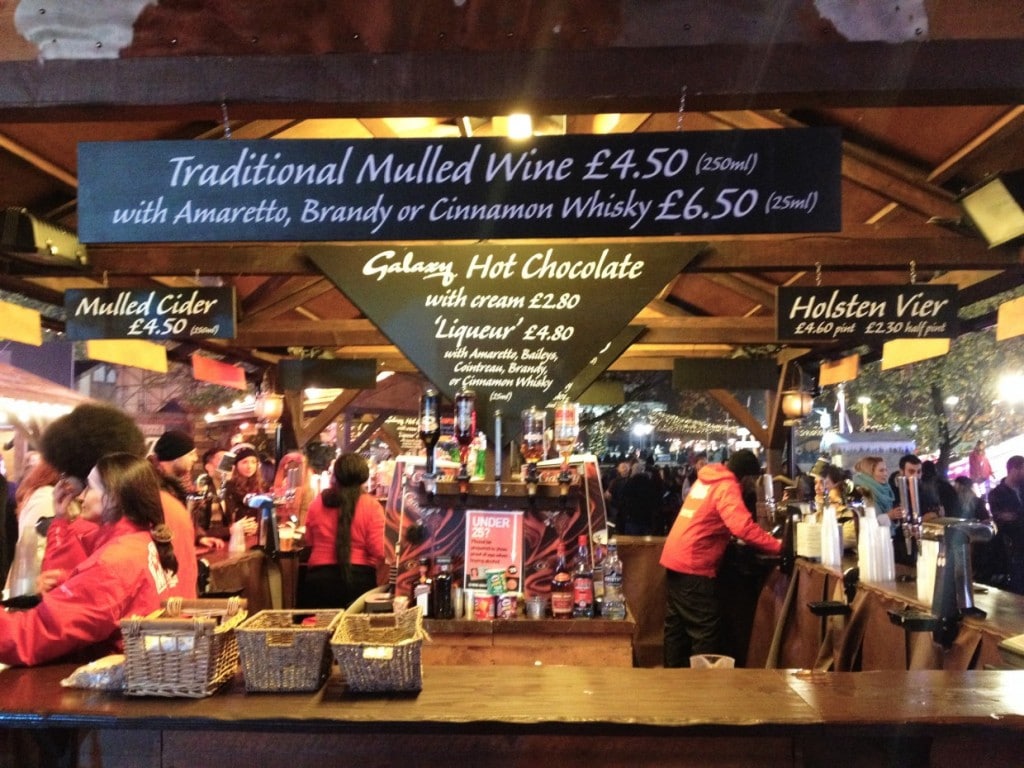 [/one-half]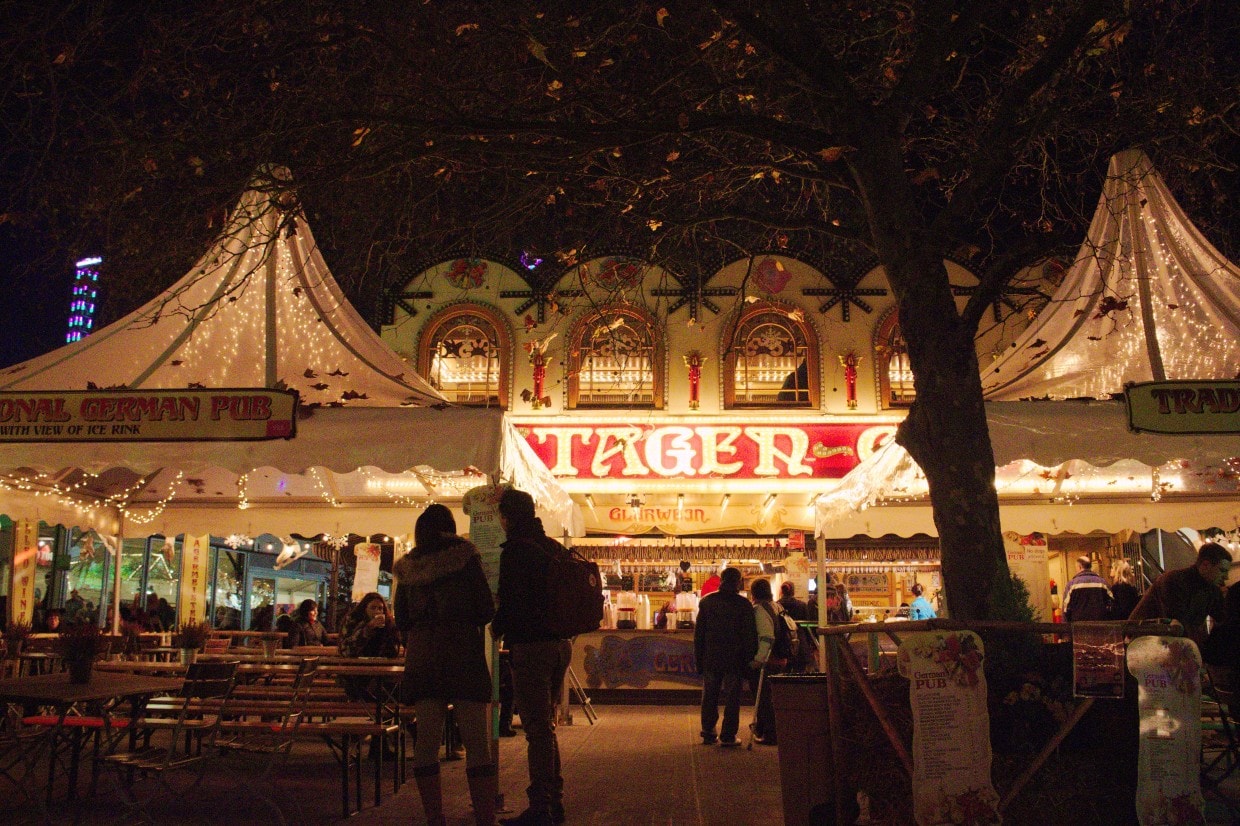 There are plenty of other attractions, like ice sculptures, ice rink and a circus, but we left these for another time (I hope to return as soon as possible!).
It was pretty cold outside as we walked out of the Ice Mountain, so we called it a day and made our way back to the tube station through the Angels Christmas Market. I was hoping for a goodbye hot chocolate, but my stomach said no after the sausage and pancake. Another thing I have to come back for.
[one-half-first]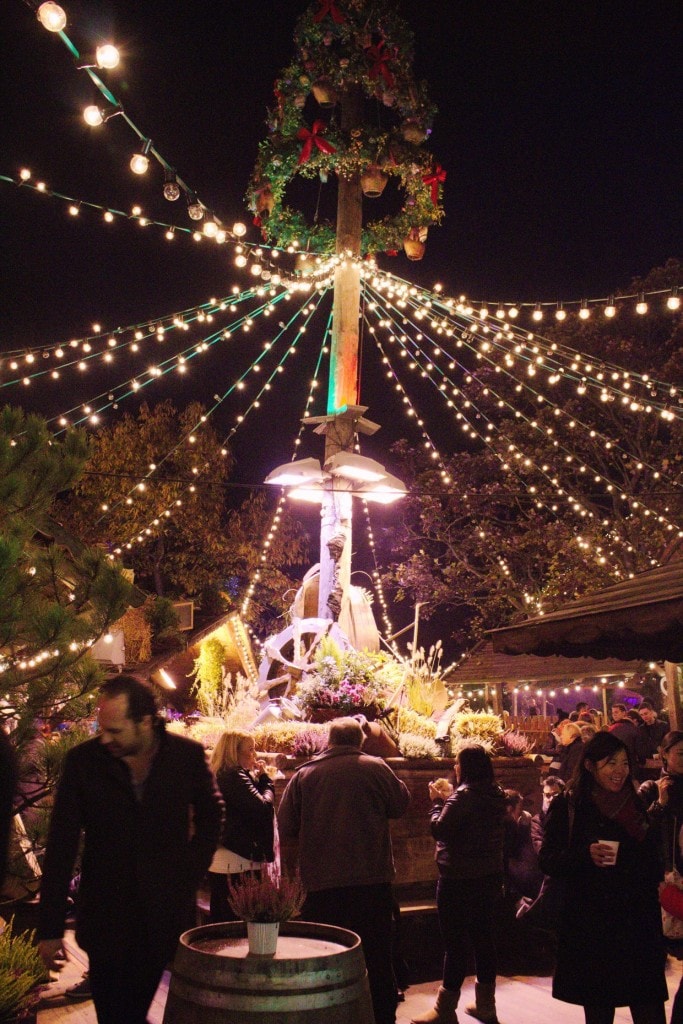 [/one-half-first] [one-half]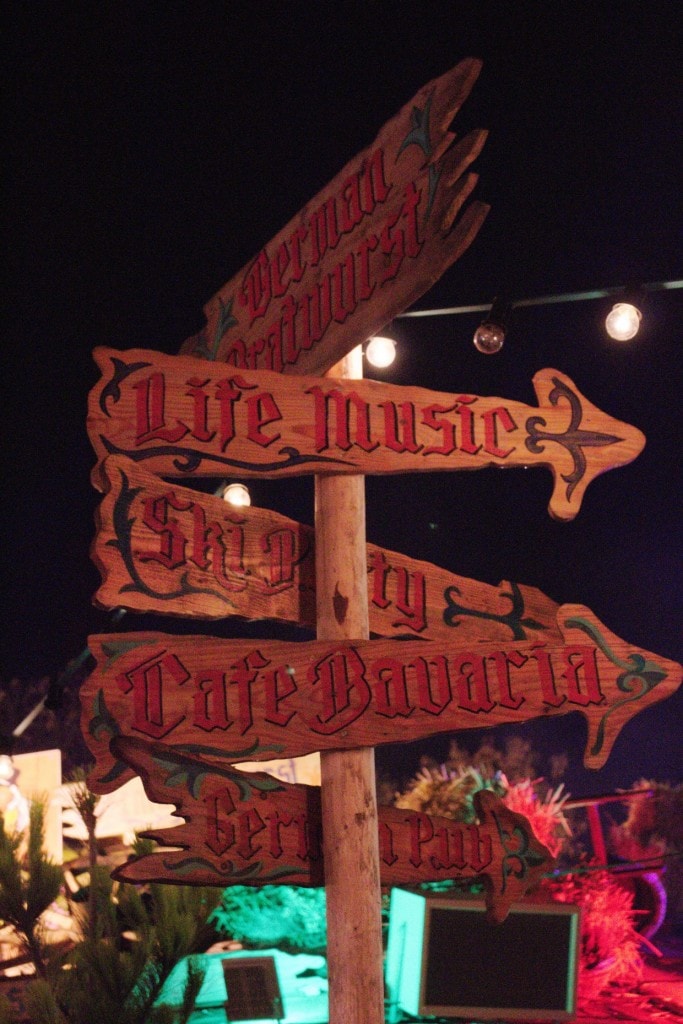 [/one-half]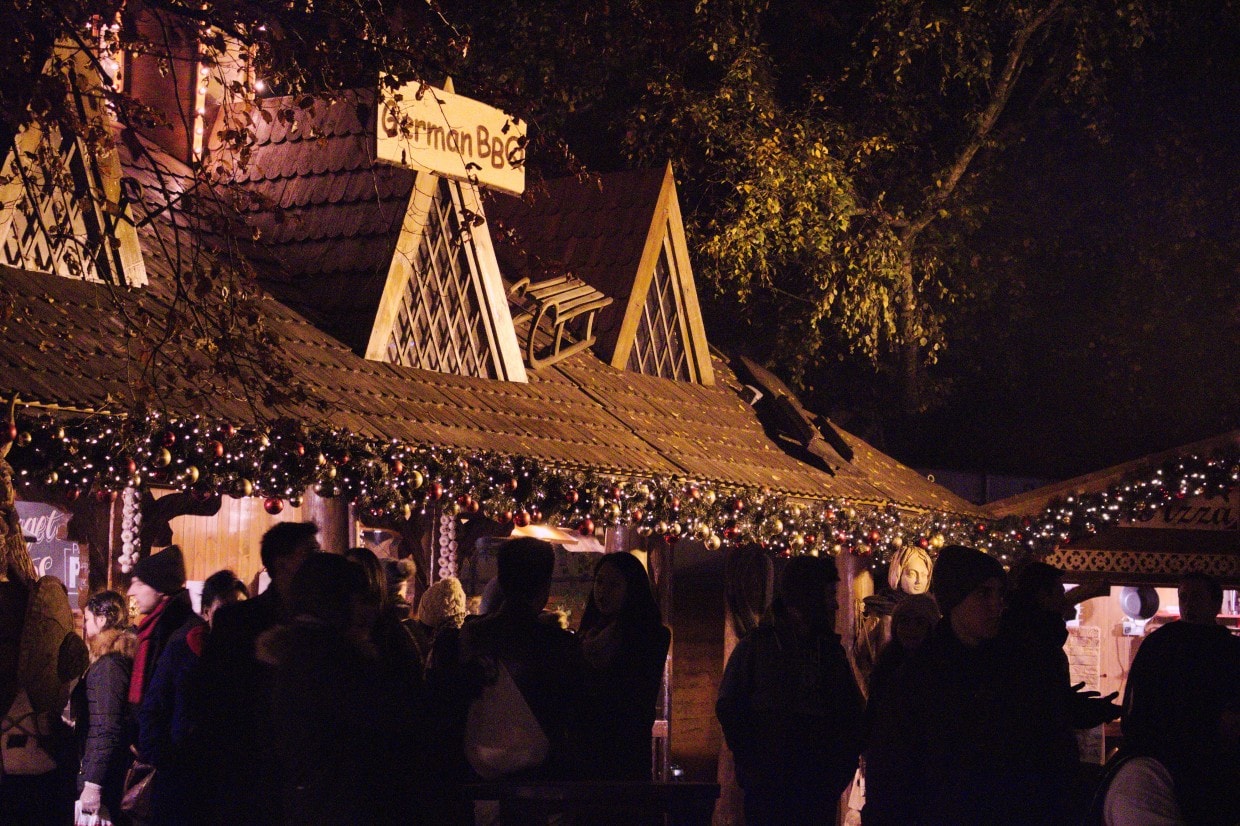 I'm probably a little biased, as I love everything Christmas, but Winter Wonderland is a must if you are in London during the festive season. Christmas market, rides, good food, fun atmosphere and Glühwein, what more do you want?
More info
Opening Times
Winter Wonderland opens at 5pm on Friday 17th November 2017. From Saturday 18th of November, Winter Wonderland is open from 10am until 10pm every day until 1st January 2018. The park will be closed on Christmas day.
Price
Entry to Winter Wonderland is free! You do have to pay separately for rides, food, drinks etc… You can spend as much or as little as you want, while still enjoying the festive vibe.
How to get there
You can get to Winter Wonderland quite easily by public transport. Closest tube stations are: Hyde Park Corner and Marble Arch (Marble Arch being the main entrance). Green Park and Victoria tube station are both walking distance.