One of the main things I've missed about Belgium since moving abroad is the food. It's what I indulged in when I returned there recently for a quick family visit. When I was presented with the opportunity to join a Belgian food tour in Brussels, along with City Discovery, I was filled with ecstasy. "Yes, some proper Belgian food in the capital city!" It might surprise you to learn this but I hadn't even tried some of the tour's featured items.
Up until then, I had been wandering around Belgium (Gent and Antwerp) with my sister for a few days, and we were both looking forward to the Belgian culinary delights offered to one in Brussels.
We met our guide, Avo, at the Grand Place, (voted the most beautiful square in Europe; even I still remain in awe of this place), a tall "Brusselaar" with Armenian roots.
His knowledge of Brussels was trumped only by his impressive language skills (6), and his love for the city and for Belgium is really apparent. Hearing him talk about my home country with such delight made my heart jump a little. Our little group was joined by a fun American couple, who were taking a trip through Europe.
As we were taken on a historic journey, which hinted at mysteries and legends, I encountered another side of Brussels. We walked across the Grand Place and entered into small, meandering streets, which are so characteristic of old European cities, while Avo was showing us little details we would otherwise have missed.
Stories about the Freemasons, the bronze sea shells dotted around the centre, the lives of medieval citizens and the stories behind the famous tourist attractions were intricately woven together to make for a captivating tale, as we made our way through the streets.
We met Manneke Pis, Jeanneke Pis and Het Zinneke, the famous peeing statues, but one of the walking tour's highlights was Théâtre Royal de Toone, a hidden bar and puppet theatre nestled in a small back alley. In the Middle Ages, such theatres were common, but Toone is now the only one left which still has a performing theatre. We merely walked through the cosy establishment, but I recommend stopping by for a drink and a snack (and a cuddle with the two resident cats) – and if you have the time, a show.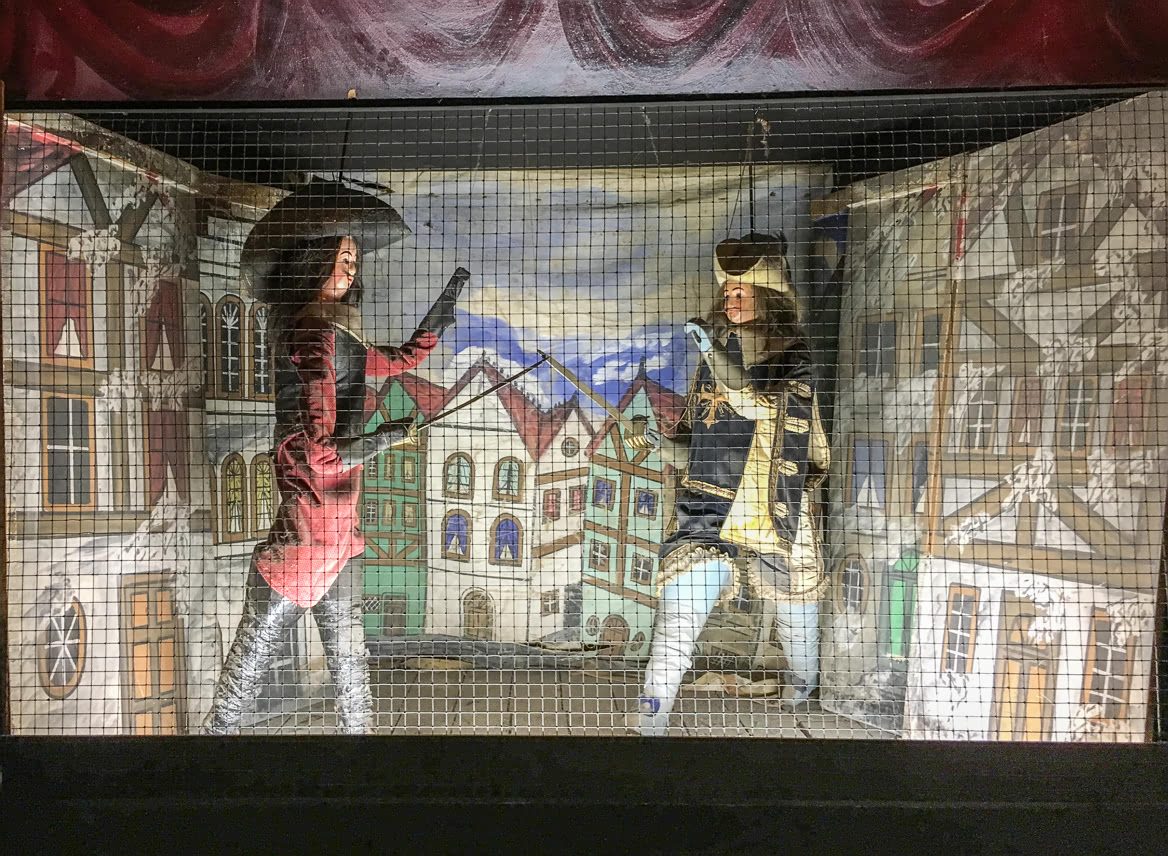 As we walked out of Toone, we found ourselves in the Rue Des Bouchers or Beenhouwersstraat. The small, cobbled street is filled with restaurants and outdoor terraces, complete with waiters trying to lure you in to try one of Belgium's famous dishes. As we walked through, taking in the sights and smells, our stomachs started to remind us that they wouldn't mind trying some of the food on display.
Avo led us to restaurant Coin De Mer, which had an outside terrace and plenty of customers already seated at it. A table had been prepared for us and we gladly sat down. Water and bread were offered and after some history surrounding Belgian beers, our first beer sample was given to us: Orval.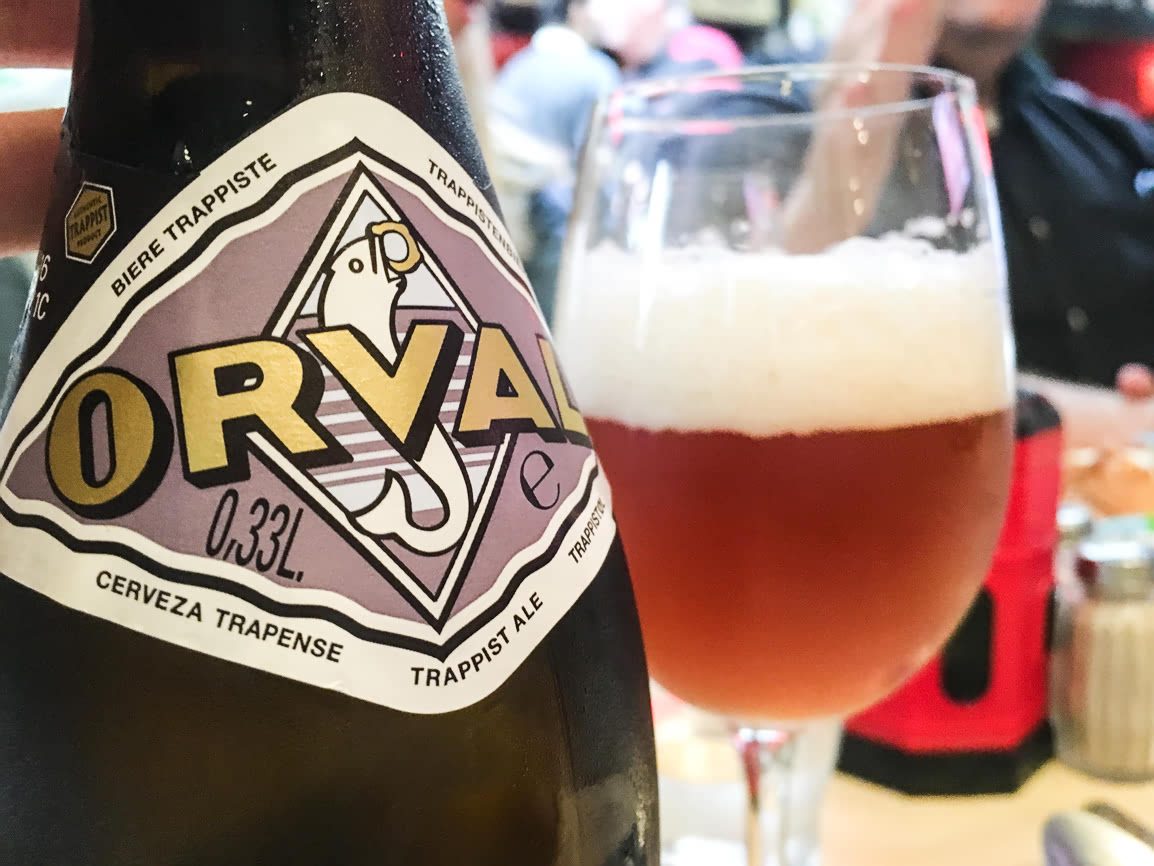 I'm not a beer drinker (I know this is quite shocking coming from a Belgian national), but if I was ever going to try Belgian beer, what better time than on a Belgian food tour? Sadly, I couldn't force myself to drink more than 1/3rd of the glass, and my disdain must have been clear to my sister, who burst out laughing at the expression on my face. (At least I tried…)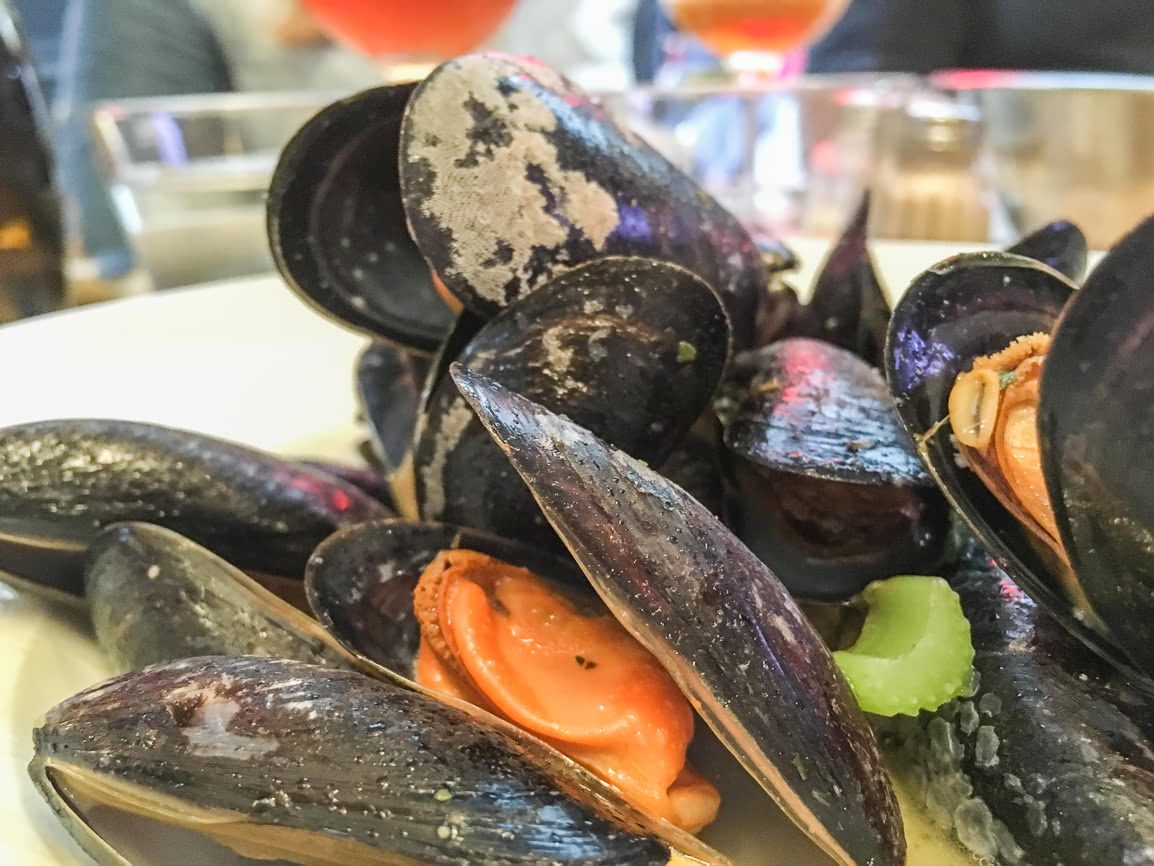 With our first beer, came the first course: Moules Marinières. The presentation was simple, the mussels were fat and delicious, dipped in a semi-creamy, white-wine sauce – just how I like my mussels. Everyone seemed to enjoy this starter and the plates were emptied in no time.
Between courses, our conversation grew more relaxed and in-depth. Maybe the wine/beer and tasty food was doing its work, but it felt as if we'd known each other for a few months instead of a couple of hours.
It was time for the next course and our second beer: Westmalle. I liked this Trappist beer better than Orval. I could even detect a hint of banana, which I was extremely surprised about.
The food was a mix of two Belgian dishes: the first, a rabbit served with mashed potatoes. I've had rabbit a handful of times before and never liked it, but this time, I enjoyed the dish. The meat was perfectly cooked, and the flavour wasn't too overpowering.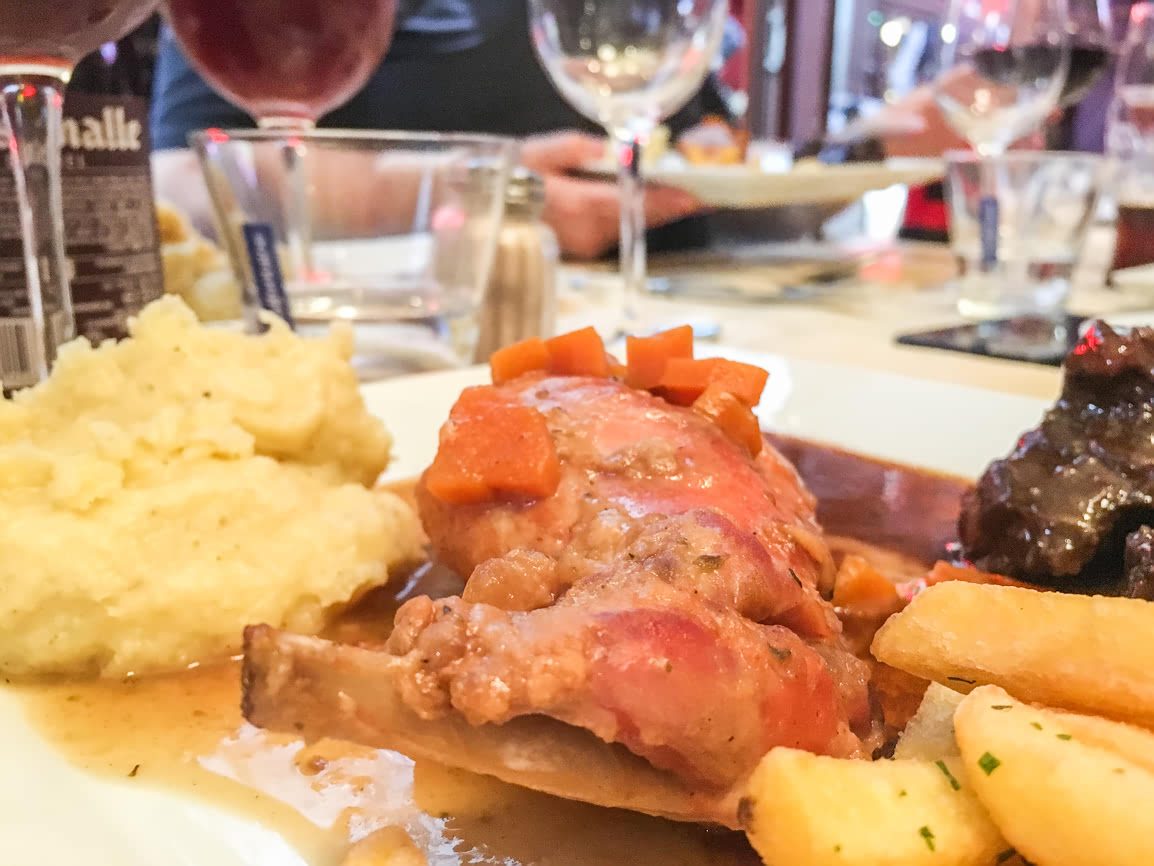 The second main was stoofvlees, served with the signature Belgian fries. I usually really enjoy stoofvlees. The dish is stewed for a few hours in a beer-based sauce, making the meat extremely soft and flavourful. Unfortunately, there was barely any meat, only fat, which made this dish my least favourite of the evening. Everyone at the table seemed to be on the same page, as most stoofvlees was left over on the plates.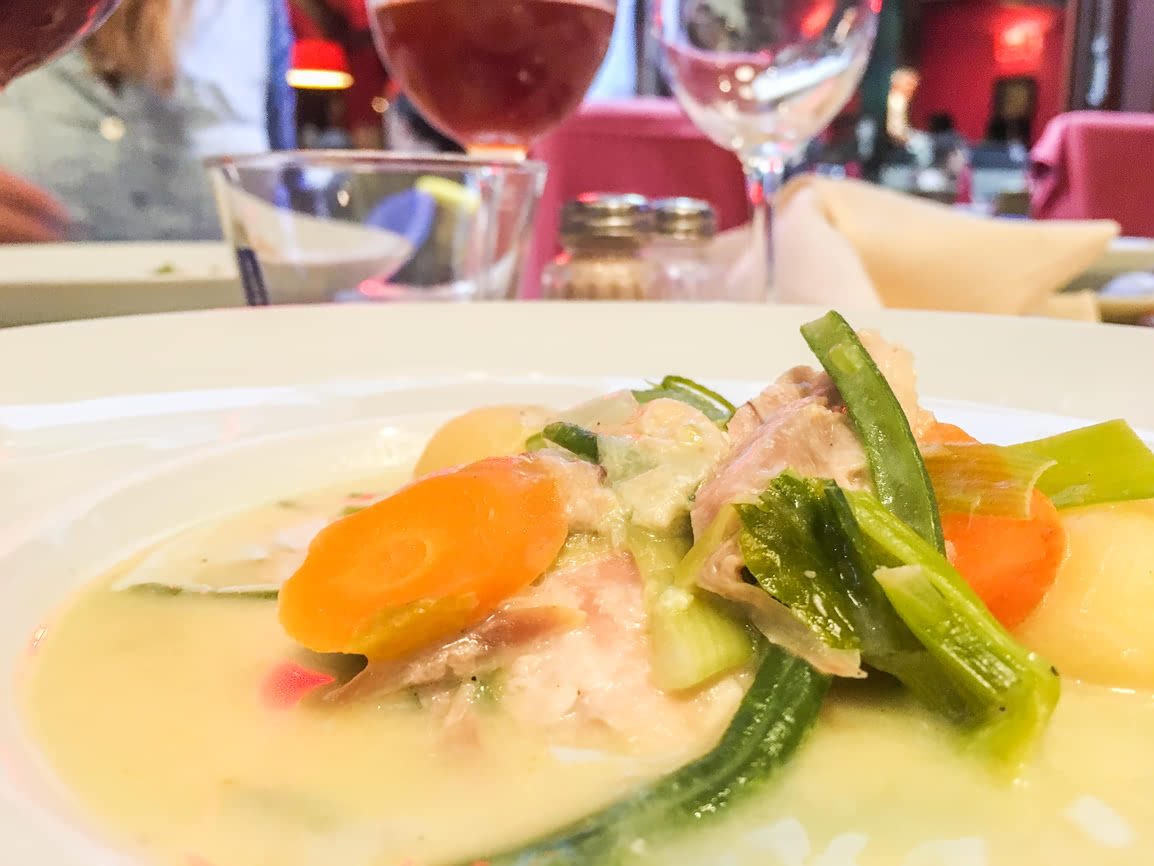 Up next was a dish I had never tried before: Gentse Waterzooi, a chicken or fish stew, with vegetables, potatoes and herbs, which originated from the Flemish city of Gent (hence the name). The description might not sound exciting, but I really,really liked this meal, and I will add it to my list of items to eat next time I'm in Belgium (and you should too!).
Time was flying by fast, and suddenly Avo announced that we should continue our tour before the dessert place closed. Once dessert was mentioned, we all promptly stood up and followed Avo outside.
[one-half-first]
[/one-half-first]
[one-half]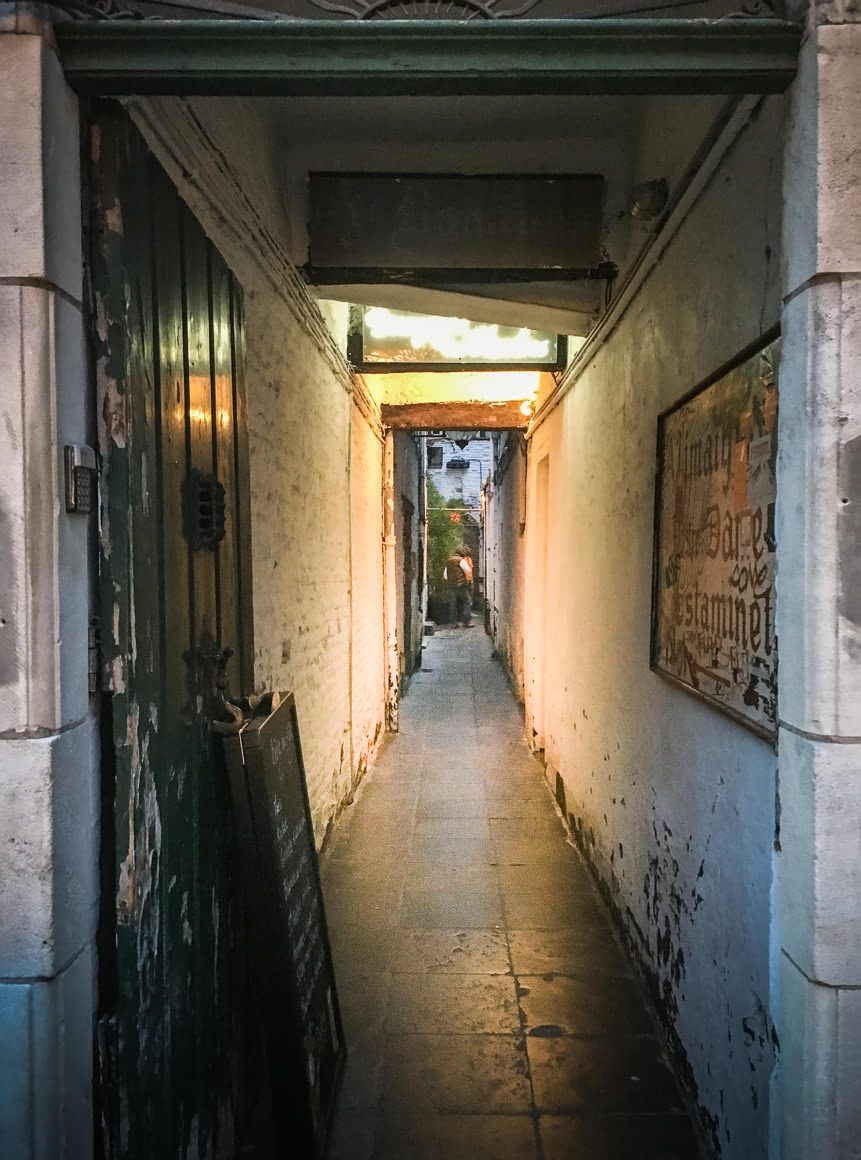 [/one-half]
He showed us a few smaller alleys with cosy bars before we entered Galeries Royales St Hubert, a stunning, glass-fronted shopping arcade, designed using Italianate Cinquecento style. As we walked through the place, we passed chocolatiers, selling mouth-watering pralines, and designer shops before we settled down in Mokafé, a hidden gem in Brussels.
A friendly waiter was soon at our side, and asked me what I would like to order. Avo had been raving about waffles, so I ordered a Brussels waffle with ice cream and chocolate sauce (on the side). The others seemed to like the sound of this, and ordered the same dessert. We were not disappointed.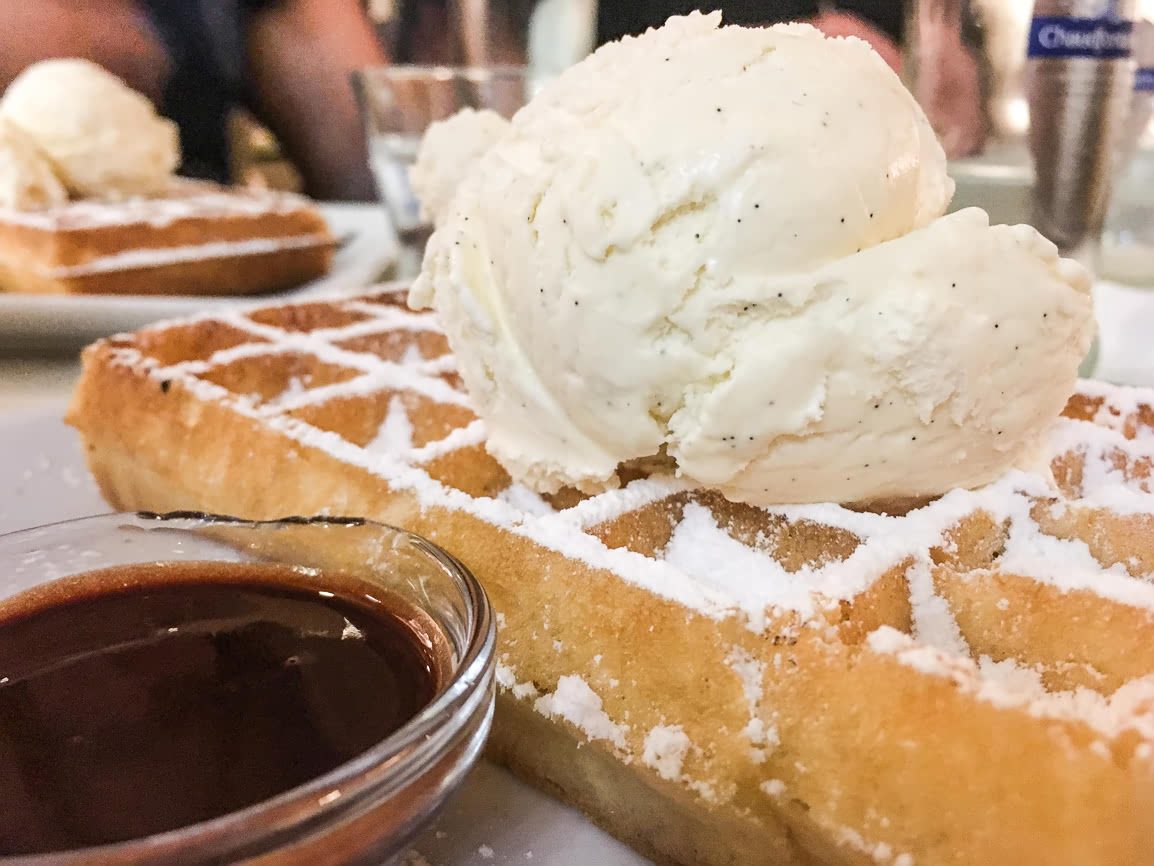 Brussels waffles are lighter and less sweet than the other Belgian waffle – the Liège waffle -making this the perfect dessert after a heavy meal. The chocolate sauce was divine, and I could have eaten/drunken buckets of it by itself. Not everyone was able to finish the dessert as the 4-course meal had proven to be too much for some in our group. "Delicious but too much", laughed our American friend. I, on the other hand, devoured it all.
It was soon time to say good-bye to our newfound friends. We exchanged hugs and email addresses with the American couple and thanked Avo for a wonderful evening.
As we walked back through the cobbled streets of Brussels on our way home, in the distance, we heard the clock strike the hour eleven times, and the sound of music, laughter and clinking beer glasses dripped out of narrow alleys as we walked past. They had only just started their evening, while I was already dreaming of my cosy bed after a delicious and filling meal.
BOOK YOUR TOUR
Click here for more information about the food tour in Brussels. Check out City Discovery's website for more great tours, such as adventure tours and photo tours, in a wide variety of locations around the world.
I was invited on the food tour by City Discovery, however all opinions are my own and you will always read my genuine thoughts and experiences.