At last, it was time for our weekend stay at Nita Lake Lodge. Since relocating to Vancouver, almost a year ago, a visit to this beautiful, lakeside lodge had been high on my "BC must do list". So, when it was time to start thinking of a birthday gift for my boyfriend (a task which always involves some careful planning), a weekend away in Whistler not only seemed like the perfect opportunity to visit this luxurious lodge, but also to give him a relaxing getaway he would love.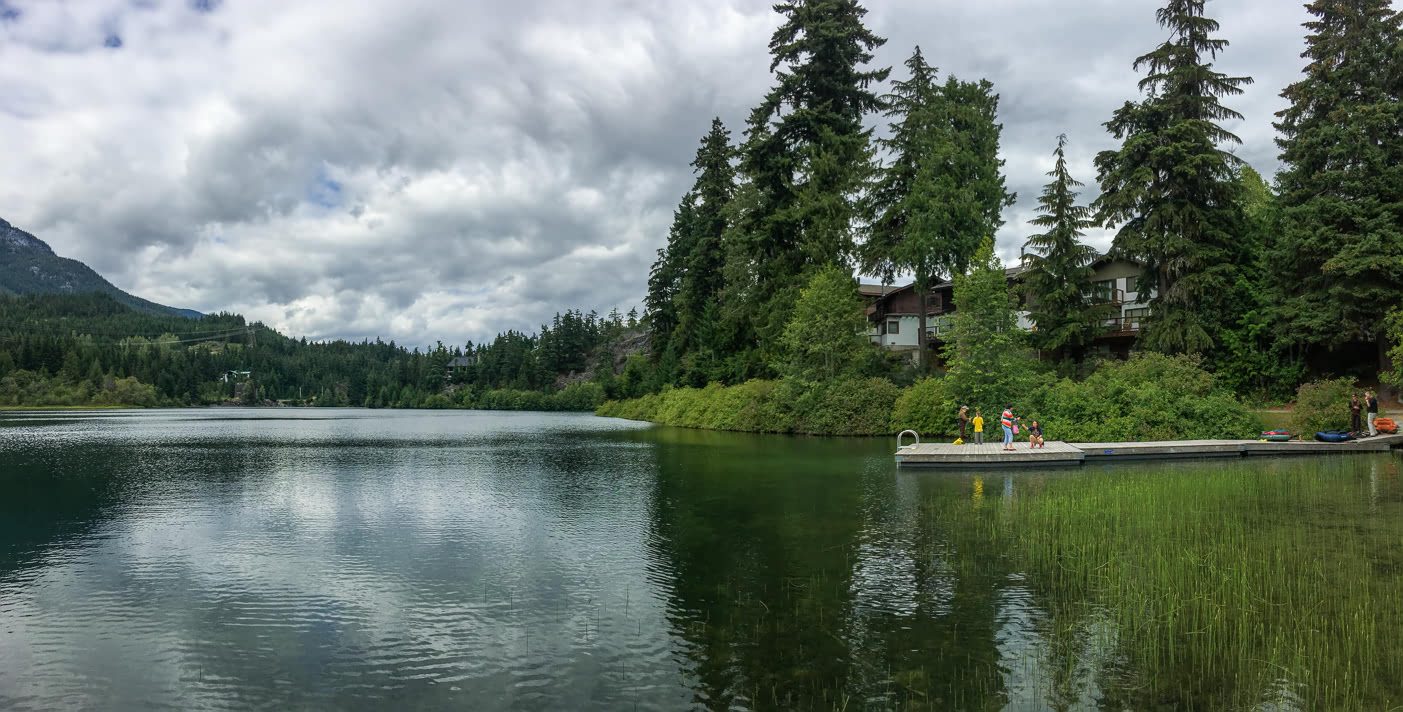 Making our way to our hotel in Whistler
Around 9am we left the city for the lodge, which is easily accessible from Vancouver, and drove along the scenic Sea to Sky Highway through to Whistler; a trip which usually takes less than 2 hours.
If you have some time to spare, I highly recommend stopping at a few must-see places along the route, such as: the Sea to Sky Gondola, Squamish, and both the Shannon and Brandywine Falls.
Upon arrival, we were instantly charmed by the beautiful, wooden features of this boutique lodge and graciously welcomed by the reception staff. The splendid views across the lake and the Cure Lounge's cosy fire place beckoned us to begin our stay; it was time to relax.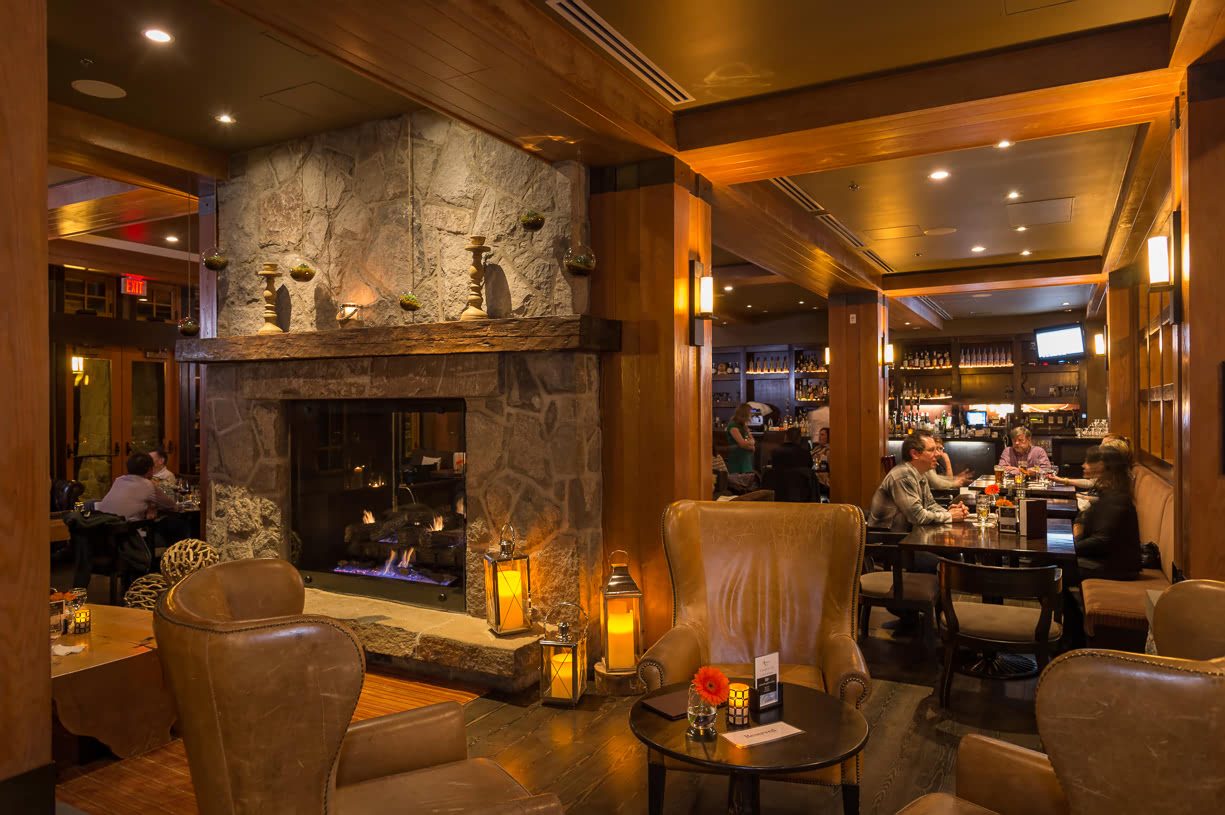 Our room at the lodge
We had booked the one bedroom suite, complete with a cosy seating area, fireplace and balcony – and as we walked through the door, we were delighted by the room's size and warmth. I wished we could have stayed an extra night.
We had settled down onto the comfy couch, with the warmth of the fire embracing us, when a knock at the door announced the arrival of my surprise gift; two flutes of Cava and a selection of delicious bites, including chocolate-dipped strawberries.
After the room service attendant placed the treats on the coffee table, he handed Ash a personalised birthday card. It's the little things that make a place stand out, and this thought was definitely appreciated.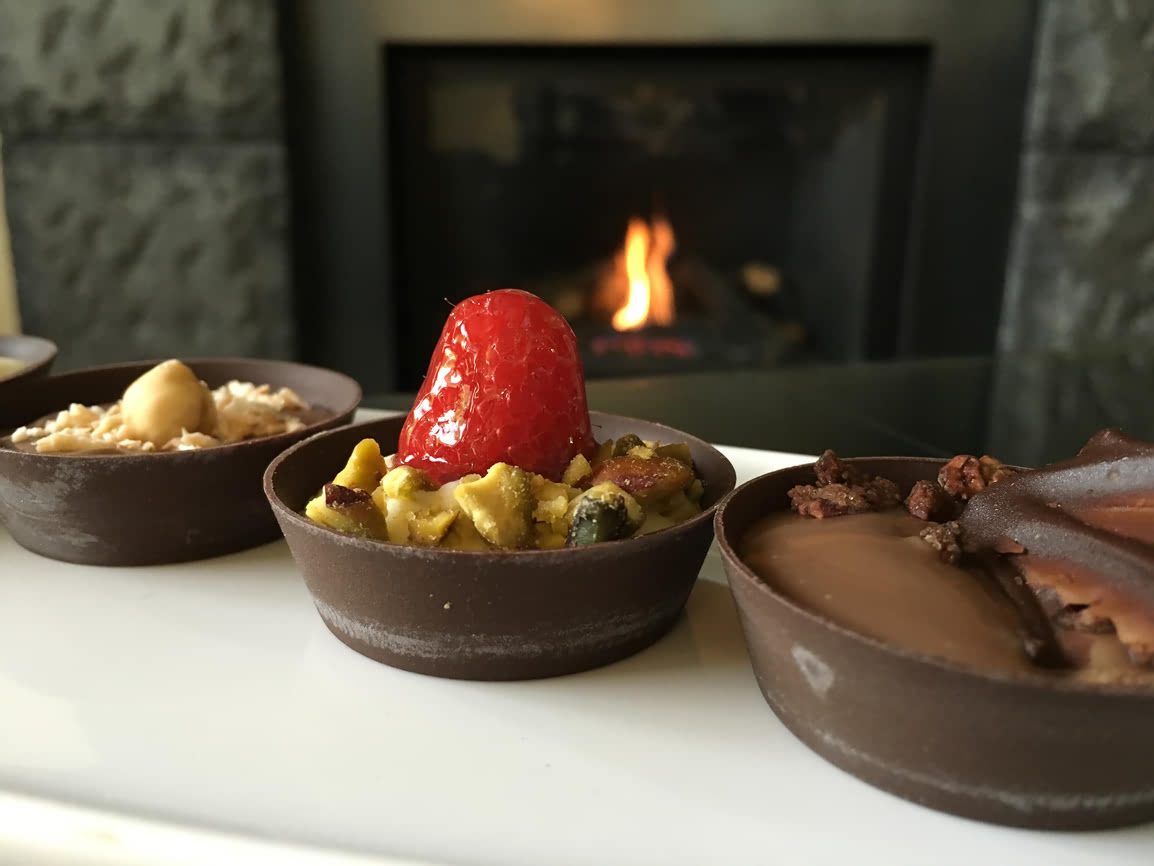 Amenities
The hotel boasts 77 beautifully appointed suites, an intimate spa perfect for a wellness retreat and 3 fantastic dining options, and as their website states: "Whether you crave an unforgettable lakeside dining experience, a speedy pre-hike breakfast or a social drink with light bites listening to smooth beats, Aura Restaurant, Cure Lounge & Patio and Fix Café offer something for all".
If you want to add a few outdoor activities to your stay, the hotel also offers its guests complimentary use of bicycles, kayaks and canoes.
First, we decided to explore the area by bicycle, and after signing a waiver and receiving our helmets, we set off on our mini-adventure around the nearby and wonderfully, picturesque Alpha, Nita and Alta lakes.
There are several kilometres of cycling and walking pathways accessible from the lodge, which allow you to safely travel around the lakes and even up to the Whistler Creekside village; perfect for both adults and kids.
Later, we made use of the complimentary kayaks and paddled around Nita Lake. It was amazing weather that weekend and many people were out on the water, relaxing by the jetty and chilling at the outdoor bar; all enjoying the sunshine and tranquil setting. There were even a few who braved the chilly water for a "refreshing" swim.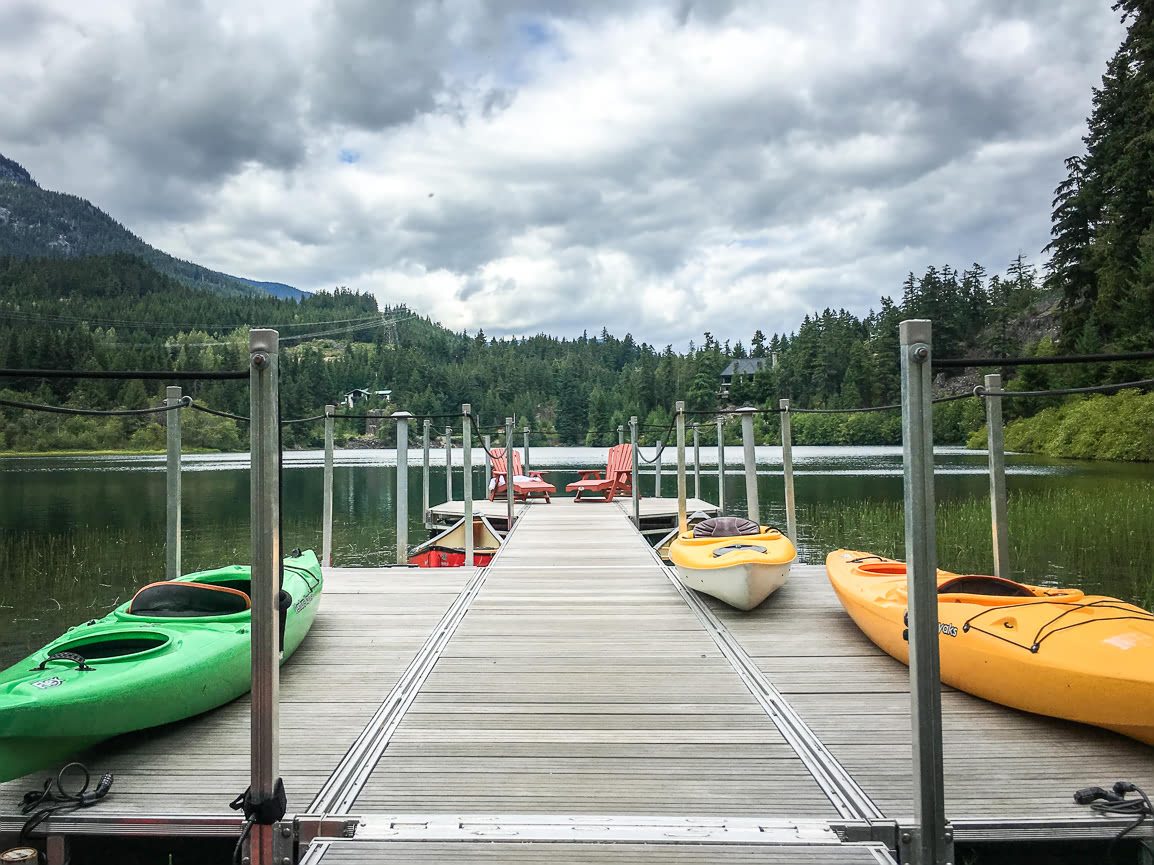 Nita Lake Lodge Spa
The hotel features an award winning, on-site spa, named in the top 20 spas in the world by Condé Nast Traveler, in the top 10 organic spas by Organic Spa Magazine (the only spa destination in Canada to win this prestigious award) as well as receiving a certificate of excellence from Trip Advisor for 2016!
There is complimentary use of the roof-top hot tubs, eucalyptus steam room and beautiful relaxation lounge included with every service, and we enjoyed an hour of pure bliss, encircled by the stunning Whistler mountains, as we sipped on refreshing lemon water.
[one-half-first]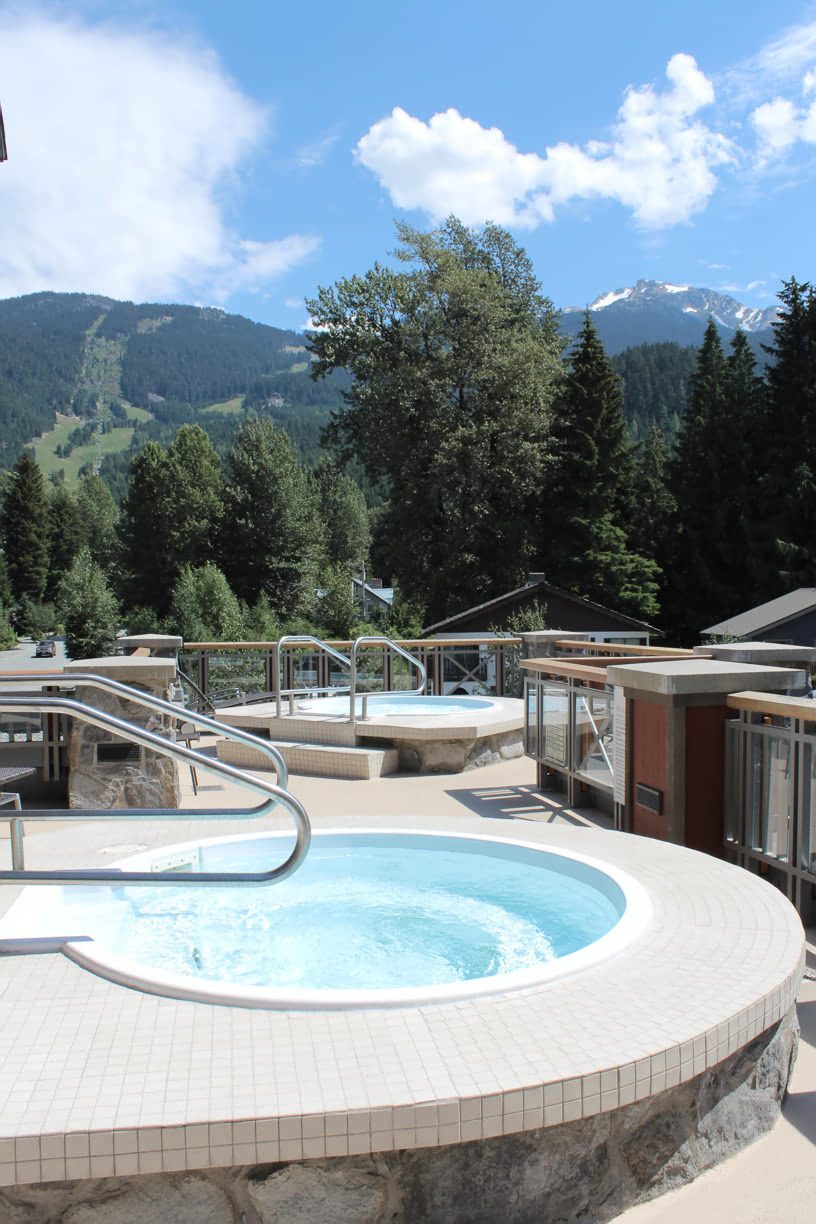 [/one-half-first]
[one-half]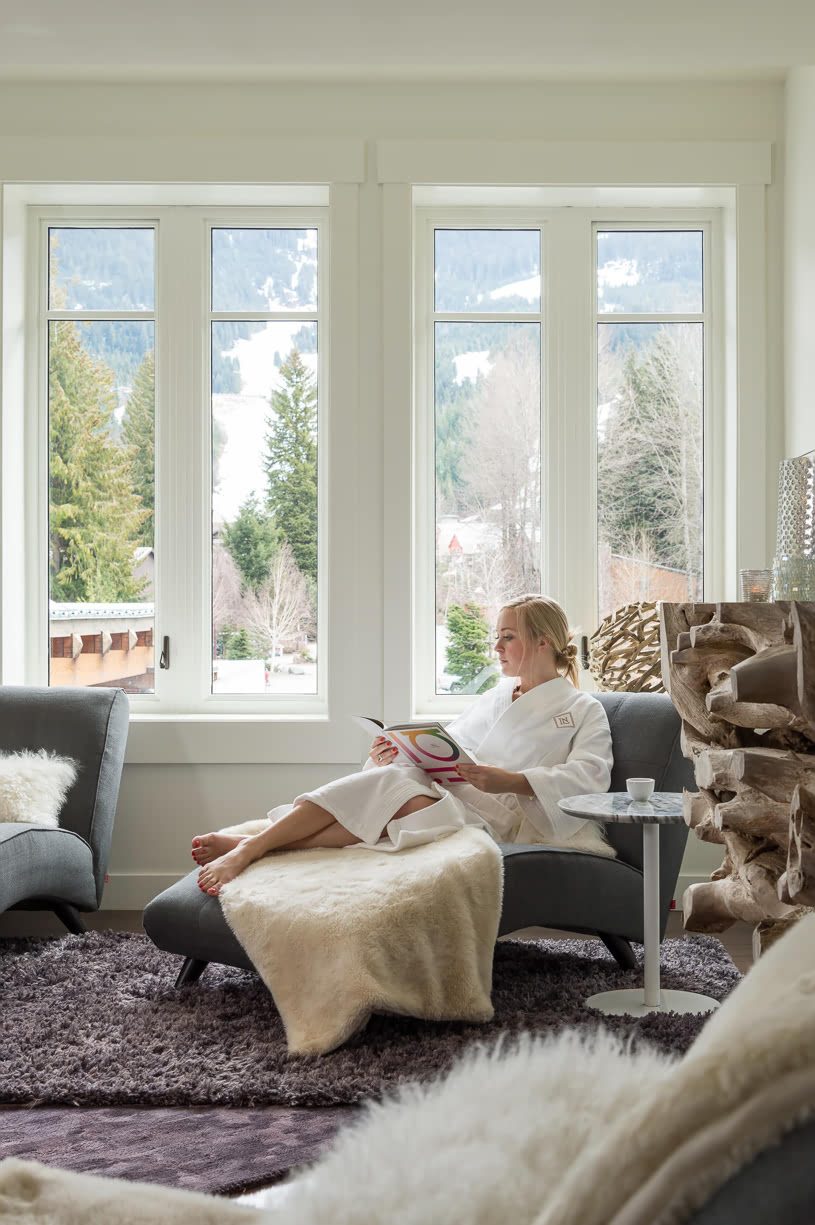 [/one-half]
Dining at the lodge
We decided to wind down for the day in Aura restaurant's unique setting, and enjoy some celebratory birthday dinner and drinks. Even though the weather that evening was not too cold, we opted for an inside table, and were escorted to a private corner, which afforded us some beautiful lakeside views as the sun set.
The staff were extremely friendly, quick and attentive, the food was delicious and there was a great ambiance in the restaurant throughout our dinner.
After our meal, we headed to the Cure Lounge for a nightcap and nestled down on a snug couch in front of a gas fire, overlooking the lake… it was the perfect end to a lovely day.
More Info
Nita Lake Lodge
Address: 2131 Lake Placid Rd, Whistler, BC V0N 1B2
Amenities: 3 dining options, on-site spa, pool, hot tub, bike, kayak, paddle board and canoe rentals
Unique features: Fireplace in all rooms, yoga and personal trainer available.
Check-in/Check-out: 24h check in/11am check out
I was offered a complimentary meal at Nita Lake Lodge during my stay, however all opinions are my own and you will always read my genuine thoughts and experiences. Some of the links on this page are affiliate links. If you choose to click on one of these links and book a stay, I will receive a commission at no extra cost to you.